"A picnic is a state of mind & can be made anywhere!"
~Anonymous
Oh, my gosh, who doesn't luv a picnic?
I want to share a really fun, easy way to have a picnic right in your own backyard, with all the outdoor elegance you can aspire to right at home.
Do you have a few old pallets lying around?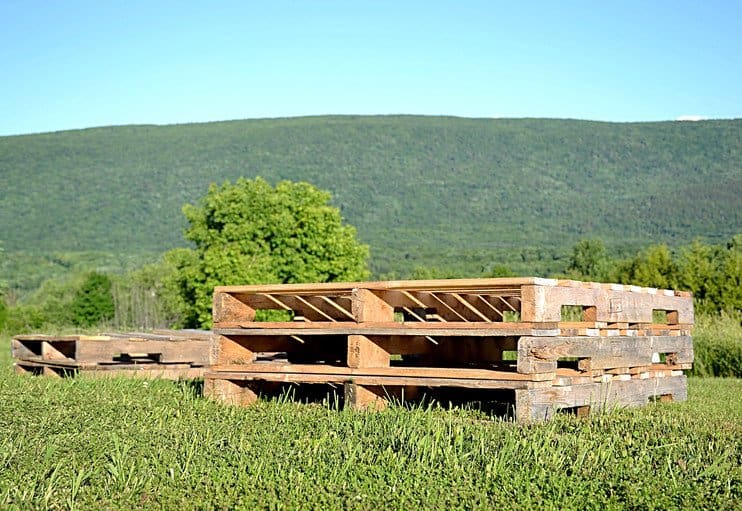 First, find the best location you have where you can spread out and still have fairly easy access to your kitchen.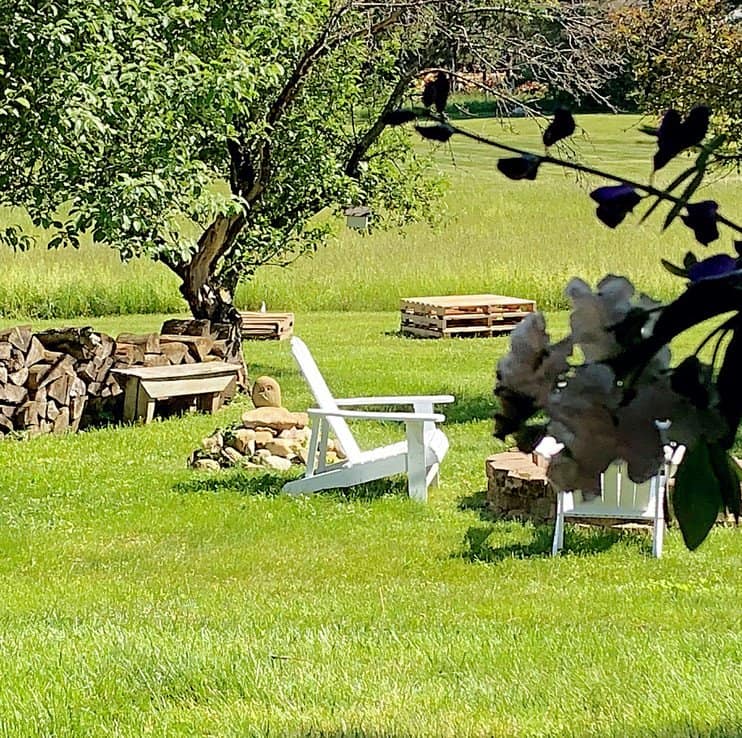 Then all you need are some tablecloths, blankets, pillows, etc. And you are ready to picnic! Scroll thru for a few tips…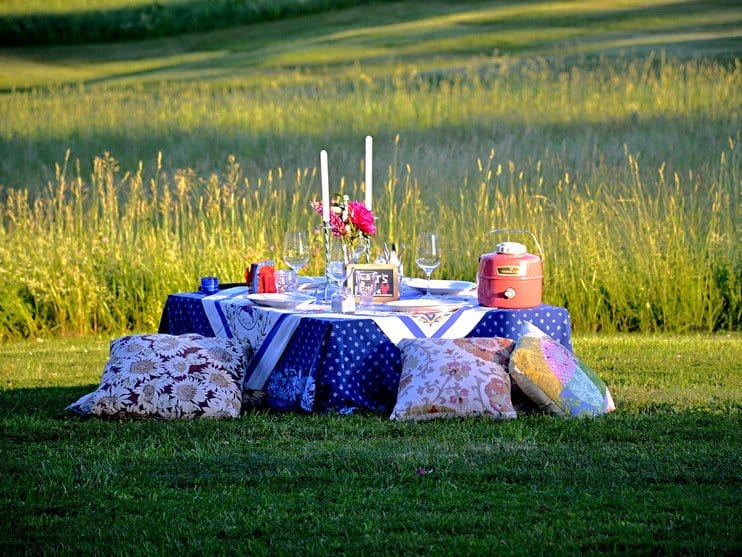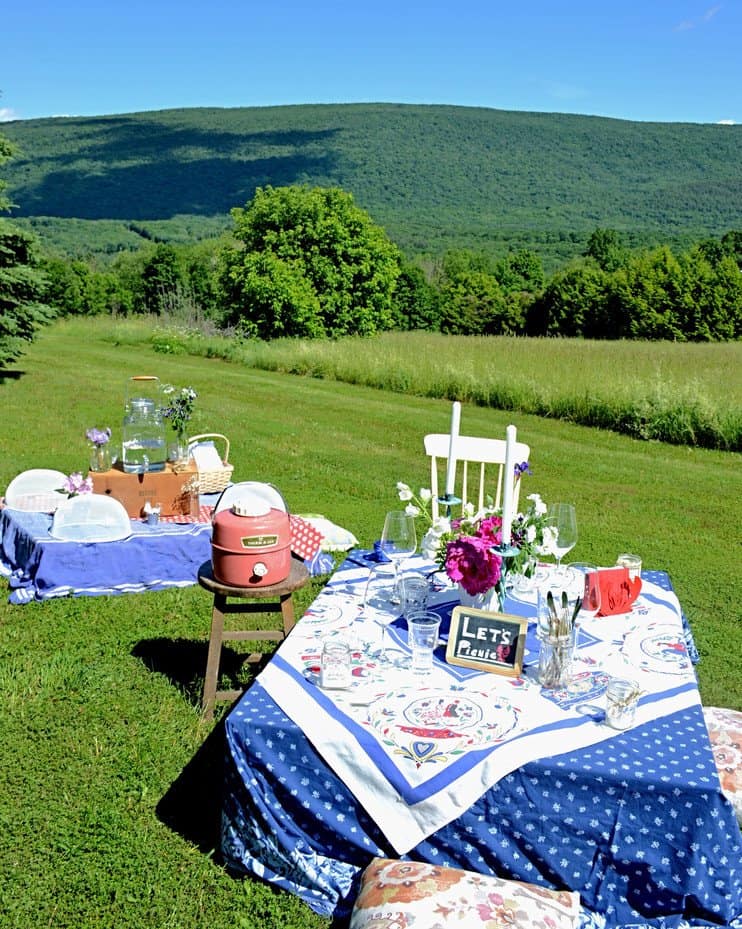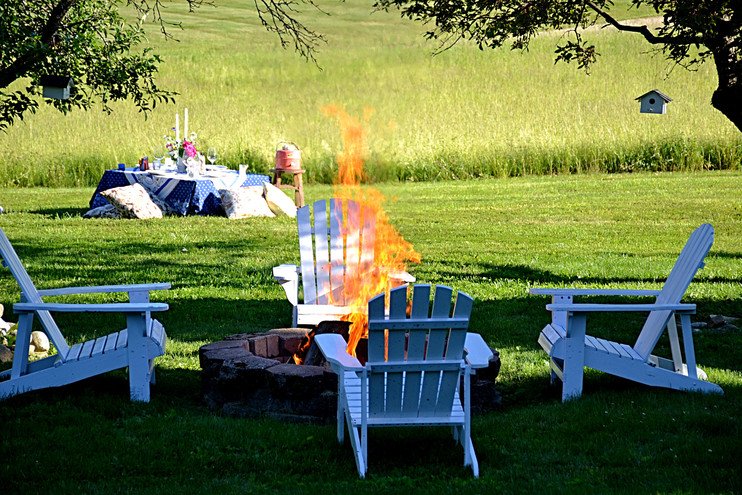 Tip #1 Keep it simple!
I made lobster rolls, which are super simple to make and to serve. I'm sharing my favorite lobster roll recipe with you below. Growing up on the coast of Maine gave me a bit of an advantage…:)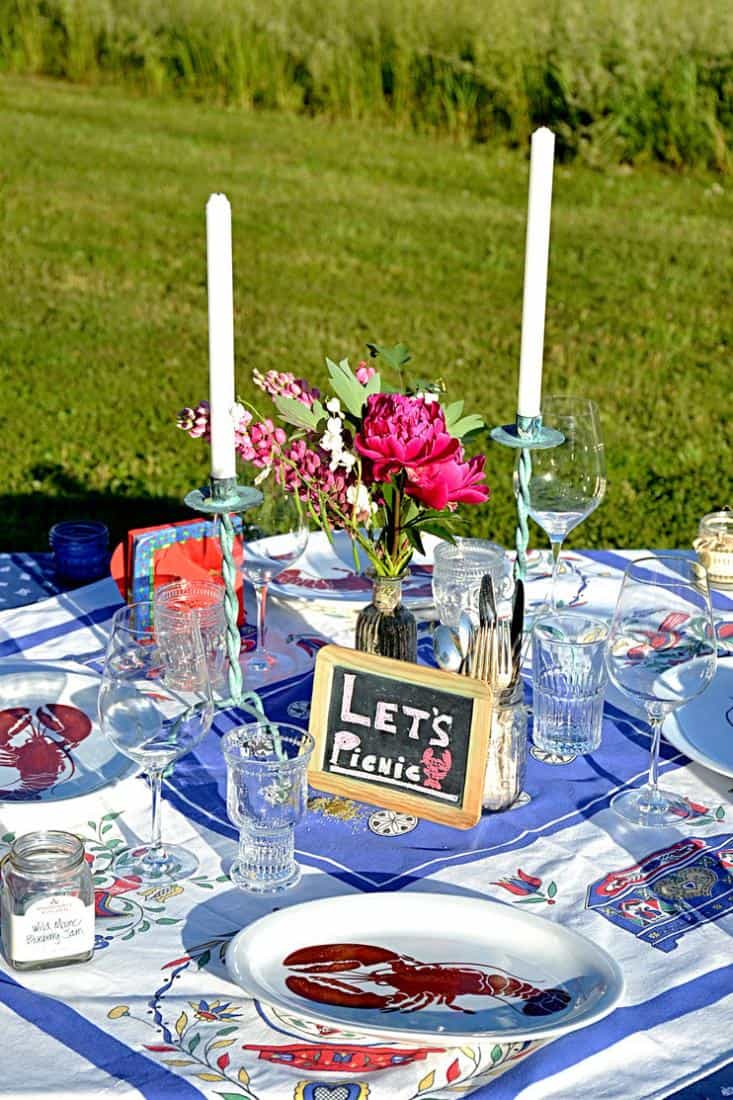 Tip #2 Add lots of candles!
I luv adding white candles to small jars and scattering them around for ambiance. It helps keep the bugs away too…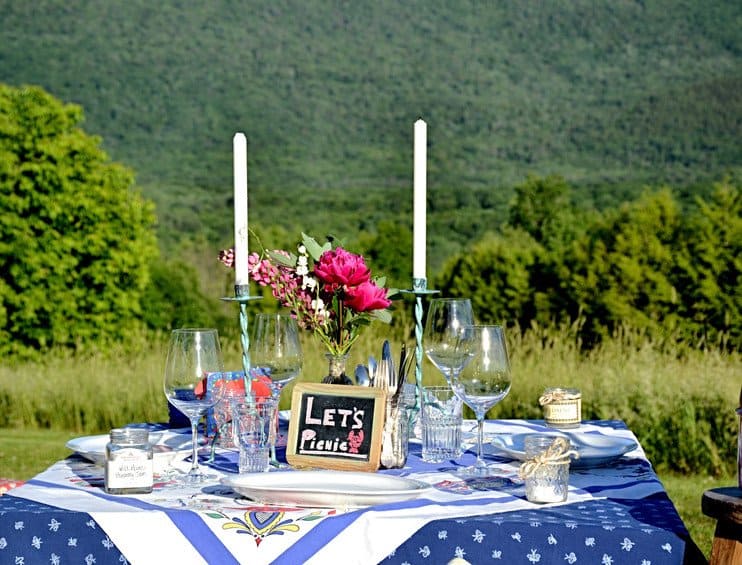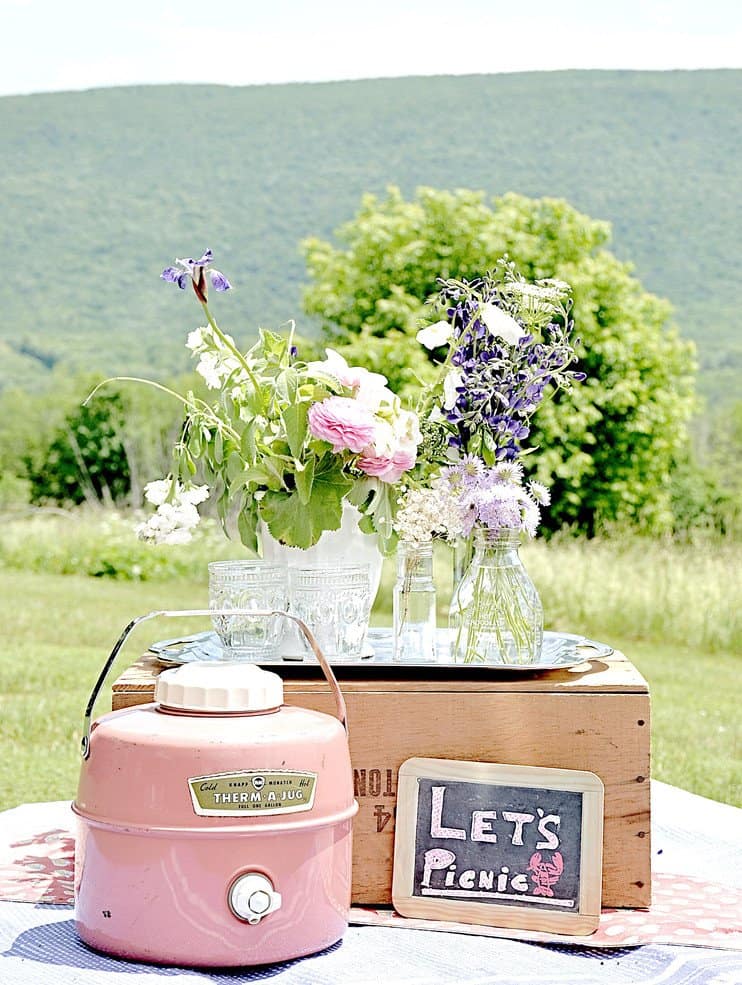 Tip #3 Add lots of flowers!
Try using different vases of all sizes for a more eclectic look. I also luv silver trays, which you can find very inexpensive at local consignment shops.
And how about that pink vintage THERM-A-JUG that I found at a vintage market a couple of weeks ago?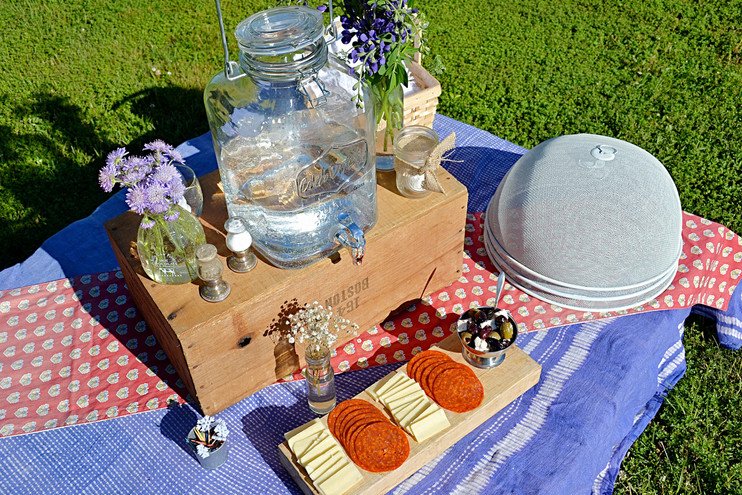 Tip #4 Add some height with vintage crates, stool or chairs, etc..
This will also help with texture and more table space too.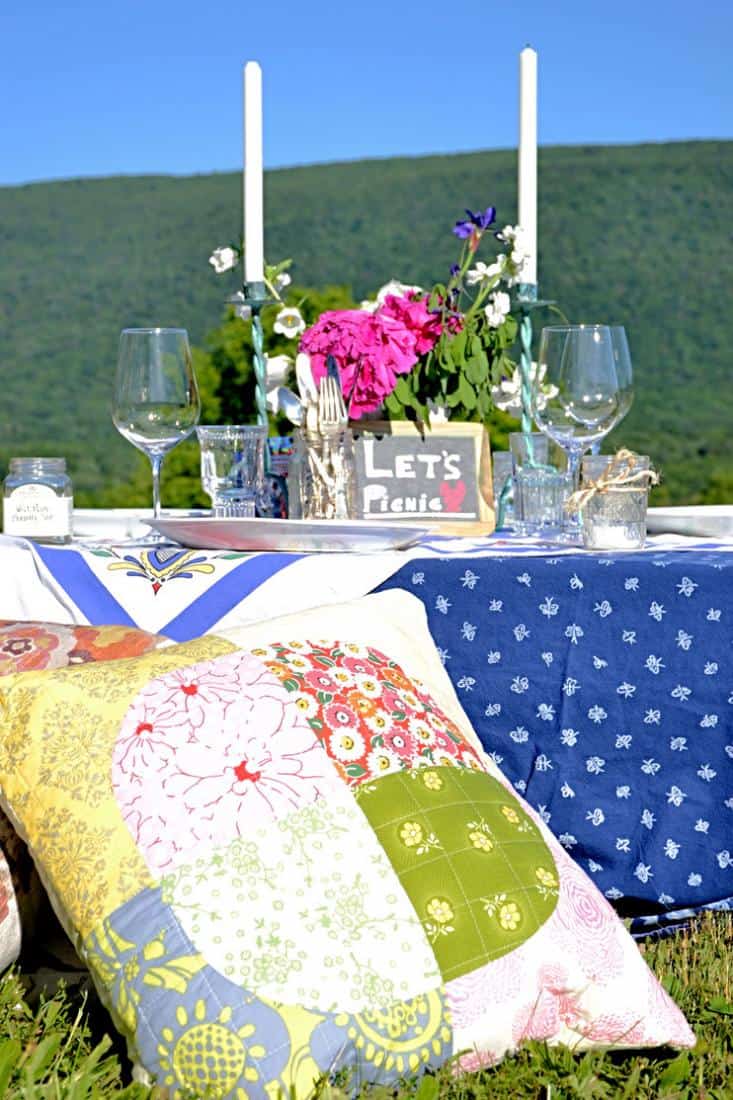 Tip #5 Add some pillows for comfort!
I just grabbed some old pillows that I had around the house…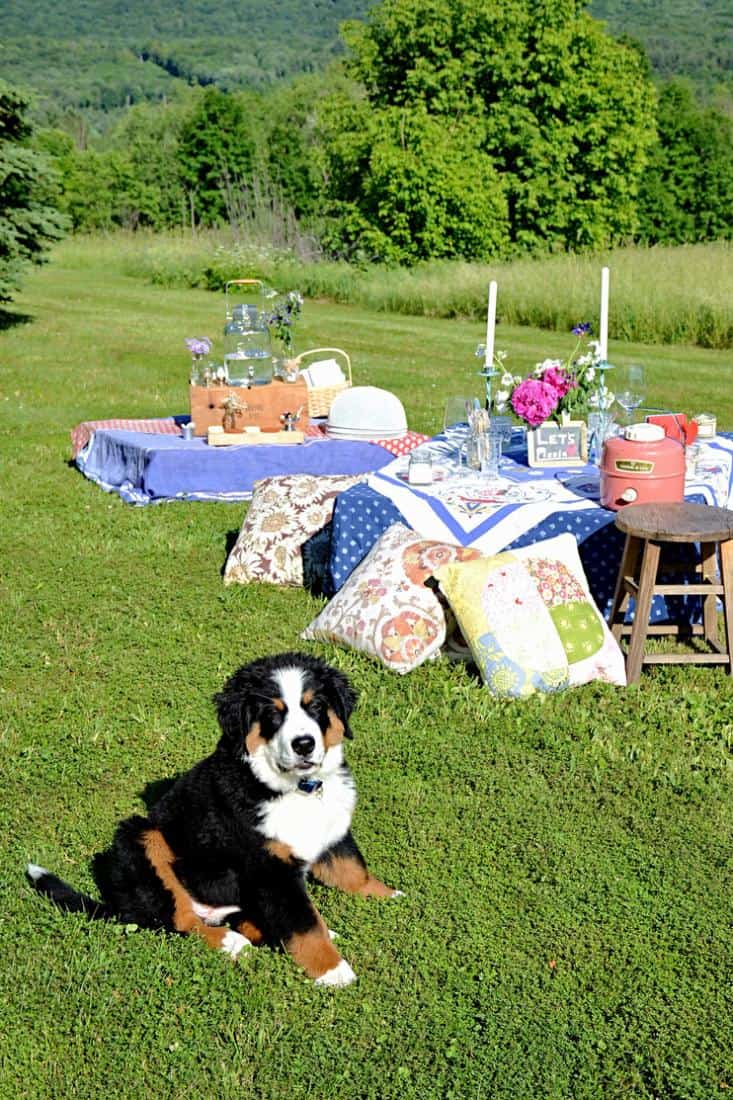 A fun casual and relaxed style with touches of vintage!
The Best Lobster Roll recipe ever and its one secret ingredient!
Ingredients ~ serves 6
3/4 cup finely chopped celery with leaves

1/2 cup mayonnaise

1/4 cup thinly sliced fresh chives

1 Tbs. finely chopped fresh tarragon This makes the Lobster Roll, I promise! Add more if you like!!

1 Tbs. fresh lemon juice; more to taste

Kosher salt and freshly ground black pepper

1-1/2 lb. (4 cups) cooked lobster meat

6 Brioche rolls; Ok, so I'm not recommending the traditional hot dog roll…
Preparation
In a large bowl, stir the celery, mayonnaise, chives, tarragon, lemon juice, 1/4 tsp. salt, and 1/4 tsp. pepper. Stir in the lobster meat and season to taste with more lemon, salt, and pepper.
Spoon the lobster salad onto the rolls. You can either heat the rolls up or leave them cold, whichever you prefer. I personally like them cold. The Brioche rolls really add to the sweetness of the lobster meat!
Serve them up with corn on the cob, pasta salad, chips and garden salad. A perfect, simple picnic meal!!
Pin It!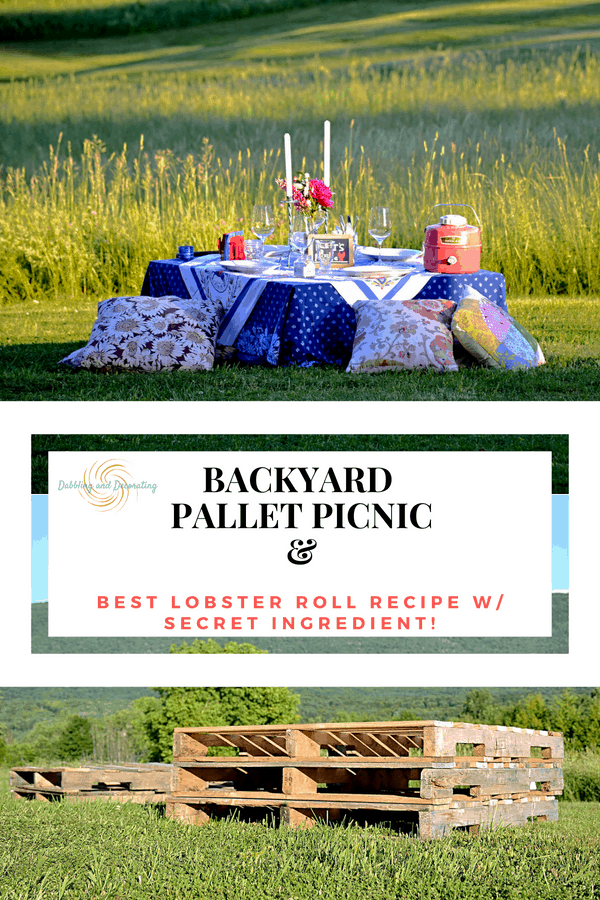 If you like this post, I would luv for you to share it on Pinterest! I've created the above custom pin just for this post! You may also find more picnic inspiration on my Pinterest Picnic Board.
Sharing is Caring!
I would luv to hear from you! Your comments mean so much to me and truly make my day…
You may also join me on Pinterest and Instagram to see more!
Thank you so much for stopping by and I truly hope this brought you some decorating inspiration!!!!
Styled by Ann