"The mountains are calling and I must go"
~John Muir
With the northeast getting back to somewhat normal temperatures this past couple of weeks, I was able to get out and decorate our front deck for the winter months. Our deck overlooks the Green Mountains, therefore whenever we can, we like to sit outside and enjoy the views. And invite over a neighbor or two after skiing.
Decorating your deck for the winter months is all about staying warm and gathering with friends and family (when temperatures allow), to enjoy the outdoors.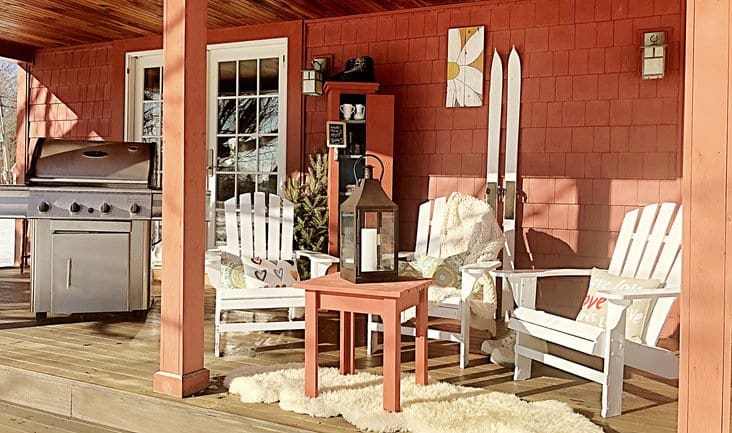 Here is where we can sit outside to grill, keep warm, drink Hot Toddies and enjoy the view.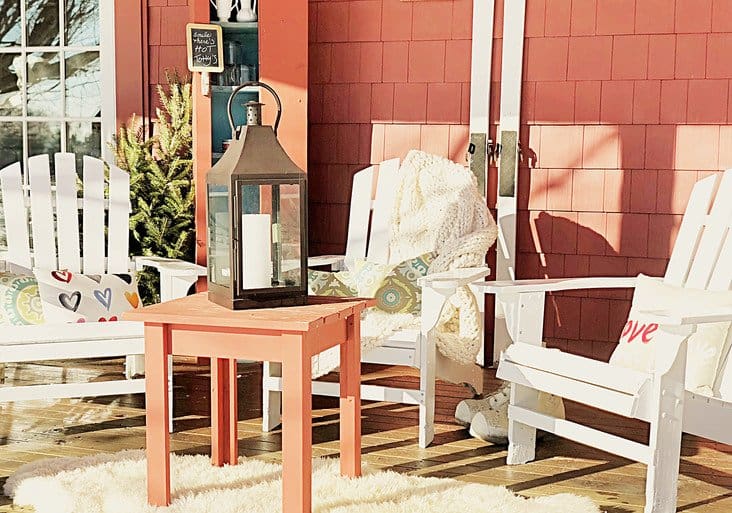 Adding blankets, pillows and candles adds warmth and ambience for gatherings! A little greenery (still hanging onto our Christmas tree) and an Overland Sheepskin rug adds a little more coziness to this outdoor deck.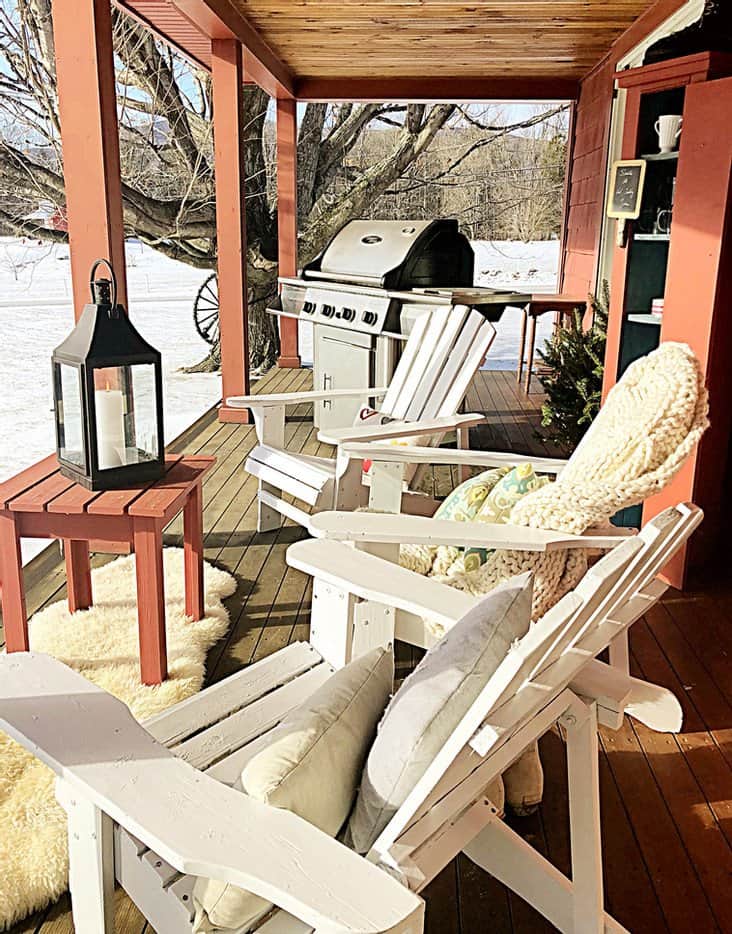 I Luv Adirondack chairs and use them at our fire pit in the summer time and on our deck in the winter. They are so versatile and so, so comfortable. The tall thin red hutch was something my father made for us and I painted it and change it up throughout the seasons.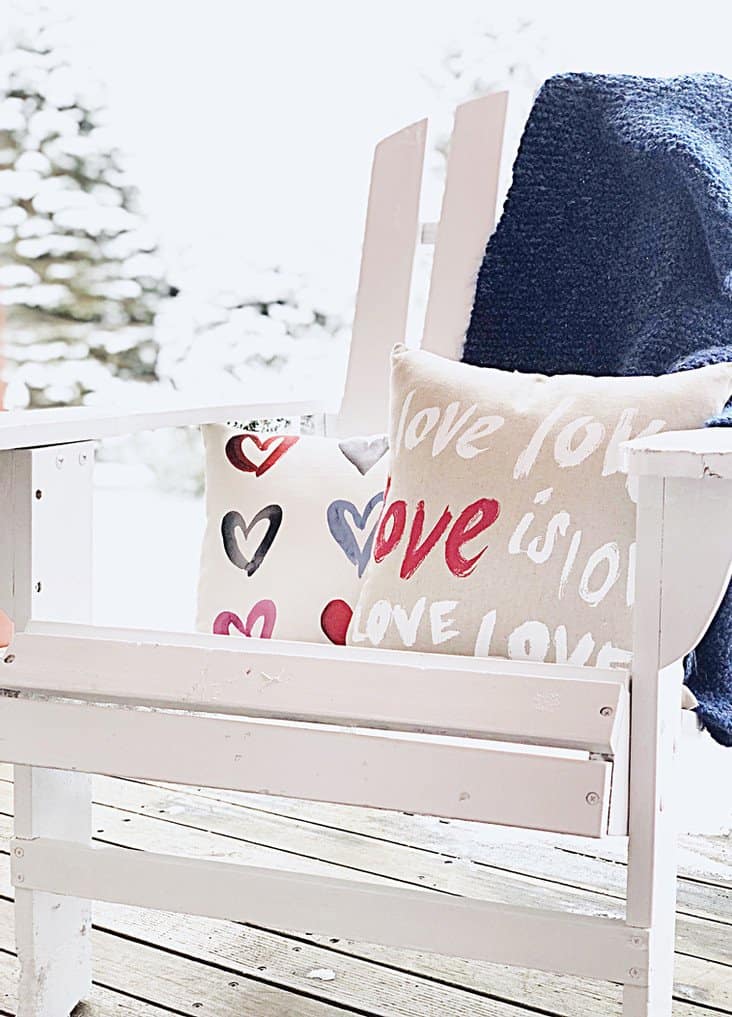 The blue blanket above was knitted by my mother and I bought the pillow covers at Pottery Barn for a Valentines Day touch.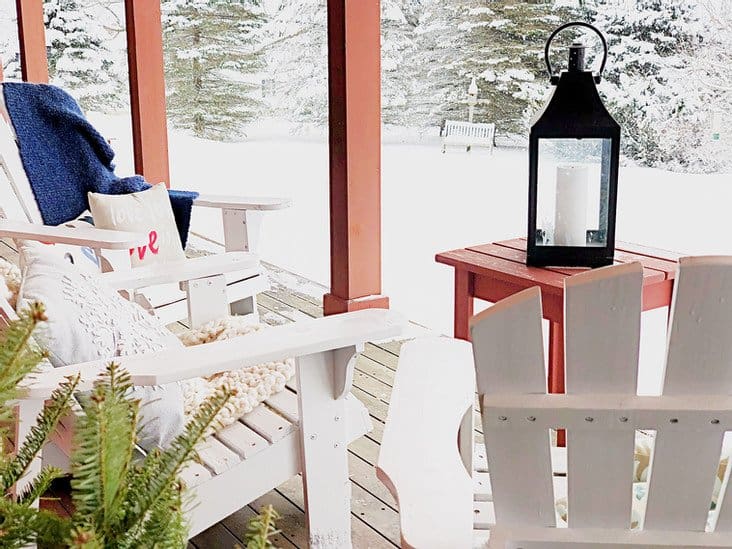 I made the little teal and yellow pillows below from material I found this summer at Joanne Fabrics. Luv the teal pattern! The cable knit piece is actually a table runner from Crate and Barrel and can be used as a blanket or at the foot of a bed as well. However, I did notice they are no longer selling them:(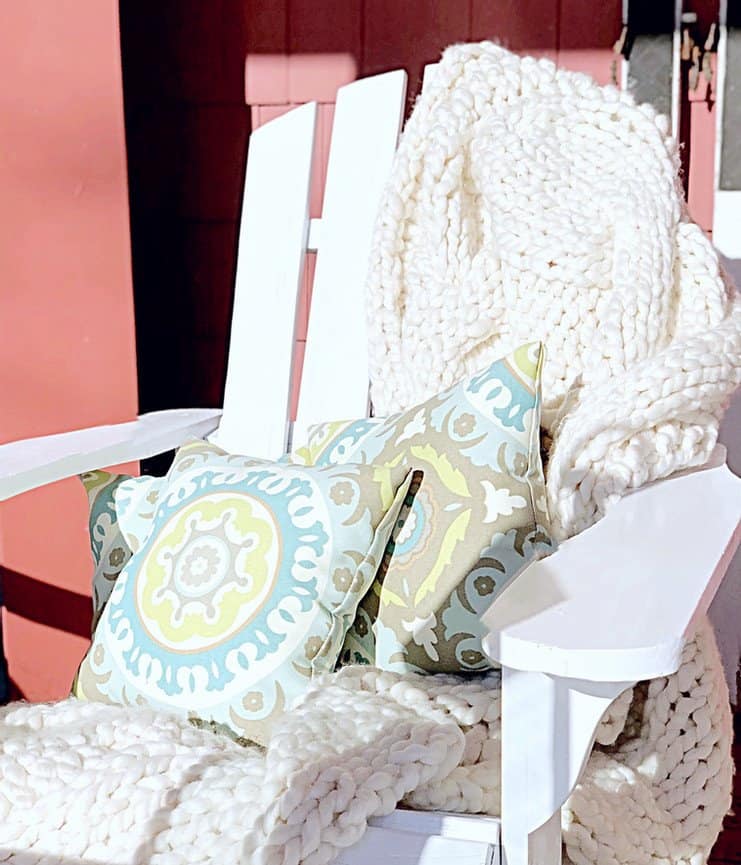 Notice the rooster bell hanging below? We ring that to invite our neighbors over. Seriously!! And they ring back too…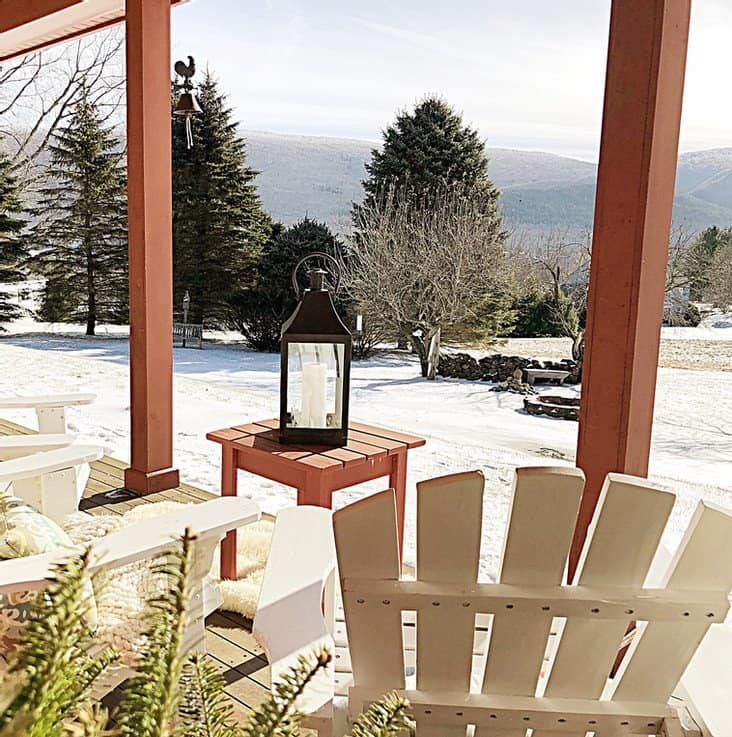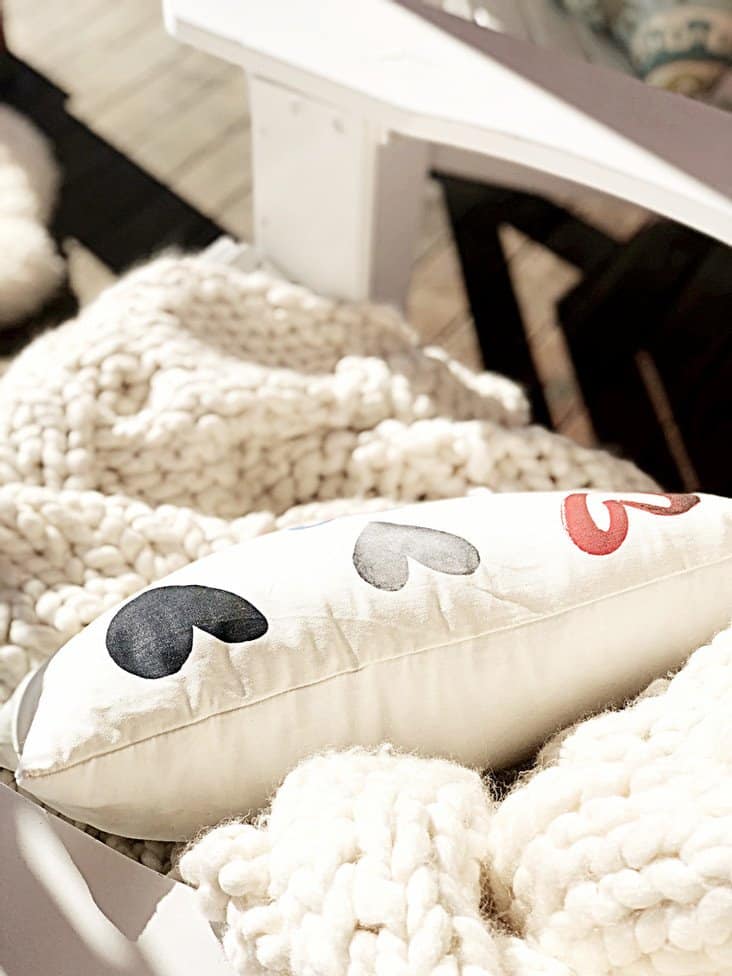 Vintage Skis and boots are such a fun addition to any winter outdoor decor! These can be found at numerous flea markets, thrift shops or antique stores.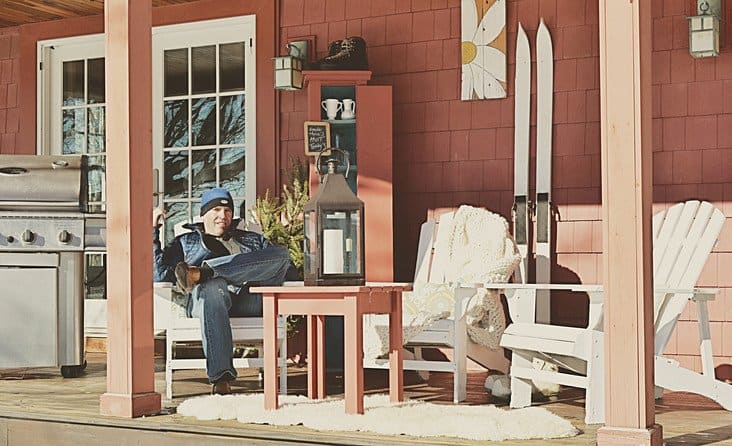 Such a simple and fun space to gather with our friends to enjoy the views and Hot Toddies!
Pin It!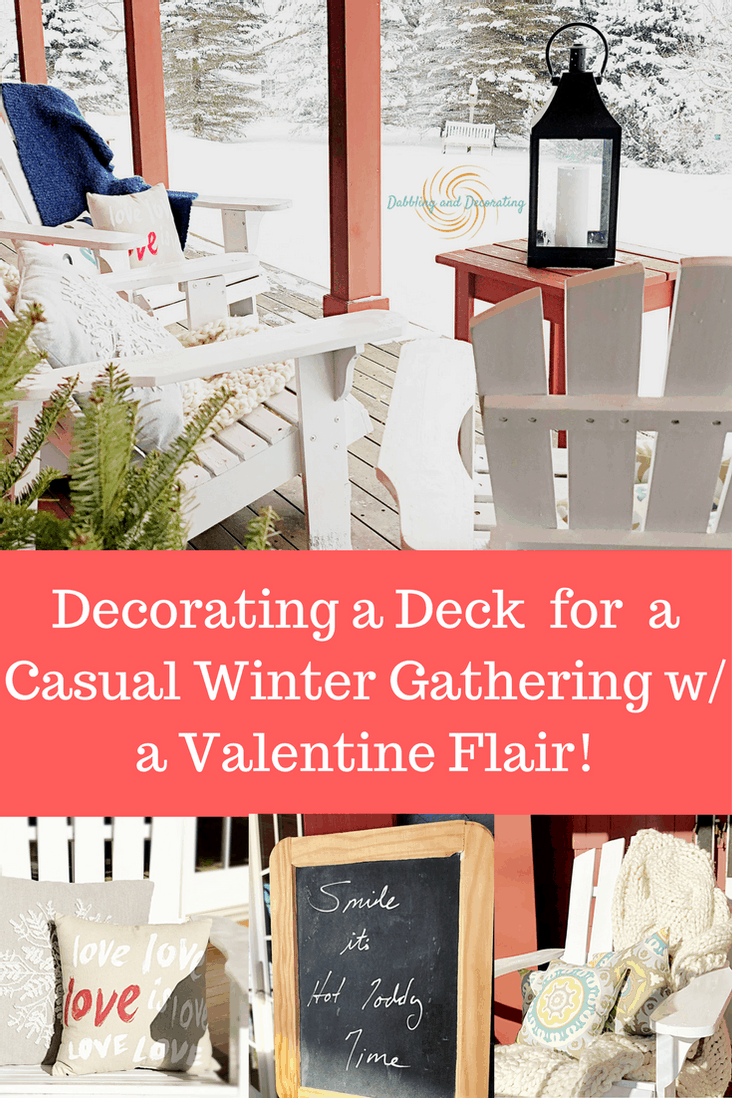 If you like this, I would luv for you to share it on Pinterest! I've created the above custom pin just for this post! Sharing is Caring!
You may also follow my Winter Decks and Porches board on Pinterest for more inspo!
I would luv to hear your comments below, and you may
follow me on Pinterest and Instagram here!
Thank you so much for stopping by!!
Designed by,
Ann