Happy New Year and happy thaw out!! Boy, has it been cold here in New England the past couple of weeks? I am so looking forward to getting back to normal after a busy holiday season… And I started by creating these farmhouse baskets.
During the cold days of the holidays with temperatures reaching below zero, I worked on a DIY project to up-style all the old baskets that I have collected over the years. There are some really simple and fun ways to do this that I wanted to share with you.
All you will need to get started is some spray paint in your favorite colors (I prefer a flat finish) and yarn in your favorite colors as well. I tend to stay with neutral colors that match my inside decor. And I used spray paint that I already had on hand.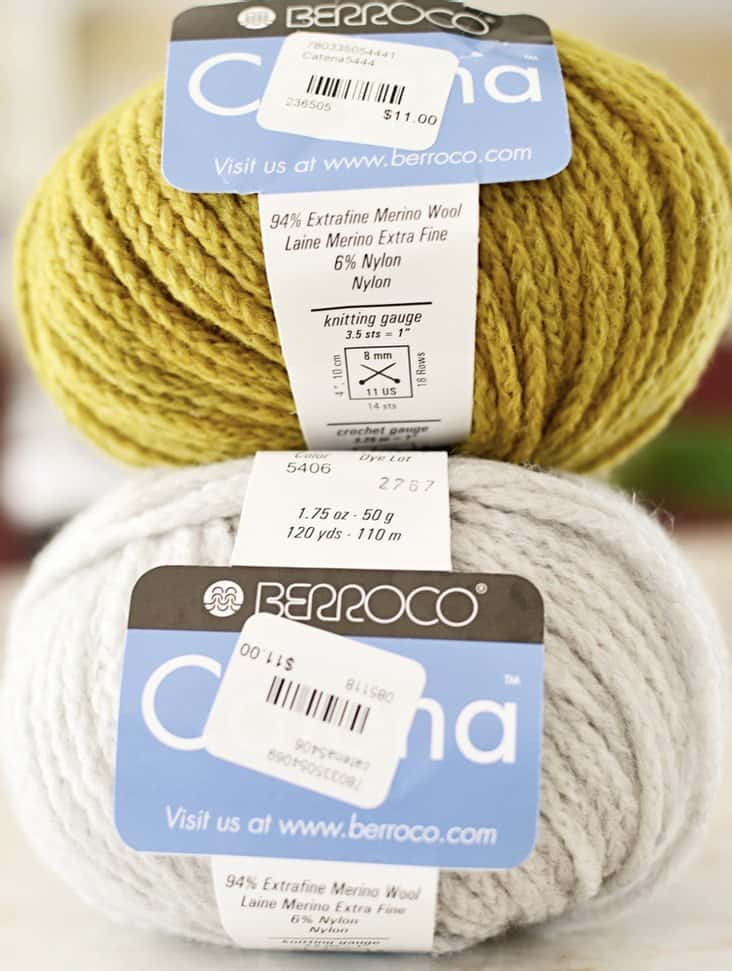 I taped my baskets using painter's tape. Masking tape will work as well. Wrap it around to create a line to paint within. And then simply spray paint the section you want. So simple! It takes about 10 minutes a basket. I do recommend letting it dry and applying a second coat. I remove the tape before it is firmly dried so it will not peel the paint off.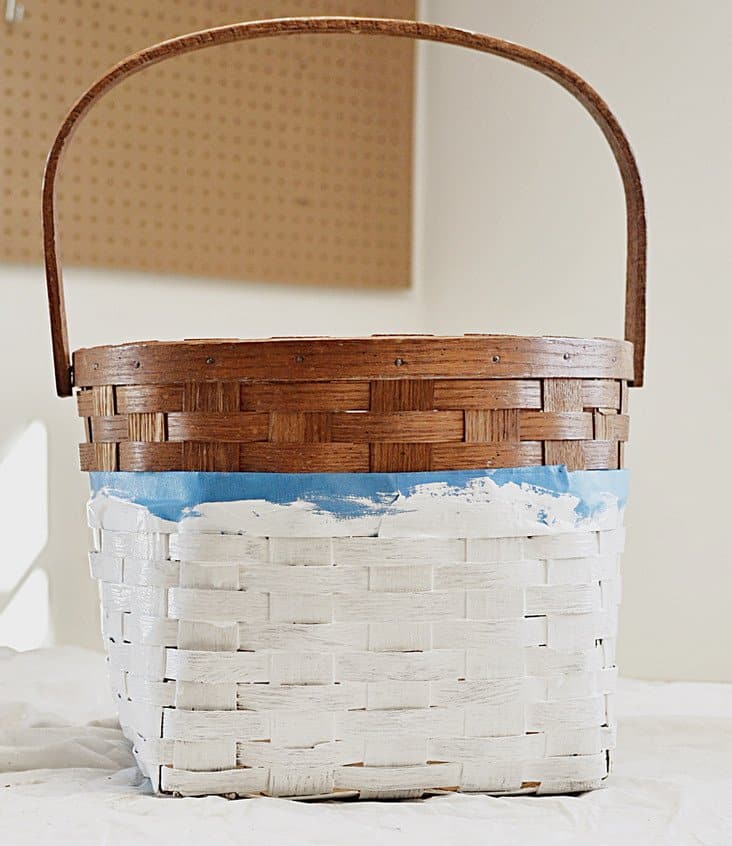 You can select from various colors, paint styles, etc. to add variety throughout all your farmhouse basket styles. I decided to add a little more flair to mine by making Pom Pom's and tying them onto my baskets. Don't know how to make pom poms? They are super simple too!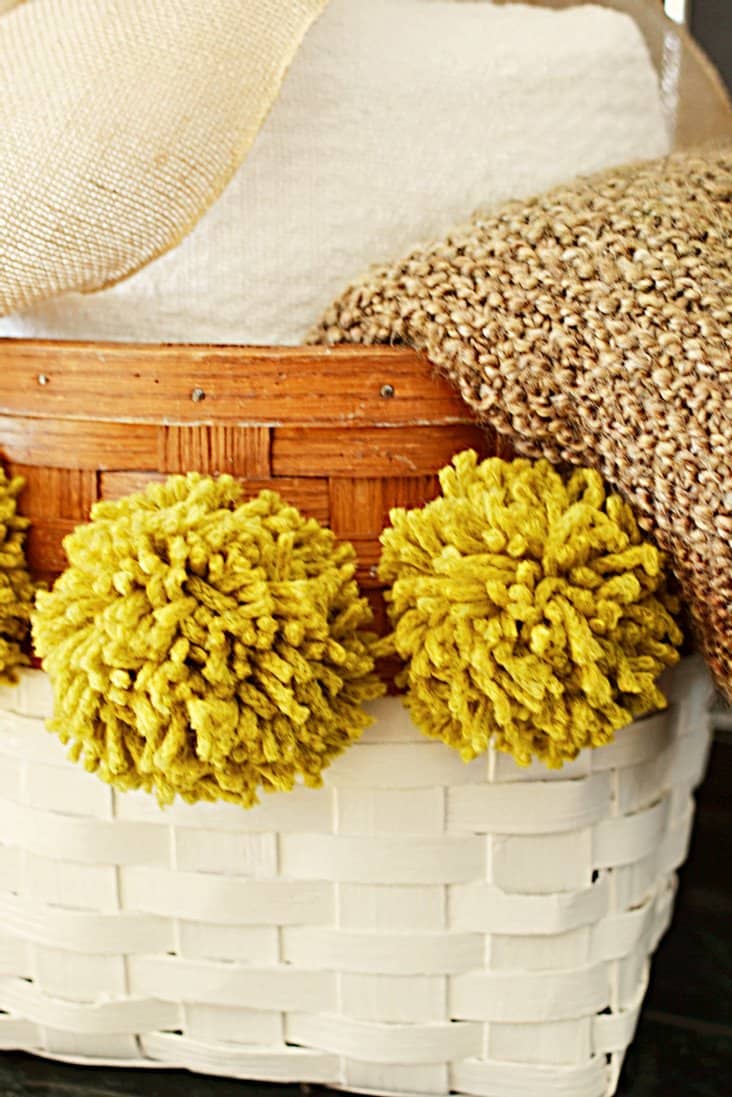 I tied the pom-poms thru the holes in the basket and then added a little Elmers glue in the front under the pom-pom to secure them. Thread a knitting needle to get them thru if you need to.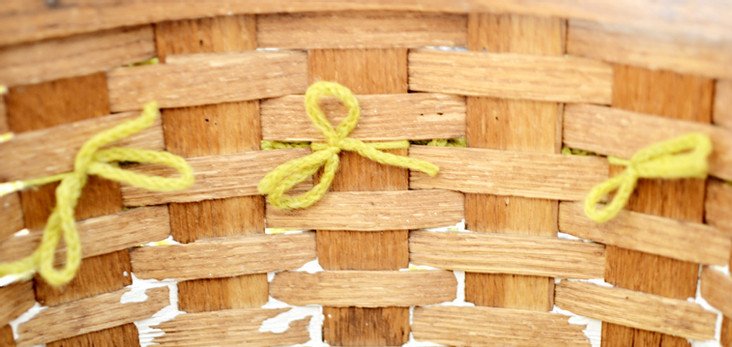 Here I added a burlap bow and filled this farmhouse basket with blankets next to my pellet stove/fireplace.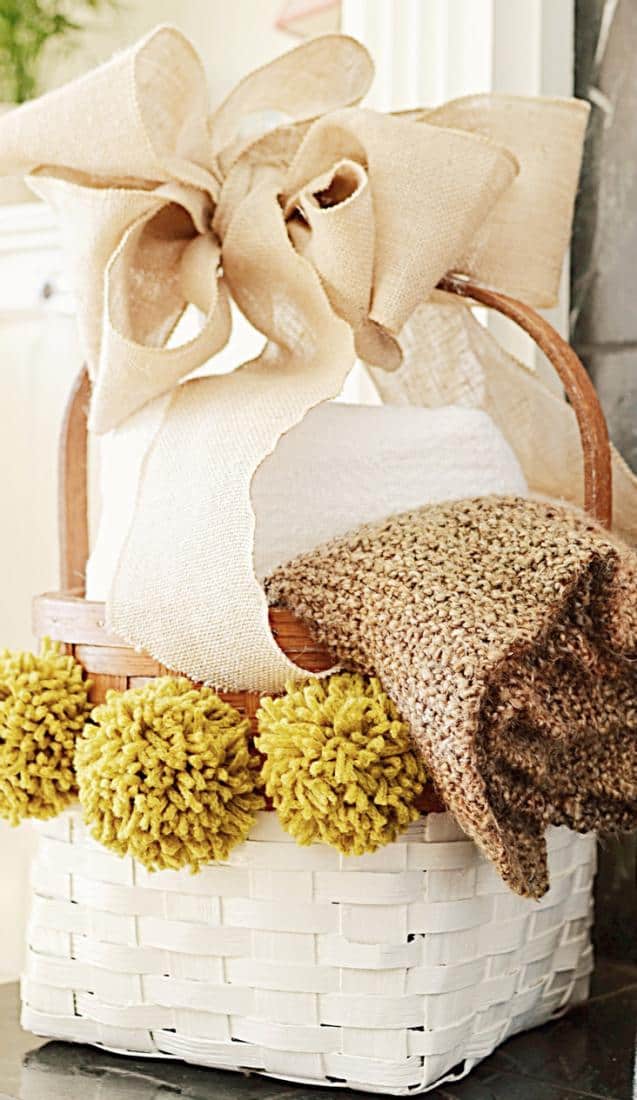 I really wanted to fill them with some birch logs that I have. However, they are outside frozen under all the snow and they weren't going to move. Therefore, unfortunately, that wasn't an option this time…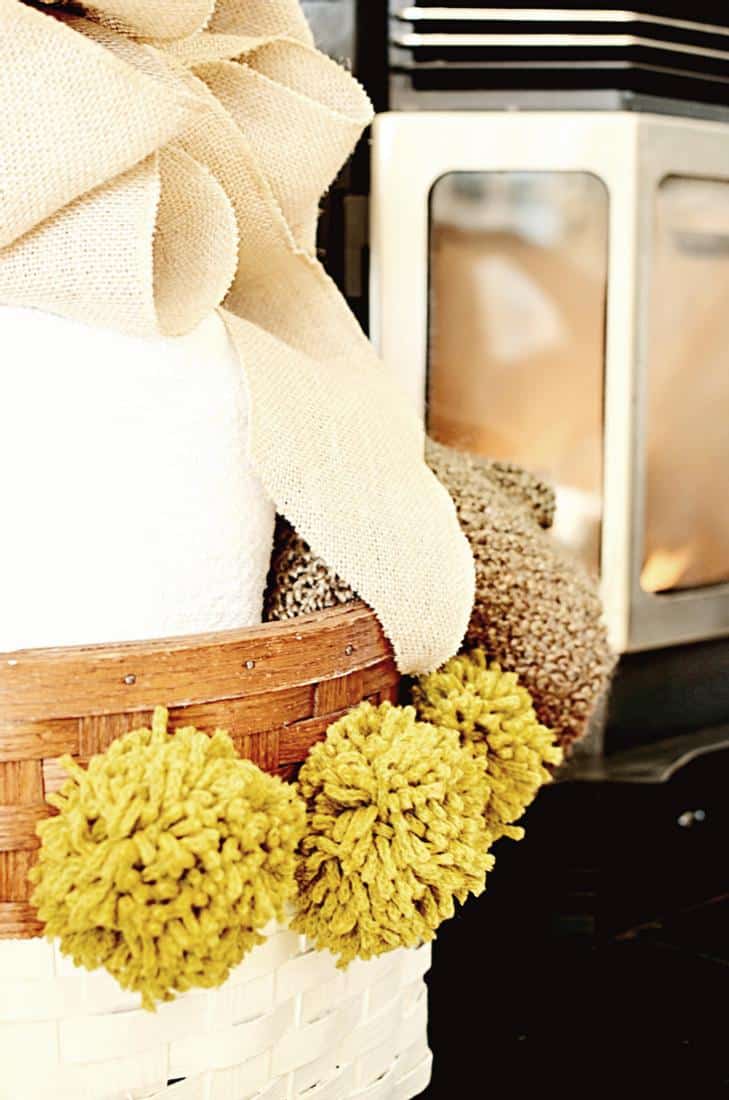 Here are a couple of other farmhouse baskets that I styled!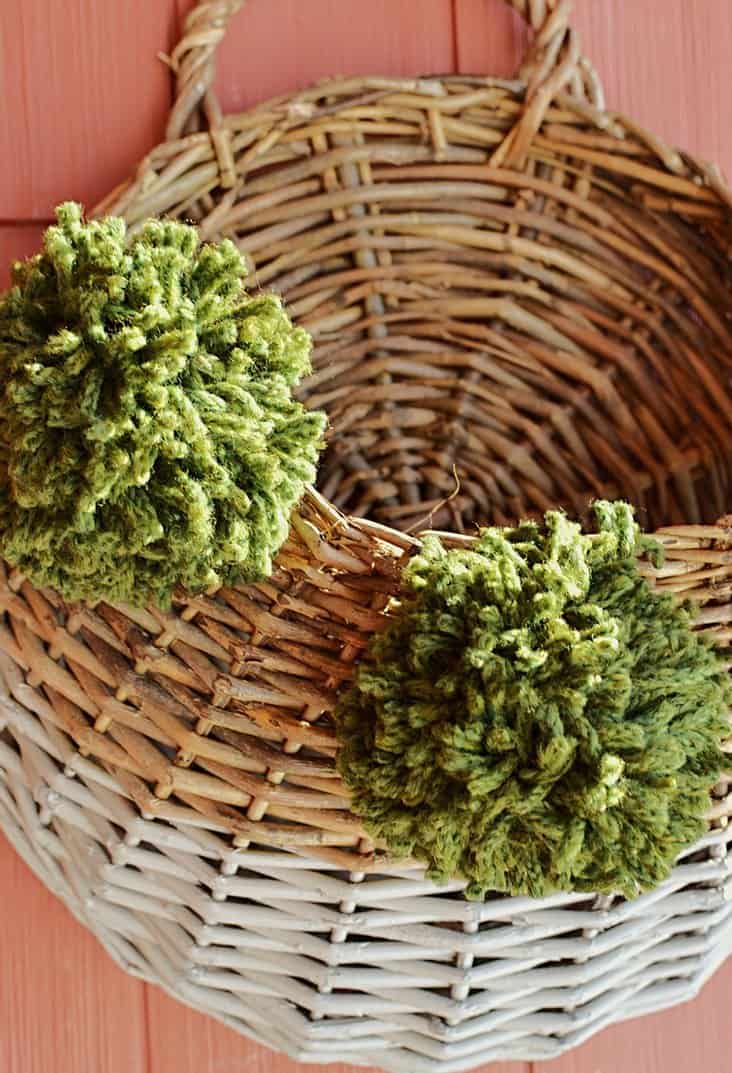 This basket hangs outdoors on our front porch.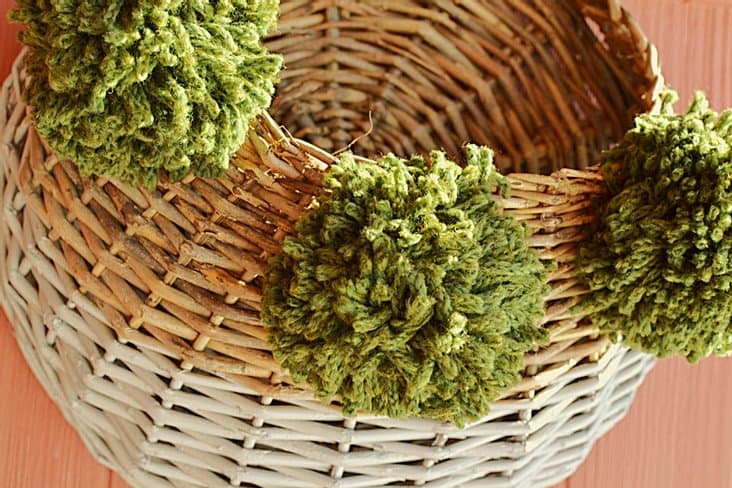 This one I spray painted with olive green and taped it off to add stripes.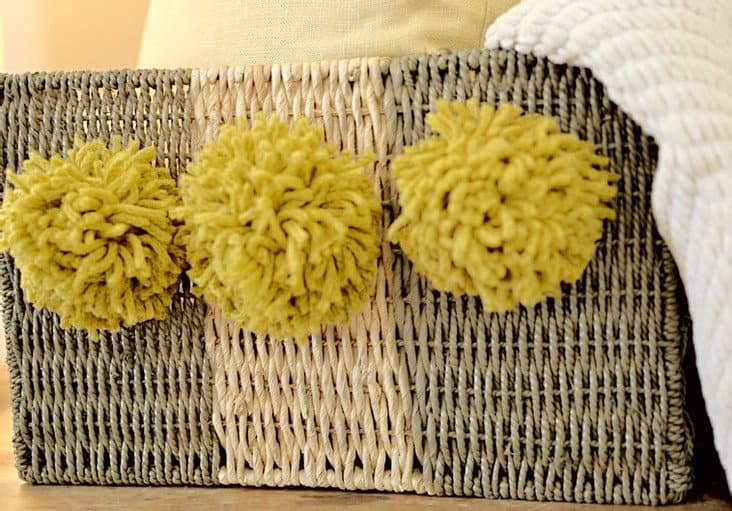 You may also enjoy this Repurpose a Vintage Suitcase for Your Home Decor here.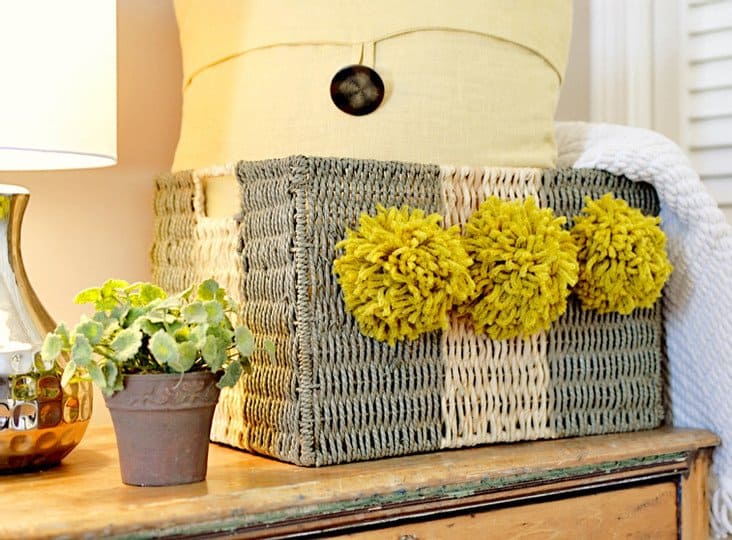 Here's a vintage farmhouse basket that I styled.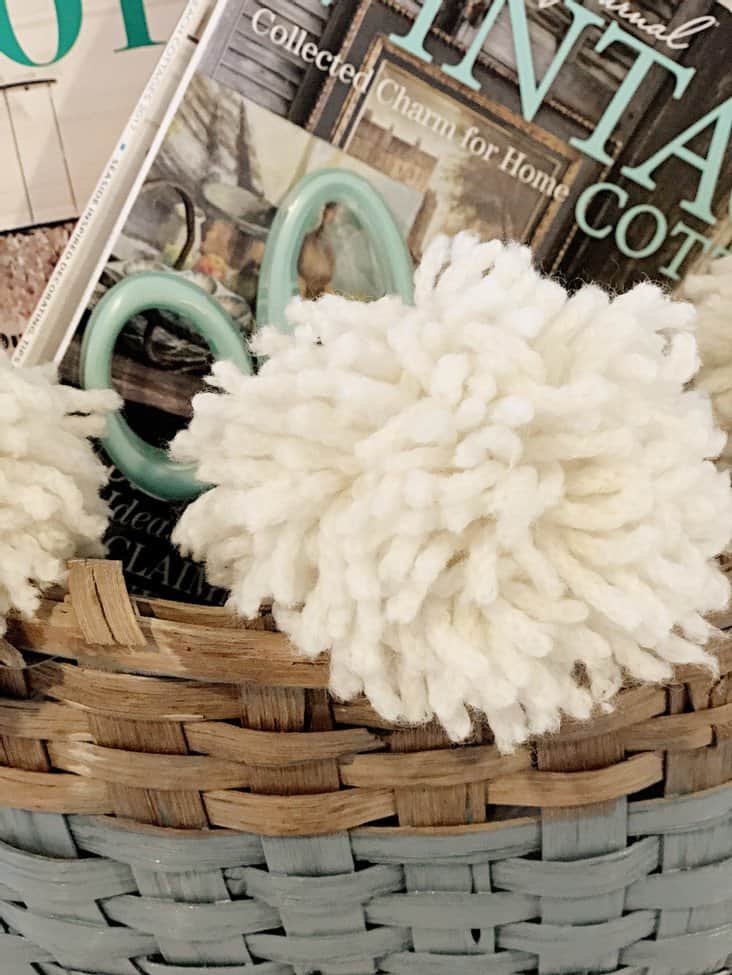 You may also appreciate 16 Easy Spring DIY Ideas You Can Start Today!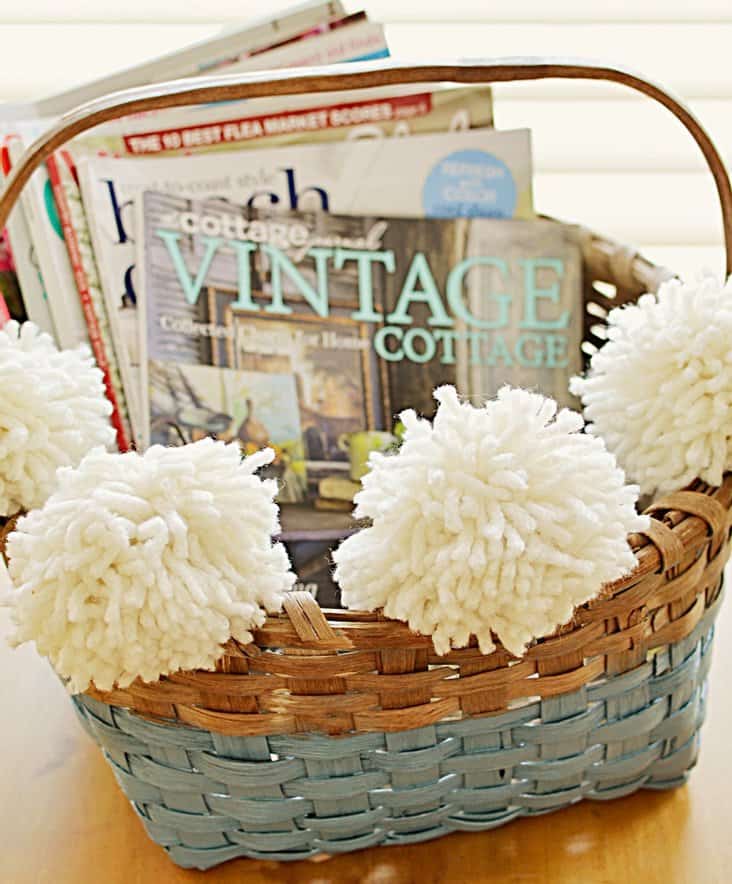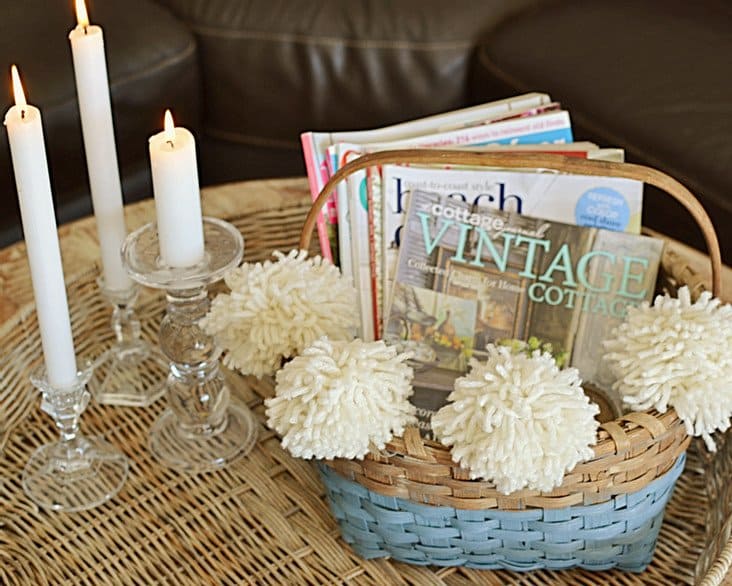 Decorated with vintage ladder, spools, candles, and drop cloth curtain.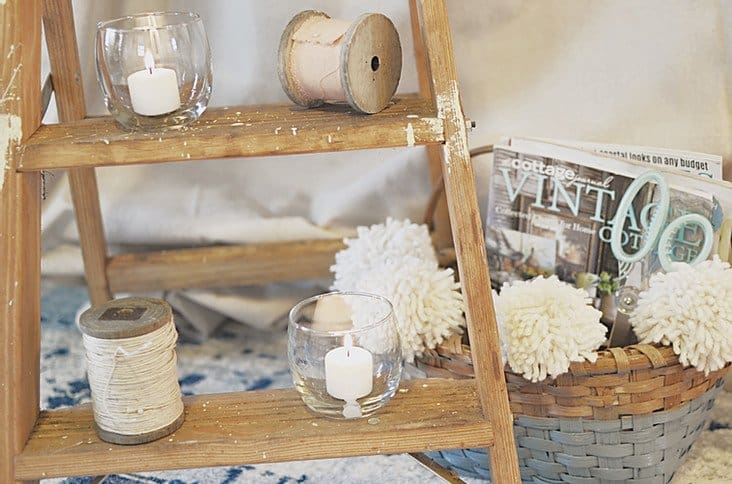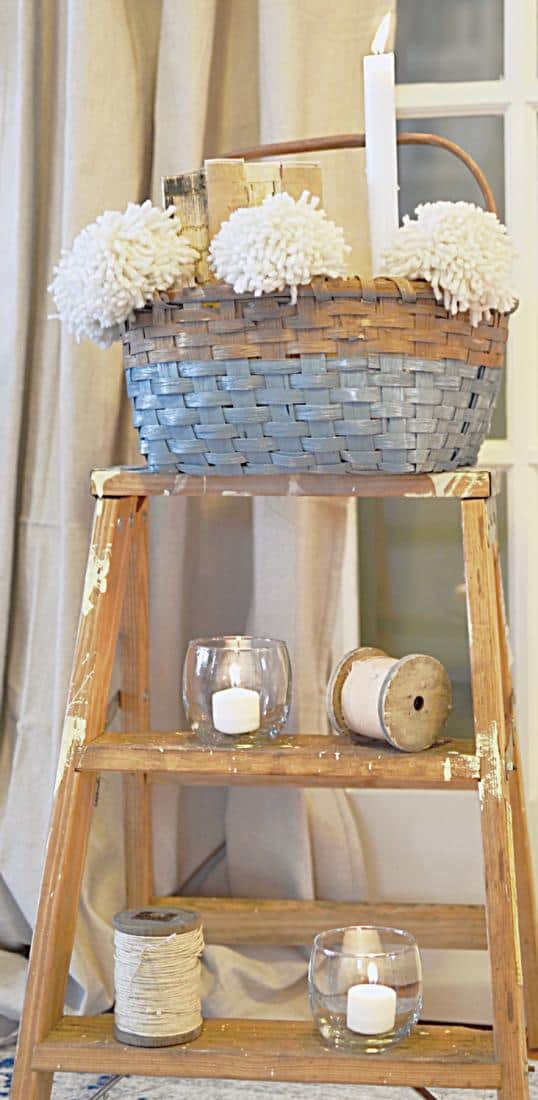 This is such an easy project and you can find inexpensive baskets at your local thrift or consignment stores for about $2 a basket.
I really loved making the pom-poms too!
With the extra yarn, I made a few bookmarks!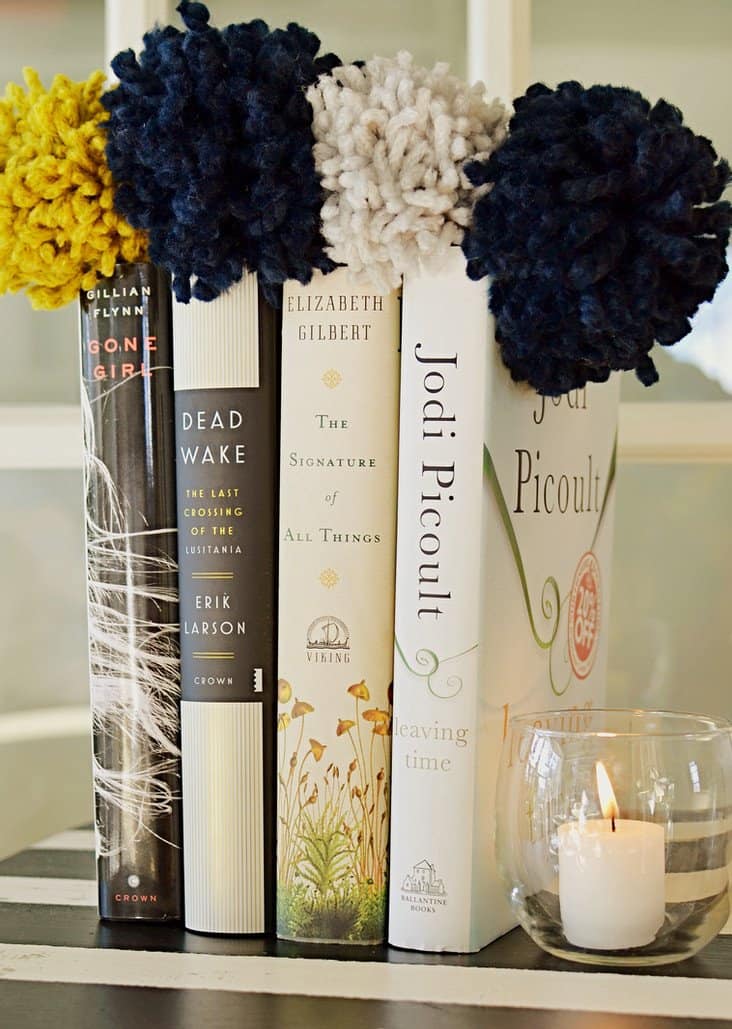 I'm so glad you dropped by, and if you are new to my blog, welcome! I hope you enjoyed your visit with us here today at our Home in Vermont.
Be sure to also check out our Home in Coastal Maine where we spend summers and weekends when we are craving a walk on the beach or a visit with old friends.
Please join me as a regular here at Dabbling & Decorating by signing up for my Saturday morning newsletter and never miss an update!
Pin It!

I've created the above custom pin just for this post! Hearing from you makes my day and your comments mean so much to me! Please join me over on Instagram & Pinterest to see more!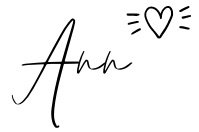 YOU MAY ALSO LIKE