If you embrace all things thrifty, chippy, and vintage in home decor, join me here today, and let's talk a little about this and that!
Hi friends, right now the snow is really coming down outside, with about 12″ predicted throughout the day. The plow just drove by for like the 4th time this morning and Ella is by my side curled up. So I thought I would share a little of "this and that" with you from my week that was an epic fail in spring decorating.
As you see, I didn't get much blogging done for you this week.
And to add insult to injury most of my friends seem to be down south this week basking in the sun and sailboats…
Spring Mantel
I created a spring mantel that I was so excited to share with you here, but honestly, I just don't love how it turned out.
I like it in person, but not in the photos. So I'm keeping it a secret from you, at least for now. Ha, ha.
I created it with birds and a few branches inspired by my friend KariAnne over at Thistlewood Farms. You can see her Mantel Full of Joy here. Isn't this just the cutest with turquoise branches and colorful birds?
Green in Home Decor
I started the week out though totally inspired, sharing these 12+ Marvelous Ways to Decorate with Green in Home Decor.
Green Champagne Flutes
And I ordered these amazing green flutes that I found on Etsy. I was so excited to put together a spring table for you this week, but they have still yet to arrive…
Hopefully this week, fingers crossed!
SHOP SIMILAR GLASSWARE

To lift my spirits, I headed out later in the week to my favorite antique shop in Vermont, Stone House Antique Center to do a little "Thrifting with the Gals".
Where I found this vintage blue and white quilt for $100.
Now, this lifted my spirits!
And it looks so beautiful on our white sunroom sectional next to the blue skies, mountains, and today's falling snow.
I think it will make its way to the front porch later this spring or summer paired with some new wicker green furniture I have planned.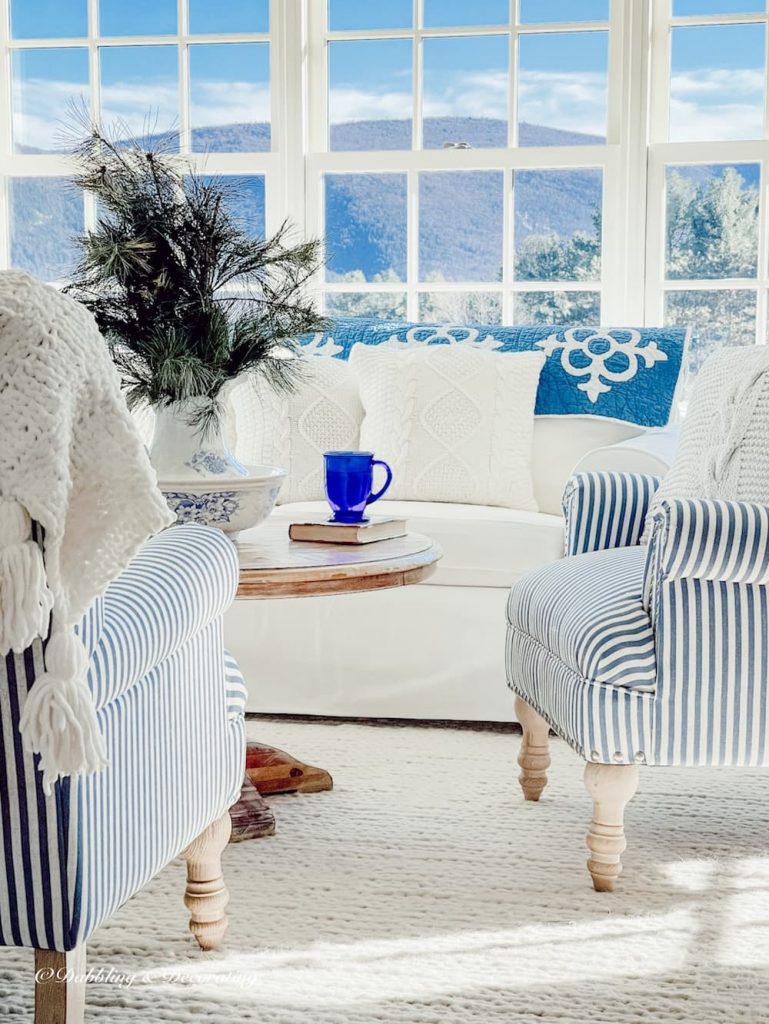 SHOP BLUE AND WHITE QUILTS

Earlier this year I shared 4 top thrifting goals for 2022 with you. One of which was to find my own consignment booth that I could style and sell collections from.
And I hope to be firming this all up soon and will be sharing it with you here next week. If it all comes together, it is going to be so much fun and a great learning experience too!
Stay tuned…
Oh, and I also finished my first thrifting vision board too.
Hmmm, I suppose I really did get a lot more accomplished this week than I was thinking I did.
Burning Brush Fire
On another note…
Here in Vermont, you don't need a permit to burn a fire as long as there is snow on the ground.
So while I was out "Thrifting with the Gals", my husband Steve was busy burning all the old evergreens and brush from our sinful pile out front.
Glad to say goodbye to this!
So that was it for me this week, friends. I hope to have lots more for you next week.
Now we're going to enjoy the rest of our snow day cooking, watching Netflix, and getting cozy!
Hope you have the nicest weekend!
I'm so glad you dropped by, and if you are new to my blog, welcome! I hope you enjoyed your visit with us here today at our Home in Vermont.
Be sure to also check out our Home in Coastal Maine where we spend summers and weekends when we are craving a walk on the beach or a visit with old friends.
Please join me as a regular here at Dabbling & Decorating by signing up for my Saturday morning newsletter and never miss an update!

I've created the above custom pin just for this post! Hearing from you makes my day and your comments mean so much to me! Please join me over on Instagram & Pinterest to see more!


YOU MAY ALSO ENJOY