Our outdoor teak table is set and I am patiently waiting for friends to be able to gather once again! I'm dreaming of outdoor get-togethers, flowers, long beach days, cool summer nights, fire pits, lobster rolls, and cheer. The beaches here in southern Maine have soft openings this week and the businesses are beginning to open up as well. So I sit here today and patiently wait for it all to be good again very soon. I hope you enjoy this very simple backyard table and centerpiece that I put together that we are so excited to fully enjoy before long.
Teak Table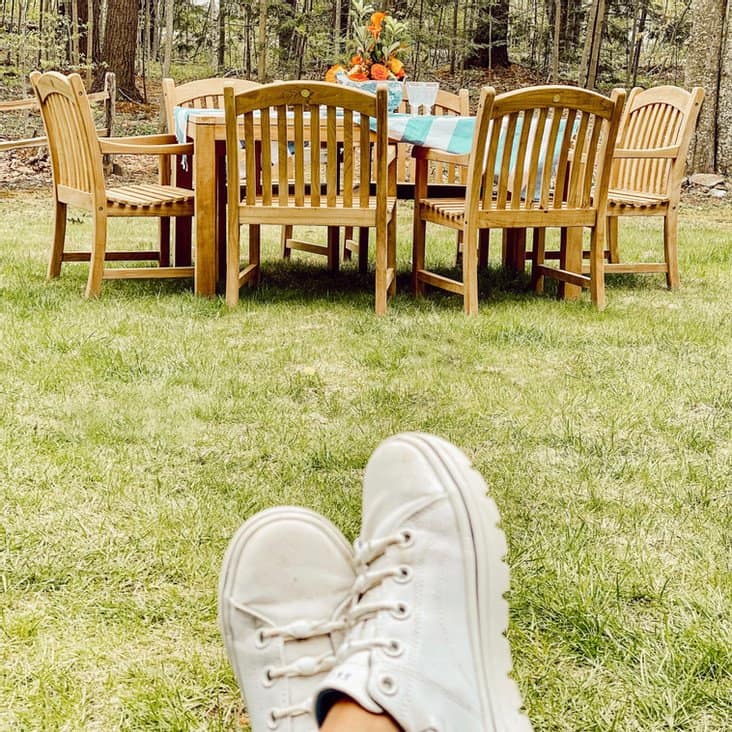 Teak Table Flower Centerpiece
I'm so grateful for our neighbor and a girlfriend who gifted me with these beautiful flowers that I combined into this colorful centerpiece using my mother's antique transferware. Along with a blue and white scarf that I bought while we were vacationing back in January.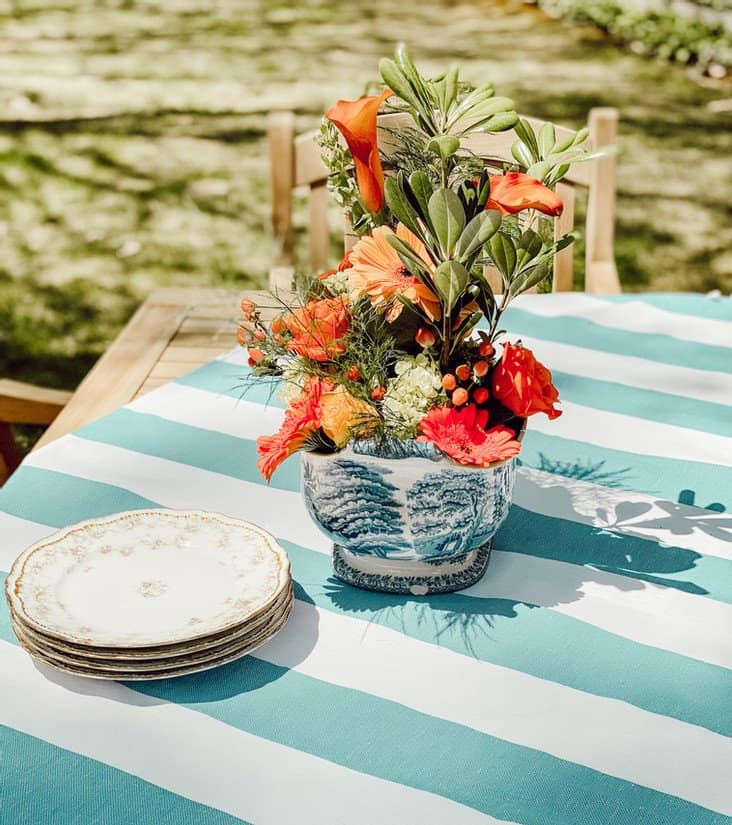 It's still a little chilly here in Maine, about 60 degrees here in mid-May. Therefore, keeping it simple and comfortable is important. I ordered up some pizza and salad from one of our favorite pizzeria's in Ogunquit, Maine this weekend and we enjoyed alfresco dining in the backyard.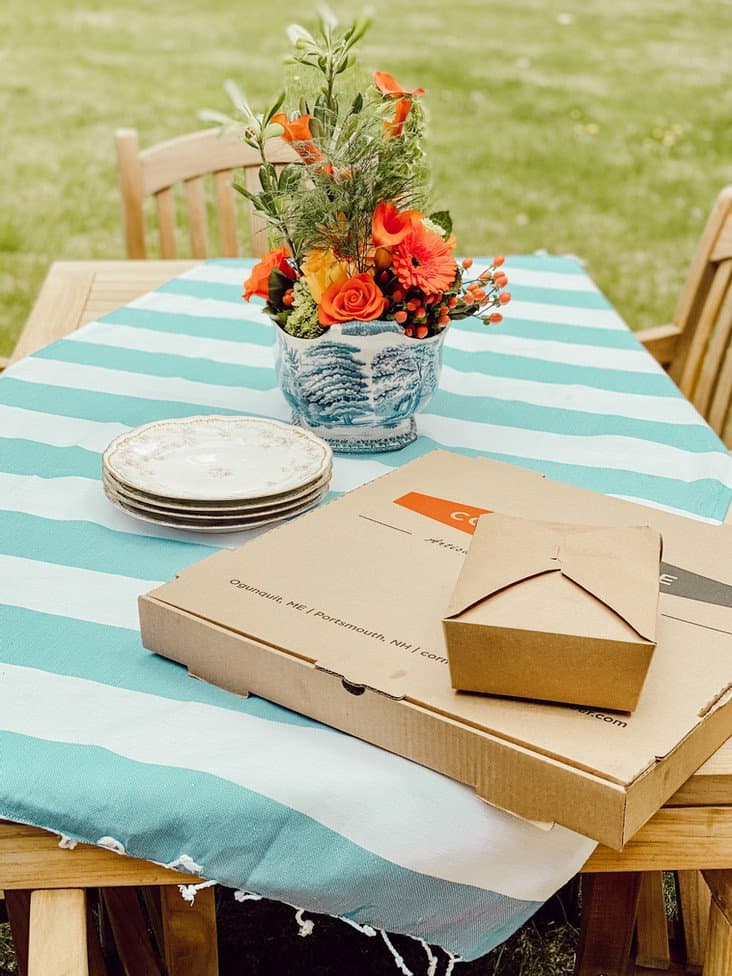 You may also enjoy HOW TO CREATE AN OUTDOOR DINING OASIS.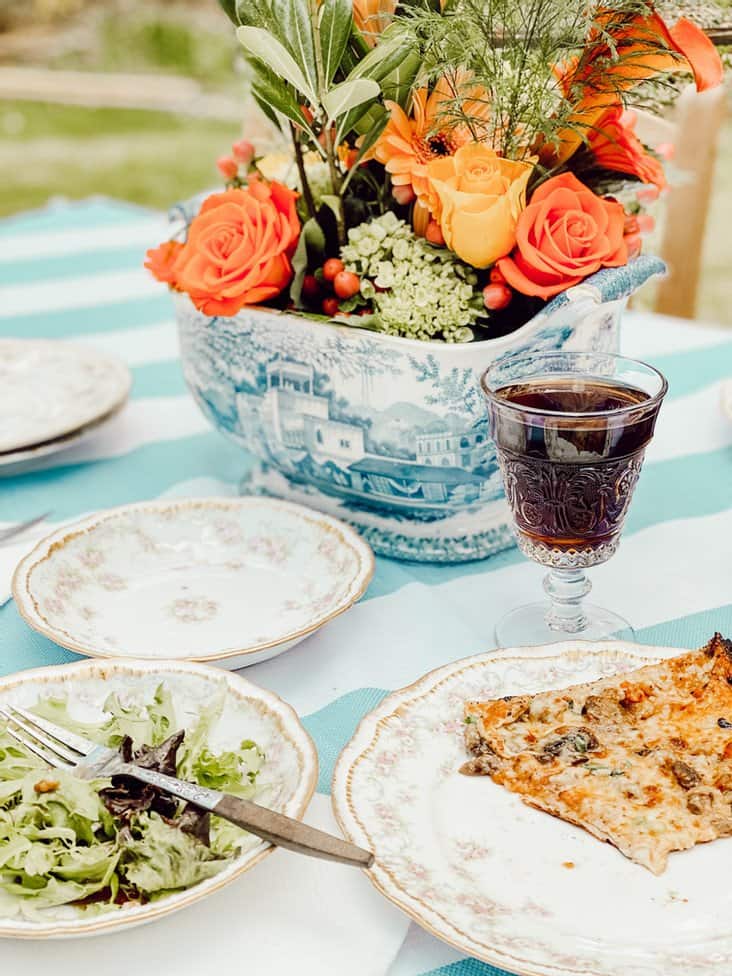 The dishware is part of an antique dish collection that was my mother's. I adore it. Its soft pink and gold pattern is just perfect for summer and adds a touch of style to this backyard tabletop.
A simple backyard teak table for two until we can all get together again very soon.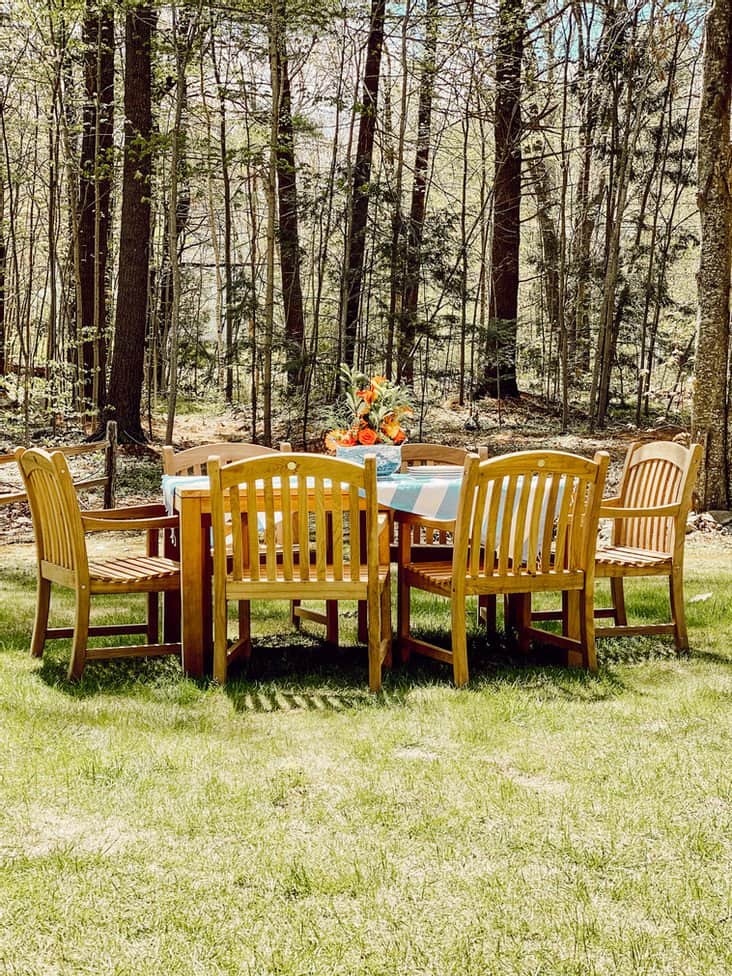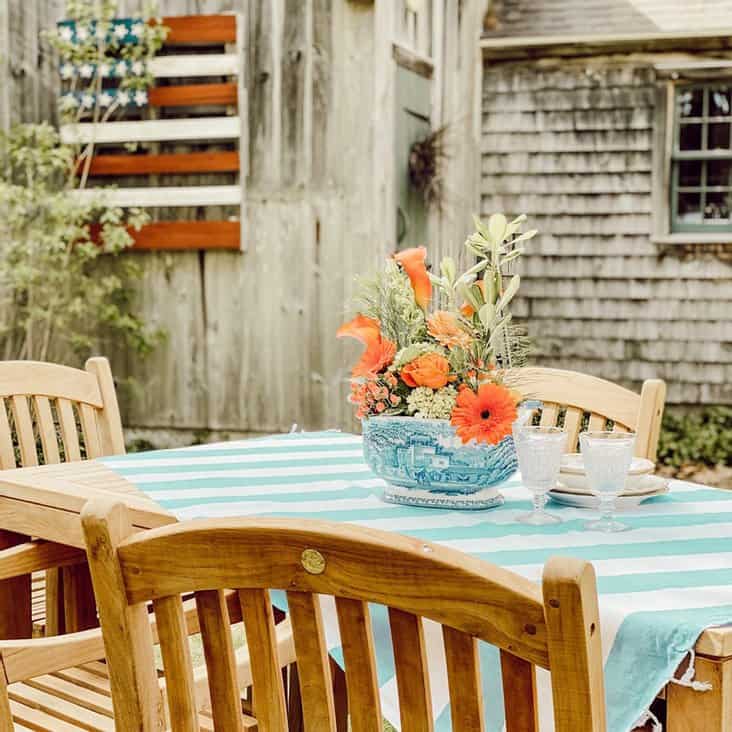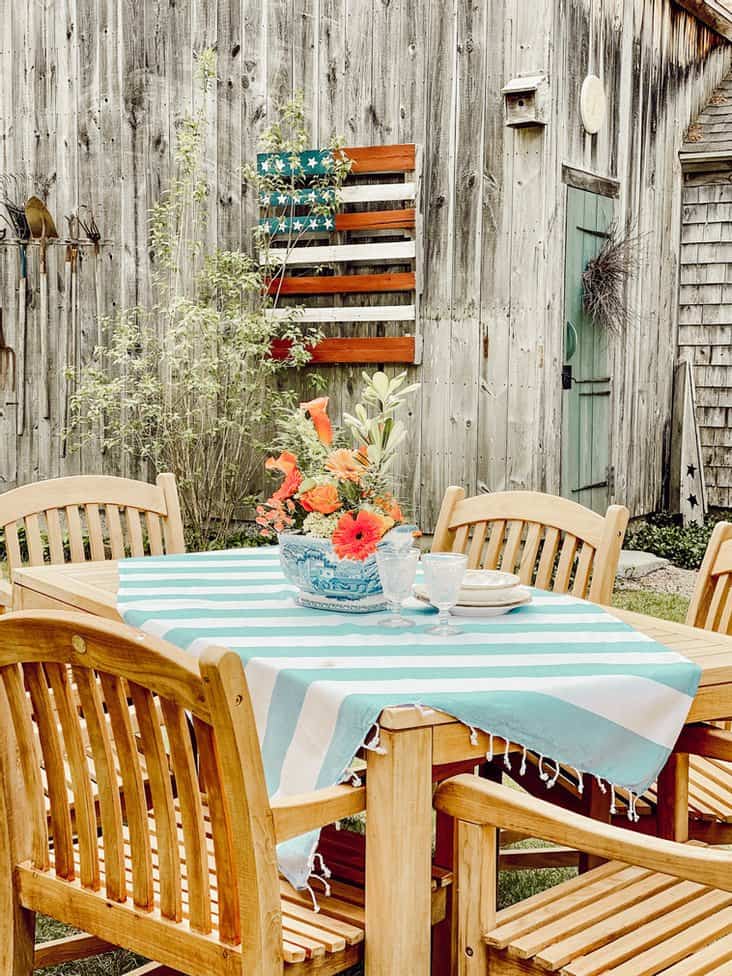 And there's always a few intruders… Yes, this happened!! This is our Bernese Mountain Dog, Ella and she is full of sass and had to check out the new teak table. Then she was so scared once she was up there, we couldn't get her down…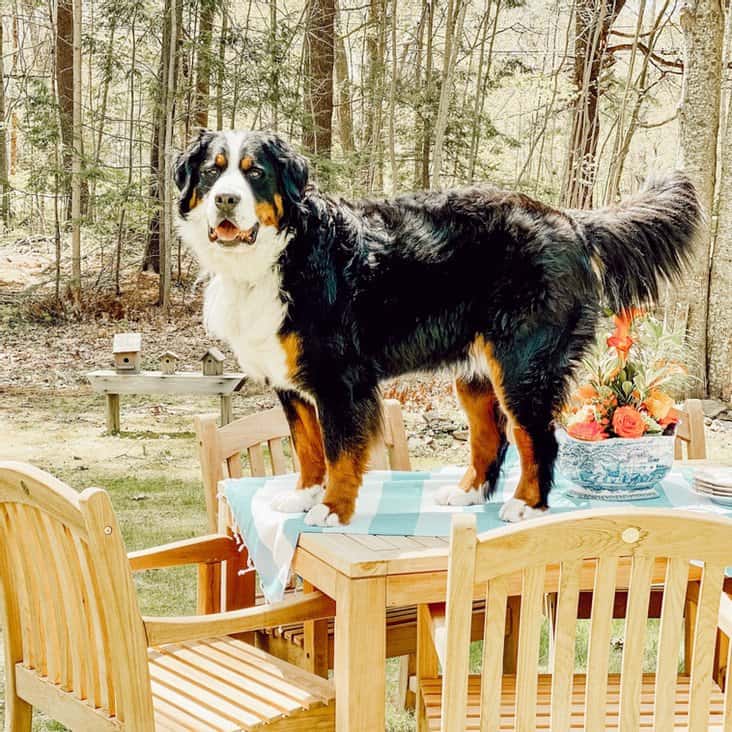 The table is made out of teak wood and I purchased it at Home Depot. I have wanted a teak table for ages and the Maine home was a perfect fit for one. It will weather and turn a nice coastal gray. And they simply last forever.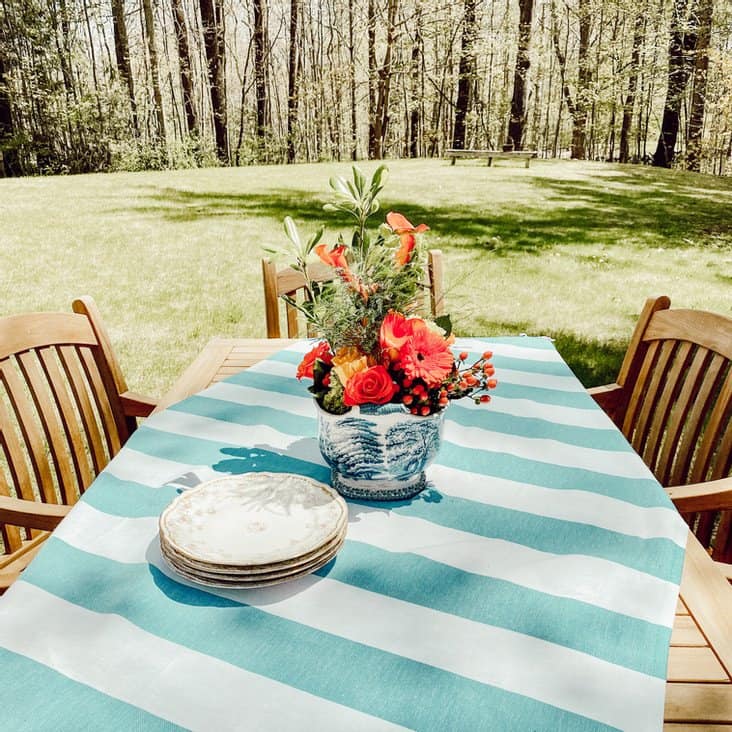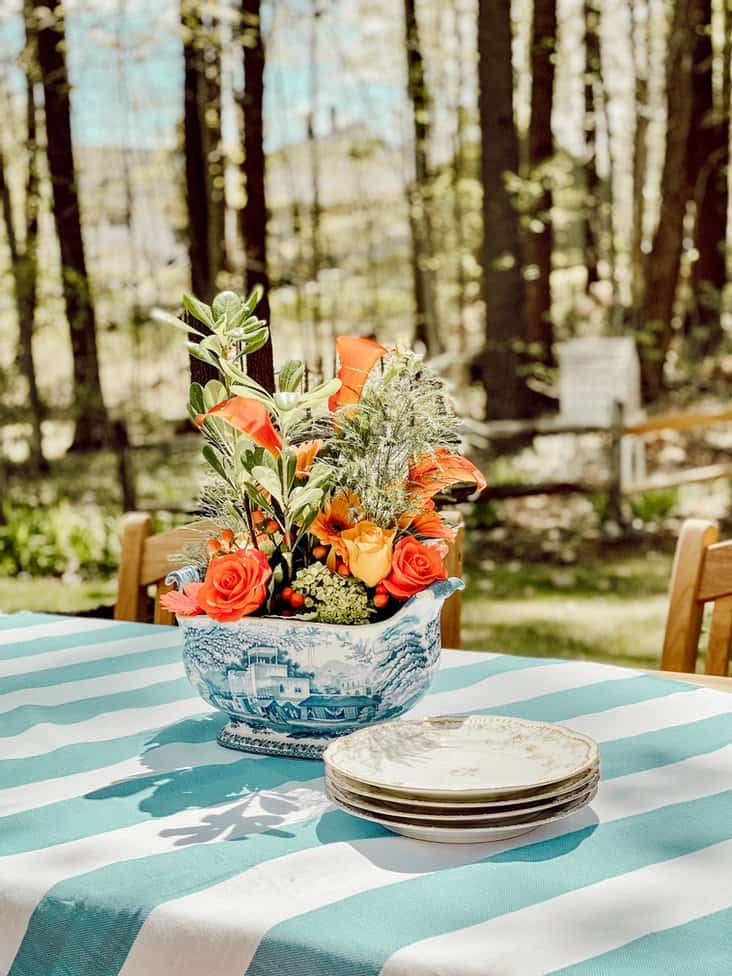 I'm so glad you dropped by, and if you are new to my blog, welcome! I hope you enjoyed your visit with us here today at our Home in Vermont.
Be sure to also check out our Home in Coastal Maine where we spend summers and weekends when we are craving a walk on the beach or a visit with old friends.
Please join me as a regular here at Dabbling & Decorating by signing up for my Saturday morning newsletter and never miss an update!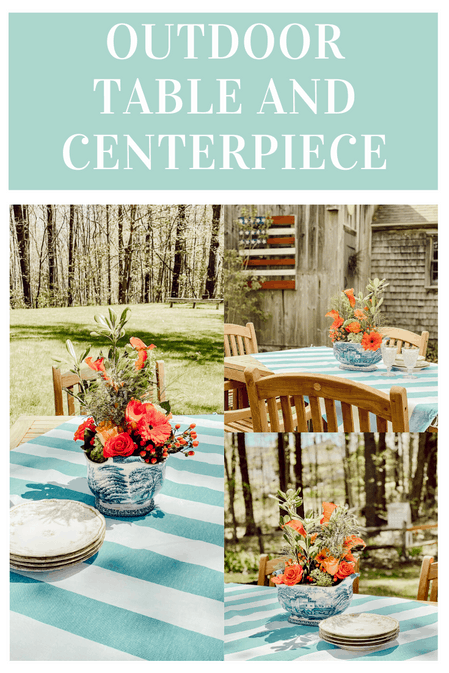 I've created the above custom pin just for this post! Hearing from you makes my day and your comments mean so much to me! Please join me over on Instagram & Pinterest to see more!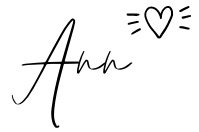 YOU MAY ALSO ENJOY