Welcome friends, to the second, decorated guest bedroom here at our coastal cottage home in Maine. To see the first guest bedroom that I completed back in the fall click here! This guest bedroom is on the main floor with a bathroom across the hallway. I decorated this bedroom with old family nostalgia and a coastal home vibe. I hope you enjoy your visit!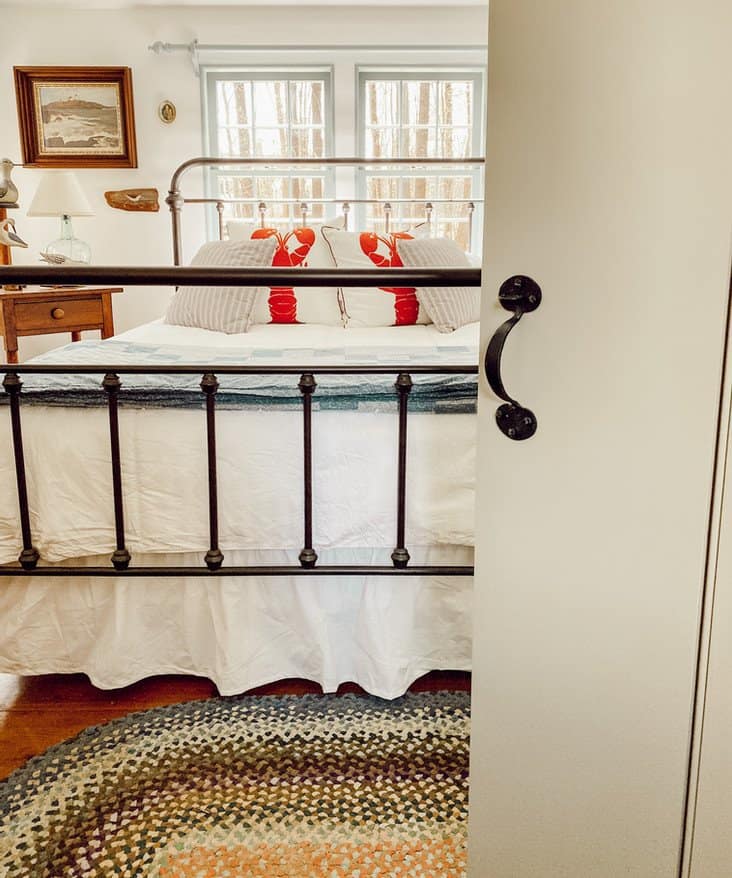 An old braided rug that my mother made welcomes you at the door. The floors in this bedroom have yet to be refinished. The room is freshly painted and the floors will be refinished this fall.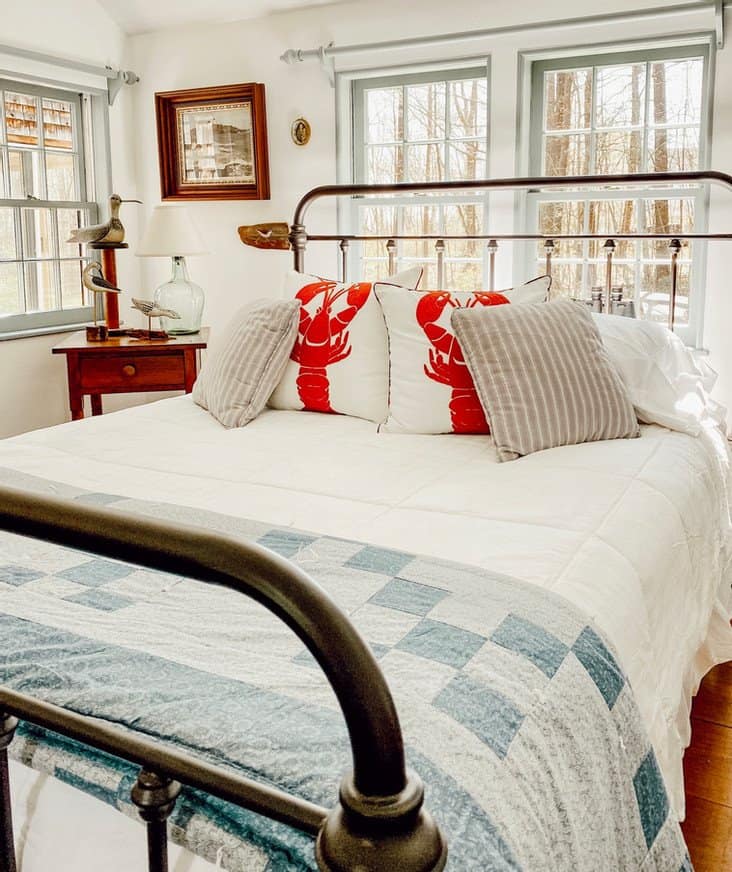 A beautiful blue quilt, also crafted by my mother, rests at the end of the bed for a cozy night sleep.
You may also enjoy A Bernese Mountain Dog & The Gift of a Whale post.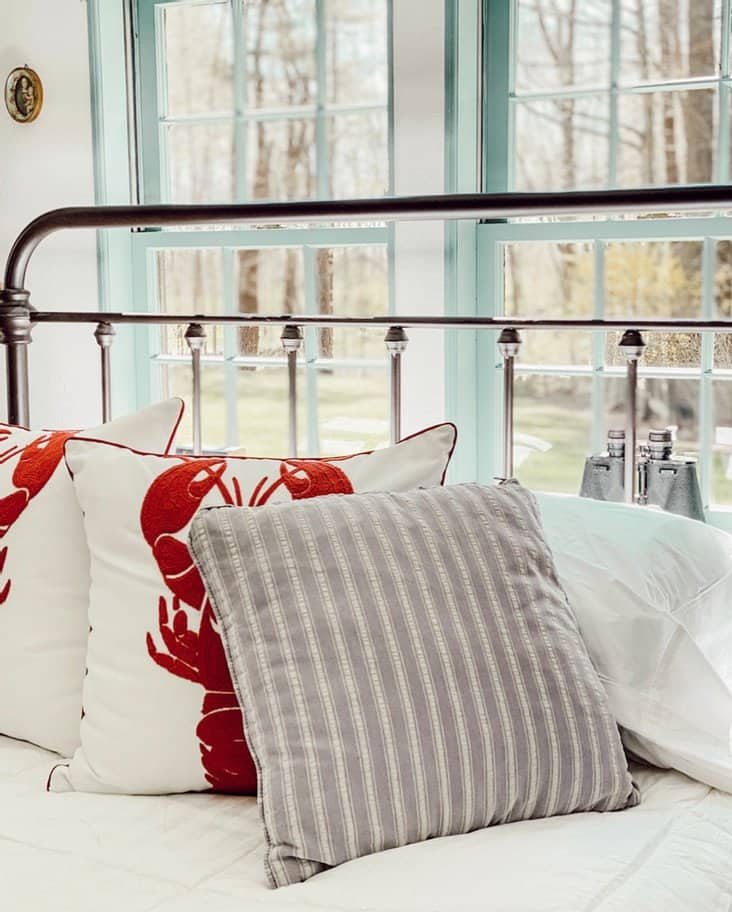 My father's old binoculars sit on the windowsill. I remember my dad using these binoculars to look for whales out in the ocean when I was growing up on the Maine coast. His last Christmas present to me was a brand new pair of binoculars!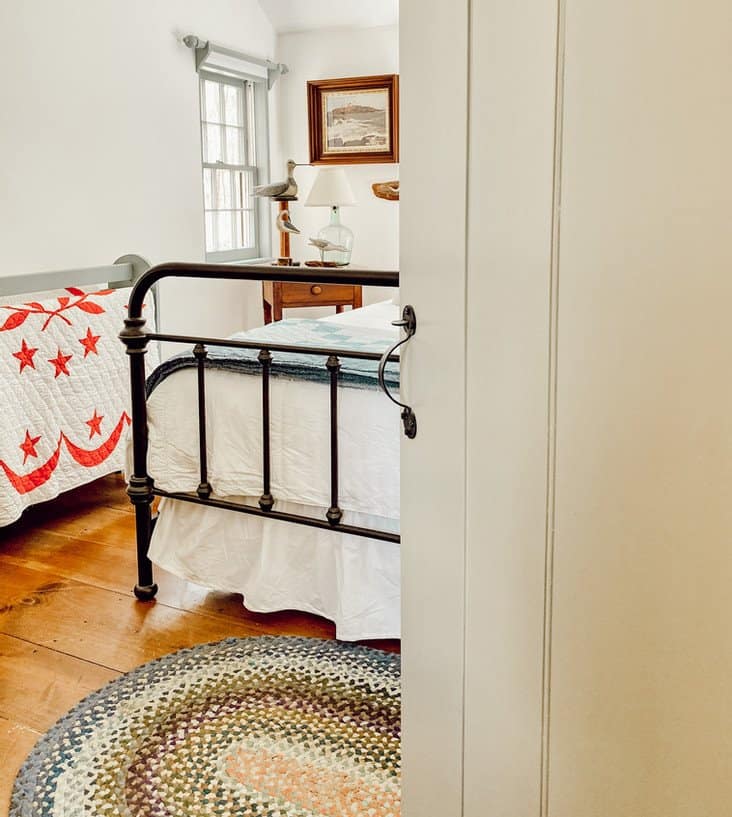 An old quilt rack that I found in the home's attic with a few more quilts hanging reminds me so much of the early American homes. And with the cool Maine evenings, you can never have enough:)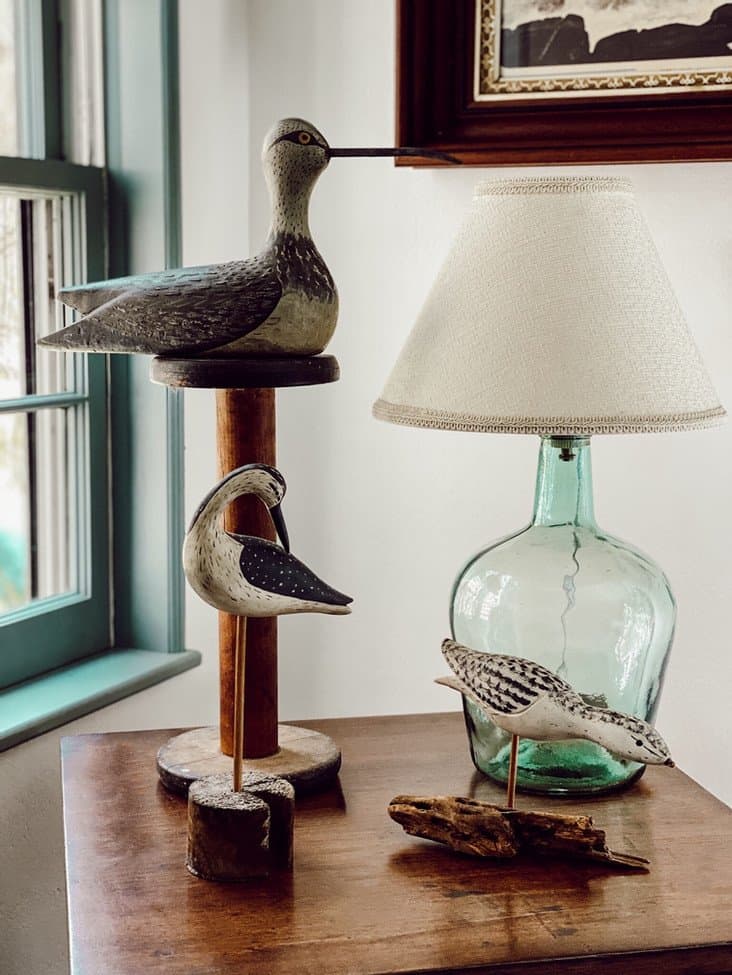 A collection of driftwood birds and a blue sea glass lamp on an antique side table adds to that rustic coastal charm. I love decorating with coastal pieces so much. The pastel colors and earthy textures are just so inviting. Now if I could just go down to the beach… But it's been such a chilly spring here in Maine this year and snow flurries are predicted tomorrow. Is it really May?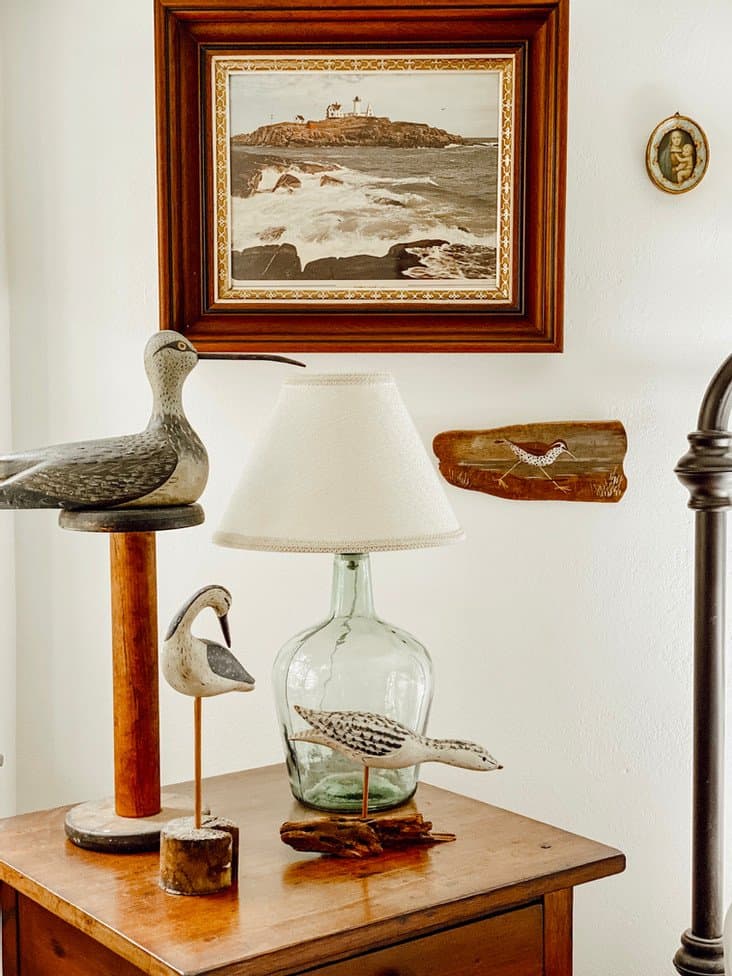 You may also enjoy this SMALL COTTAGE GUEST BEDROOM, VINTAGE, AND DELIGHTFUL today.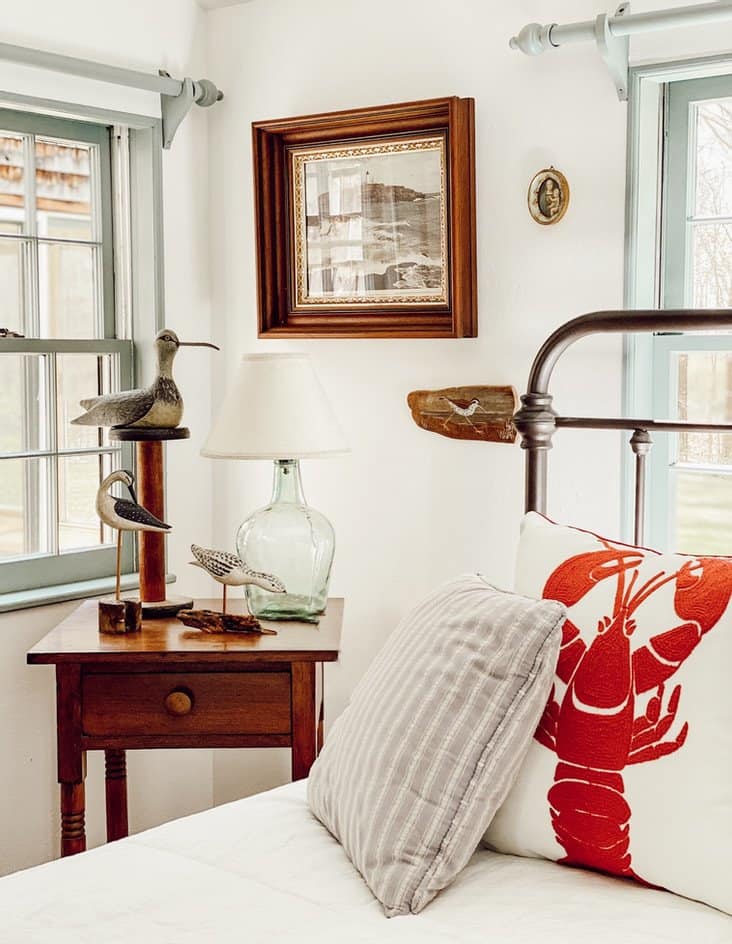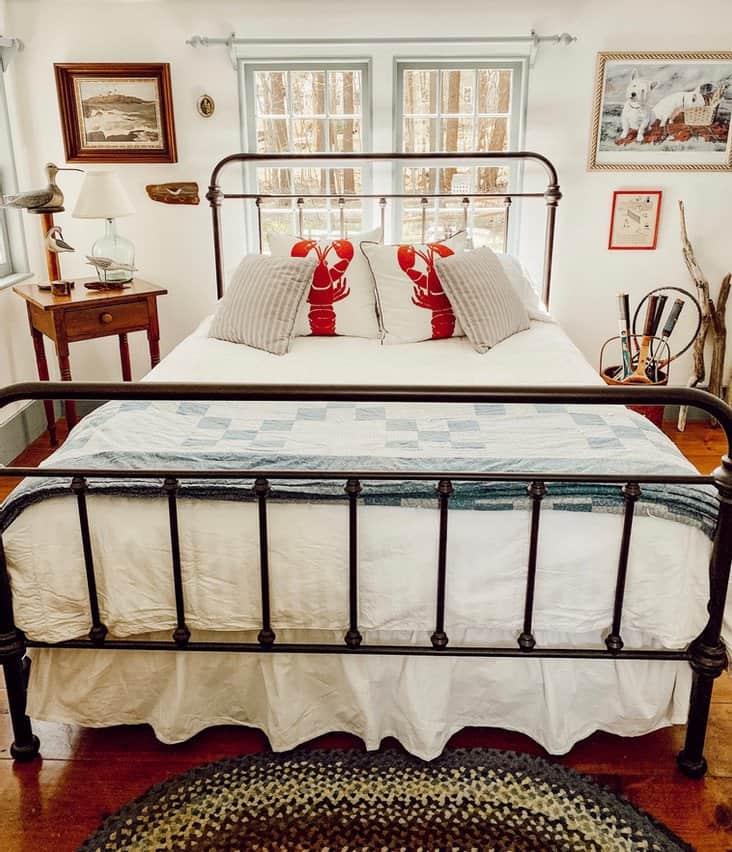 There are no curtains just yet, as I need to do some shopping to find what I am looking for, and with all the stores currently closed, the window treatments will have to wait a bit.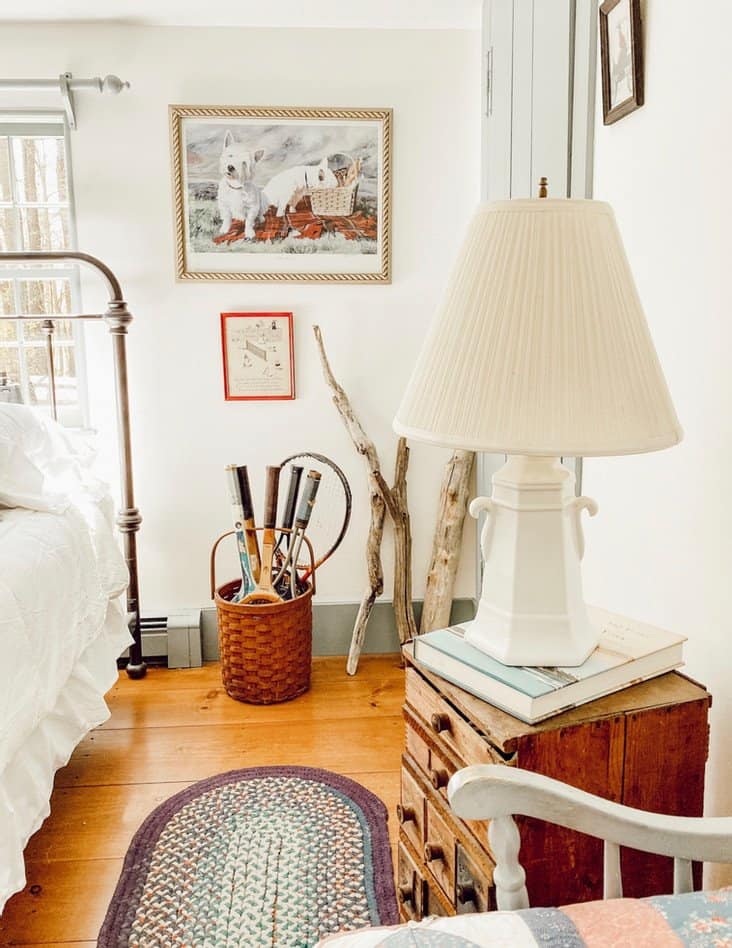 A collection of my father's old tennis racquets that he played with throughout the years, until he was 86 years old, sits in a basket next to a few pieces of driftwood that I picked up on one of the local beaches. Hunting for driftwood on foggy cold days on the beach was something I used to love to do with my mother when I was young.
And check out what else I found with a tennis theme in the post, Antiquing Down East, A Day's Jaunt.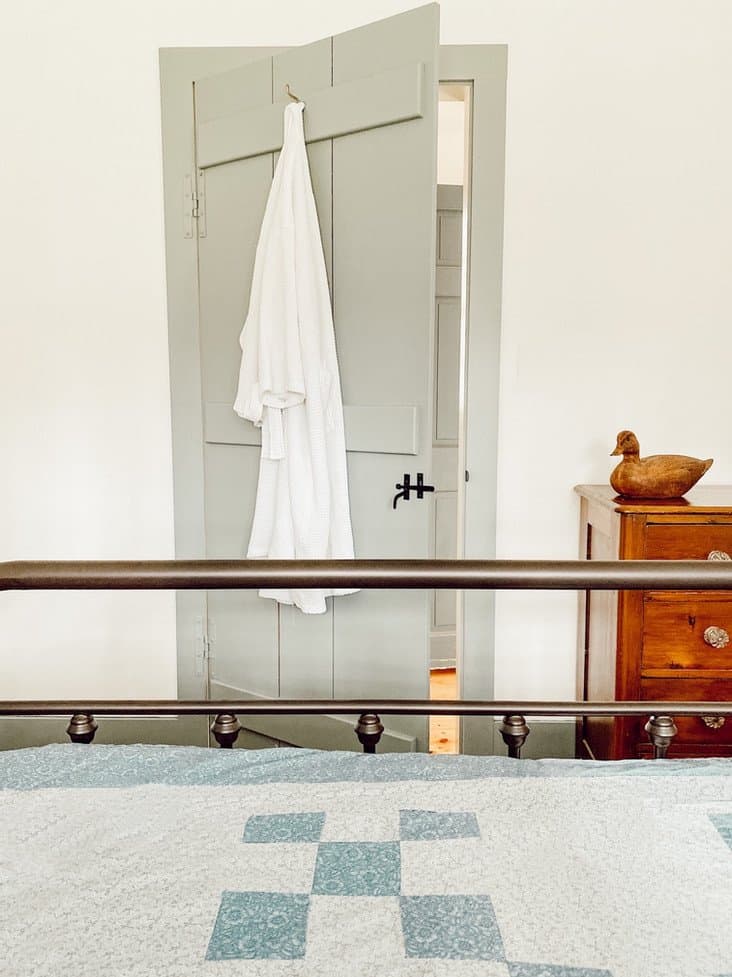 If you are new to my blog, welcome! I'm so glad you came to visit us here today in
I'm so glad you dropped by, and if you are new to my blog, welcome! I hope you enjoyed your visit with us here today at our Home in Coastal Maine.
Be sure to also check out our Home in Vermont too, where we spend winters enjoying the coziness of home in the Green Mountains of Vermont.
Please join me as a regular here at Dabbling & Decorating by signing up for my Saturday morning newsletter and never miss an update!
I've created the above custom pin just for this post! Hearing from you makes my day and your comments mean so much to me! Please join me over on Instagram & Pinterest to see more!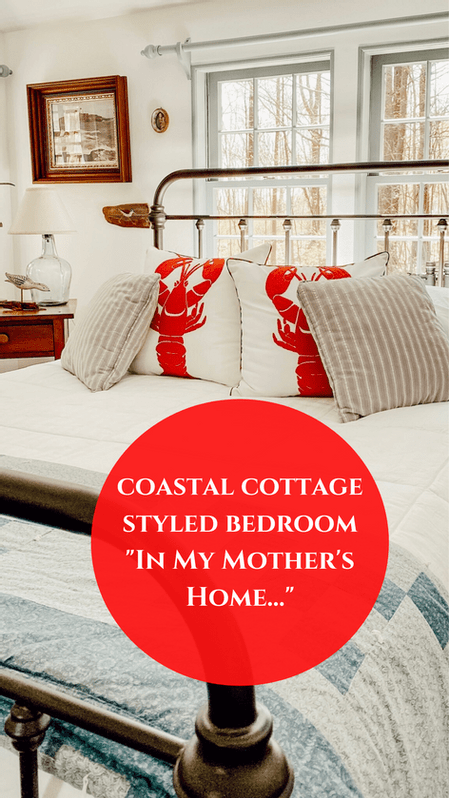 I've created the above custom pin just for this post! Sharing is Caring! I would luv to hear from you too~ Your comments mean so much to me and truly make my day… Please join me over on Instagram & Pinterest to see more!
YOU MAY ALSO ENJOY