Welcome to our small cozy ranch home nestled away in the Green Mountains of Vermont! In a town that boasts an abundance of skiers, hikers of the Appalachian trail, kayakers, golfers, musicians, thespians, restaurant connoisseurs, and of course, leaf peepers seeking the ominous colors of Vermont's fall foliage.
Grab your favorite warm beverage because it's sweater weather here, friends, and I hope you enjoy our beautiful Vermont foliage home tour today.
Neighborhood Pumpkins
October 1st marks the date when the traditional trunk full of pumpkins arrives at our door, compliments of our neighbor's homegrown pumpkin patch. Signifying the official start of fall decorating on our street!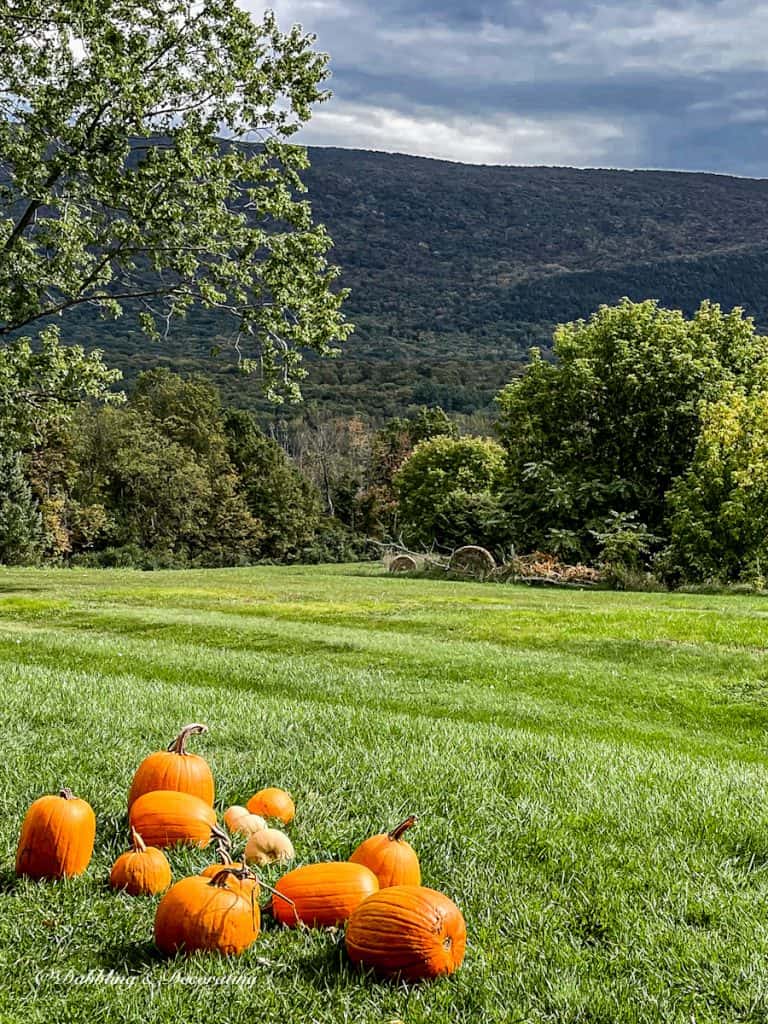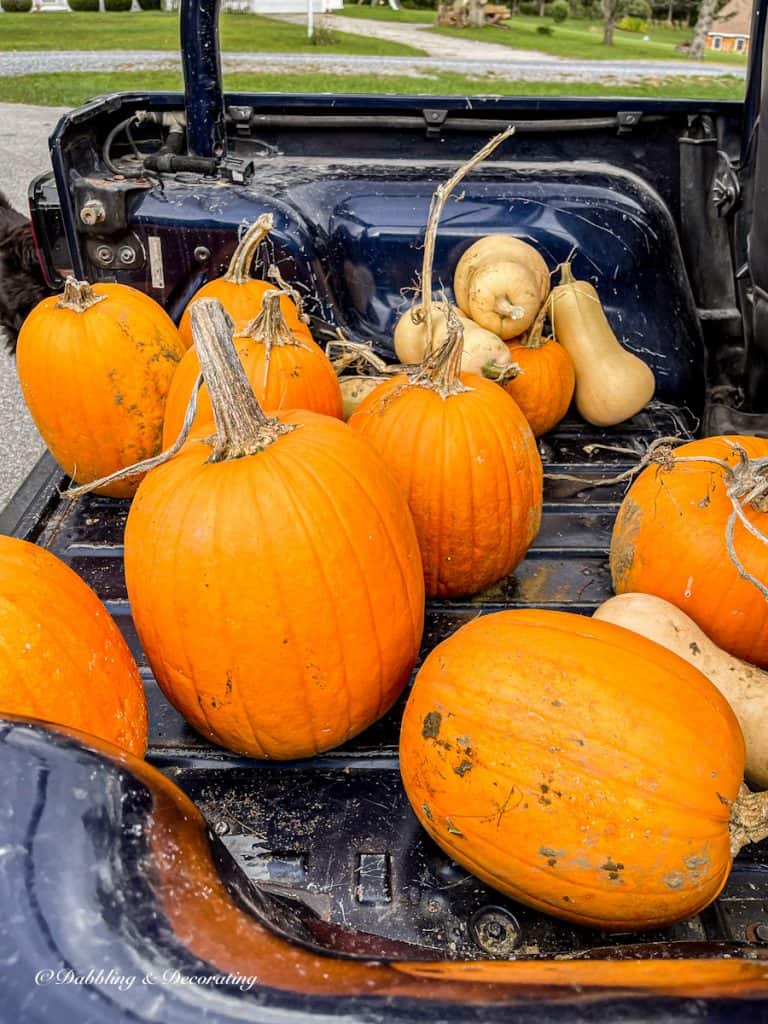 Sugar Maple Tree
The maple tree that shades us all summer long can put on quite the fall foliage show for us. Check it out last year and this year.
Because of all the rain, we had this past summer, it looks like we will miss her beautiful Vermont foliage orange dress this year…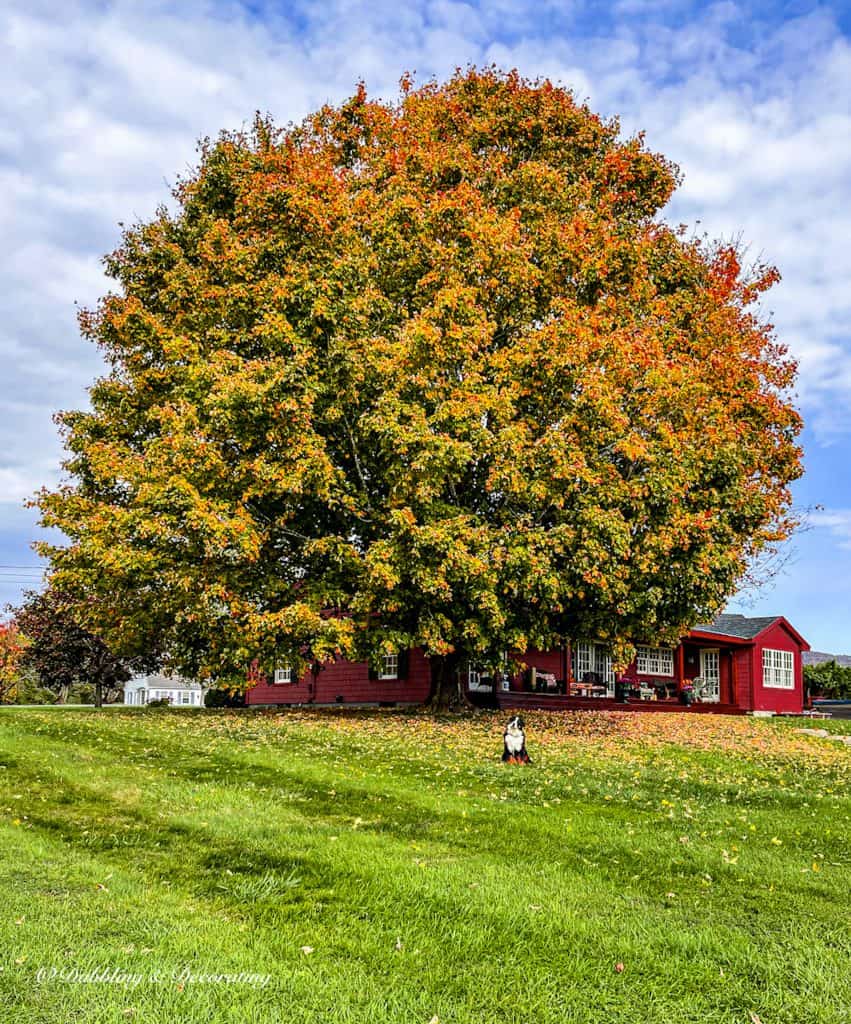 DIY Fall Urns
Decorating for fall is so simple and fun with all the colors of Vermont foliage available to us this time of the year. And autumn is definitely the season for vintage around here too. Starting off with Vermont Vintage Market Days, Columbus | Indigenous Peoples' Day weekend.
But before that started, I picked up a couple of plastic urns at a local shop that was going out of business and upcycled them for a fun addition to our porch. Check out more of this easy upcycled DIY here.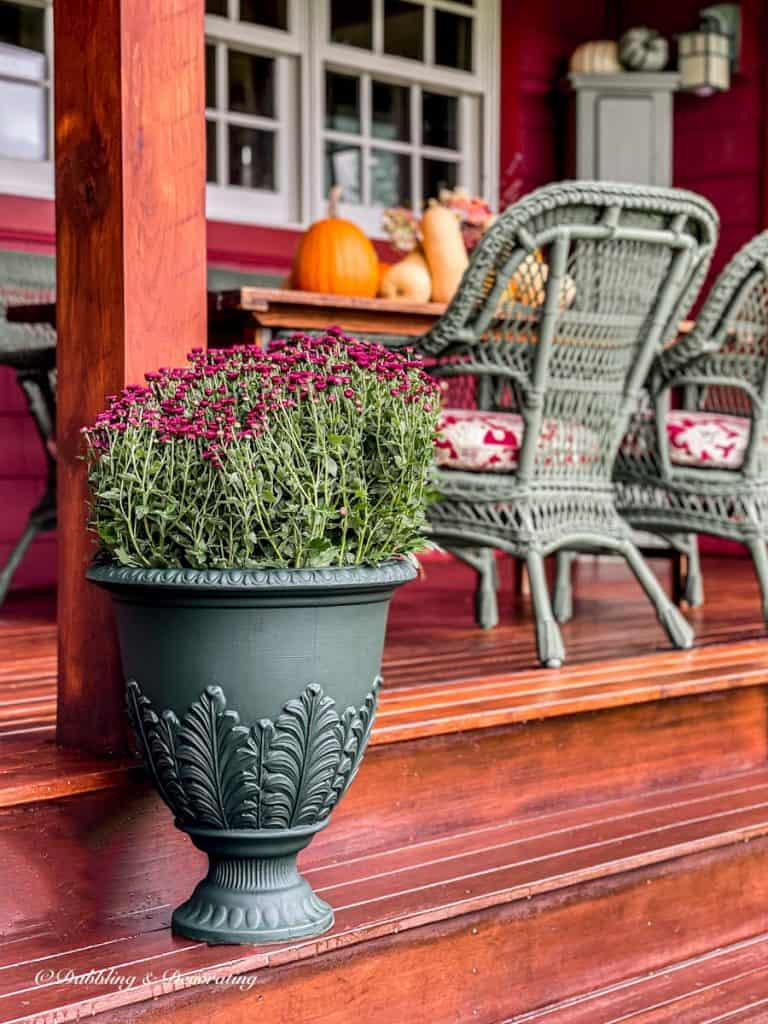 You may also enjoy the Refreshing Weekend Junket Home to Vermont post.
Vermont Foliage-Inspired Tablescape
I found my favorite second-hand table out "Thrifting with the Gals," this past summer, and I couldn't wait to put together this Vermont foliage-inspired tablescape with the also thrifted Johnson and Johnson's Autumn Delight dishwares.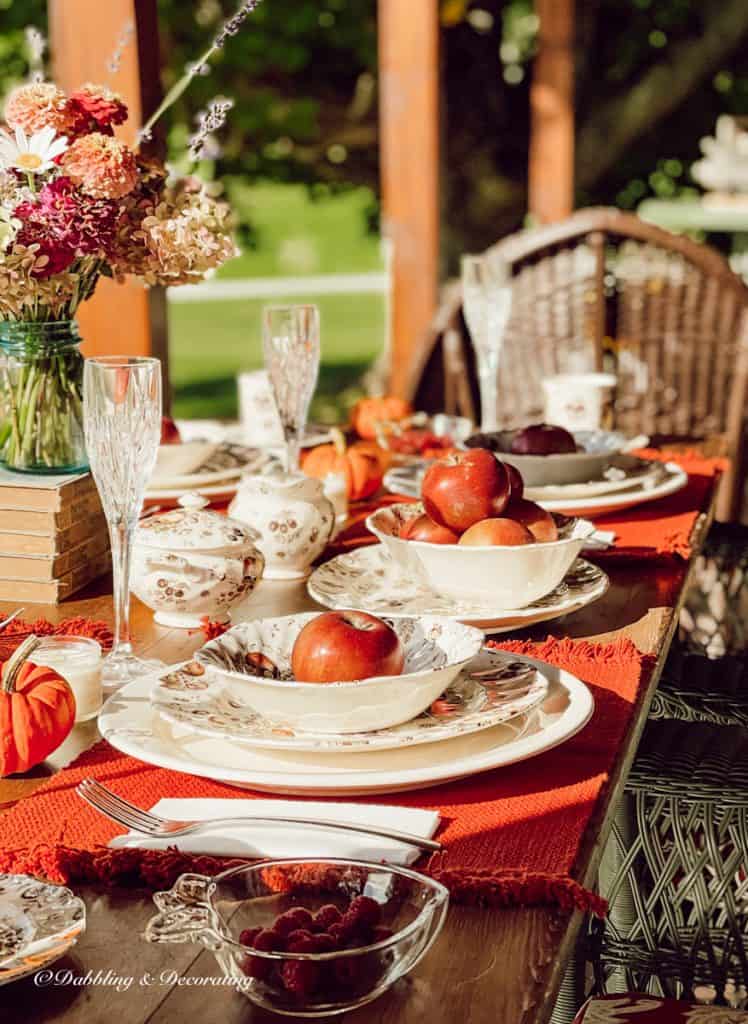 You may also enjoy the post, 10 Best Fall Inspired Vintage Decor Ideas.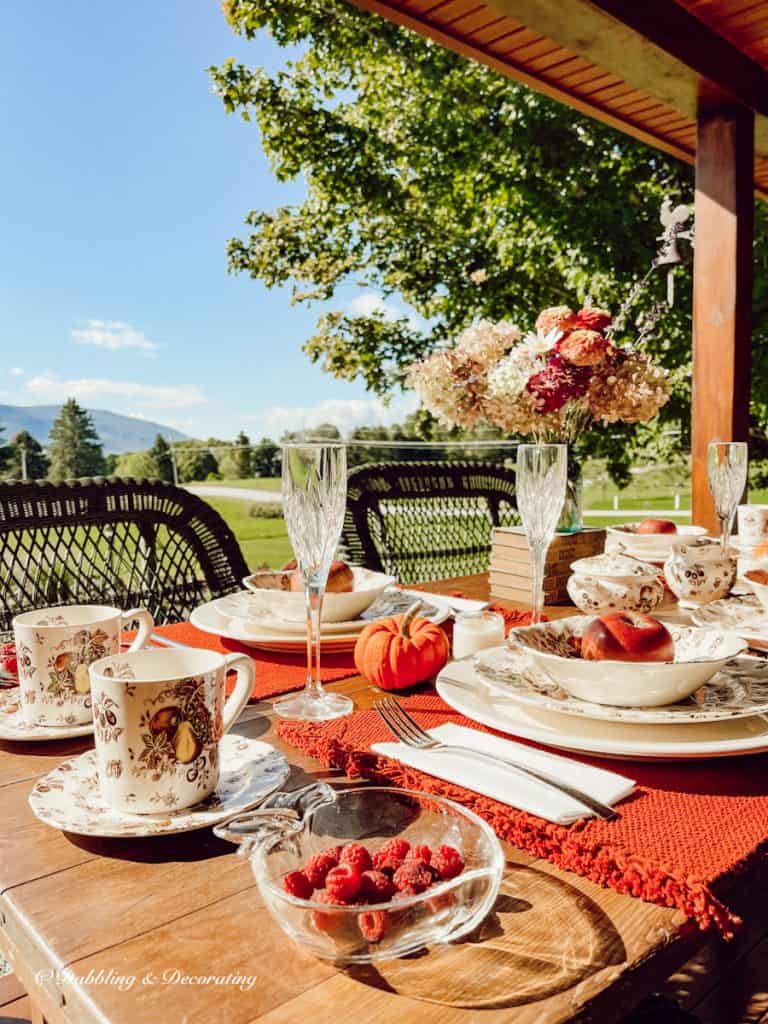 This post may contain affiliate links which won't change your price but will share some commission."
SHOP THIS POST
(click on any of the images to shop the products)

Cozy porch dining outside, whether breakfast, lunch, or dinner, is a welcome activity during the Vermont foliage season.
Check out more of our year-round views here.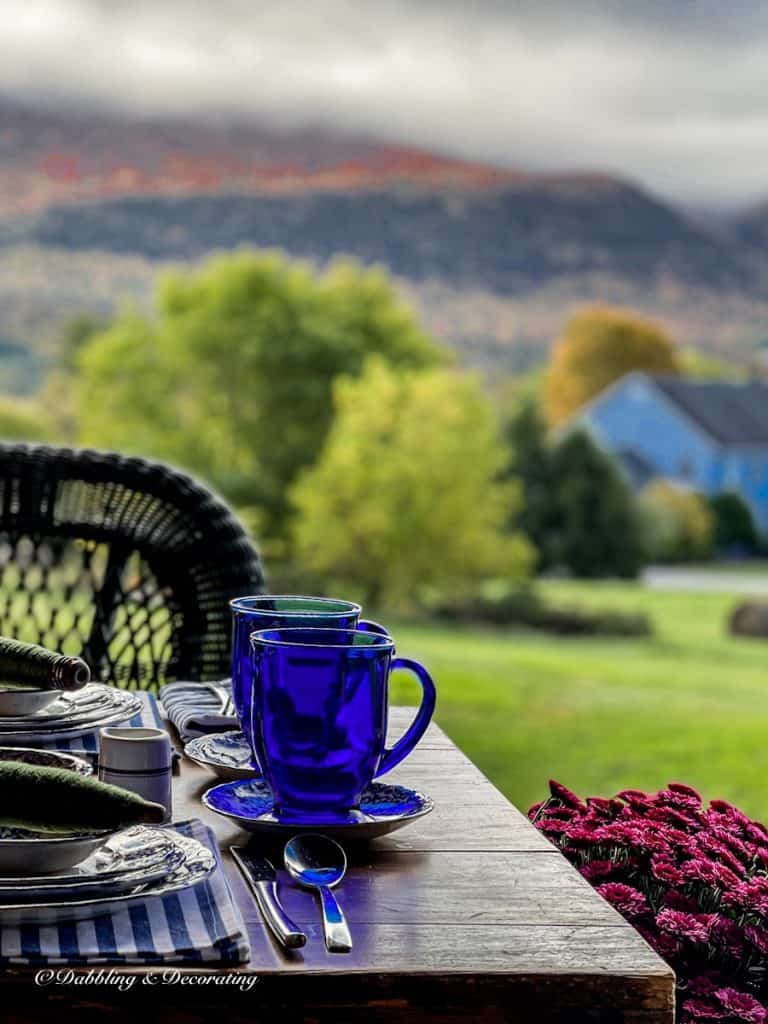 Have you ever been to the Vermont Country Store during the Vermont foliage season? Join me here for a visit.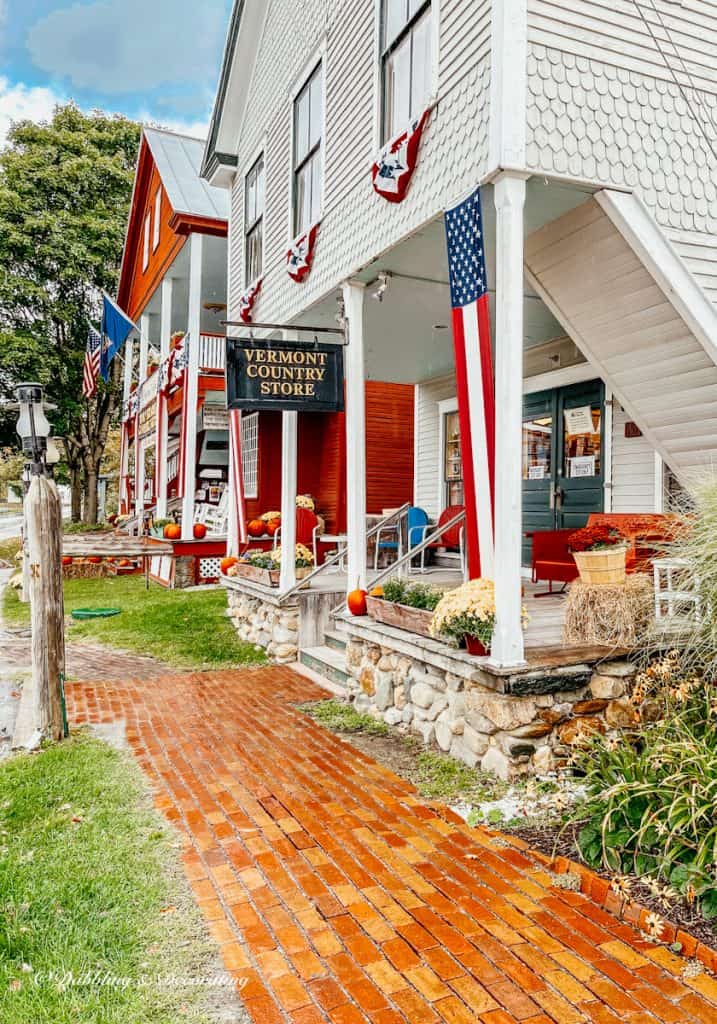 You may also enjoy our Vermont Fall Foliage Home Tour 2022.
Mountain Views
The mountain weather is forever changing here. From low clouds and fog in the morning to bright sunshine in the afternoon. Which makes the Vermont foliage season even more spectacular.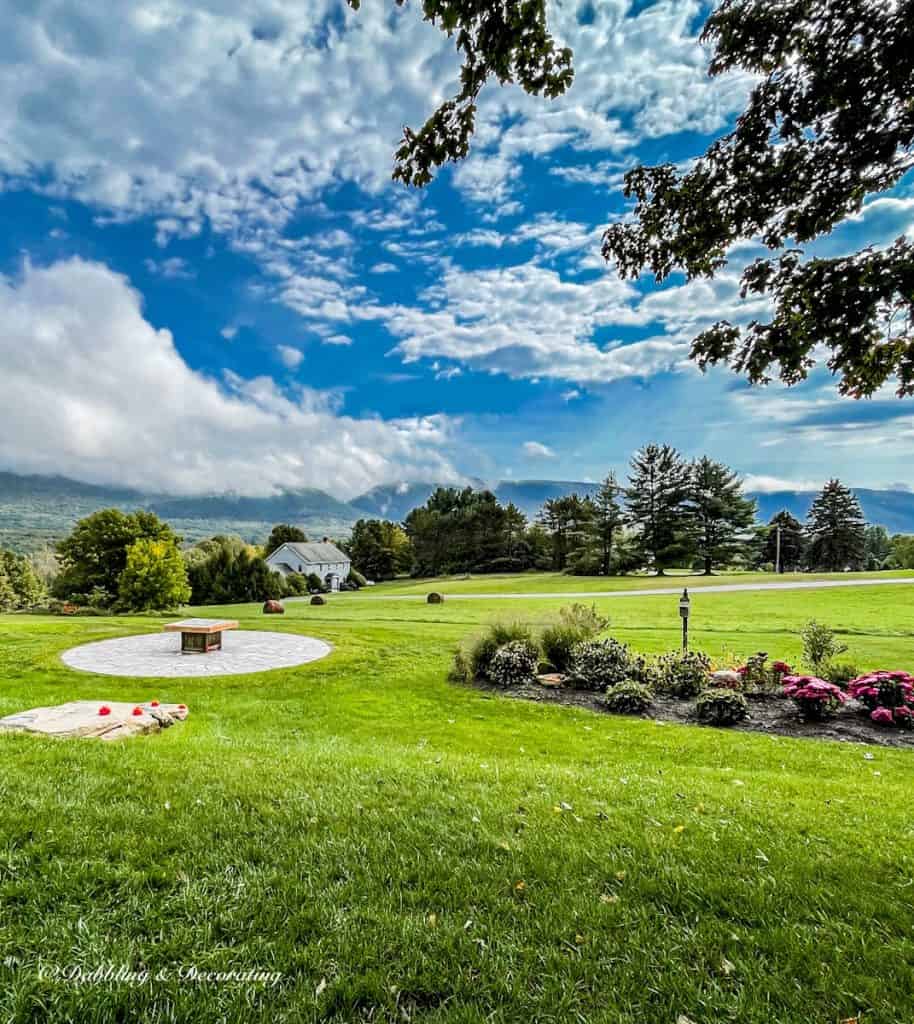 This summer, we put in this fire pit patio conversation set along with the natural stone steps heading down from the porch. We are waiting on a 5 piece sofa sectional by Pasadena in bronze and blue to now arrive sometime in the December time frame.

Also coming in late October is more landscaping surrounding this fire pit patio.
Check out more of the plans here in the first post of a two-part series.
FIREPIT UPDATE:
The fire pit and conversation set have now been completed, and you may see it all in the post, Backyard Conversation Set and Fire Pit Patio Reveal.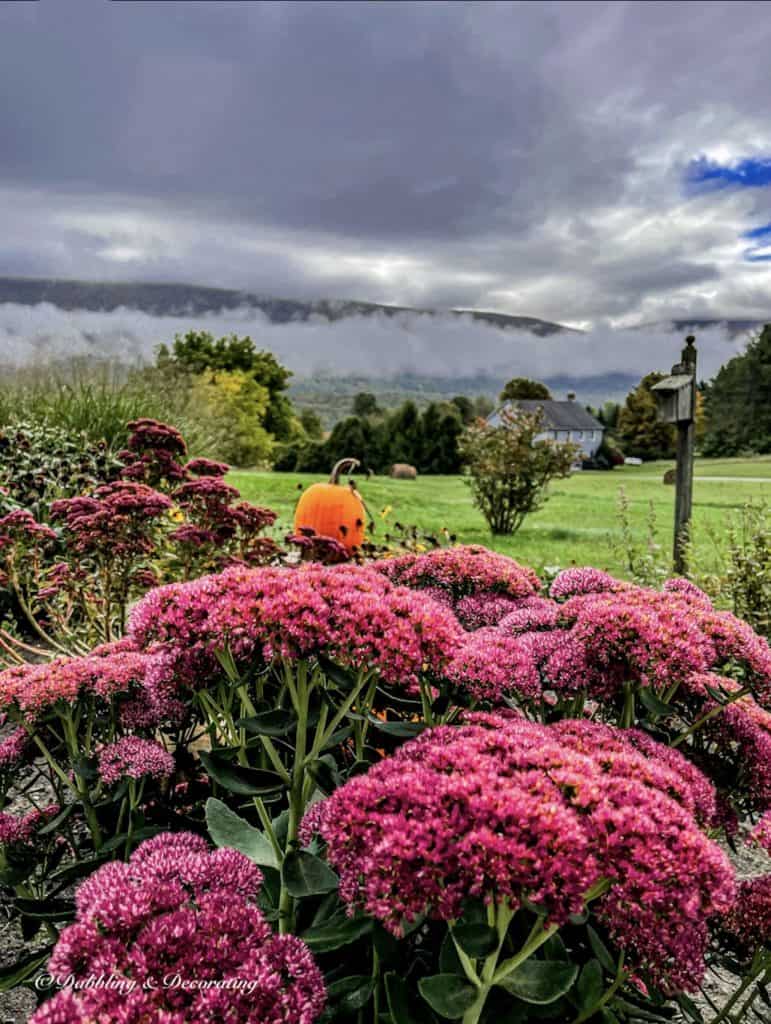 Limelight hydrangeas are at their best in the fall!
I love drying these beautiful flowers and creating wreaths and bouquets every autumn.
You may also enjoy the Summer into Fall: Limelight Hydrangeas, An Old Crate & Fresh Blooms post.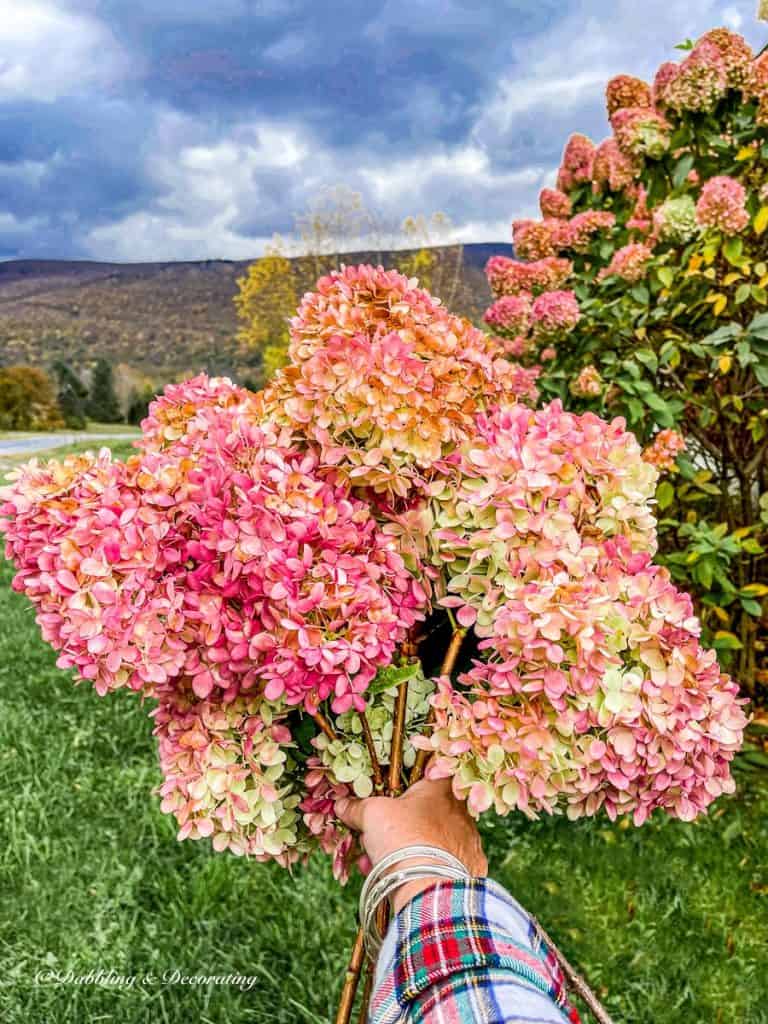 You may see more of last year's sunroom decorated for fall here.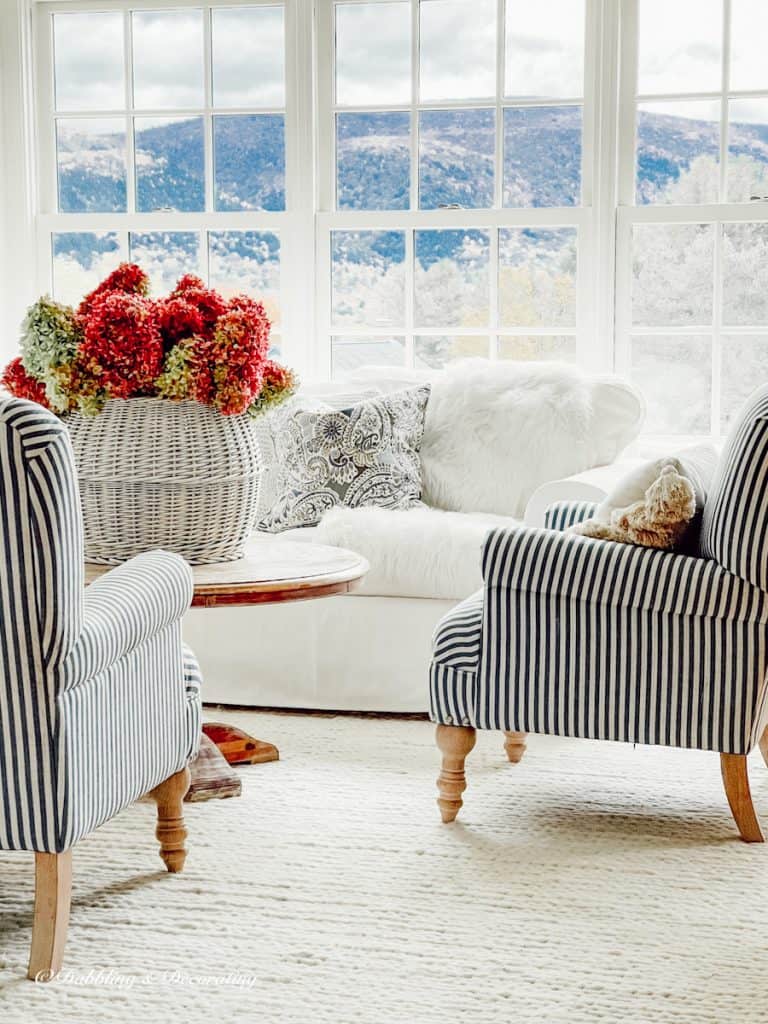 Vermont Foliage From the Porch
We spend all of our time during Vermont foliage season on our front porch, which we also renovated over the summer with new support beams, columns, and refinished wood flooring.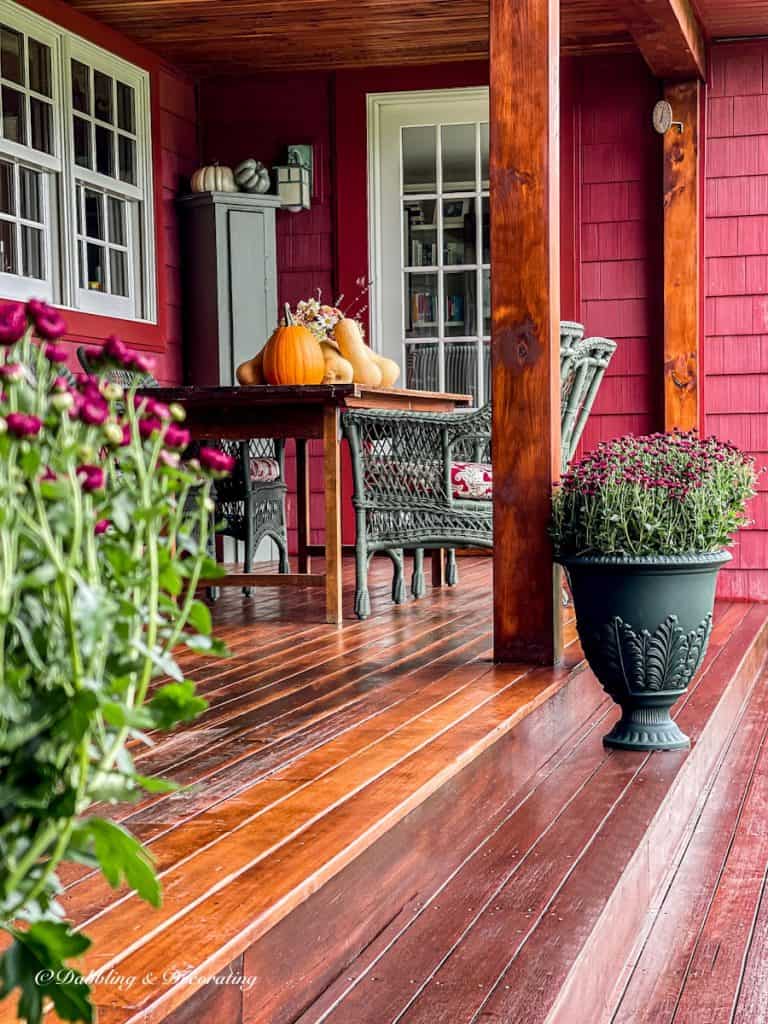 Decorating the porch for the seasons this year is going to be so much fun. Join me for "Thrifting with the Gals" as we collect greens and blues to highlight the dark rich wood colors that now make up this porch.
Arriving sometime in late January – early February will be this gorgeous green Miles Redd Lancaster ratton porch set. And as of now, I plan to cover the white cushions with a blue and white pattern.
UPDATE ON THE PORCH:
You may see the new furnishings in the posts How To Create An Inviting Front Porch with Wicker Furniture and Cozy Antique Spring Porch Ideas.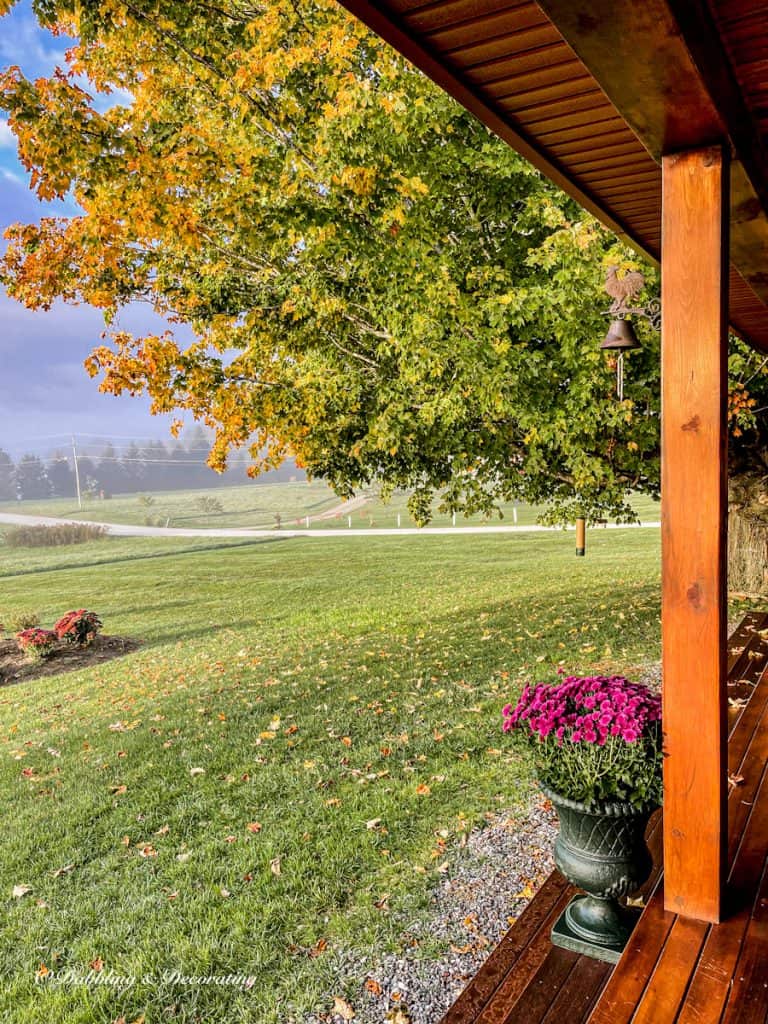 I am also feeling the color purple sneaking in a bit too. Another color that's been intriguing me this year. I find it pairs so well with the darker woods.
Vermont Foliage
Just before Columbus | Indigenous Peoples' Day weekend, our large maple tree shows signs of color on this foggy and warm Thursday morning.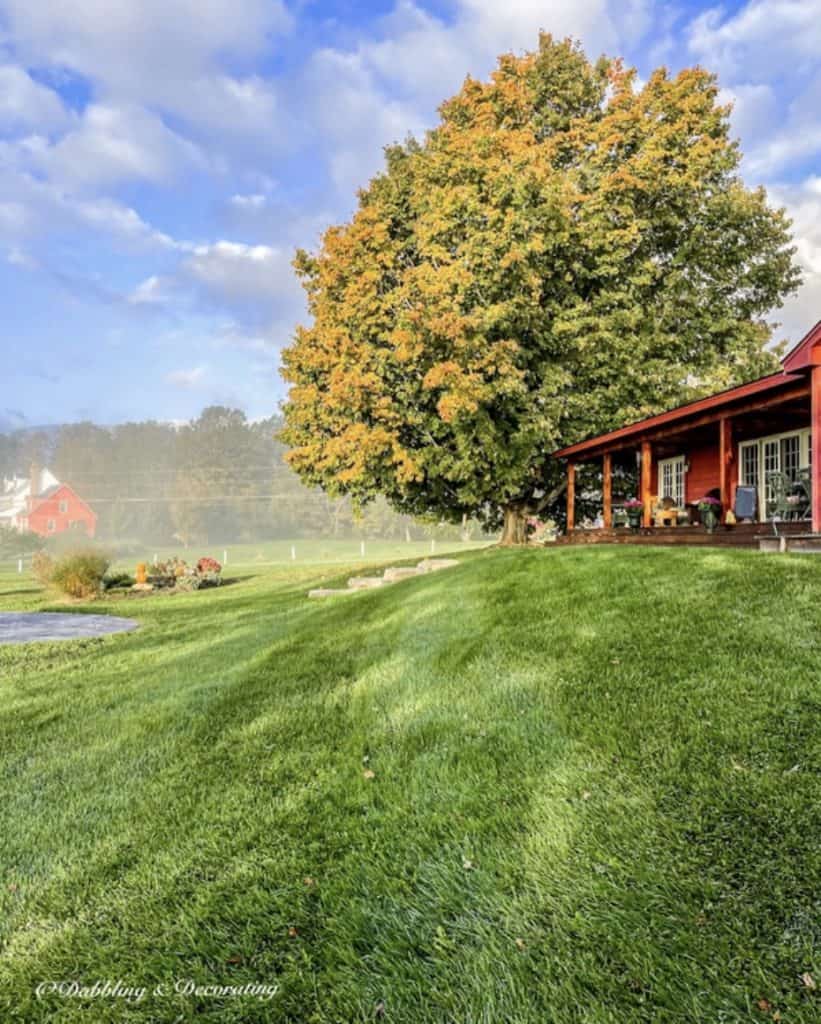 You may really enjoy my friend Kim over at Shiplap and Shell's post on "How Fallen Leaves Can Benefit Your Garden". She has so many amazing tips!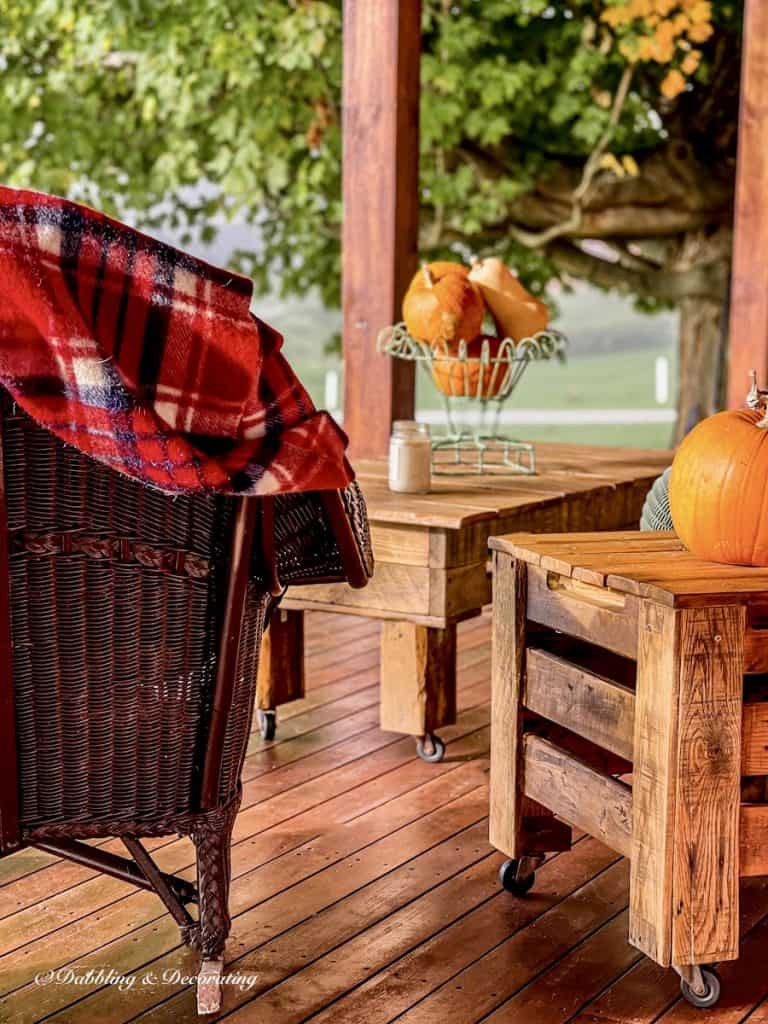 SHOP THIS POST
(click on any of the images to shop the products)

And Ella, our Bernese Mountain dog sitting in the morning dew, takes it all in on this same early morning from the back porch.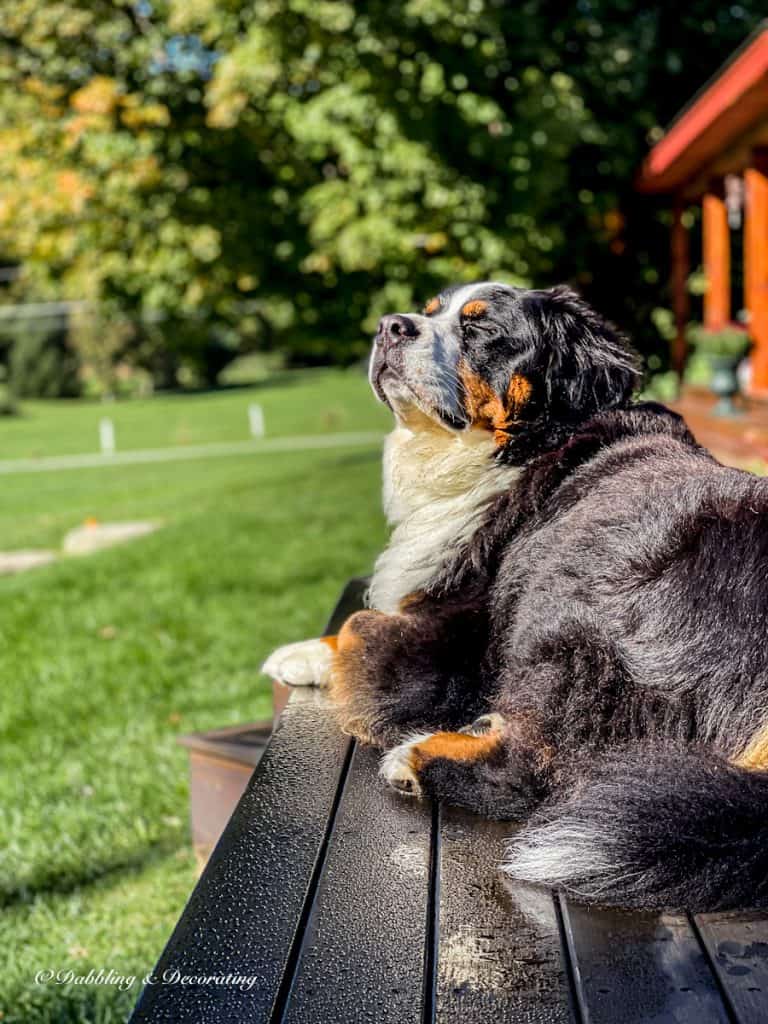 Vermont Foliage Hike
Stratton Mountain Snowmaking Pond
Two days before Columbus Day weekend. The colors were definitely much brighter at the higher elevations.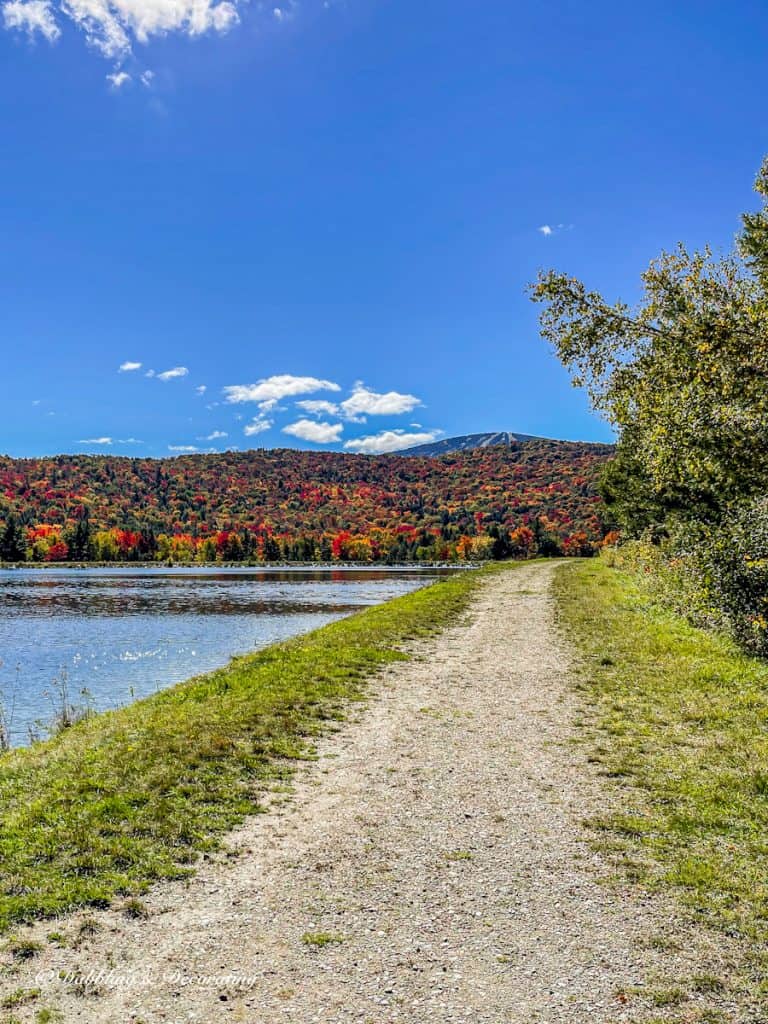 Columbus Day | Indigenous Peoples' Day Weekend
This fall foliage weekend always kicks off with Vermont Vintage Market Days on Friday, setting the stage for this popular Vermont foliage weekend.
Check out this year's Vermont Vintage Market Days here.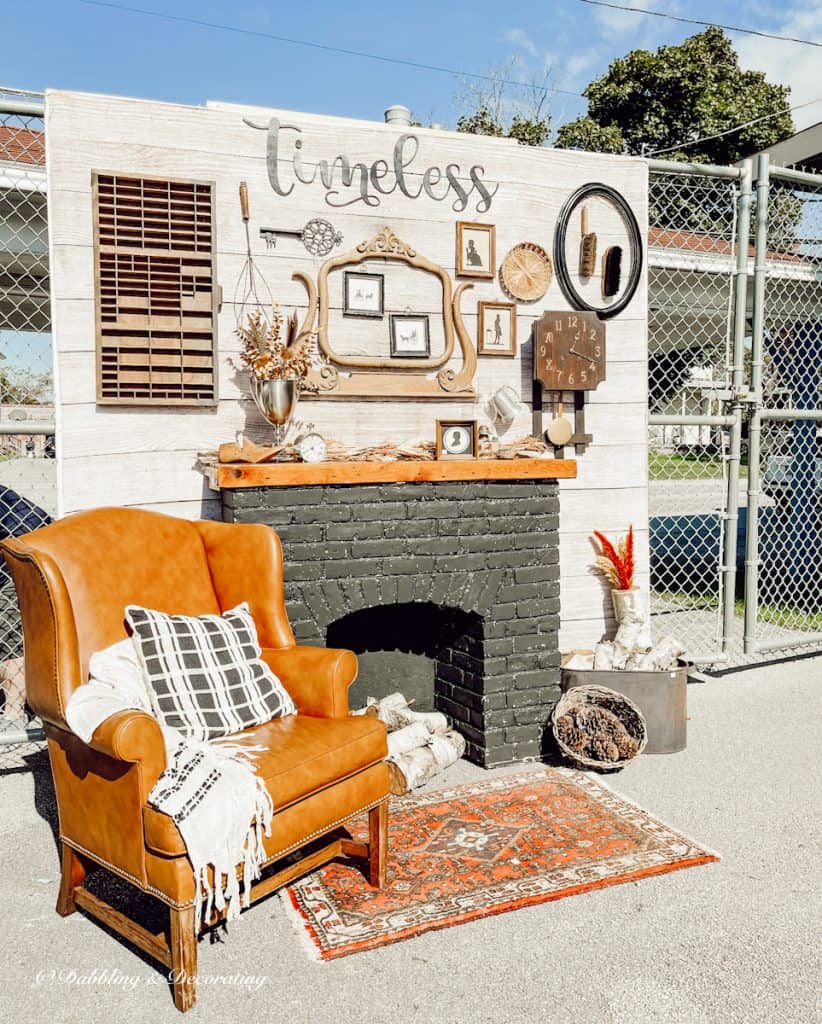 And the table I created on the porch here with the October Blues I found during my recent visit!
You may also enjoy this Fall Dessert Table with A Pecan Pie Surprise.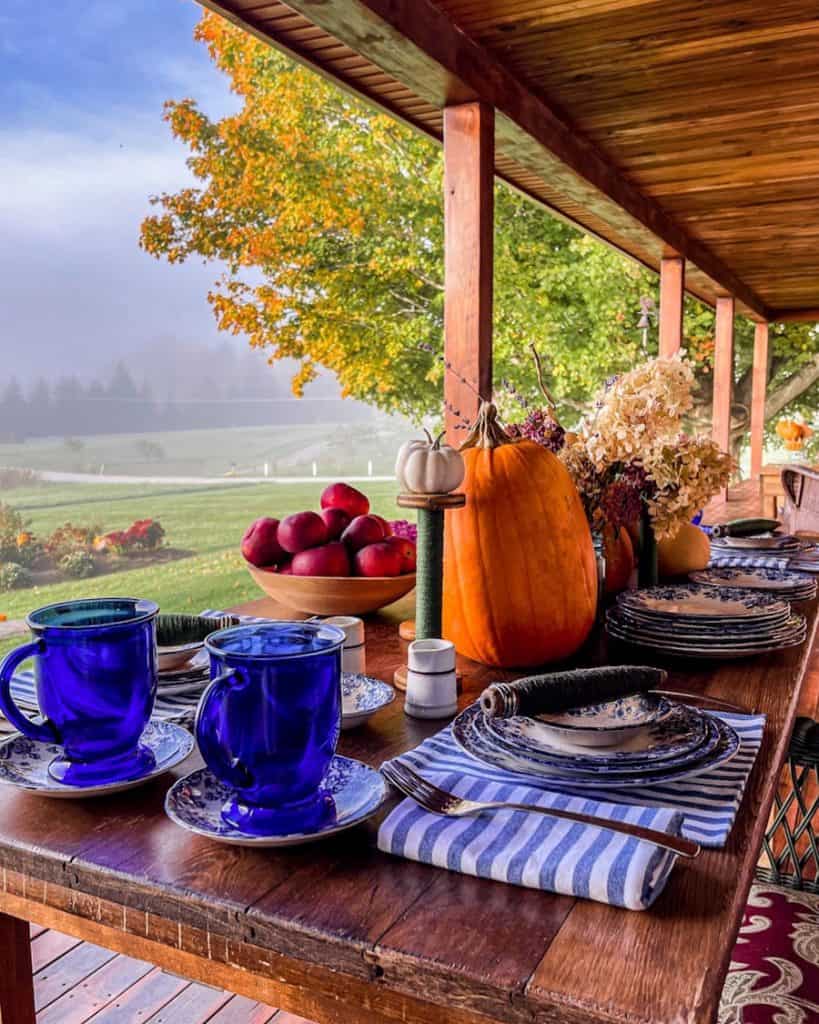 And again, on this Outdoor Table for 2 with Mountain Views.
Vermont Foliage Report
If you are visiting Vermont and looking for information on the foliage, check out this "Guide to the 2021 Foliage Season in Vermont".
Where is the best place to see Vermont's foliage? Honestly, the entire state is absolutely gorgeous; it simply depends on what you like to do and where you are willing to visit. Burlington, Stowe, Manchester, Killington, Jay Peak, and Smuggler's Notch are a few of my favorites.
Morning Coffee from the Tub
Fall is a beautiful time to enjoy the crisp, cool mornings with coffee from the hot tub as we wait for the Vermont Maple tree to put on her brilliant foliage dress…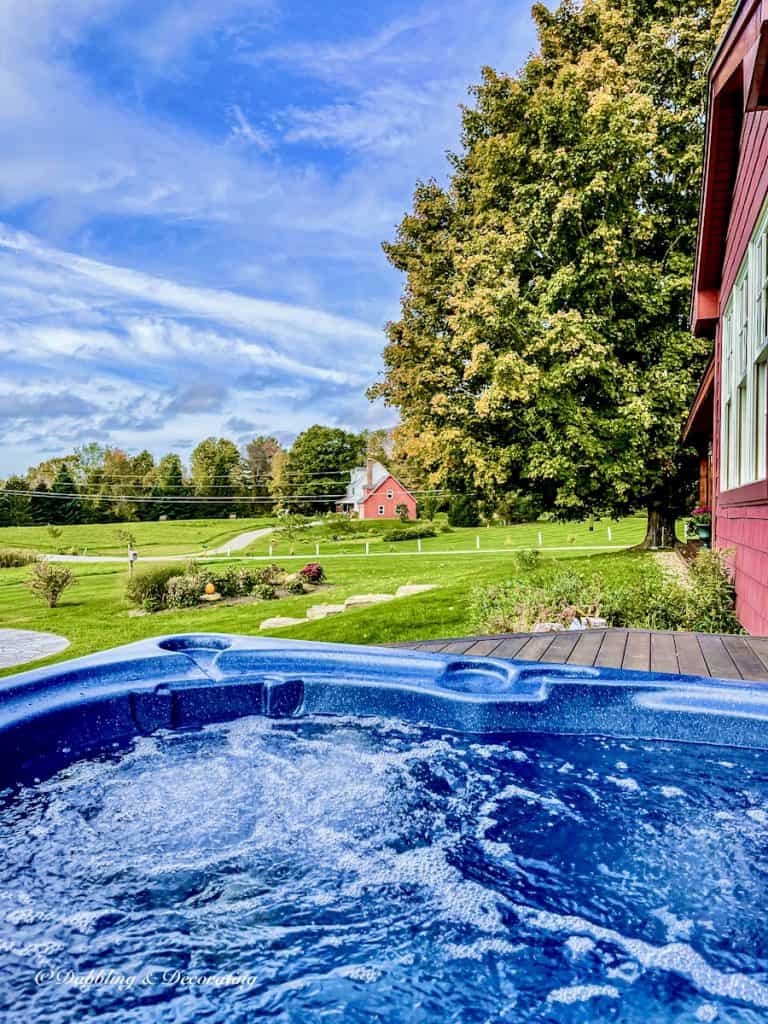 Cheese Board
And no visit to Vermont would be complete without The Perfect Vermont Cheese Platter | Vintage Style.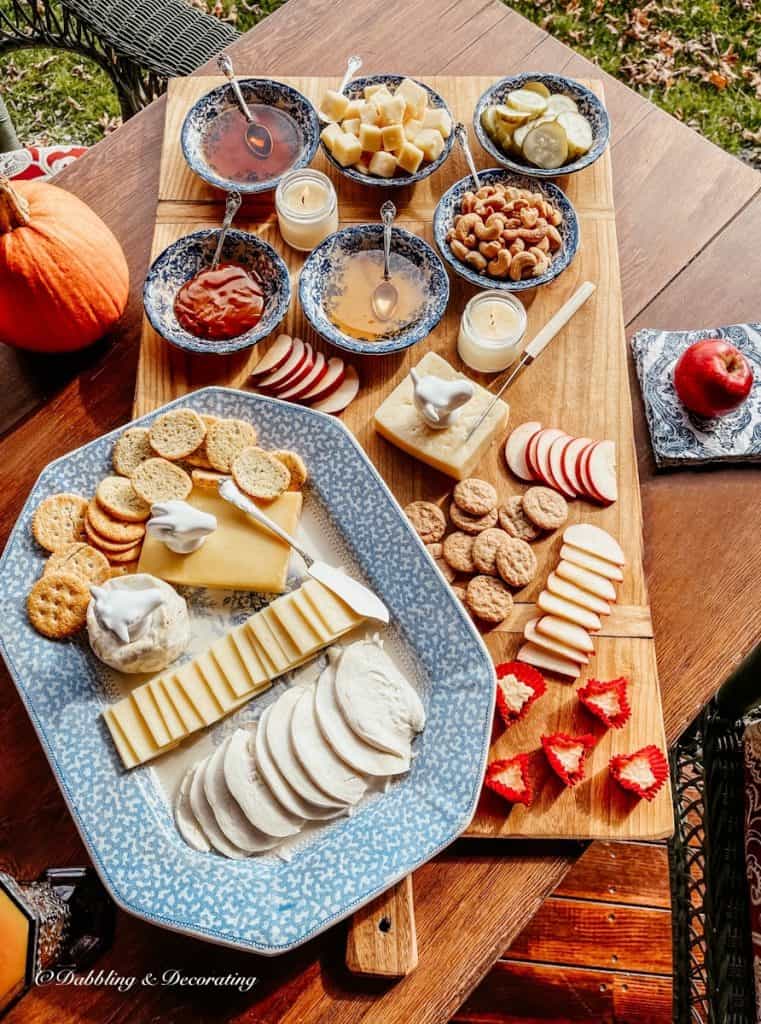 Blue Bird House
And today, we hung this blue birdhouse that I found over the summer in Maine, "Thrifting with the Gals." The board behind the house will weather and blend in nicely in no time!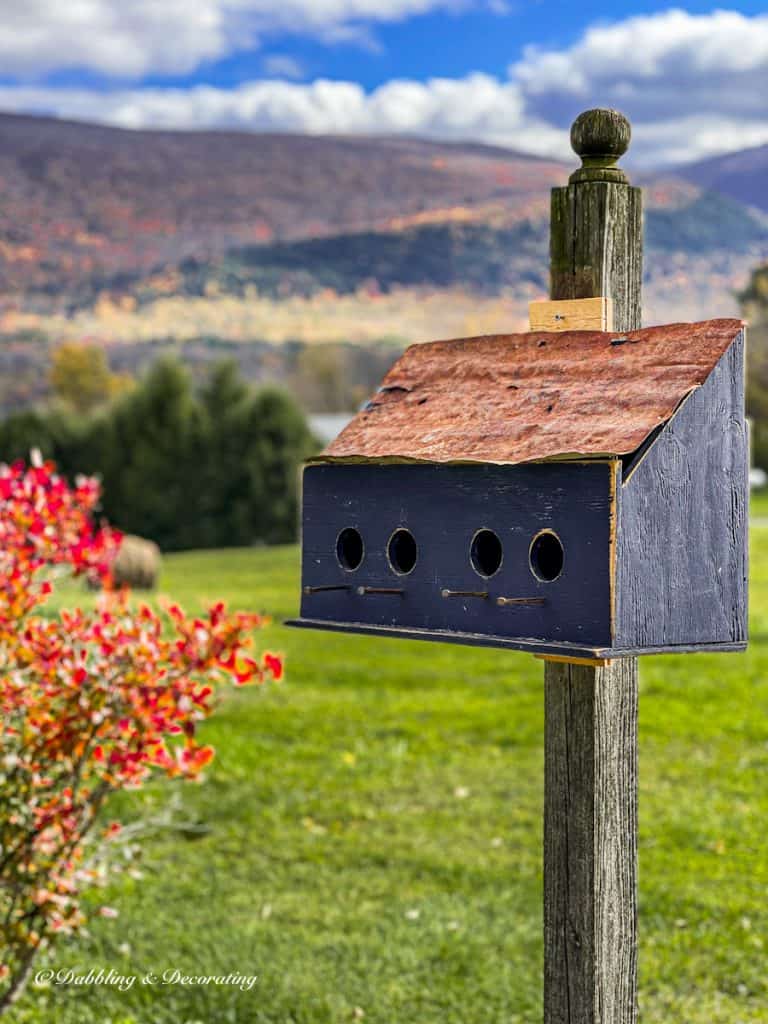 And now we have a new birdhouse addition, The Biggest Red Birdhouse and How to Easily Mount It.
I hope you enjoyed this year's "Vermont Foliage Home Tour" today, friends!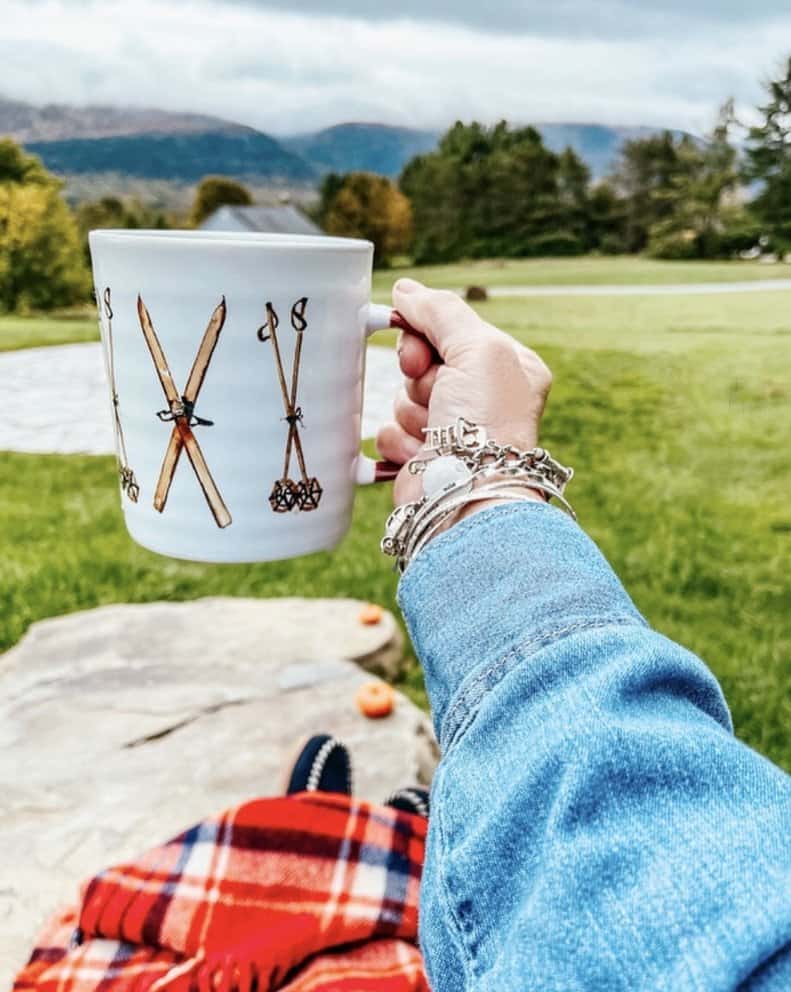 I'm so glad you dropped by, and if you are new to my blog, welcome! I hope you enjoyed your visit with us here today at our Home in Vermont.
Be sure to also check out our Home in Coastal Maine where we spend summers and weekends when we are craving a walk on the beach or a visit with old friends.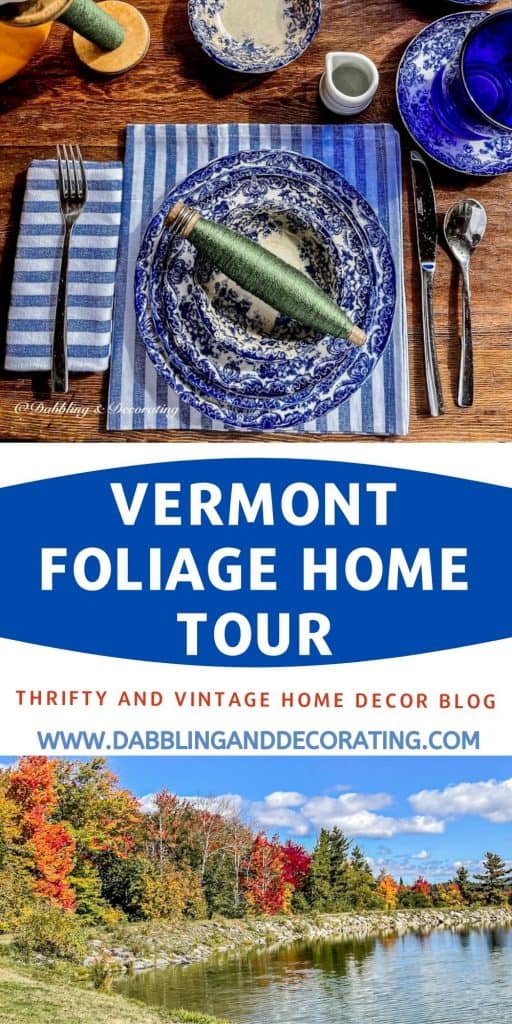 I've created the above custom pin just for this post! Hearing from you makes my day; your comments mean so much to me! Please join me over on Instagram & Pinterest to see more!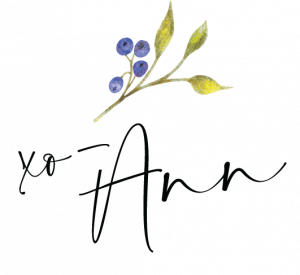 YOU MAY ALSO ENJOY