Every morning when I wake up and pour a cup of coffee, I look out at this amazing mountain view, which simply takes my breath away. The scenery is forever changing, from spring's dawning to autumn's colorful foliage. Today on the blog I wanted to share a round-up of some of my favorite year-round mountain views we experience here daily. I hope you enjoy it as much as we do friends!
Winter in the Green Mountains
Clear bluebird skies are not that common here in the winter months, however, they're not rare either and are the best of the best against the white blanket of snow!

In these mountains is the Appalachian Trail. And if you look close enough in the summer months with binoculars, you can see the hikers crossing with headlights on. The hikers also stop in town to collect mail, and supplies, and to rest at the Green Mountain Hostel, before making their final and challenging journey to Maine's Mount Katahdin.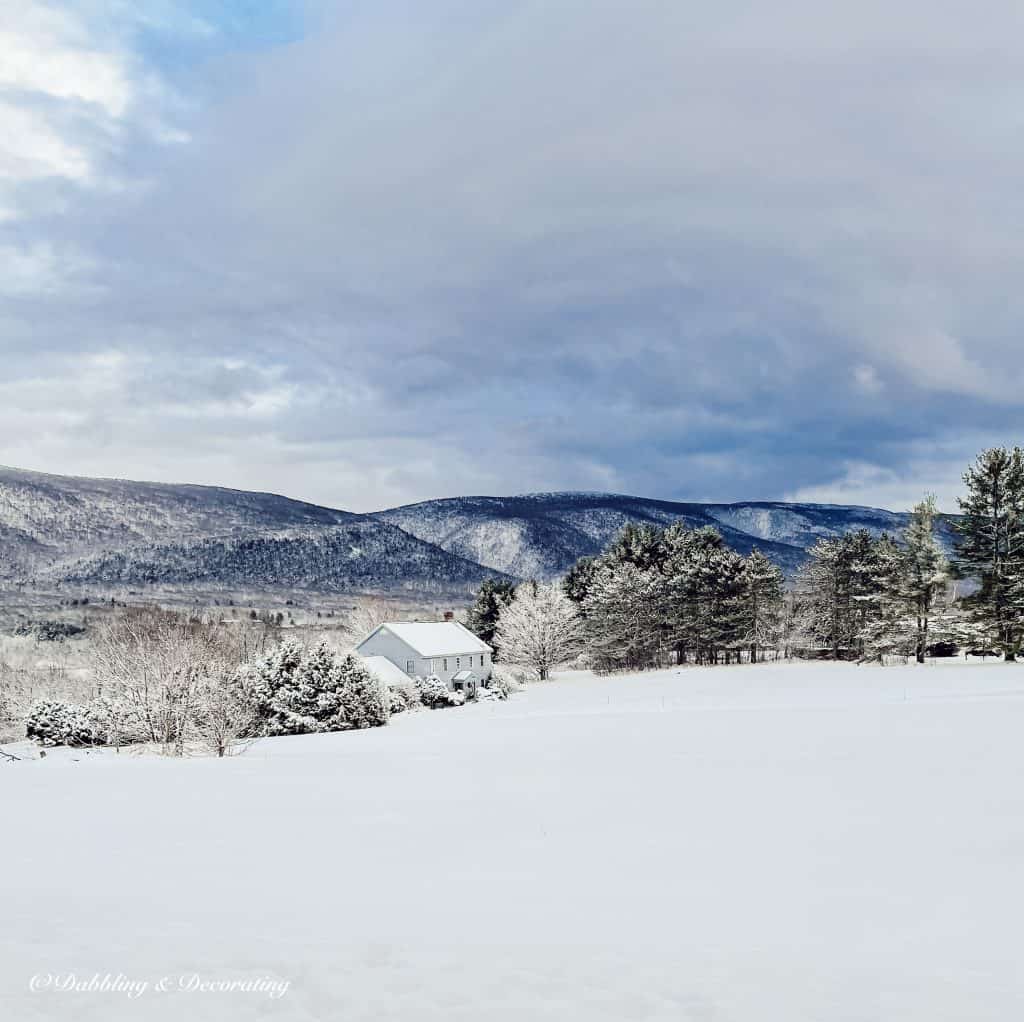 Hot Tub Views
Having a hot tub in Vermont is almost a mandatory home necessity. They are great on those cold winter days, allowing you to enjoy the outdoors while still staying warm at home.
Spring Views
When we first moved here to Vermont, the front yard had three Apple trees, several large pine trees, along with a homemade stone fire pit made from rocks that were left behind.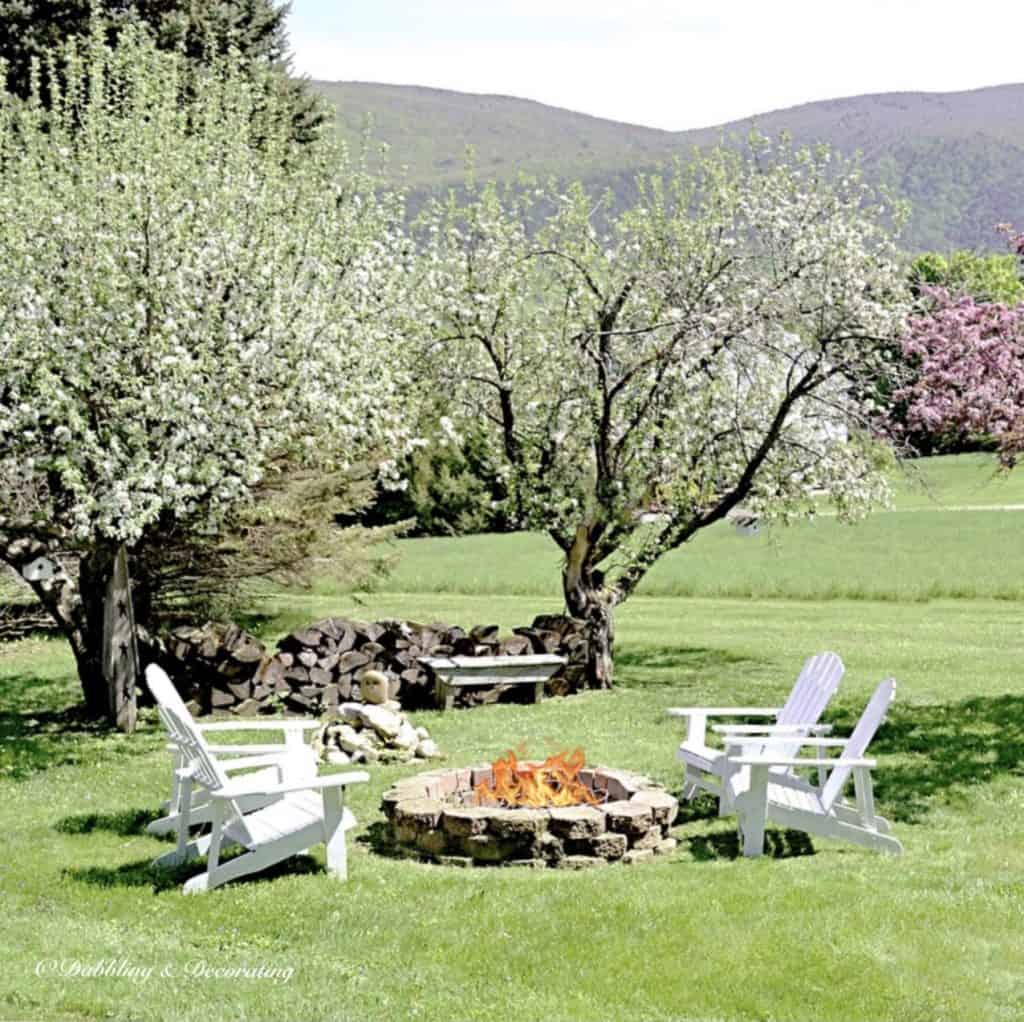 Landscaping
Over time the trees in this area became diseased, and it was time to rethink the front property that overlooks these beautiful mountains. The fire pit was not that functional either, as the winds in this part of the property caused the fire pit to smoke heavily. So this had to go as well.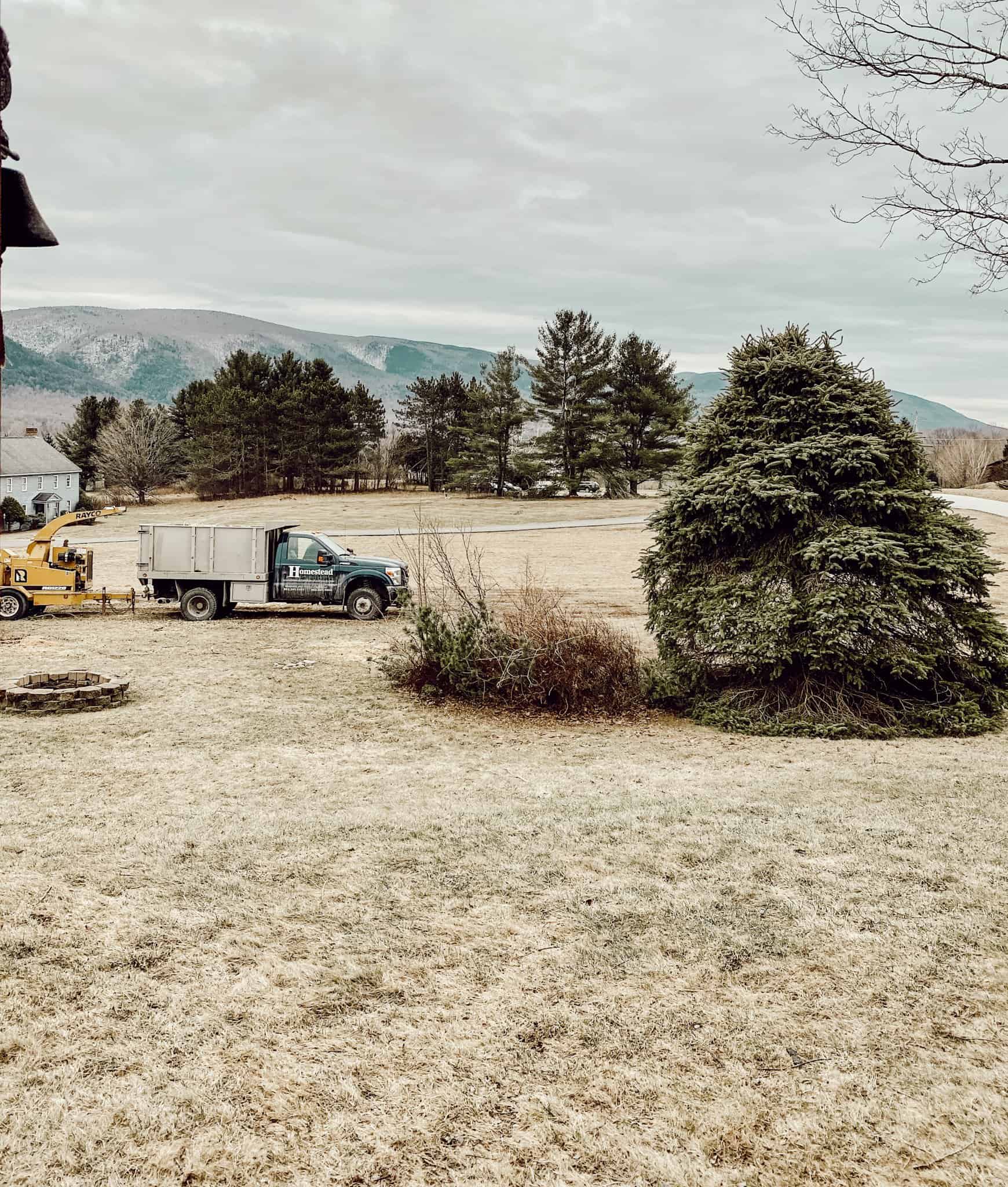 You may also enjoy the Refreshing Weekend Junket Home to Vermont post.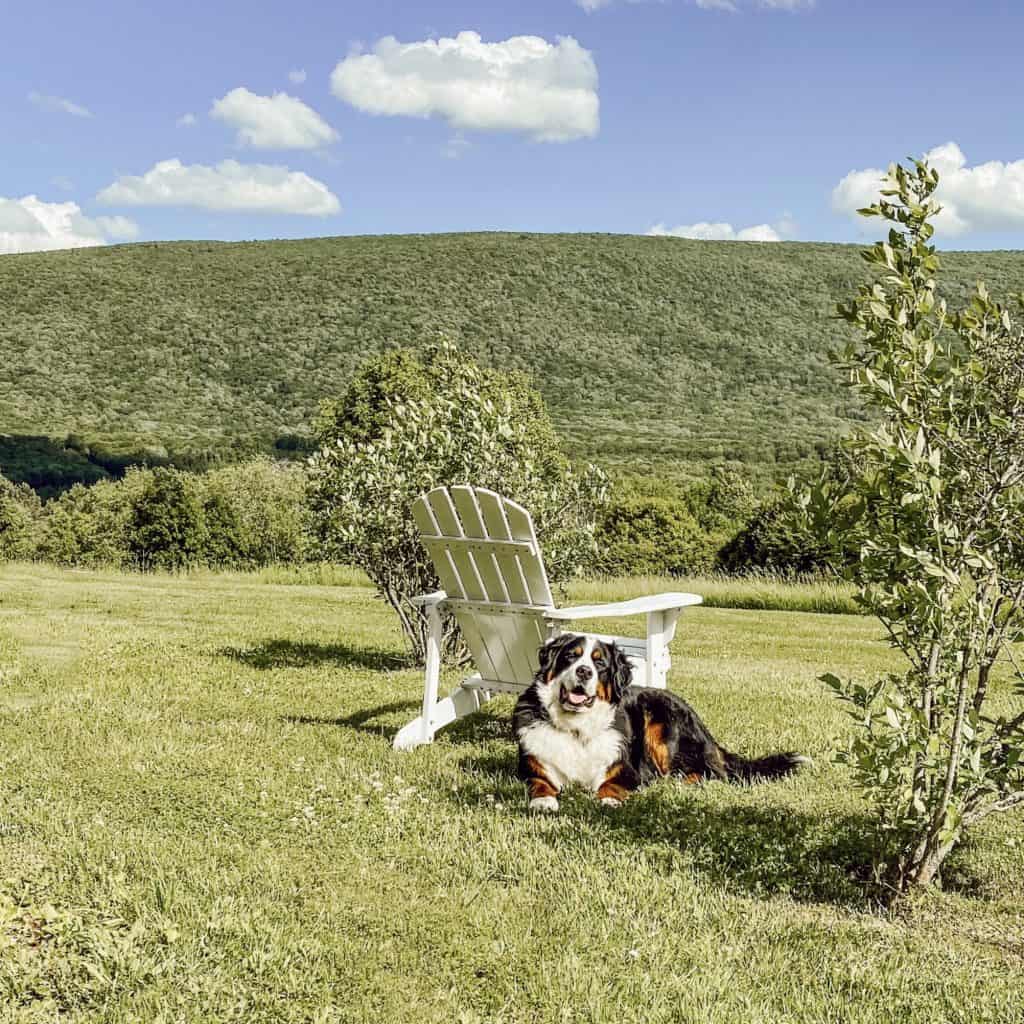 2 year's in the making, and it was all worth it! Join me around our backyard fire pit, and let me share with you our conversation furniture set, patio, and views from the Green Mountains of Vermont.
2. Backyard Conversation Set and Fire Pit Patio Reveal.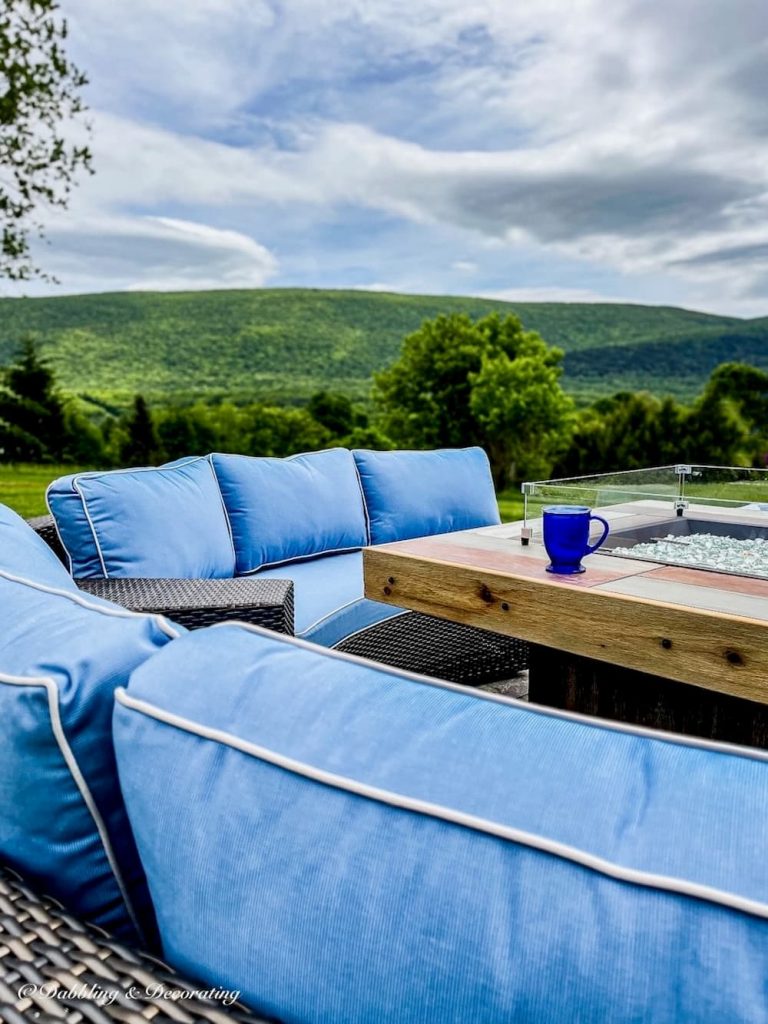 Split Rail Fence
This past fall, we added this split rail fence, which gave a little dimension to the property and depth next to the mountains in the background.
You may also enjoy the post, 3 Reasons Why Split Rail Fencing is Always a Good Idea.
Autumn in Vermont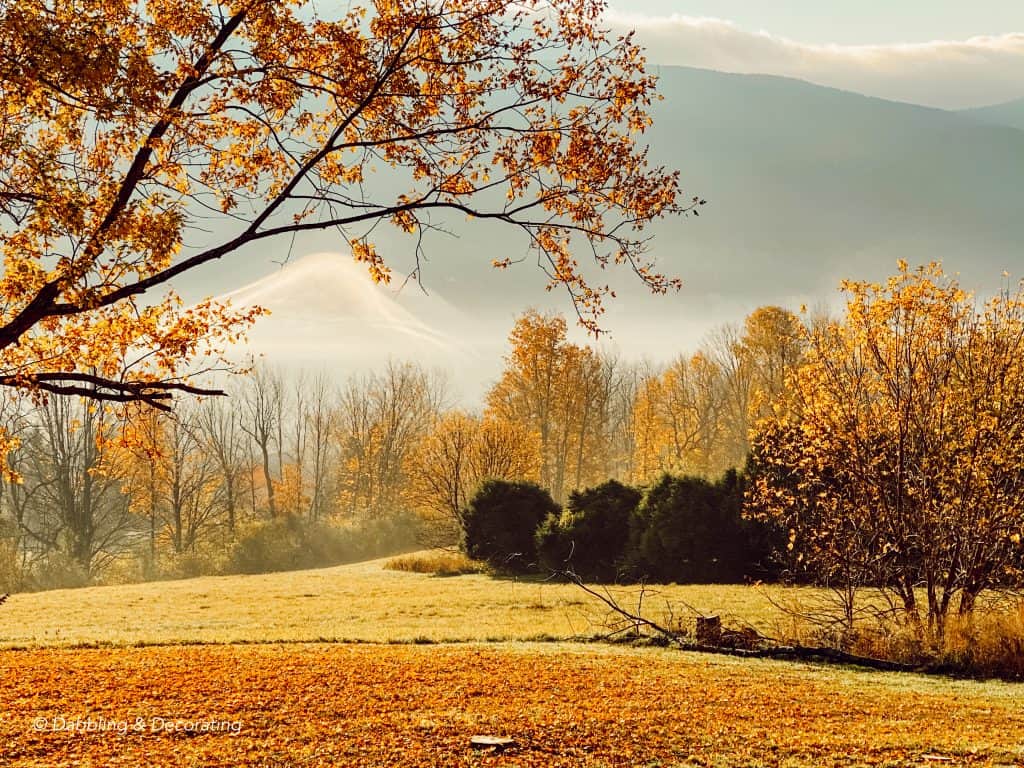 Autumn in Vermont is known for its magnificent colors, crisp air, fall festivals, pumpkins, antique car shows, brew festivals, music festivals, Oktoberfests, hayrides, and so much more. It's an amazing time of the year here in Vermont. If you've never had a chance to visit, I highly recommend it. Check out Explore Vermont.
It's our favorite time of the year to enjoy the outdoor front porch and cool evenings dining on the porch. You may enjoy the post, Picturesque Table Setting with Autumn Mountain Views.
Here stands a Maple tree that is not only magnificent shading in the summer but just look at it in the fall! You may also enjoy our Vermont Fall Foliage Home Tour.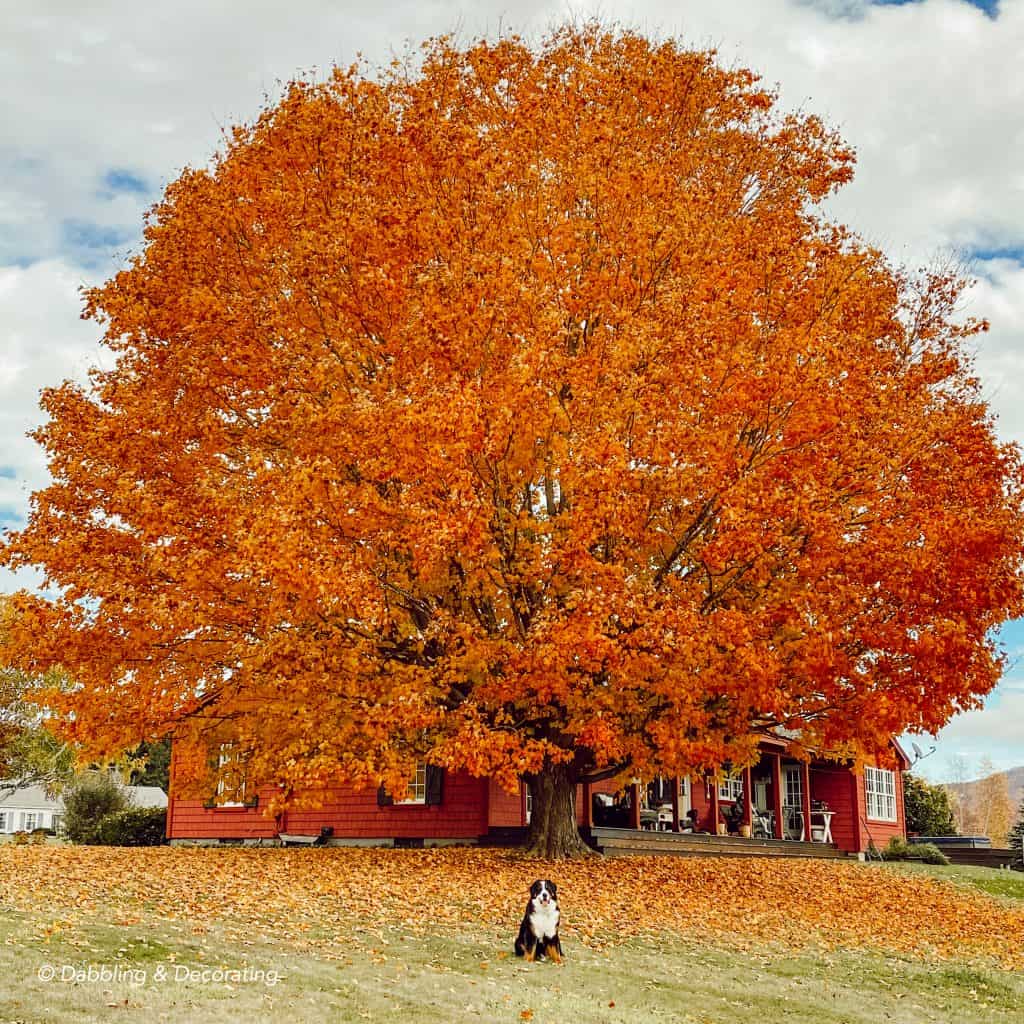 You may find all my fall home decor ideas here. And if you are ever in Vermont, you'll definitely want to take a drive to the Vermont Country Store, purveyors of the hard-to-find items from the past.
Stop by to see our Vermont Foliage Home Tour of 2021 here.
Rainbows
The rainbows are amazing here in the summer when it rains. Many times we have seen double rainbows over our home. Everyone in the neighborhood runs out into the streets, so excited to share it with each other, taking all the photos we can. This picture was taken by our neighbor with the rainbow over our home.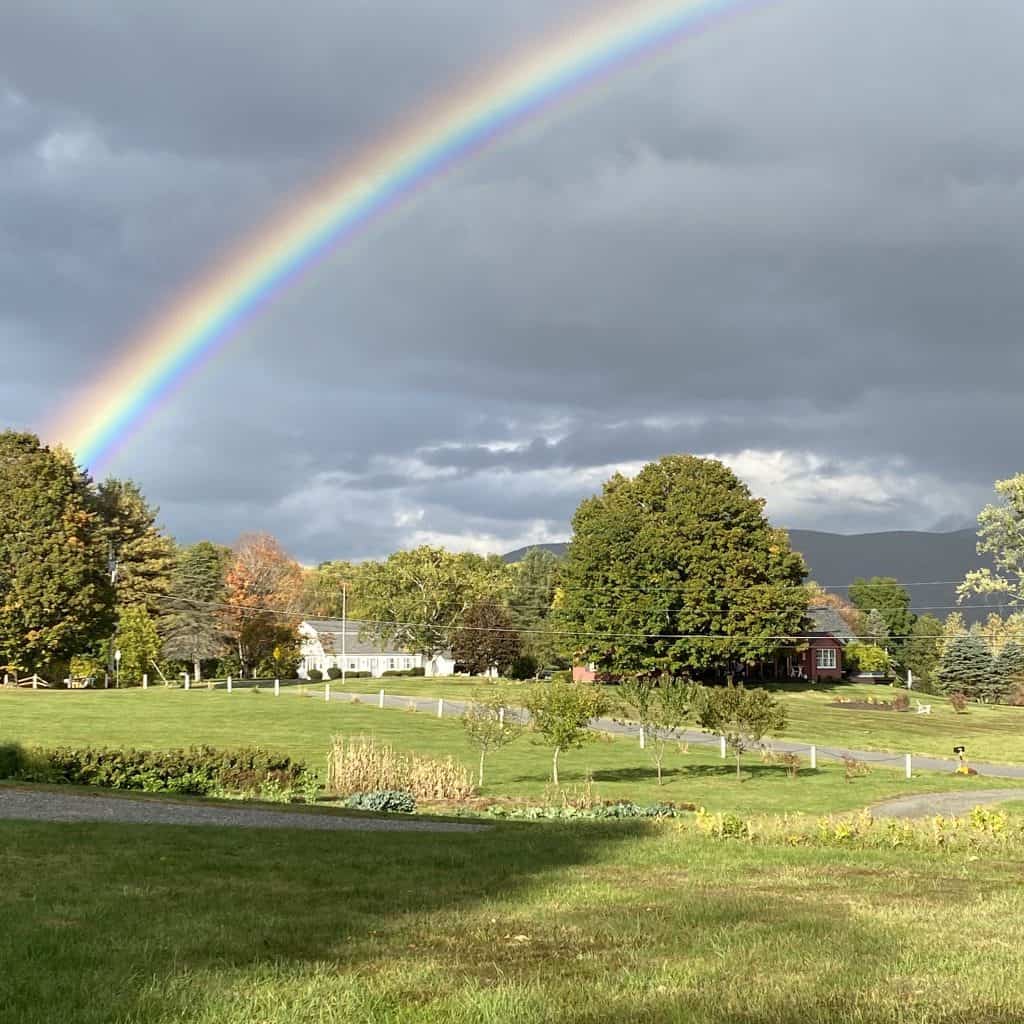 If you look closely at this picture, you can see the double rainbow over the mountains. Unfortunately, They are hard to capture in photography, as they don't last that long.
You may also enjoy Mother Nature And An Antique Millinery Hat Mold post.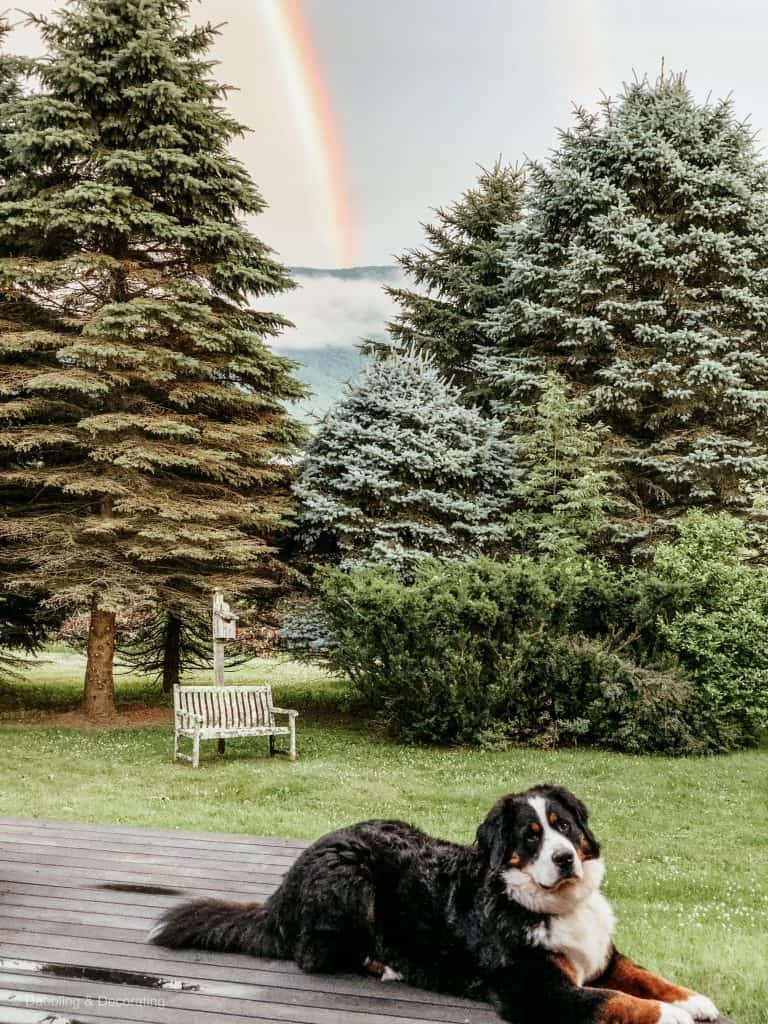 Our Year-Round Vermont Mountain Views
These year-round mountain views are what sold us on purchasing this simple red home in the mountains of Vermont. The previous owners had also renovated the entire home, and it was so beautifully done, in the way that the deck overlooked the mountains, where the sun was positioned on the house daily, etc… We love living here.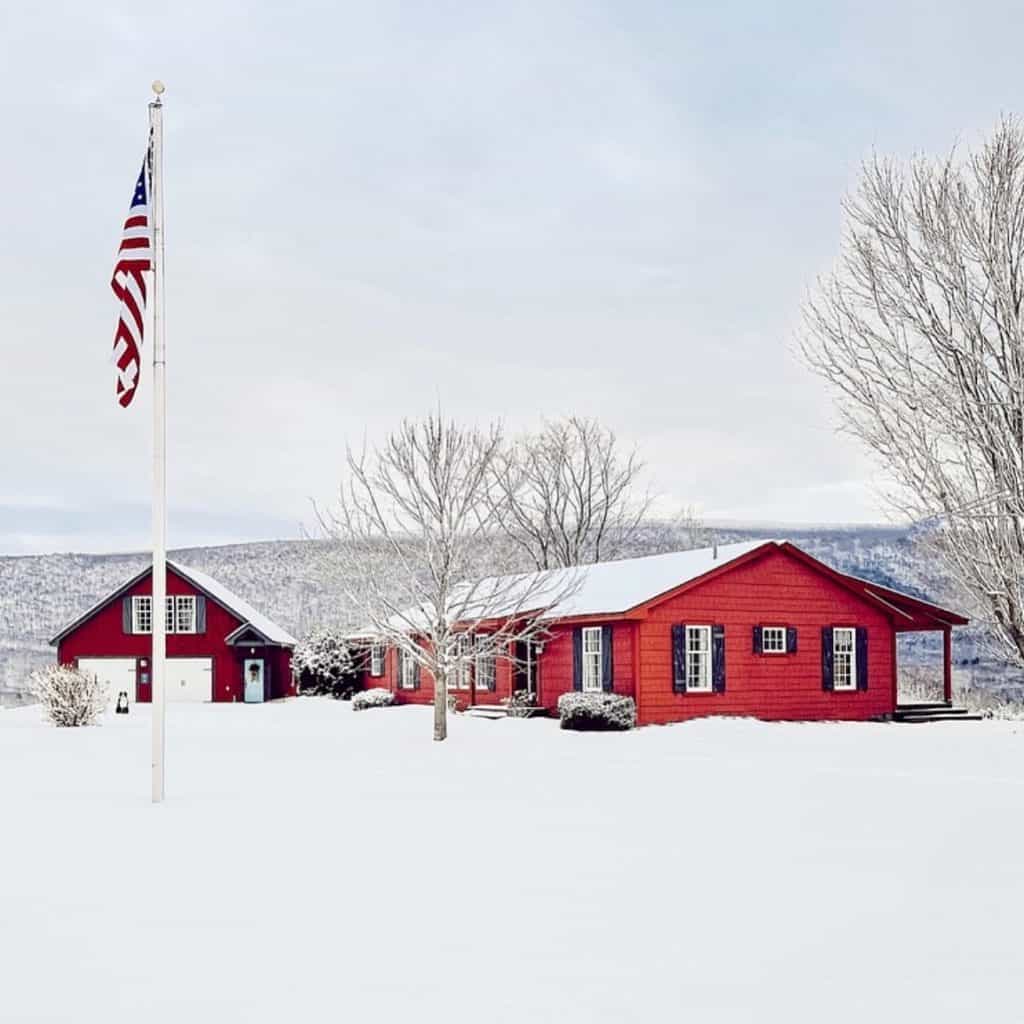 Sunroom Mountain Views
One of my favorite things is sitting in the sunroom that overlooks the mountains for morning coffee. We love watching the ever-changing weather patterns from this exact spot. I hope you enjoyed your visit with us today here in the mountains of Vermont.
You may enjoy seeing this sunroom remodel in the post, Sunroom Home Office Inspiration: Triple Purposed with Craft Space.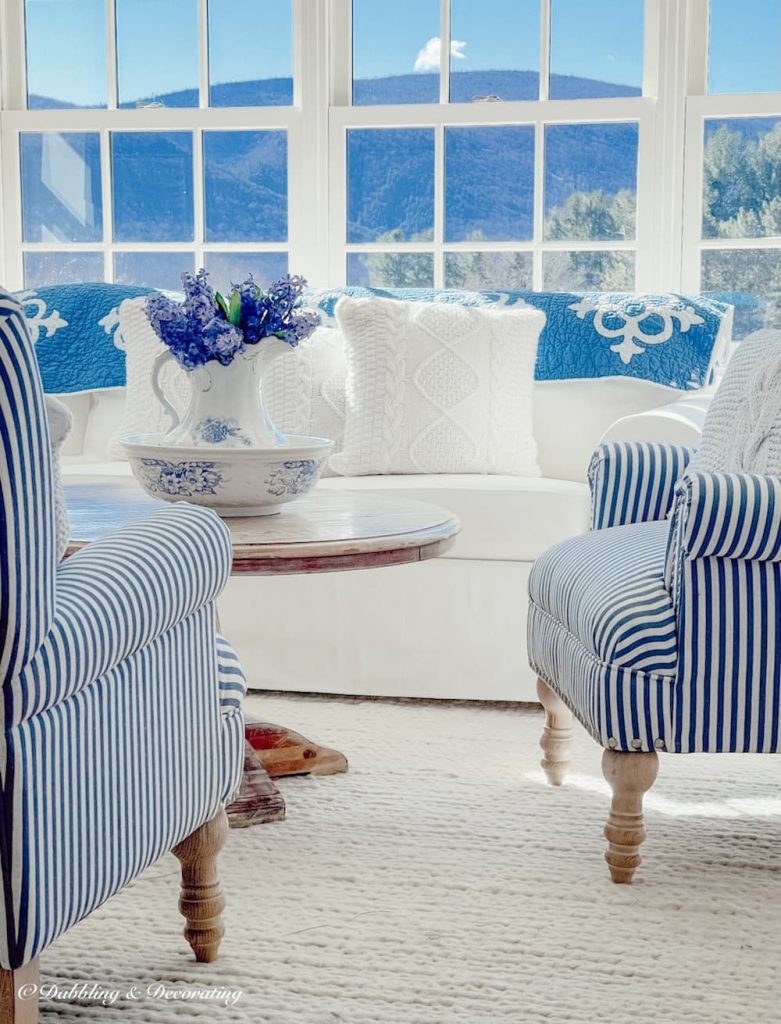 I'm so glad you dropped by, and if you are new to my blog, welcome! I hope you enjoyed your visit with us here today at our Home in Vermont.
Be sure to check out our Home in Coastal Maine too, where we spend summers and weekends when we are craving a walk on the beach or a visit with old friends.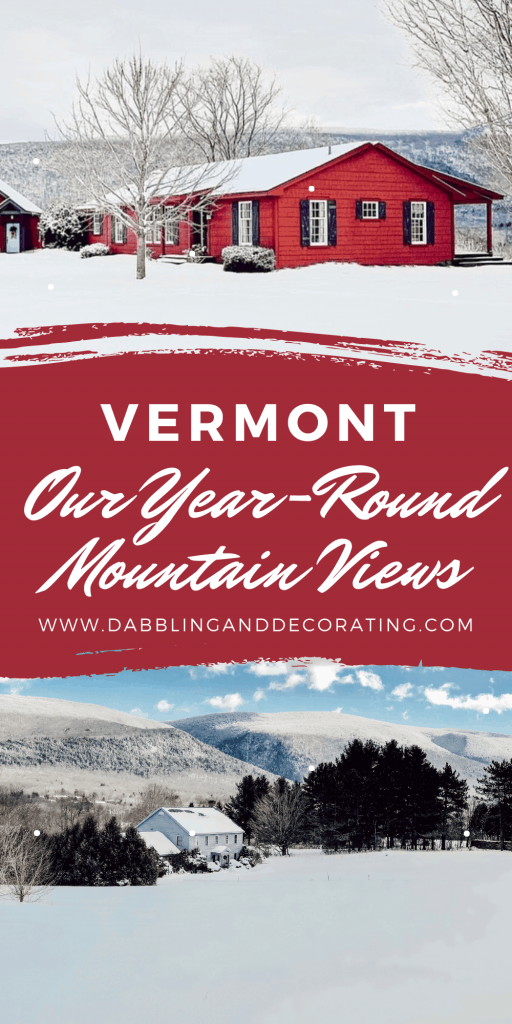 I've created the above custom pin just for this post! Hearing from you makes my day; your comments mean so much to me! Please join me over on Instagram & Pinterest to see more!
YOU MAY ALSO ENJOY