Do you love old chairs? Check out these 4 things you wish you knew about collecting and decorating with antique, vintage, and thrifty chairs.
When my friend Cindy over at County Road 407 asked me to join her today in a blog hop all about old chairs and stools, I was like well, of course, because you can never have too many vintage chairs to share and talk about! Am I right?
And if you are joining me from Kim over at Shiplap and Shells, welcome! I've been friends with Kim for a few years now and she is absolutely the sweetest and most creative person I know.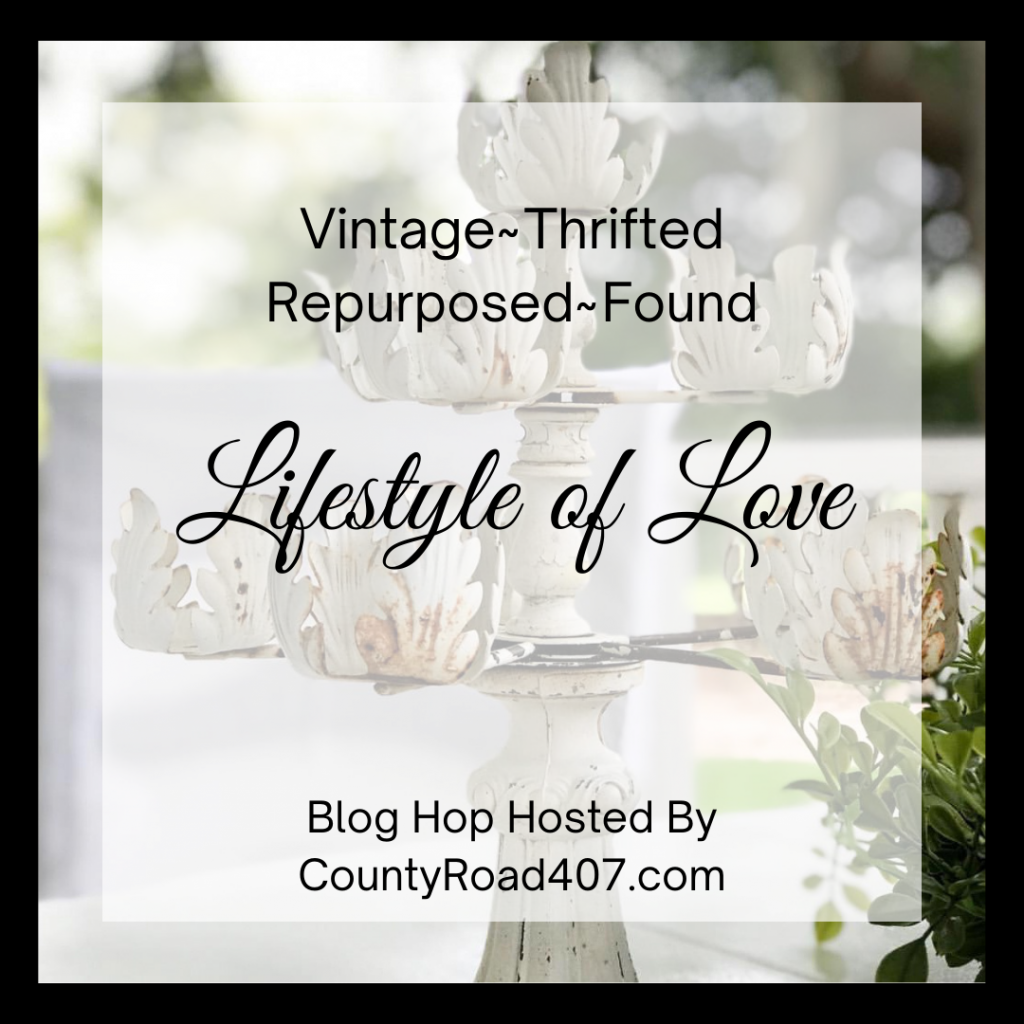 And the first old chair that comes to mind for me, starts with this old chair here…
Vintage Doll Chairs
This old chair is 1 of 4 vintage doll chairs that I found while vacationing in Rockport, Maine over this past summer.
Just look at all that chippiness and spooling detail.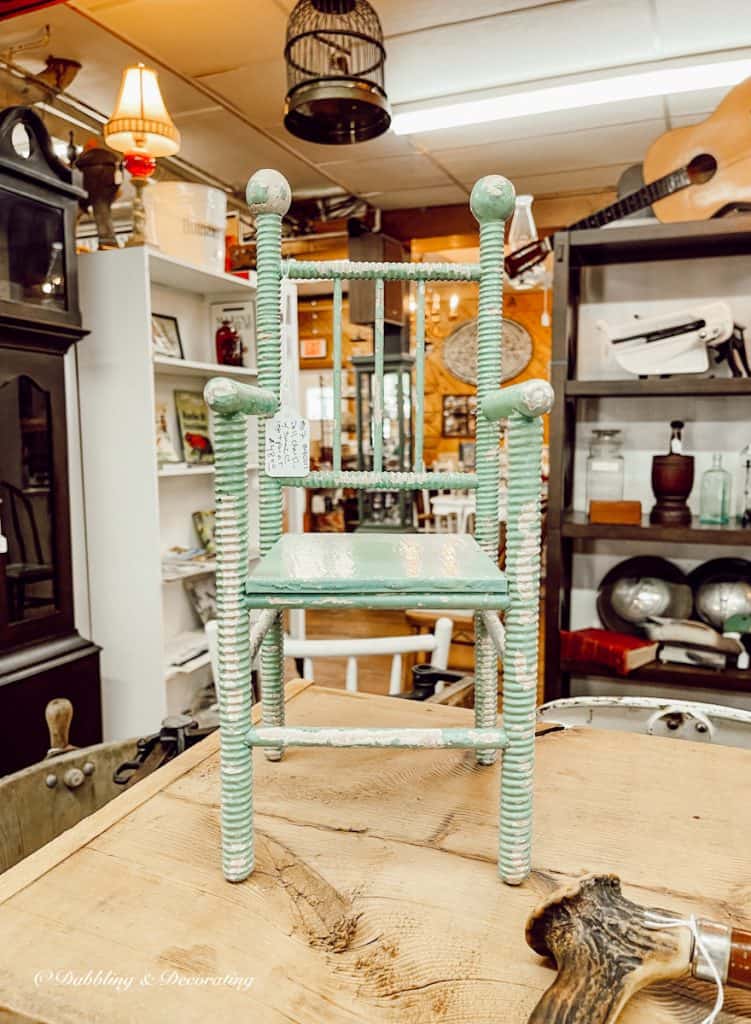 There's so much you could do with this old chair. And I was even happier when I found 3 others to go with it, the start of my first doll chair collection.
Here I have them decorated on our windowsill at our home in Maine.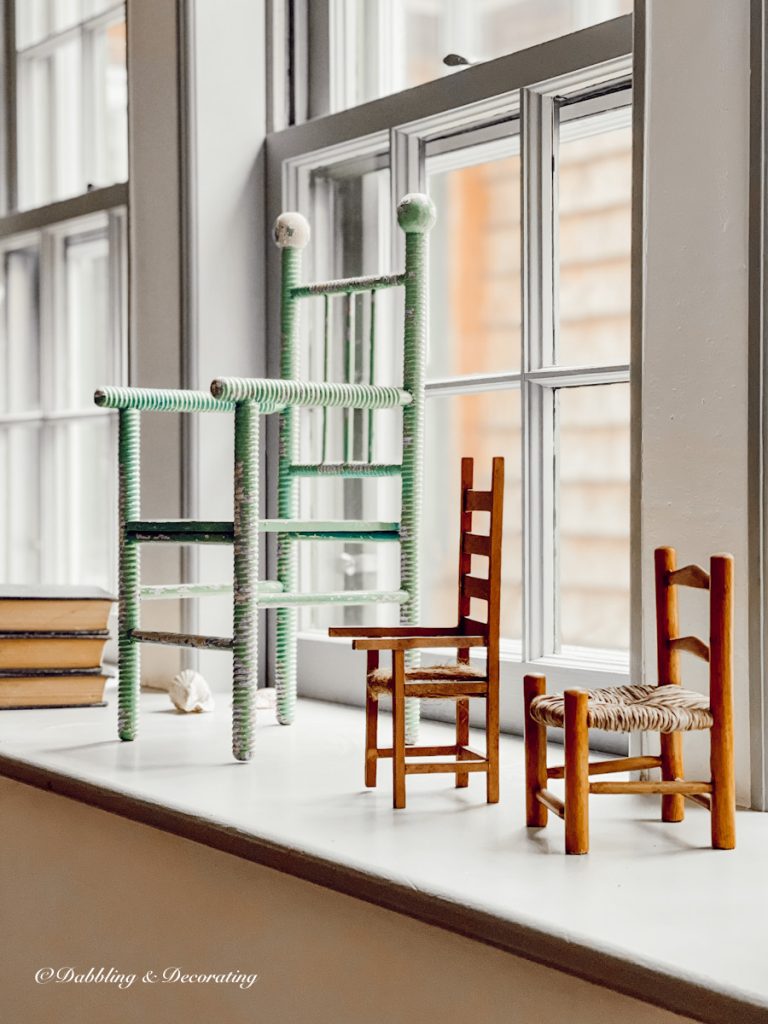 This post may contain affiliate links which won't change your price but will share some commission."
SHOP DOLL CHAIRS
(click on any of the images to shop the products)

Doll chairs like these would also look fabulous scattered on a guest bedroom dresser, a mantel, on top of a hutch, bookshelf, kitchen shelf, etc. The possibilities are endless!
A collection of various styles, shapes, and colors just adds to the beautiful charm.
Check out how these doll chairs looked this past fall with miniature pumpkins HERE.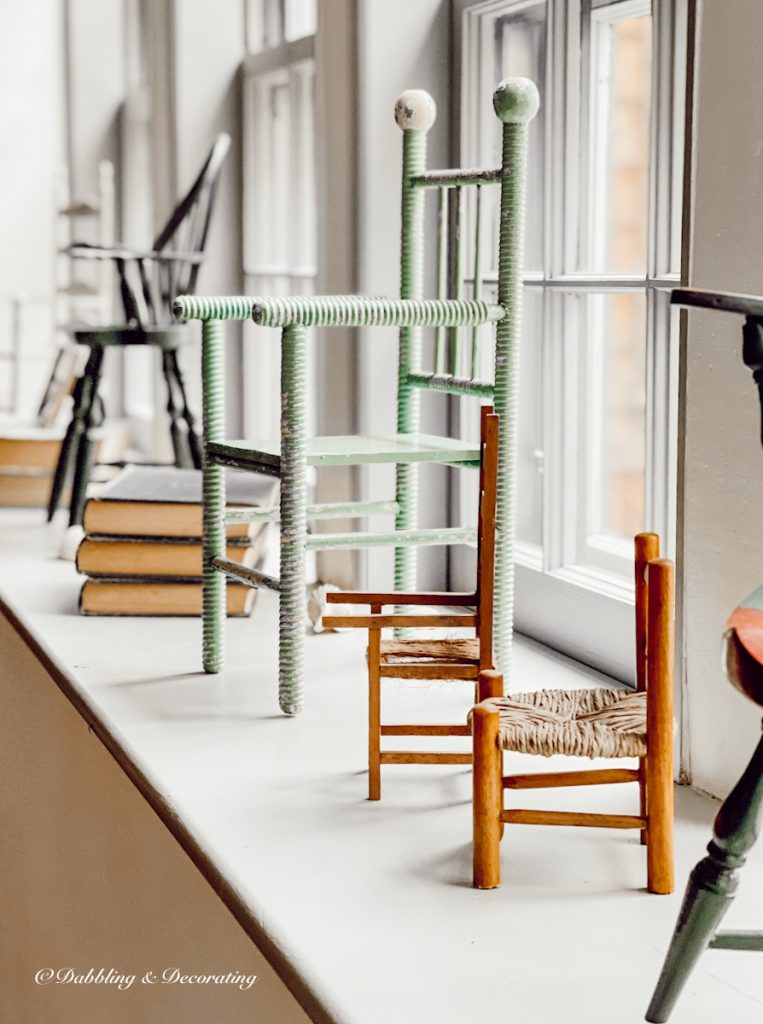 Vintage Cane Chairs
While driving to our home in Maine this past summer I stopped in at a pop-up roadside church bazaar. Do you ever do this?
And these two pieces of furniture were out on the lawn with a FREE sign on them!
What? And the cane seating was in perfect condition too.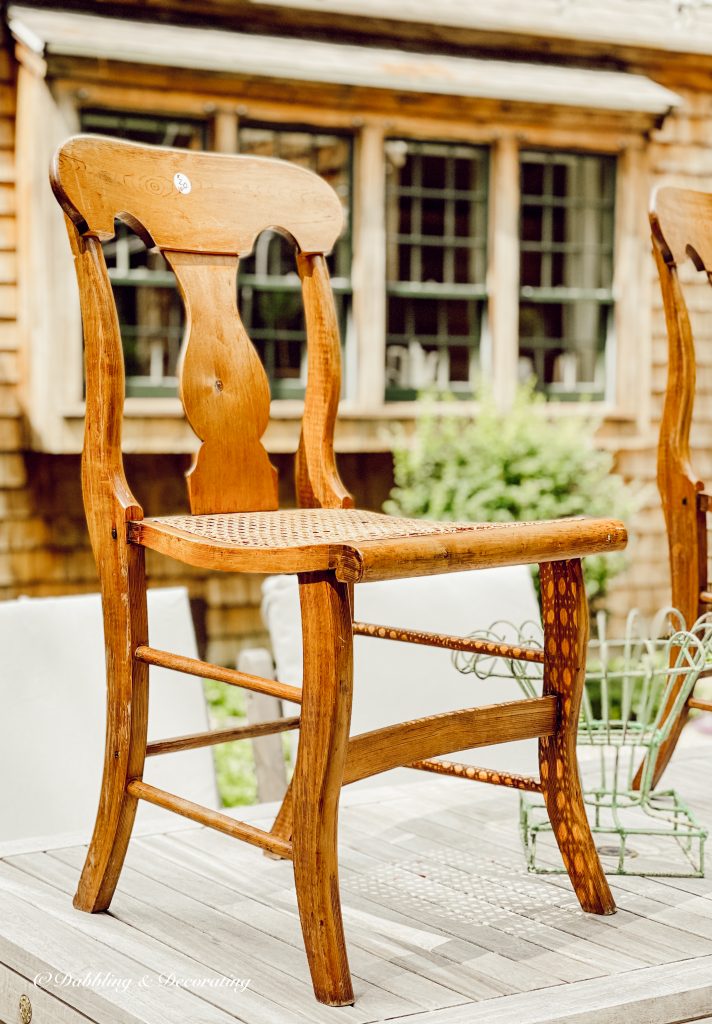 I packed them up and today they sit beautifully scattered in our Maine home dining room.
You may also enjoy seeing This Season's Thrifting Trends too.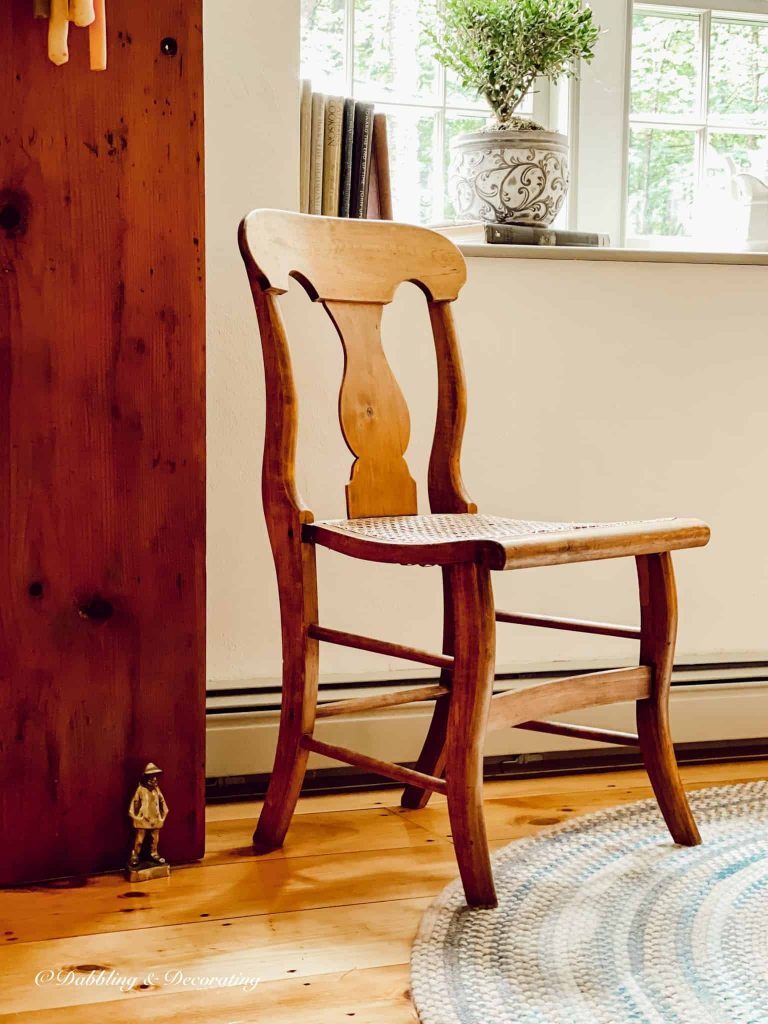 My friend Courtney over at French Country Cottage talks all about cane chairs in her post "What to know about French Style Cane Dining Chairs" if you are interested in learning more.
SHOP VINTAGE CANE CHAIRS
(click on any of the images to shop the products)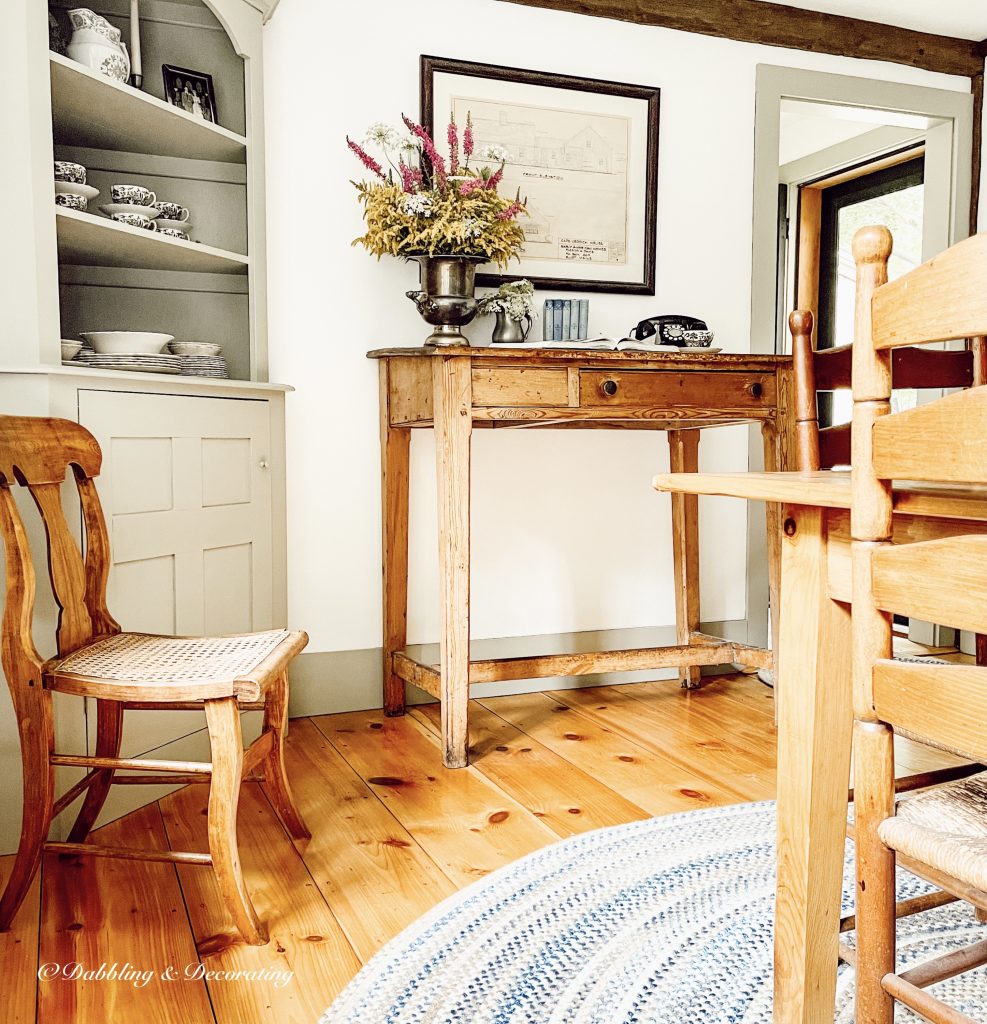 Do you follow Marian over at Miss Mustard Seed? I just adore her blog posts like this one, "a sled, ski poles & French wing chairs". Once you check out Marian's blog just search for chairs and you will find yourself immersed in the wonders and possibilities of all things, french chairs.
Antique Ladder Backs
"A ladderback chair, also ladder-back, slatback, or fiddle back, although that name is used less now due to the creation of the fiddle back. It gets its name from the horizontal spindles that serve as the back support on the chair and are reminiscent of a ladder." Reference, Wikipedia
This now leads me into these ladder back dining room chairs collected over the years by my mother.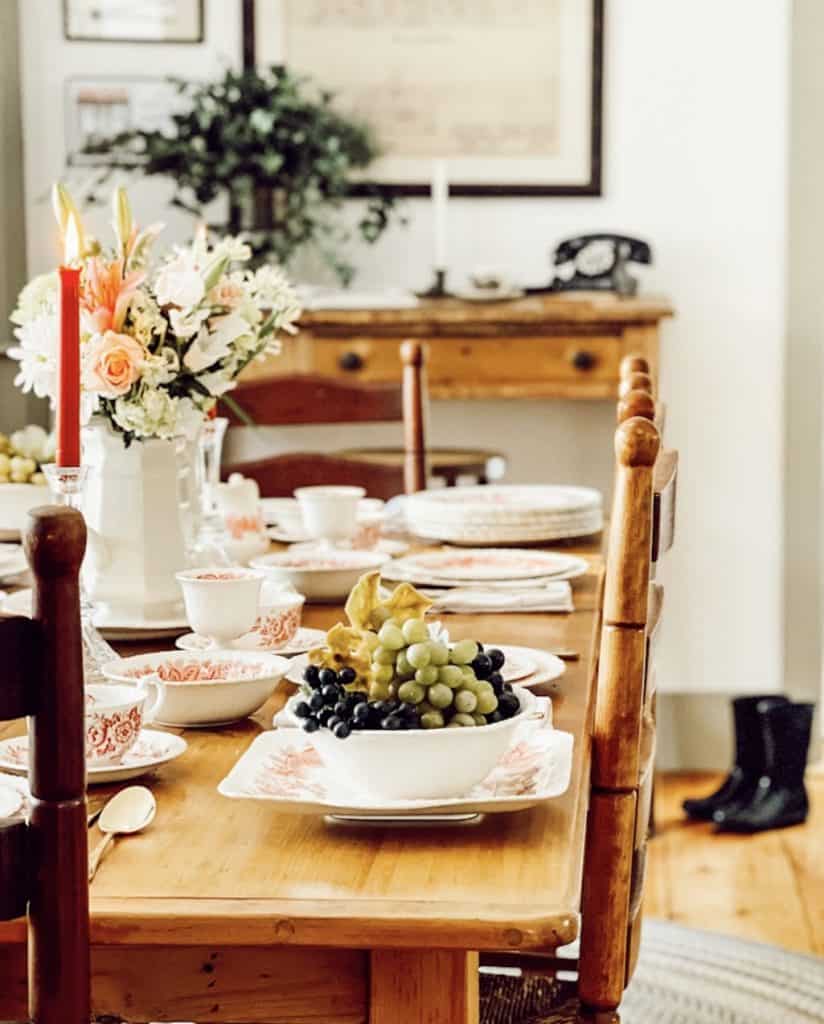 I grew up dining on these antique ladder back chairs as a small girl growing up on the Nubble.
Check out Coastal Maine Heritage | Embracing My Roots here.
These ladder backs were used daily and remain so strong and sturdy even today.
My parents left me 4 of these old chairs and I found 2 of the exact same ladder backs for $25.00 each to add to this collection while out "Thrifting with the Gals".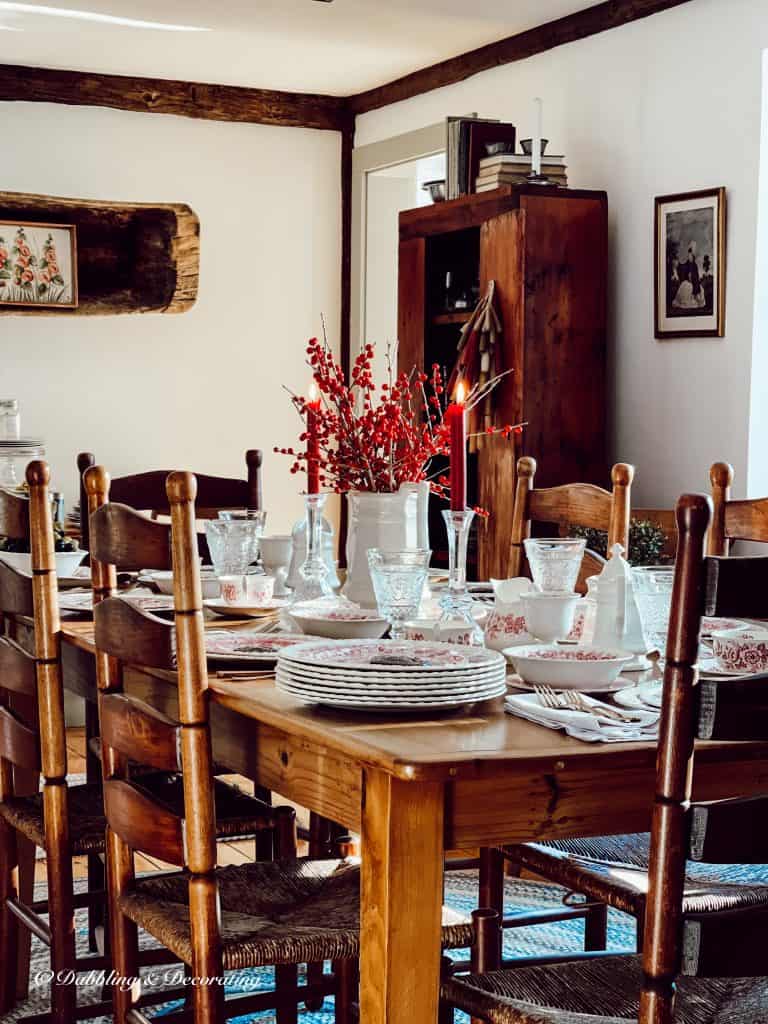 SHOP VINTAGE LADDER BACKS
(click on any of the images to shop the products)

You may also enjoy seeing more of this "Pewter Tablescape with American Country Antiques" here.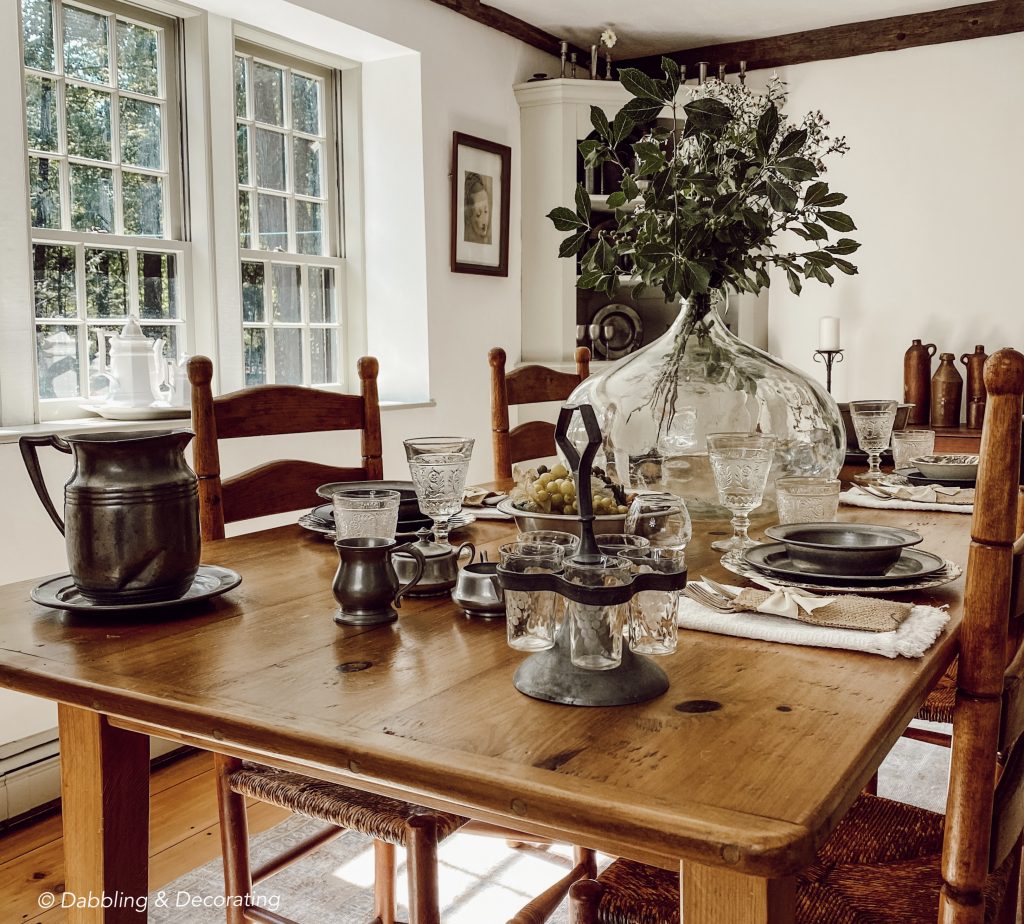 Check out this "Simple Yet Imaginative Mixed Pottery Winter Table" here.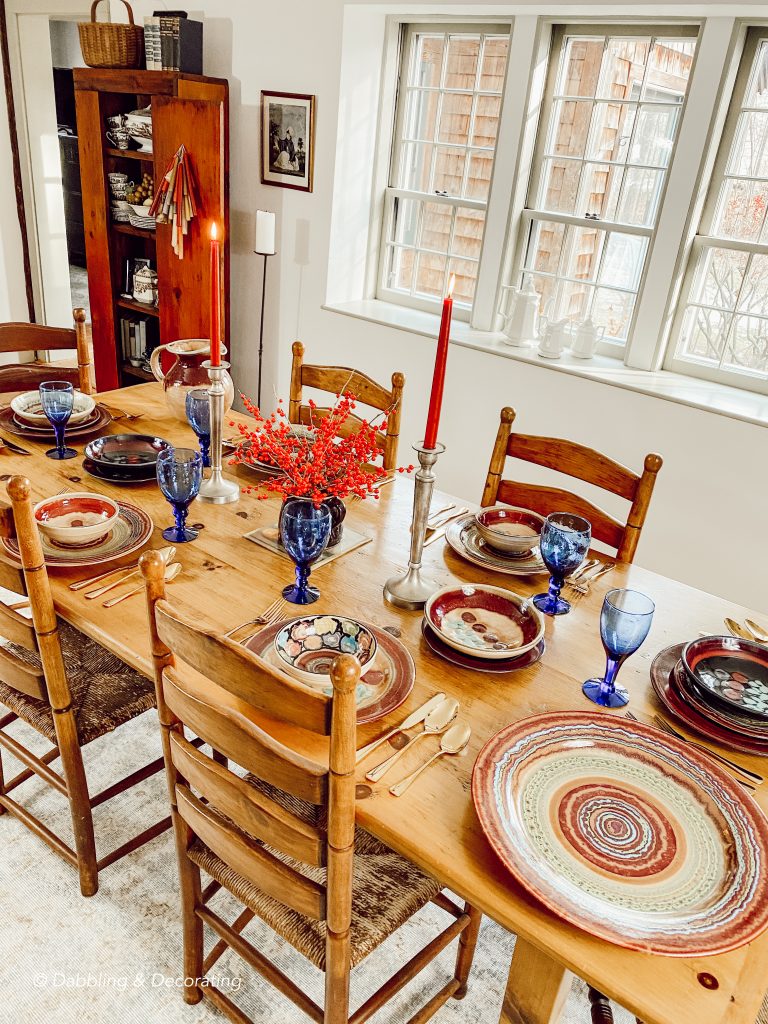 SHAKER STYLE CHAIRS
"These are some of the most recognizable pieces of American furniture," says Pamela Wiggins, a highly regarded antique and collectible costume jewelry expert and designer in her piece Identifying Shaker Chairs on The Spruce Crafts.
"Some of the most enduringly popular American antique furniture, known as Shaker style, was made not by a single designer, but by a group of people who shared a set of beliefs and an aesthetic. At its height, the Shaker movement included some 6,000 members living in 19 villages stretching from Maine to Indiana—yet this tiny group of people had an impressive impact on American style and design." – Source: Pamela Wiggins, The Spruce Crafts.
Learn more about The Shakers and Their Furniture here.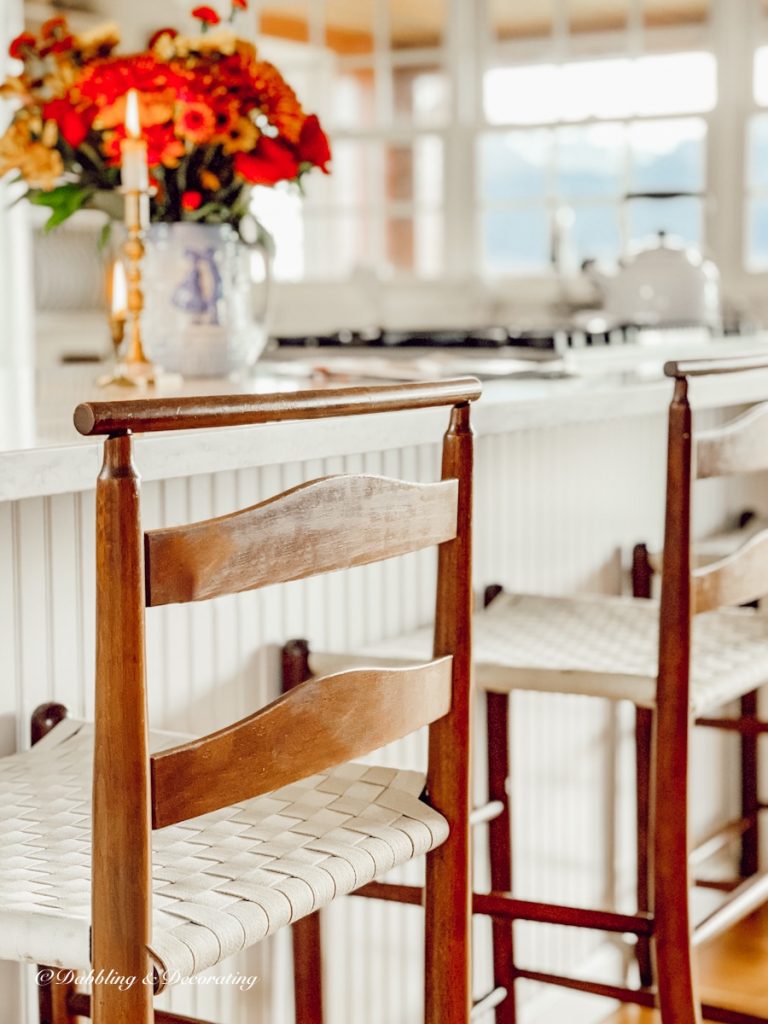 I was fortunate enough to discover these 3 Shaker bar stools at a second-hand shop for $35 a stool. I've never seen another set quite like these anywhere.
The beautiful brown wood frame pairs so well with the white Shaker-style seating.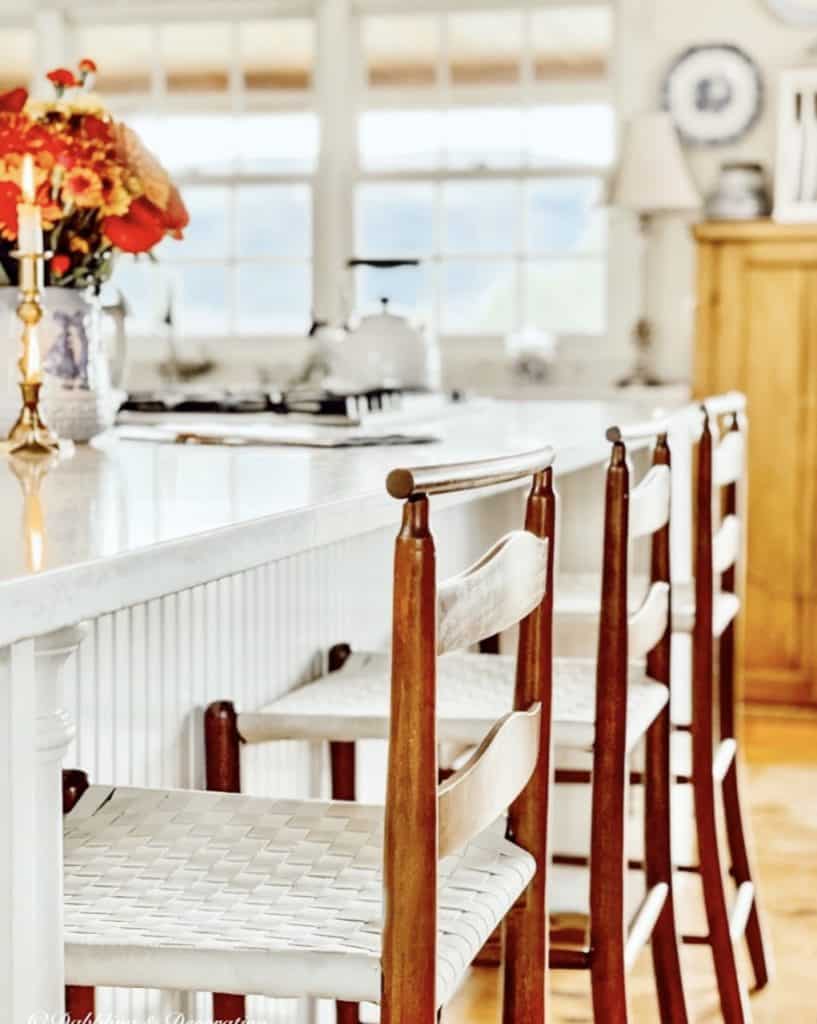 The shaker stools sit so pretty around our open kitchen island. The size is nice and lean, accommodating this space beautifully.
See more of our Winter White Farmhouse Kitchen here.
You may also check out Shaker Workshops for their shaker furniture kits.
SHOP SHAKER CHAIRS AND STOOLS
(click on any of the images to shop the products)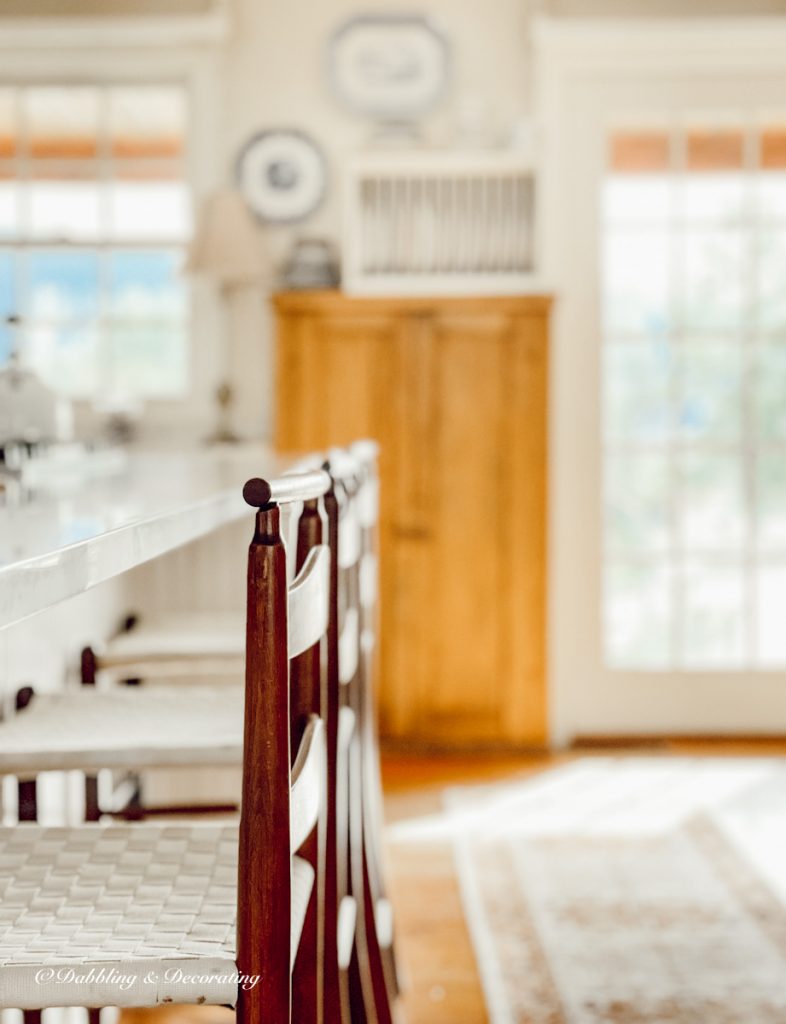 You may also enjoy the post, Vintage Braiding Rug Stand | A Mother's Day Reflection with a recently found vintage captain's chair.
I'm so glad you dropped by, and if you are new to my blog, welcome! I hope you enjoyed your visit with us here today at our Home in Coastal Maine.
Be sure to also check out our Home in Vermont too, where we spend winters enjoying the coziness of home in the Green Mountains of Vermont.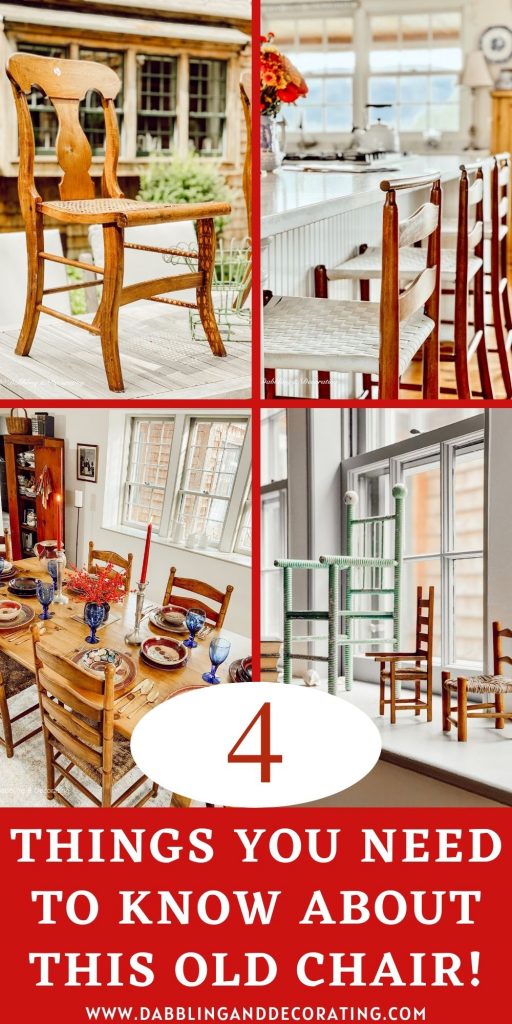 I've created the above custom pin just for this post! Hearing from you makes my day and your comments mean so much to me! Please join me over on Instagram & Pinterest to see more!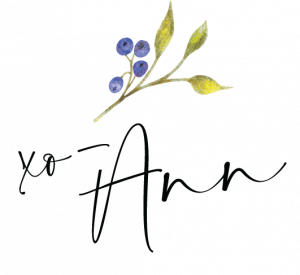 Next up on today's tour is my friend Lora from Create and Ponder. You won't want to miss Lora's ideas on how to enjoy stools in your home. She's one of my thrifting buddies too!
You are invited to the Inlinkz link party!
YOU MAY ALSO ENJOY