Do you like engaging and learning a little "this and that" about vintage and thrifty home decorating ideas? Join in on this week's conversation!
Do you guys like hearing about "this and that", a weekly wrap-up of all things thrifty and vintage in home decorating?
I shared a Let's Talk About This and That… post a couple of weeks ago and it looks like it really resonated with many of you.
I'm going to try and post a "this and that" twice a month or so. I'm not sure I will get to write one every week, though they are fun to recap and write when I have a little downtime.
So let's talk about dabbling in "this and that" again this week…
A Barn Sale Visit
I hit up this barn sale on Saturday in Rupert, Vermont.
I saw it advertised on Facebook Marketplace showcasing some snowshoes, boat oars, and wooden maple syrup paddles that I thought I may be interested in.
Well, those items were a bit overpriced in my opinion selling for around $179 each. Yikes!
But I did find these two yellow $15 McCoy vases, just perfect for spring.
Along with these adorable vintage sherbert bowls and plates for $24.
A New Sign
Then a quick stop off at my new vintage booth to hang this new Dabbling & Decorating sign I had made for me over on Etsy.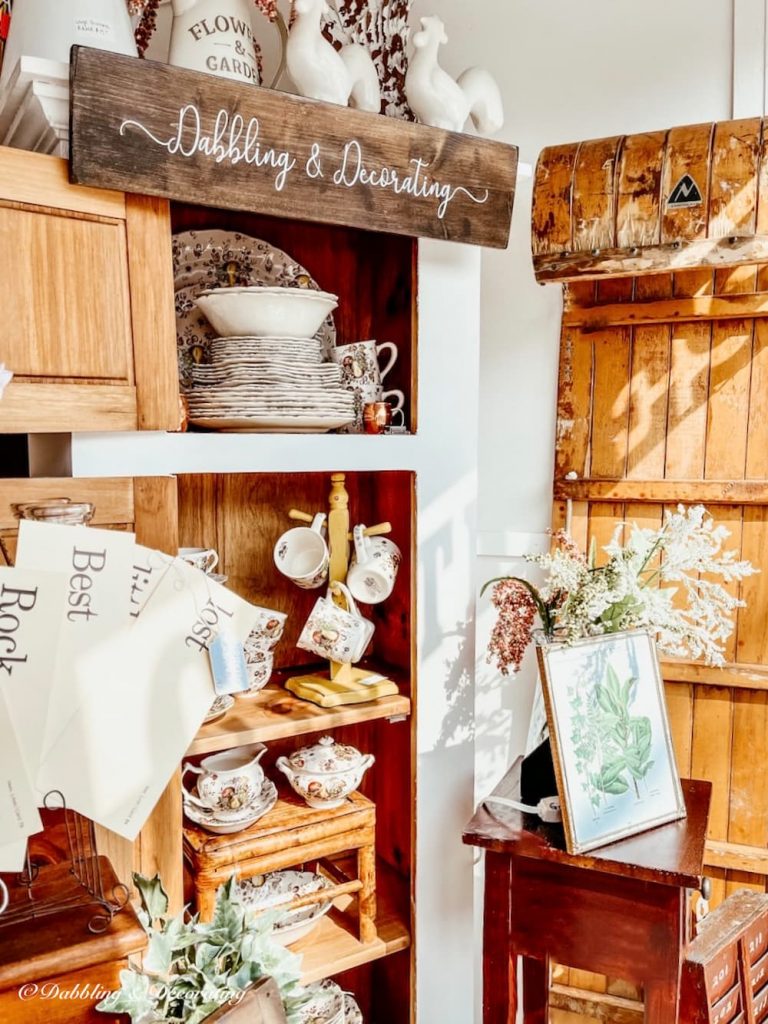 Snow in the Spring
It rained so hard here on Monday and Tuesday that we lost all our beautiful snow this week in Vermont.
It's not over just yet, but definitely, a sign that spring is on its way.
You may also enjoy "Thrifting with the Gal's" monthly round-up, Spring Thrifty and Things.
Oops, I spoke too soon. We got about 4″ of unexpected snow overnight and this morning was absolutely spectacular.
So of course I grabbed a bunch of my many spring tulips and took about 1000 photos…
Sterling Silver Wipes
My sweet friend from Maine, Marianna from Apple Tree Lane Studio over on Instagram shared these Carbona Silver Cleaning Wipes that she absolutely raved about when cleaning her vintage silver pieces!
I can't wait to try them out on my mother's sterling silver flatware set.
And they work on brass, copper, and gold too!
Antique Candle Co.
My favorite candles by Antique Candle Co. have a fresh new look for spring and they just introduced their newly fresh brewed coffee scents too!
They smell absolutely amazing, friends! You may shop them all HERE.
This week I partnered up with Schweitzer Linen again to share their beautiful gifted bedding with you for spring.
The blues and taupes are just extraordinary for the upcoming season.
You can save 20% OFF all their products with the coupon code DYGEN20 too!
A Few Ideas I Collected From Around the Web…
I'm so glad you dropped by today friend, and if you are new to my blog, welcome! I hope you enjoyed your visit with us here today at our Home in Vermont.
Be sure to also check out our Home in Coastal Maine where we spend summers and weekends when we are craving a walk on the beach or a visit with old friends.
Please join me as a regular here at Dabbling & Decorating by signing up for my Saturday morning newsletter and never miss an update!

I've created the above custom pin just for this post! Hearing from you makes my day and your comments mean so much to me! Please join me over on Instagram & Pinterest to see more!


YOU MAY ALSO ENJOY