Are you inspired by thrifty finds and things? Let me show you how to add character to your home for spring with thrifted and vintage finds.
"Thrifting with the Gals" started with a group of friends who met over on Instagram and formed a special relationship through a mutual love of home decorating. We share a passion for all things vintage, thrifty, and cozy. Sharing our monthly finds along with tips and tricks on our blogs here every month. And over on Instagram stories daily.
Our styles are all very unique from Kristin's log cabin in the Northwoods of Wisconsin, Rachel's farmhouse in North Carolina, Robyn's beautiful French Nest in Florida, and of course myself thrifting for our homes from Vermont to Coastal Maine.
If you are joining me from Rachel, over at The Pond's Farmhouse welcome! Rachel always shares the best DIYs and flips with her thrifty and things finds that are so inspiring. And I love the beach house renovation she has going on now too, wow!
You may also enjoy the post, Is Your Table Ready for Spring and St. Patrick's Day?
An Old Quilt
It's been a brutally cold winter here in Vermont and until just recently I haven't felt much like getting out to go thrifting. So Etsy has been my best friend this winter…
That is where I found this vintage blue and white quilt for just $100!
It has a few breaks in it but that's ok, as the colors are spring-inspiring yet still cozy for a day like today with the snow falling outside.
SHOP BLUE AND WHITE VINTAGE QUILTS

Green Champagne Flutes
These green champagne flutes. I'm in love!
The Eclected Tabletop over on Etsy has an amazing assortment of colored glassware collections in case you are looking…
The vintage vibe they have is fantastic. Talk about spring thrifty and things!
You may also really like this amethyst glassware that I found last summer in Maine too.
SHOP COLORED GLASSWARE

Limoges China Bowls
These thrifty Limoges china bowls are going to pair really well with the green glassware too.
I found these 6 for $24 while out "Thrifting with the Gals".
You may also enjoy the post, You may also enjoy the post, Thrift and Antique With Me Right into Mud Season.
SHOP VINTAGE LIMOGES BOWLS

The big news this month is I've started my very own vintage business booth as part of my "Top Thrifting Goals for 2022"!
And guess what? It's an awesome window booth at The Vintage Soul right in the heart of our 4 season resort town here in Vermont.
Here is the space before.
And I could not be more excited about this new adventure all in the name of spring thrifty and things!
You can learn more and read all about it on the post, How to Start a Vintage Booth Business.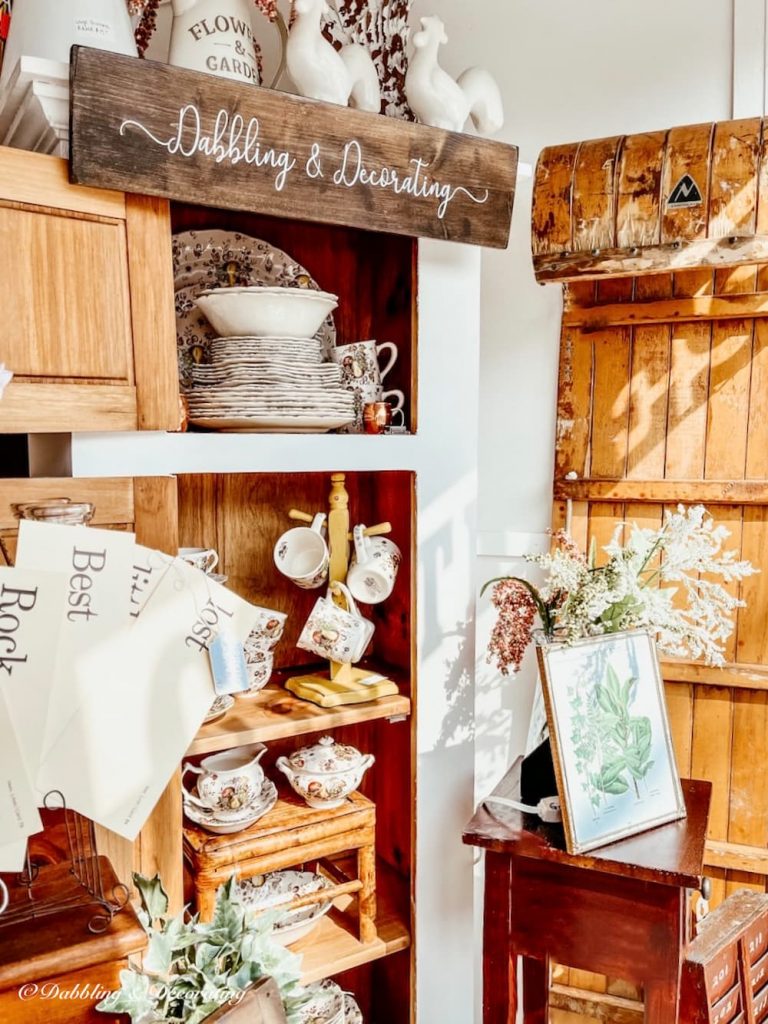 The Itch to Switch
What is it about this time of the year that gives us that itch to switch and rearrange everything in our homes?
Maybe it's the promise of spring around the corner, yet the snow is still falling outside and we've all been inside over the winter too much?
Whatever it is, it's real. I stripped our vintage mantel and rearranged some old blue shutters around our old pine hutch in the sitting room.
I just love this color blue accentuating the natural pine textures.
SHOP VINTAGE BLUE SHUTTERS

You may also appreciate 16 Easy Spring DIY Ideas You Can Start Today!
Now, THIS is the real thrifty and things that I enjoy so much.
And Ella our Bernese Mountain Dog did her best to get my attention during all of it…
And it's now time to match up those vintage green Limoges bowls and green flutes on this Spring Table | Green with Envy.
Oh, and happy belated Saint Patrick's Day!
Spring Thrifty and Things Barn Sale
I made an appointment to visit this barn sale in Rupert, VT that I found advertised on Facebook Marketplace. It looked like they may have a few things like snowshoes and maple syrup paddles that I could be interested in.
Well, the paddles and snowshoes were just way too overpriced for me at $179+ each…
Check out my blog post on vintage ski lodge snowshoes. And you'll see why I thought this was very high.
However, I did find two vintage McCoy pots for $15 each…
What Makes McCoy Pottery Special?
McCoy Pottery is known as the "King" of the "Pottery Capital of the World". You can pick out these beautiful pottery pieces by their vibrant colors and detailed patterns.
How can you tell if pottery is made by Nelson McCoy?
You may find a number of different logos made by McCoy pottery, here are a couple of very standard McCoy logos.
Check out the McCoy Pottery Collectors' Society to learn more about McCoy Pottery.
SHOP VINTAGE MCCOY POTS

And how cute is this set of blue and gold sherbert bowls with plates for $24?
There was no marking on them to know who made them, but they are simply adorable!
You may also enjoy A Very Vintage Weekend.
A Pencil Post Bed
I also partnered up with Schweitzer Linen this month and shared "How to Create an Inviting Guest Bedroom" with this vintage pencil post bed that my parents gifted us when we first moved to Vermont.
I love how the bed can be positioned low to the ground or lifted up like we have it displayed here.
High beds are my favorite, they feel so much cozier.
Tulips
And if you love tulips this time of the year, check out these 17 Simple Tulip Arrangements You Can Create Today.
Did you know there's a proper way to fold and hang tie-up valance curtains? I bought 5 panels off of Etsy to hang up at our home here in Maine and that prompted my research.
I am sharing all that I have learned over on the post How to Fold and Hang Tie-Up Valance Curtains.
If you enjoy shopping Estate Sales & Online Auctions, are you familiar with Auction Ninja? I was recently introduced to Auction Ninja and they have some amazing deals over there friends! I just saw an antique crock sell to a $30 winning bid!
I'm very excited to be one of their featured bloggers this week too over on their BLOG HERE!
You may also enjoy Riding out the Rain with These Fabulous Umbrellas while April's showers bring us May flowers.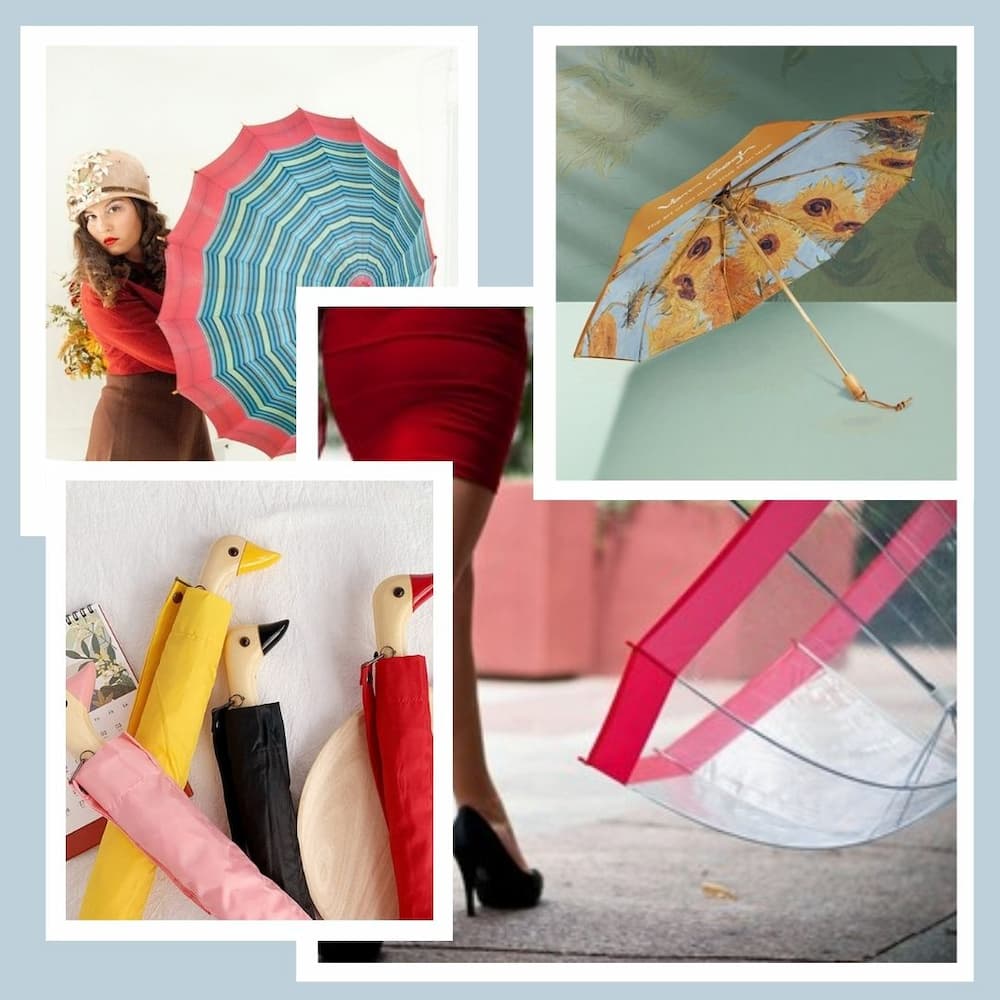 I'm so glad you dropped by, and if you are new to my blog, welcome! I hope you enjoyed your visit with us here today at our Home in Vermont.
Be sure to also check out our Home in Coastal Maine where we spend summers and weekends when we are craving a walk on the beach or a visit with old friends.
Please join me as a regular here at Dabbling & Decorating by signing up for my Saturday morning newsletter and never miss an update!

I've created the above custom pin just for this post! Hearing from you makes my day and your comments mean so much to me! Please join me over on Instagram & Pinterest to see more!
Next up on today's "Thrifting with the Gals' spring tour is Kristin from White Arrows Home. You won't want to miss Kristen's beautiful log cabin in the Northwoods of Wisconsin and how she decorated with her amazing mixed vintage dishes.
Join the Other "Thrifting with the Gals" Here Today Too…
This Month's Guest Host: Jessica | Old Barn Company
Robyn | Robyn's French Nest
Rachel | The Pond's Farmhouse
Kristin | White Arrows Home
YOU MAY ALSO ENJOY