Hi, friends welcome to the third blog post in the monthly series of "Thrifting with the Gals!" Spring thrifting and antiquing with the gals was in full force this past month. If you are joining me from Rachel over at The Ponds Farmhouse, welcome! Rachel and I have very similar tastes when it comes to our decor and thrifting! And both enjoy it so much!
Spring arrived early in New England this year and I'm not complaining one bit! The shops are loaded with inventory and the prices are great this time of the year! Hitting up the shops and flea markets in the spring is such a great time to go thrifting with the gals before all the summer tourists arrive here in New England.
Meet the Thrifting Gals!
Wood & Sons 1784 blue and white Dishes
I passed on these beautiful blue and white dishes twice. A collection of 18 for $58. On my third trip back to the Stone House Antique Center in Chester, Vermont I could no longer resist them. I brought them with me to Maine and "Set the Table in Blue".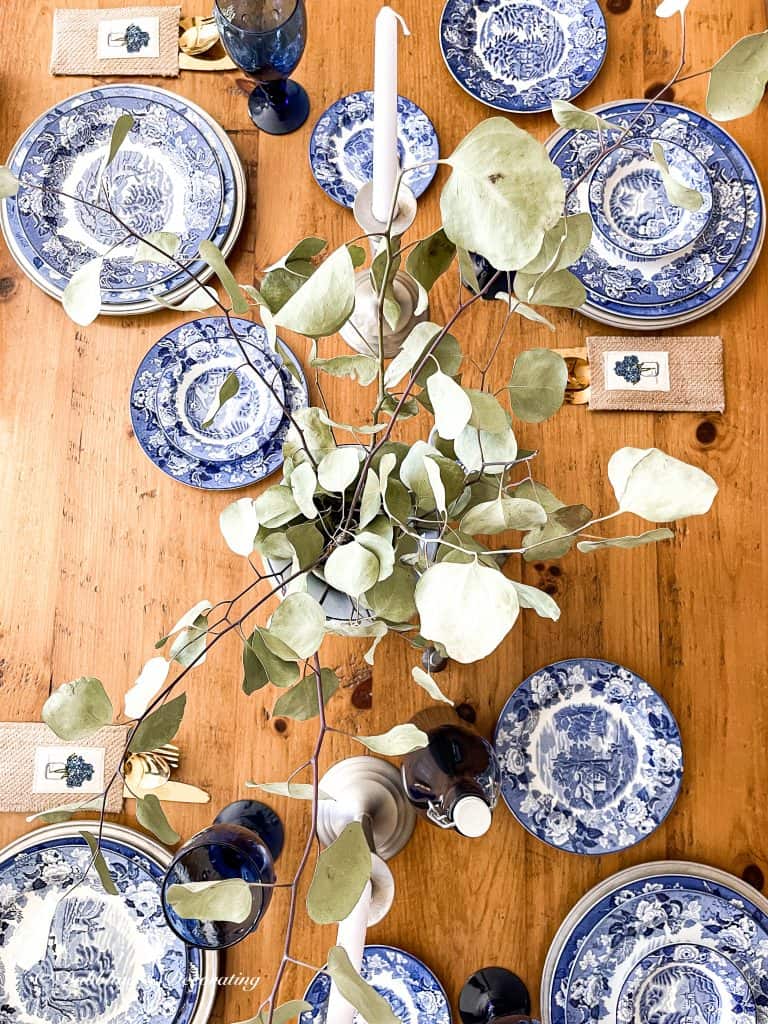 Chippy Apothecary Drawer
While in Maine I dropped by the Americana Workshop in Kennebunk, Maine to pick up a dummy drawer to match the chippy green apothecary piece I picked up from them last month. It matched perfectly. I added the hardware that they also provided and glued it into the missing drawer space.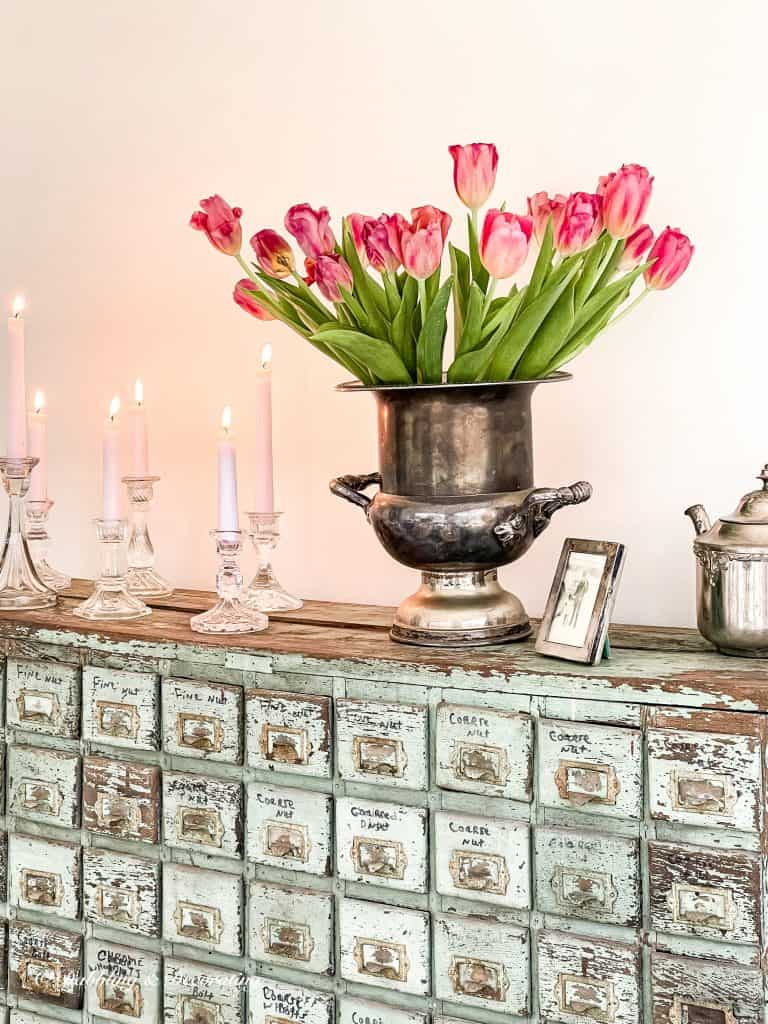 You may also enjoy the post, You may also enjoy the post, Thrift and Antique With Me Right into Mud Season.
Spring Thrifting and Antiquing with the Gals!
A few things that caught my eye…
A Vermont Antique Mall
This week for "Thrifting with the Gals" I headed to beautiful Woodstock and Quechee, Vermont in hopes of sharing an Antique Collaborative with you that I love. However, upon arrival, I found the collaborative closed for a "mud season" break! Even though their website advertised they were open daily. Lesson learned, always call ahead, especially when it's a 3 hour round trip drive!
However, I pressed on and found the wonderful Vermont Antique Mall in Quechee, Vermont that has been featured in both Cottages and Bungalows and American Farmhouse Style magazines!
Let's go inside and check out some of the favorite things I found here!
There was a large assortment of beautiful dishes everywhere you looked, and I will consider this shop a go-to for dishes in the future. However, in all honesty, I found this antique mall a bit on the high-priced side of things. For instance, I recently found a full 8 piece pink depression glass set for $100. Here I saw one glass selling for $36…
This was definitely a lesson learned kind of day. From now on I will always call ahead to be sure a special place I want to visit is open. I left this day finding one vintage blue bottle for $10 with a 3 hour round trip car ride. I will return though!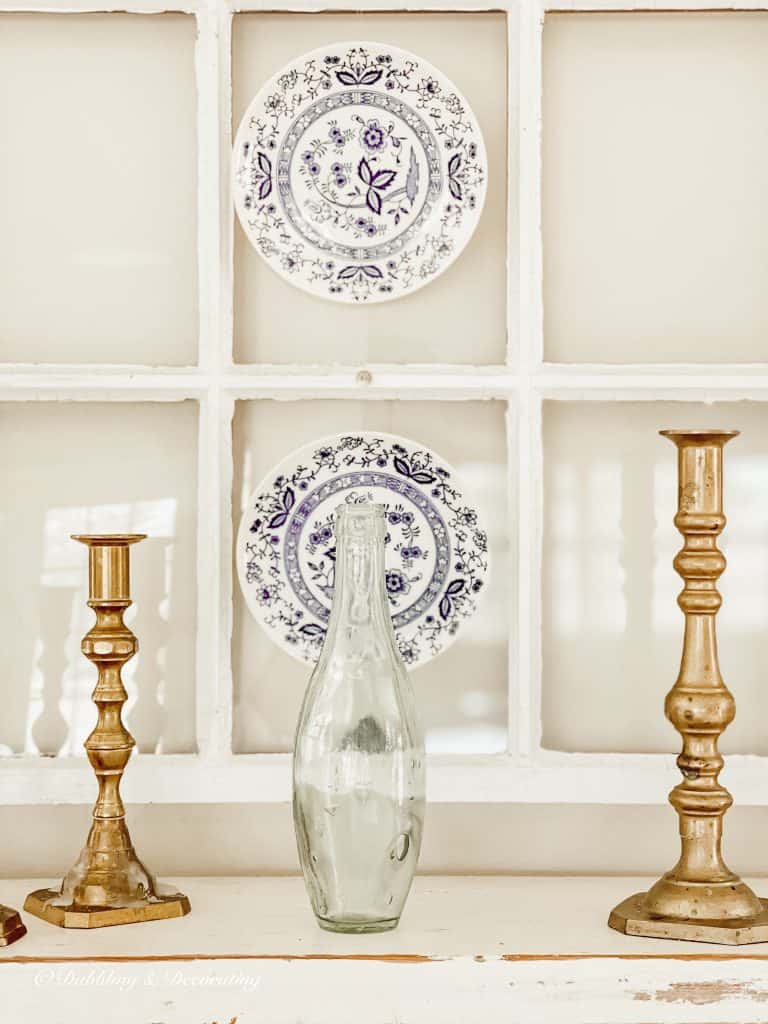 Vermont to New York State
It is mud season here in Vermont in early April when many businesses close down for vacation before the spring and summer tourist seasons begin. Meaning, it can be challenging to find open antique and thrift shops too. So this one morning I set out for Bennington, Vermont to check out two antique shops that I knew were open and I had not yet visited before. The first one I found to be very overpriced and quickly left. The second shop was cute and I found a set of six blue cobalt glasses for only $13!
Eagle Bridge Antiques | White Creek, NY
After a morning thrifting in Bennington, Vermont I was still craving for more, and the shop dealer I was at recommended the 20-minute drive over to New York to check out Eagle Bridge Antique Center. He was certain I would enjoy it. And boy did I ever! Eagle Bridge Antique Center has room after room filled with all the vintage items one would ever need. Two upstairs along with a garden shop too! The shop owner explained to me that it was customary to visit for two hours with girlfriends, go across the street for lunch, and then return for more thrifting and antiquing with the gals. My kind of place!
I was rather overwhelmed honestly and brought only a few items home with me. However, I will be back with an organized list of things I will be looking for. There was just so much to see here.
This copper bucket was the most expensive item I brought home at $49. But it's a beauty and I adore the patina on it! The blue cobalt glasses immediately became our favorite go-to morning coffee mugs too. Check out how I decorated the copper bucket with spring tulips and terracotta pots in our dining room.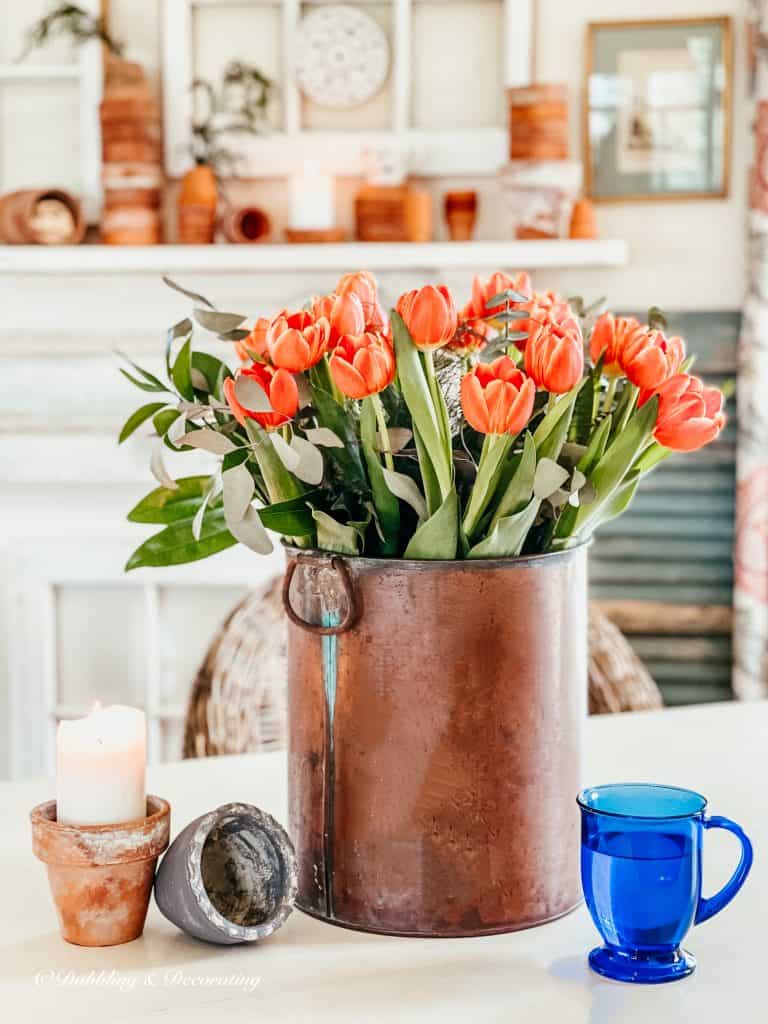 A Braided Rug
A beautiful small antique braided rug was waiting for me here too, at only $45. I originally thought of it for the Maine home, but after getting it home, it fits perfectly in our blue and white sunroom. The shop owner told me if the woman that braided this rug was alive today, she would be 120 years old, as she had known her personally.
It was so much fun thrifting and antiquing with the gals this spring. Be sure to join us every Wednesday over on Instagram where we share all our thrifting and antiquing adventures in our stories. Then every third Thursday of the month, a round-up here on the blog!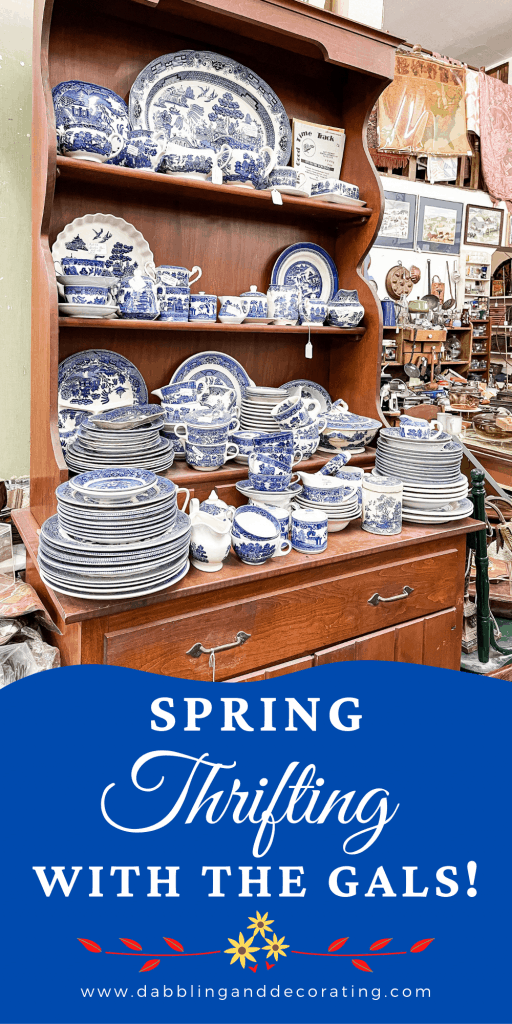 I've created the above custom pin just for this post! Sharing is Caring!  I would love to hear from you too~ Your comments mean so much to me and truly make my day… Please join me over on Instagram & Pinterest to see more!
And next up on the tour is my friend Kristin from White Arrows Home located in the Northwoods of Wisconsin. Kristin lives on a lake in the most amazing log cabin. And she has a Bernese Mountain Dog just like Ella!
Be sure to check out the other "Thrifting with the Gals" joining me every week too!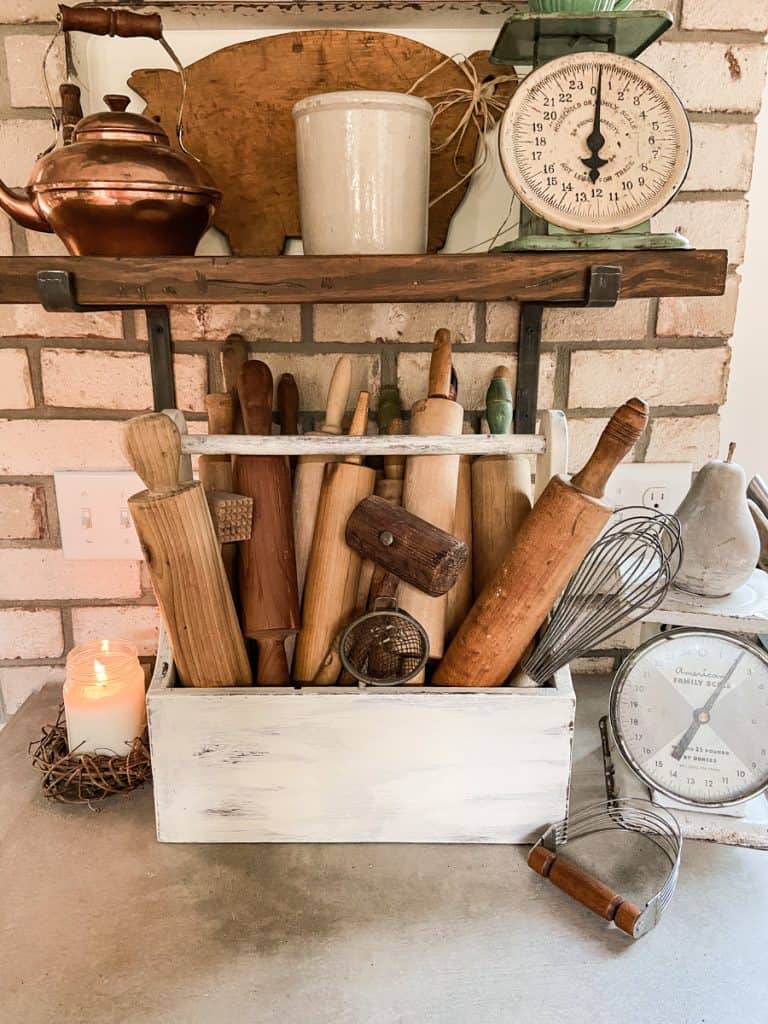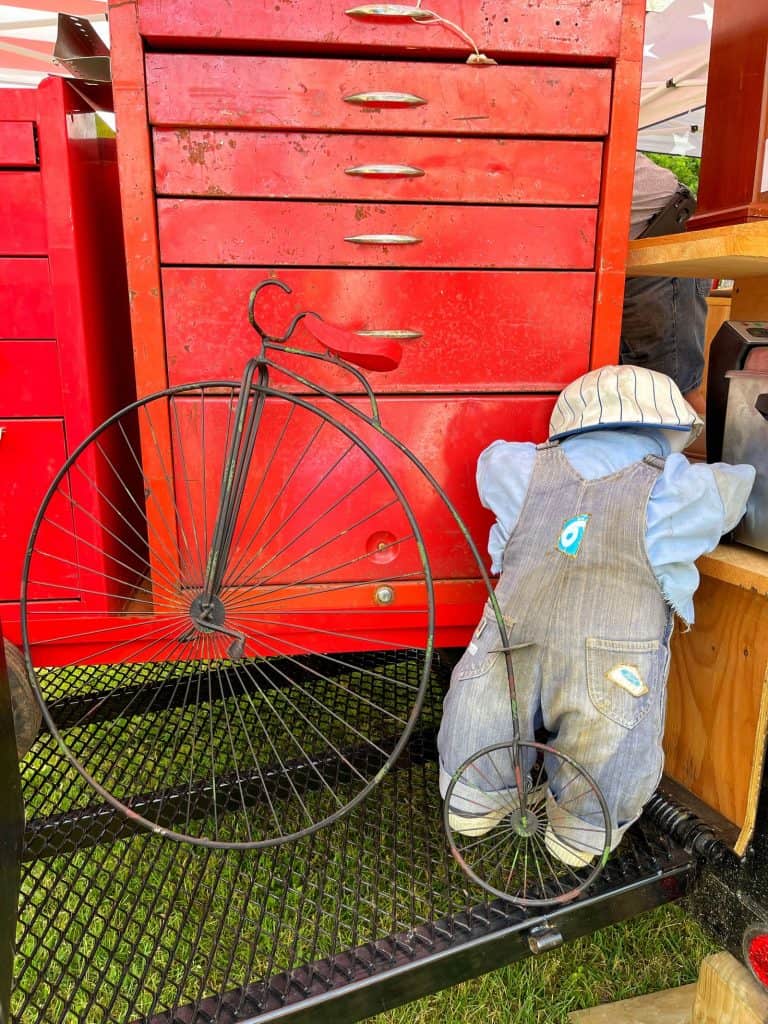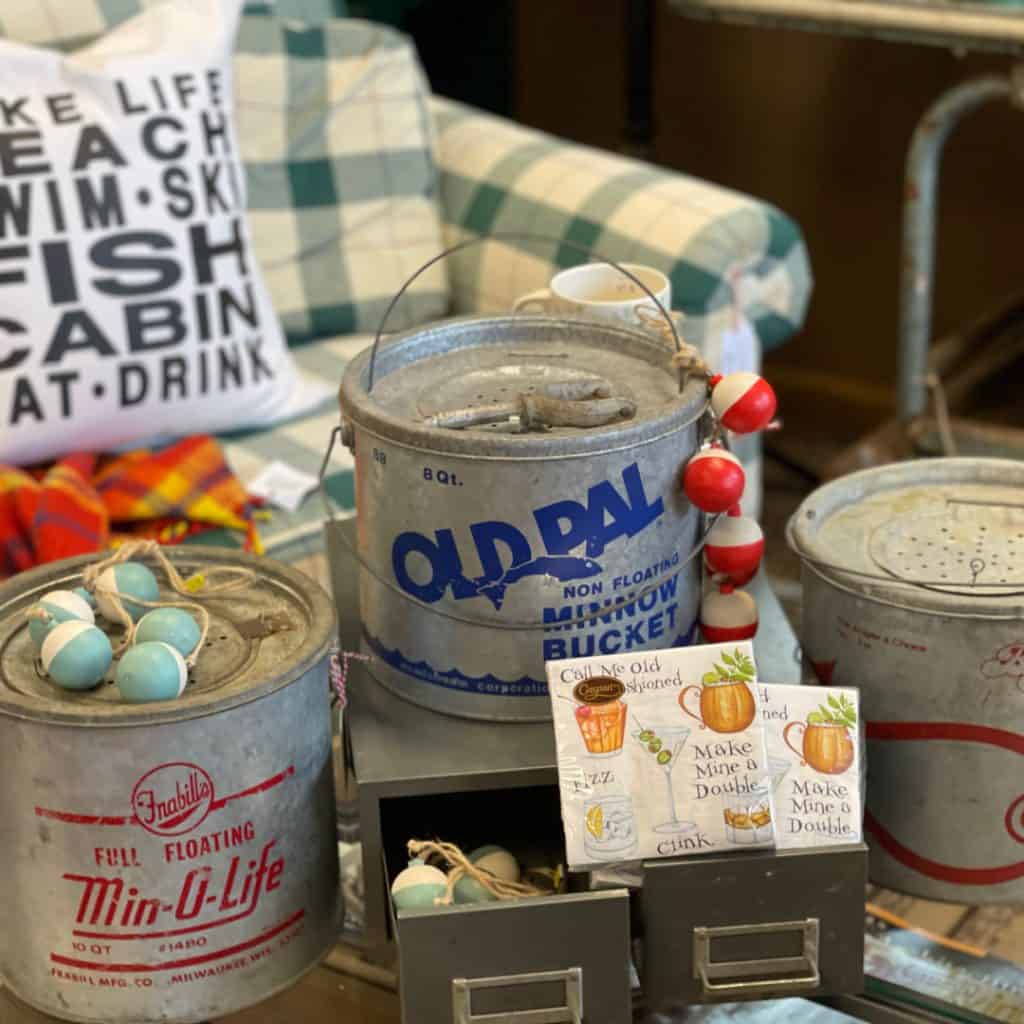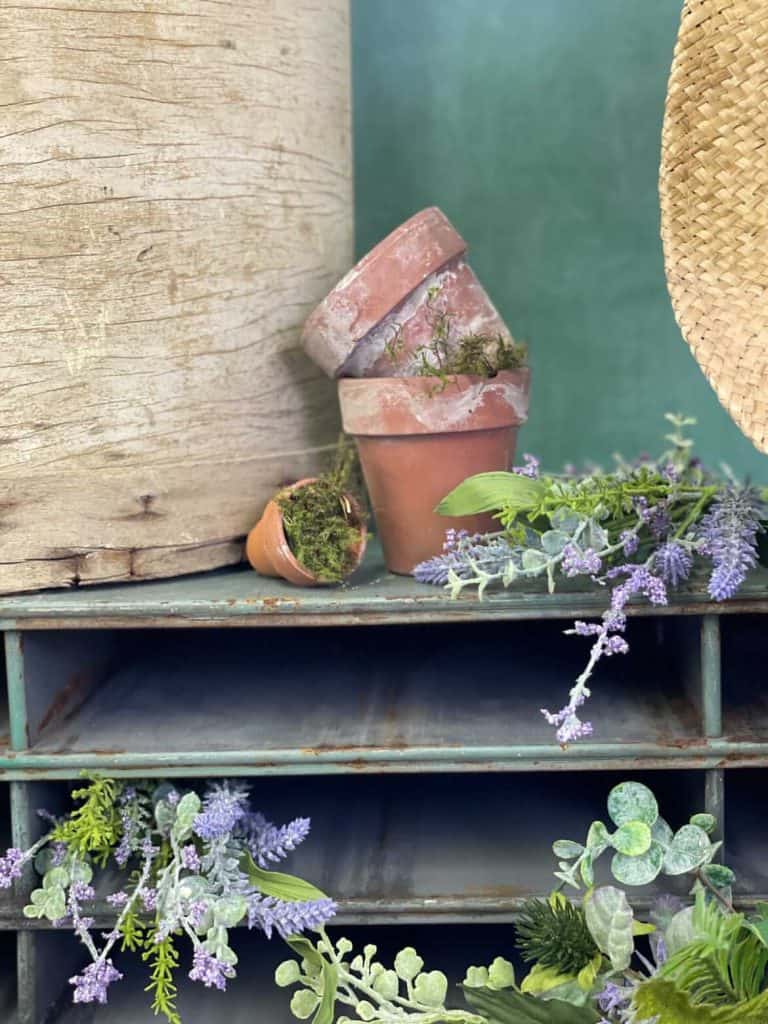 YOU MAY ALSO ENJOY