It's early spring here in Vermont, the flowers and trees are just beginning to bud. I've been craving spring's flowers and summer's beautiful colors. After a day out Thrifting with the Gals this week, I wanted to combine a rustic copper pot I found into a centerpiece in our dining room. I found the most beautiful tulips at the grocery store and they matched beautifully with the thrifted copper pot. And then it struck me, so would the colors of terracotta pots! That's when I started decorating with tulips and terracotta pots!
Terracotta Pots
I have collected terracotta pots over the years at garden shops and flea markets. They come in a variety of sizes, textures, colors, etc… No two are ever alike. That's what makes decorating with terracotta pots so interesting for me. I love the pots with all the watermarks and ones that look like they have spent many summers in an outdoor garden. I have collected pots as small as my thumb and as large as you can imagine. And if you shop smart, you can find these colorful beauties for as low as .50 cents apiece. Check out the gardener's terracotta cupboard that my father made me a few years ago that I seem to paint a different color every year.
A Simple Vintage Plates and Windows DIY
Decorating with tulips and terracotta pots on the vintage mantel in our dining room was so fun and I just love all the texture and colorful elements it brings inside. Check out I hung the windows and added the vintage plates above the mantel.
You may also enjoy these 12+ Marvelous Ways to Decorate with Green Home Decor too.
And these Scandinavian Spring Homes When Less is More.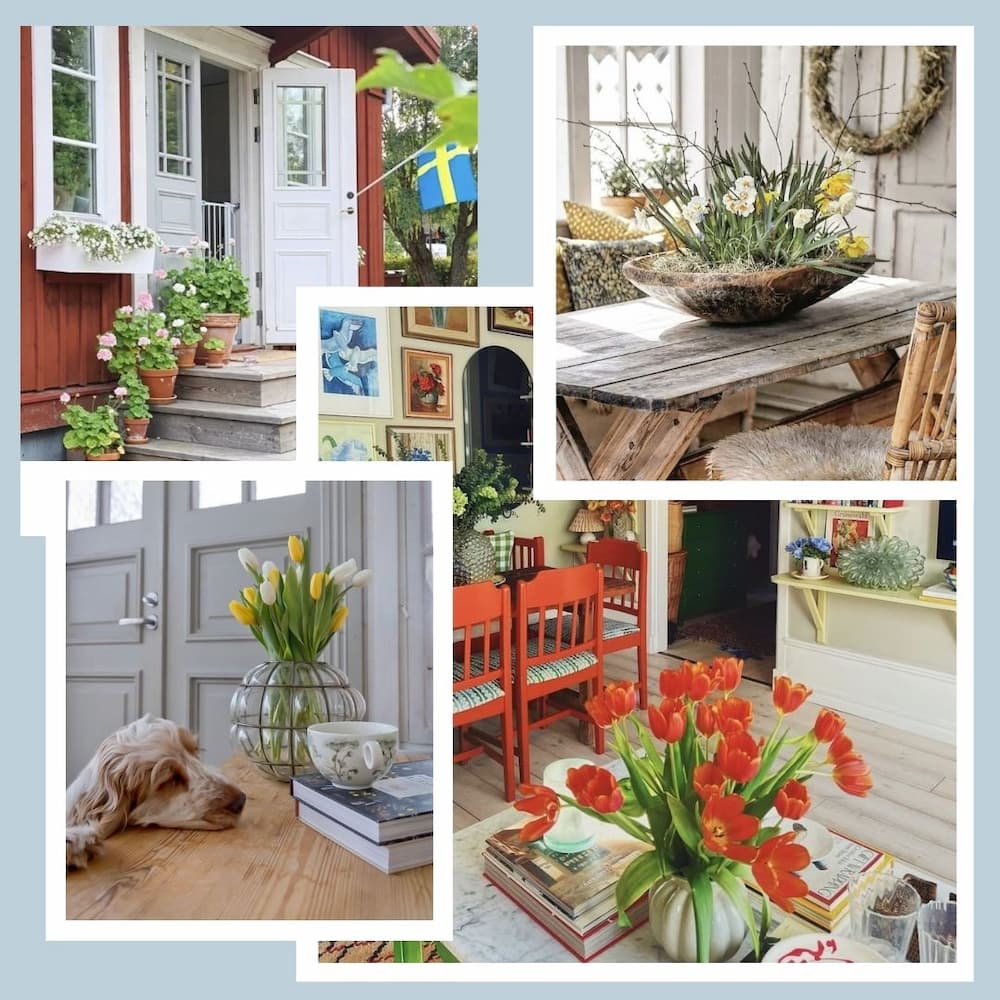 A Copper Bucket
I found a beautiful patina copper bucket while I was out Thrifting with the Gals this week. And couldn't wait to add a couple of bouquets of these beautiful and colorful tulips. Along with a little greenery that I simply picked up at our local supermarket. The colors just scream spring to me!
Decorating with tulips and terracotta pots was as simple as stacking the pots on the mantel and adding a few things that I love. Like the thrifted teacups, a candle, and some twine.
If you like this post, you'll definitely enjoy Terracotta Pots and an Apothecary Cabinet at our home in Coastal Maine! And I'm crushing on this sweet DIY Potters Shelf that I designed out of an old children's desktop.
If you love beautiful and colorful flowers you will definitely want to meet my friend Kim over at Shiplap and Shells. Kim lives in a 100-year-old cottage in the PNW with simply stunning summer gardens that overlook the Puget Sound!
You may also enjoy 17 Simple Tulip Arrangements You Can Create Today!
I'm so glad you dropped by, and if you are new to my blog, welcome! I hope you enjoyed your visit with us here today at our Home in Vermont.
Be sure also to check out our Home in Coastal Maine where we spend summers and weekends when we are craving a walk on the beach or a visit with old friends.
I've created the above custom pin just for this post! Sharing is Caring! I would love to hear from you too~ Your comments mean so much to me and truly make my day… Please join me over on Instagram & Pinterest to see more!
YOU MAY ALSO ENJOY