My favorite color has always been blue! Do you have a favorite color and do you surround yourself with it? I love all shades of blue and it just makes me so happy. So today I'm going to be setting a table with blue and white antique dishes in "In My Mother's Home" with a set of blue dishes I picked up thrifting on my way here. I hope you enjoy it, friends!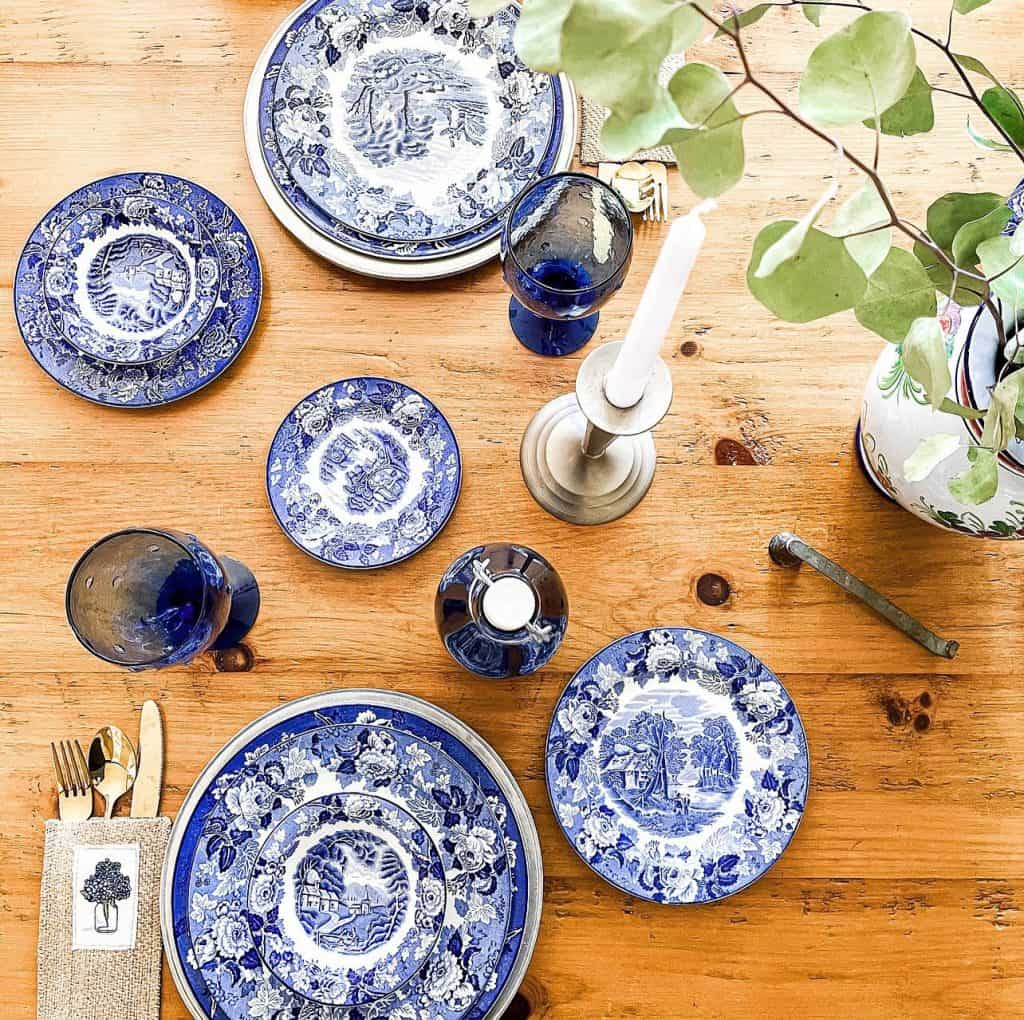 The Pattern is Enoch Wood's English Scenery / Wood & Sons 1784
It is a beautiful blue and white porcelain 4 piece place setting that I purchased for $68 at Stone House Antique Center in Chester, Vermont.
I couldn't wait to set the table in blue!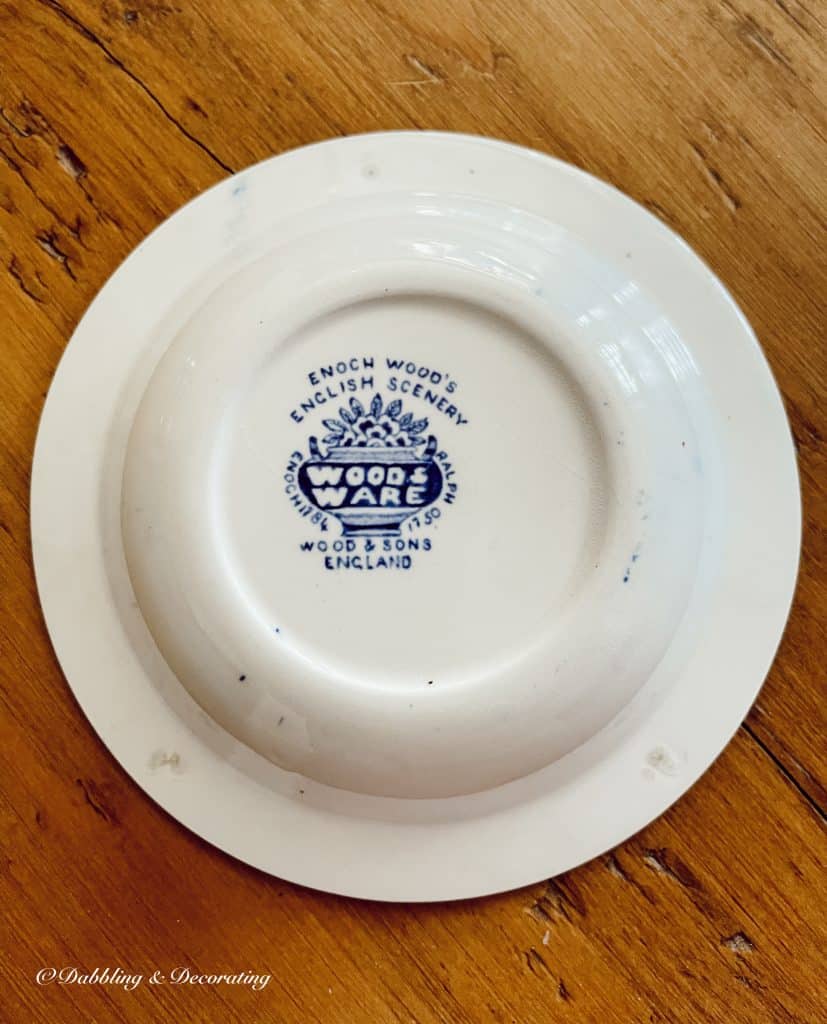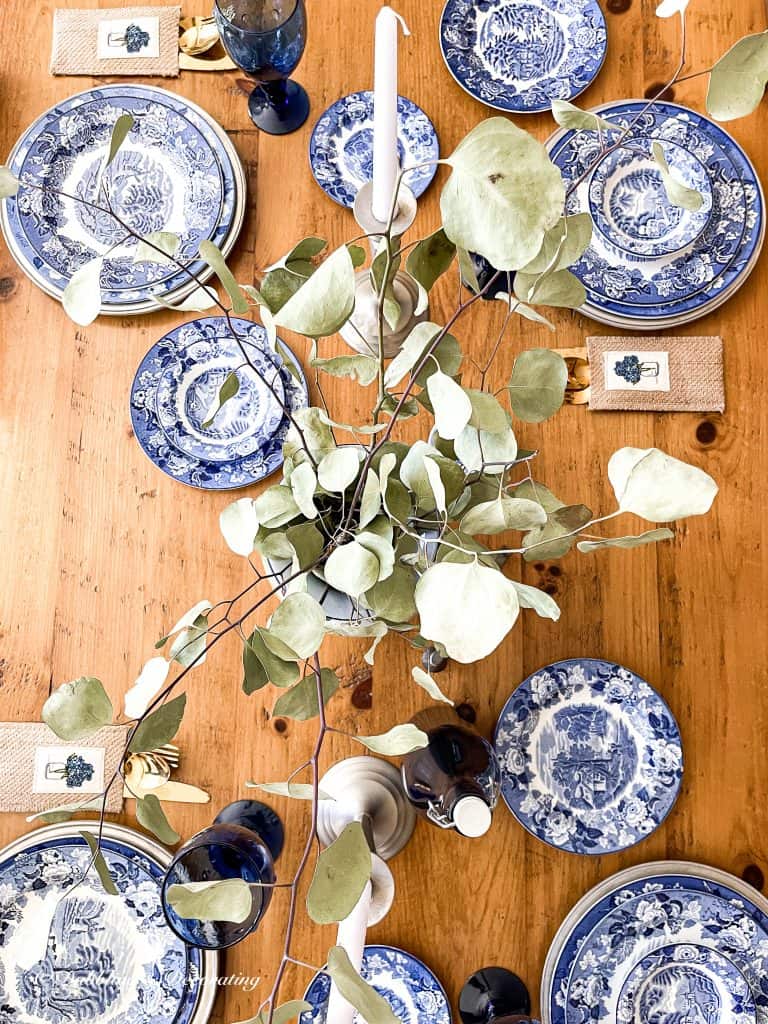 You may also enjoy the post, A Timeless Classic | Franciscan Desert Rose Table Setting.
I discovered Cutlery Couture's boutique silverware pouches last summer when a friend of mine gifted me the lobster pouches. I fell in love with them and even collaborated with them for a time. They have several patterns to choose from and today I chose the blue hydrangeas to set the table in blue.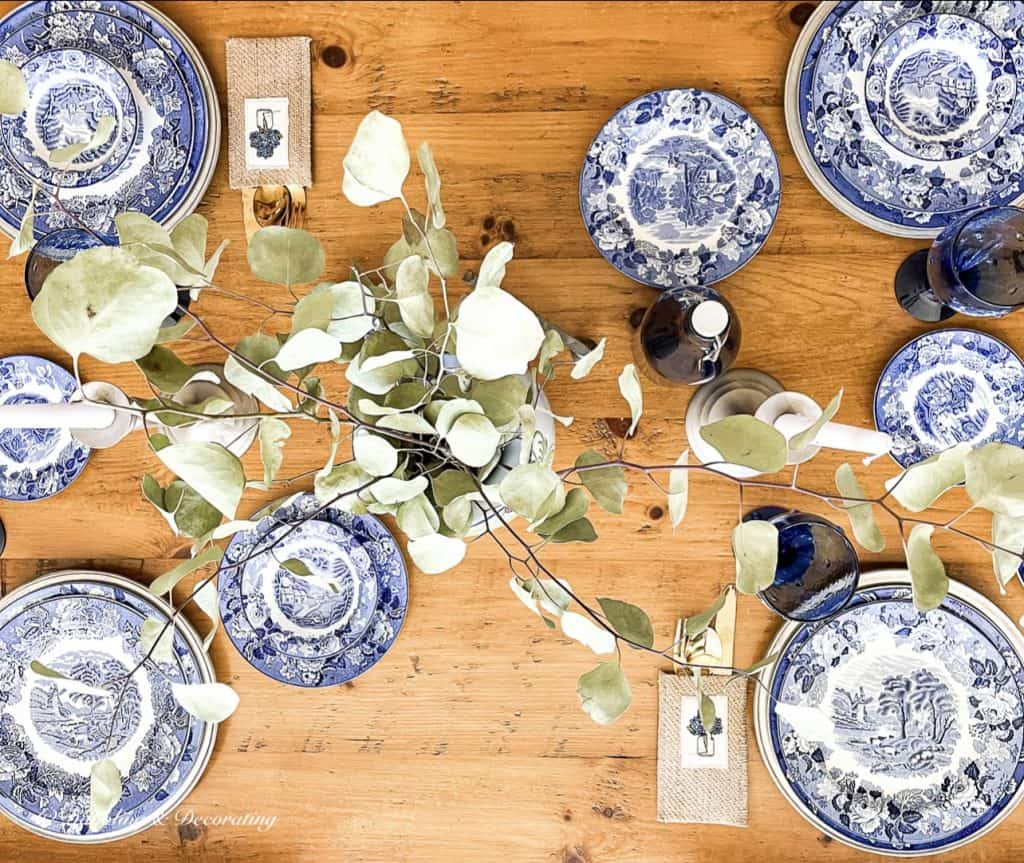 Set the Table in Blue
Blue goblets that I found thrifting for $5 in Ogunquit, Maine compliment the blue and white table nicely. I just love collecting colored glassware to compliment different dish patterns. And you can find them very easily and inexpensively in thrift stores and antique shops.
Perfect to set the table in blue!
You may also enjoy this new breakfast nook space in the post, Best Breakfast Nook Ideas for Morning Brunch.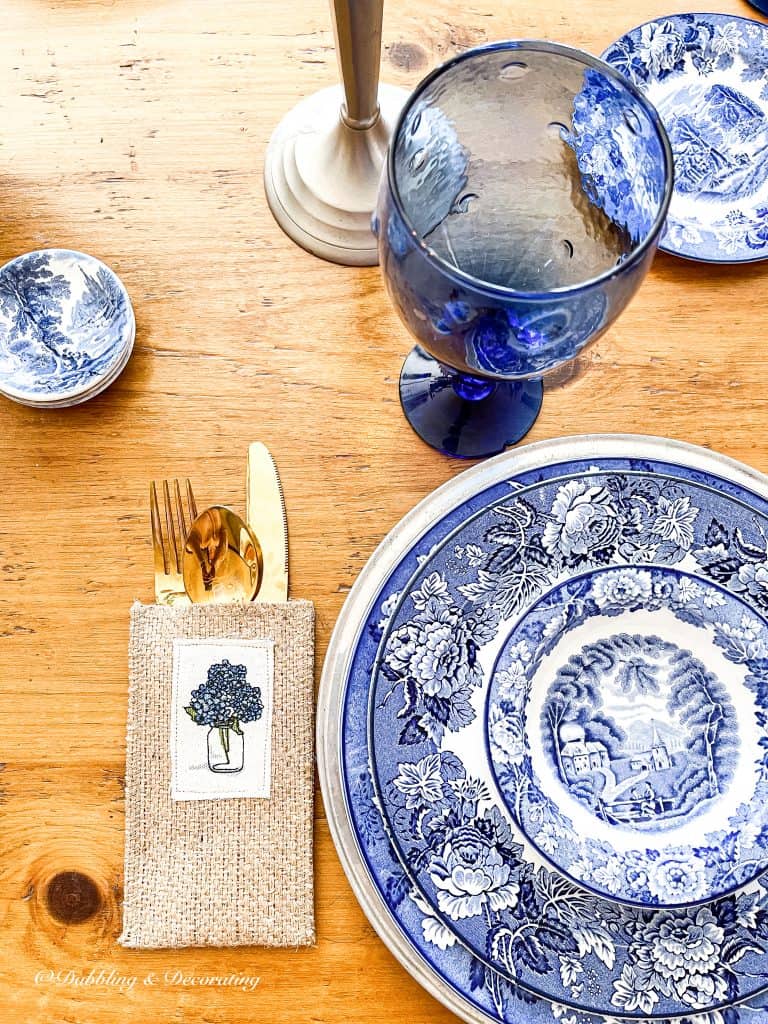 My mother had a very large pewter collection that she just adored. And I just love how the pewter pairs so beautifully with the blue and white antique dishes when I want to set the table in blue! The foundation of each place setting is a large pewter plate.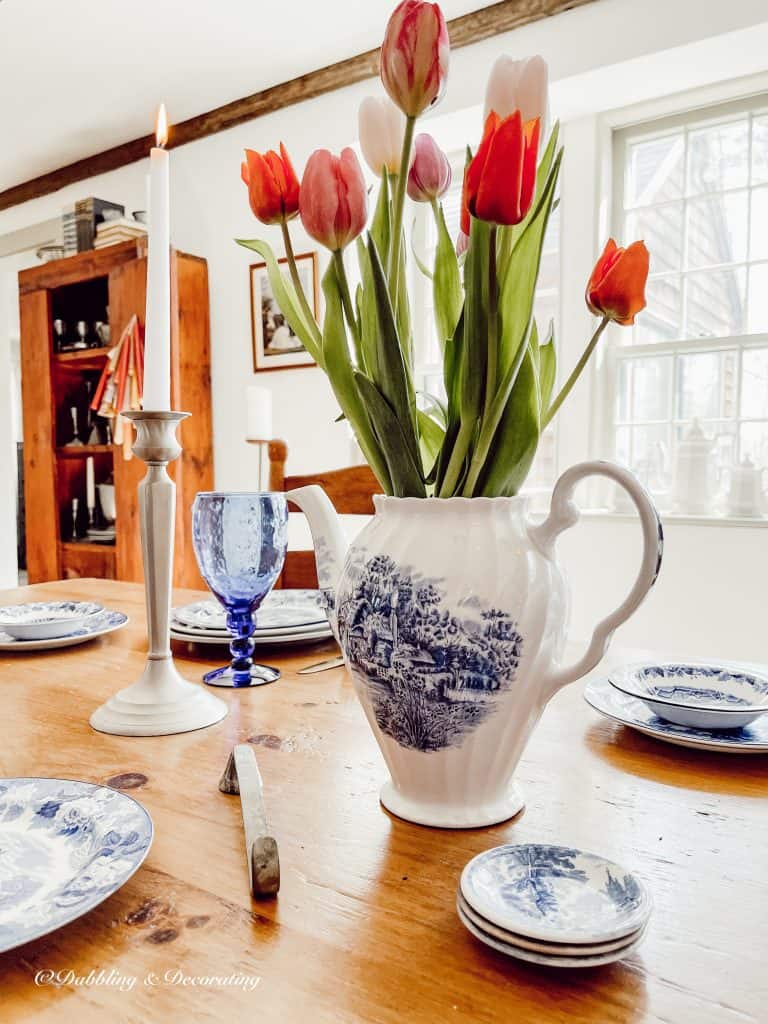 Spring is in the Air!
Because today is the first day of spring, I will add some colorful tulips that I picked up at the local grocery store yesterday. The teapot is also a thrifted blue and white piece that I picked up for around $12 I believe to help me set the table in blue.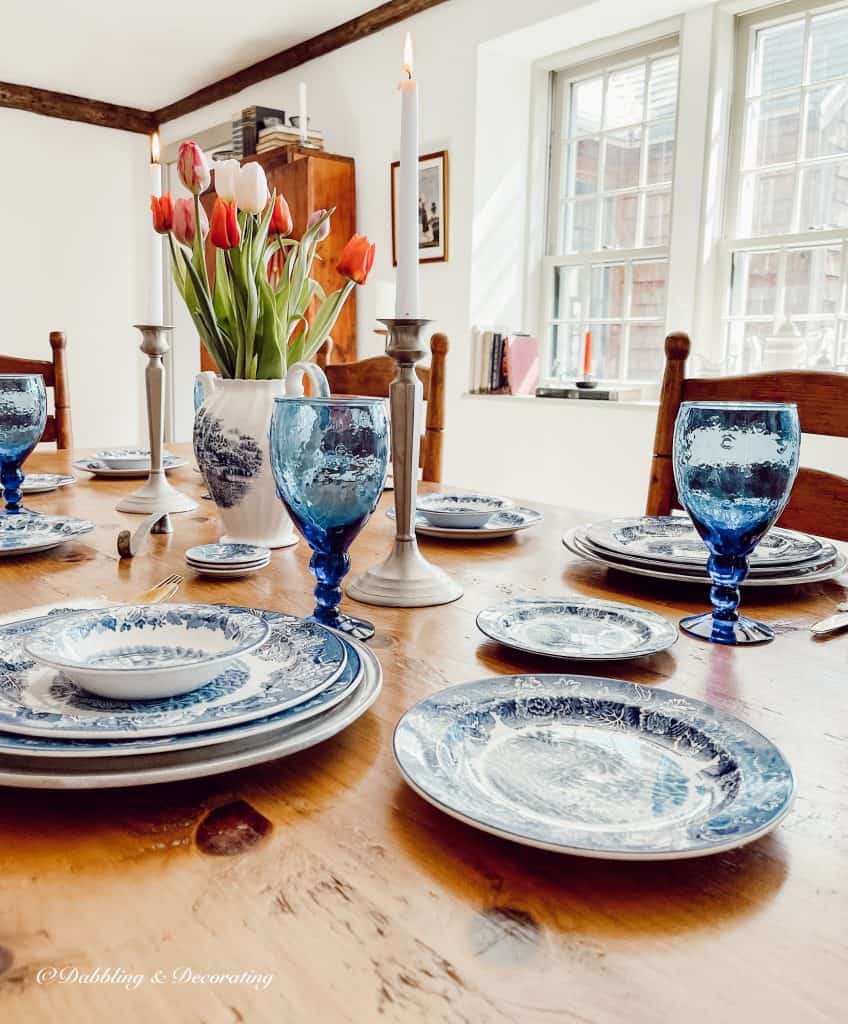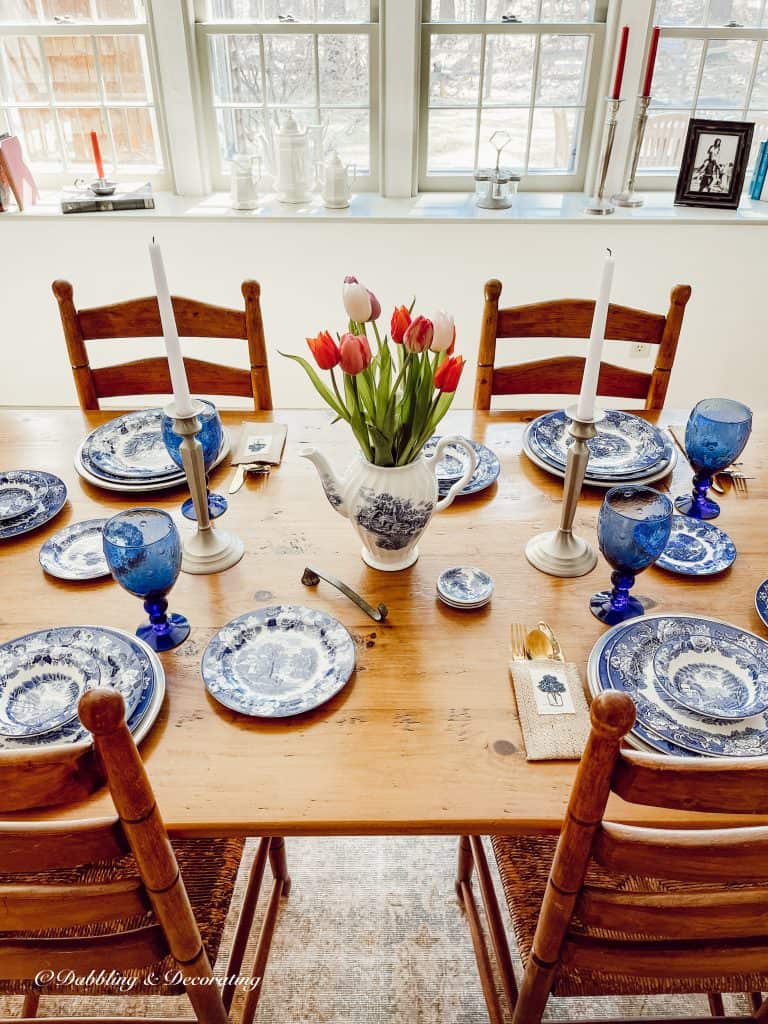 I just love the windowsill that is in this dining room. It looks out over the backyard and has a beautiful sill to decorate.
You may also enjoy this Romantic Table, Pretty in Pink.
And 75+ Blue and White Vintage Gift Ideas for Women!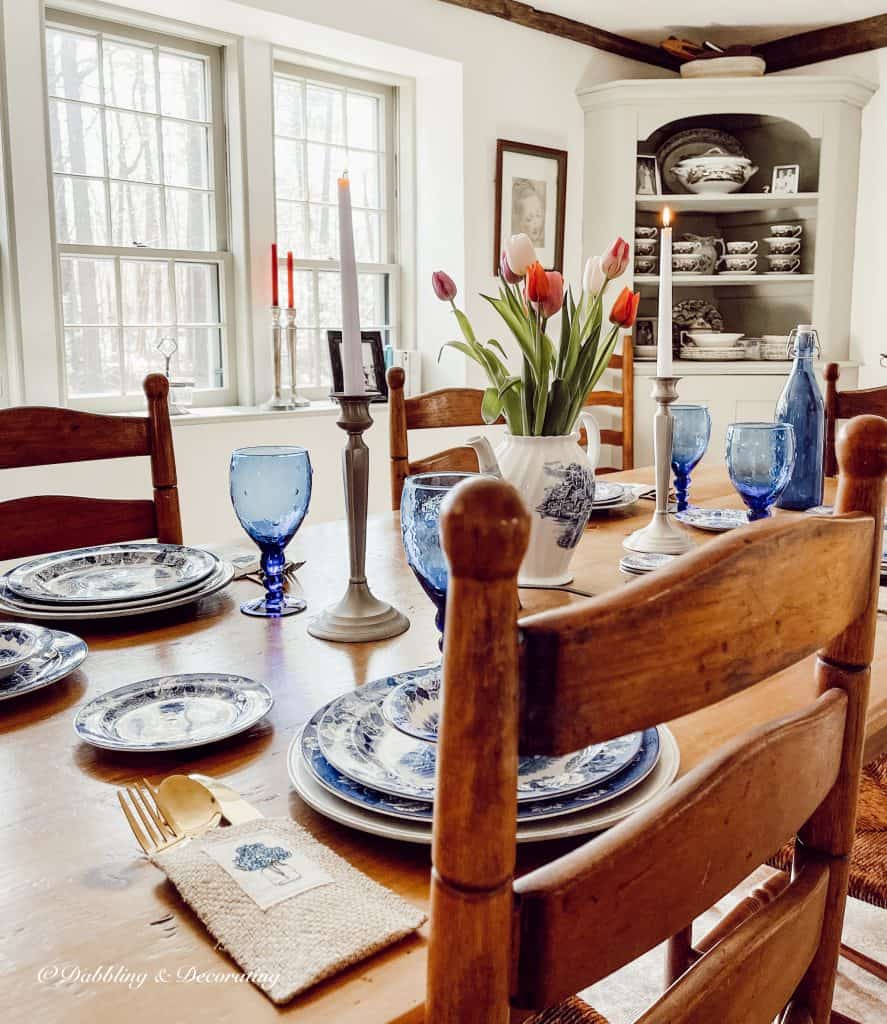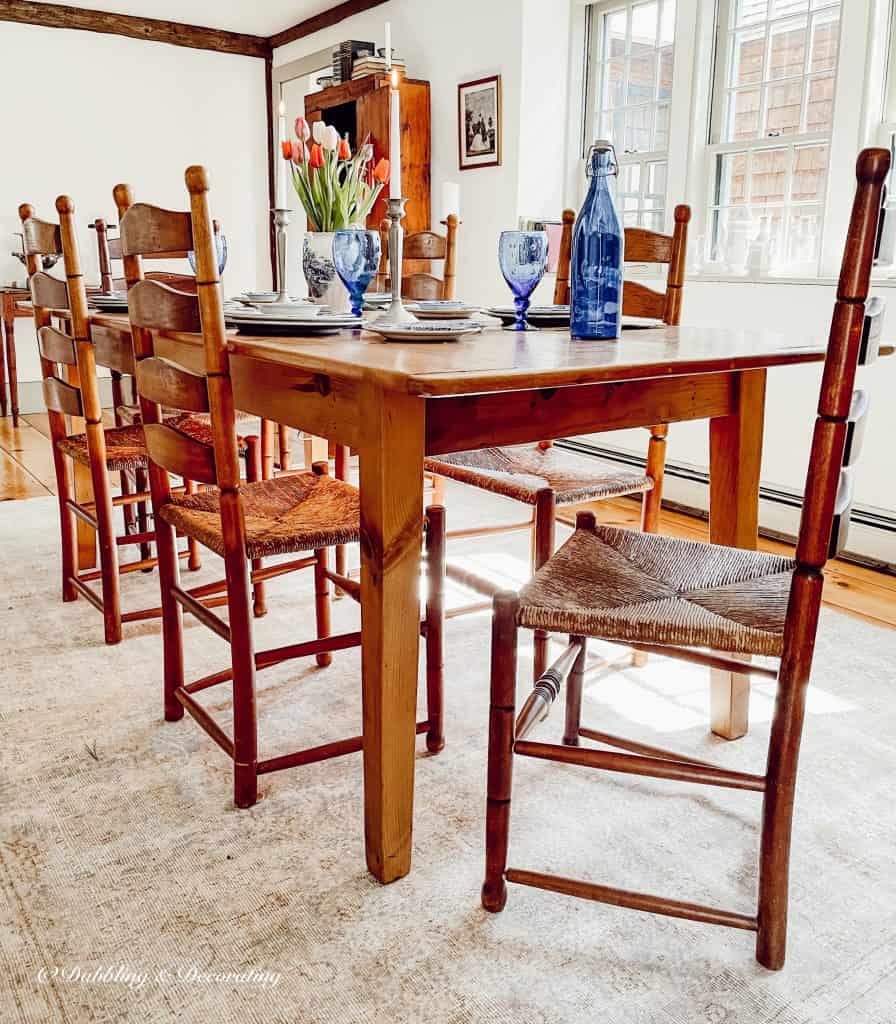 You may enjoy this post, Romantic Antique Table Setting with Thoughtful Design.
If you love thrifting and antiquing join me and the gals every Wednesday over on Instagram where we share all our weekly thrifting adventures along with all our tips and tricks from around the country. And a round-up here on the blog monthly.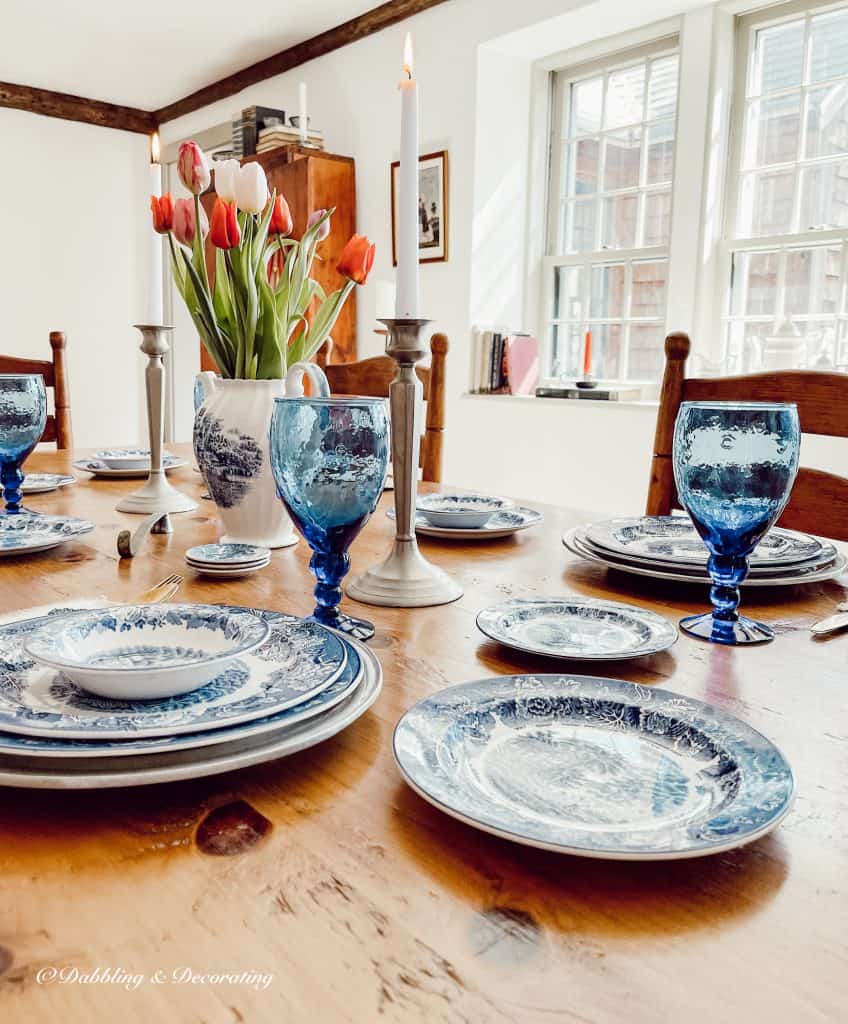 I'm so glad you dropped by, and if you are new to my blog, welcome! I hope you enjoyed your visit with us here today at our Home in Vermont.
Be sure also to check out our Home in Coastal Maine where we spend summers and weekends when we are craving a walk on the beach or a visit with old friends.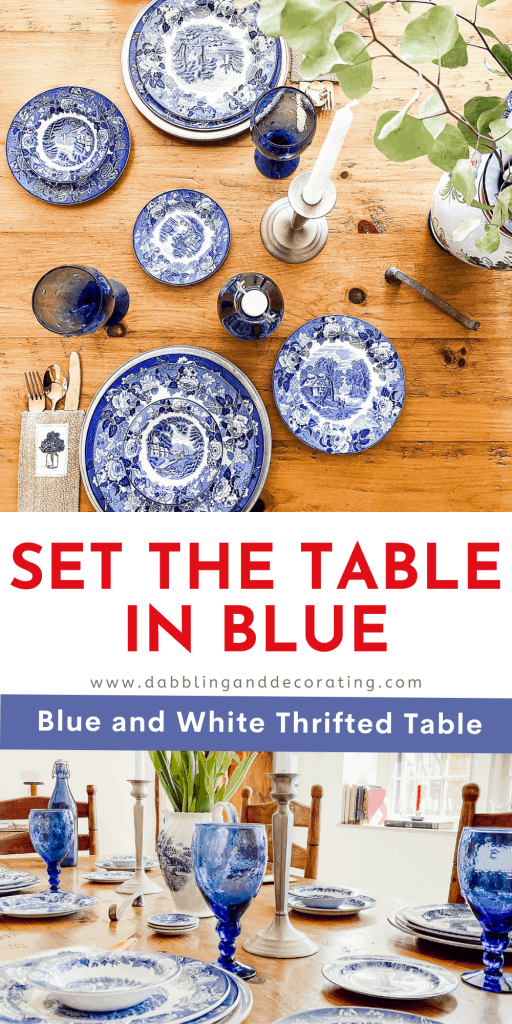 I've created the above custom pin just for this post! I would love to hear from you too~ Your comments mean so much to me and truly make my day… Please join me over on Instagram & Pinterest to see more!
YOU MAY ALSO LIKE