Every Friday before Columbus Day | Indigenous Peoples' Day weekend, Vermont kicks off with Vintage Market Days Vermont. One of the most popular weekends of the year here in New England, with thousands of leaf peepers visiting from all over the country to immerse themselves in all the vibrant colors of autumn. And Vermont always shows up for it!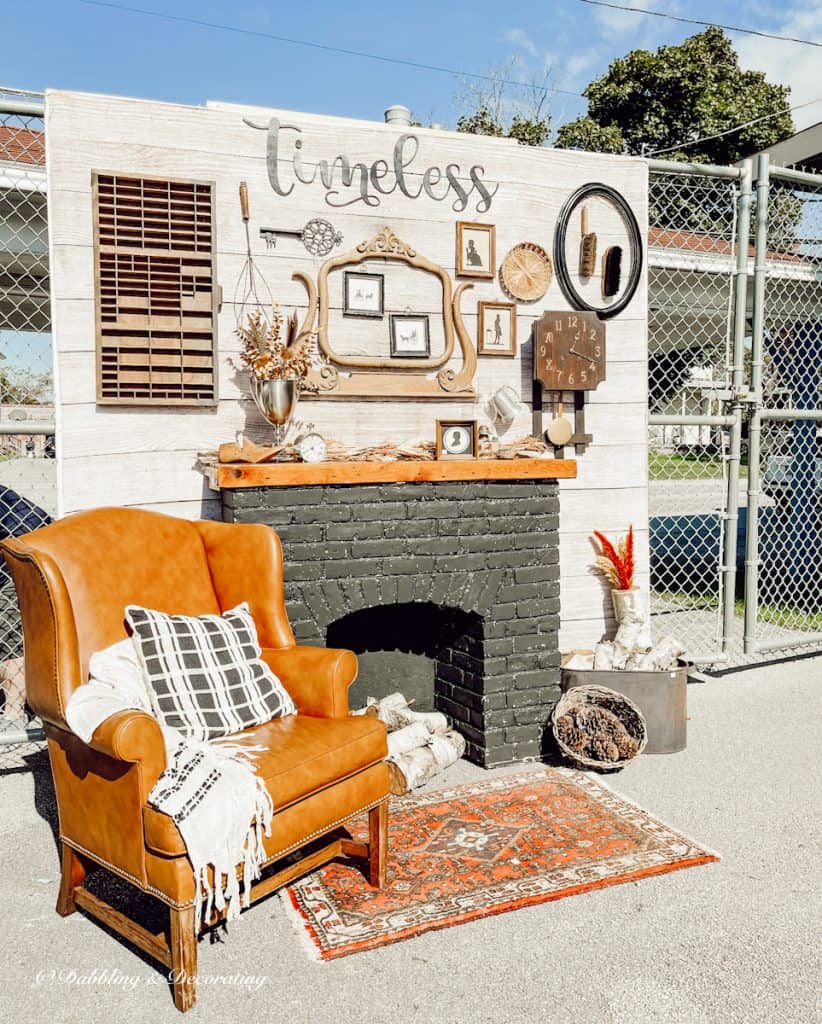 Vintage Market
I never miss this vintage market and attending on Fridays allows me the pleasure of avoiding the weekend crowds. There's always plenty of parking at the Rutland Fairgrounds nestled amongst the Green Mountains of Vermont too.
My first stop at the vintage market is always at the Fleurish Home and Garden booth, one of my favorites, where I can always get a feel for what is trending in vintage for the upcoming seasons. And this year I found an abundance of rich greens and gold.
Tipsy Gypsy Camper
One of the highlights at this year's vintage market was the "Tipsy Gypsy". The Tipsy Gypsy is a '65 Shasta that travels around central VT to vintage markets or wherever the wind takes them! Smiling & staging vintage treasures! Follow them here on Instagram.
It reminded me so much of my friend Kristin, over at White Arrows Home, who has her own similar camper, amazing log cabin, and shop all in the Northwoods of Wisconsin.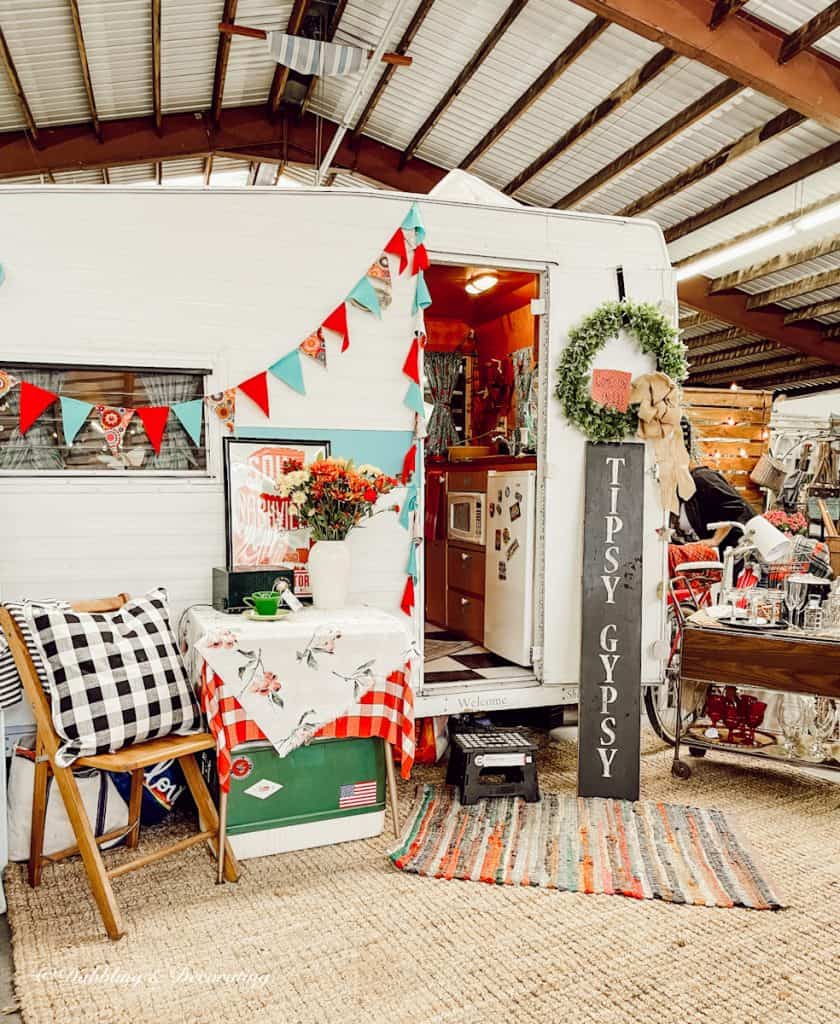 SHOP THIS POST
(click on any of the images to shop the products)

Vintage Market Style
Here are a few fun things that caught my eye today at the vintage market.
You may also enjoy the post, VINTAGE BAZAAR NEW ENGLAND, A SUMMER VISIT and You may also enjoy the post, Vintage Market Days Fall 2022 Vermont.
Red Wool Pants
I really wanted those red wool pants for my husband, but he missed out when he didn't text me back quite quickly enough, as they sold right out from under me…
Scrabble Letters
I have a collection of these scrabbled letters at home that I picked up at a vintage market past. I love the word vintage spelled out on the scrabble board here.
Favorite Vintage Market Booth of 2021
A second favorite booth and vendor of mine this year at Vintage Market Days was "The Vintage Type", which won the 2021 booth award. It was outfitted with beautiful retro furniture, dishwares, suitcases, and so many unique items from days gone by.
Congratulations to "The Vintage Type", we can't wait to watch you grow!
My Vintage Market Haul
35 Lynton England Blue and White Dishes
I found this odd number of blue and white dishes made by Lynton England for $100. A total of 35 dishes. I can't pass up a full vintage collection such as this. It's simply beautiful!
The dishes were selling for $5.00 each, but when I asked if she would sell them as a set, she offered me the set for $100 and threw in the cheese crate too. Sold at half price!!
You may also enjoy the Order of the Eastern Star Amidst This Vintage Market Haul post.
I think we will enjoy these vintage market dishes as our everyday dishes from now on. I'm calling them my "October Blues."
You may also enjoy Irresistible New England Antique Barn Sale | Budget Friendly.
Green and Blue Together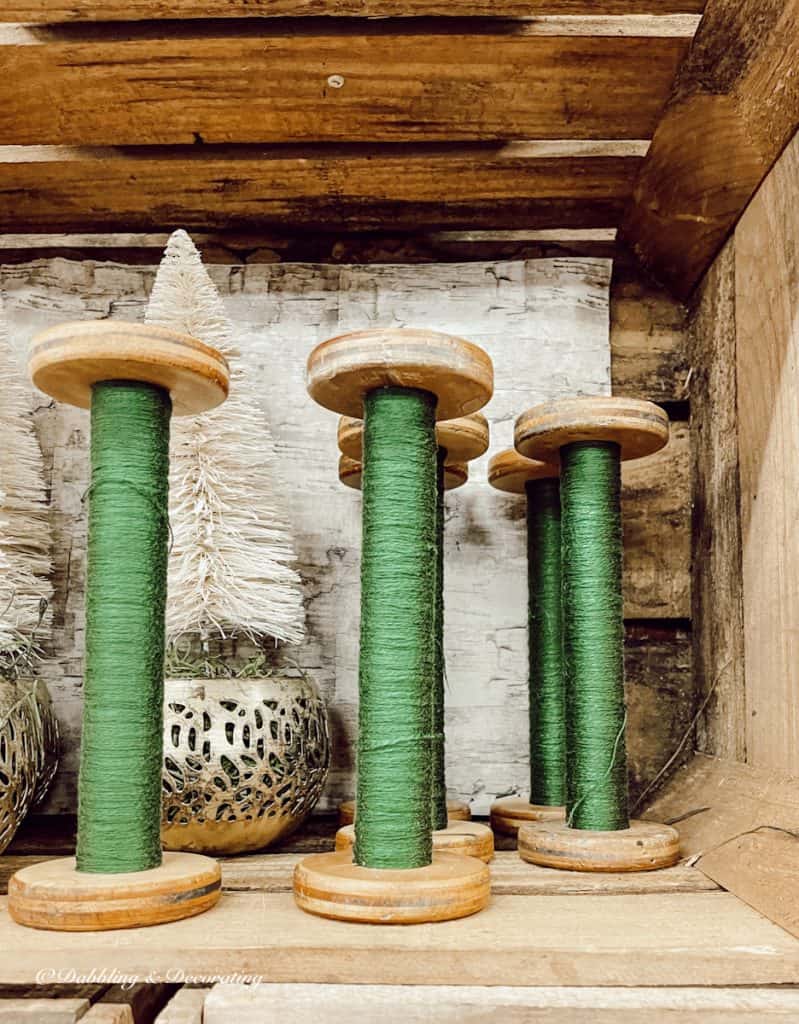 As seen at the Fleurish Home and Garden booth earlier, I was really taken by the golds and greens this year at the vintage market.
So I picked up a beautiful ball of this green yarn from France, I was told, along with eight green spools of threads.
The brass candlestick collection I own will pair nicely with these vintage finds, as they did at the Fleurish Home and Garden booth shown in the video above.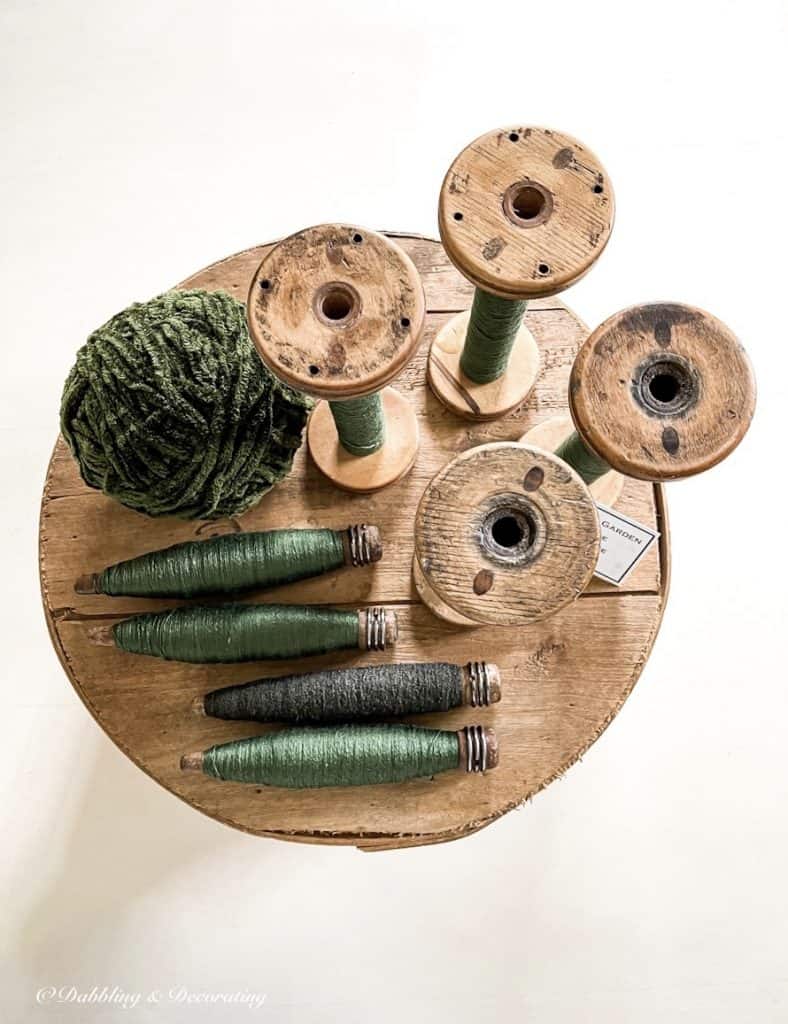 SHOP THIS POST
(click on any of the images to shop the products)

You may see these "October Blue" dishes here on my favorite second-hand table at our porch in Vermont.
You may also enjoy the post,10 Best Fall Inspired Vintage Decor Ideas.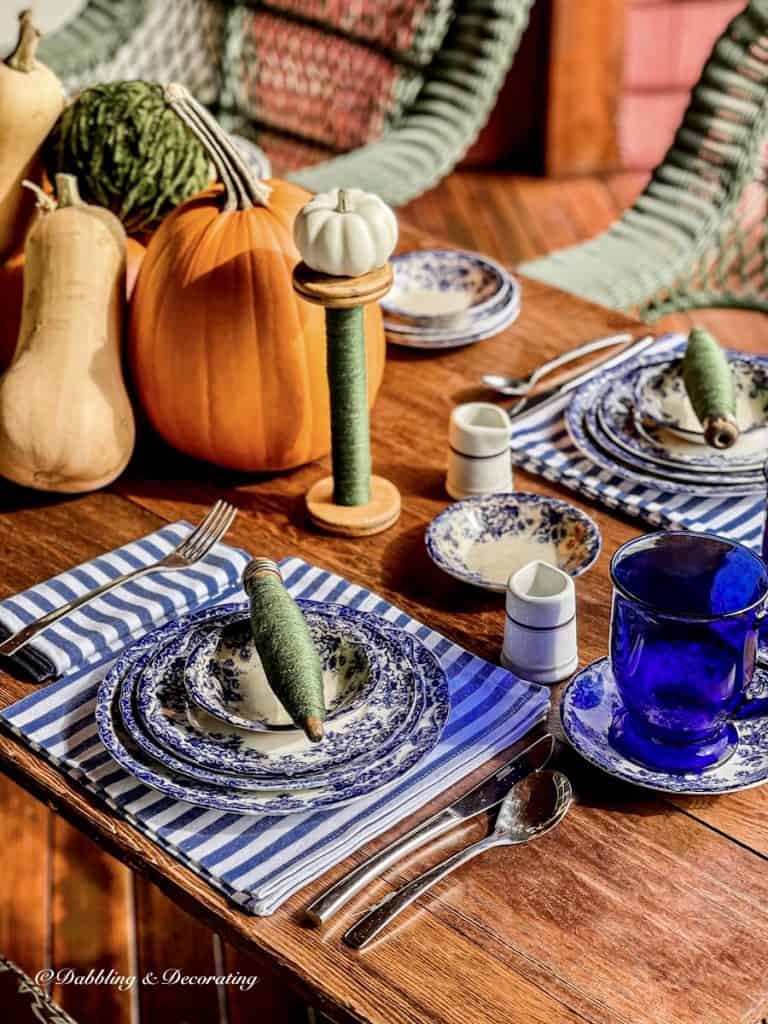 My plan, after renovating this porch this past summer is to add blues to our existing green furniture along with some other new accents coming soon! I just love the combination together. Especially for here in Vermont.
You may also enjoy the post, The Best Vintage Market and an Antique Haul.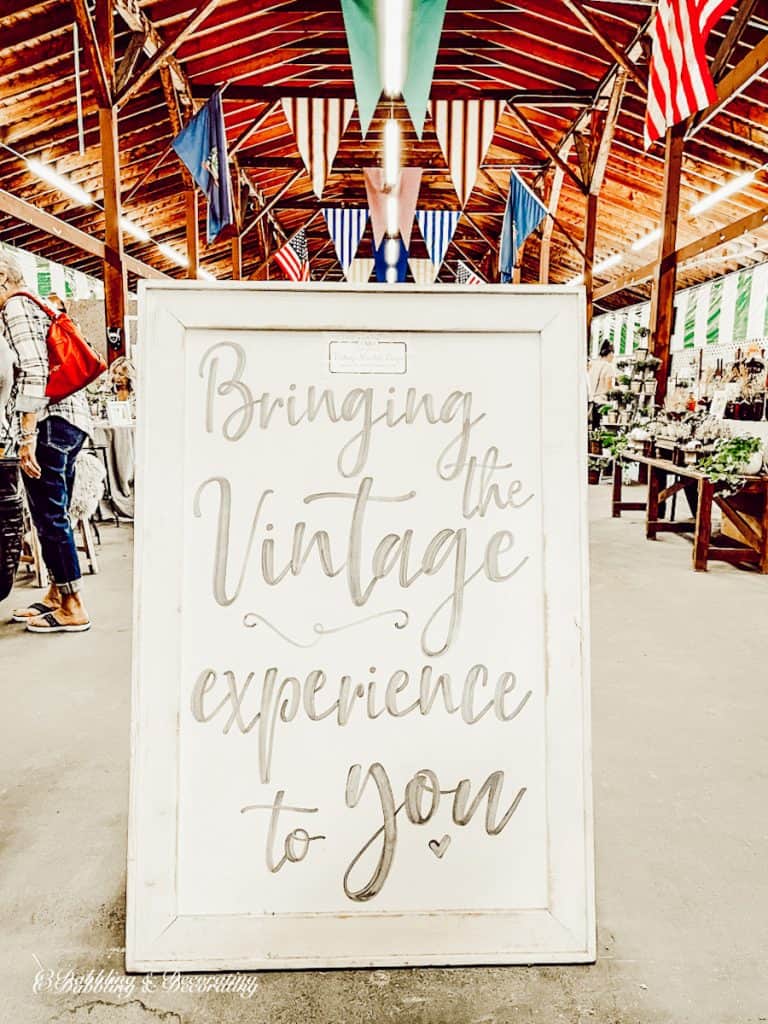 You may also enjoy this Arts and Crafts Shows Near Me Inspired By People "Who Do", post.
I'm so glad you dropped by today friend, and if you are new to my blog, welcome! I hope you enjoyed your visit with us here today at our Home in Vermont.
Please join me as a regular here at Dabbling & Decorating by signing up for my Saturday morning newsletter below and never miss an update!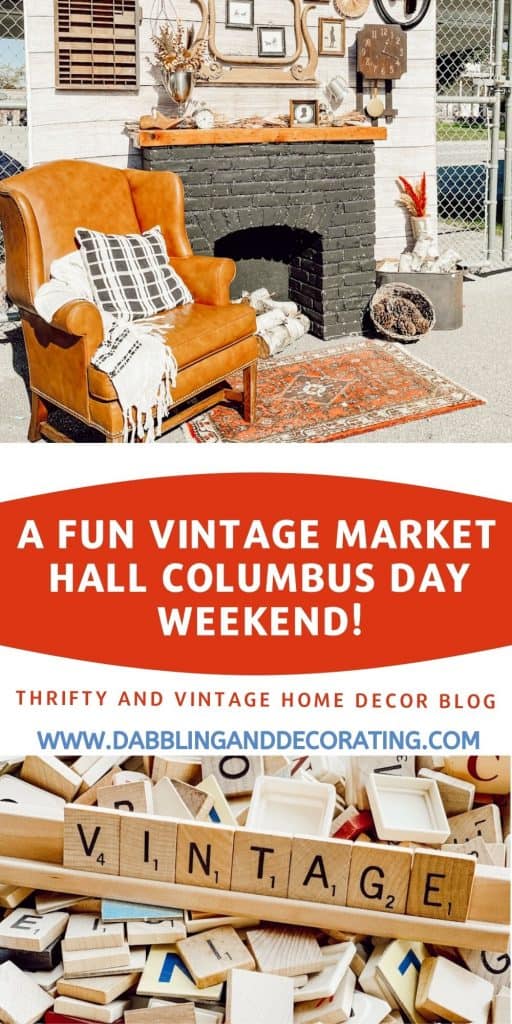 I've created the above custom pin just for this post! Hearing from you makes my day and your comments mean so much to me! Please join me over on Instagram & Pinterest to see more!
YOU MAY ALSO ENJOY