While I was out antiquing last week I came across a complete eight-piece vintage dish-ware set of cherry blossom pink depression glass for just $100. I've never owned any depression glass before, and that's when I snagged up these beauties to create a spring table-scape with, and join the amazing ladies of "A Lifestyle of Love Blog Hop" hosted by Cindy over at County Road 407 where she is hosting a spring tablescape blog hop. If you are joining me from CoCo over at The Crowned Goat, welcome! Isn't her jadeite cake stand a dream?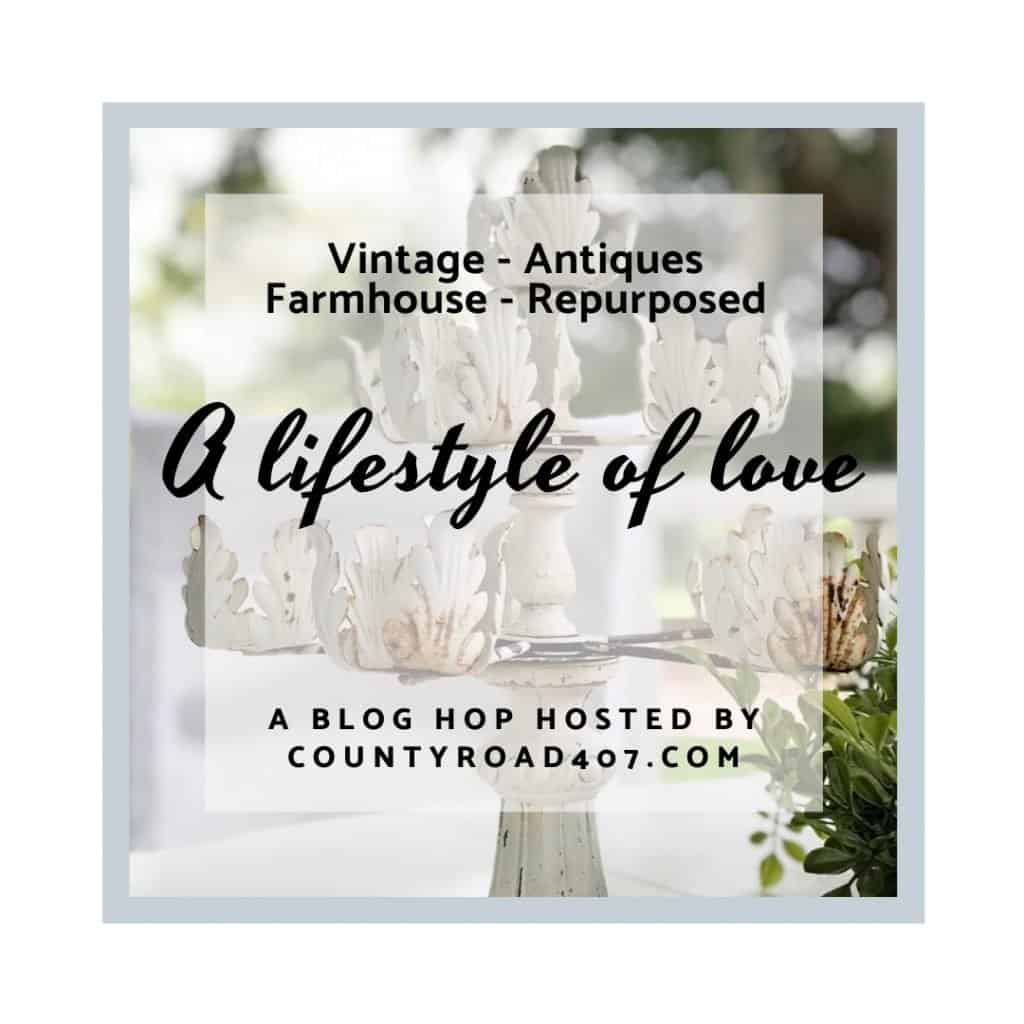 What is depression glass?
Depression glass was introduced in the 1930s and comes in several colors and patterns. I'm partial to the versatility of the pink depression glass myself. The glassware was made available in the 30s in cereal boxes, purchased in dime stores, and given away as prizes in movie theaters! The glassware became beautiful treasures for folks struggling in the difficult economic times of the early 1900s. Today, the glassware is found by the avid thrifter rummaging through flea markets, antique shops, thrift shops, and the like.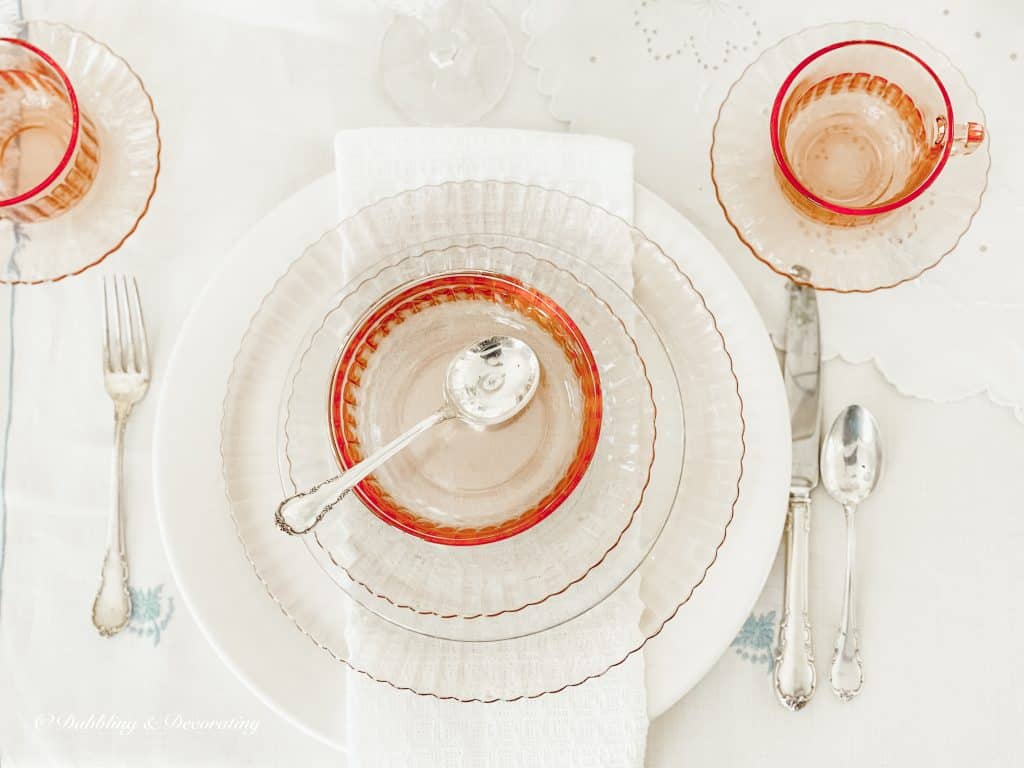 What is in a table setting?
The table setting I picked up came with a dinner plate, salad plate, bowl, mug and saucer. I added a large white plate as a foundation and a little blue glass plate I found thrifting for .50 cents for a hint more of spring's soft colors.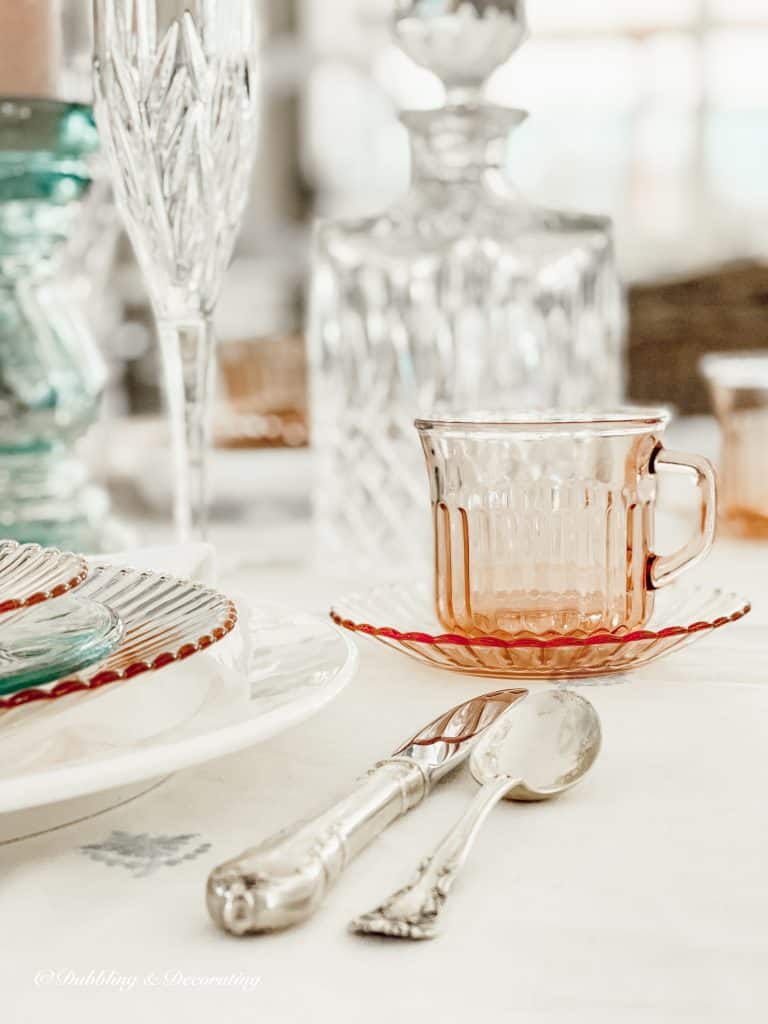 What pairs well with cherry blossom pink depression glass?
I paired my mother's vintage flatware silver to start. Although pink depression glass was considered a thrifty treasure in the 1930s, it pairs beautifully with the finer vintage too!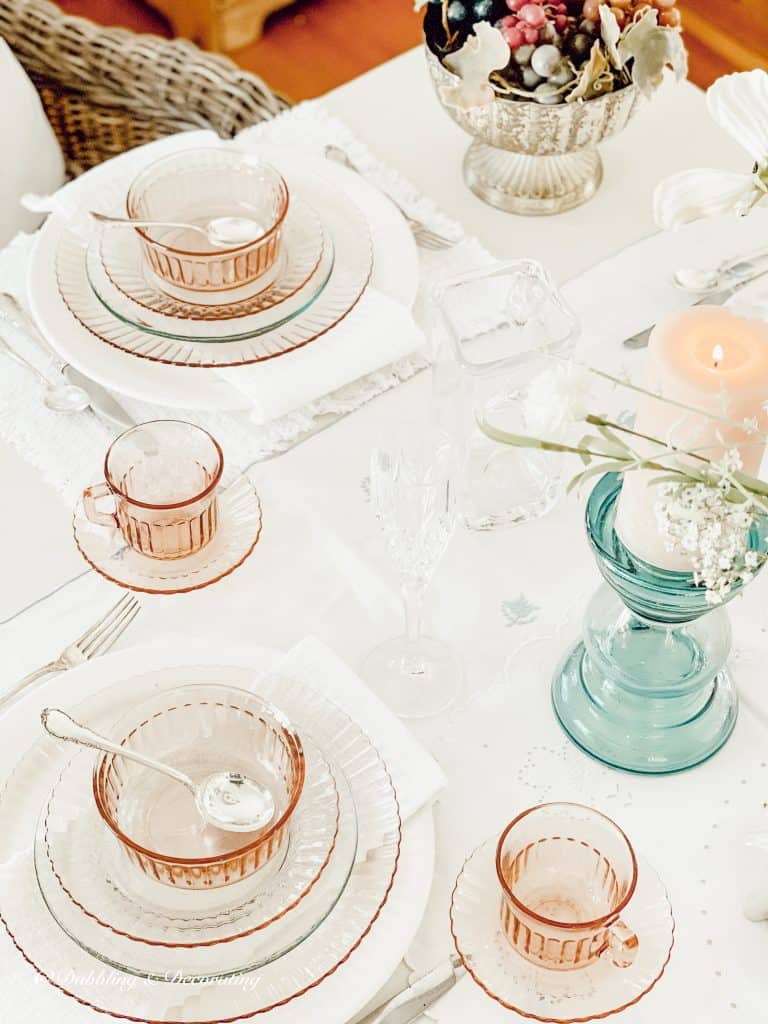 What colors go well with cherry blossom pink depression glass?
This was the first time I have ever decorated a table with cherry blossom pink depression glass. And I have to admit, I struggled a bit. So I headed back down to the local vintage shop to see what else I could find to pair with this beautiful pink glassware.
That's where I found a simple white linen tablecloth with a blue eyelet and a small round lace doily to center the table. So my answer today is light blue!
You may also enjoy the post, A Timeless Classic | Franciscan Desert Rose Table Setting.
Do you love antiquing and thrifting?
If so, I'd love to invite you to join me every Wednesday, as I share all my thrifting adventures along with tips and tricks over on Instagram as part of the series "Thrifting with the Gals". Then a monthly round-up is back here on the blog every third Thursday!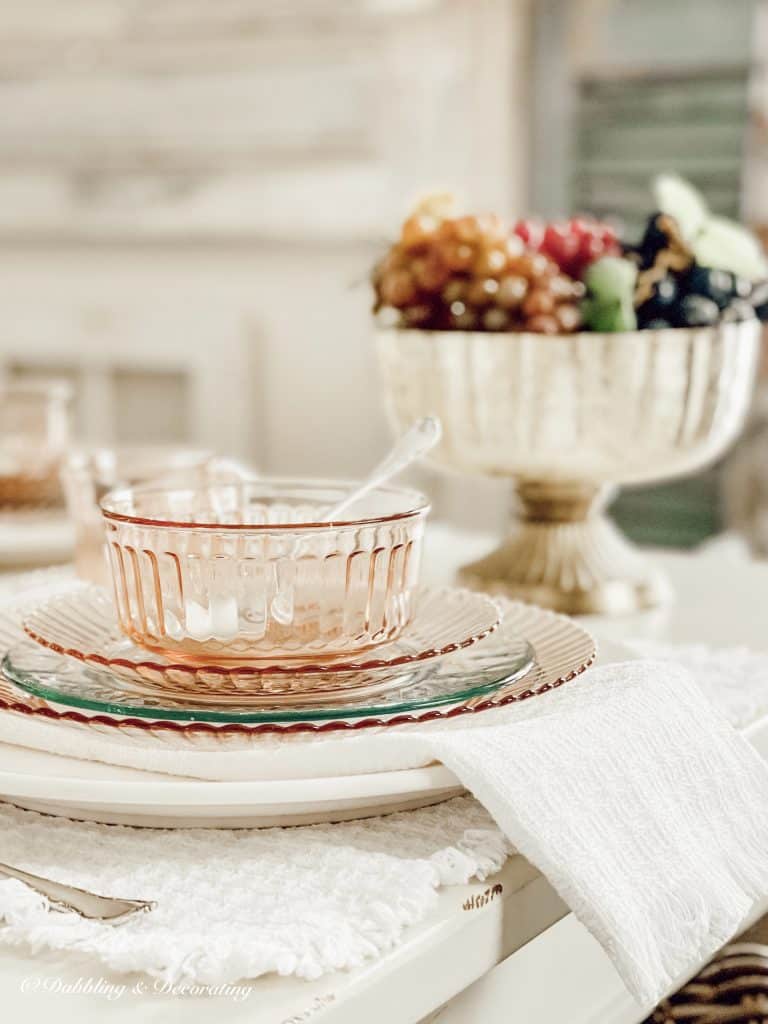 White table napkins and placemats pair beautifully and I even added a touch of gold to the mixture with a bowl filled with faux fruits for a hint of more color.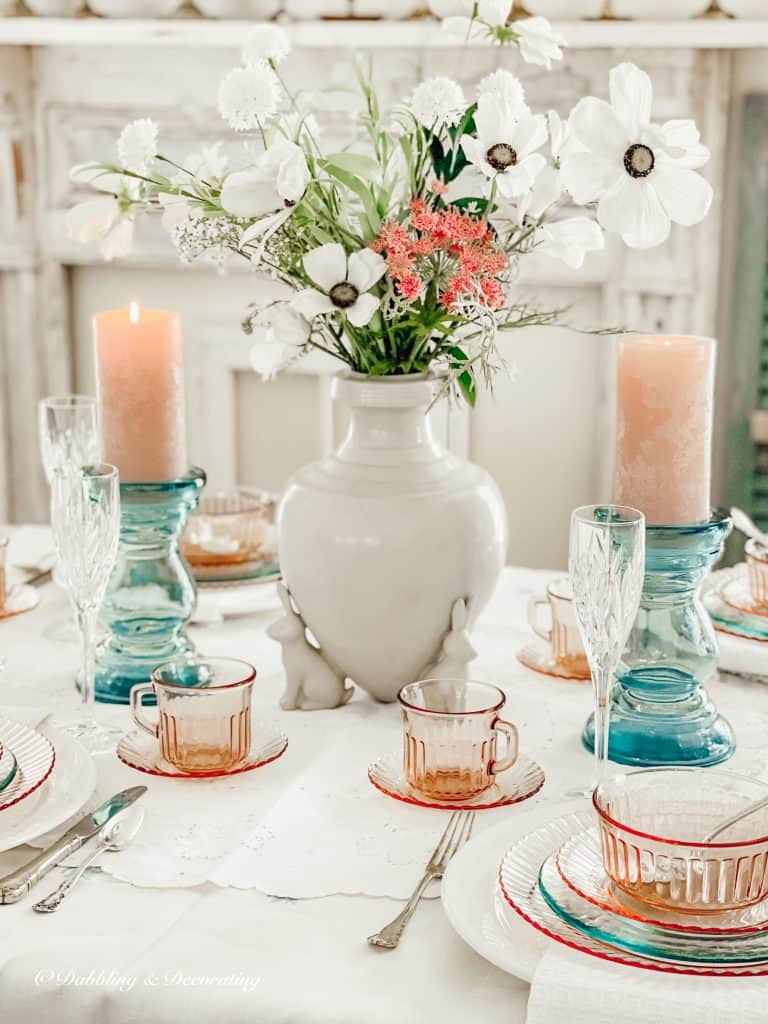 What about a centerpiece for the table?
While I was down at the local antique shop I discovered this crock-like vase with four bunnies holding it up. So cute for Easter and spring right? I added some simple faux flowers to the vase. I will use this year-round too!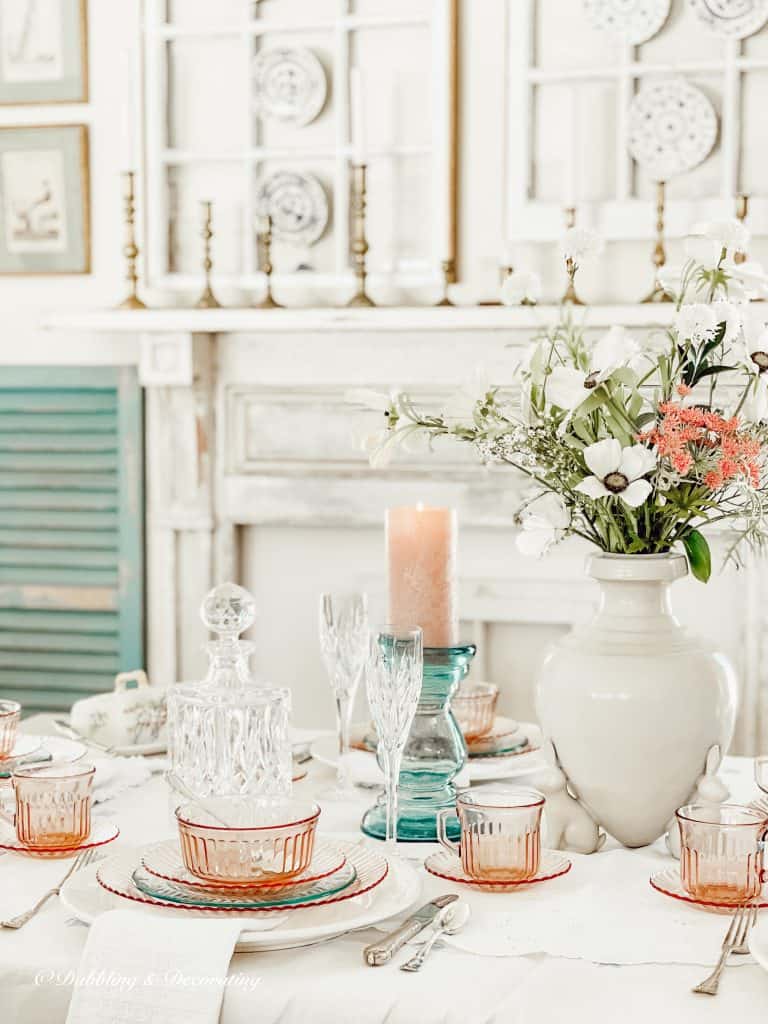 Candles, always candles on a table!
I found these blue candlesticks while shopping in Maine. They are both a candle holder and a vase! And they also paired perfectly with the rest of the blue touches and cherry blossom pink depression glass.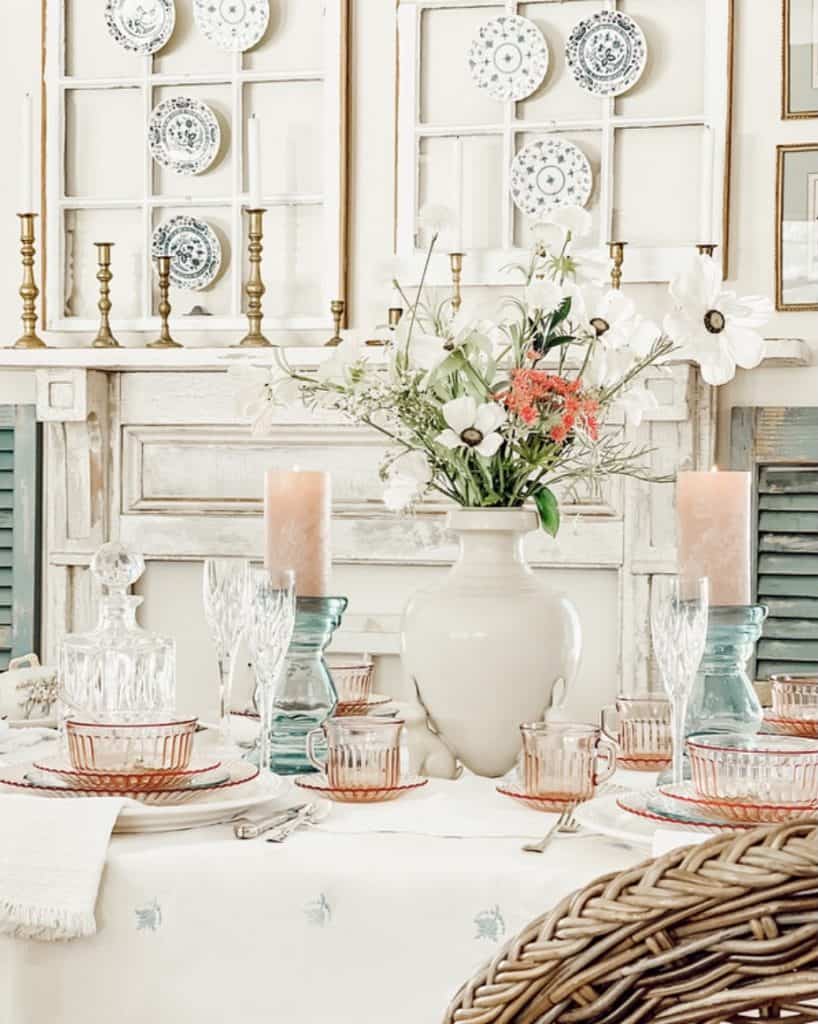 In the background is a vintage mantel we installed several years ago. Learn how to easily install a vintage mantel. Last year I hung teacups over it and this year I've hung several small thrifted vintage plates with just a thumbtack, fishing line, and commando strips.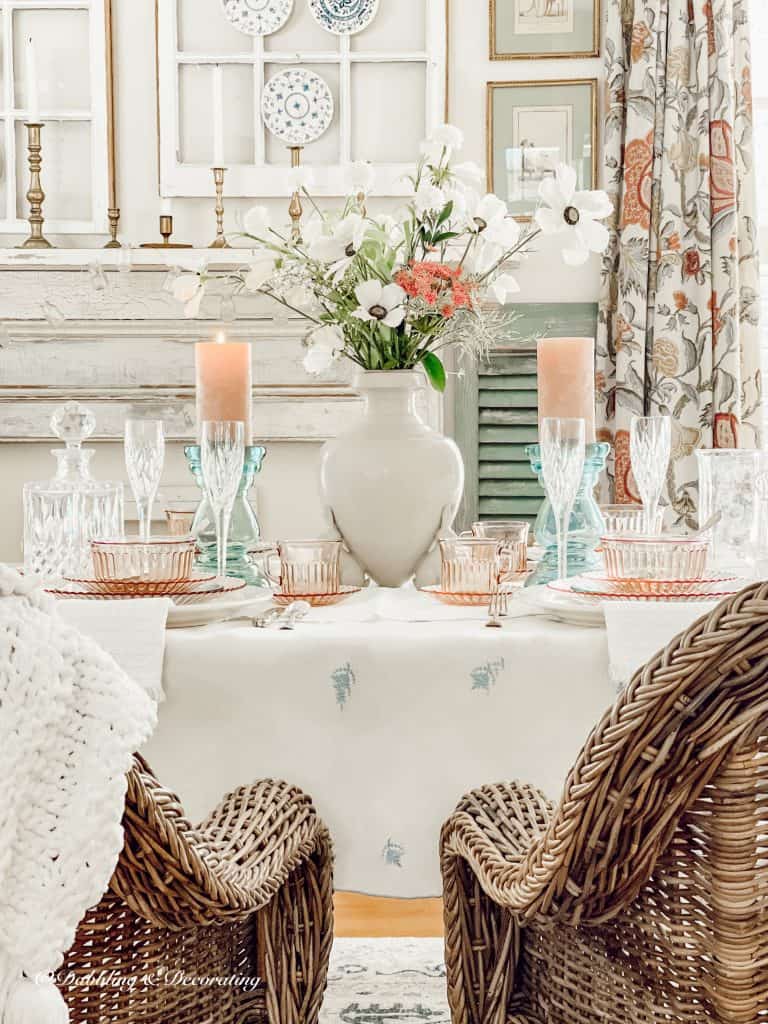 What is a safe way to store vintage dishes?
The most important is finding good storage options for your vintage dishes. The dishes I shared with you today came with these storage bags, but you may also find this very set on Amazon.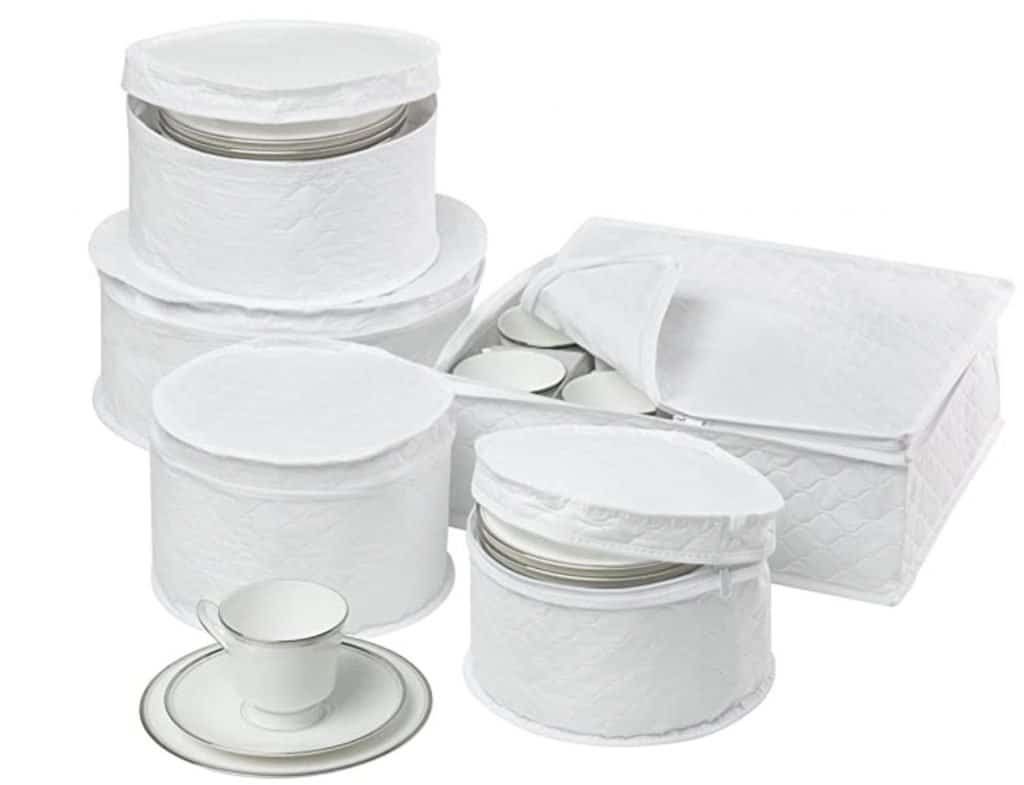 I'm so glad you dropped by, and if you are new to my blog, welcome! I hope you enjoyed your visit with us here today at our Home in Vermont.
Be sure also to check out our Home in Coastal Maine where we spend summers and weekends when we are craving a walk on the beach or a visit with old friends.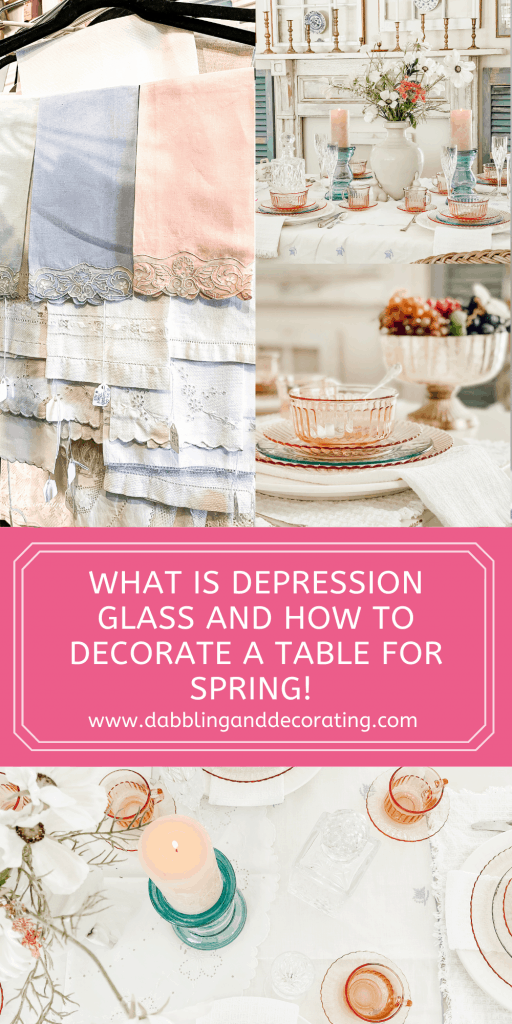 I've created the above custom pin just for this post! Sharing is Caring!  I would luv to hear from you too~ Your comments mean so much to me and truly make my day… Please join me over on Instagram & Pinterest to see more!
YOU MAY ALSO LIKE
Be sure to check out the other bloggers joining me here today on the table tour. Next up on the tour is Lora over at Create and Ponder, who is sharing 10 ways to turn your dishware into decor!
You are invited to the Inlinkz link party!