Sitting here in the sunroom on a gloomy spring Maine day, It dawned on me that my mother had a collection of old terracotta pots up in the attic that she used to love to decorate with. So many of us are used to seeing terracotta pots outside, however, for a twist, I have really enjoyed bringing terracotta pots indoors and adding them into my home decor this year.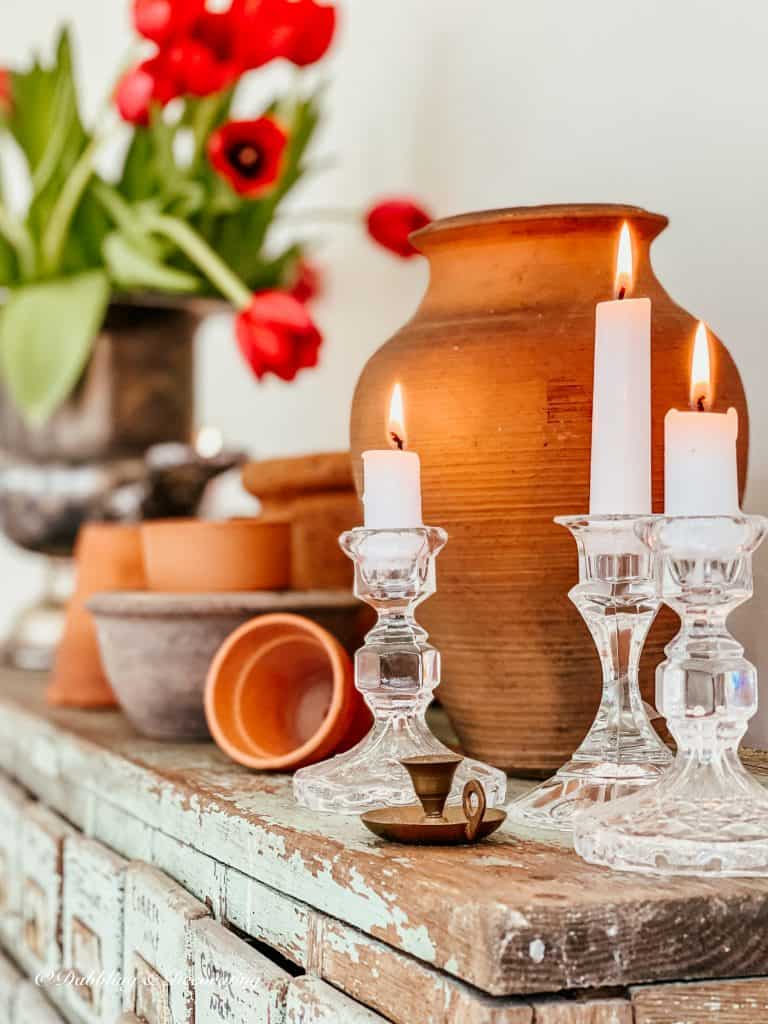 I found this chippy apothecary while I was out Thrifting with the Gals in Maine. It sits so beautifully in the sunroom and has the perfect backdrop for styling. The old terracotta pots add to the chippy apothecary's textures and the scattered glass candlesticks add to the softness.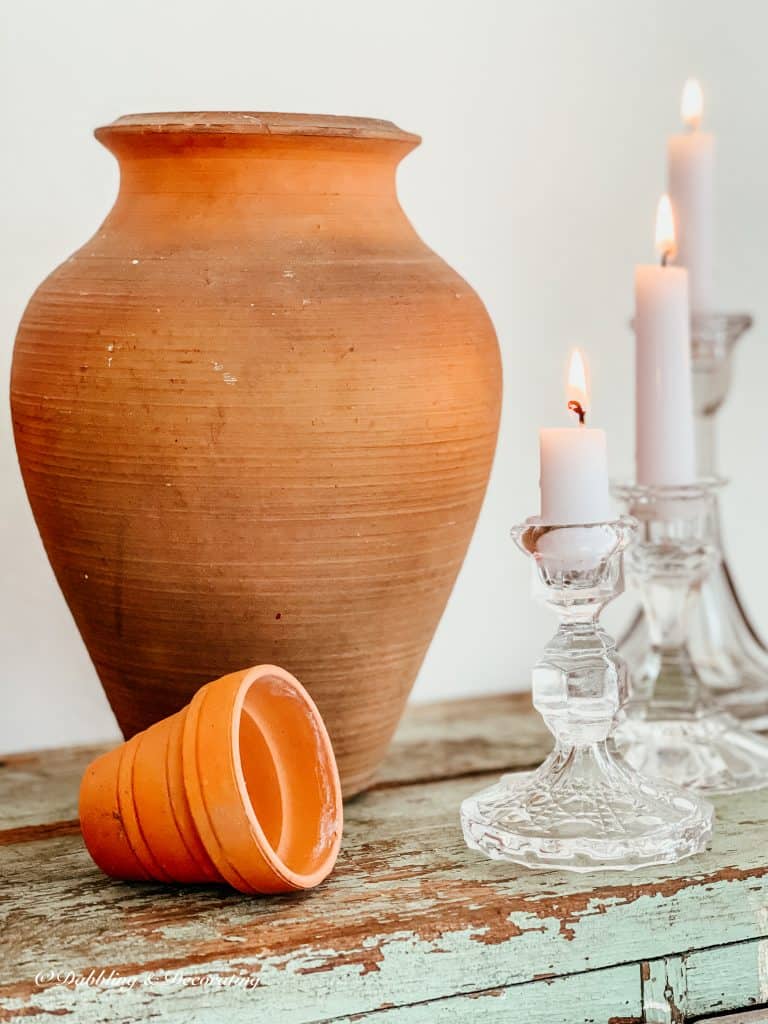 The glass candlesticks are my mother's collections.
The pink tulips add the pop of spring color.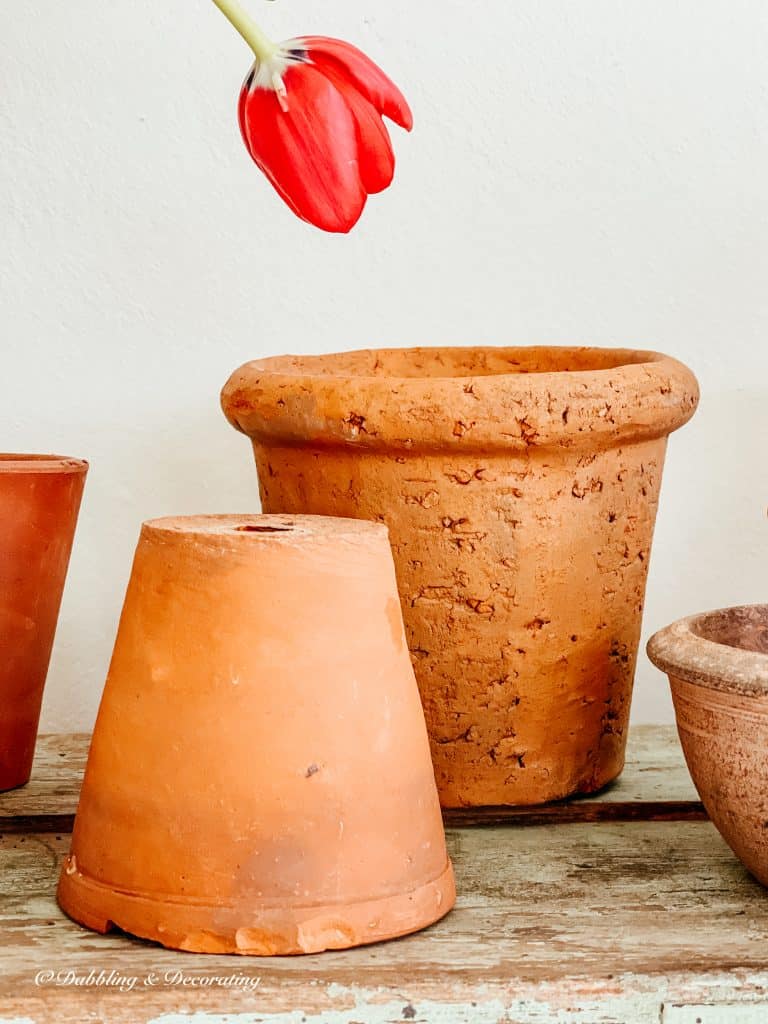 My friend and master gardener, Stacy over at Bricks n' Blooms shares all the spring garden flowers that bring joy this time of the year over on her blog.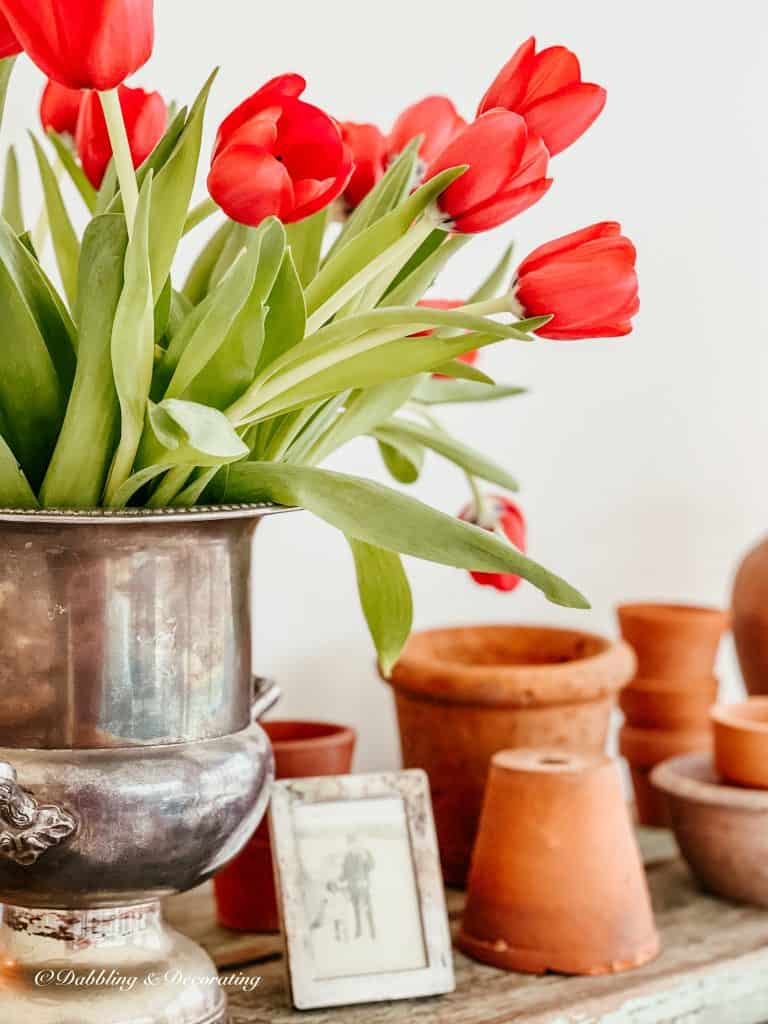 I found this silver vase while thrifting at The Cottage by the Brook for only $8. I love the old patina and charm it adds to all my flower arrangements.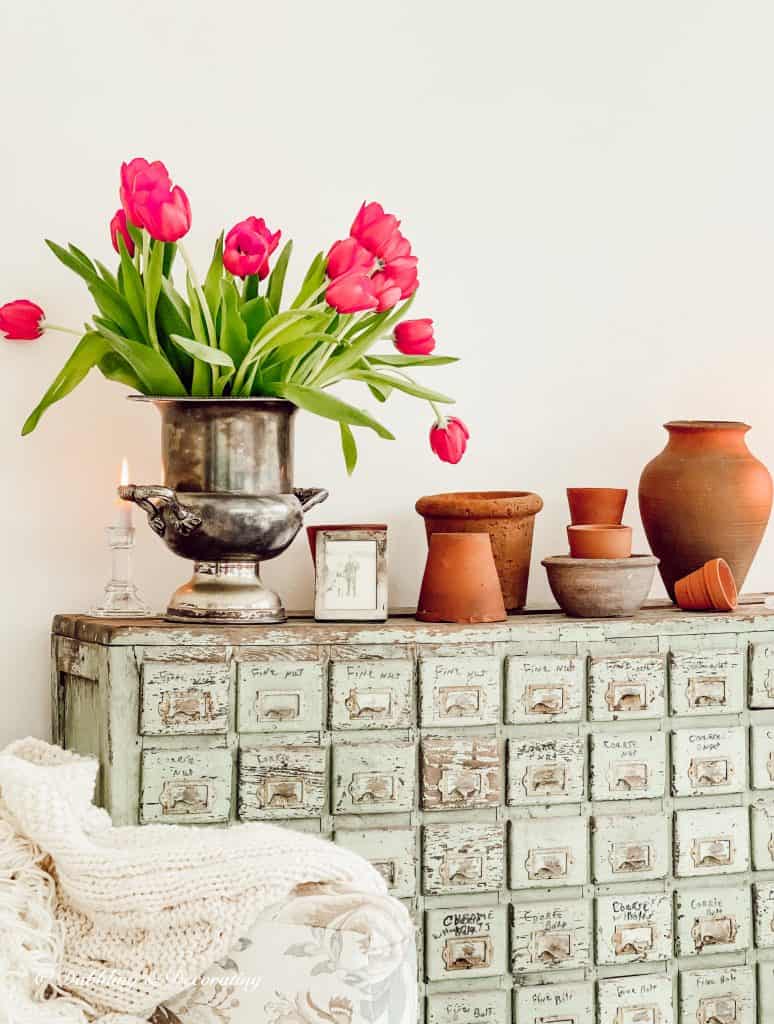 Ella, the Bernese Mountain Dog
And this is what life with Ella, our Bernese Mountain Dog is like. She's front and center every time the camera comes out.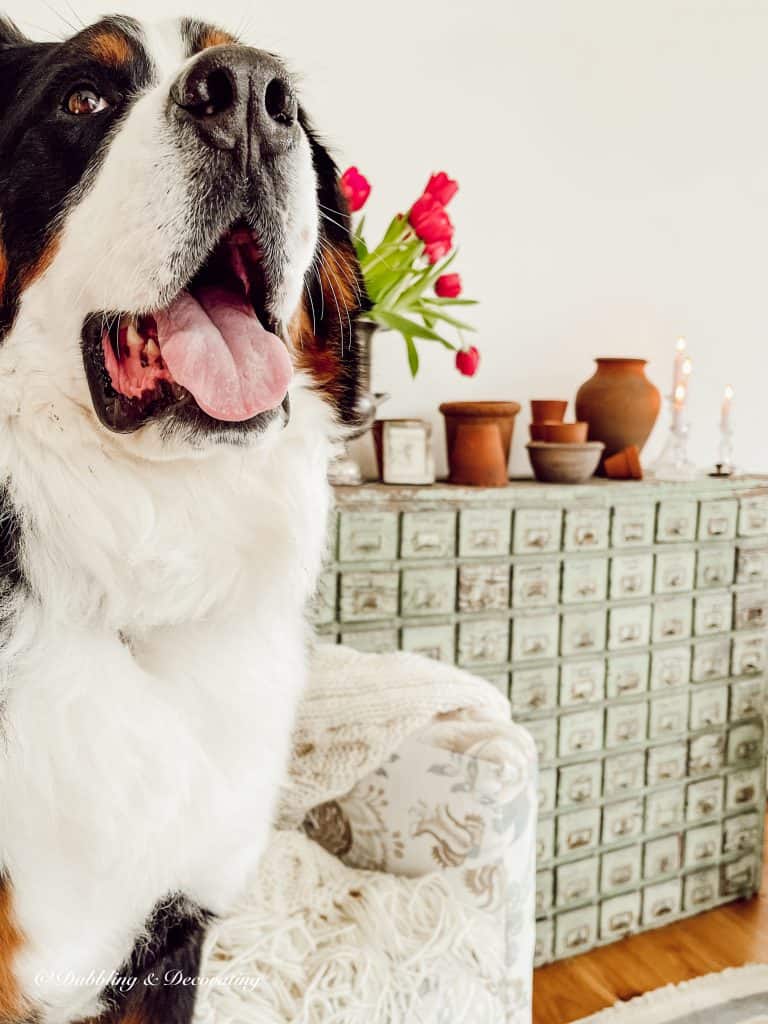 You may also enjoy this really fabulous vintage hutch makeover too!
And 17 Simple Tulip Arrangements You Can Create Today!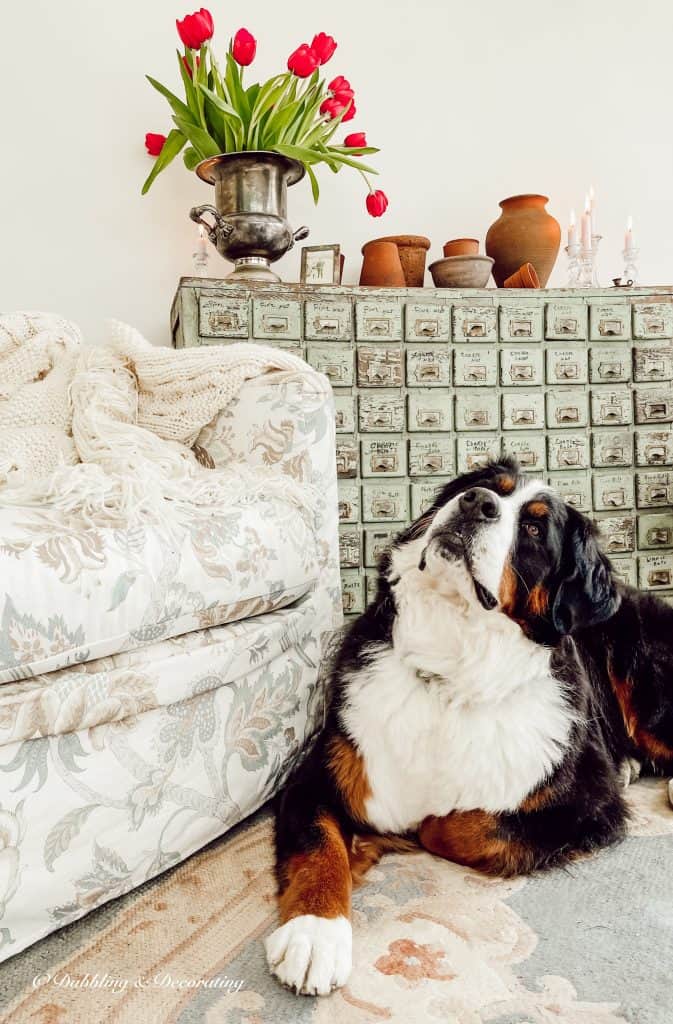 I have so enjoyed bringing terracotta Pots into my home decor this year for all the spring vibes. And if you enjoyed this post, check out this sweet DIY potters shelf I designed with a children's old-school desktop! And of course, decorated with terracotta pots!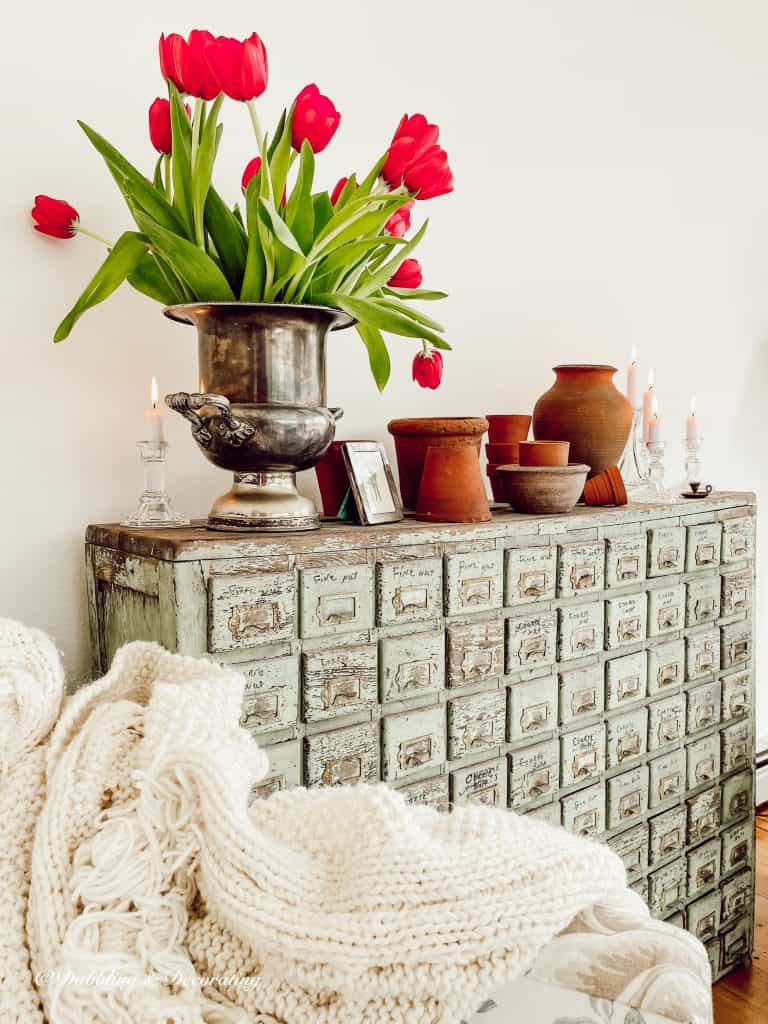 I'm so glad you dropped by today friend, and if you are new to my blog, welcome! I hope you enjoyed your visit with us here today at our Coastal Maine home. Please join me as a regular here at Dabbling & Decorating. Sign up for my newsletter below and never miss an update!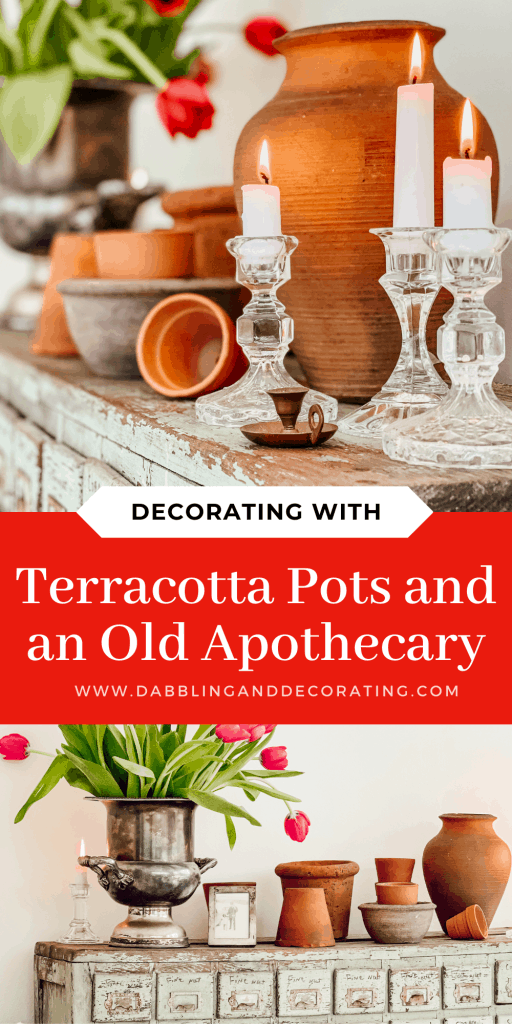 I've created the above custom pin just for this post! Sharing is Caring! I would luv to hear from you too~ Your comments mean so much to me and truly make my day… Please join me over on Instagram & Pinterest to see more!