A favorite thing of mine to do is to stop at all the fun thrift and antique shops between my trips to and from Maine and Vermont. I also enjoy sharing these journeys with you in my Instagram stories, and from time to time, here on the blog too. A couple of days ago a nor'easter dropped about 3′-4′ feet of snow in Vermont and I thought it would be fun to share what it's like thrifting in winter's snow here in New England.
I pulled out of our home here in Maine where we received little snow accumulation, excited to see all the snow in Vermont and enjoy the thrifting along the way! To see more on our home in coastal Maine join me over on my featured blog series "In My Mother's Home".
Thrifting in Winter's Snow
The Cottage by the Brook in Westminster, VT is one of my frequent stops. It's filled with outdoor goodies, as well as a small and beautiful gift shop filled with vintage treasures. I hope you enjoy our stop there today.
The snow was everywhere and I can't imagine having to shovel out all their pathways that surround the outdoor vintage gardens…
Greenery in old buckets was everywhere. The holidays are only a week away and it all felt so inviting.
If you like thrifting, join me in the series, "Thrifting with the Gals", weekly over on Instagram and here monthly on the blog.
The outdoor items remained covered in the snow for the most part. The hardiest thrifters don't mind though, we just brush it off, see the vision, and keep thrifting in winter's snow.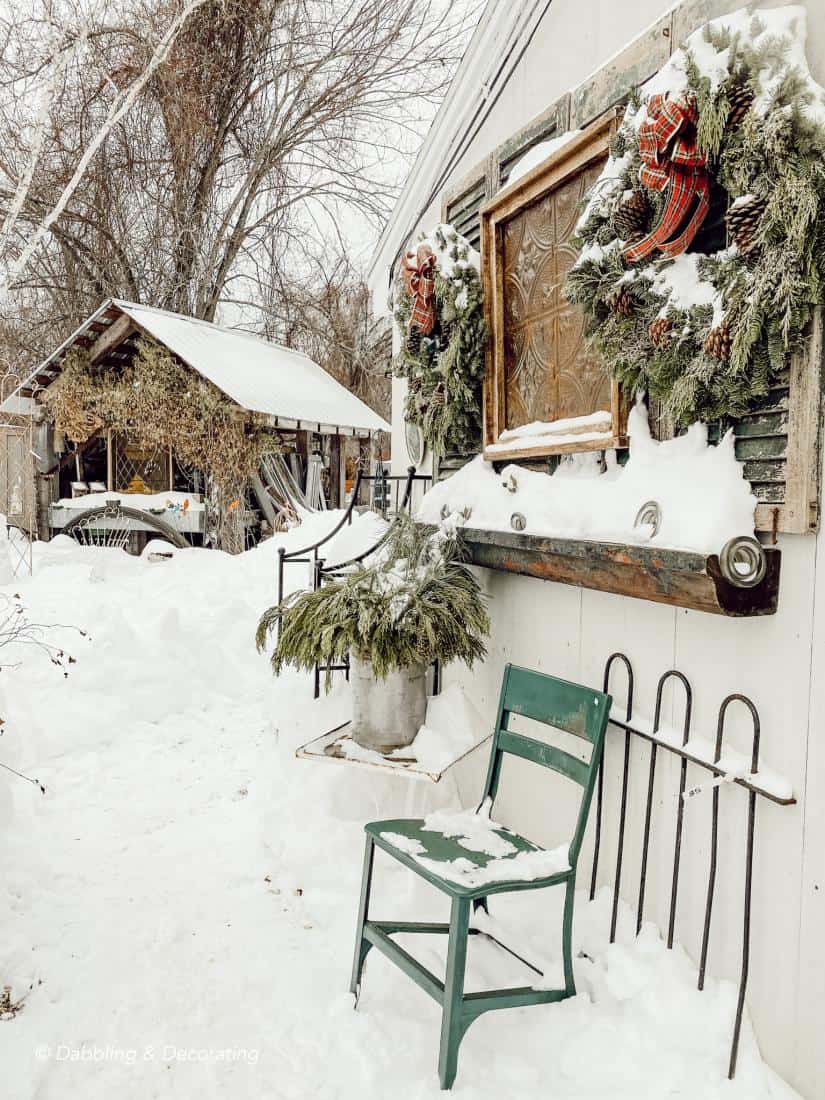 Like these old wooden toolboxes. I just adore the rustic look and the large size. I brought one home with me that I can't wait to share with you, as part of a fun blog hop on how to decorate with vintage toolboxes coming to the blog in January!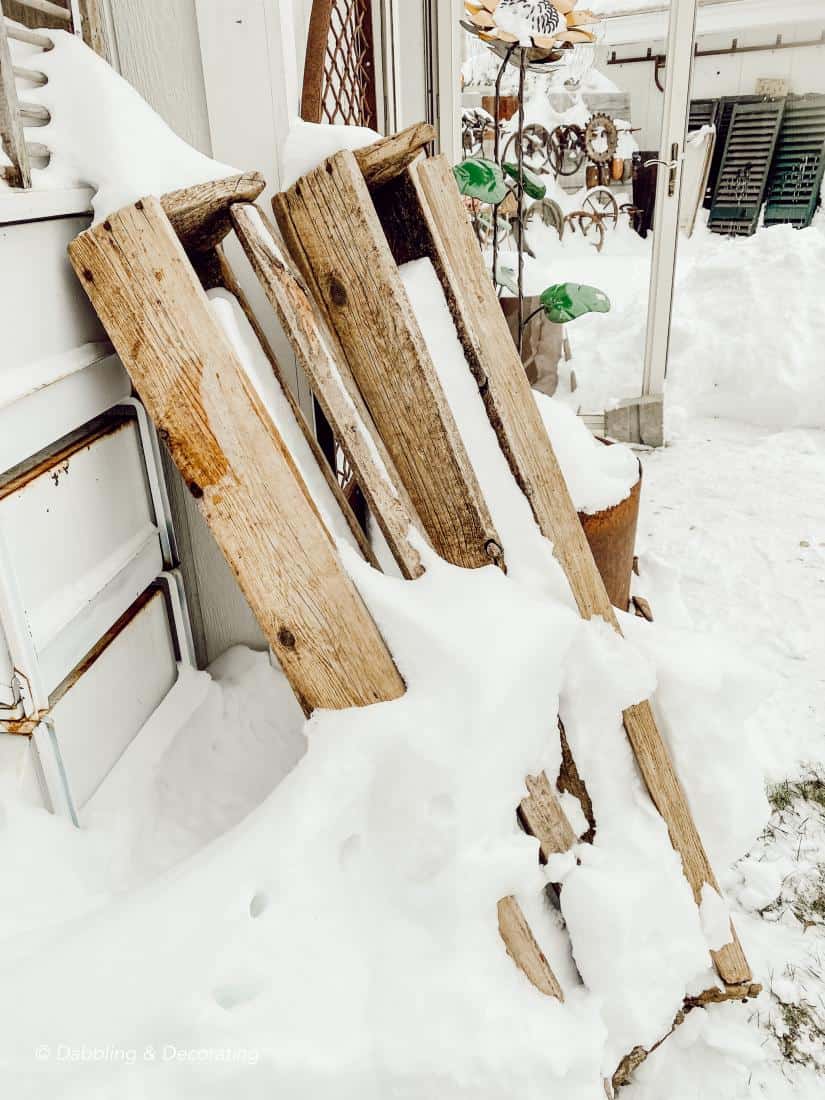 A basket of Christmas ornaments sits in the snow inside an outdoor shed filled with other vintage treasures.
How do you like thrifting in winter's snow so far?
You may also enjoy Cozy Snow Day at Home in Maine.
More decorative holiday items lie amongst the snow waiting for a warm home for the holidays.
You may also enjoy the post, Thrift and Antique With Me Right into Mud Season.
Terracotta pots, a rustic metal cabinet, toolboxes, and more. Everything just looks so much better dressed in snow!
Join me in watching this video I created for the full experience of thrifting in winter's snow the week after a nor'easter here in New England.
I'm so glad you dropped by, and if you are new to my blog, welcome! I hope you enjoyed your visit with us here today at our Home in Vermont.
Be sure also to check out our Home in Coastal Maine where we spend summers and weekends when we are craving a walk on the beach or a visit with old friends.

I've created the above custom pin just for this post! Hearing from you makes my day and your comments mean so much to me! Please join me over on Instagram & Pinterest to see more!
YOU MAY ALSO LIKE