I am so grateful for the built-in bookshelves we have here at our home in Vermont. As a decorator, they allow me the pallet to arrange and rearrange all the wonderful treasures I find thrifting. One of my goals for this winter's bookshelf decorating was to add touches of soft blues to our living room bookshelves. I accomplished this with finds such as vintage bottles, pitchers, chamber pots, books, teacups, etc. that I found thrifting over the past year.
Old Paintbrushes
Here I gathered a few old paintbrushes with some collected vintage blue books to create this textured vignette on the white shelving.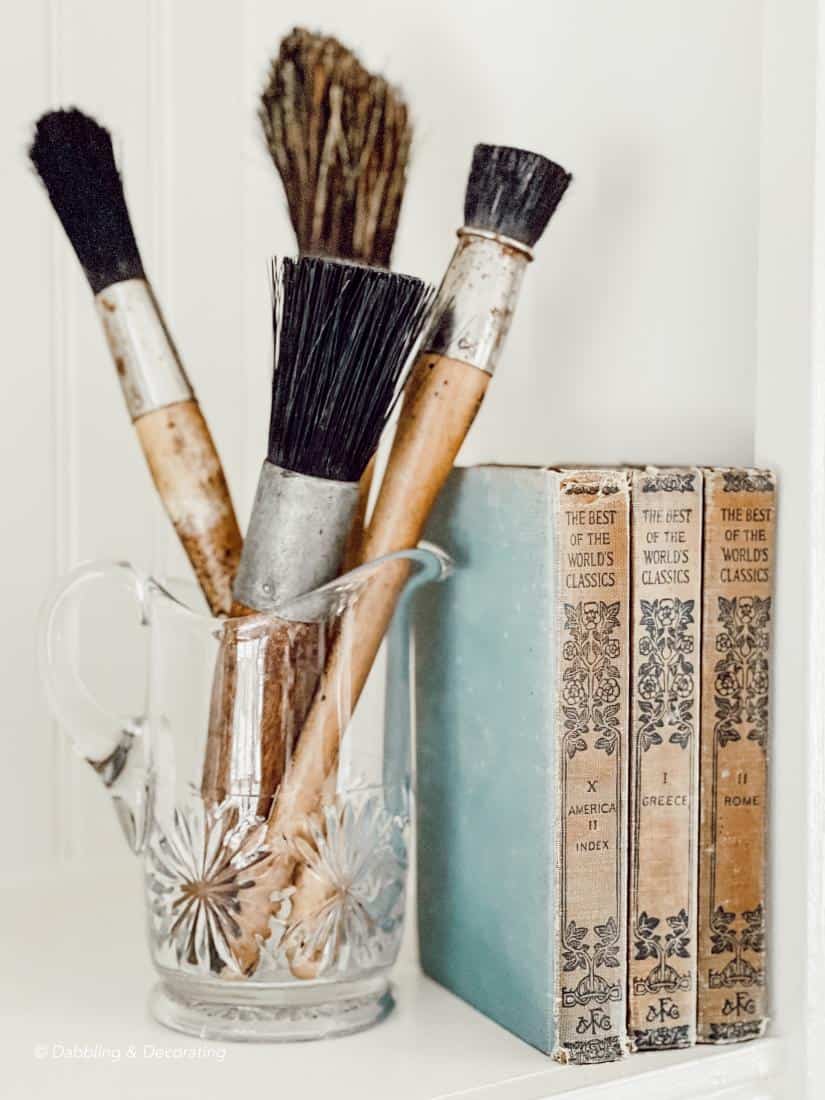 Abraham Lincoln Portrait
I found this Abraham Lincoln portrait while out antiquing last year.
A little history lesson; Robert Lincoln, the only child of Abraham and Mary Todd Lincoln to survive to adulthood, became president of the Pullman Company, the largest manufacturing corporation at the turn of the 20th century. Robert and his wife, Mary, built a Georgian Revival mansion in 1905 in the scenic village of Manchester, Vermont, now called Hildene. It became home to only Lincoln descendants until 1975, longer than any other Lincoln residence.
I just love adding local history like this to our home.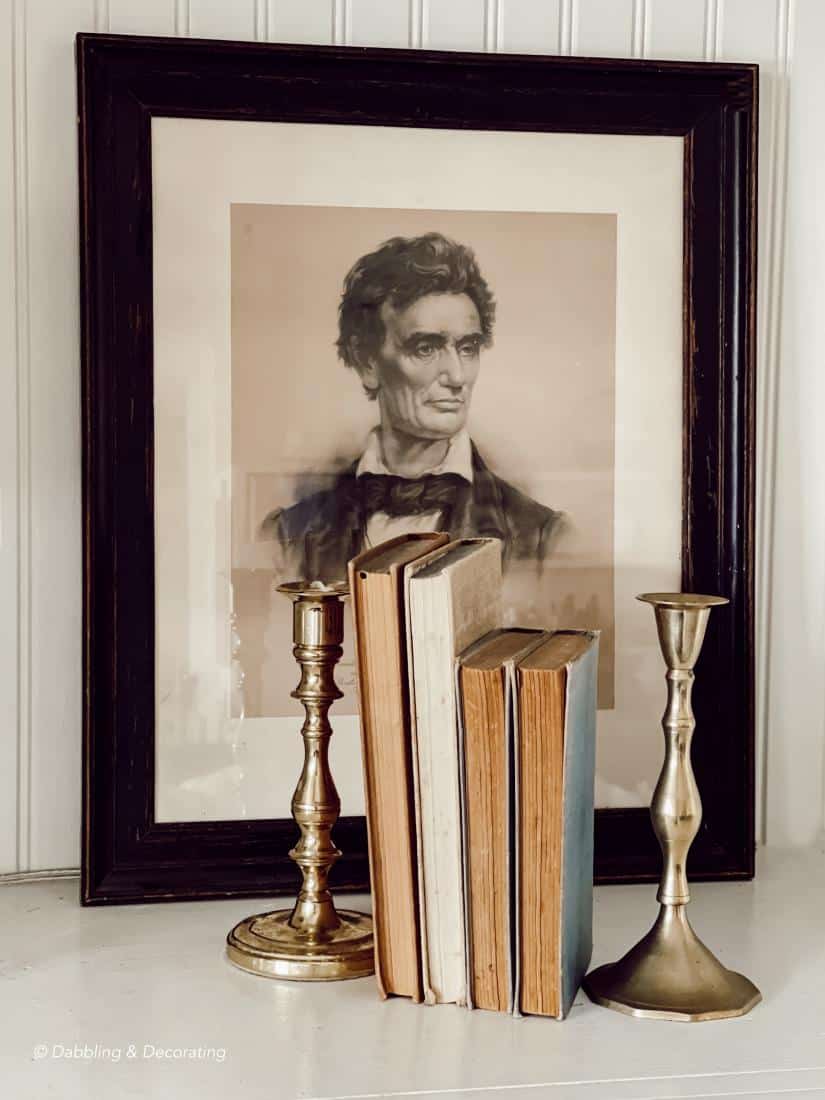 Vintage Bottles
A favorite of mine is to collect vintage blue bottles of all sizes. They go with everything and can add so much charm to any #shelfie The large blue bottles here, however, are not vintage. I found these at World Market.
The bottle garland on the left is a piece I found from the ladies in Alberta over at Vintage Society Co. It's super cute and I will enjoy it in all seasons by simply changing out the greenery to match the changing seasons and holidays.
Vintage Books
And always vintage books, especially when decorating bookshelves. A couple of balls of wool yarn and a vintage mailbox crate filled with faux greenery that I found at the Vermont Vintage Market Days. Do you attend your local Vintage Market Days? You can find the locations of Vintage Market Days here! They are so amazing to shop for. I never miss one.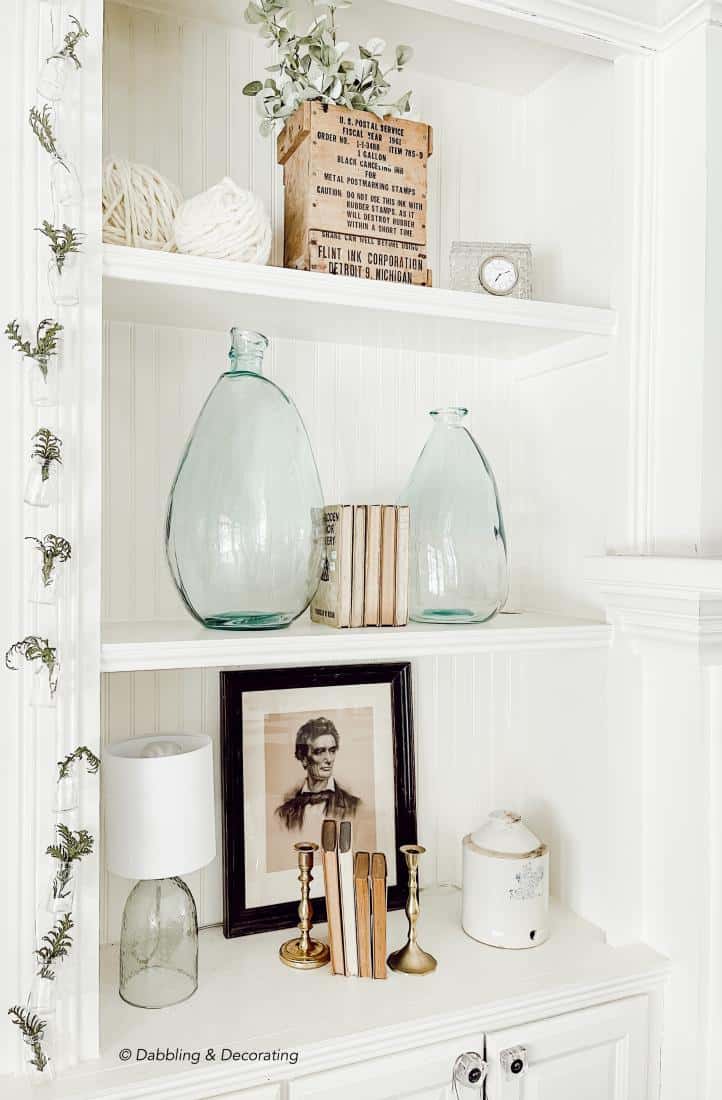 More Vintage Bookshelf Decorating Ideas
The mantel between the bookshelves, I decorated with a peace sign garland along with collected vintage shoe molds that I found thrifting.
You may also enjoy the post, How to Decorate Bookshelves for a Vintage Christmas.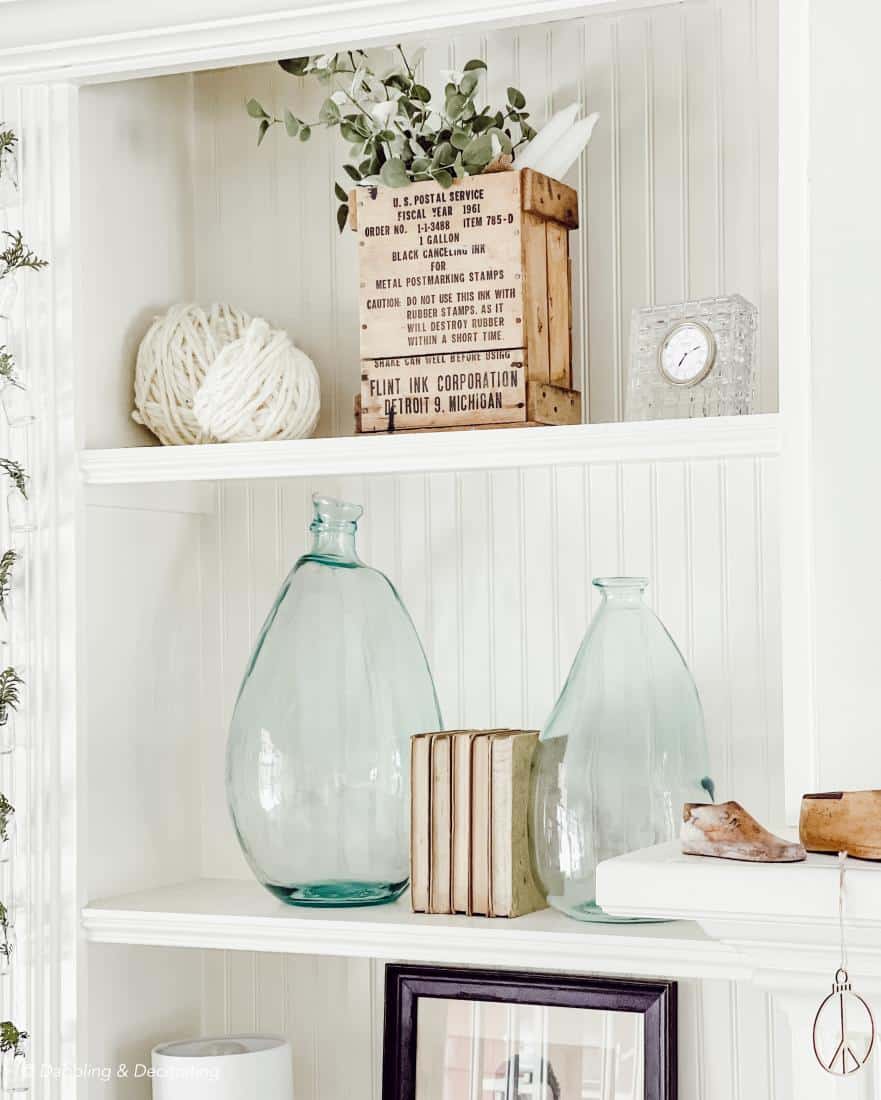 On the other side of the mantel a ski lift sign, given to me by my mother, rests with faux greenery.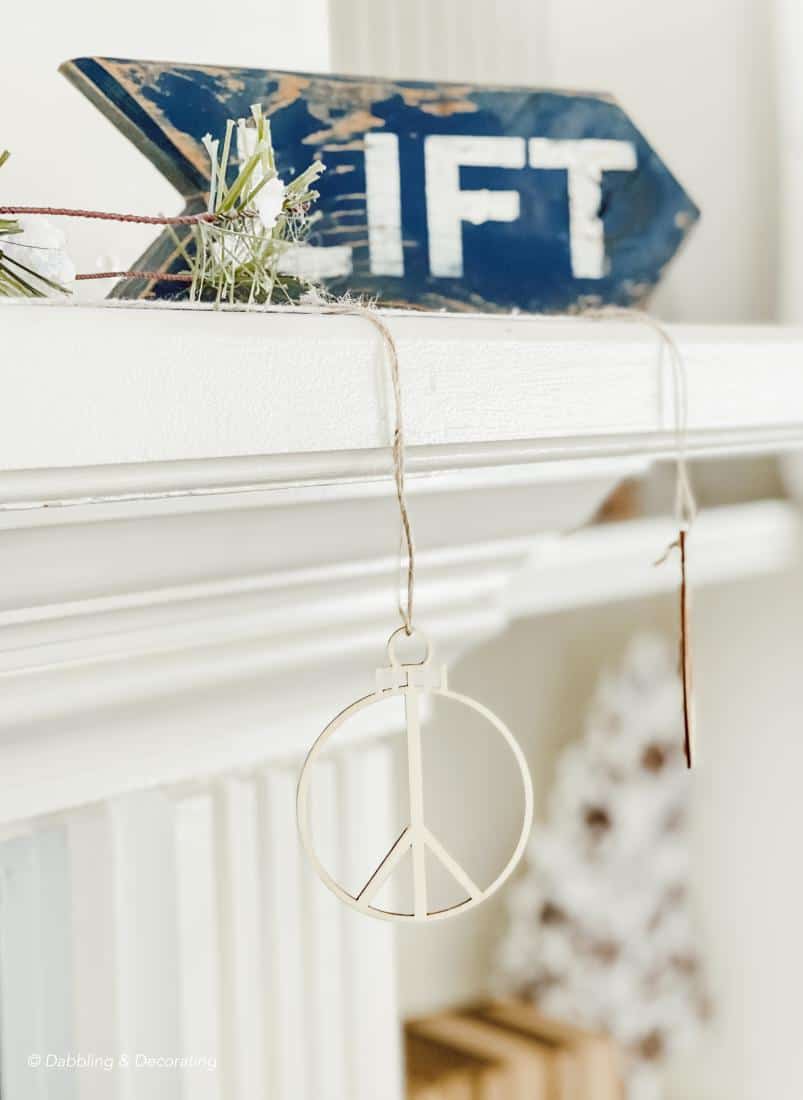 Blue and white porcelain pieces that I collected from Etsy, Facebook Marketplace, and one of my favorite antique shops, Stone House Antique Center here in Vermont.
Vintage bowling pins under a glass cloche, an old clock face, and a mirror that hangs between the shelving adds depth and character. A jar filled with simple white buttons and an antique brass clock serve as bookends to a collection of old Hardy Boys books.
Can you find my decorating blunder here?
A glass cloche covers eight vintage bowling game pins that I found thrifting at another favorite stop of mine on my way to and from Maine, The Cottage by the Brook. If you love thrifting, join me over on Instagram, as I Love taking you along on my thrifting adventures in my stories!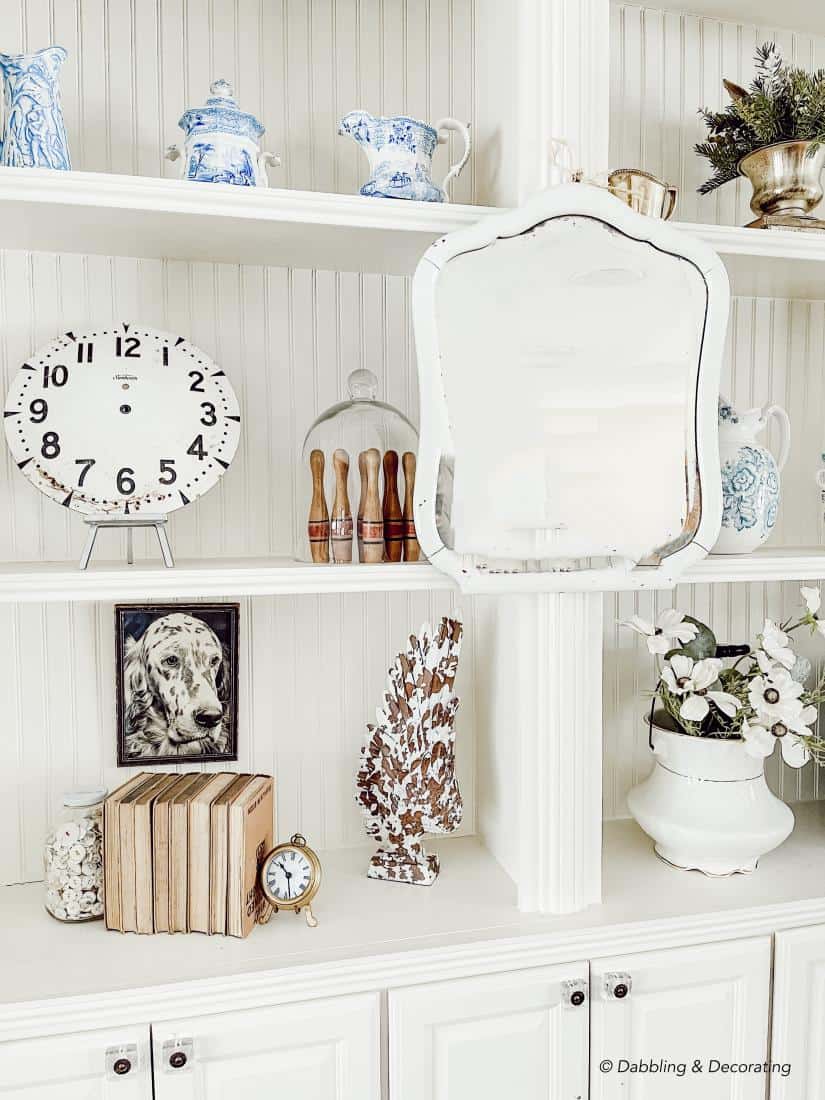 A simple stack of thrifted blue and white teacups, books, and old used paintbrushes in a glass pitcher to off the bookshelf decorating.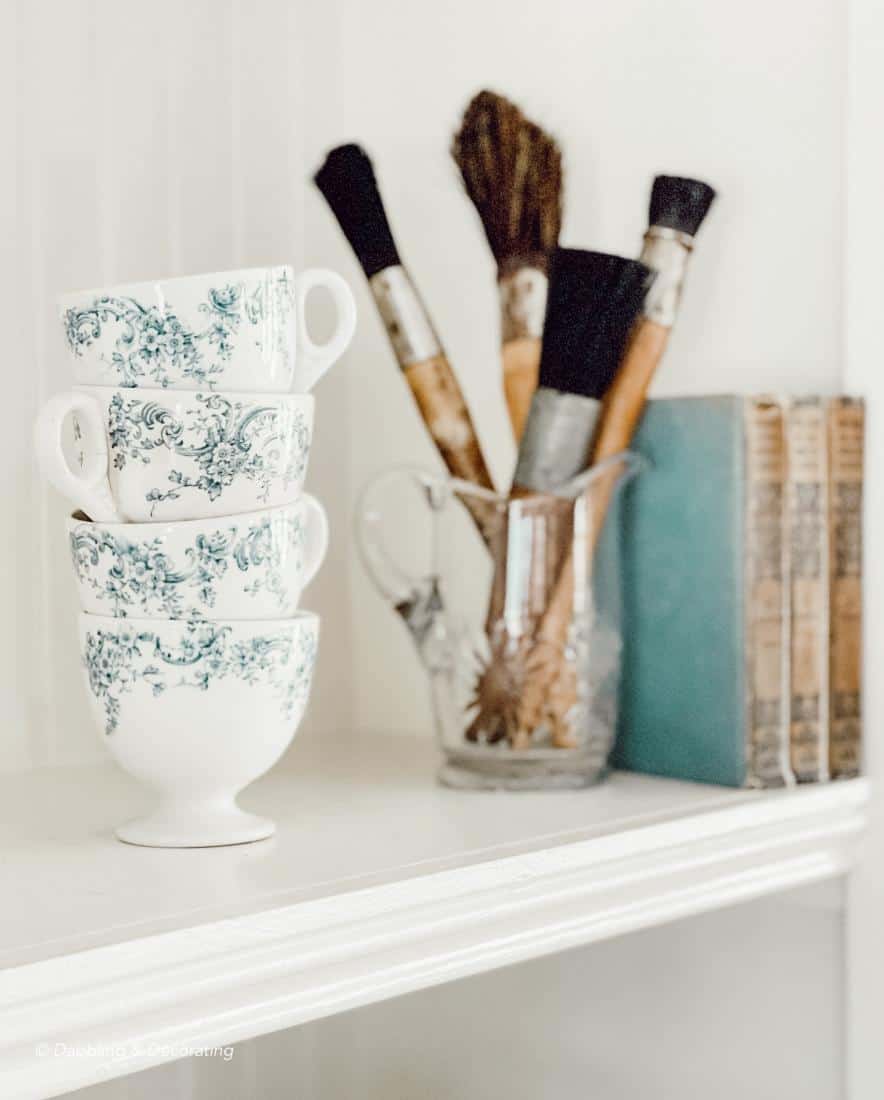 In the corner, you can see some old ski poles leaning against the wall. There is also a beautiful pair of wooden cross country skis that I found for only $25 thrifting.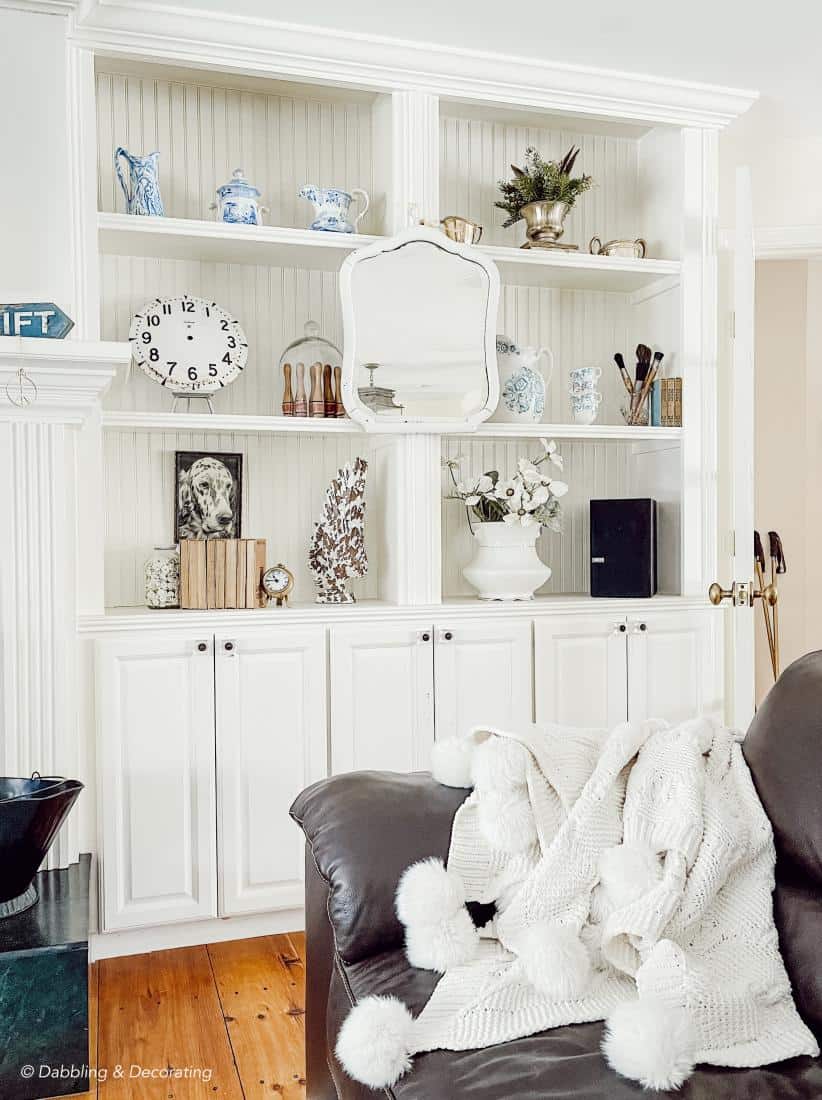 You may also enjoy Cozy Winter Neutral Bult-Ins.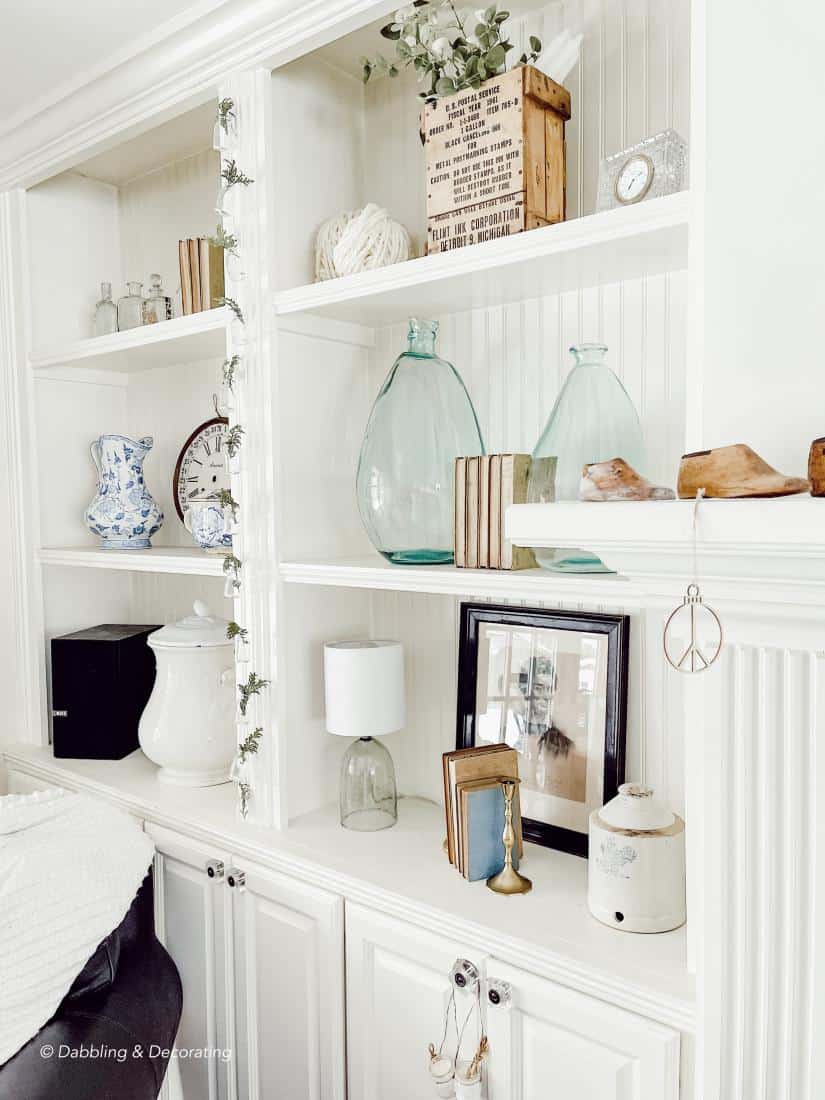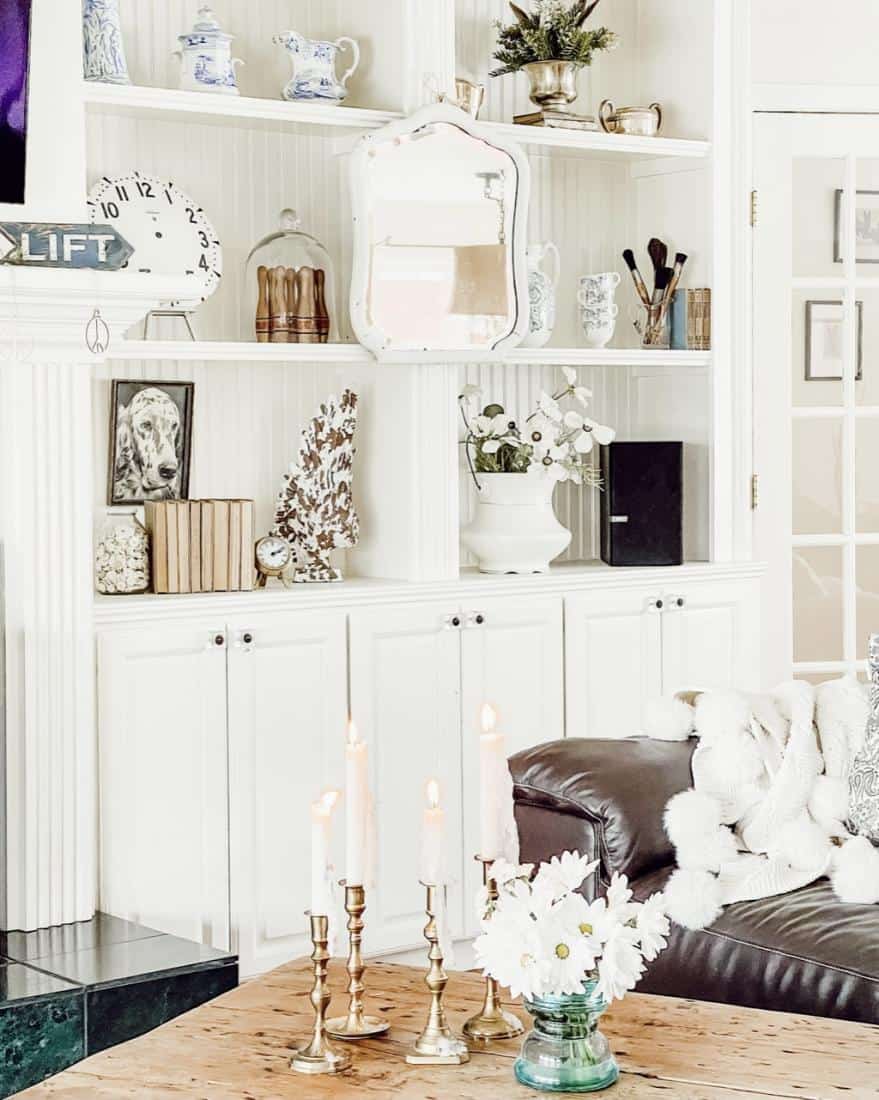 Blue vintage bottles just make me so happy!
The vintage perfume bottle shown here was a gift from my father. He bought this for me when I first moved out after college into my first apartment in upstate New York. My parents came to visit me from Maine and we went antiquing. My father picked this up for me at an antique shop and gifted it to me later in the weekend. I just love that he did this and I treasure the memory…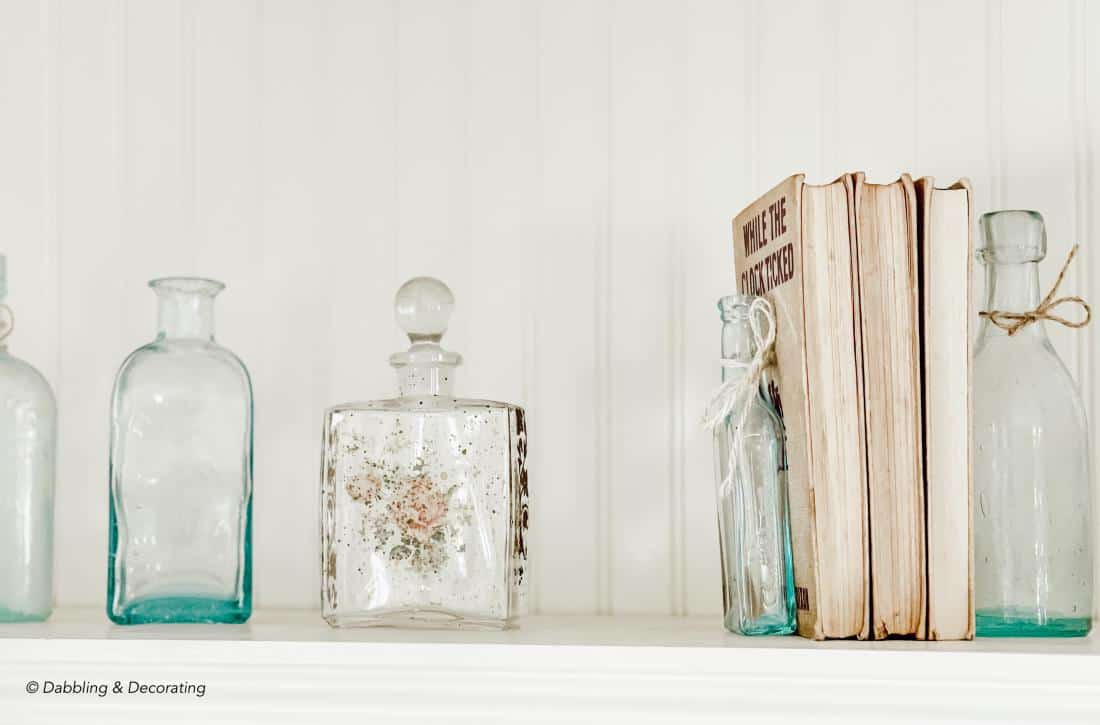 I'm so glad you dropped by, and if you are new to my blog, welcome! I hope you enjoyed your visit with us here today at our Home in Vermont.
Be sure also to check out our Home in Coastal Maine where we spend summers and weekends when we are craving a walk on the beach or a visit with old friends.
Please join me as a regular here at Dabbling & Decorating by signing up for my Saturday morning newsletter and never miss an update!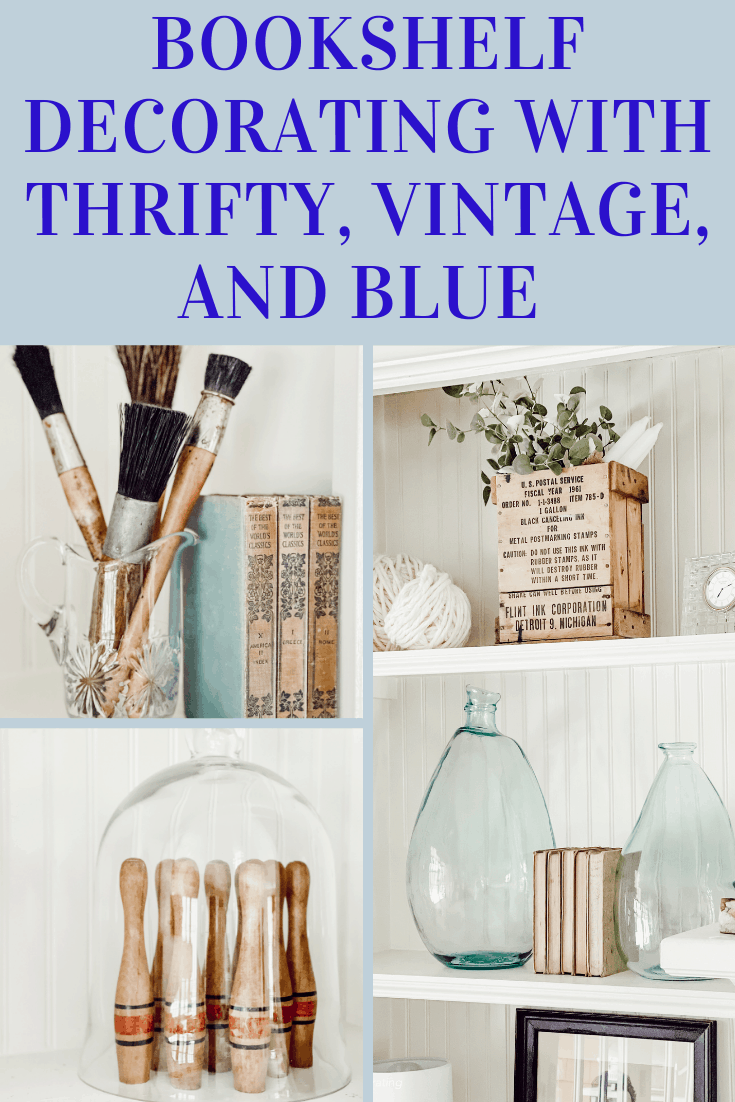 I've created the above custom pin just for this post! Sharing is Caring! I would love to hear from you too~ Your comments mean so much to me and truly make my day… Please join me over on Instagram & Pinterest to see more!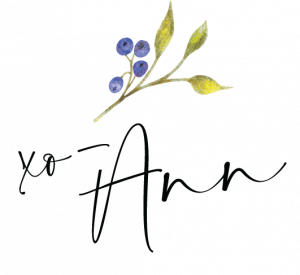 YOU MAY ALSO LIKE