The first Nor'easter of 2020 has just passed us by, leaving only about 3″- 4″ of new snow at our winter cottage here in New England. We came to our home here in Maine to ride out the Nor'easter, which was expected to drop a good foot of snow. However, it was our home in Vermont that ended up with 3′ – 4′ feet of snow! Can you imagine that? But, while I am here at our winter cottage, I thought I would share some day-after photos with you. As everything always looks better with snow, especially a week before Christmas. I hope you enjoy today's visit to our cottage in coastal Maine.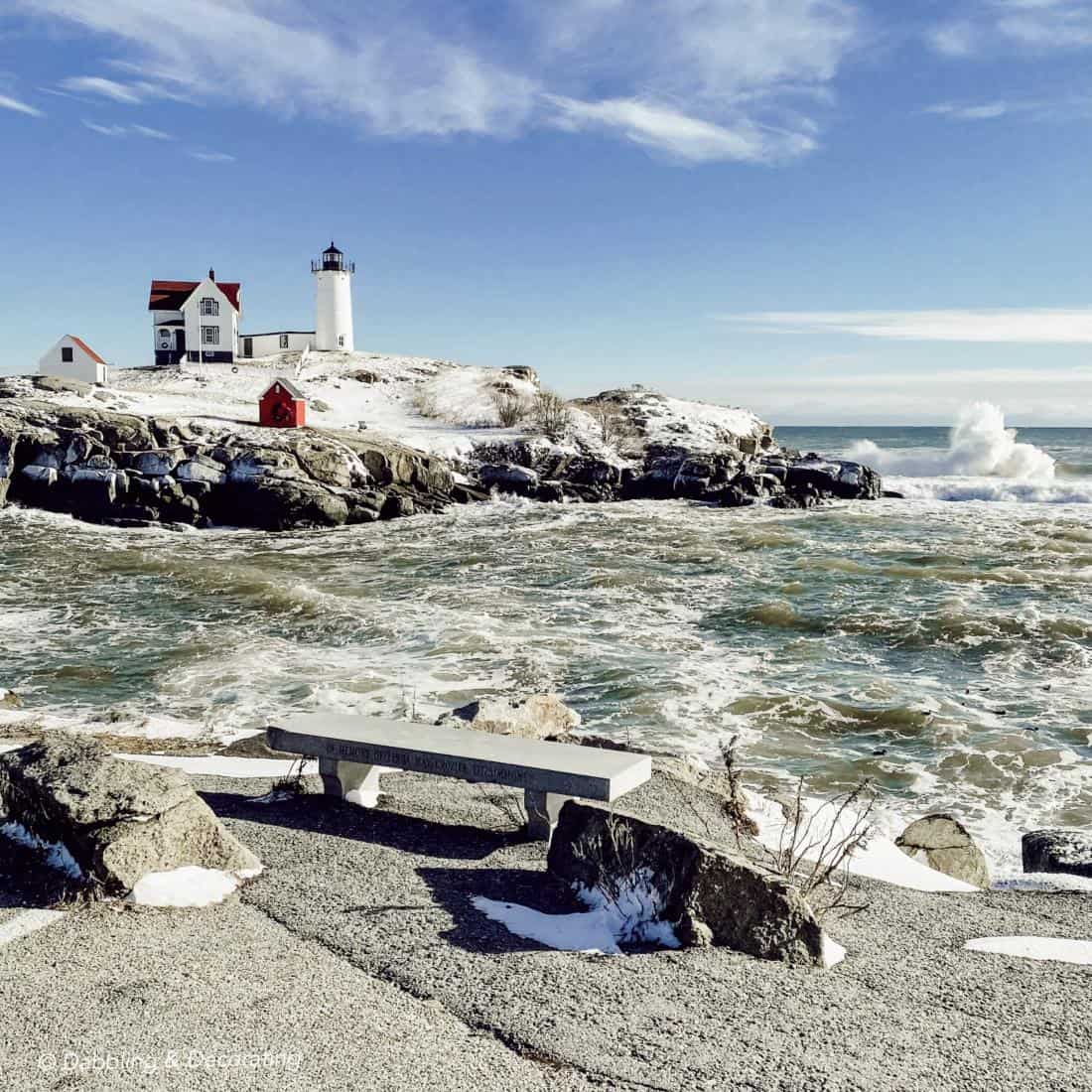 After a big storm, I love to grab a cup of coffee and head out to visit the Nubble Light House, which is about 2 miles from our cottage. The rocky coast guarantees rough seas and a beautiful site. I grew up not too far from this lighthouse, and when I was a little girl the lighthouse keeper's wife worked for my family at Coupe's Gift Shop here at the Nubble, and she would also cut my hair. I have been fortunate enough to visit the lighthouse itself several times over my years here.
You may learn more about growing up in Maine in the post, Coastal Maine Heritage – Embracing My Roots.
A "Nubble" is a piece of land that is an island at high tide and connected to the mainland at low tide. At high tide, you need a boat to cross and you can walk over the rocks at low tide. The lighthouse used to be a coast guard station before it was automated many years ago.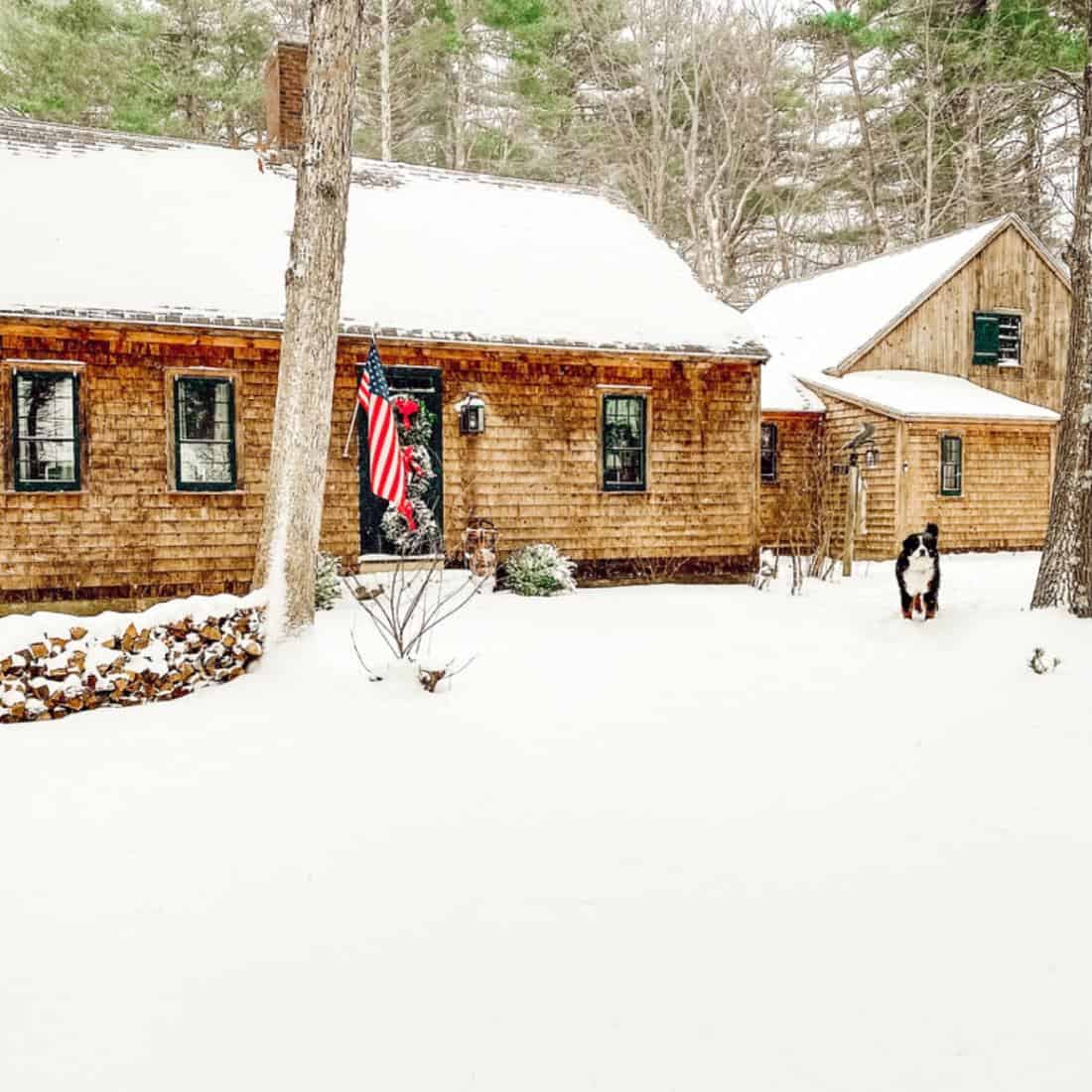 While I am enjoying my morning at the Nubble, my husband shovels out the pathways around the home. Unfortunately, our snowblower wouldn't start up this morning, as it probably hasn't been used in the last couple of years when my dad was still with us, however, the snow was very light and fluffy and simple to clear out.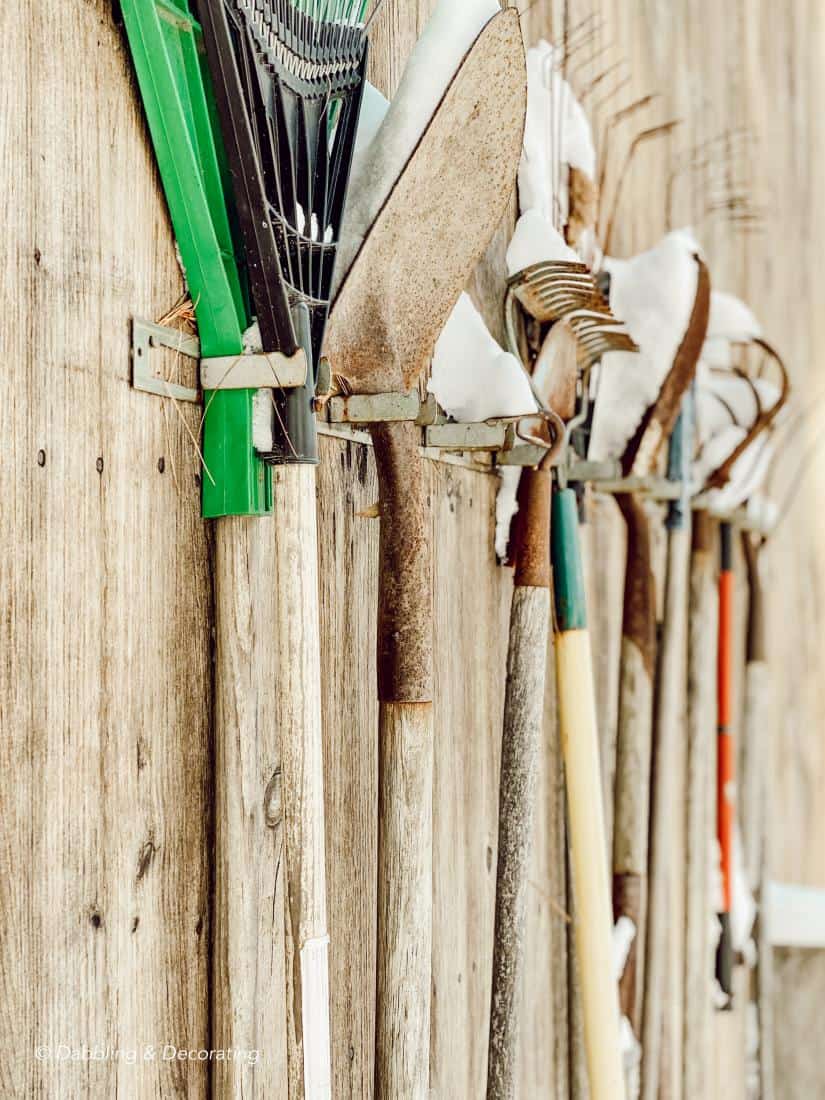 My father's old tools still reside on the side of the garage that faces our backyard. They are a constant reminder of my dad and all the "puttering" around he used to do here.
The red winterberries off the cottage sunroom have always been a favorite of my parents. Now we fully enjoy their beauty, as we decorate the home for the holidays and gift a bouquet to my parents at the cemetery, tied with a red bow found in my mother's sewing kit.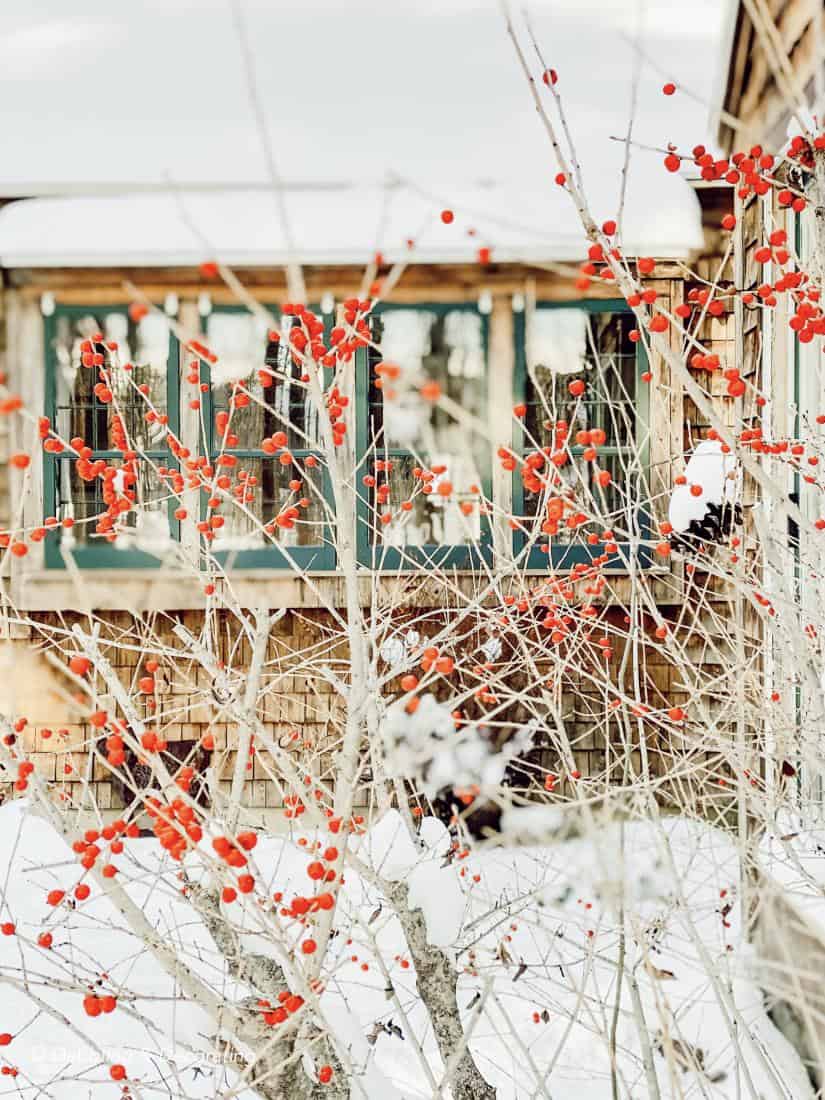 Spending summers here, we built this DIY stone fire pit to enjoy. I think it's time though we try and turn it into a winter fire pit if the temperatures will allow. I would love to bundle up, light a fire, and sit here all day long with some hot chocolate or toddy.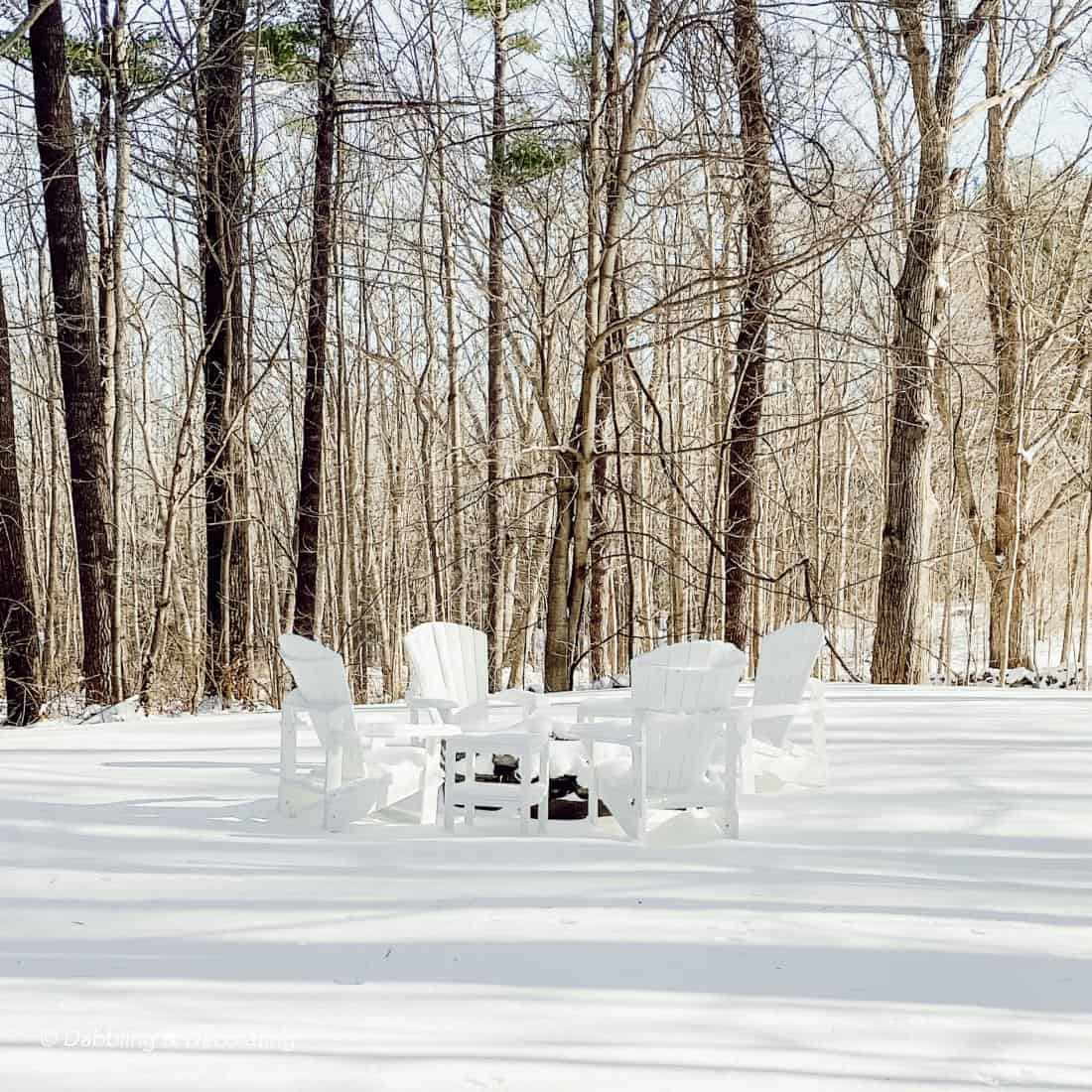 Here I've decorated the front door of our New England cottage with three Christmas wreaths. A family tradition I started last year. See the old photo that inspired this tradition from 30 years ago here.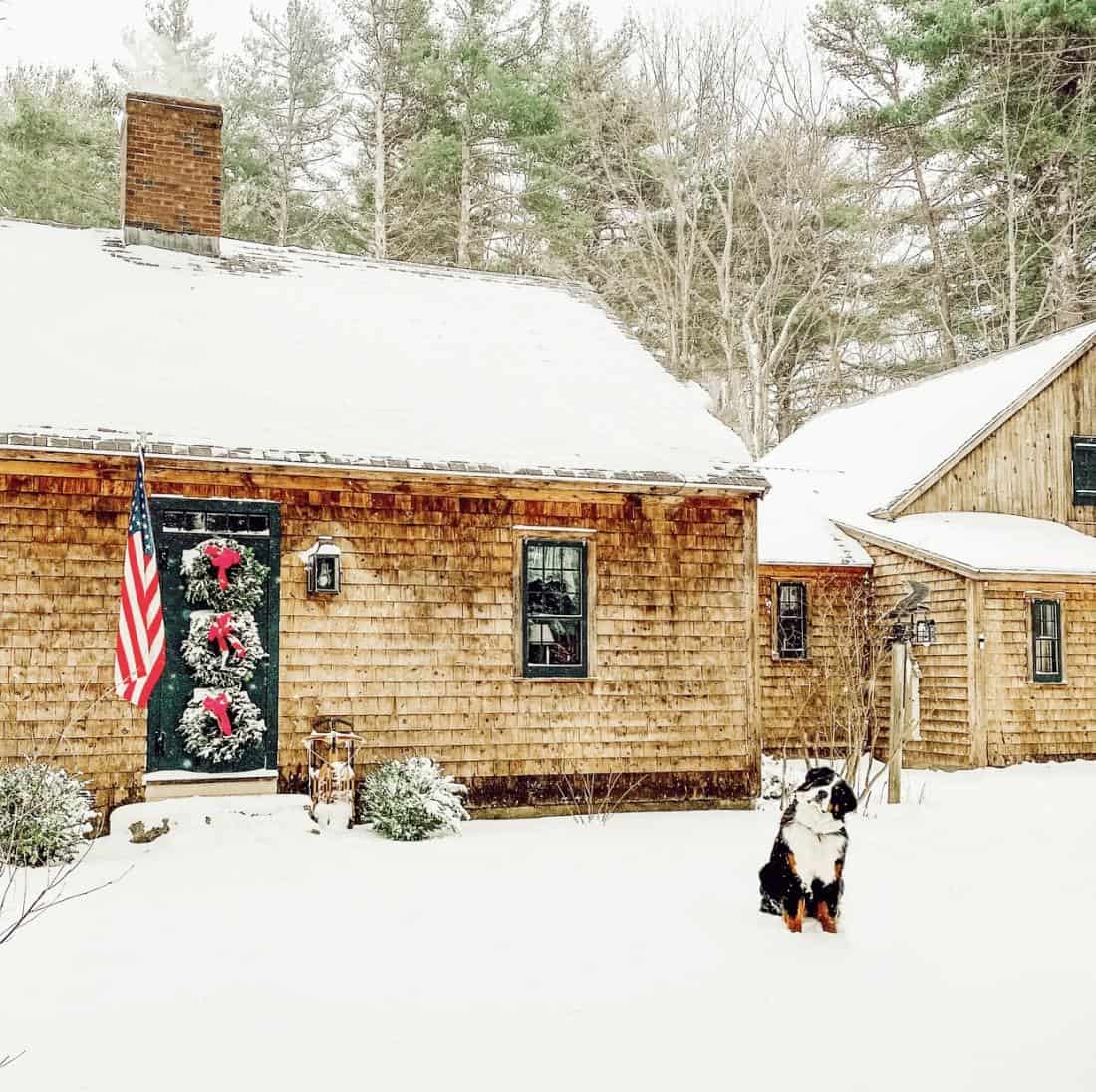 You may also enjoy the post, Cozy Snow Day at Home in Maine.
Old fence posts in the backyard surround a collection of my father's handmade birdhouses, benches, and a fisherman's glass water bobber.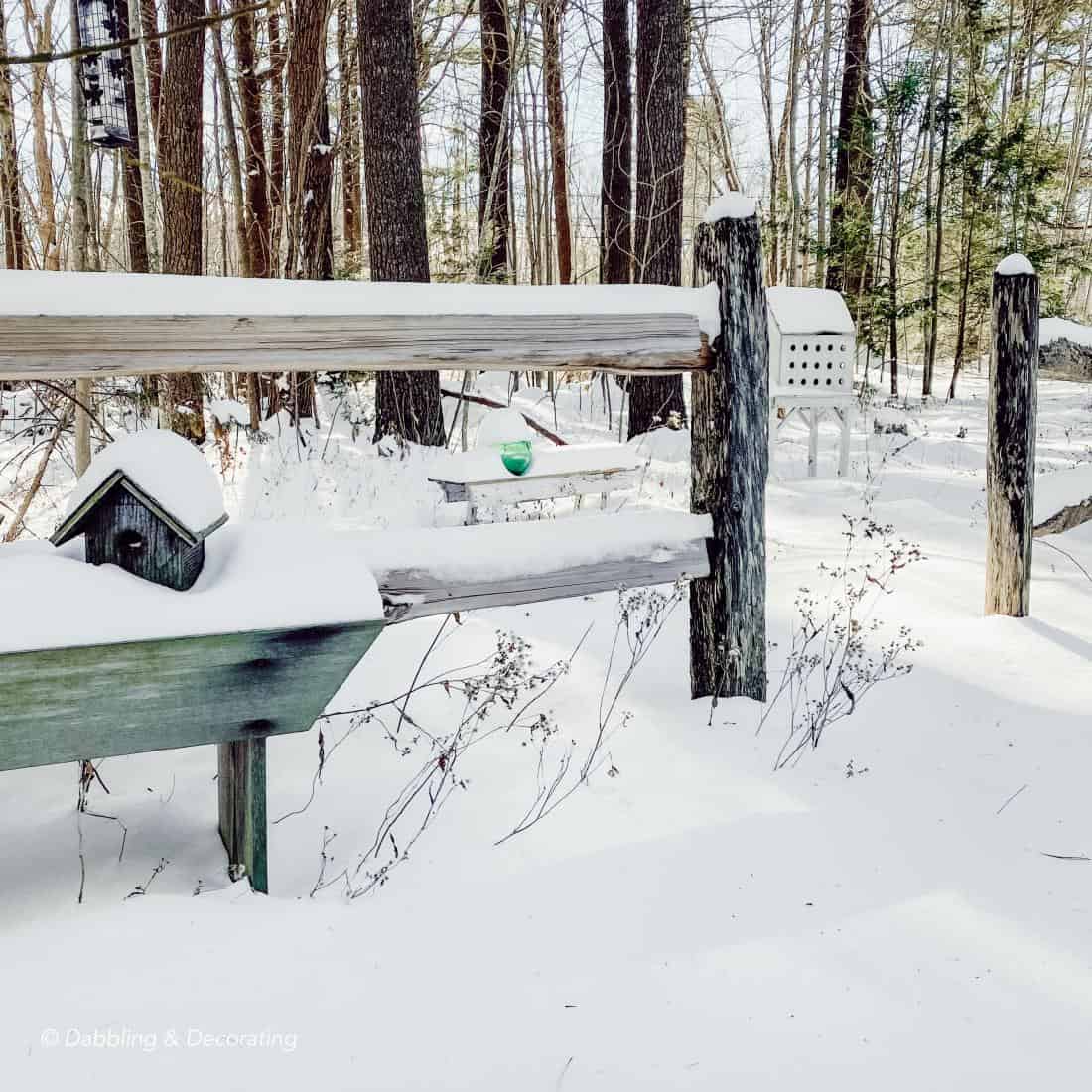 Now let's take another quick visit back to the Nubble, to experience the beauty of Maine's rocky coast.
If you ever get to New England, planning a stop at the most photographed lighthouse ever is a must, and a place I am proud to call my hometown, where my mother and I were both born and raised.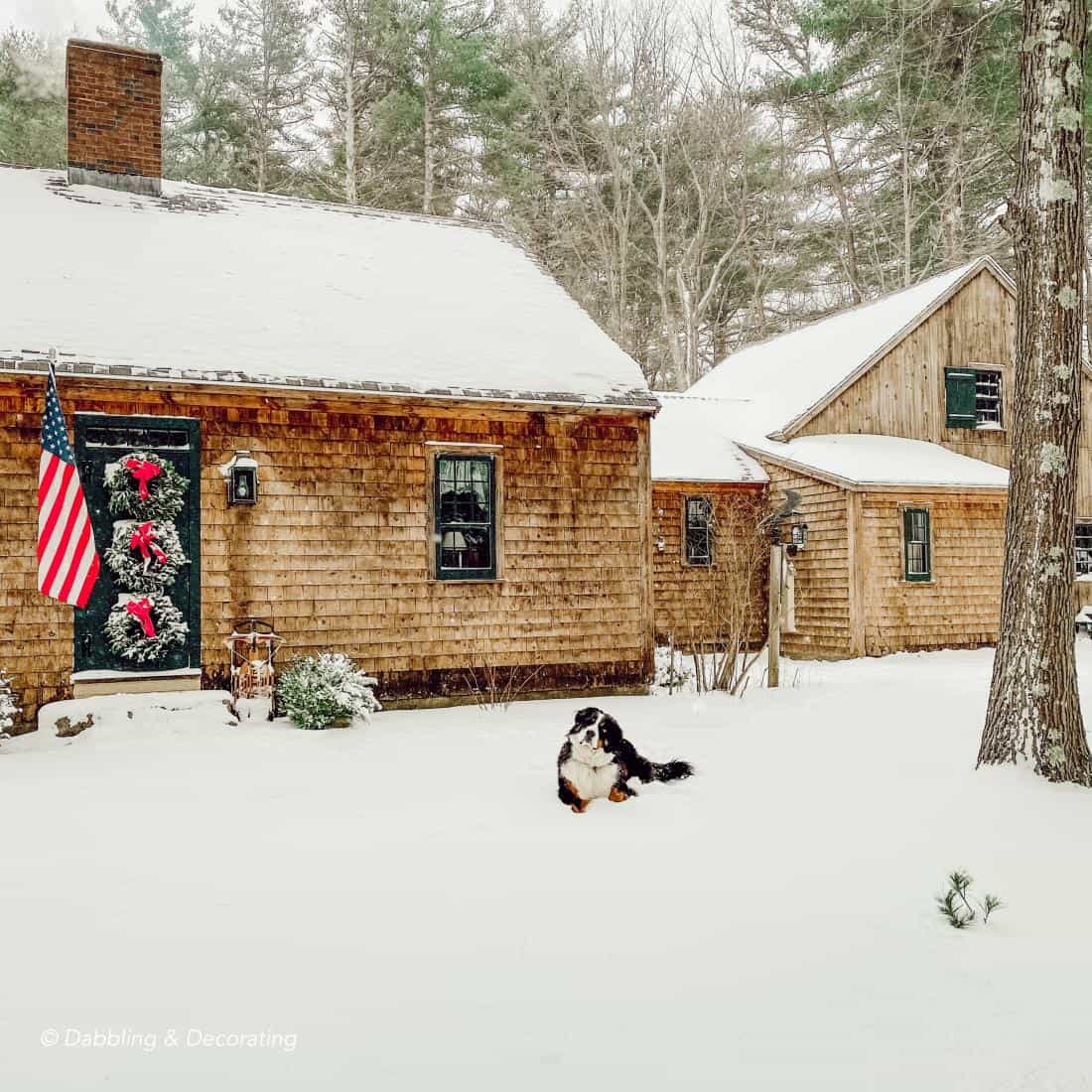 A classic pinecone wreath on the garage door was a favorite of my mother's.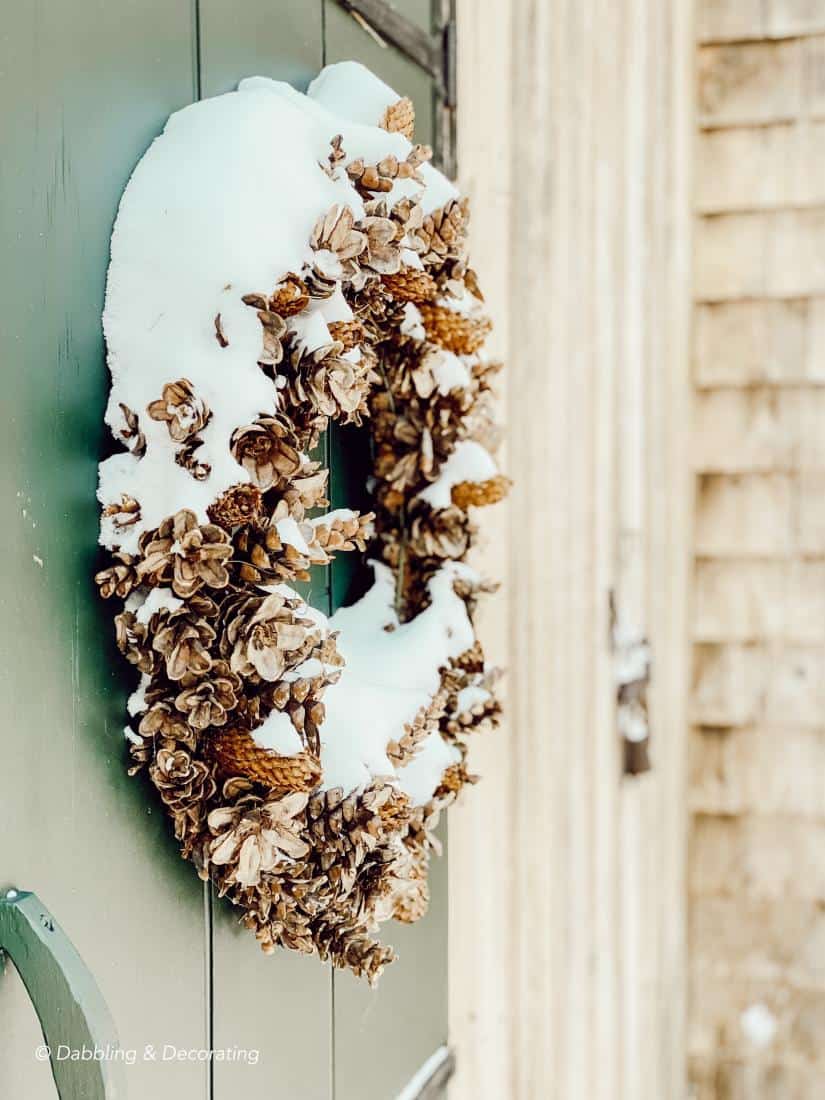 See more on our three-wreath Christmas front door tradition in the post, A Front Door Christmas Wreath Tradition.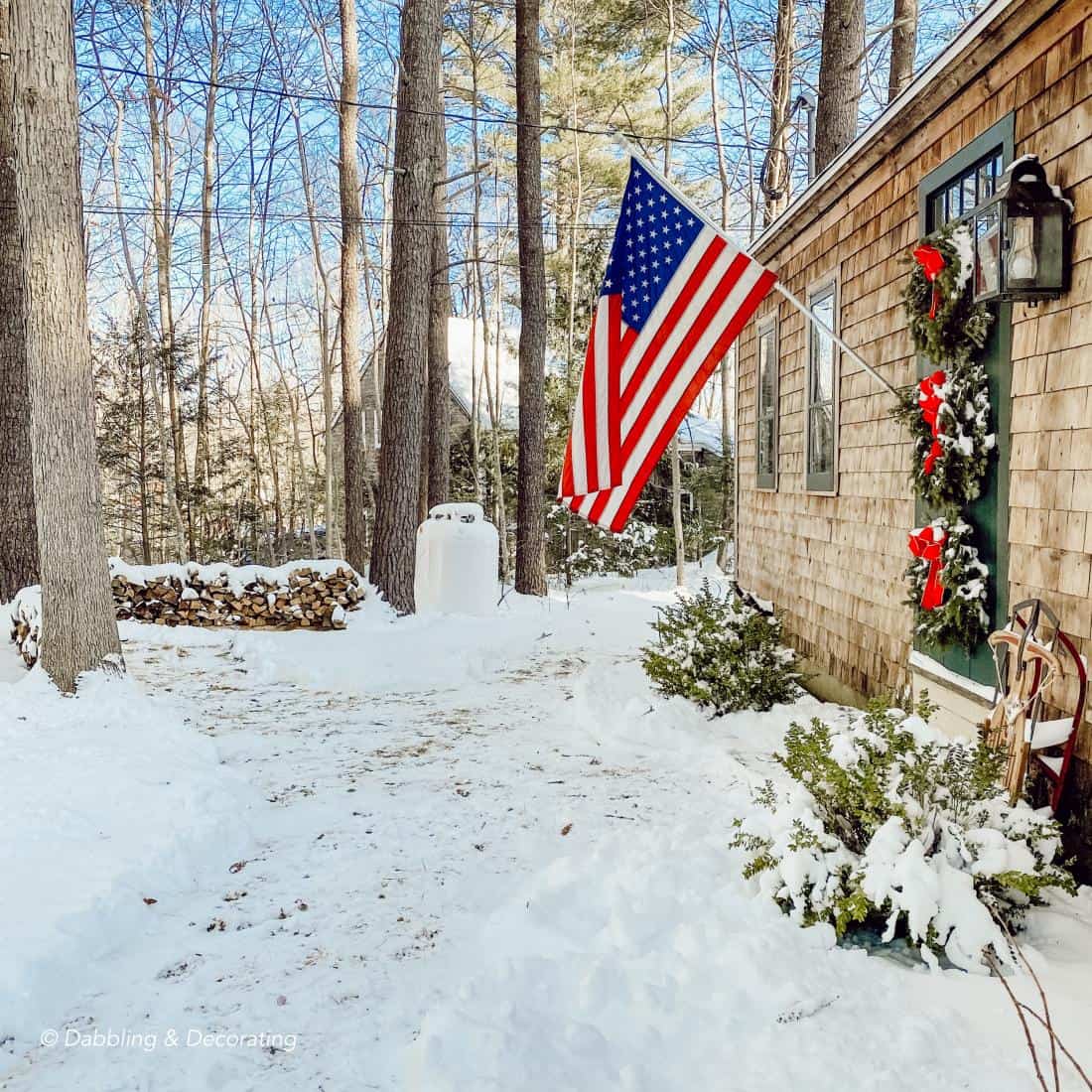 I'm so glad you dropped by, and if you are new to my blog, welcome! I hope you enjoyed your visit with us here today at our Home in Coastal Maine.
Be sure to also check out our Home in Vermont too, where we spend winters enjoying the coziness of home in the Green Mountains of Vermont.
Are you looking for more thrifty and vintage home decorating ideas? Start getting your weekly vintage decorating ideas today! Joining over 3,000 subscribers…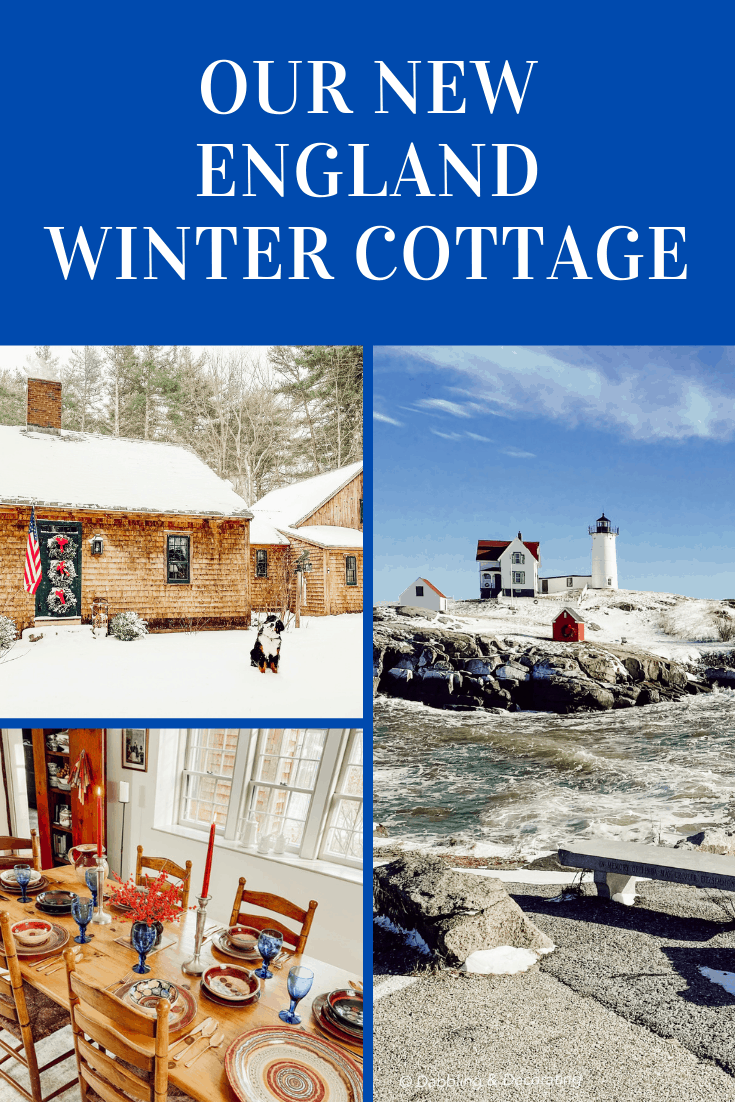 I've created the above custom pin just for this post!  Hearing from you makes my day and your comments mean so much to me! Please join me over on Instagram & Pinterest to see more!
YOU MAY ALSO LIKE