Rain or shine, Snug Harbor Farm in Kennebunk, Maine offers up all your go green gardening needs. Snug Harbor Farm was established in 1991 as a unique nursery specializing in hard-to-find plants. "The foundation of the farm's designs spring from the classic tradition of the English garden reimagined as the New England Farm Garden. Today, there is a team of gardeners, designers, and enthusiasts who work to take care of some of the loveliest properties in Southern Maine while nurturing the 19th Century farm that is home to Snug Harbor into the 21st century. The current incarnation includes five greenhouses, a nursery, a lifestyle-driven boutique and offers services including landscape design, fine gardening, and event design." Source Snug Harbor.
Topiaries
Snug Harbor Farms is Maine's go-to place for all things topiaries too. A full greenhouse dedicated to just topiaries sits on the back of the property off to the left. The staff is extremely knowledgeable and plant care guides are included with each purchase.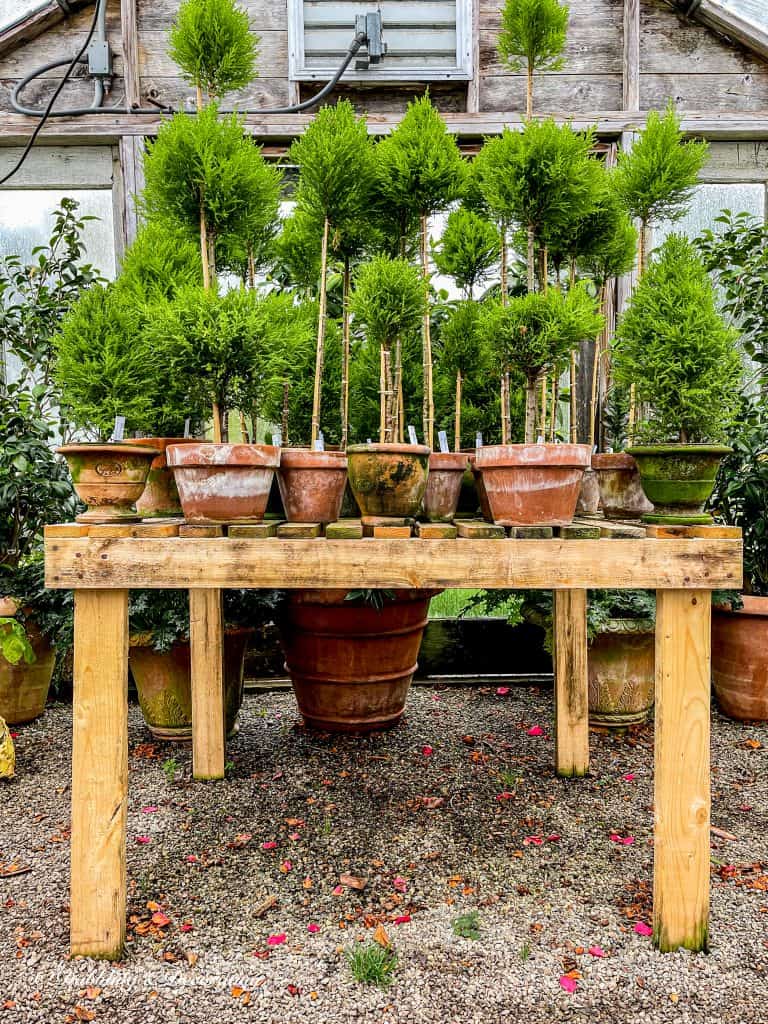 What are topiaries? Topiary is the horticultural practice of training perennial plants by clipping the foliage and twigs of trees, shrubs, and subshrubs to develop and maintain clearly defined shapes, whether geometric or fanciful. Source, Wikipedia.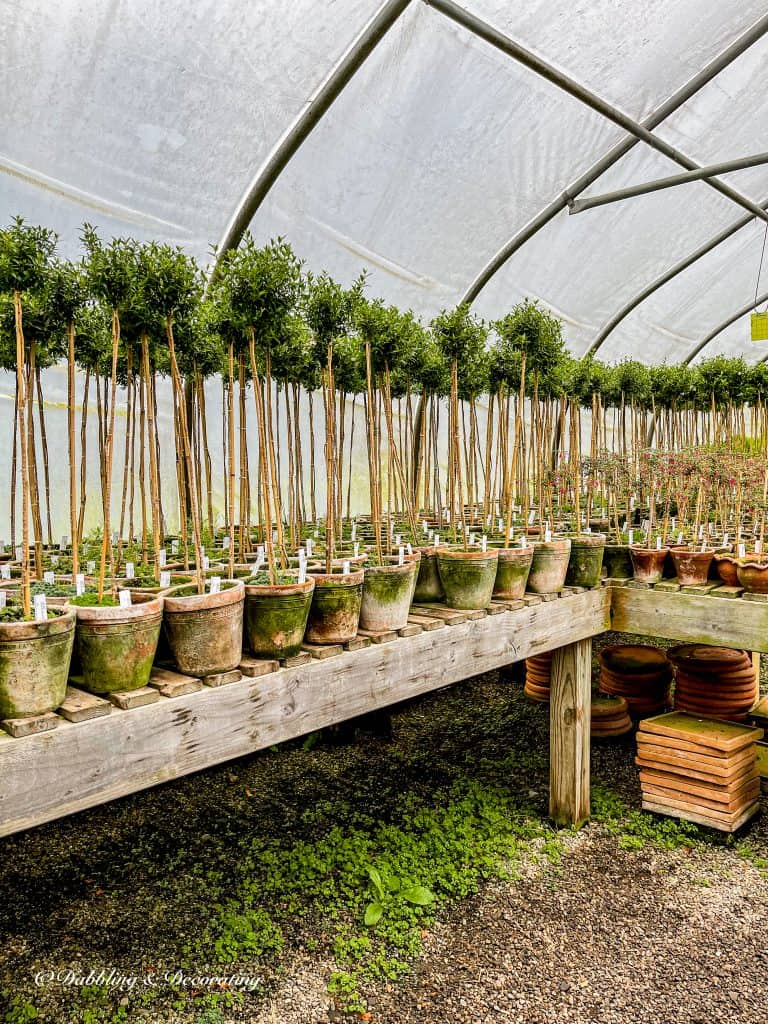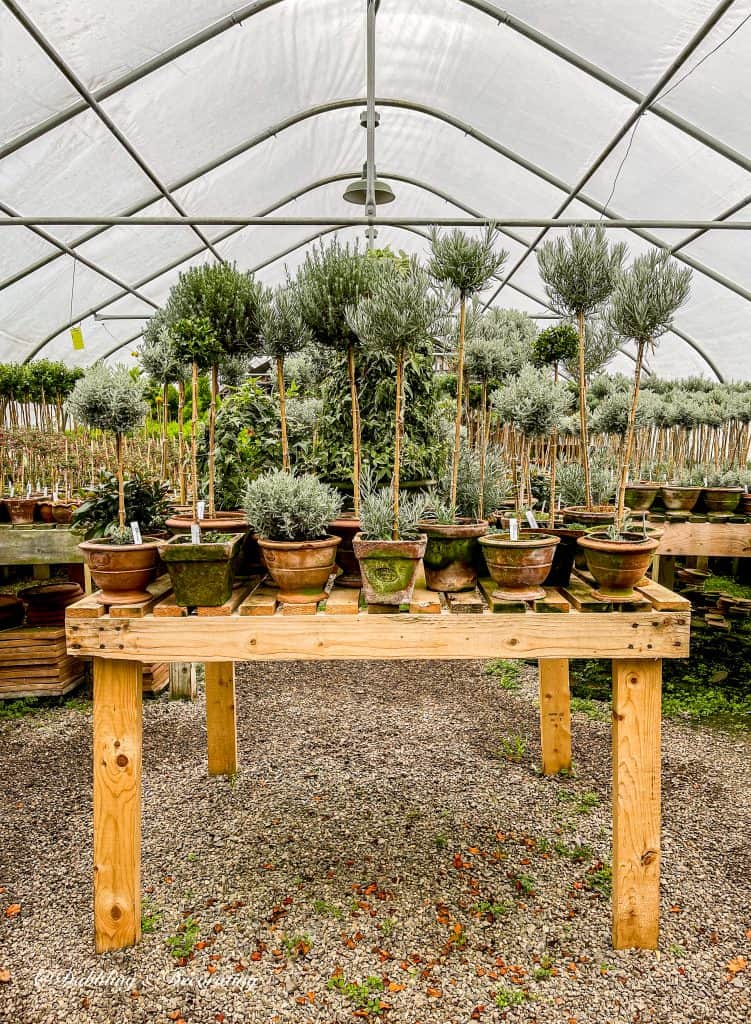 I chose this rainy spring day in early May to visit. It was a perfect day to drive up the coast and spend the day shopping throughout Kennebunk. Topped off with one of Maine's finest lobster rolls!
Snug Harbor also has an online shop if you don't get the chance to visit this charming farm in coastal Maine.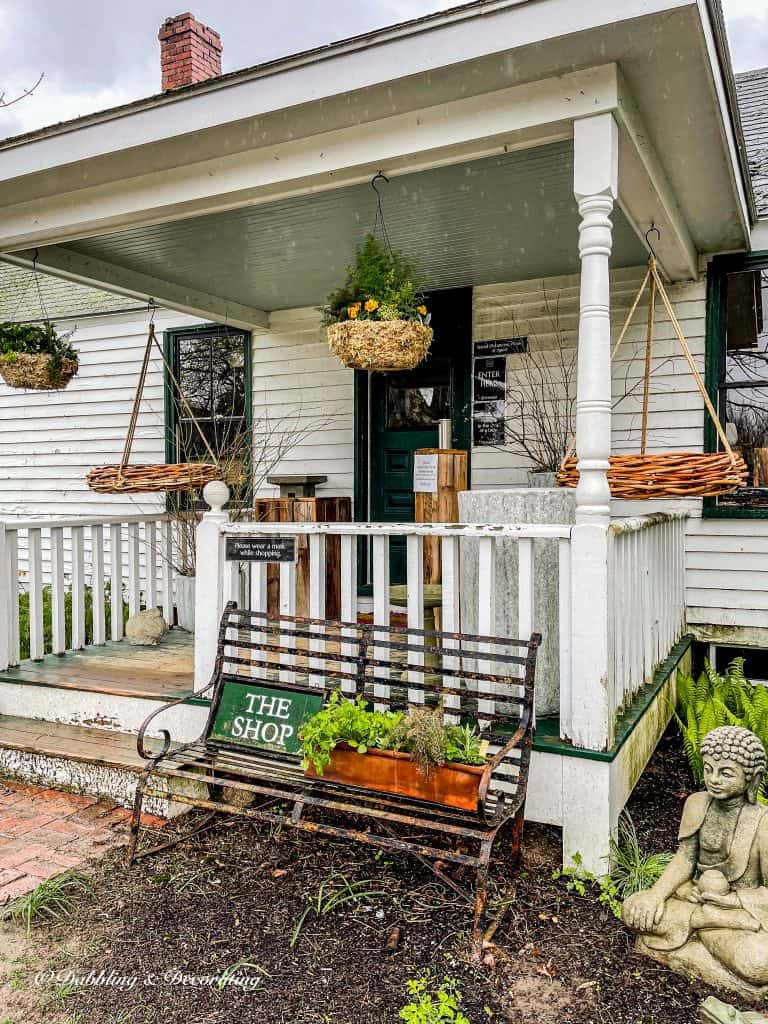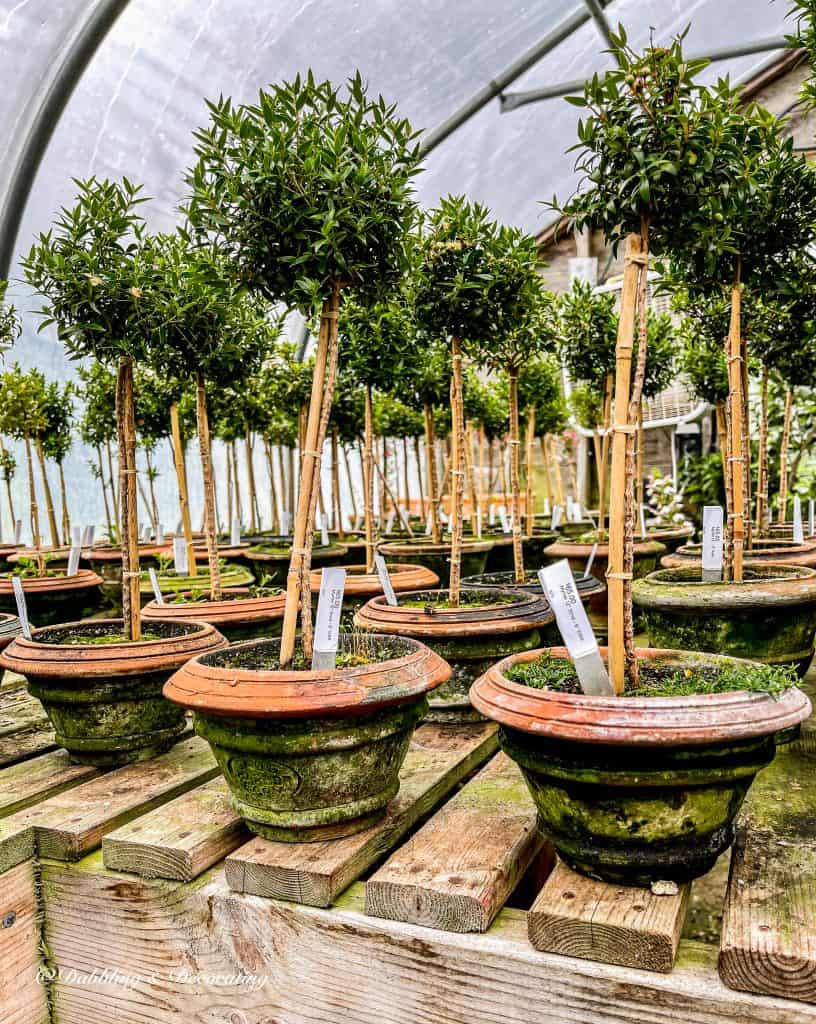 You will most notably enjoy all the exotic animals that populate this farm as well. Peacocks, ponies, chickens, ducks, and so much more.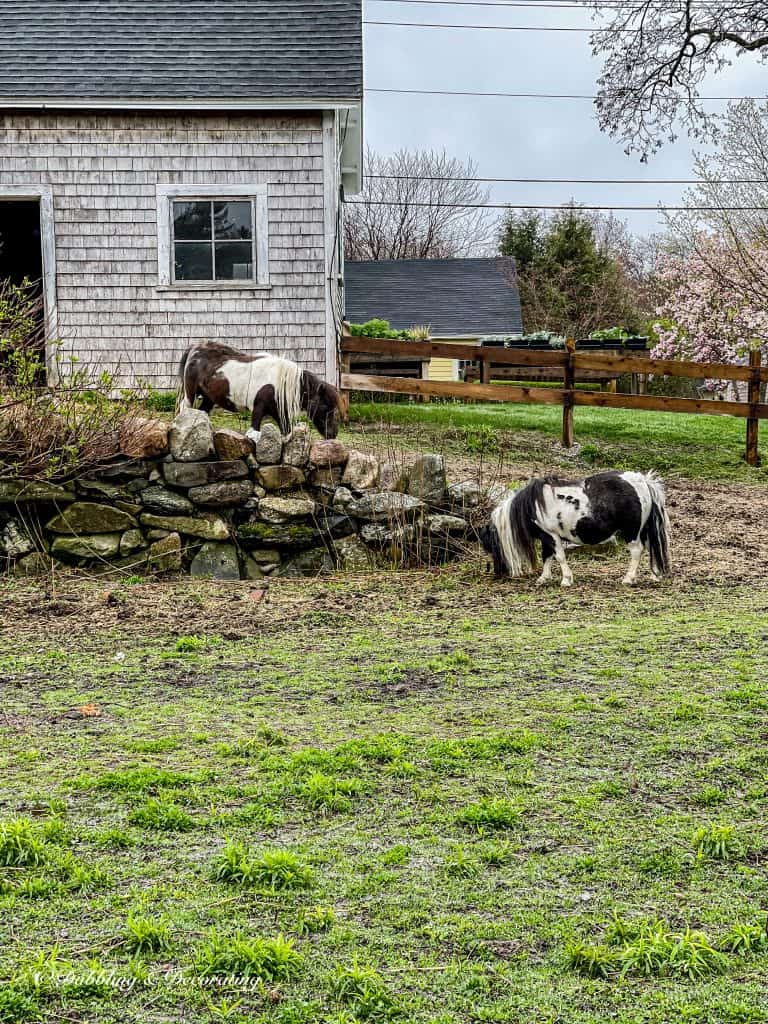 Do you Collect or Garden with Terracotta Pots?
Snug Harbor has its own line of terracotta pots that has me doing my happy dance. Weathered, covered in green moss, and paired with a beautiful go green topiary, succulent, or Lemon Cypress. Just wowza!
Just look at all that chippy, rustic goodness!
Check out how I decorated this spring with terracotta pots at our home in Maine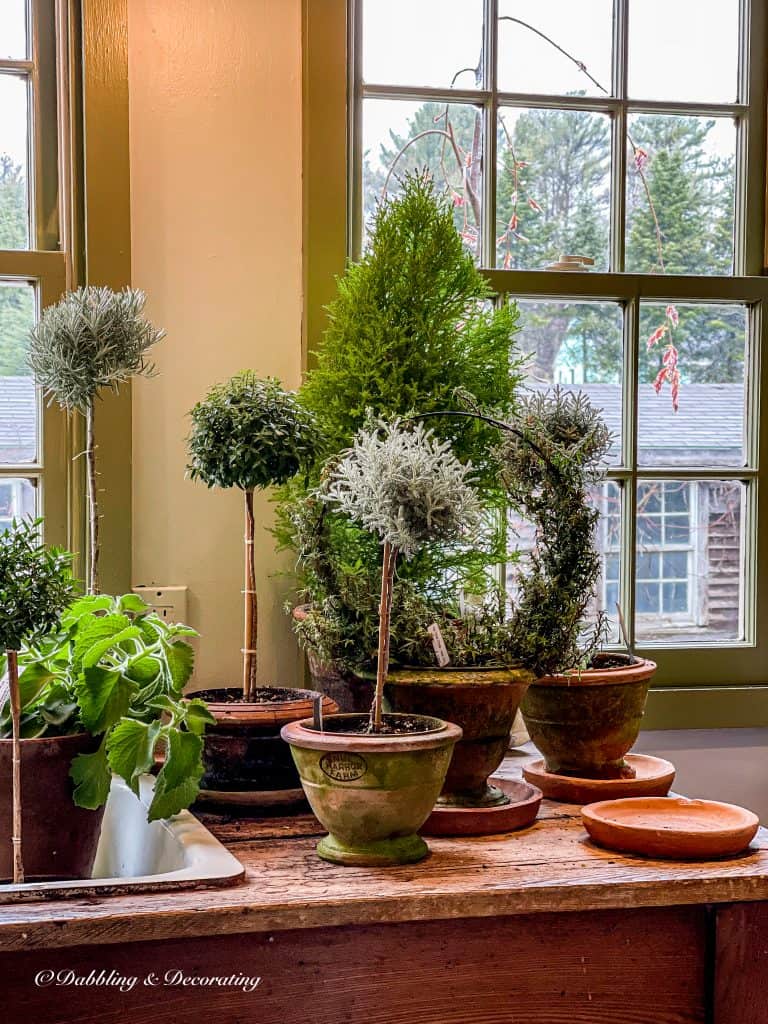 And terracotta pots on our faux vintage mantel in Vermont.
A garden cupboard with a collection of terracotta pots that my 99-year-old father made me!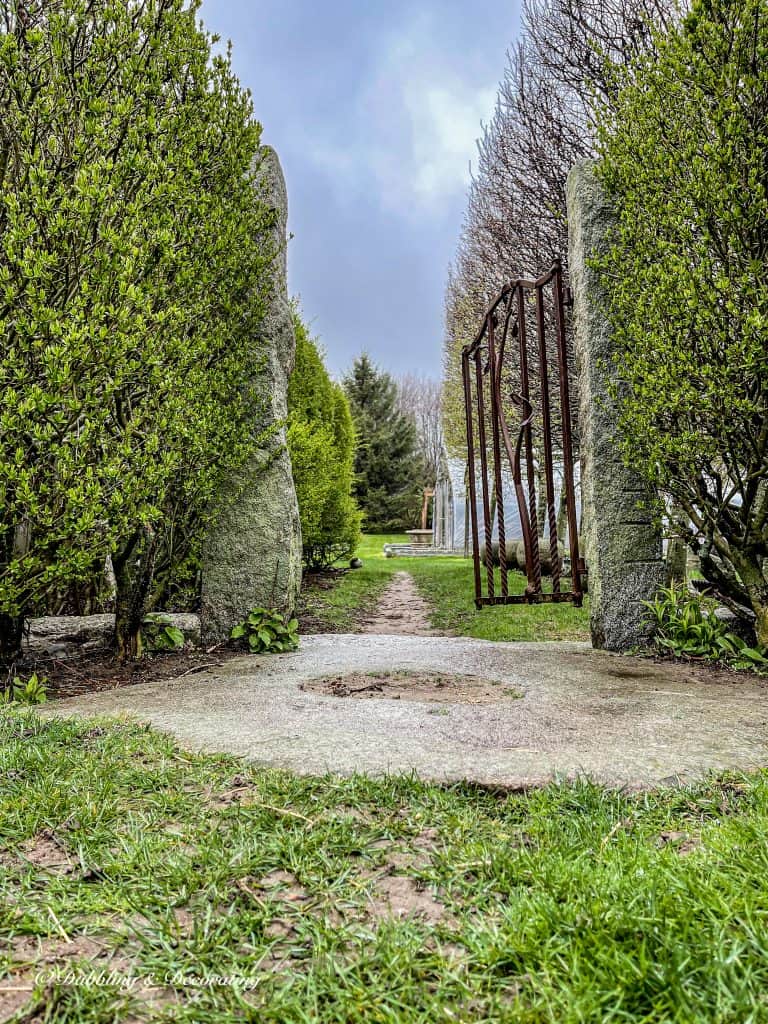 Fall at Snug Harbor Farm
As Labor Day has now passed us by, I took a drive up to Snug Harbor Farm again today to get inspired for the fall.
A couple of beautiful bouquets made their way home with me.
I'm so glad you dropped by today friend, and if you are new to my blog, welcome! I hope you enjoyed your visit to Snug Harbor in Kennebunk, Maine. In my estimation, a must-visit! I hope you will join me as a regular here at Dabbling & Decorating. Sign up for my newsletter below and never miss an update!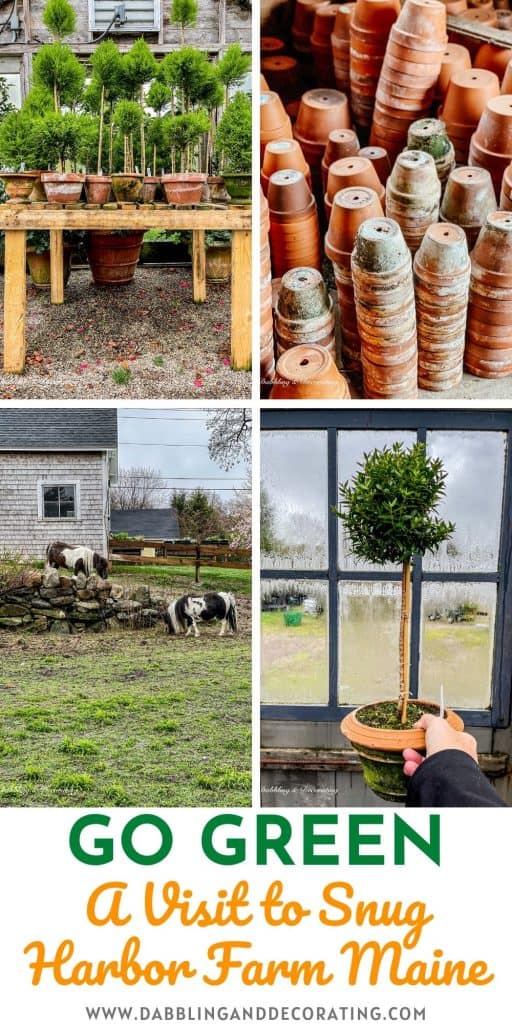 I've created the above custom pin just for this post! Sharing is Caring! I would love to hear from you too~ Your comments mean so much to me and truly make my day… Please join me over on Instagram & Pinterest to see more!