Let's Move to Coastal Maine 1920'ish
One day back in the early 1920s, my grandmother and grandfather, Frank and Anne (Clark) Coupe moved from Massachusetts to the Nubble in search of a coastal Maine lifestyle, at a time when things were very different. As you see, in the early 1920s people in New England were fleeing to cities like Boston to work and live. Moving to Maine was not a popular idea and the prices were nothing like they are today! Family and friends thought my grandparents were crazy to want to move to Maine. However, they packed up everything they owned and headed north to build a home and life on the Nubble in York, Maine. Today I am embracing my roots and sharing this coastal Maine heritage and love story with you.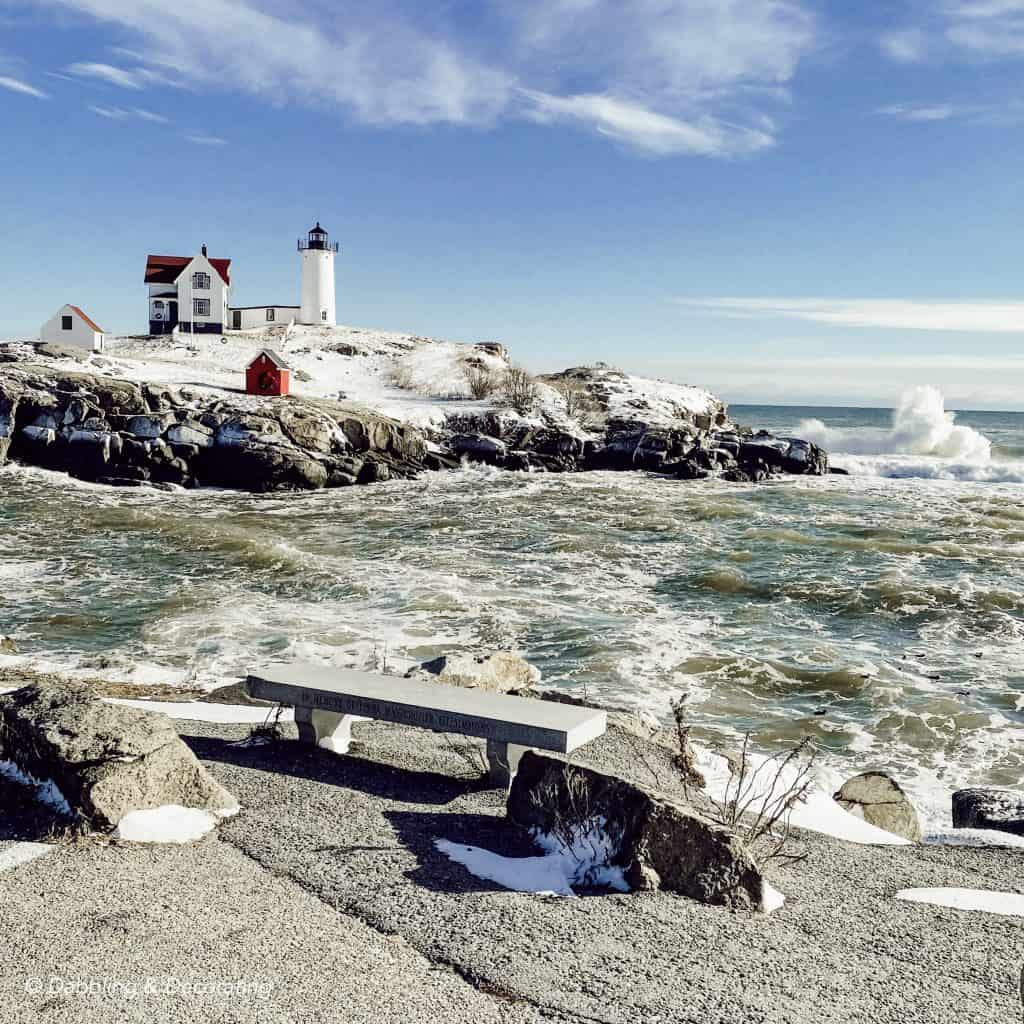 The Nubble is a piece of land that is attached to the mainland at low tide and becomes an island at high tide. The famous and most photographed Nubble Lighthouse (Cape Neddick Light Station) sits on the Nubble in York, Maine. It was a manned coast guard station until it was automated in 1987.
It is here on Nubble road, where my grandfather built his first home along with four seaside cottages overlooking the rocky coast of Maine. The cottages were rented out summer after summer to the same visitors every year. He named it "The Sea Turn".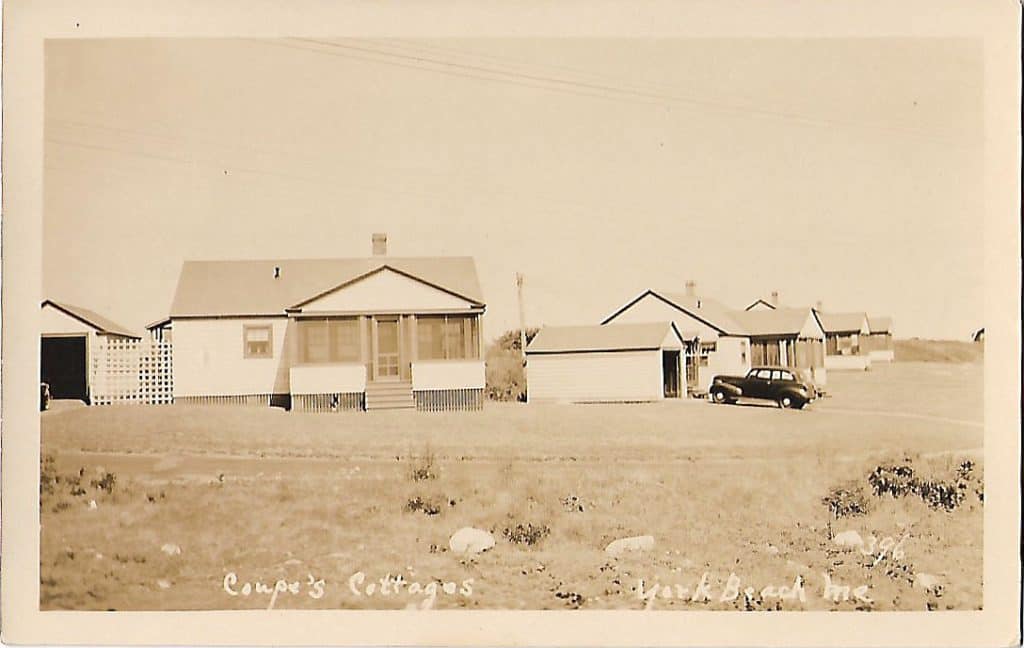 Here I am with my grandfather, Frank Coupe at his Sea Turn home on Nubble road in 1969. All photos are family-owned photos that my mother collected and saved over the years.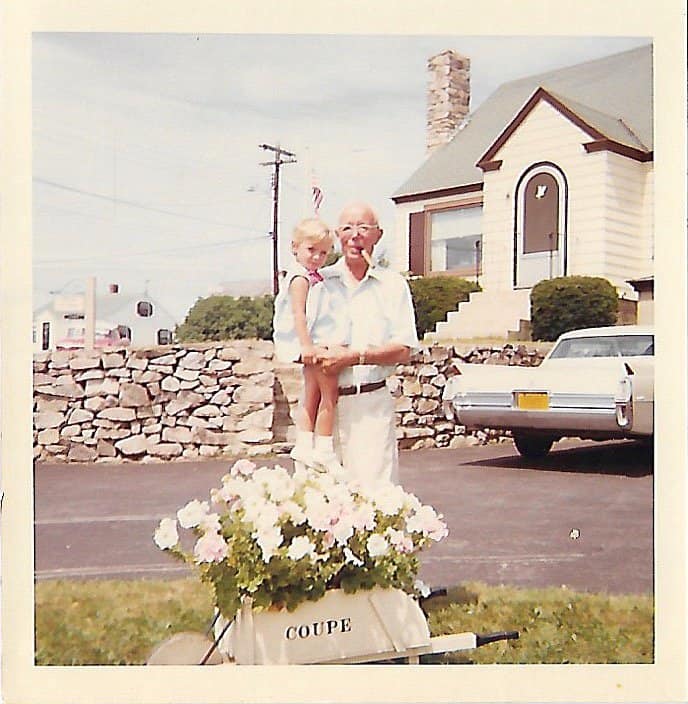 The York Weekly published an article over a decade back with aerial views documenting the development of the Nubble by my grandfather, Frank Coupe. In this photo, you can see there were barely any other homes in this area at that time.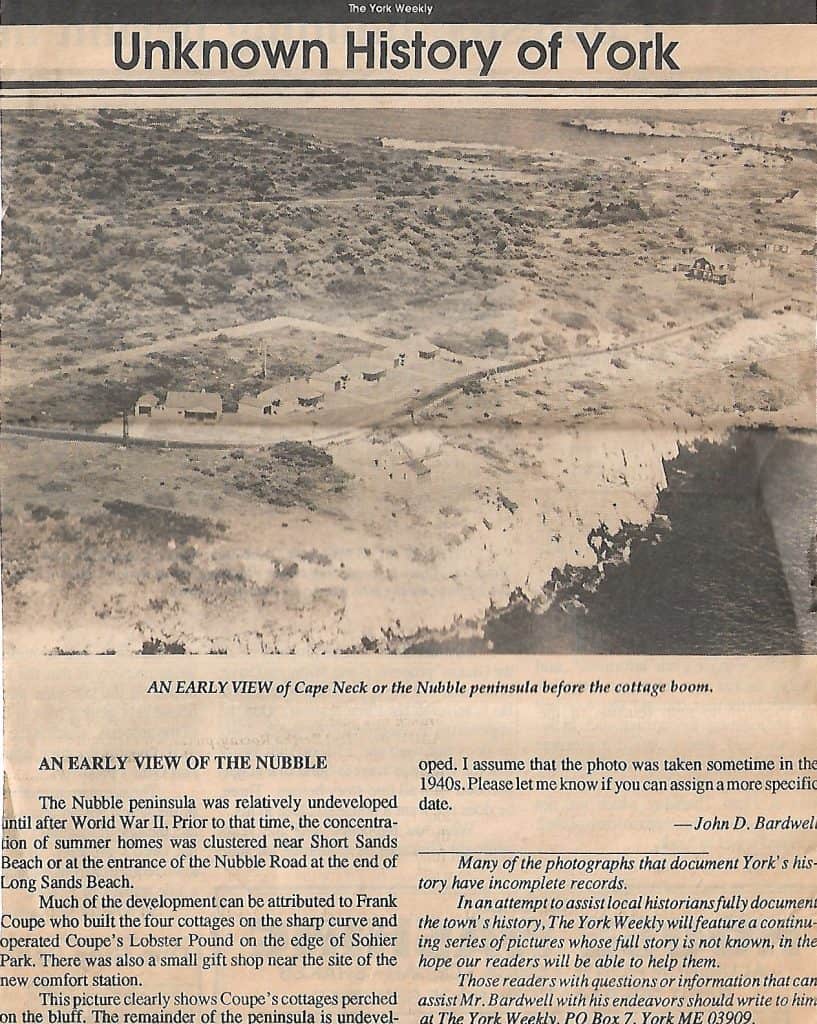 Coupe's Gift Shop
At the same time, my grandparents, Frank & Anne (Clark) Coupe opened up a Fried Clam Hut, which was then replaced with Coupe's Gift Shop out at Nubble Point, another coined term for the land.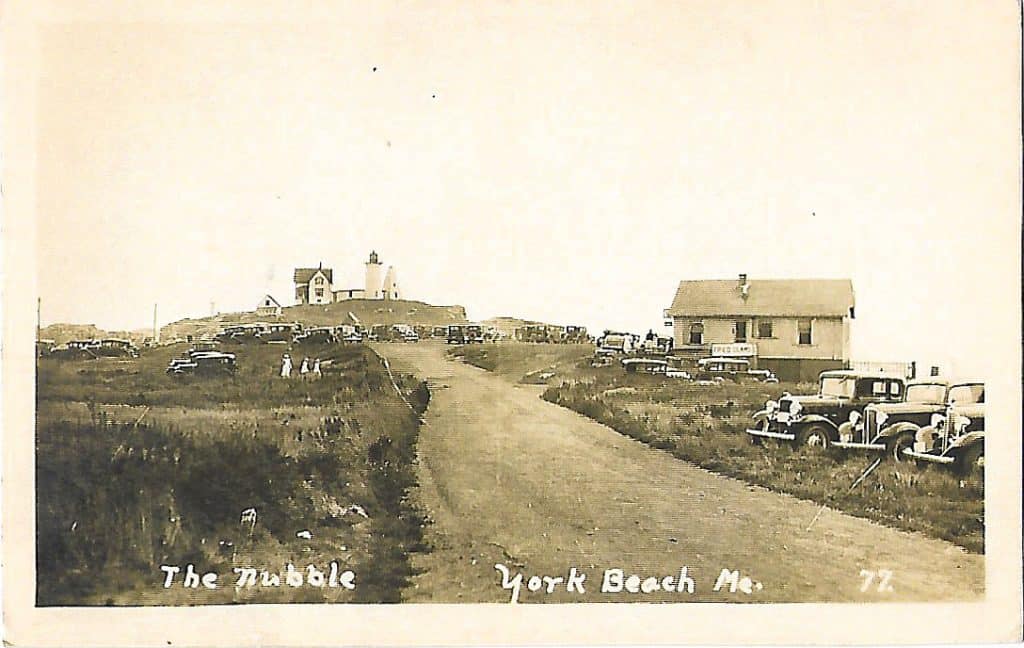 The gift shop sold mostly novelty items, postcards, toys, cards, pewter, and more.
Coupe's Lobster Pound (House)
My grandparents also opened up Coupe's Lobster Pound (House) right across the street. After a long day on the sea, the local lobstermen would pull directly up to Coupe's Lobster Pound in their boats with the catch of the day. The building remains there today and runs as Fox's Lobster House.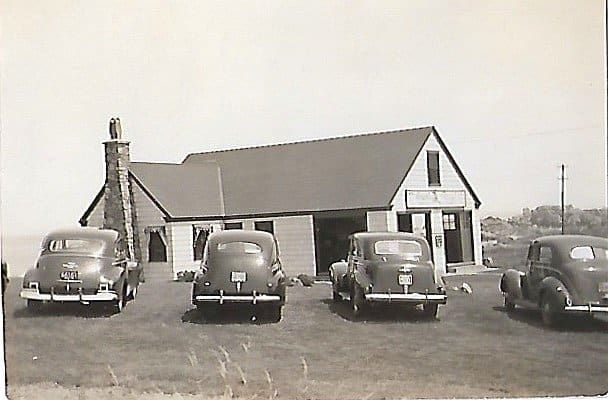 This is a menu from Coupe's Lobster Pound that a York High School friend, Missy Ackerman sent to me after the passing of her own mother, Edith Ackerman a few years back. Mrs. Ackerman went to York Schools with my mother in the '30s, working and living upstairs at Coupe's Lobster Pound. Missy Ackerman found this menu amongst her mother's things and was so kind to send it to me. Mom instantly remembered typing up all the menus back in the day. And how about those prices?
My Mother was born in 1924
My mother Shirley Anne Coupe was born in 1924 and spent her life growing up on the Nubble. Attending York High School and then Brewster Academy and Oak Grove Schools. In this picture, around the time of 1926, my mother with her collie dog can be seen on the Nubble before the development of homes, as we all know it today.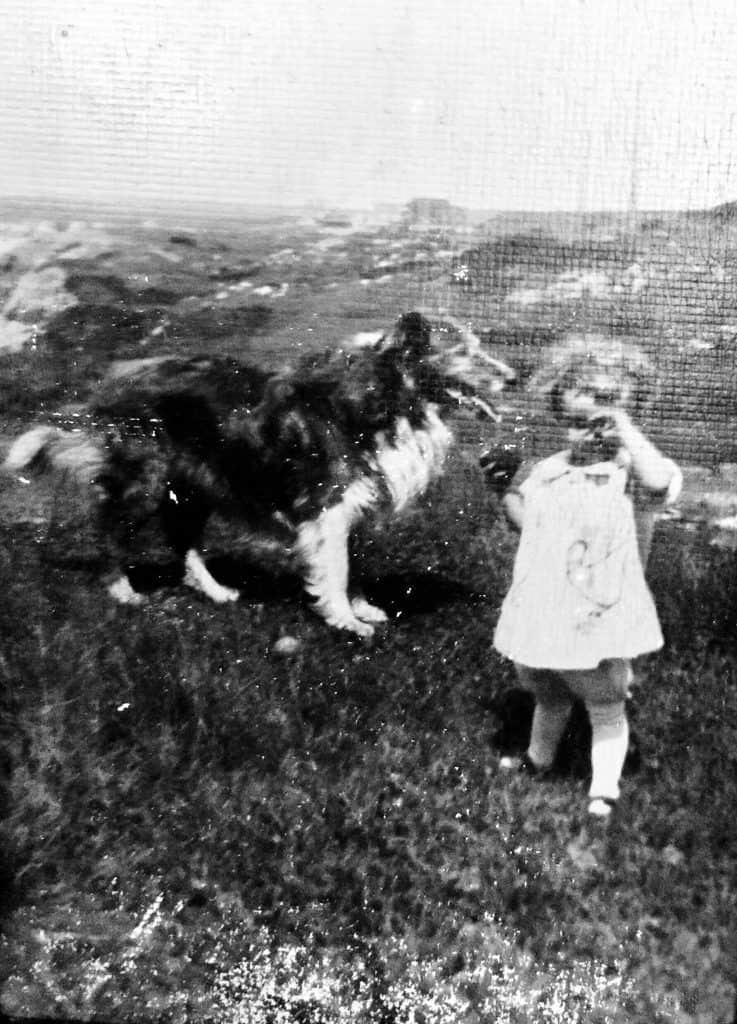 Mom always had a dog by her side and loved working summers for my grandparents out at the Nubble.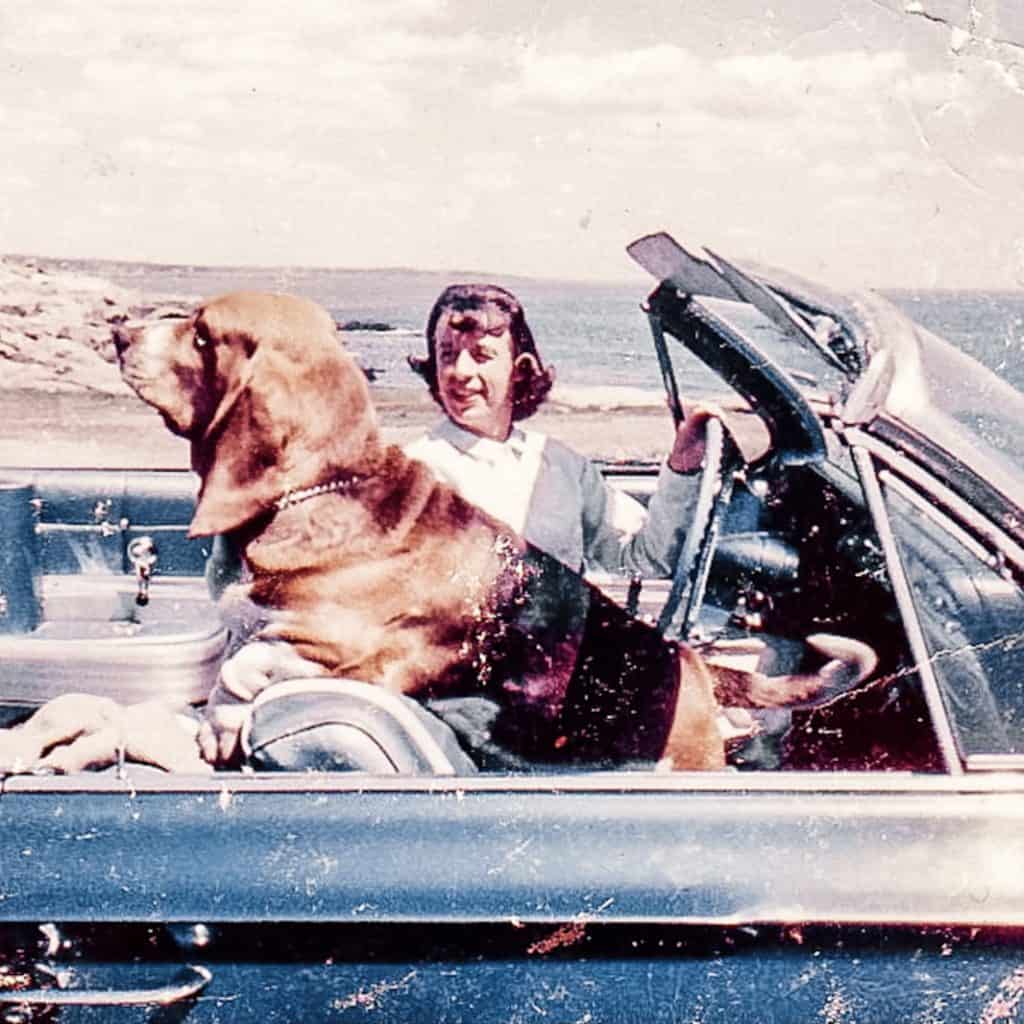 A Blind Date
My mother met my father, Kenneth Couser from Dover, NH at York Beach's ball field. The story goes, that my father saw my mother throw a softball and asked one of her friends to introduce them. It was then that a friend fixed them up on a blind date. Here they are photographed at Short Sands Beach, York, Maine in about 1948.
This is my favorite photo of my parents, which was mailed to my mother, by a girlfriend of hers when she was about 90 years old. She had never seen this picture before.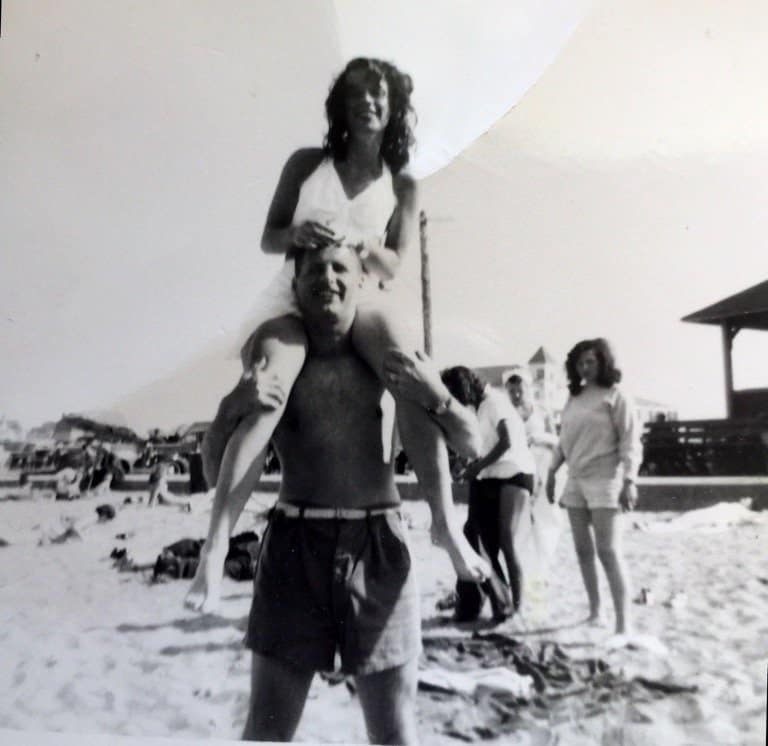 My parents were married in 1948 at the Star of the Sea Church in York Beach, followed up with a reception at Coupe's Lobster Pound. I was later married at the same church in 1998.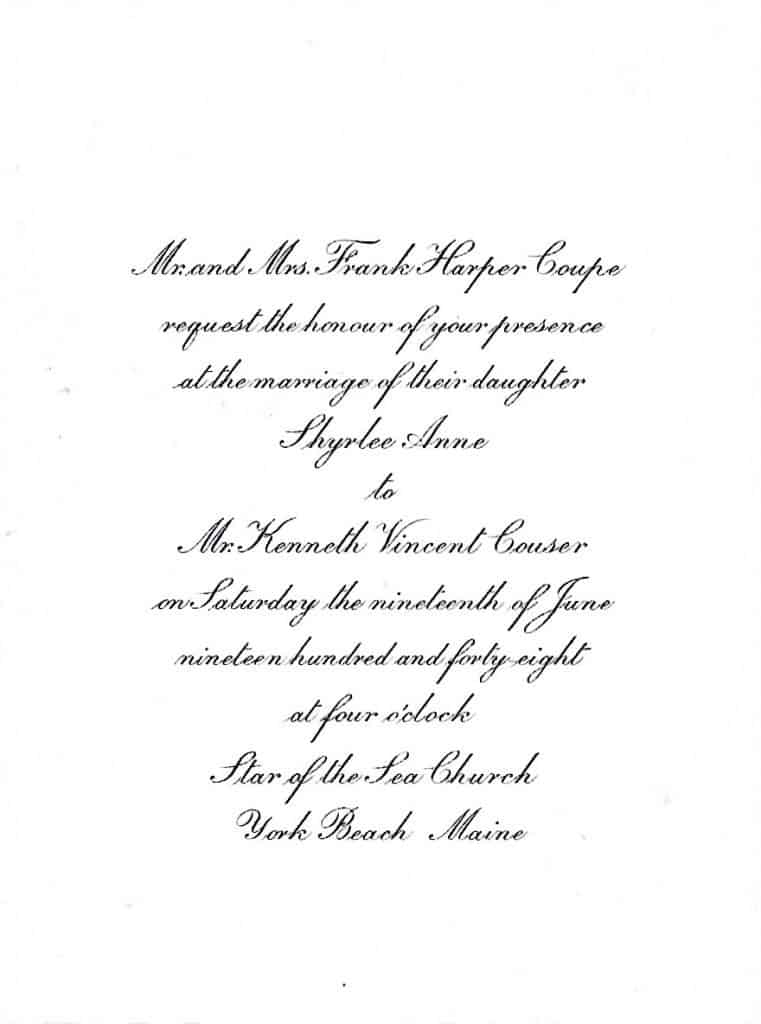 After living in Dover, NH for a short time, my grandfather, who was a builder, offered to build my parents a home adjacent to his own on the Nubble. A small two-bedroom cape with cedar shakes, blue shutters, and a two-car garage overlooking the Atlantic ocean.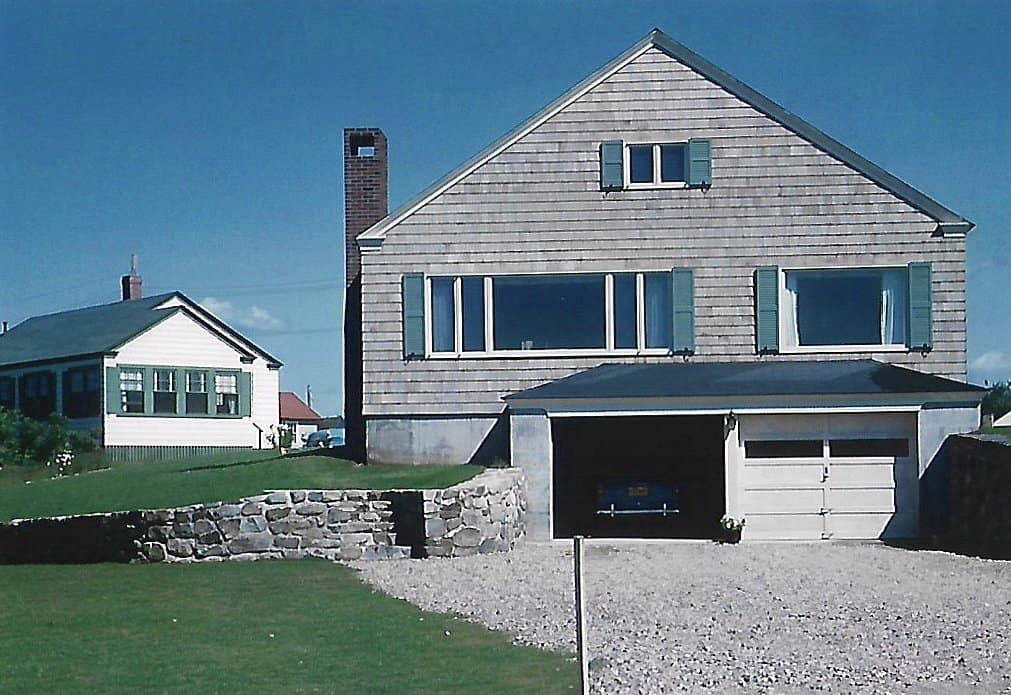 A House Fire
One morning in the 1950s sometime, my father went to work and the house caught on fire! The sun beaming off the ocean heated up the living room curtains just enough to start the fire. My mother, in bed and sleeping at the time managed to get out safely. Unfortunately, everything in the house was lost. Taking it all in stride, my grandfather rebuilt the same home. But this time, without the large living room picture windows.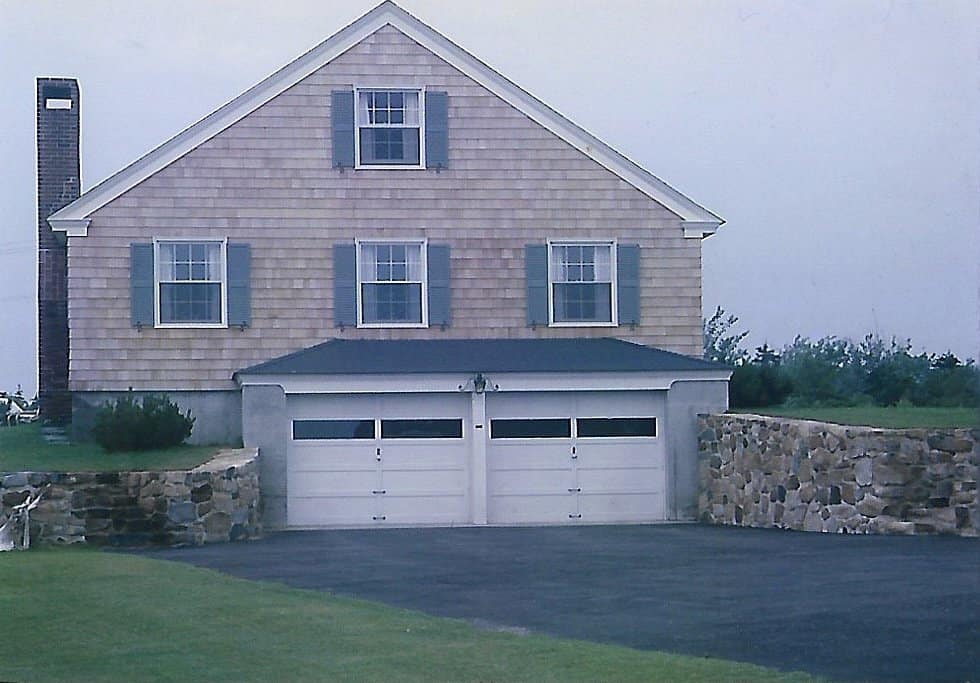 A Gift Shop Fire
My grandfather eventually sold Coupe's Lobster Pound, to the Fox family and it remains Fox's, Lobster House to this day.  My parents would go on to manage the seasonal Coupe's Gift Shop for several years until it also burned down in the early 1980s by a local arsonist.  The arsonist went on to attempt to burn down another local establishment, The Nubble Light Dining Room the very next evening. It did not burn to the ground, and that is when the arsonist was caught, going back the third night in a row to finish the job.
The town of York, owning the land at that time would not renew the lease for my family to rebuild the gift shop.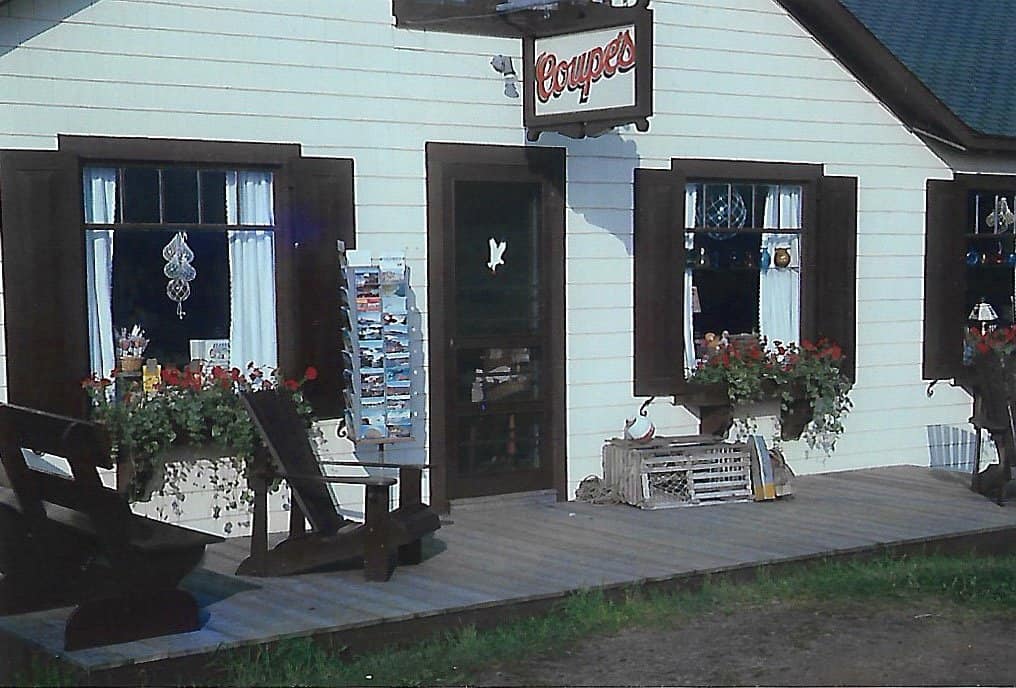 I have such fond memories of the gift shop with family gatherings, employee clambakes, sleepovers, collecting shells, climbing the rocks, and visiting the Boston Gift Shows with my dad.

A couple of years ago I found a gift wrap cutter that was used at the gift shop in the attic of my parent's home and repurposed it into a decorative display on our bookcase at our home in Vermont.
Fond Memories
Taking morning sunrise and evening sunset photographs that we would later sell as slides at the gift shop's counter by the dozens.
Collecting seashells, starfish, and sea urchins on the rocks.
I would make mobiles out of the collected seashells and hang them at the gift shop for the tourists to purchase. I'm not sure any of them ever really sold, as I think maybe my parents just made me believe they did:)
Join my father every summer morning to collect the trash at the Nubble. A town requirement for having a gift shop.
Meeting and greeting all the visiting buses as they stopped at the Nubble directing all their passengers into the gift shop.
Sleepovers in one of the four bedrooms upstairs in the gift shop. Listening to the night's foghorn, ocean waves, and rickety floors. Musty smells, rustic charms, and the lighthouse's flashing red light.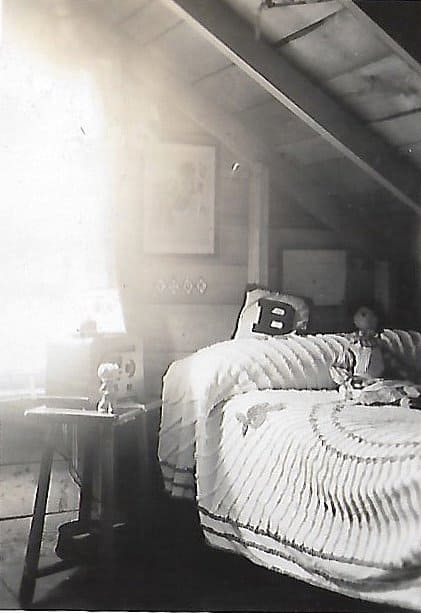 Grateful to be an Only Child
My mother, Shirley Coupe was an only child and so am I. Mom had been told early on that she would not be able to have children. One day though when they were visiting the World's Fair in 1964 in NYC, she realized she had not been feeling well and was extremely tired on the trip.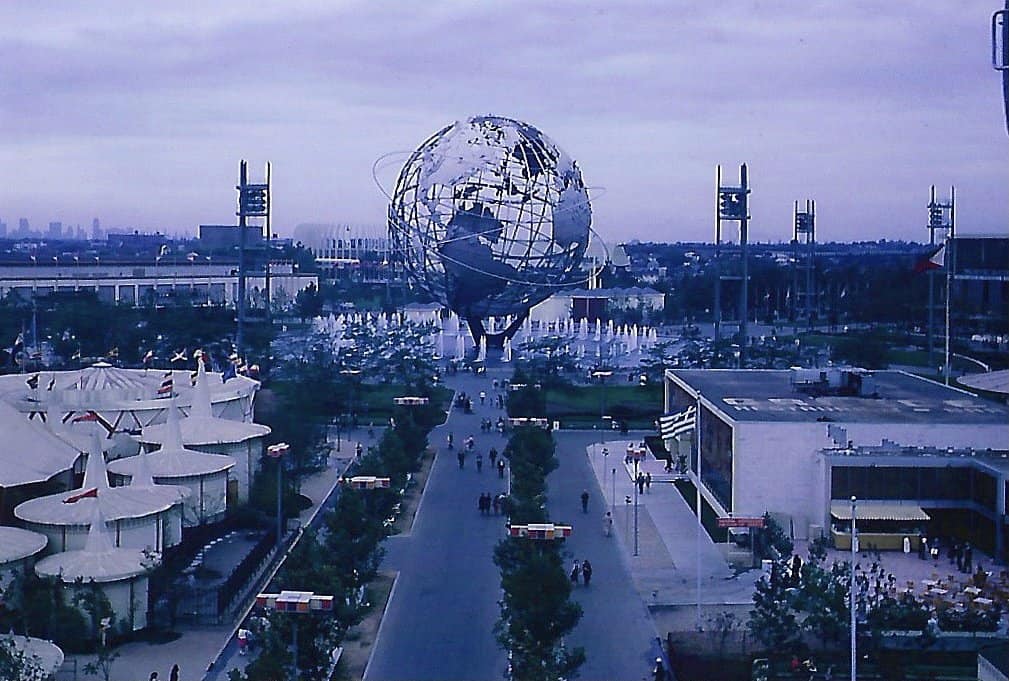 Upon returning to Maine, she visited a doctor, who gave her the news that she was 6 months pregnant and she would deliver me at the age of 41 years old and my father at the age of 45. Which was kind of a big deal back then… The Coastal Maine heritage would live on.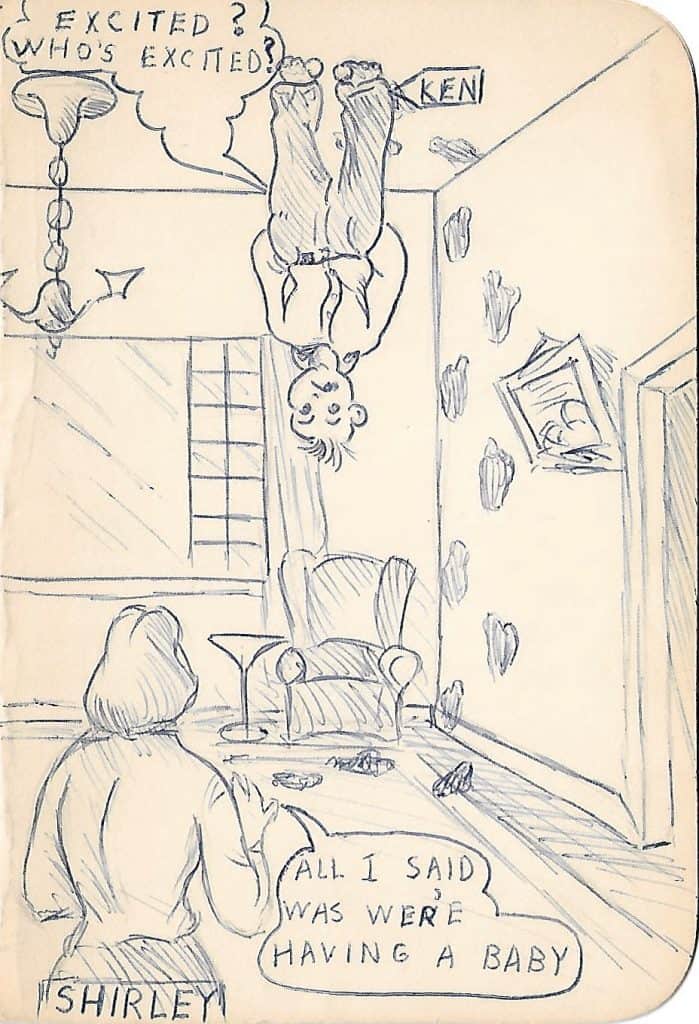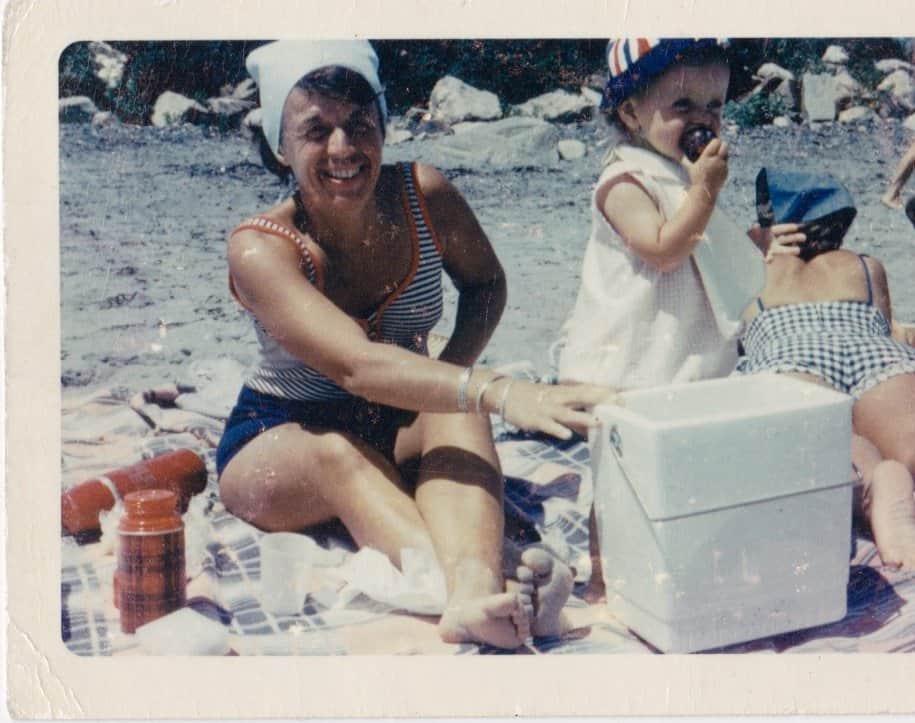 Family Loss
As time went on, my grandmother passed away, and my grandfather remarried. When my grandfather passed away at the age of 75 he left his home and seaside cottages to his second wife. For tenuous legal reasons, my mother was not able to collect any of her parent's things. Not even something as simple as her mother's hand-made braided rugs. Looking back and telling this story, I am always amazed at how strong my mother was through all this.
The Nubble was now getting pretty popular and very overcrowded with house after house being built. The seaside cottages that my grandfather had owned were eventually sold and replaced with oversized and expensive homes. The small cape that my parents lived in was now engulfed by large homes and out-of-towners. Convincing my mother to leave wasn't easy, but my father managed to convince her to sell the home that her father had built for them not once, but twice!
My parents bought a piece of land in Cape Neddick, Maine, and built a Raeside-Dame home in 1992. What is a Raeside-Dame Home? An early American reproduction home built by two gentlemen, Raeside and Dame who were builders on the New England seacoast. At this time my parents were in their early 70s and more than ready to make a change. The home on the Nubble sold immediately, and my parents moved into temporary housing until the home was completed in 1992. I remember being so proud of them for making such a large decision at their age. And it was absolutely the right choice.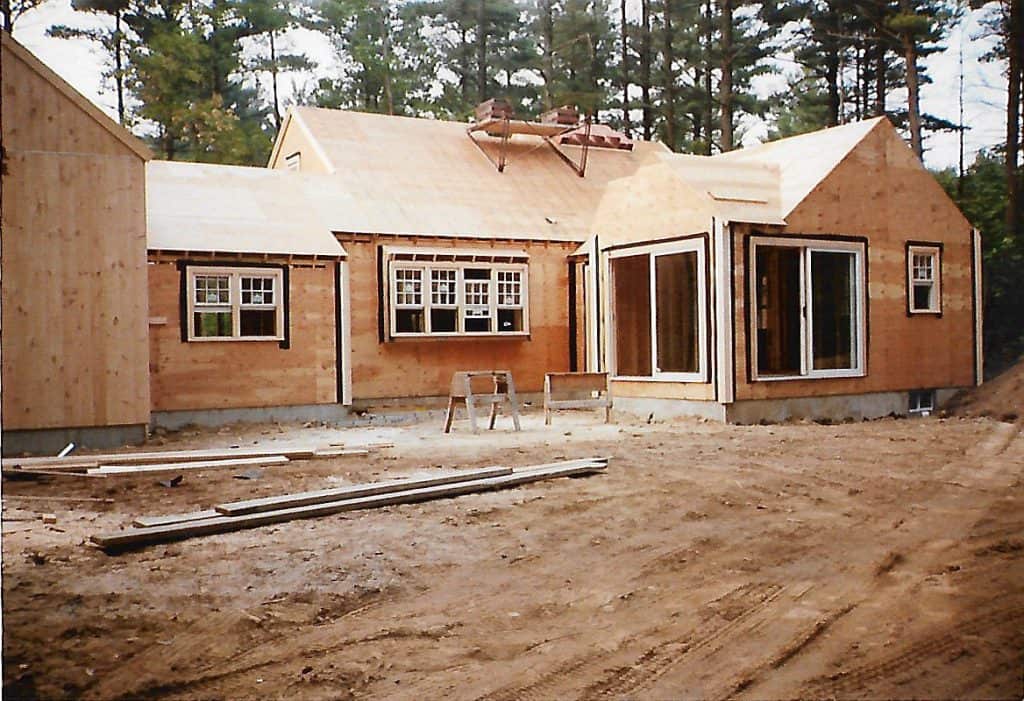 At the time they built this house, they both thought they would spend a good 10 years here. Well, they had almost a wonderful 30 years here! A true love story.
Embracing my Roots in Coastal Maine
My parents went on to live extraordinarily healthy lives for the next 28 years. Dad played tennis until he was 86 years old, and if asked he would say the only reason he stopped is that he didn't have any more competition. He also mowed the lawn and drove his car until he was about 98 years old. He passed away peacefully at home just shy of 100 years.
Mom enjoyed her time here working for York Community Services, antiquing, decorating, and being with all her lifelong friends. She passed peacefully at the age of 93 years old at The Edgewood Centre in Portsmouth. It was a very happy life for them both and this home couldn't have been more dear to them.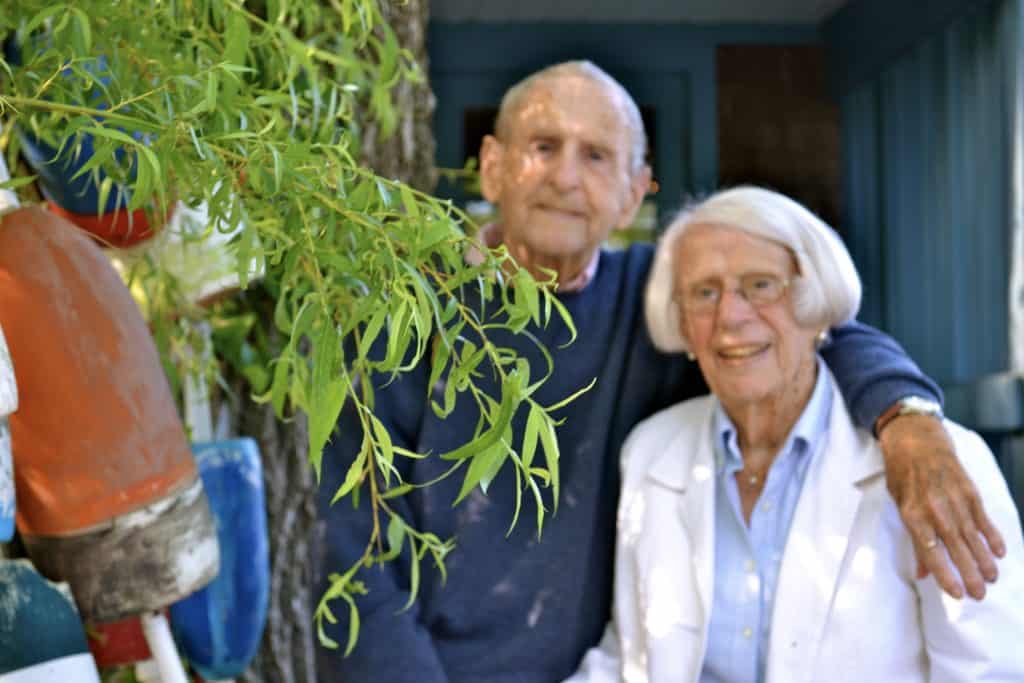 My husband and I inherited the home in 2019 and it is just as dear to us. I have been blogging about all the renovations and decorating, along with the time we have spent here in the featured blog series "In My Mother's Home". The first post in the series, Our Family Inherited Coastal Maine Home starts off when we first inherited the home. I hope you'll join me and follow along as I continue the journey of our Coastal Maine heritage and embracing my roots.
I will be sure to update this post too, as I find more family treasures hidden away.
You may enjoy the post, Vintage Braiding Rug Stand | A Mother's Day Reflection.

Do you like this stone fire pit that is now in the backyard? We found all the stones on the property and made it all ourselves!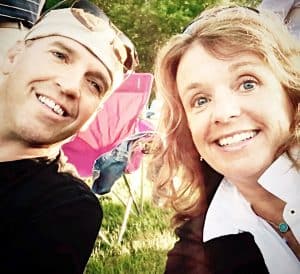 The first treasure I found upon inheriting the home was the original architectural drawings, which I had framed and hung on the dining room wall as you enter the home.
You may also join me every month thrifting for our homes in a weekly series I host, Thrifting with the Gals!
During the winter months, we enjoy our time at our home in the mountains of Vermont. I'd love for you to join us there as well.
I'm so glad you dropped by today friend, and if you are new to my blog, welcome! I hope you enjoyed your visit with us here today in Coastal Maine.  Please join me as a regular here at Dabbling & Decorating.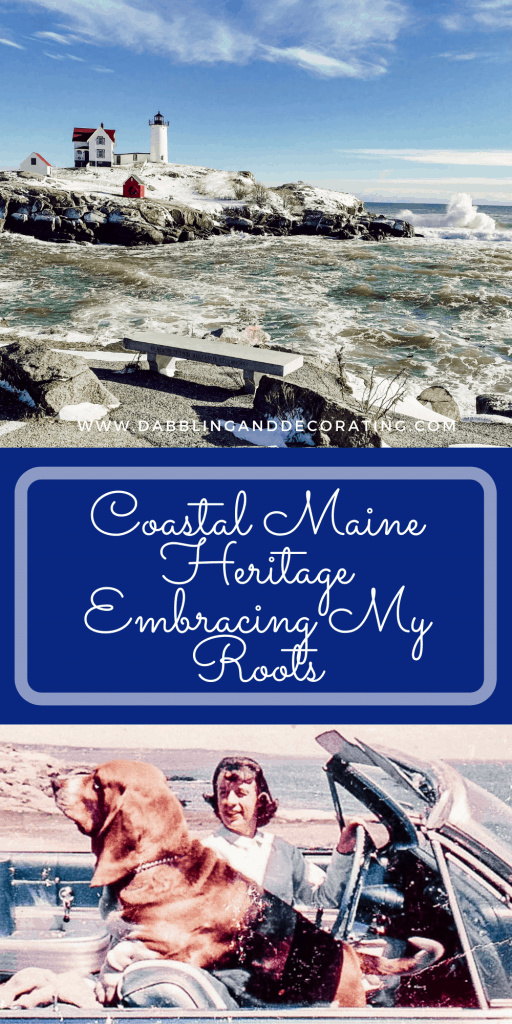 I've created the above custom pin just for this post! Hearing from you makes my day too~ Your comments mean so much to me! Please join me on Instagram & Pinterest to see more!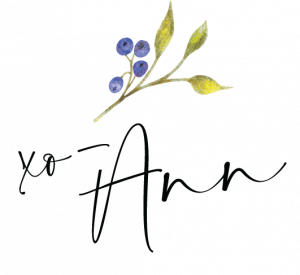 YOU MAY ALSO ENJOY