While out "Thrifting with the Gals" last week I picked up three $2 sets of six black velvet clothes hangers at The Fabulous Find in Kittery, Maine. For $2 how could I pass on these beautiful hangers? I thought they would be so fun hanging in a guest closet. And it would also motivate me to clean out one of the guest closets that had quickly become stuffed filled with so much stuff!
After cleaning out this guest closet I hung the Fresca, Schweitzer Linen unisex blue and white robe along with a set of Le Vainquer Soap by Rance'. The luxury soaps smell absolutely beautiful and are also available through Schweitzer Linen.
SAVE 20% OFF WITH THE COUPON CODE DABBLING20.
This is such a simple and inexpensive way to add style to any closet in your home.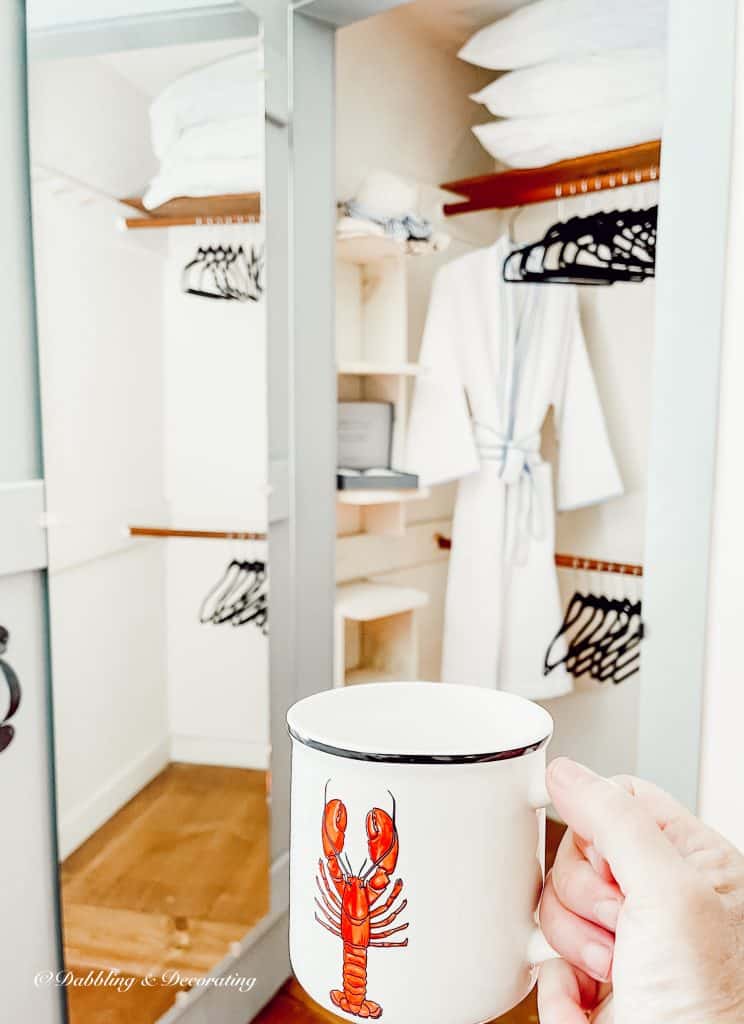 What I love Best about Black Velvet Clothes Hangers?
Your clothes do not slip off the hangers as they do with plastic or wired hangers!
How to Clean Black Velvet Hangers
You can clean black velvet clothes hangers very easily with a lint brush or a lint-free cloth. Black velvet does attract dust and lint, therefore, it's great to know that you can clean them very easily.
Add Ribbon
Add a bow to the hangers for even more closet charm.
Join me over on Instagram every Wednesday where the thrifting gals and myself share all our thrifting adventures along with tips and tricks in our stories and then a monthly round-up here on the blog.
Coastal-Cottage Bedroom
Love this guest bedroom? You can see more of this coastal cottage-styled bedroom here. It's a favorite of mine and I love to change it around for the seasons and holidays.
I'm so glad you dropped by, and if you are new to my blog, welcome! I hope you enjoyed your visit with us here today at our Home in Coastal Maine.
Be sure to also check out our Home in Vermont too, where we spend winters enjoying the coziness of home in the Green Mountains of Vermont.

I've created the above custom pin just for this post!  Hearing from you makes my day; your comments mean so much to me! Please join me on Instagram & Pinterest to see more!