2 years ago now we removed a great deal of landscaping from our front yard here in Vermont, as the trees and bushes that we had enjoyed for years had succumbed to disease. It really didn't leave us with many choices and we were quickly forced to rethink our front yard landscaping.
*This is the first post in a two-post series. Be sure to check out the Backyard Conversation Set and Fire Pit Patio Reveal next, the second post in this series.
The views off our deck overlooking the Green Mountains are simply breathtaking, and this yard deserved to be transformed into a beautiful, yet rustic outdoor living space that we could enjoy for three seasons out of the year. This is when we decided on a backyard fire pit conversation set with a natural stone patio.
Choosing a Conversation Fire Pit Set
Here in Vermont our front yard is wide open to the elements and is especially vulnerable to high winds. This is the main reason why a natural wood fire pit did not work well for us. It simply caused too much smoke and ash to be enjoyable.
What we were looking for:
A tabletop fire pit that we could use for entertaining.
A fire pit that would fit four comfortably.
Easy on and off without the hassles of starting a fire.
A natural-looking style that would match nicely with the mountain views.
High quality that would sustain the harsh Vermont weather.
A height of at least 24″.
We settled upon this beautiful square faux wood fire pit conversation set. We were so fortunate that there was one in stock and it was available to ship right away. It arrived on one pallet and weighed about 350lbs. It was very simple to put together and it will run on one propane tank for 8-10 hours, which is hidden inside the fire pit with an on and off switch. We purchased 2 propane tanks so we have one as a backup.
*This fire pit was available from various dealers at various prices as an FYI.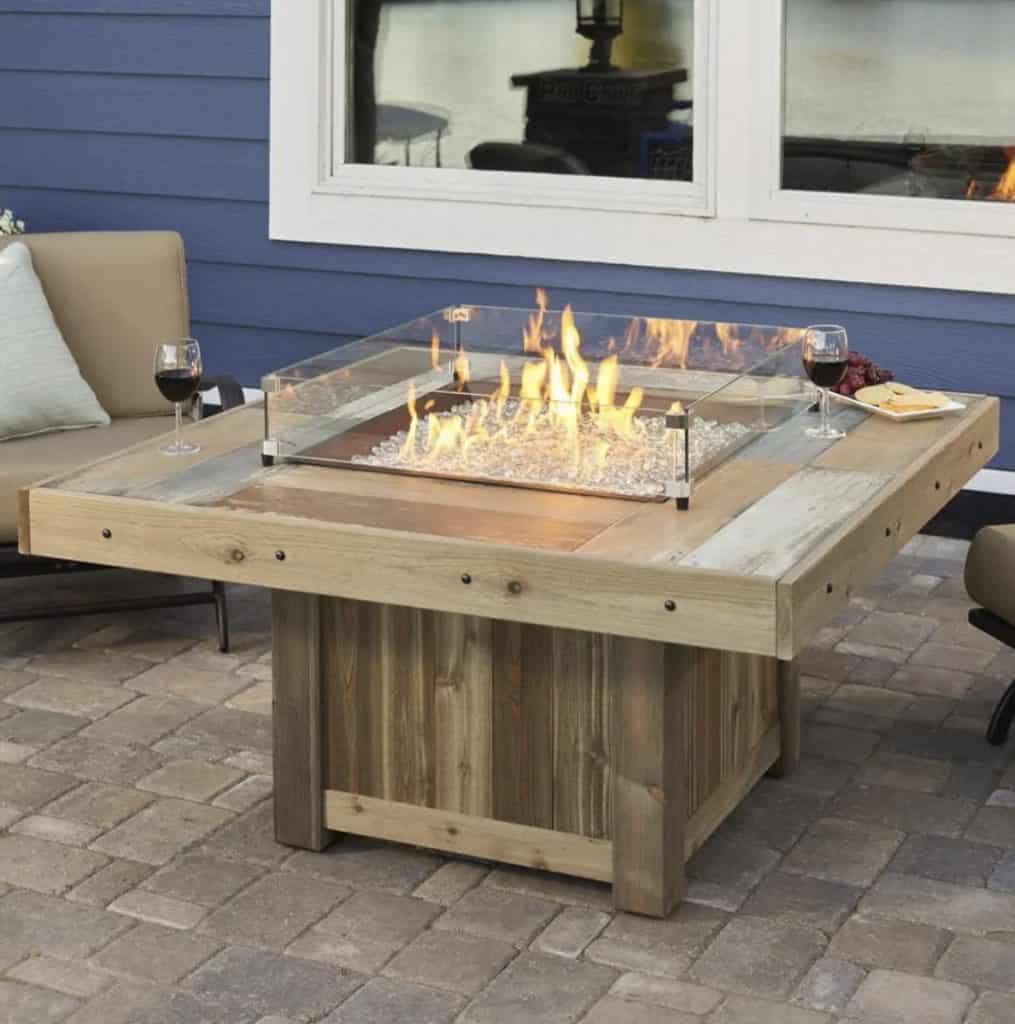 Fire Pit Conversation Set Installation
The Installation was very simple. We set this fire pit up aware that we would need to move it again when we had someone coming in to install a natural stone patio underneath it in a couple of months' time. Here are some photos of how we set it up prior to the stone patio being installed.
Level the ground.
Add Stone.
Set bottom fire pit base onto the leveled stone.
Rest the top on the fire pit base.
Hook up and add the propane tank. I recommend purchasing 2 propane tanks. One as a backup.
Add fire tray and crystals.
Add the glass fire shield (optional)
Preparing the Yard
At this time we have now taken the fire pit conversation set apart and are starting to prepare the yard for the natural stone patio to be set.
The first step was to remove all the tree stumps caused by last year's removal of the front yard trees.
This post is not meant to be an actual tutorial, but a guide as to how we designed our fire pit and patio space.
Natural Stone DIY Fire Pit
Last year we built this fire pit at our home in Maine out of stone that we collected from around the property. This yard is much more closed in so a natural fire pit fits perfectly here. Beautiful in the Fall.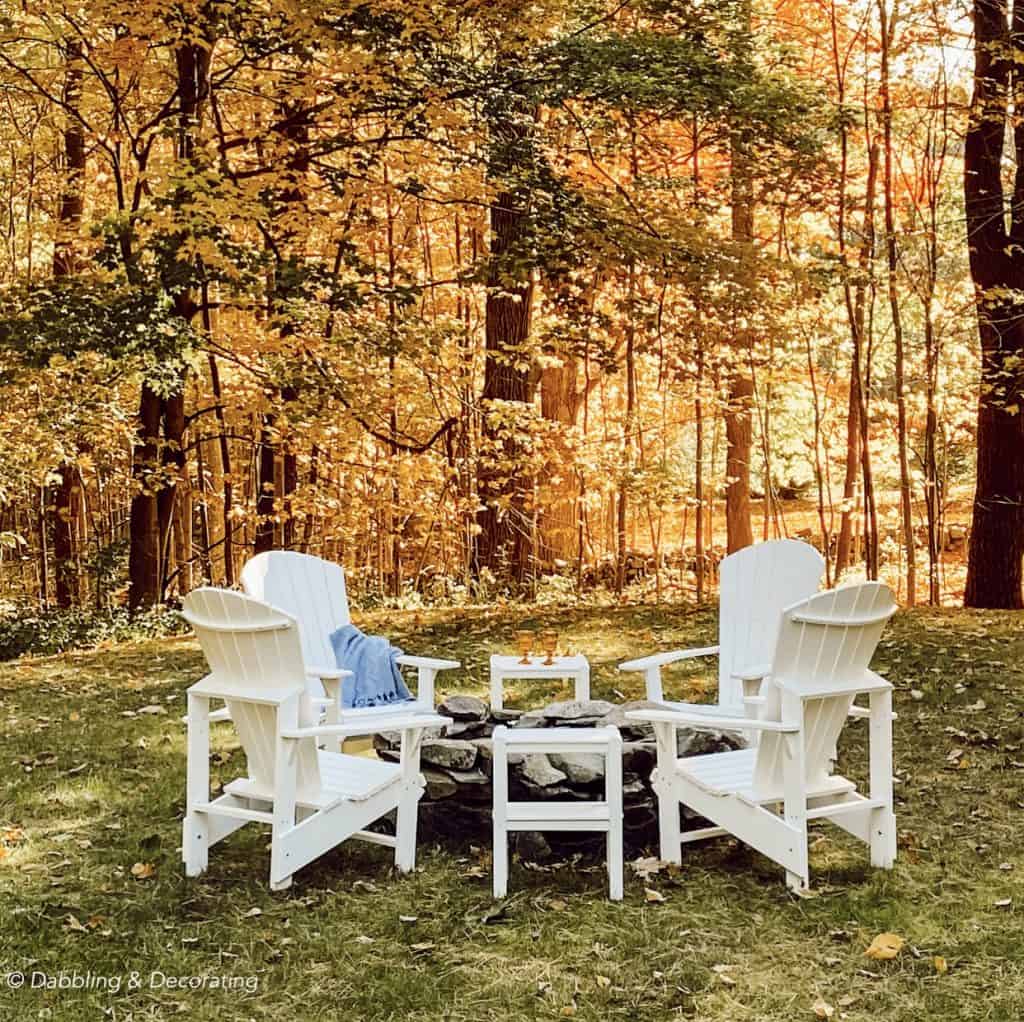 I am so in love with these white Polywood Adirondack chairs. They are super durable and will last forever. They weigh about 60 lbs apiece, so we don't worry about them blowing over or away either.

Another set of white Polywood Adirondack chairs is definitely on my mind for the Vermont fire pit conversation set too! But that's not what we ended up going with. See more in the next post Backyard Conversation Set and Fire Pit Patio Reveal.
Designing the Fire Pit Patio
We hired a local stone worker, Rene' of Ever Green Designs to create a 10′ round patio for us. From there, we calculated the number of materials needed.
20 yards of 3/4 crushed stone
3 yards of masonry sand
350 square feet of 2″ thick Corinthian granite
14 yards of topsoil to tie it together with landscaping.
landscape fabric
Grass seed and straw to finish.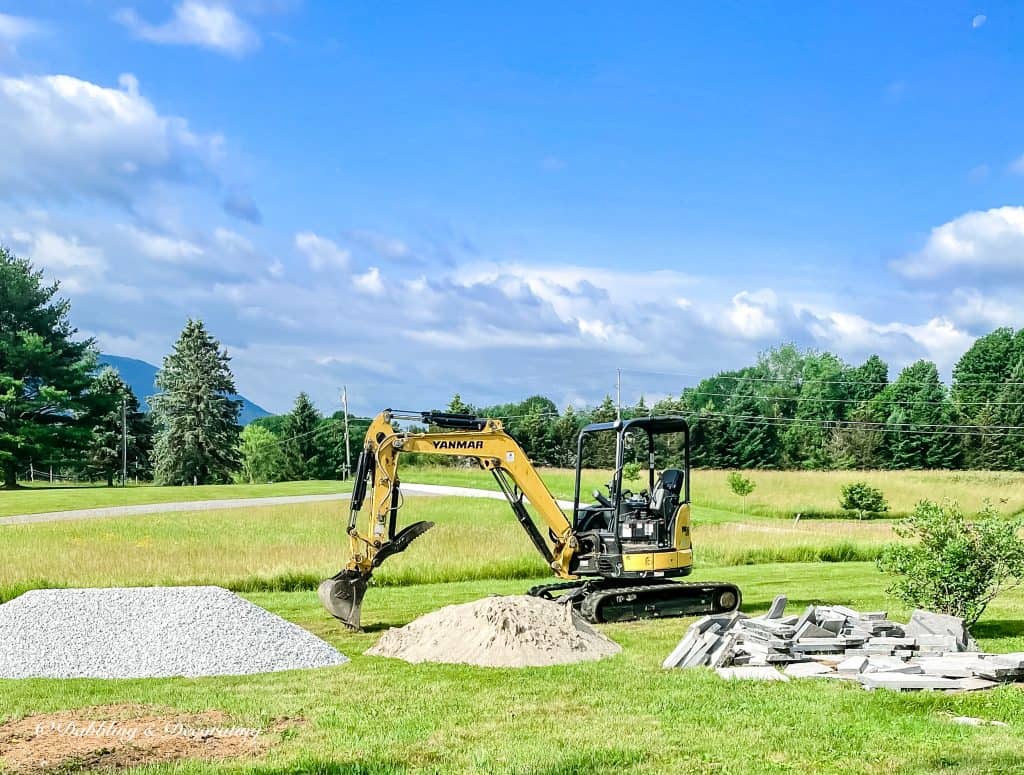 More crushed stone was needed and was delivered the following morning.
Aren't these views of the mountains amazing? Drop by and see more of our year-round Vermont mountain views.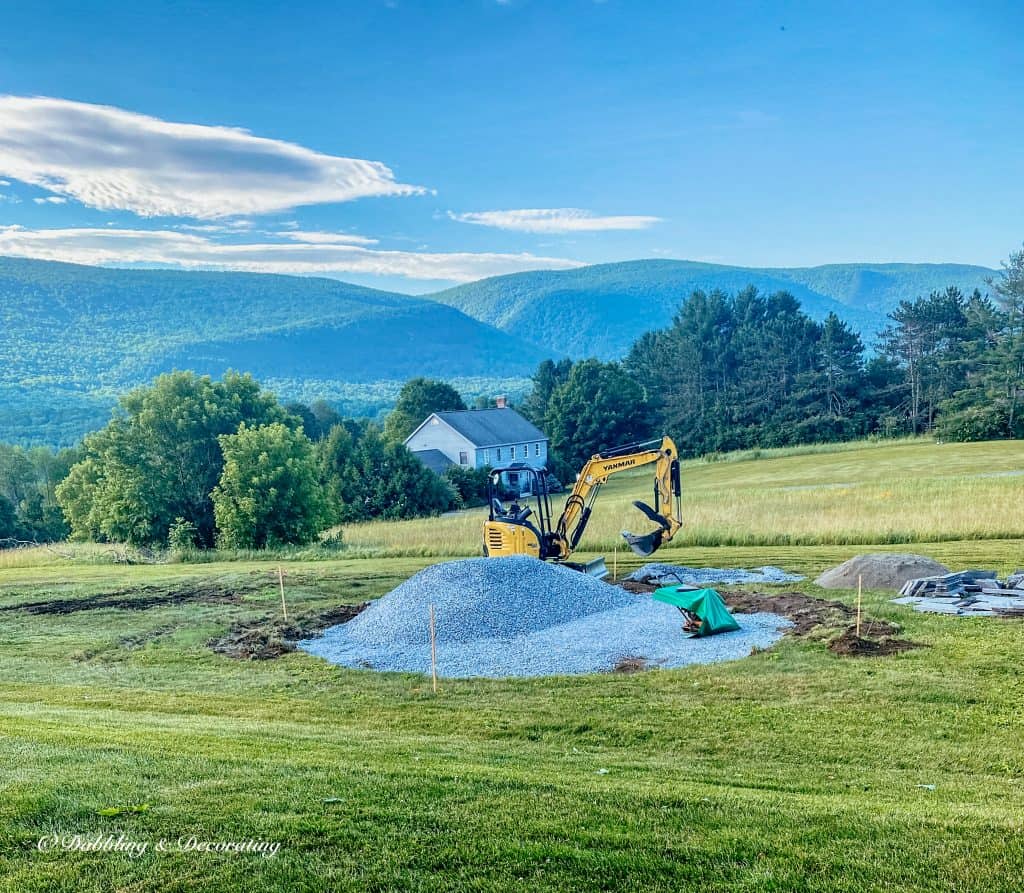 Designing A Circle of Granite
You may also enjoy Refreshing Weekend Junket Home to Vermont to see more of this fire pit today.
Rounding the Corner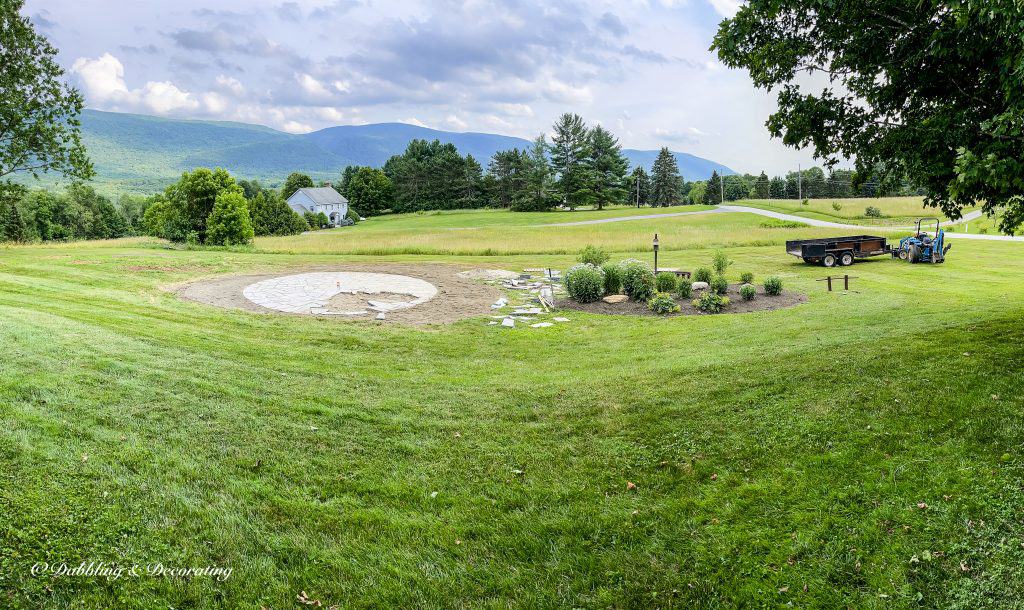 This patio took about a week to be completed and that was with endless amounts of rain, friends…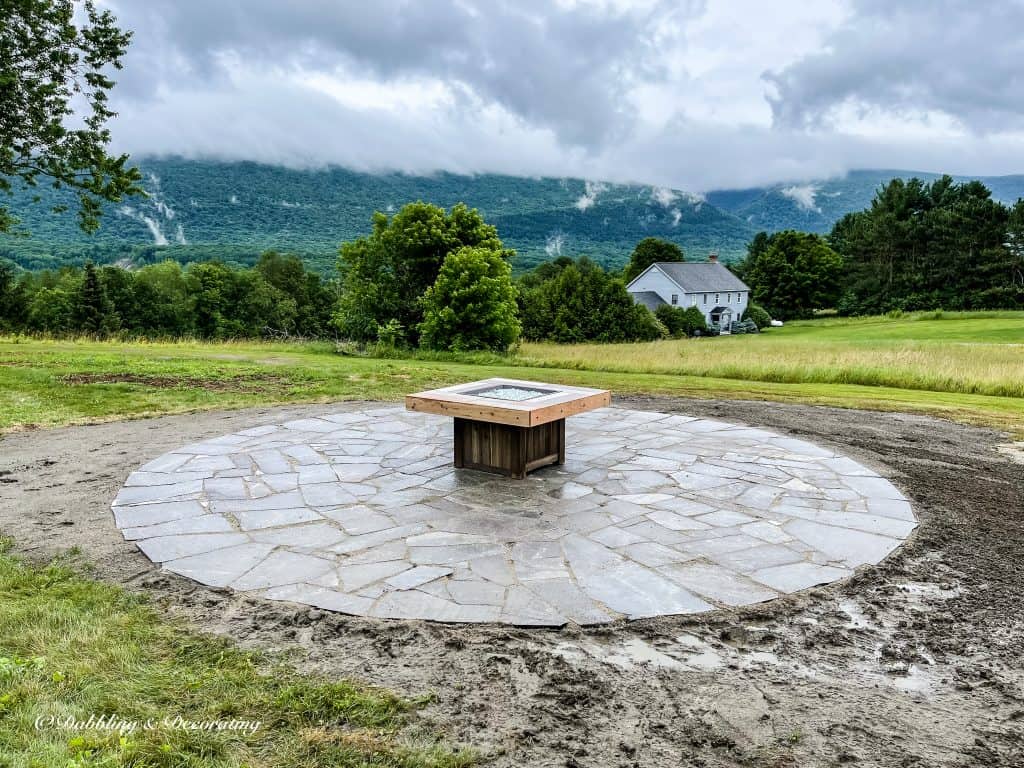 Next, we will be adding large stone steps down to this fire pit patio along with seating, followed up with landscaping.
Once the rain stops we will seed the surrounding area with grass and hay.
This is the first post in a two-post series. Be sure to check out the Backyard Conversation Set and Fire Pit Patio Reveal to see the conversation set we chose, the landscaping, fencing, stone steps, and more.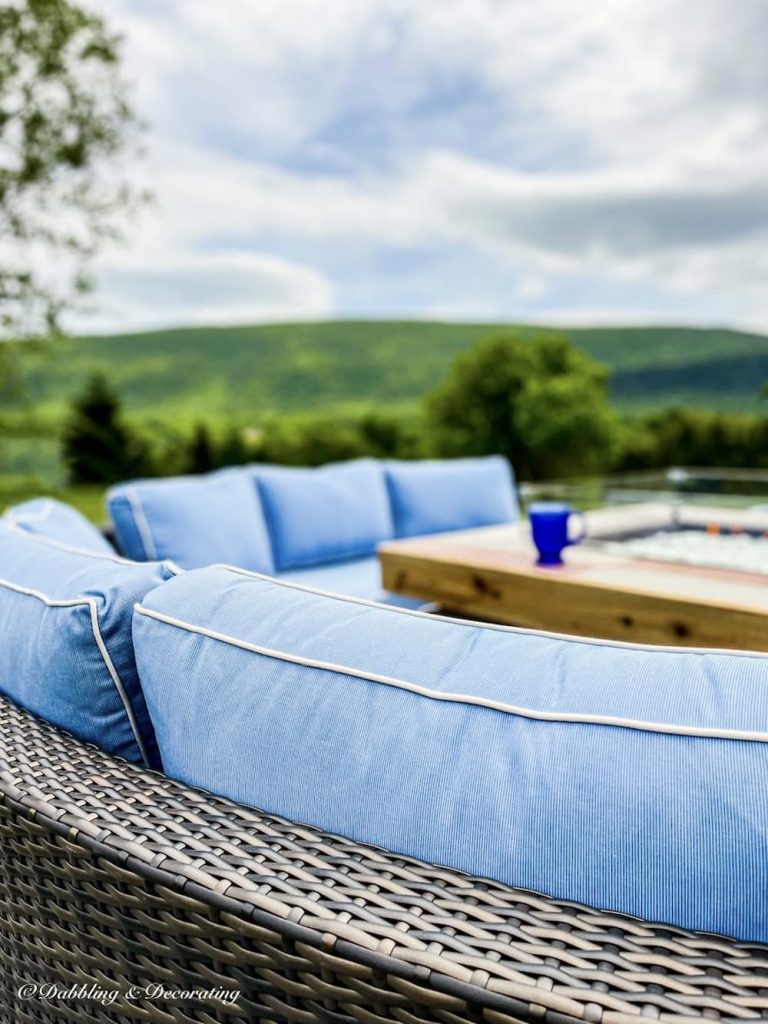 I'm so glad you dropped by, and if you are new to my blog, welcome! I hope you enjoyed your visit with us here today at our Home in Vermont.
Be sure to also check out our Home in Coastal Maine where we spend summers and weekends when we are craving a walk on the beach or a visit with old friends.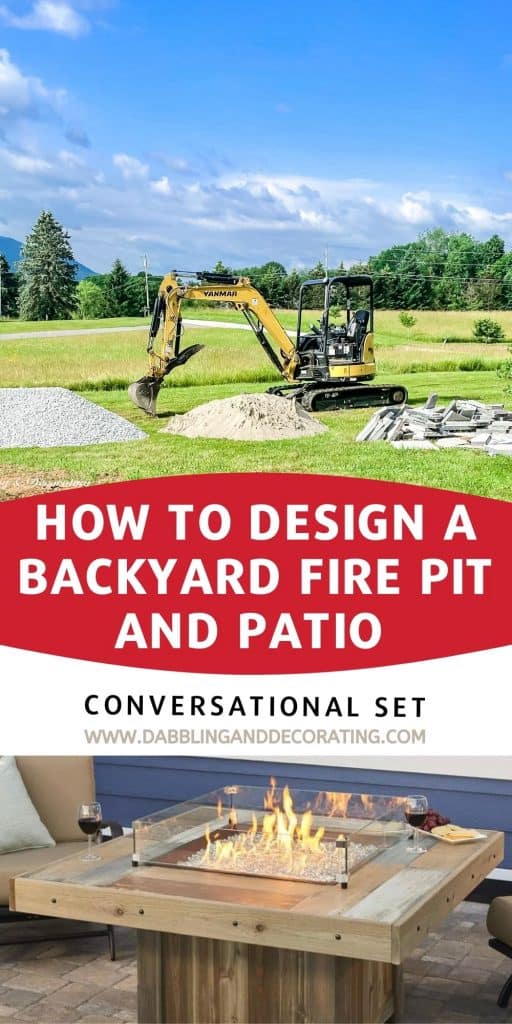 I've created the above custom pin just for this post! Hearing from you makes my day and your comments mean so much to me! Please join me over on Instagram & Pinterest to see more!
YOU MAY ALSO ENJOY