2 year's in the making and it was all worth it! Join me around our backyard fire pit and let me share with you our conversation furniture set, patio, and views from the Green Mountains of Vermont.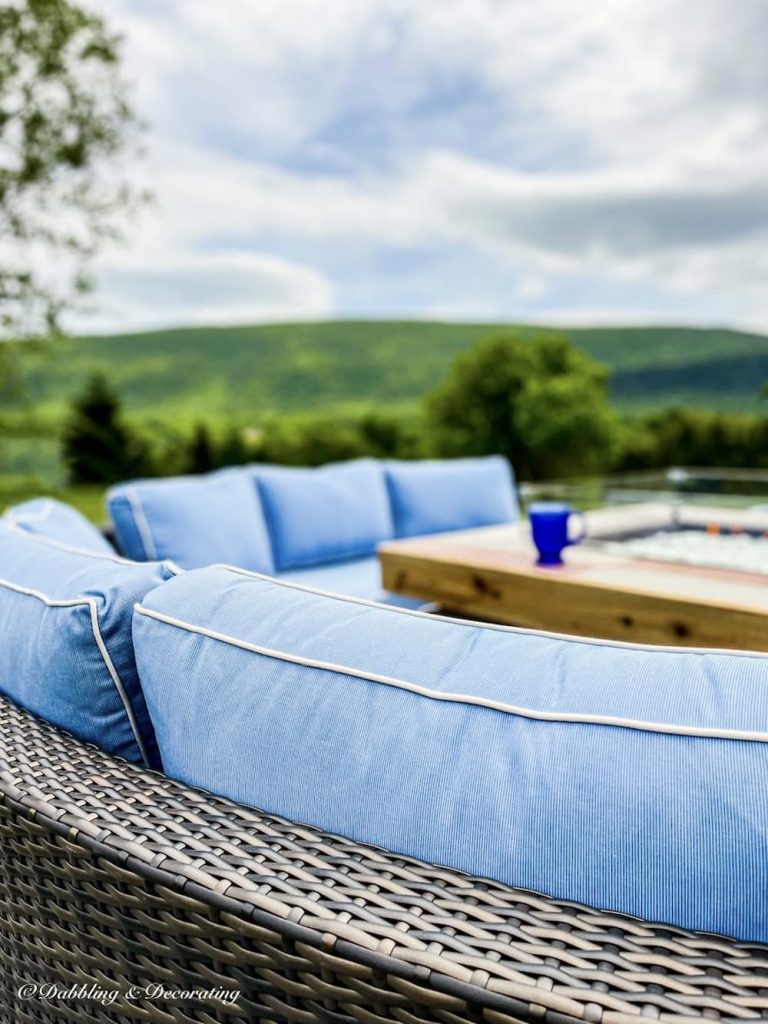 It all started two years ago when we took down a yard full of diseased trees and shrubbery.
Join me first on the post How to Design a Backyard Fire Pit Conversation Set, the first post in this two-part series, where I share all about how we designed and built the patio and chose the gas fire pit.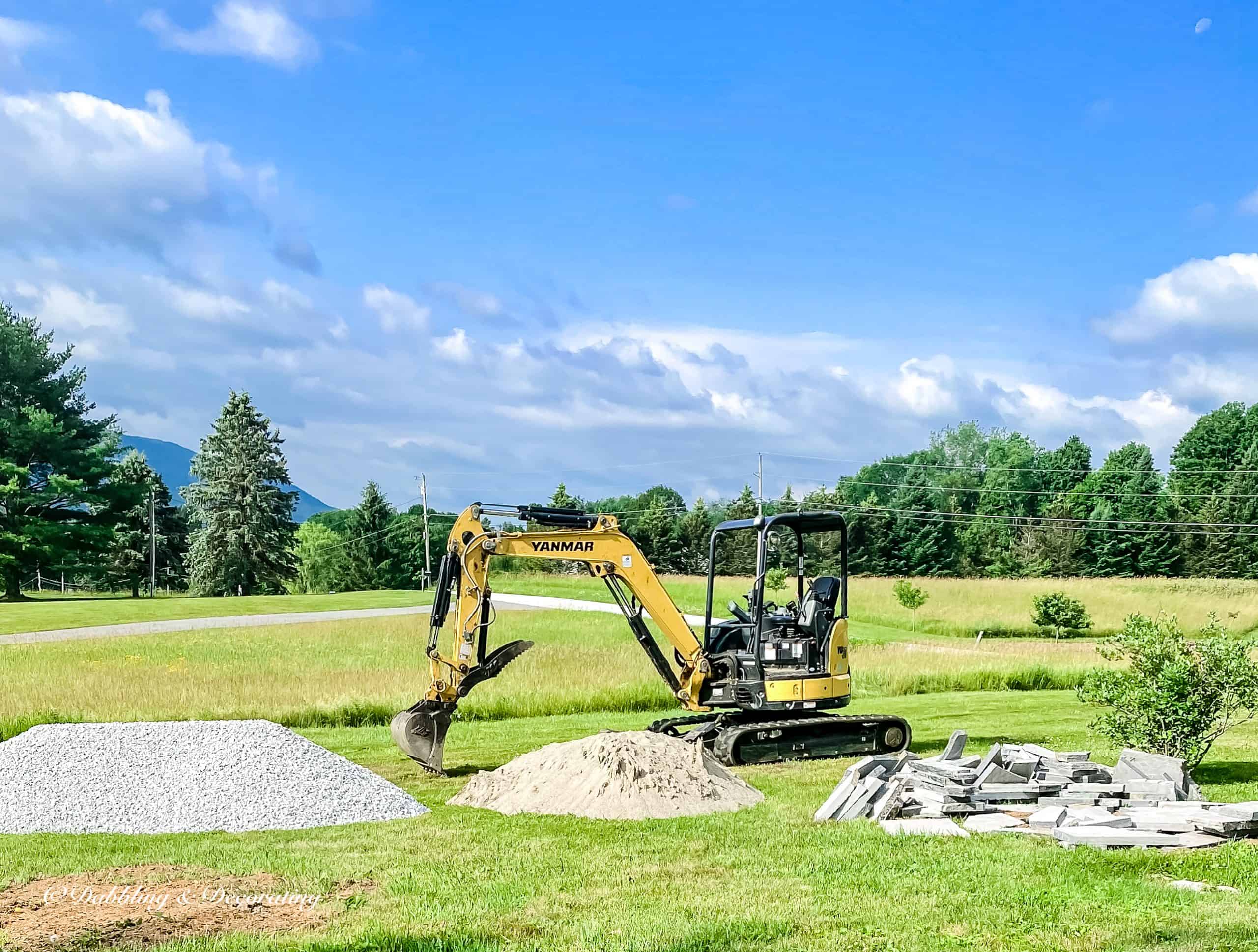 This post may contain affiliate links which won't change your price but will share some commission."
*If you are interested in purchasing this gas fire pit, it has been out of stock for some time. Therefore I have provided you with three purchasing options at the bottom of this post.

How to Choose a Backyard Fire Pit Conversation Set
Now that the patio and fire pit are completed it was time to choose conversation furniture to surround the fire pit. I wanted something that was going to be super comfortable, highly weatherproof, and versatile.
What is an outdoor conversation set?
Outdoor conversation sets refer to outdoor furniture that is durable enough to stand up to inclement weather and harsh UV rays, so they'll last for years to come. Outdoor conversation sets come in several designs, such as sectional seating, dining sets, fire pit sets, bench seating, and lounge/deep seating.
I looked at Adirondack chairs, teak options, ratton furniture, and so much more.
Then this fall, when a girlfriend was visiting from Maine, over breakfast she suggested looking at conversation furniture sectionals.
What? Why hadn't I thought of that?
See more of SIMPLE VINTAGE AMERICANA PORCH TABLE IDEAS here.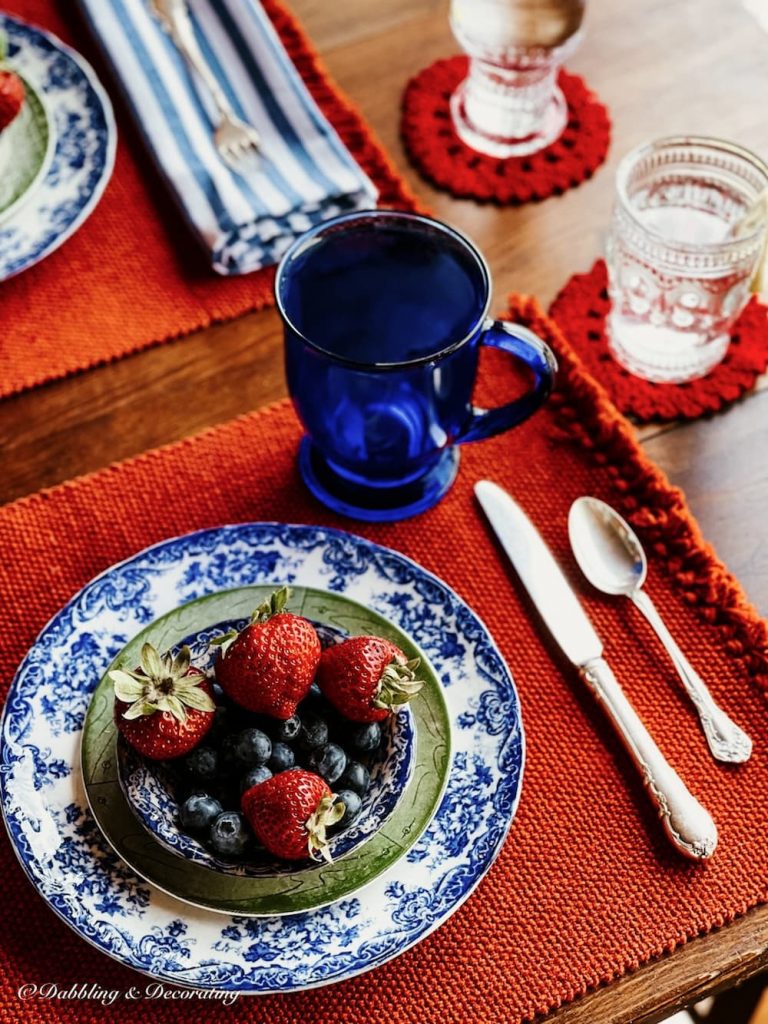 So as we sat and enjoyed breakfast on a fall morning from the porch, we researched conversation sectionals for fire pits online and settled on this set available from Frontgate.
With the Air Blue and Canvas Piping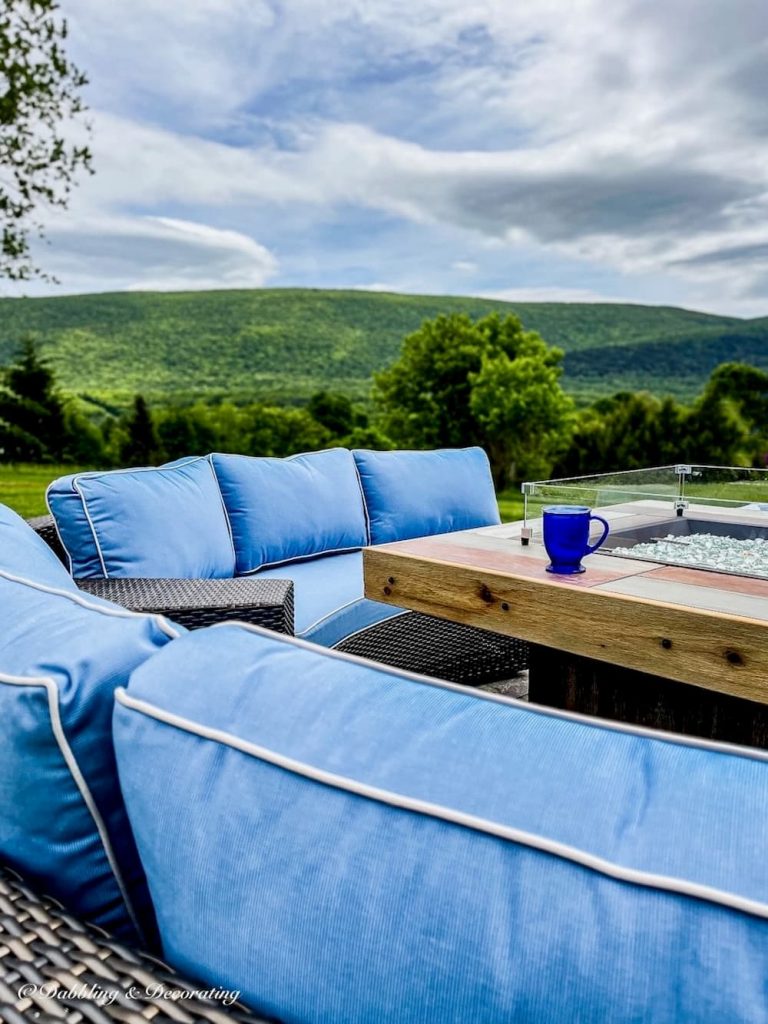 How many pieces are in a patio conversation set?
We chose the five-piece set, which includes three sofas and two end tables for a half-moon shape around our fire pit. Then we added the Tapered Wicker Storage Bench for storage and extra seating.
Topped with a blue quilt that my mother made for those cool Vermont evenings.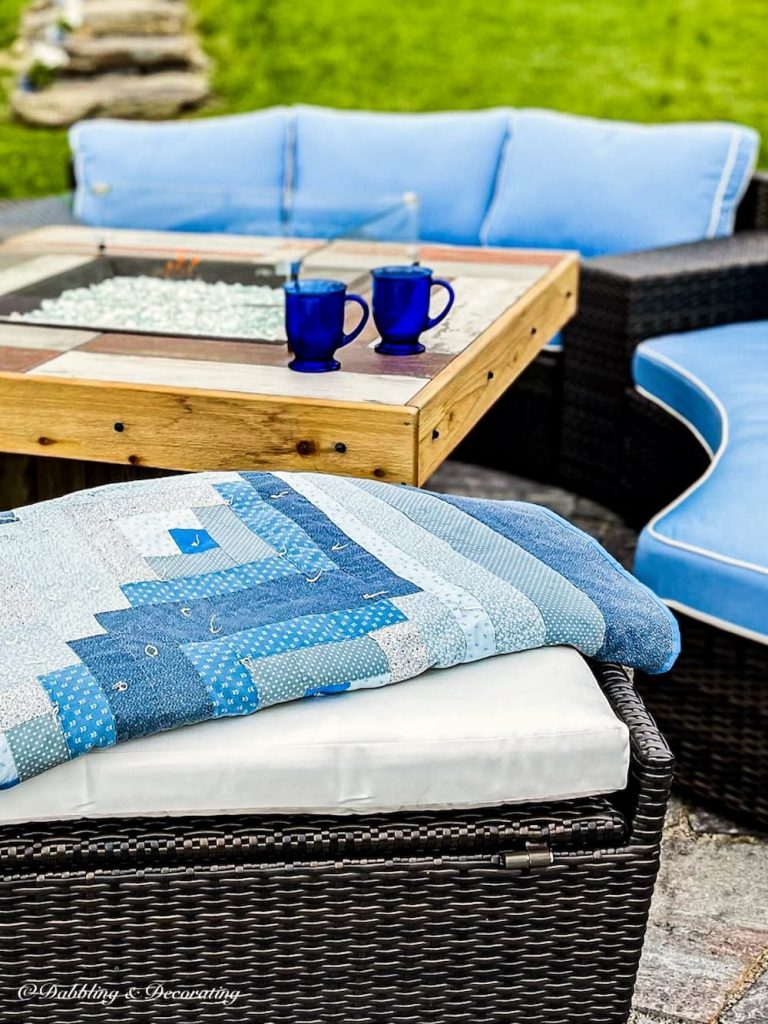 All pieces can be rearranged for the ultimate in versatility.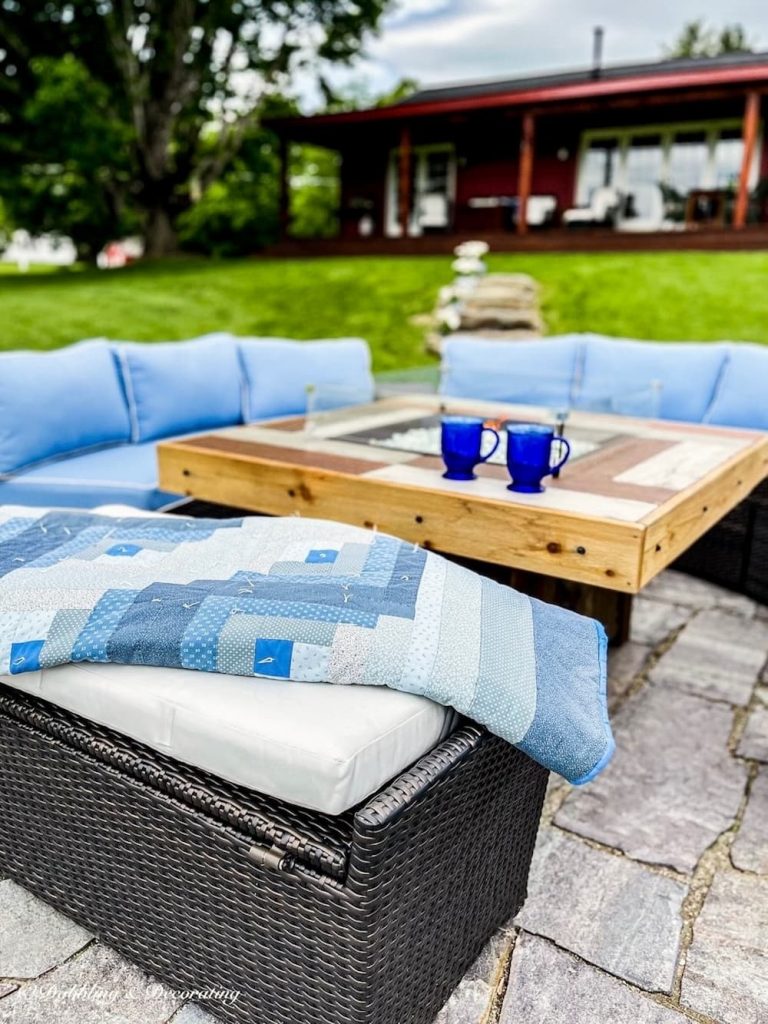 5 Tips When Choosing a Backyard Conversation Set with Fire Pit
Comfort: When looking for fire pit seating, take into account the comfort of everyone who will be using it. I am very short so I can get uncomfortable easily if the seating is too high. This Pasadena sectional is the perfect seating height for comfort around our fire pit table. And another reason why we decided against chairs around the fire pit and went with a more comfortable sectional option.
Storage: Think about a storage option for cushions, pillows, protective covers, blankets, towels, etc… We chose this Tapered Wicker Storage Bench, which also serves as additional seating.
Protective Furniture Covers: Even though the furniture we purchased is all-weather, it's still important to protect the furniture and cushions from the ever-changing elements with these protective furniture covers.
Colors: Look at your outdoor environment and choose colors that are reflective of your space. We see an abundance of blue skies, green grass, and mountains. The air blue cushions really shine through in our landscape.
Propane Tank: You don't have to run an underground propane line any longer either. Choose an outdoor gas fire pit that allows for a standard propane tank to be hidden right inside the fire pit. Then all you need to do is swap out the tanks. We keep a second gas tank on hand too just in case one runs outs. Super easy.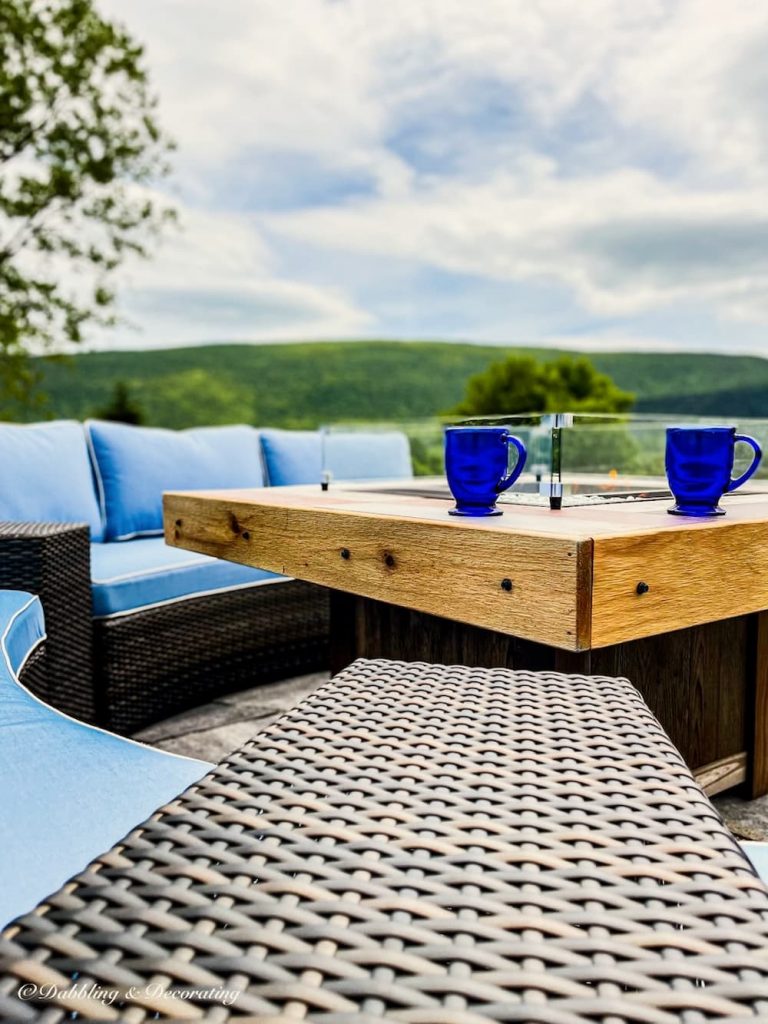 What is the outdoor chat set made of?
All-weather handwoven wicker and the cushions are a breathable fade-resistant Sunbrella.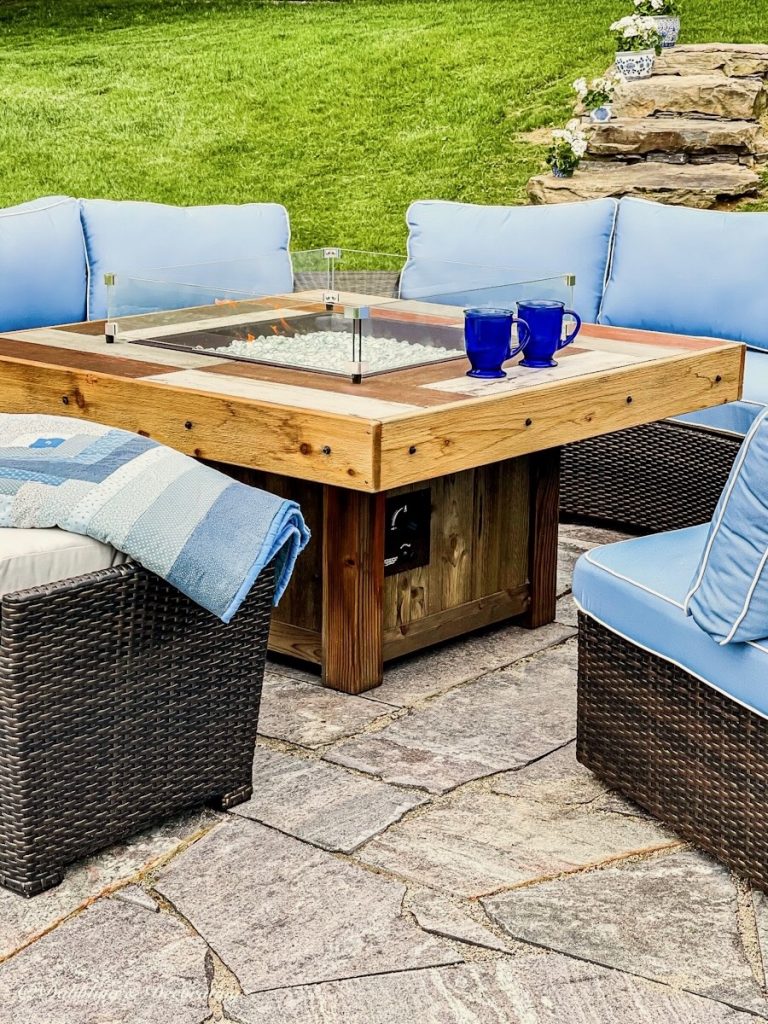 SHOP THIS POST
Scroll and Click on Image to Shop

And can I tell you how much I love having an easy turn-on and turn-off gas fire pit now?
NO MORE:
Buying firewood,
Collecting firewood,
Wrestling with the wind and the weather,
Or those yucky smokey clothes…
It doesn't have to take two years as ours did either!
We had furniture and construction delays all due simply to the pandemic that caused our lengthy process.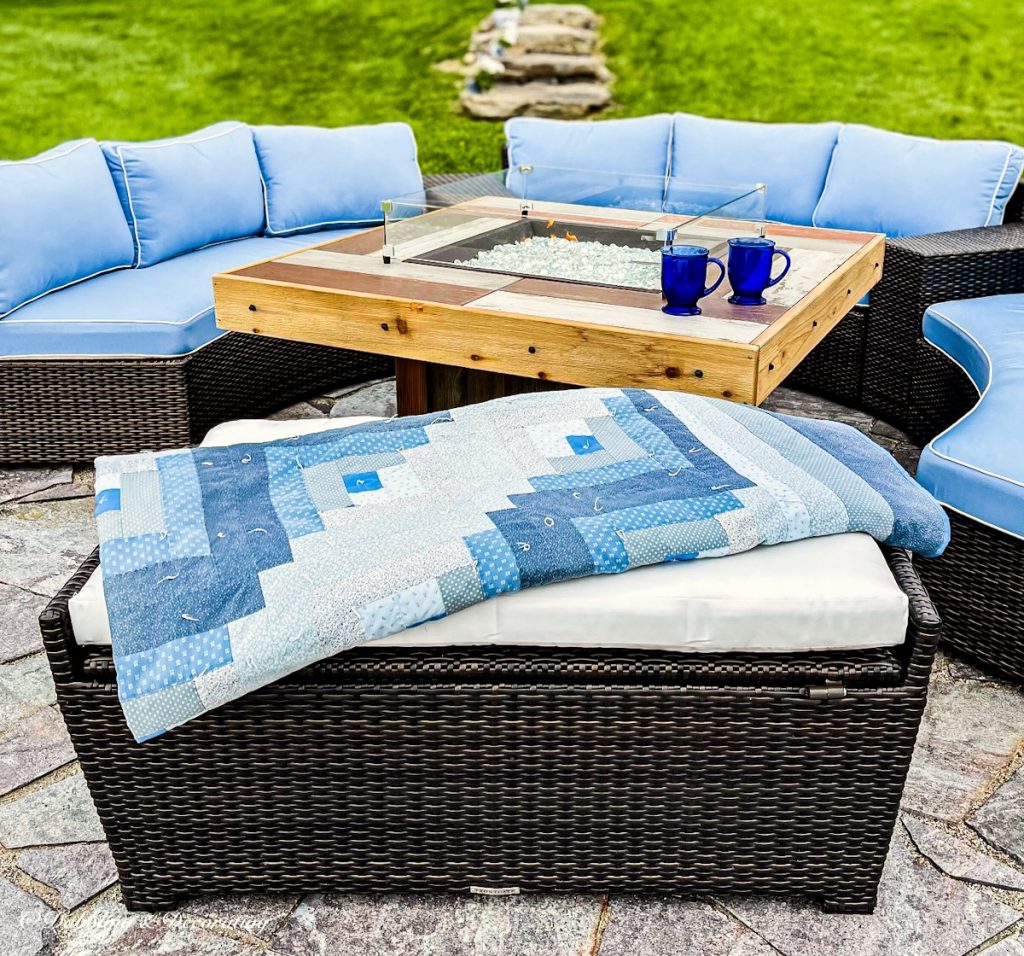 My husband Steve, and Ella enjoying the outdoor fire.
You may also enjoy the post, 17 Fall Decor Fire Pit Ideas for a Cozy Gathering.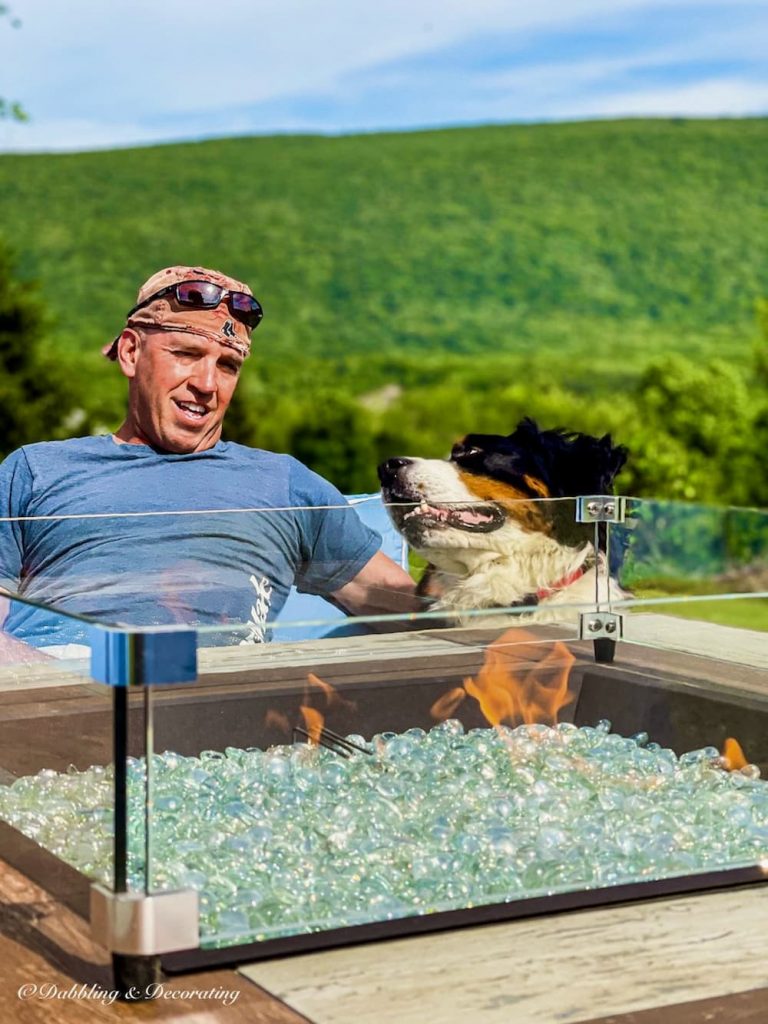 Landscaping Ideas
This past December we planted a semi-mature Lilac Tree, Hydrangea Tree, and two Winterberry bushes to surround the fire pit patio.
Did you know that landscapers plant well into December here in Vermont? And in the snow too…
Each plant will add a seasonal color coordinating with the blue and green colors of the sky and mountains.
The Winterberry bushes with their red berries will be beautiful against winter's white blanket of snow.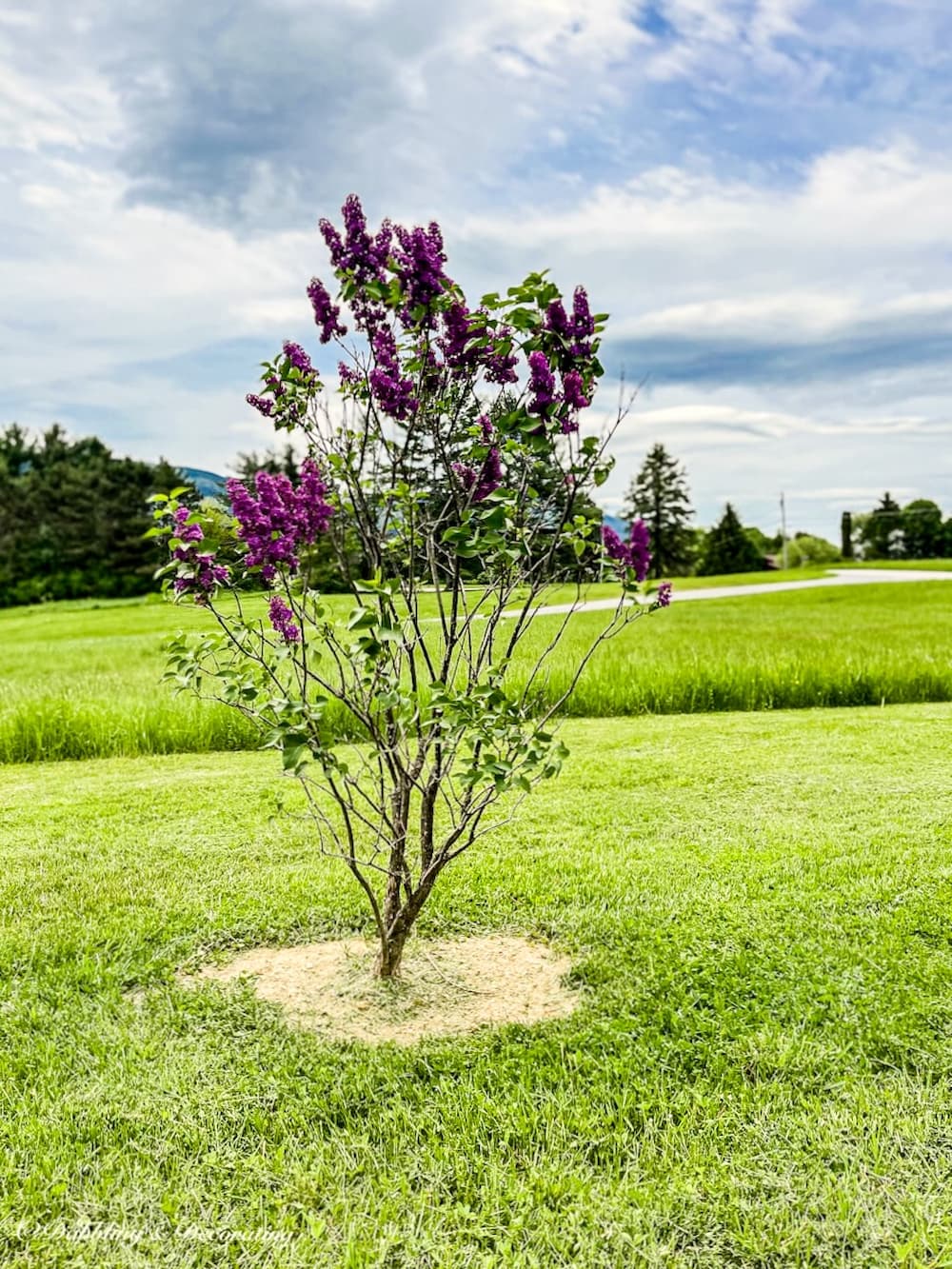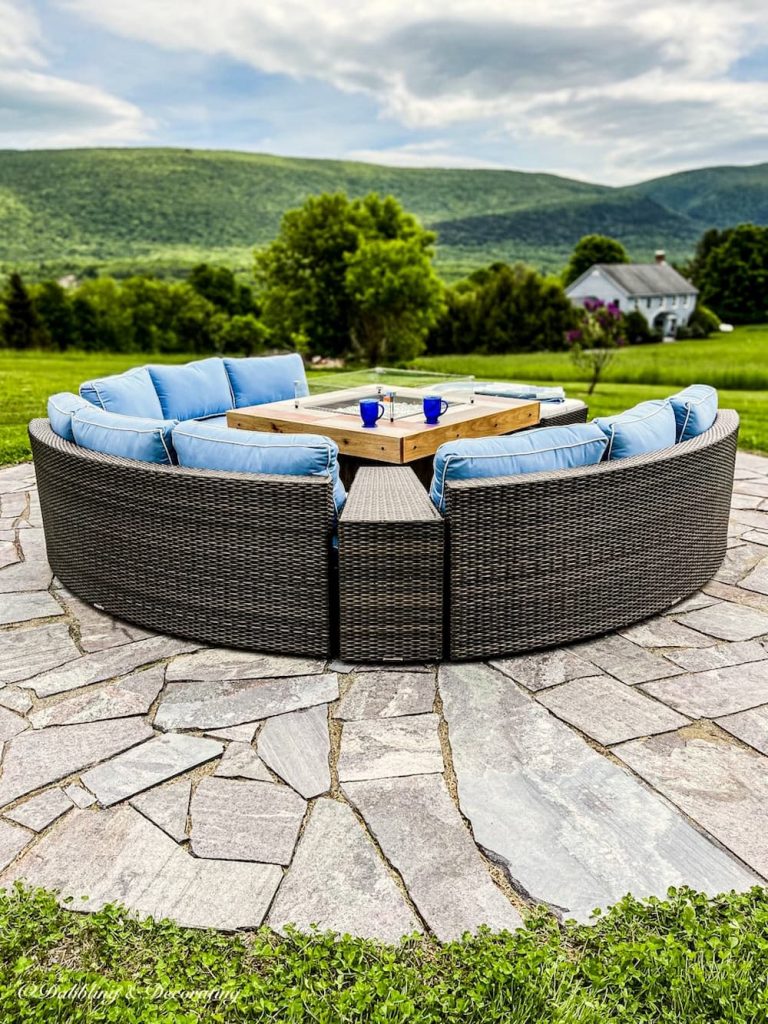 You may also enjoy Refreshing Weekend Junket Home to Vermont to see more of this fire pit today.
4 Stone Steps
Lastly, we placed four large natural stone steps into the landscape heading down towards the fire pit patio.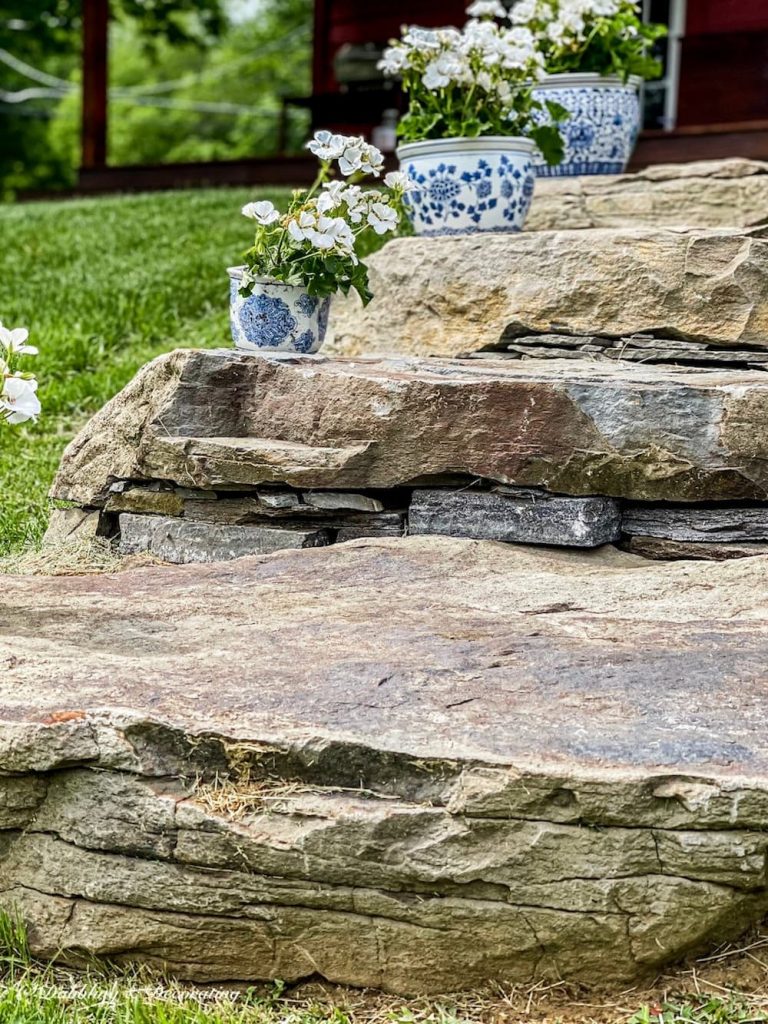 Chinoiserie pots with white geraniums accent each large stone step. You may enjoy seeing these Blue and White Chinoiserie Pots with Evergreens too.
I wanted something that looked like it had been there for years, keeping within the natural landscape.
And here, you can see how the fire pit patio appears with the protective covers in place.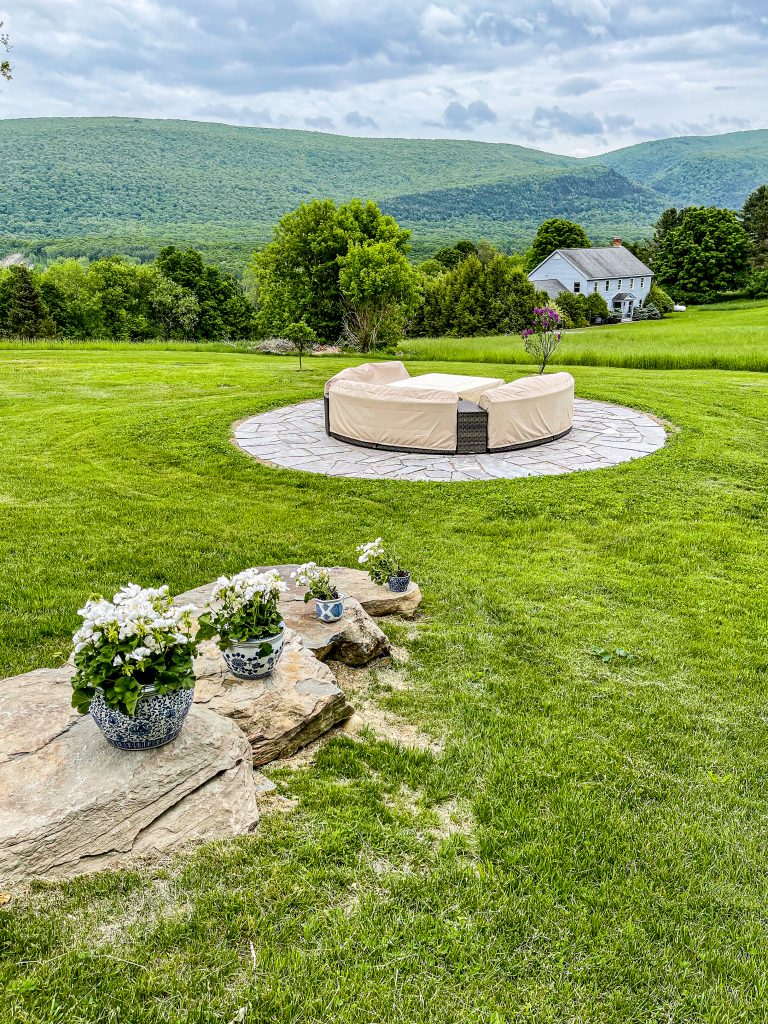 We will decide on further landscaping options as we adjust to our new outdoor patio fire pit and all it offers.
I'm leaning toward a weathered split rail fence in one of the open areas right now. Which we did put in, and you can see more in the post, 3 Reasons Why Split Rail Fencing is Always a Good Idea.
You may see more of Our Year-Round Vermont Mountain Views here.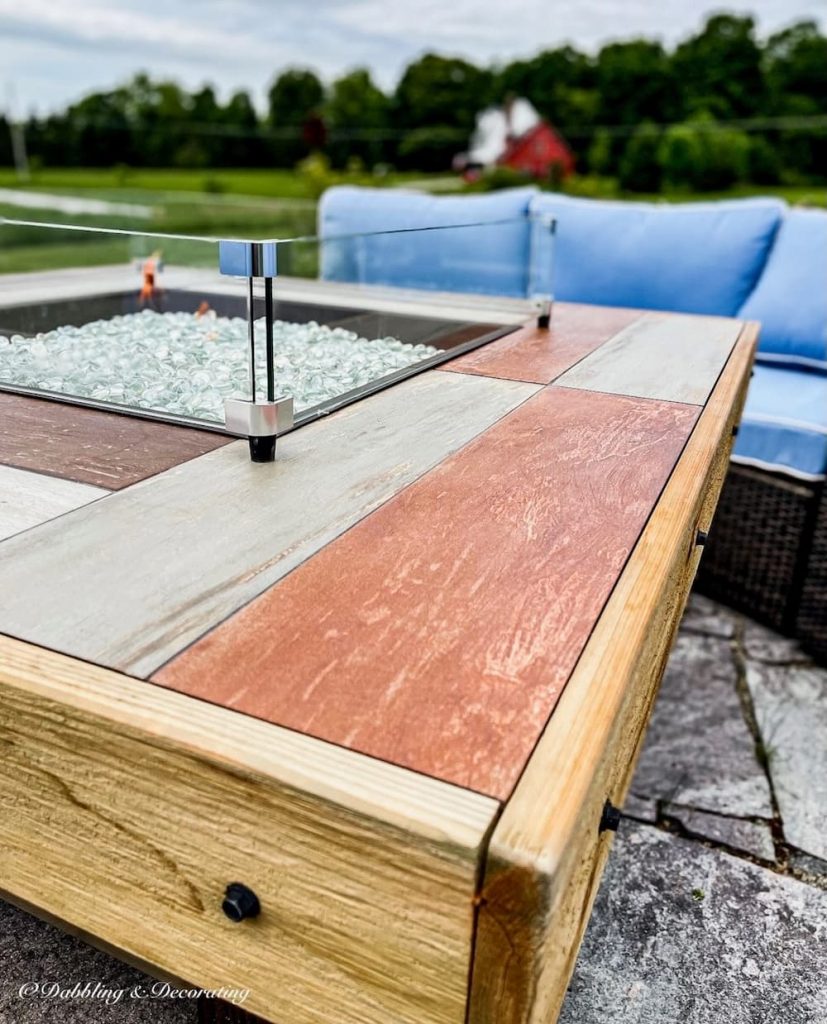 *If you want to purchase this gas fire pit, it has been out of stock for some time. Therefore I have provided you with three purchasing options at the bottom of this post.

EEEEEK, I just found these adorable blue charger plates out thrifting too. I can't wait to set this space up for a meal. See more in the post, Just 4 Blue Dishes on the 4th of July.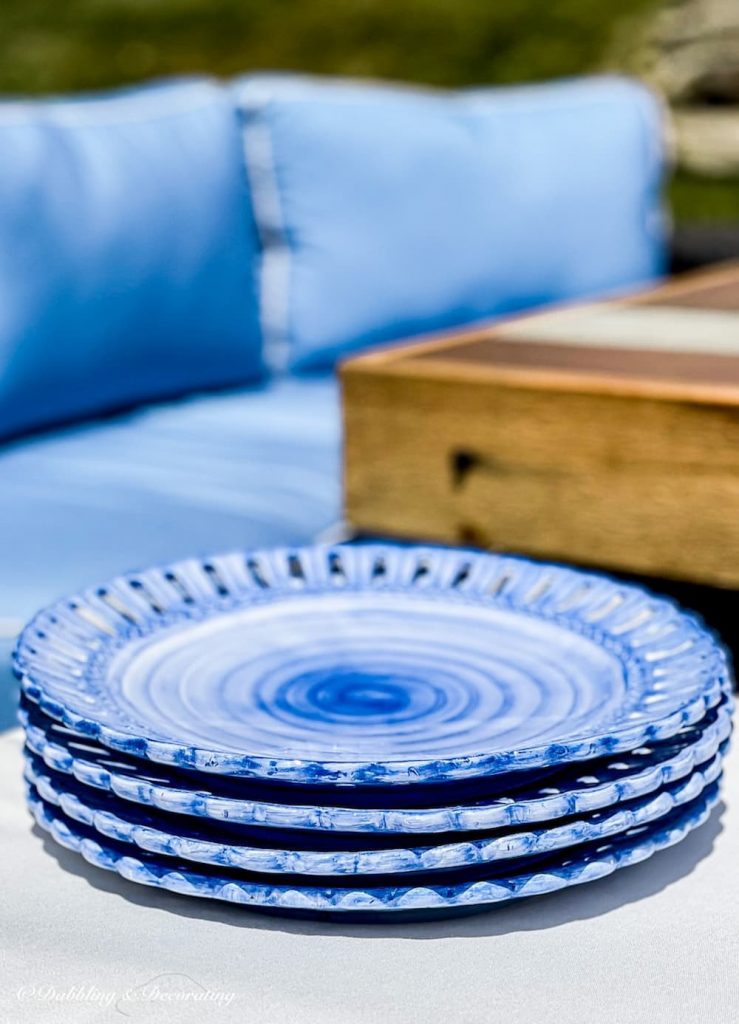 You may also enjoy seeing The Biggest Red Birdhouse and How to Easily Mount It post.
And this Unseasonably Warm in November, A Simple Neighborhood Gathering post.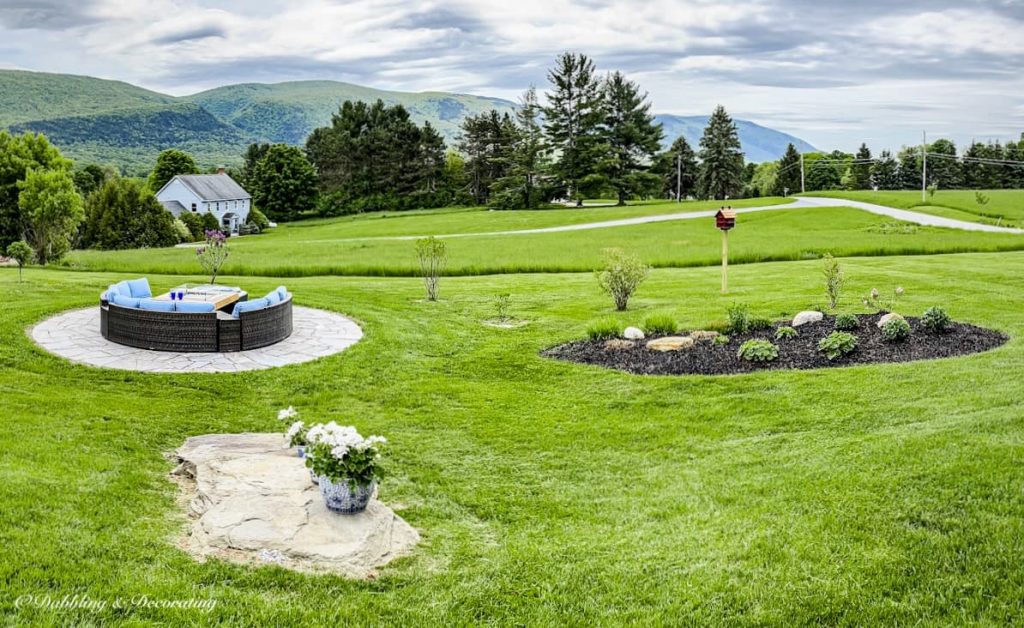 I'm so glad you dropped by, and if you are new to my blog, welcome! I hope you enjoyed your visit with us here today at our Home in Vermont.
Be sure to also check out our Home in Coastal Maine where we spend summers and weekends when we are craving a walk on the beach or a visit with old friends.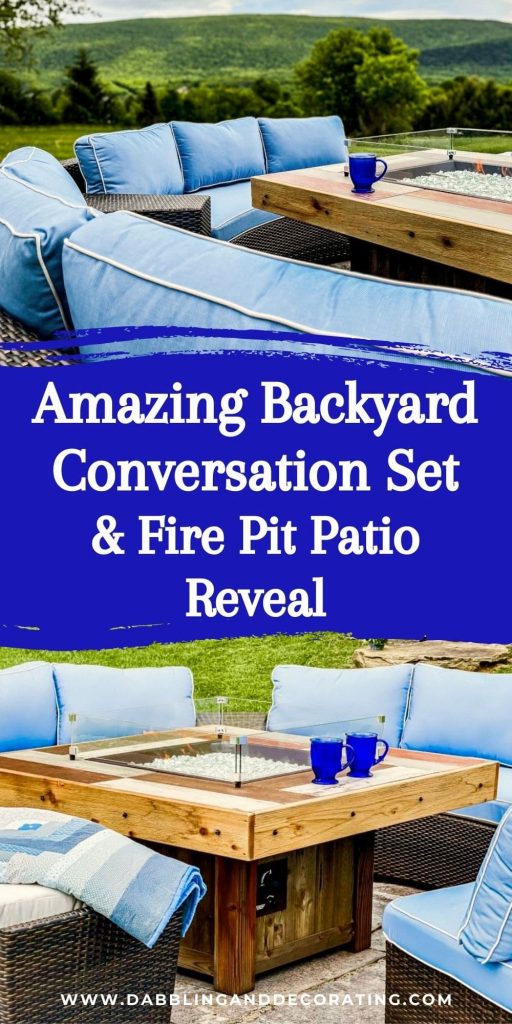 I've created the above custom pin just for this post!  Hearing from you makes my day; your comments mean so much to me! Please join me over on Instagram & Pinterest to see more!
SHOP THIS POST
*If you want to purchase the gas fire pit, it has been out of stock for some time. Therefore I have provided you with three purchasing options.

YOU MAY ALSO ENJOY