Are you looking for cozy fall fire pit decor ideas? Here are 17 easy tips and tricks to get you started on your next cozy outdoor gathering.
Celebrate Fall 2022
I'm excited to be joining 30 extremely talented home decor bloggers here today for the "Celebrate Fall 2022 Home Tours" hosted by my friend Leen over at Sand Dollar Lane.
If you are dropping by from visiting with Leslie over at Feet Under My Table, welcome! Aren't Leslie's front porch ideas so inspiring?
Our Cozy Outdoor Fire Pit in Maine
A couple of years ago we built this stone fire pit at our home in Maine using rocks from around the property. You may read more in the post, How to Build a Simple and Classic Stone Fire Pit.
This photo is from a couple of years ago when the leaves were in peak season.
About 2 more weeks and we'll be there!
This post may contain affiliate links which won't change your price but will share some commission."

7 Fall Decor Fire Pit Ideas From My Backyard
Creating an outdoor cozy space around your fire pit in the fall can really be a very simple task.
This summer on the blog I talked about How to Fashionably Bring Your Dining Room Outside This Summer.
Now we want to use some of the very same concepts in creating a cozy gathering space around our fall fire pits.
1. A Crate Full of Pumpkins or Gourds
I started with a visit to one of our local farm stands and filled up one of their colorful old boxes with 10 different colored pumpkins. Mostly in the medium size range.
They let me keep the box and threw in an old vegetable crate too. You never know how you may use these elements in your outdoor decor.
Scatter the pumpkins around your fire pit, easily creating all the vibes of fall.

2. Favorite Cozy Mugs
Add plenty of your favorite mugs around your fall fire pit area. Whether it's vintage glassware or an old thrifted lobster mug like this one. You can never have too many!
Having mugs that are unbreakable will make your gathering more comfortable, and probably you too for that matter.
But I'm certainly guilty of bringing out my favorite vintage glassware too…
Add this Spiked Mulled Apple Cider to your mug, created by my friend Megan over at Short Girl Tall Order.
3. Cozy Blankets
Add a cozy blanket to the chair for each person joining you around your fall fire pit. My favorite blankets for sitting around our fire pits are these blankets by Chappywrap, made right here in Maine.
SHOP CHAPPYWRAP BLANKETS

And I love this cozy blue blanket too that I found on a visit to the HomeGoods store.
I always recommend using blankets that you can easily throw in the washing machine after your cozy fall fire pit gathering. As the blankets can collect grass stains, smoke fumes, drink and food spills, etc…
As much as I'd love to bring out one of my mother's quilts to snuggle up in around the fire, it's just not that practical.
4. Duraflame Firestarters
In order to be cozy, things need to be simple and organized. We start all our backyard fire pits with duraflame's firestart sticks.
Your fire will be roaring in less than 20 minutes with no fuss, allowing you to attend to your small gathering.

I love this Pinecone Fire Starters DIY too shared by my friend Yvonne over at Stone Gable.
You may also enjoy these 24 Best Outrageous Scarecrows, It's Fall in Vermont!
5. A Canvas Bag to Transport Your Goodies
I received this cute little canvas bag at a Bloggers Retreat at Stonewall Kitchen this past weekend.
Which got me thinking that using a bag to carry your food goodies in and out of the house is a perfect way to keep your cozy fire pit gathering simple and clean.

6. Your Favorite Pillows
Lombard pillows, colorful pillows, any pillows! Whatever makes you and your guests feel comfortable around your fall fire pit.
It's cold here in Maine so blankets and pillows are a definite must for cozy fall fire pit weather…

You may also enjoy the post, 7 Ways to Add Autumn Spirit to Your Front Porch this Fall from our home in Vermont.
7. A Basket for Wood and Kindling
Old baskets, crates, buckets, etc. work well for all your extra fireside woods and kindling.
You may also enjoy the Summer into Fall: Limelight Hydrangeas, An Old Crate & Fresh Blooms post.
Are You Enjoying this Post?
Save it to your favorite Pinterest board or Bookmark it for future reference!
You may also enjoy our fire pit at our place in Vermont. This will be the first year we will be using it and I can't wait to get it decorated for this fall! It's completely different from the one we have here in Maine.
How to Design a Backyard Fire Pit Conversation Set
Backyard Conversation Set and Fire Pit Patio Reveal
Unseasonably Warm in November, A Simple Neighborhood Gathering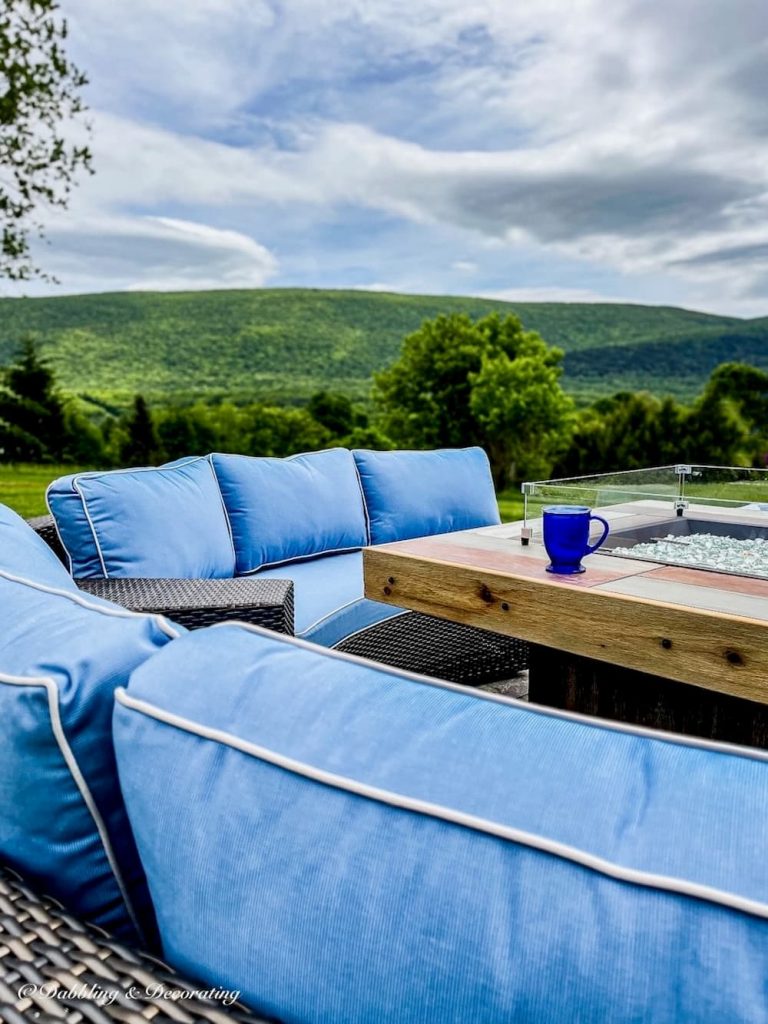 10 Fall Decor Fire Pit Ideas for a Cozy Gathering
Here is a round-up of 10 more of my favorite cozy fall fire pits from around the web.
I'm so glad you dropped by, and if you are new to my blog, welcome! I hope you enjoyed your visit with us here today at our Home in Coastal Maine.
Be sure to also check out our Home in Vermont too, where we spend winters enjoying the coziness of home in the Green Mountains of Vermont.
Please join me as a regular here at Dabbling & Decorating by signing up for my Saturday morning newsletter and never miss an update!

I've created the above custom pin just for this post! Hearing from you makes my day and your comments mean so much to me! Please join me over on Instagram & Pinterest to see more!
Next up on today's "Celebrate Fall 2022 Home Tour" is my friend Libbie from A Life Unfolding. You won't want to miss Libbie's tips for Simple Ways to Add Fall Touches to Your Home.
CELEBRATE FALL'S HOME TOURS 2022
Monday
Sand Dollar Lane // Simply 2 Moms // Pasha is Home // My Family Thyme // Southern Crush at Home
Tuesday
Bluesky at Home // DIY Beautify // Amy Sadler Designs // 2 Bees in a Pod
Wednesday
Worthing Court // The Tattered Pew // Our Crafty Mom // Hearth and Vine // Thistle Key Lane
Thursday
Exquisitely Unremarkable // Aratari at Home // Sonya Burgess // At Lane and High // The Roots of Home
Friday
Dabbling and Decorating // A Life Unfolding // Zucchini Sisters
Southern Home and Hospitality // Feet Under My Table