Autumn's Delight by Johnson Brothers is a beautiful scalloped brown and multicolor fruit pattern dishware set. I found this 8-piece serving set out "Thrifting with the Gals" one summer day in coastal Maine.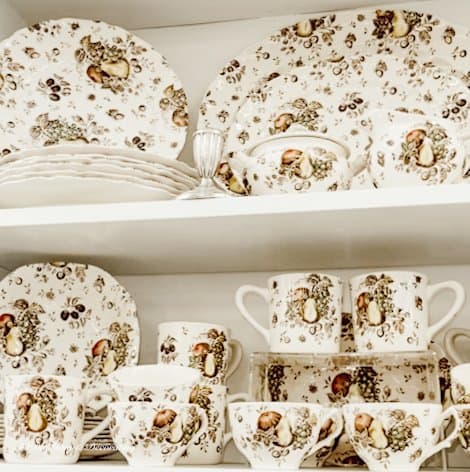 The entire set was selling for just $65 at The Fabulous Find in Kittery, Maine.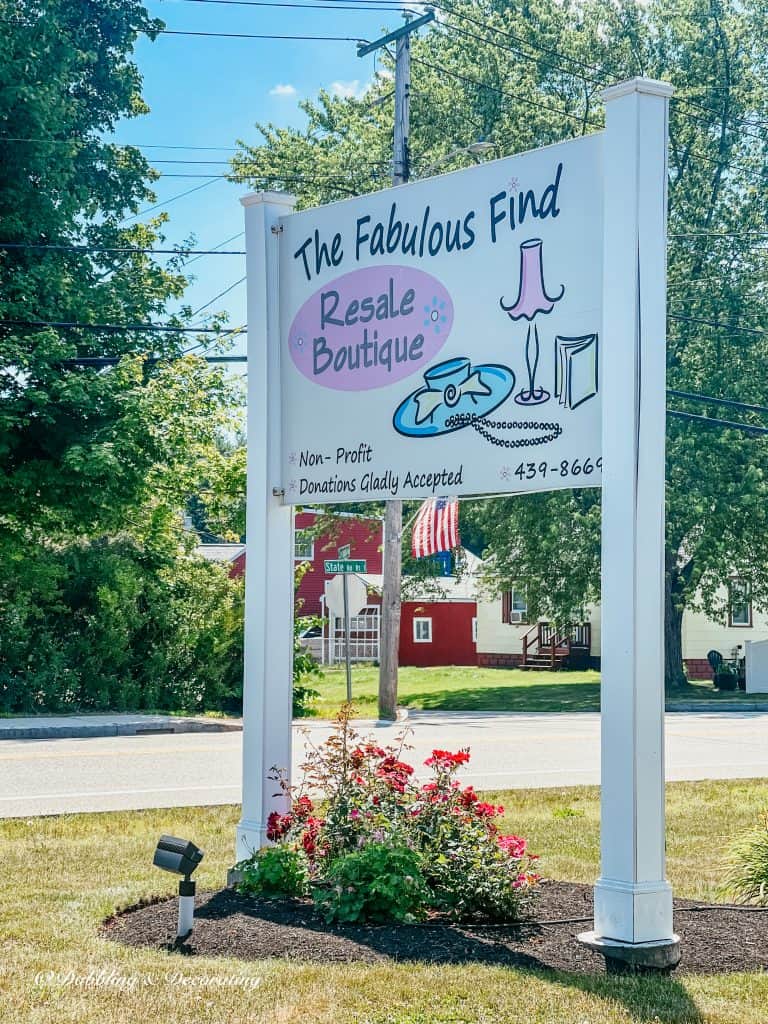 A quick Google search showed a 12-piece serving set of Autumn's Delight by Johnson Brothers sells for over $1200 on eBay.
Who were the Johnson Brothers?
"The Johnson Brothers was a British tableware manufacturer and exporter that was noted for its early introduction of "semi-porcelain" tableware. It was among the most successful Staffordshire potteries which produced tableware, much of it exported to the United States, from the 1890s through the 1960s.
The company's success was due in part to its ability to identify and follow trends that appealed to its customers in the United States, and in part to the high quality of its designs, produced by skilled artists.
Founded in 1883, from 1968 to 2015 it operated as a part of the Wedgwood Group. However, after the Wedgwood Group was acquired by Fiskars in 2015, the production of Johnson Brothers was discontinued." Source Wikipedia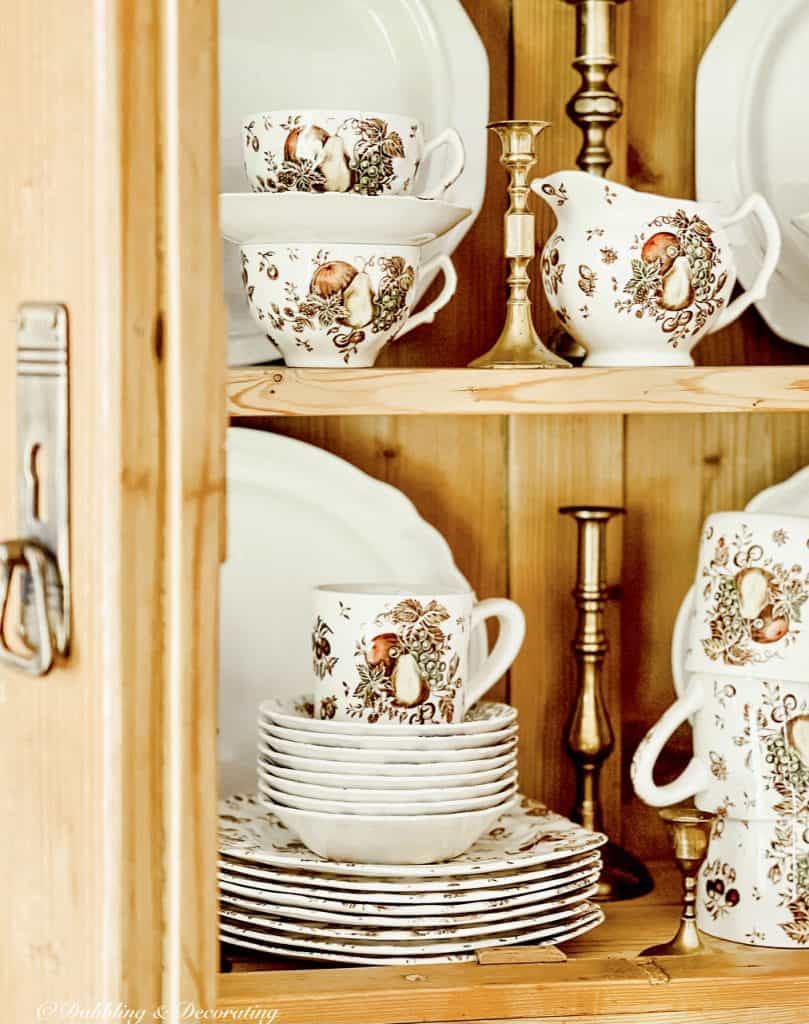 I envision this beautiful serving of dishware on our porch this Fall at our home in Vermont on my favorite second-hand table!
See how the table turned out in the post, Is Autumn a Season for Vintage?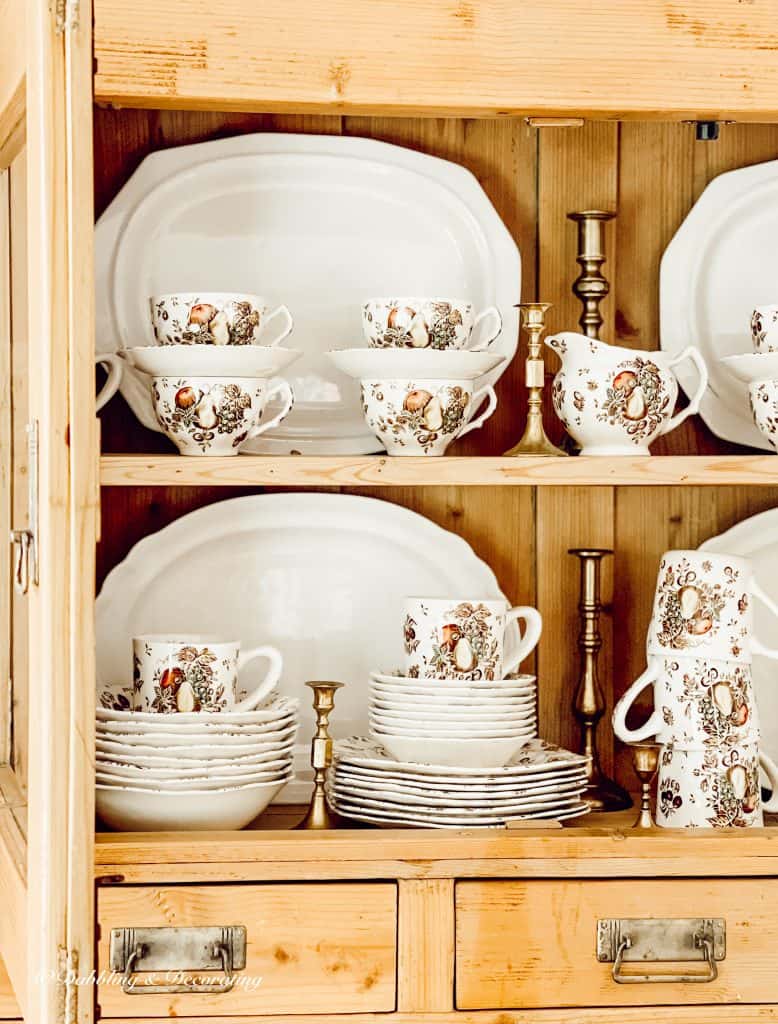 Here is the thrifted Autumn's Delight dishware today in our Vermont pine hutch waiting for its table debut this fall in Vermont. You may see more of this hutch too in the post, Vintage Hutch Farmhouse Style.
This year in Vermont we have flowers in the front yard after a small landscaping project from last summer.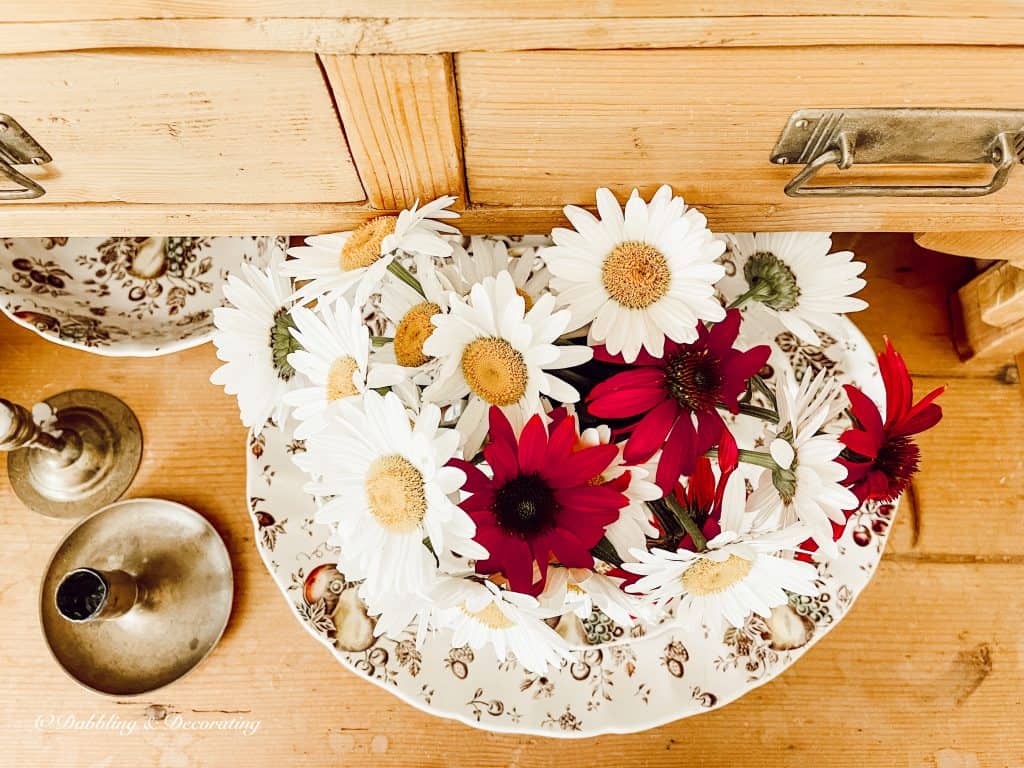 The daisies are absolutely amazing! I'm not much of a gardener so I really appreciate the smaller things like this small floral bouquet.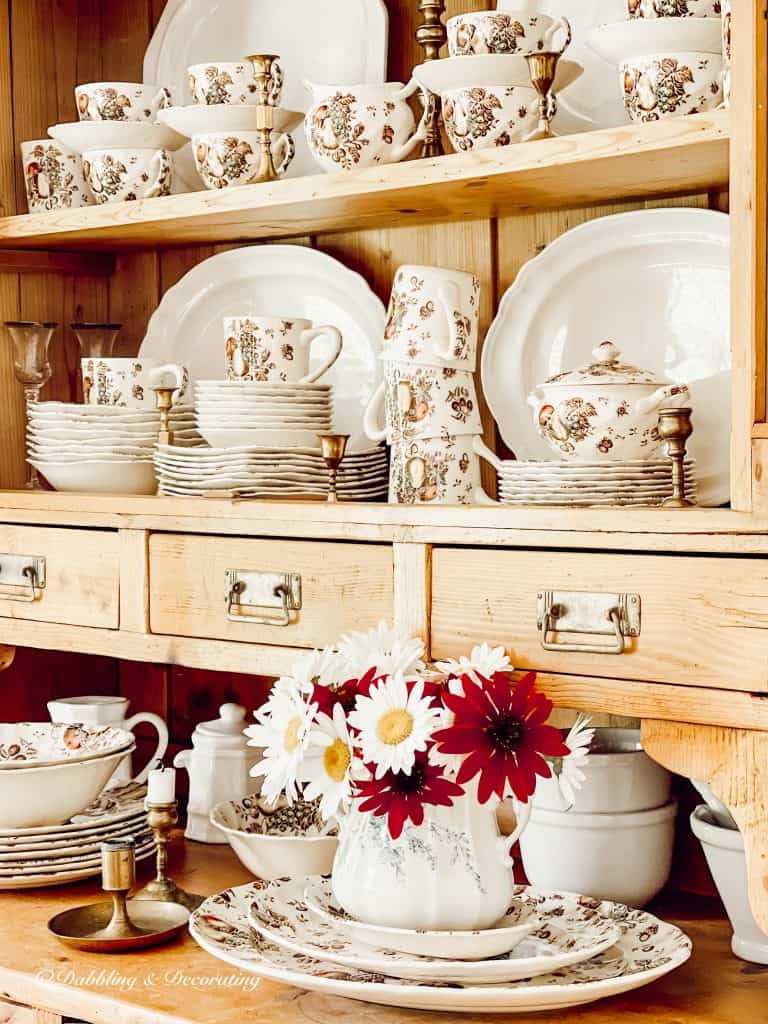 You may also enjoy the post, Blue and White Asymmetrical Vintage Platter Wall | Design Yours Today.
And more of this hutch in the post, How to Style a Vintage Cabinet Hutch with Wedding China in 7 Simple Steps.
And don't miss these 11 Creative Ideas to Display Your Vintage Collections.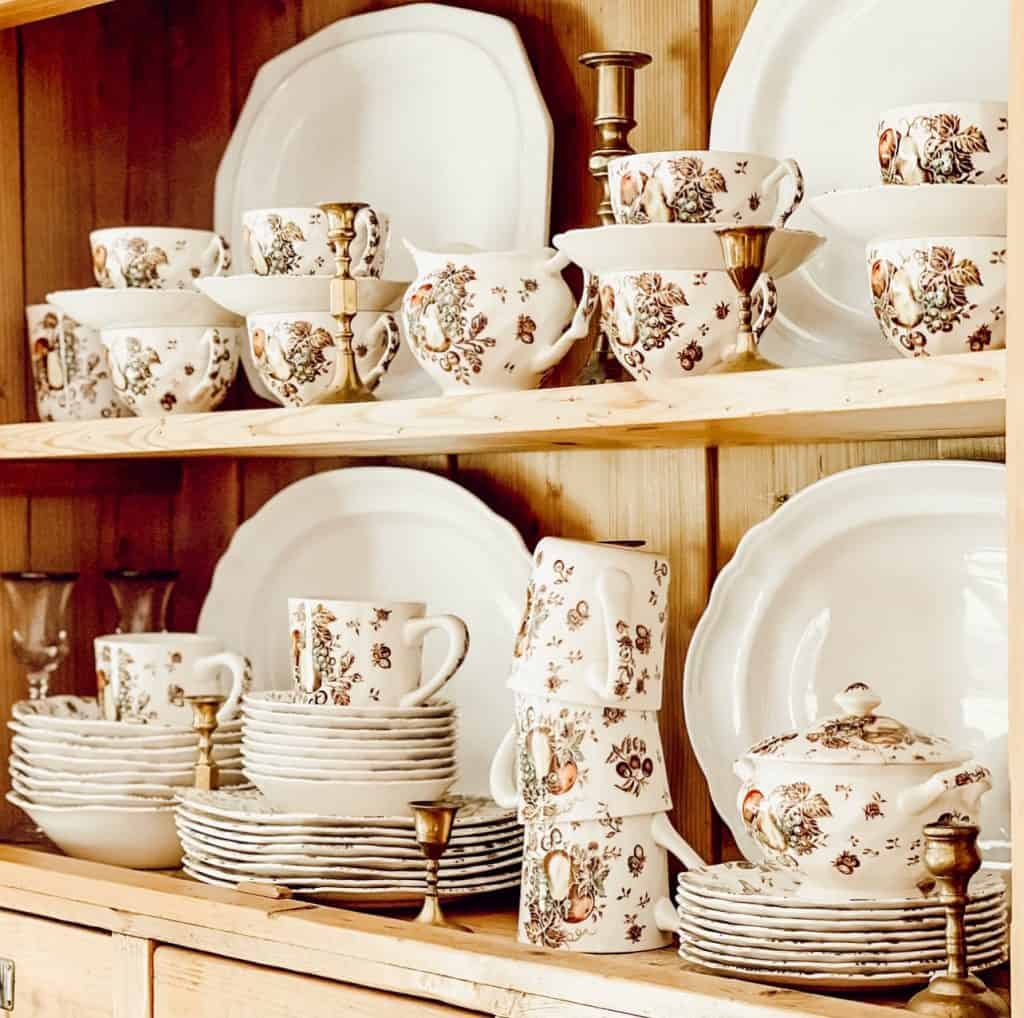 I find it so hard to resist a complete dishware set like this when it sells for less than $100. How about you?
I've been asked frequently how I store all the dishwares that I find thrifting. Here are a few of my favorite storage bags.
This post may contain affiliate links which won't change your price but will share some commission."
Click on any of the images to shop the products.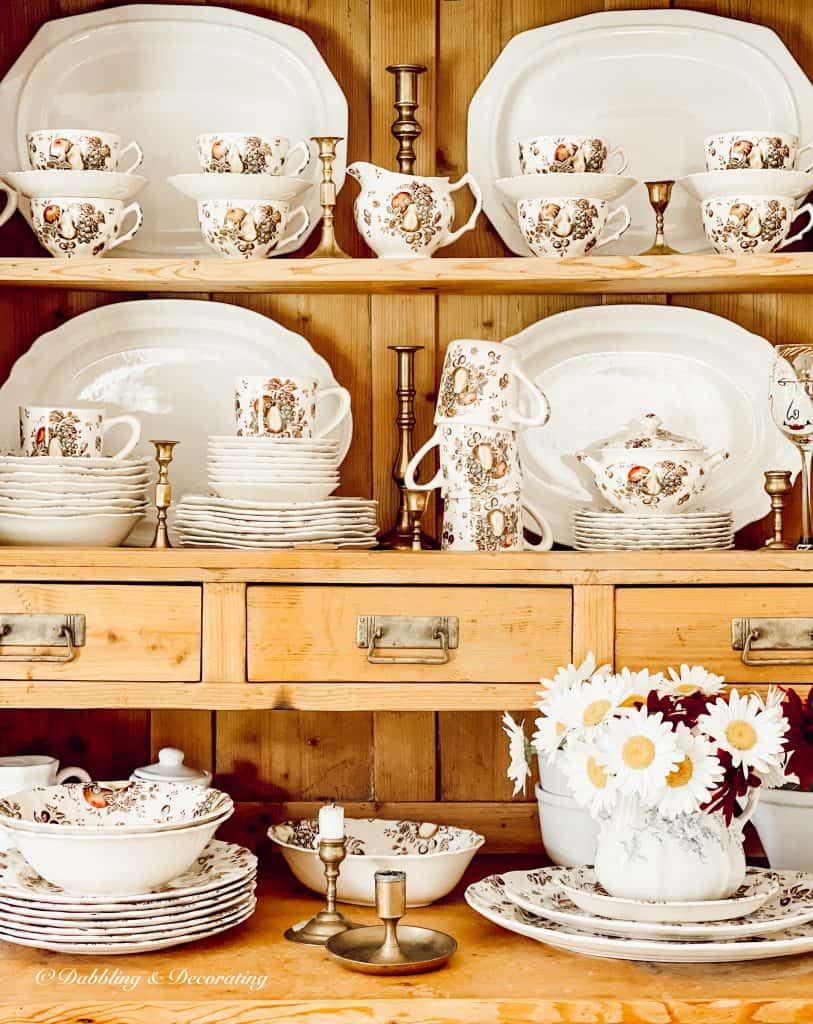 The thrifted brass candlesticks pair so well with the Autumn's Delight dishes too. Both with and without the candles…
Shop Brass Candlesticks

Next up, I'm going to be sharing this thrifted vintage shop bistro "OPEN" sign with you that I'll pair on the porch with the "Autumn's Delight" table setting.
Sign up for my weekly newsletter so you don't miss it!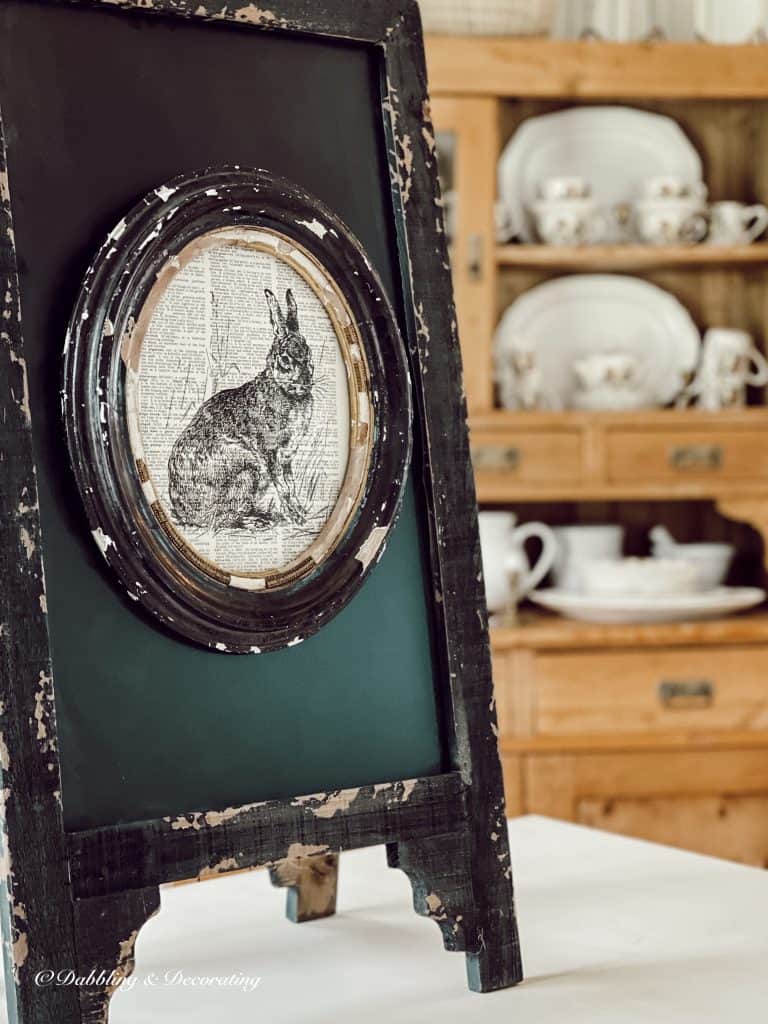 I'm so glad you dropped by, and if you are new to my blog, welcome! I hope you enjoyed your visit with us here today at our Home in Vermont.
Be sure also to check out our Home in Coastal Maine where we spend summers and weekends when we are craving a walk on the beach or a visit with old friends.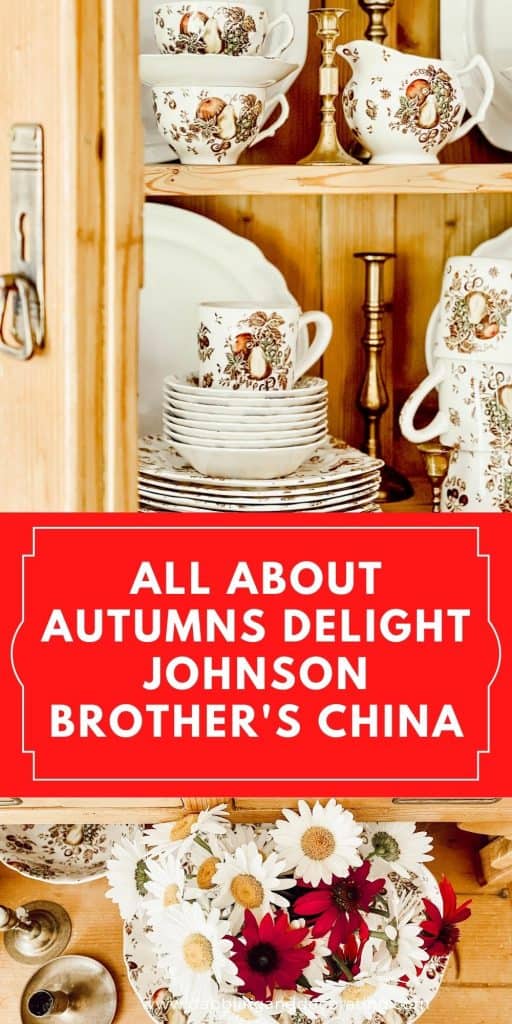 I've created the above custom pin just for this post! Hearing from you makes my day and your comments mean so much to me! Please join me over on Instagram & Pinterest to see more!
SHOP THIS POST

YOU MAY ALSO LIKE