Can you ever have too many blue dishes? You are going to love these 4 thrifted blue dishes I found on the 4th of July so much so, that I couldn't resist sharing.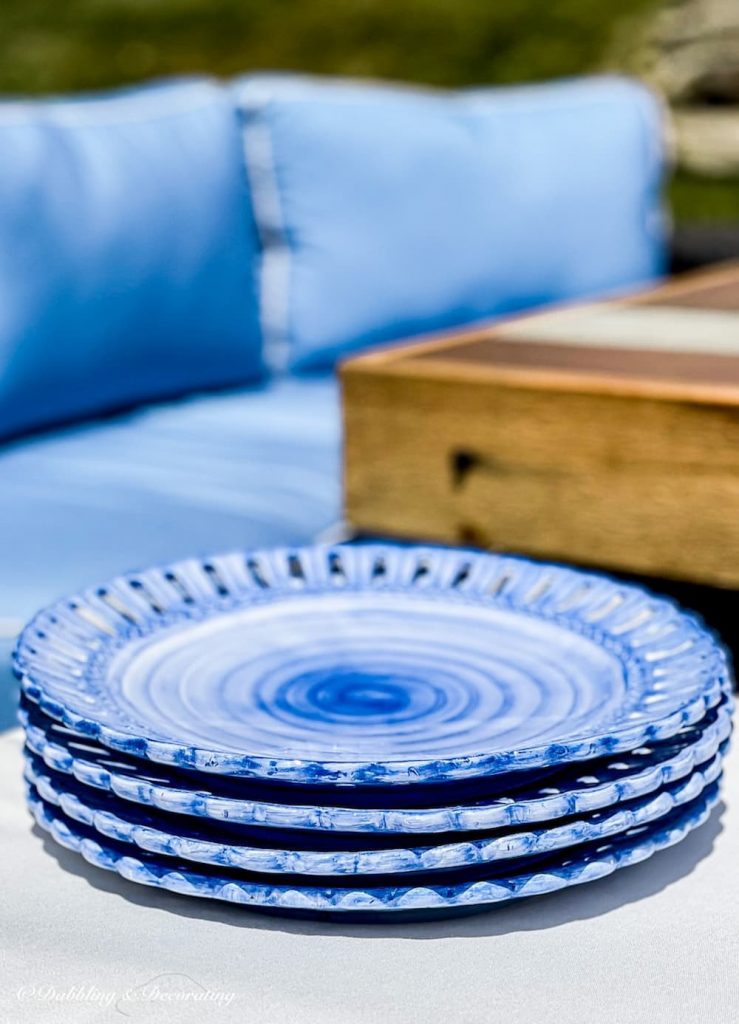 Oh, boy and was it an early 4th of July morning too. I was up at 5:00 AM to refresh my window booth down at The Vintage Soul before they opened up for the holiday.
See more about this booth in the post, How to Start a Vintage Booth Business.
Blue Dishes
That is where I spied these amazing 1995 Lotus blue china dishes, in another vendor's booth.
And they had this same dishware collection in green, pink, and yellow too. I understood later that they had been used for a wedding.
You may also enjoy the Refreshing Weekend Junket Home to Vermont post.
Oh but that color blue…
And all I could picture were these bluer-than-blue dishes matching beautifully with our fire pit conversation set.
And I love them today in our new Breakfast Nook for Morning Brunch.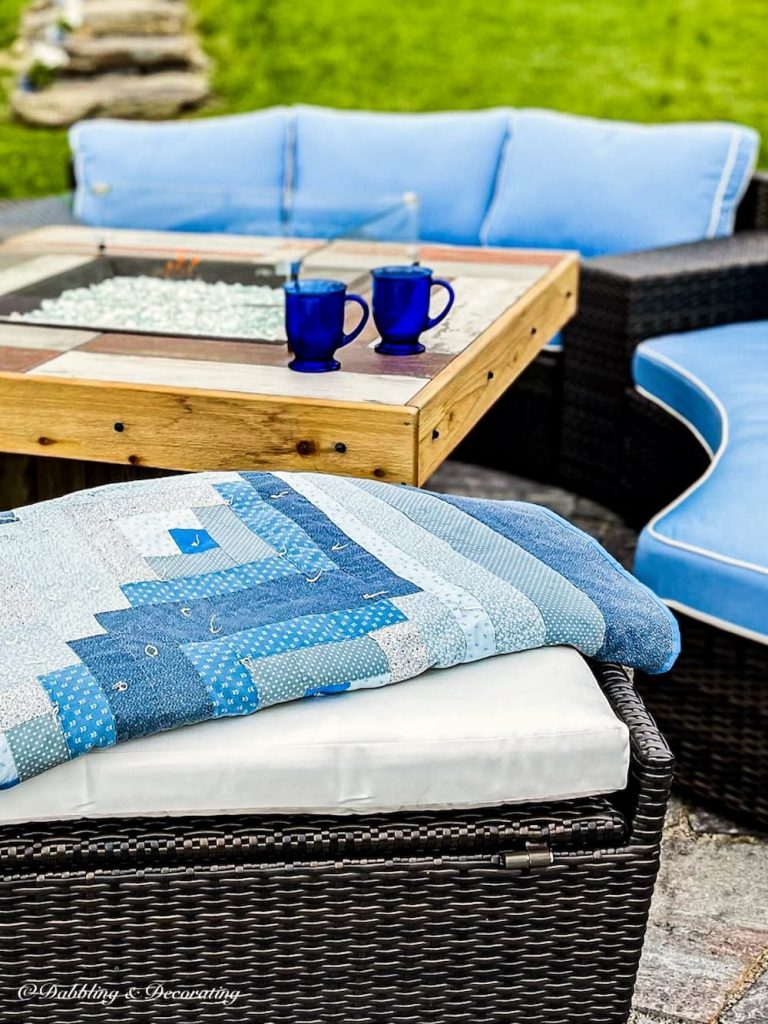 I have looked everywhere on the internet to find more of these plates for you to shop without any such luck.
So if you know anything about these 1995 Lotus china dishes please leave me a comment below. I'd love to hear from you!
4th of July
Did you have a nice 4th of July weekend?
We spent the holiday in peaceful Vermont in an effort to escape the large Coastal Maine crowds.
But before we did, we indulged in a simple, impromptu yet traditional backyard lobster dinner, which I didn't get a chance to blog so here's a little video for you to enjoy.
Unfortunately, I didn't get much decorating done for the 4th this year, as we were only in Vermont for a few short days.
But my neighbor did drop by with these sweet flowers in mason jars, which we enjoyed on the porch.
And again later with some fresh lavender from their garden and homemade cookies to help us sleep. Did you know that the smell of Lavender helps you sleep, lowers anxiety, and your heart rate too?
How about that?
And the lavender even matched the thrifted blue dishes.
Cool evenings by the fire pit with my new blue dishes, priceless!
A very simple and peaceful 4th of July weekend. I couldn't have asked for more!
Oh and Ella, our Bernese Mountain Dog wasn't afraid of the fireworks this weekend either!
Double bonus.
You may also enjoy the post, 75+ Blue and White Vintage Gift Ideas for Women.
And these 22 blue and white home decorating ideas.
Unseasonably Warm in November, A Simple Neighborhood Gathering around the fire pit.
I'm so glad you dropped by, and if you are new to my blog, welcome! I hope you enjoyed your visit with us here today at our Home in Vermont.
Be sure to also check out our Home in Coastal Maine where we spend summers and weekends when we are craving a walk on the beach or a visit with old friends.

I've created the above custom pin just for this post!  Hearing from you makes my day; your comments mean so much to me! Please join me on Instagram & Pinterest to see more!
YOU MAY ALSO ENJOY