I have been so looking forward to my visit with the "Traveling TeaCup", which is a gorgeous pink and green teacup that has been traveling throughout the country making friends with everyone it meets. Barbara from Mantel and Table Blog came up with this fun idea and photo challenge to share a teacup and make some friends along the way! Read all about the traveling teacup and all her friends that have hosted before here!
Tuesday
Wednesday
We woke up to a cold and rainy day here at our home in Vermont. So, we started off with breakfast in bed, which included fresh flowers from a local market, delicious toasted Vermont cider donuts, and a cup of Green Mountain's blueberry coffee with my favorite visiting teacup.
You may also enjoy the post, Unseasonably Warm in November, A Simple Neighborhood Gathering.
Thursday
Another rainy cold day here in Vermont today with snow in the forecast. I started the day off with a cup of tea with the traveling teacup in the sunroom and called it a Dabbling & Decorating kind of day!
Which included making Stromboli, preparing the yard for the snow to come, and working on our dining room for an upcoming blog hop scheduled for early November, with a vintage frames theme!
I also discovered this green cup warmer that I had knitted a couple of years back, which helped keep this traveling teacup warm while visiting us in Vermont.
Friday
We welcomed in the first snowfall of the season this morning and took a brisk walk around the house to take in all its beauty.
Snow in October is so beautiful in Vermont with all the beautiful colors of fall against the white blanket of the snow.
Stop by a full tour of our home in Vermont here!
Warming up on the porch, overlooking the mountains with tea in the traveling teacup after Vermont's first snowfall.
Saturday
We woke up to the most beautiful morning here in the mountains. It was 19 degrees with a blanket of frost, fallen golden leaves, and melting snow. The sunrise created a glistening backdrop against the mountain views. Just amazing!
After taking non-stop photos of the morning views, I settled into the sunroom with the traveling teacup to warm up and enjoy the views from inside.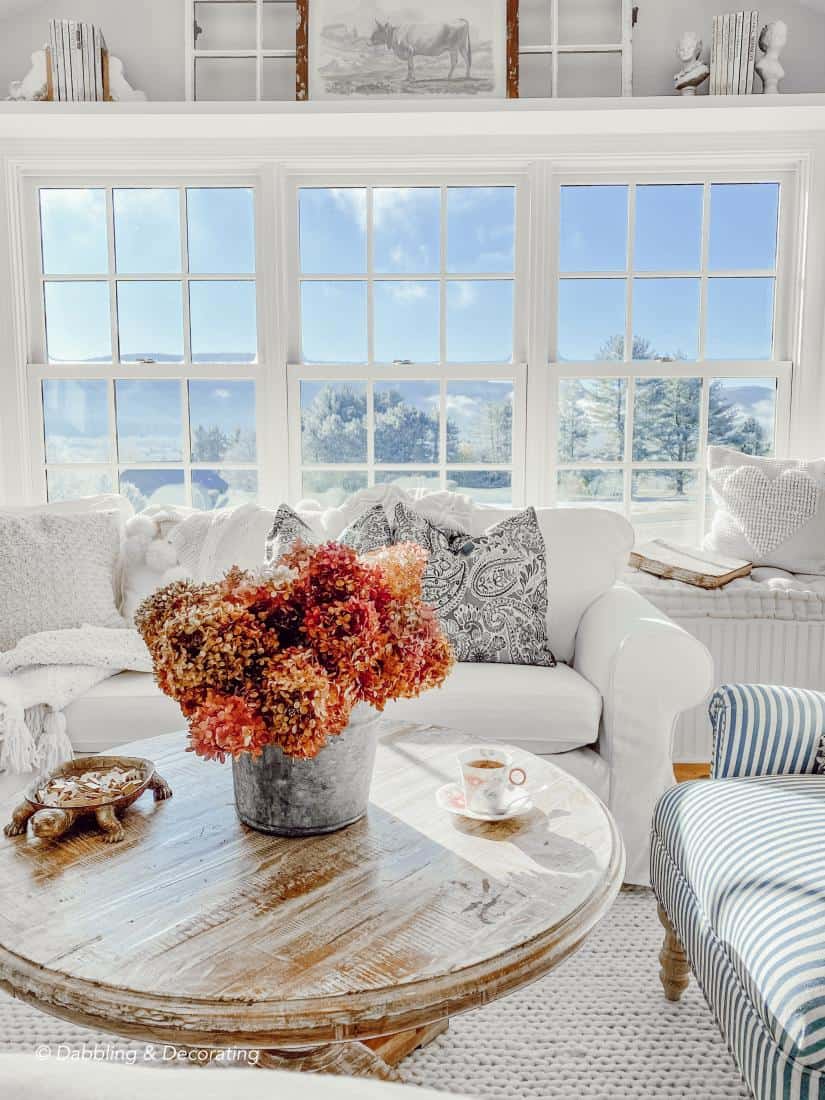 What a fun week we had to host the traveling teacup here at our home in Vermont. Thank you so much to Barbara over at Mantel and Table Blog for creating the traveling teacup experience for us to share!
I'm so glad you dropped by, and if you are new to my blog, welcome! I hope you enjoyed your visit with us here today at our Home in Vermont.
Be sure also to check out our Home in Coastal Maine where we spend summers and weekends when we are craving a walk on the beach or a visit with old friends.
Please join me as a regular here at Dabbling & Decorating by signing up for my Saturday morning newsletter and never miss an update!

I've created the above custom pin just for this post! I would love to hear from you too~ Your comments mean so much to me and truly make my day… Please join me on Instagram & Pinterest to see more!