Do you have a wood table that you'd like to refinish? Don't put it off any longer! Get this handsome refinished look in less than 1 hour. "Restore it, Don't Strip it"!
A Vintage Wood Table
I found This Favorite Second-Hand Table while out "Thrifting with the Gals" last summer. The size was just perfect for our long narrow front porch.
And the character of it, well, it's just adorable! I highly recommend old wallpaper tables if you have a small narrow area you want to work within.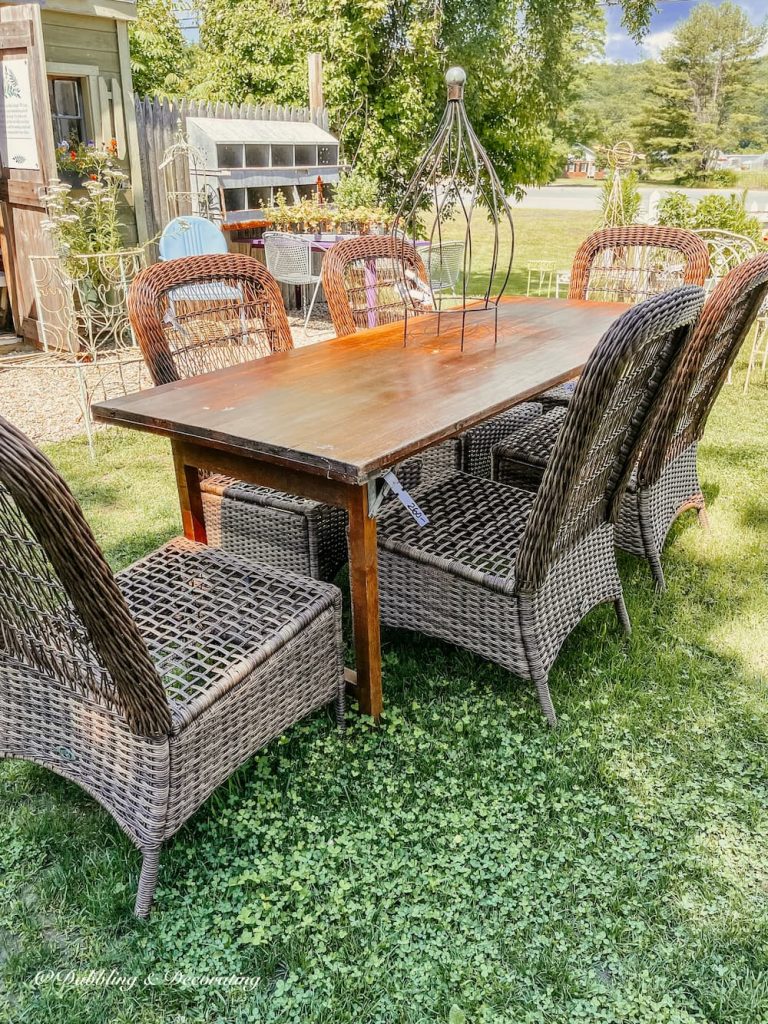 They're great as outdoor dining tables, workbenches, craft benches, buffet tables, display tables, flea market tables, picnic tables, etc. And they fold up for easy transport and storage too!
SHOP VINTAGE WALLPAPER TABLES
This post may contain affiliate links which won't change your price but will share some commission."

But after a year of this wood table being exposed to the elements on our covered front porch along with Vermont's harsh winter weather, it desperately needed restoration and refinishing.
A project I was really dreading! Do you know that feeling?
Here is this wallpaper table before the refinishing.
You can see all the markings, wallpaper paste, and how dry the wood has become.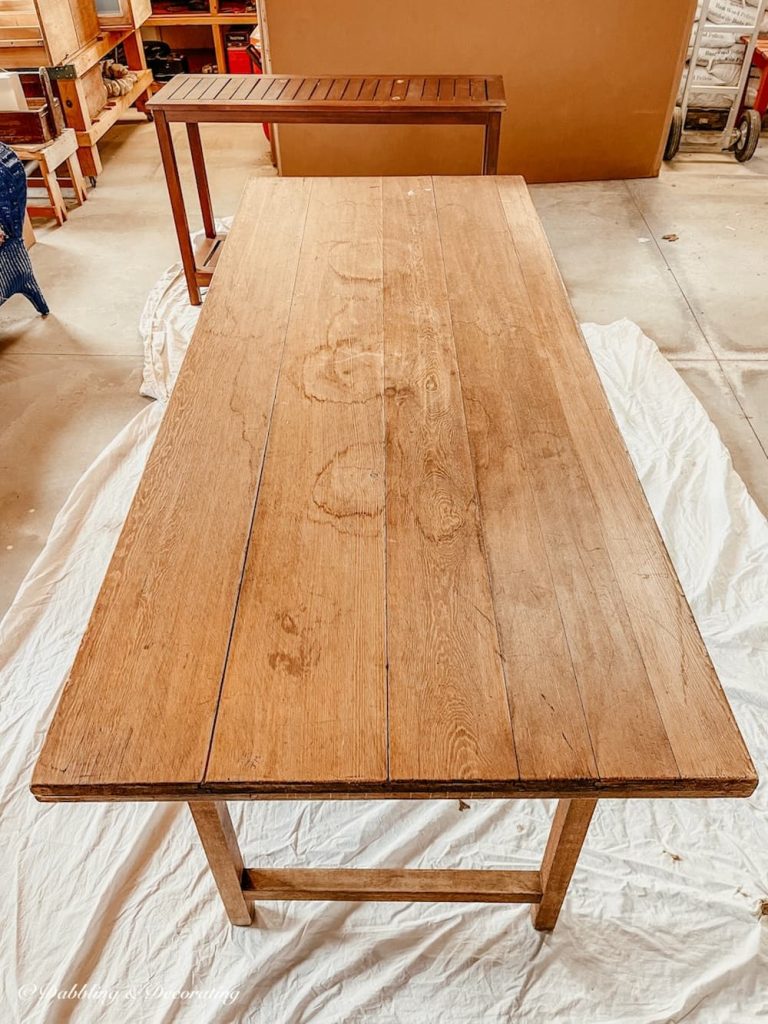 What is the best way to refinish a tabletop in under 1 hour?
If you are like me, you get extremely impatient when working on DIY projects.
I don't want to take a full day or more to sand a wooden table or furniture piece to get it looking just right. I am totally guilty of wanting instant satisfaction…
*I am not an expert in refinishing furniture. These are my experiences, and I hope you find these methods useful!
So my GO-TO for refinishing a wood table affordably and quickly is to use Restor – A – Finish! It's so easy with amazing results!
How do you refinish wood furniture?
Restore it, Don't Strip it!
1. Choose the finish from Restor-A-Finish you want to work with. There are 5 finishes available. Choose the finish that matches the color of your wood and the color you are striving for with your wood table.

Today I'll be using Restor-A-Finish's Mahogany, which is a rich brownish-red color. I want it to match the flooring on our covered front porch, which is where this table will reside.
2. Shop the supplies you will need here: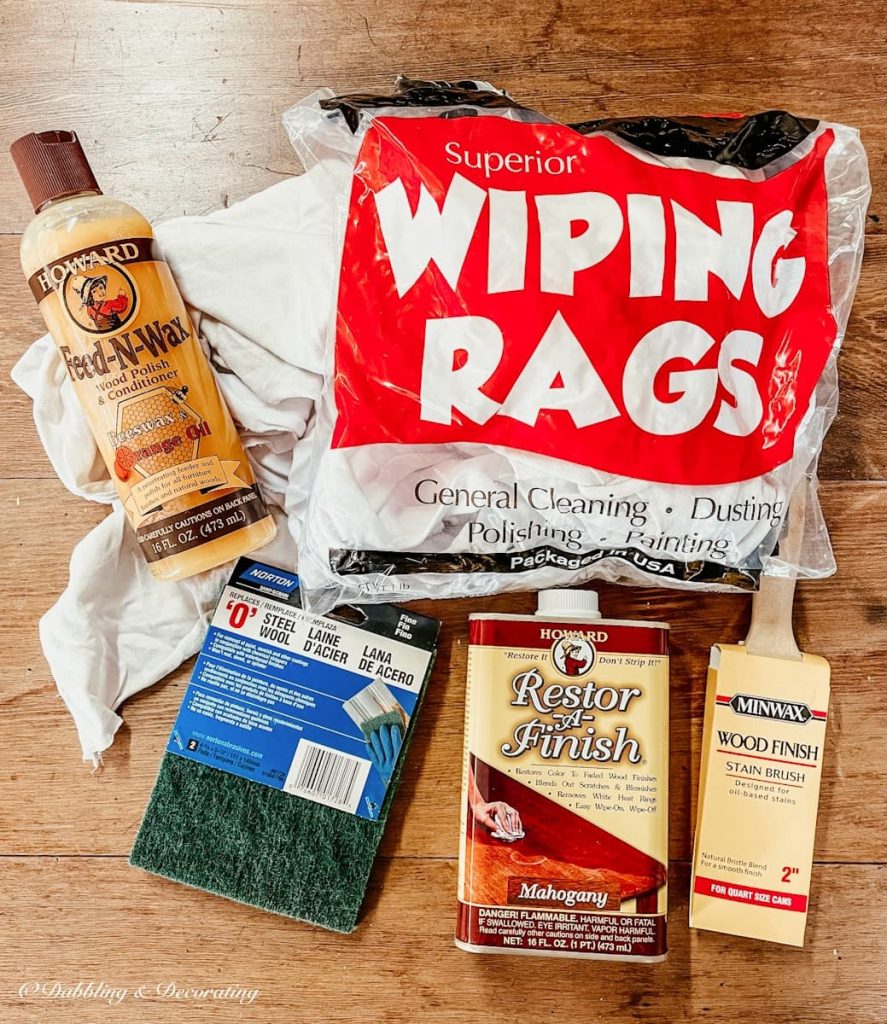 3. Prepare your workspace where you want to refinish a wood table.
I use old bedsheets that I have collected over the years to protect our garage floor surface.
You could also use drop cloths, cardboard, etc…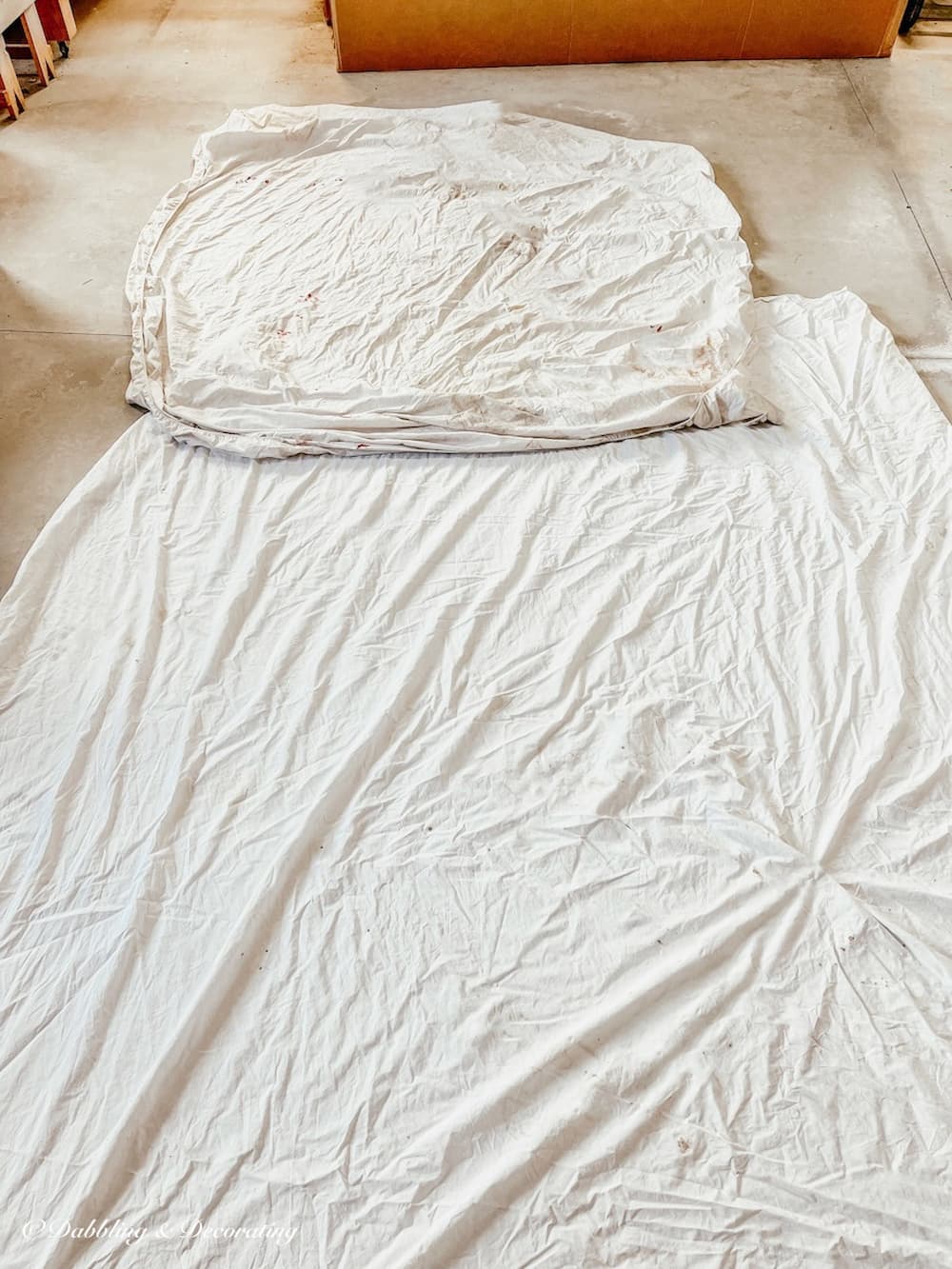 4. Wipe off any dust or dirt on the wood furniture you want to refinish.
5. Rub any imperfections you would like gone using the fine steel wool. I used the steel wool on this wallpaper table to remove the old wallpaper paste that was still lingering on the surface.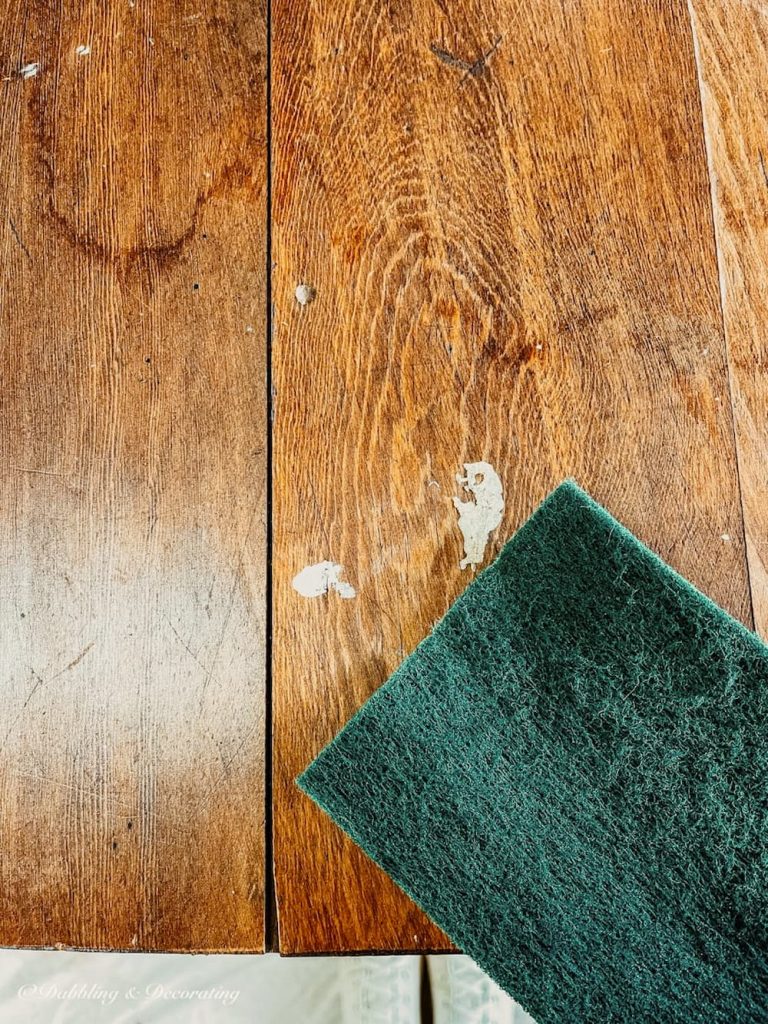 6. Once the surface is cleared off, apply the Restor-A-Finish.
You can use a brush or a rag. I used a rag, as I find it easier to smooth on.
Be sure to read the safety and directions on the back of the can too!
Simply pour the solution onto the rag, not onto the table directly, and apply evenly with the grain.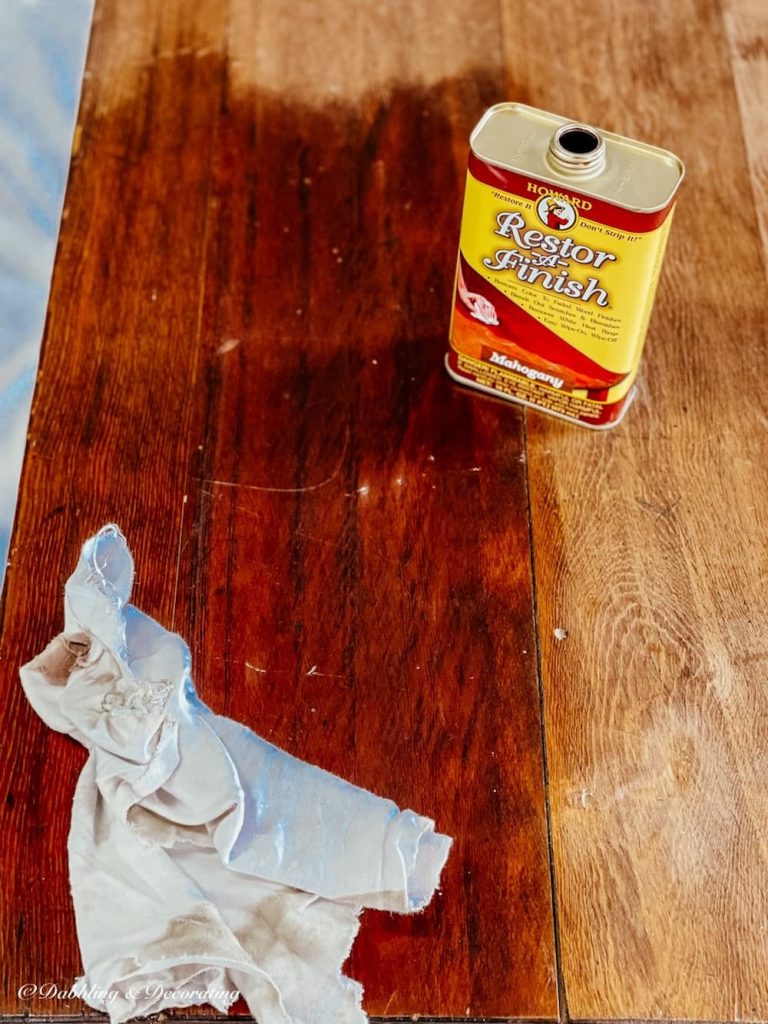 This table was so dry it was literally drinking up the solution. I applied it very generously, as I was going for a really dark and rich finish.
I applied about 3 – 4 coats, one right after the other, as it dried that quickly.
7. Let your wood table sit and dry for 30 minutes.
Here is my wooden table refinished with Restor-A-Finish in less than 1 hour's time. You can see there are still a few markings.
These markings could have been removed with a good sanding.
But we're not done yet!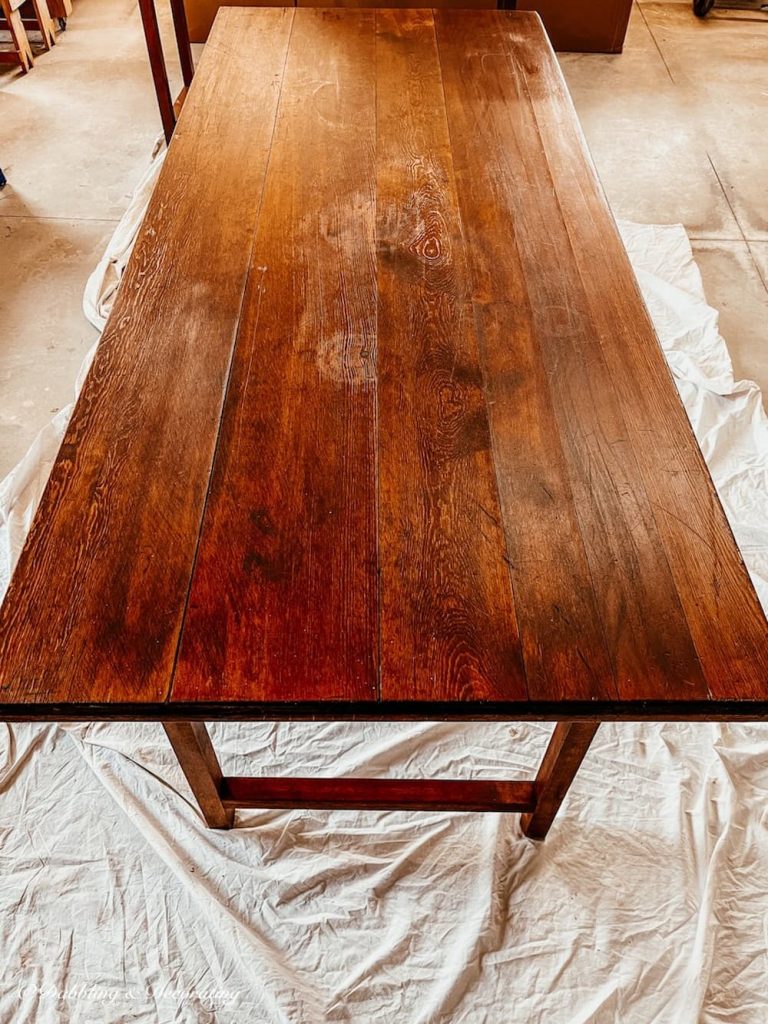 8. Now apply Howard's Feed-N-Wax.
First, read the safety and directions that are on the bottle.
This conditioning oil "feeds" the wood and helps keep it from drying and fading. And boy, is it beautiful! Use a clean rag to spread it onto the table. Once again, I used a generous amount, almost half a bottle, on this table. Refer to the video to see more.
9. Let your refinished wood table dry for 24 hours to be sure that it is completely dry before using. Ella, our Bernese Mountain Dog, practices her patience along with us too…
You may appreciate How to Paint Wicker Furniture Shabby Chic Style like the one here that Ella is sitting in.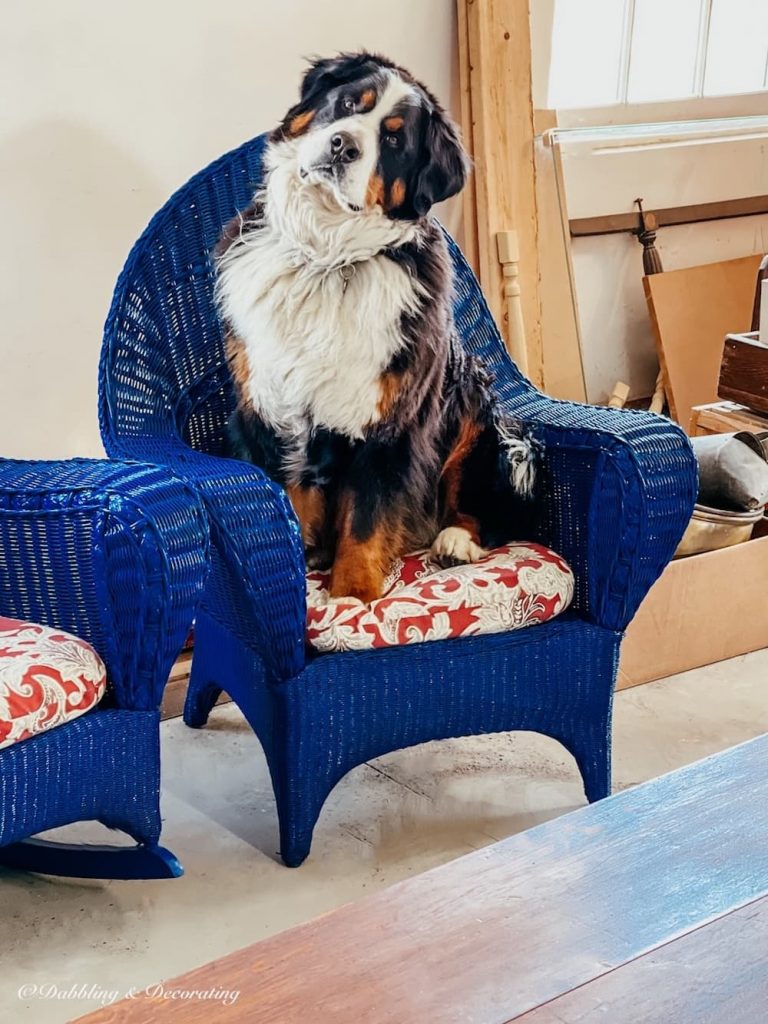 You may also appreciate 16 Easy Spring DIY Ideas You Can Start Today!
Refinished Wood Table
Here she is…
Isn't the color spectacular? What a difference.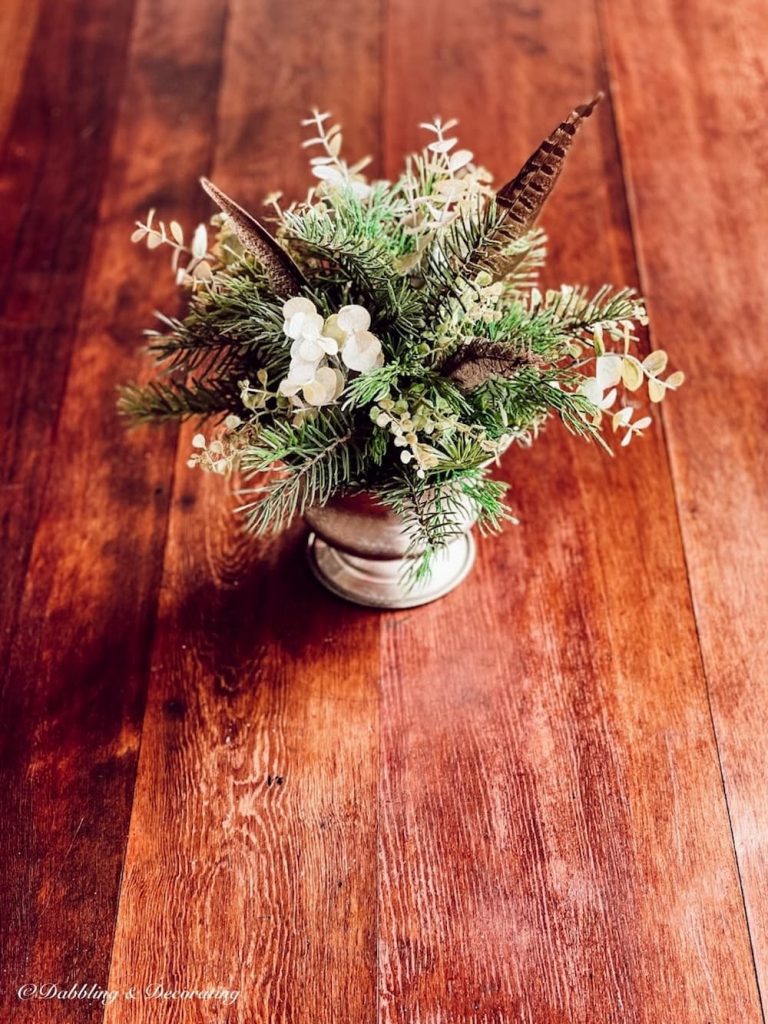 Here is the Before and After of our Refinished Wood Table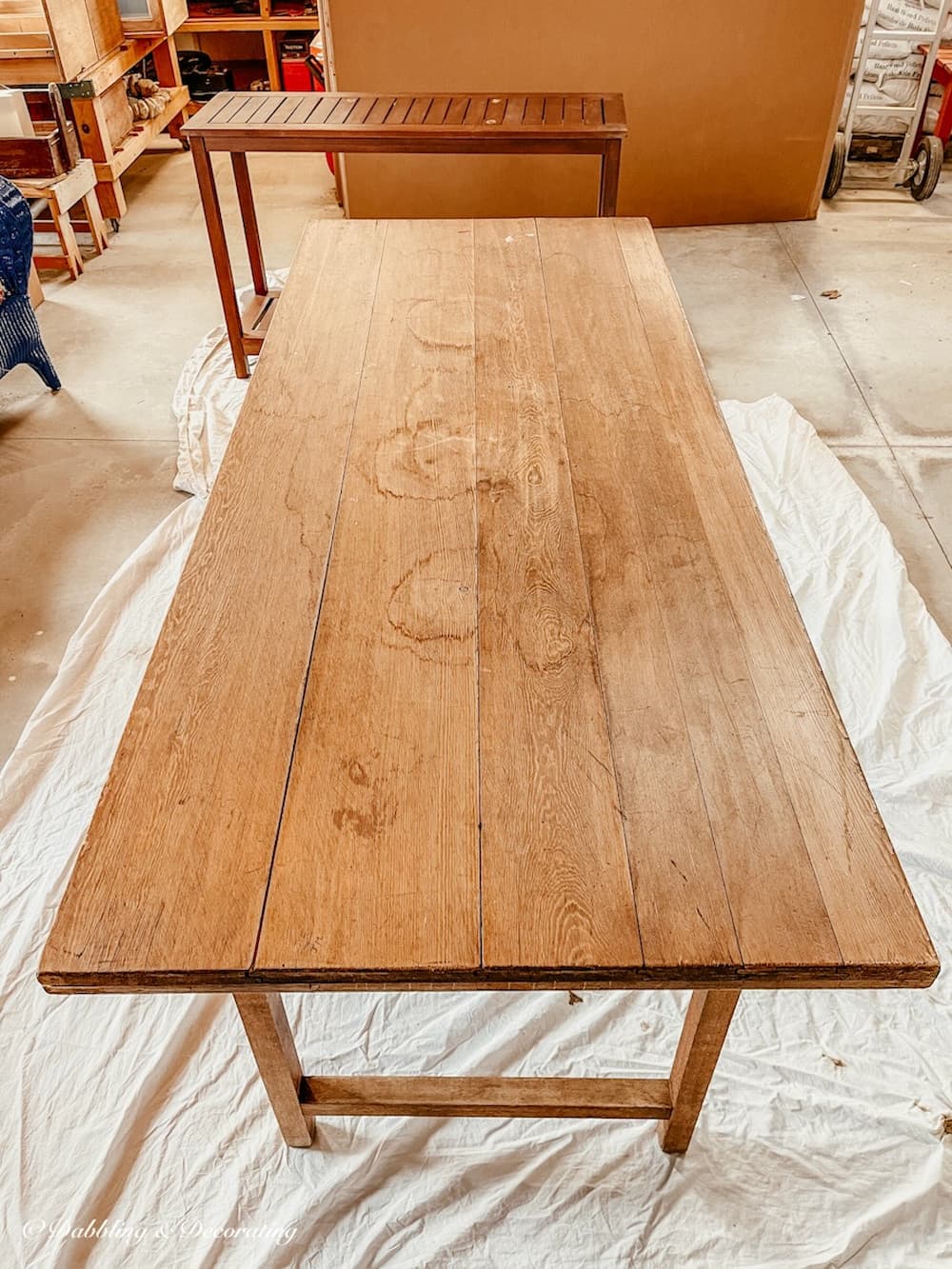 The stains and markings in the middle of this table did not completely disappear.
But honestly, I feel imperfections like this add to the charm of vintage collections, like this old wallpaper table.
And we were able to refinish this old wooden table in under an hour's time.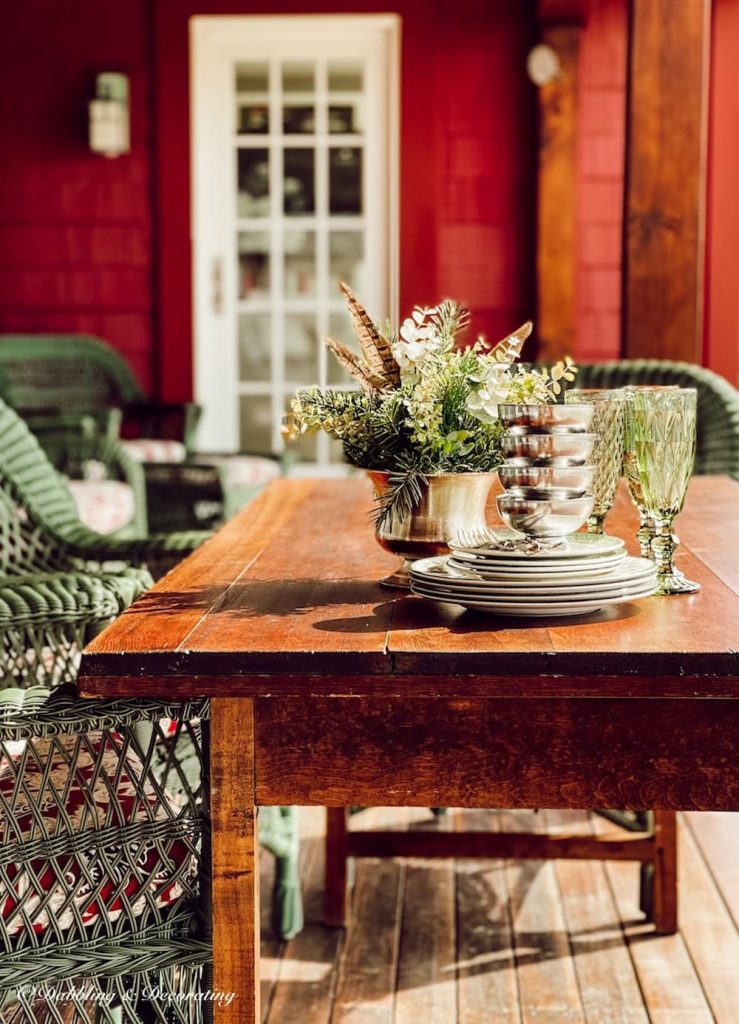 I can't wait to decorate it with the first spring table setting of the year!
I envision a table full of mixed green and white vintage dishes paired with my favorite green champagne flutes shown here.
You may also appreciate A Vintage Haul for The Porch.
You may also enjoy the post, Step Up Your Home Decor Style with a Vintage Cobbler Rack.
See you in the spring!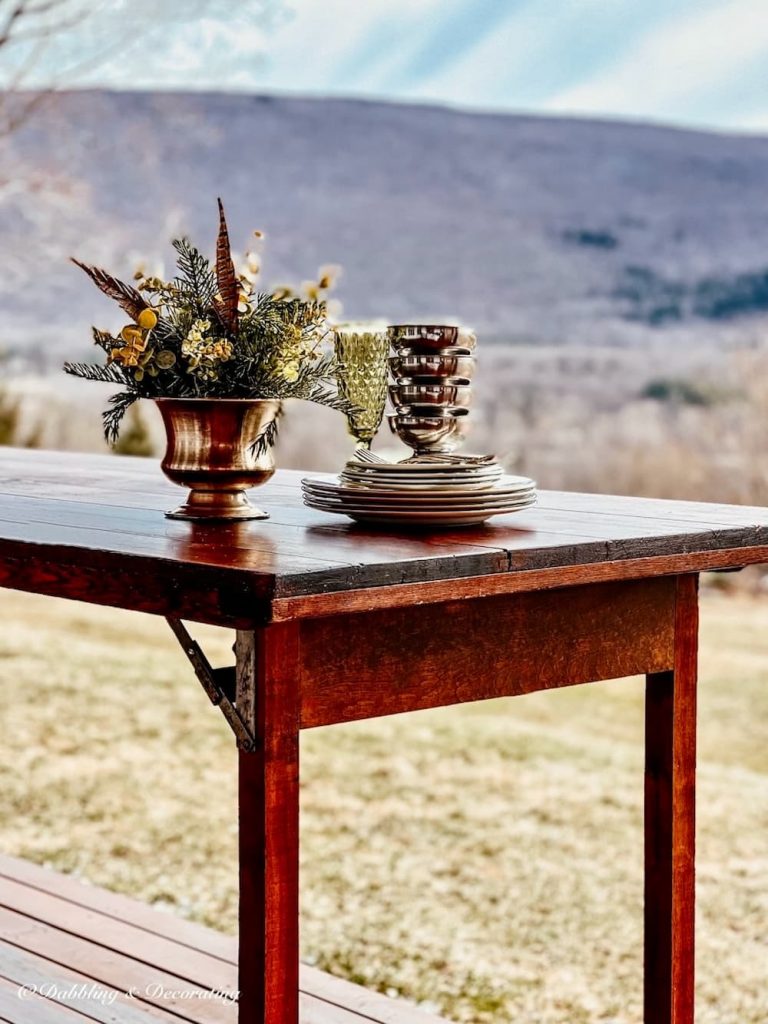 I'm so glad you dropped by, and if you are new to my blog, welcome! I hope you enjoyed your visit with us here today at our Home in Vermont.
Be sure also to check out our Home in Coastal Maine, where we spend summers and weekends craving a walk on the beach or a visit with old friends.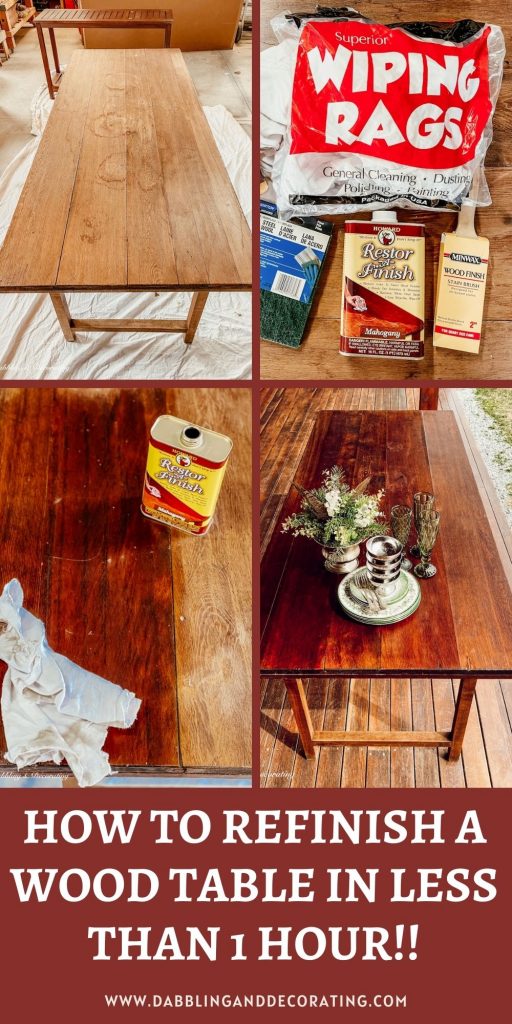 I've created the above custom pin just for this post!  Hearing from you makes my day; your comments mean so much to me! Please join me over on Instagram & Pinterest to see more!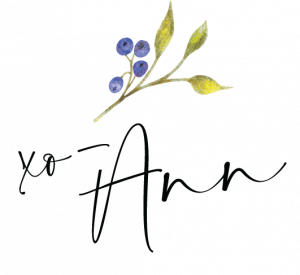 SHOP THIS POST

YOU MAY ALSO ENJOY