Classic wicker furniture is timeless! Let me show you why and how to create an inviting front porch with beautiful and adorning wicker.
But – guess what? It should be inviting for you as well!
Celebrating Spring 2022
Today I'm thrilled to be sharing our front porch with wicker furniture as part of the Celebrating Spring 2022 Blog Hop hosted by Leen over at Sand Dollar Lane.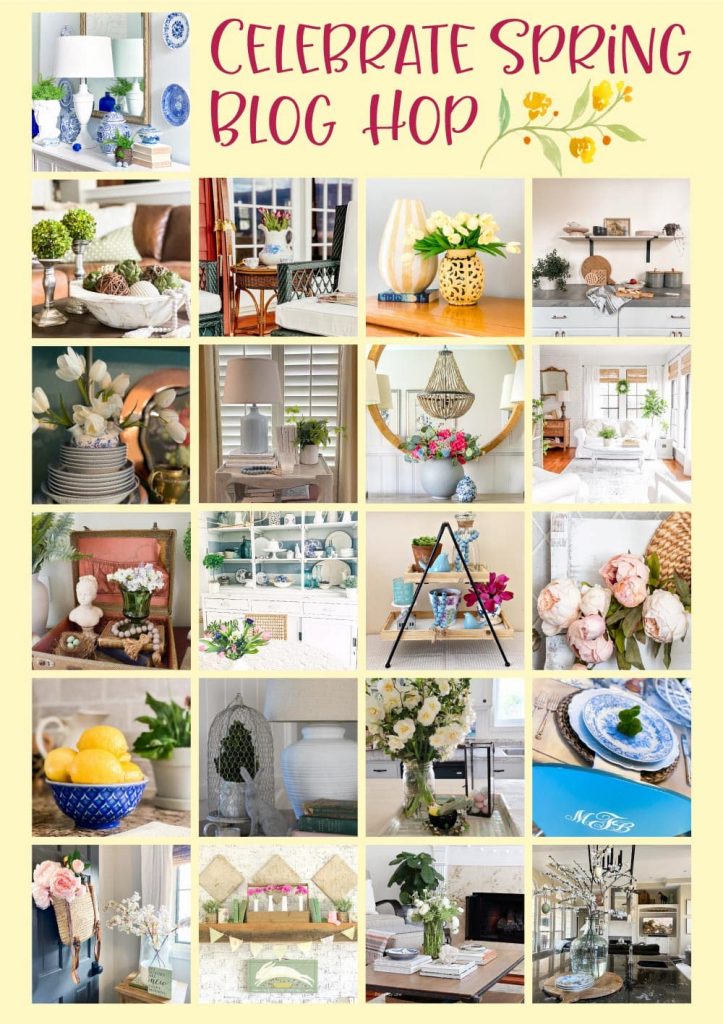 If you are joining me today from Michelle of Thistle Key Lane, welcome to our home in Vermont! Don't you just adore Michelle's beautiful home style? I've always been such an admirer of her home and lovely decorating ideas. And that family room!
Snow in Spring
You are going to see so many beautiful spring home decor ideas on today's home tours, but here in Vermont spring hasn't quite sprung yet…
In fact it snowed all day yesterday and it's just 14 degrees here this morning!
So my post today may be a little out of the ordinary on your tour with us today.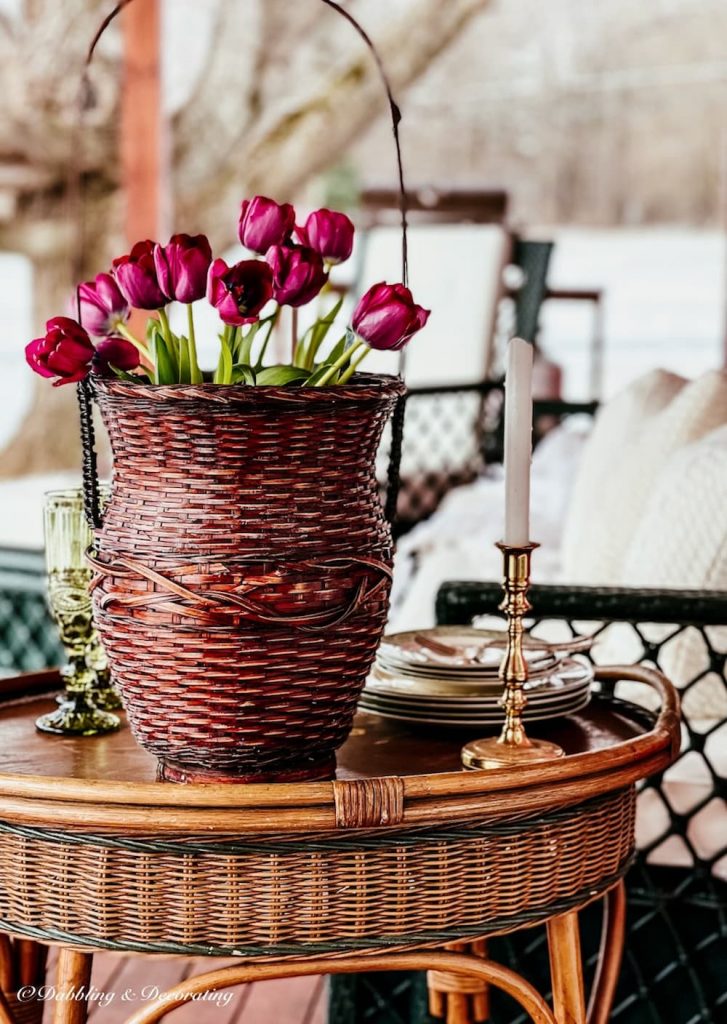 On the Front Porch
So this past summer we renovated our front porch here in Vermont, which is the heart of our home overlooking the Green Mountains.
The porch and the views are why we chose this house, honestly.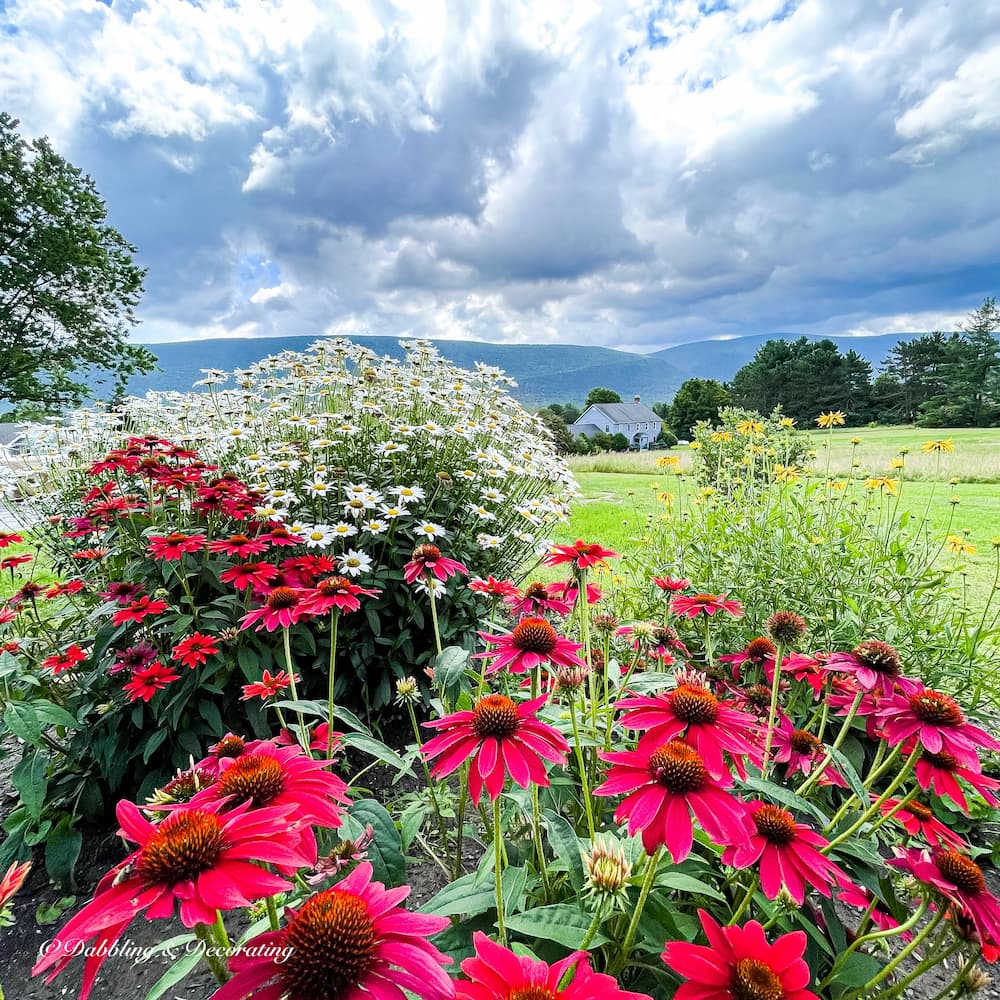 Therefore, we wanted to make our front porch into an inviting and comfortable living space for all who visit, as well as for ourselves.
Following the renovation of the refinished flooring and new columns, we entered the most beautiful season of all here in Vermont, autumn.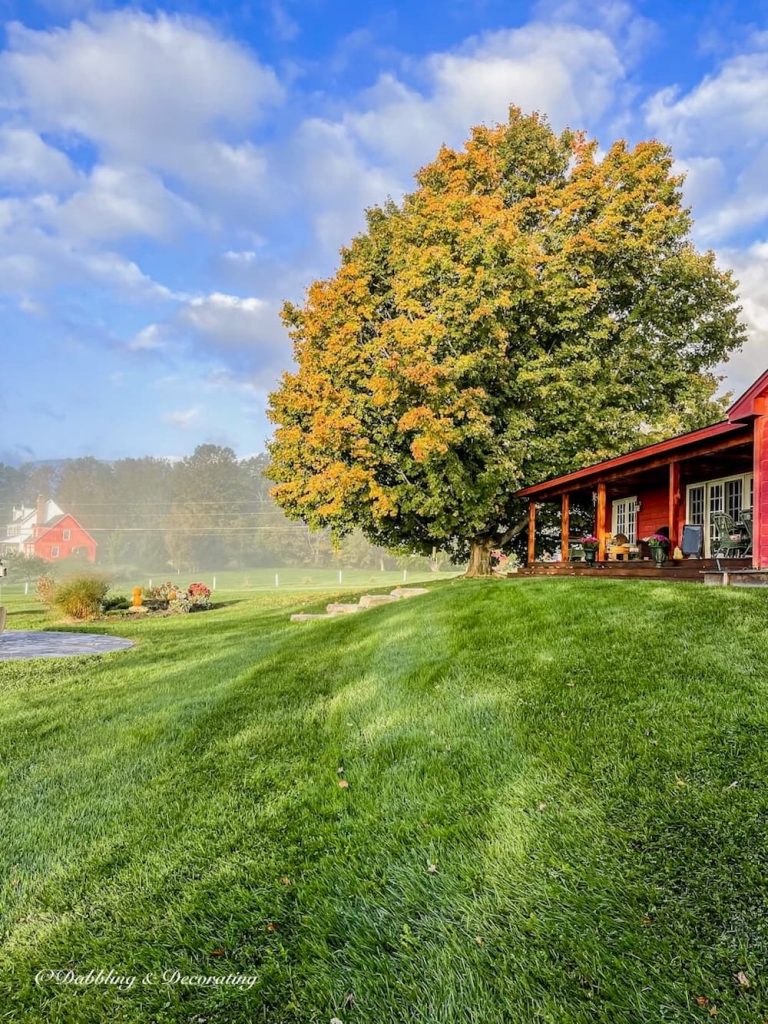 And I had so much fun decorating this front porch with vintage-style table settings, followed up with this Vintage Ski Lodge Decor Series. Here are a few posts that I think you will appreciate:
And now it was time to make an investment in new furniture for the front porch to welcome in this year's spring season.
I started by choosing the color, evergreen.
A color that would match the outdoor elements of the mountain views and the official color of Vermont.
I just love all the elegant charm and character of wicker furniture.
And so that is how we settled on this Lancaster Collection available through Ballard Designs.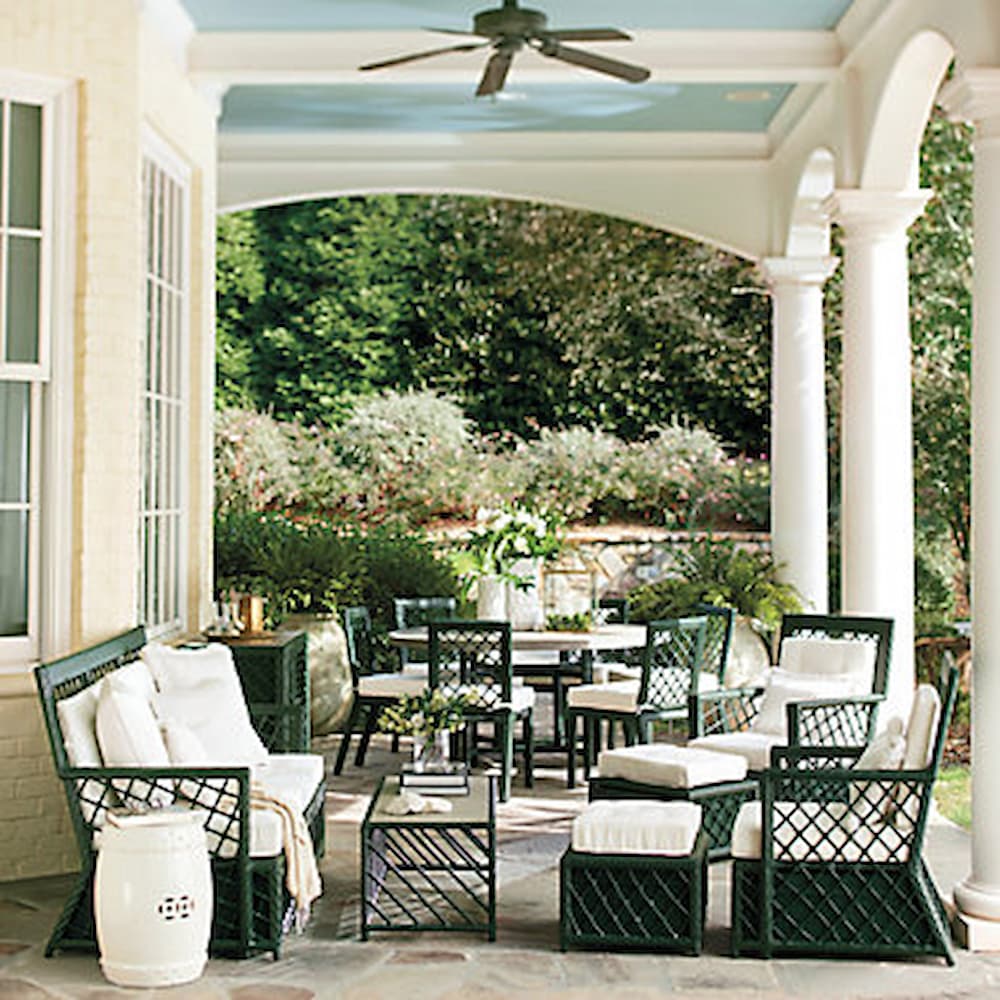 This post may contain affiliate links which won't change your price but will share some commission."
SHOP THE LANCASTER COLLECTION

Why We Chose the Lancaster All Weather Wicker Furniture Collection?
It's All Weather Wicker!
Guests and loved ones will feel so special enjoying your front porch with all-weather wicker. It's sturdy, easily stays clean, and is resistant to mold and mildew.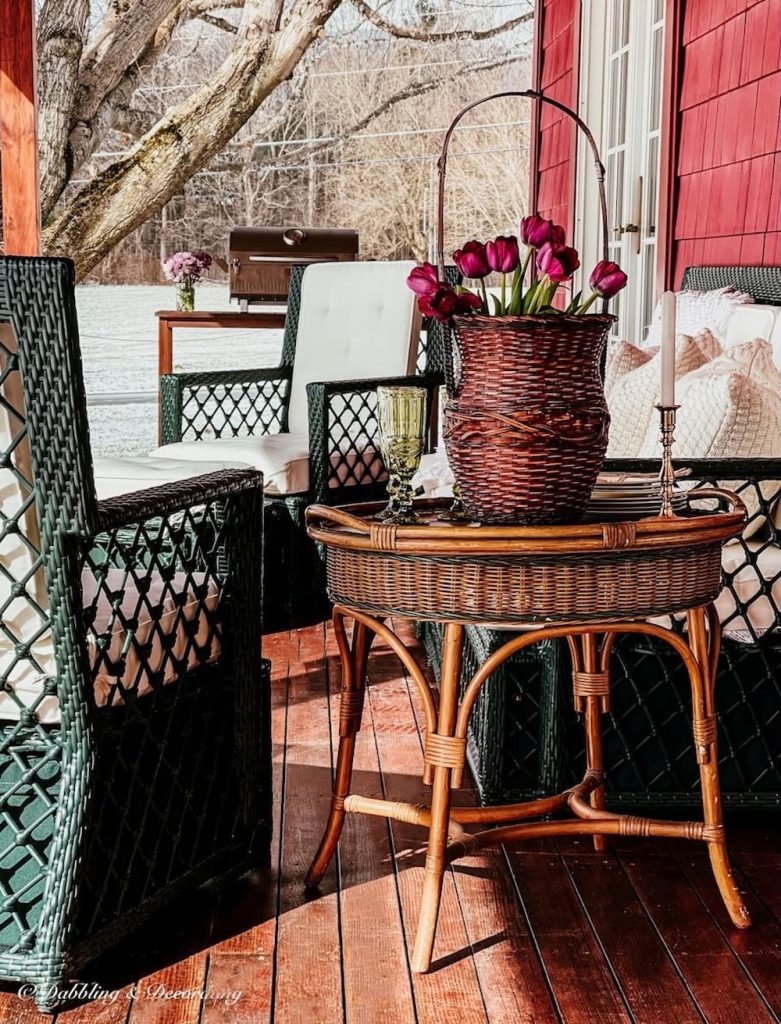 We couldn't have had this any other way honestly. Not with the weather elements we get here in Vermont. This was the #1 feature of ours when looking for wicker porch furniture.
It's Green!
When looking for front porch wicker furniture try looking at your outdoor surroundings and embrace those colors in your decor choices.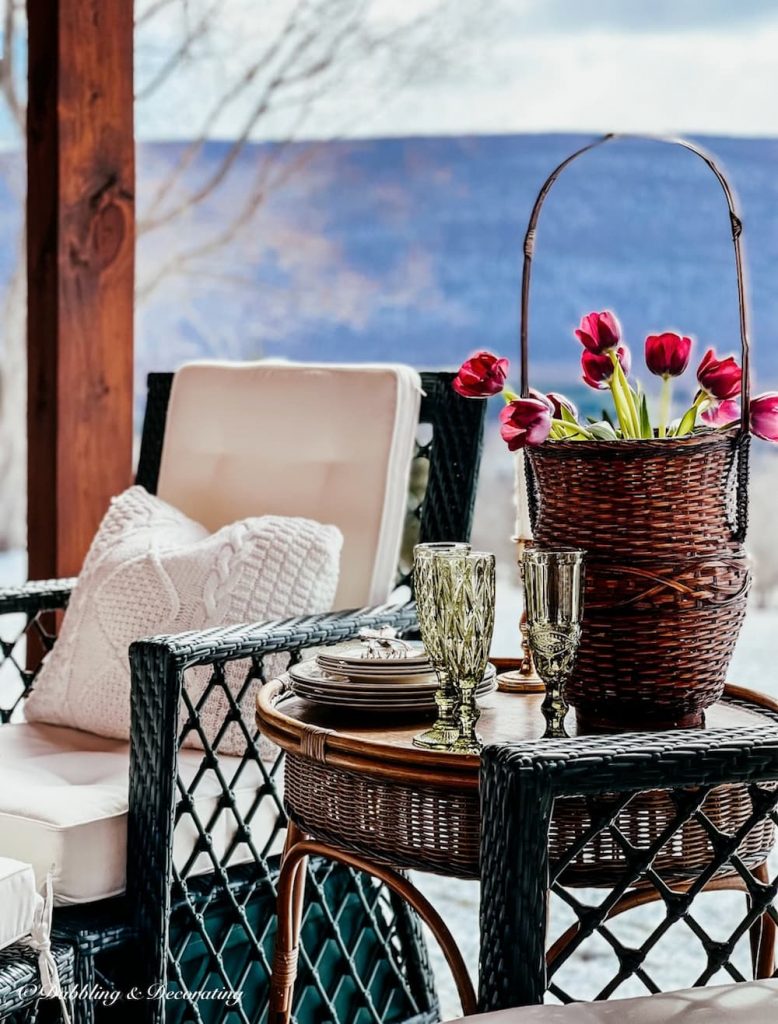 The color green compliments all the natural elements of our outdoor surroundings from the mountains, to our front lawn.
The newly renovated dark wooden floors and beams on our front porch pair really well with this color scheme too.
And just add the color purple and bam! The color combination of dark woods with purple just gets me every time. Wait until the lilacs start blooming!
You may also appreciate the post Decorating with the Color Purple.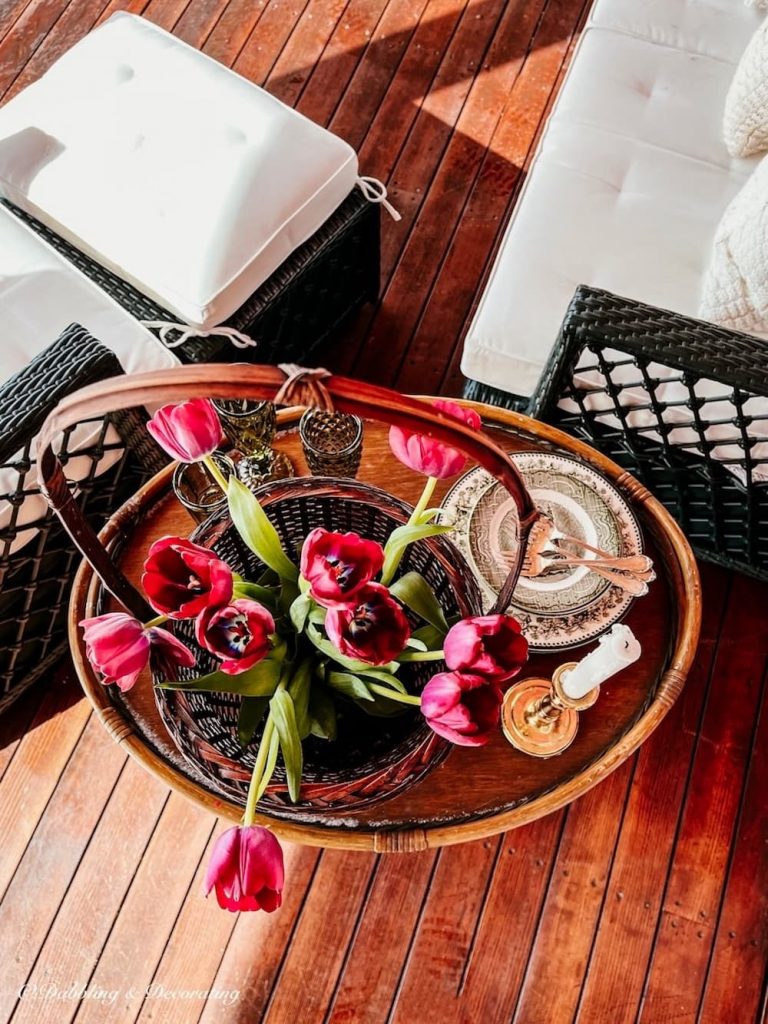 I'm looking forward to the new lilac bush in our front yard blooming this spring too.
You may also appreciate this Vintage Haul for The Porch.
SHOP THIS POST

Classic Styling!
Both you and your guests will enjoy time-honored wicker furniture like this for years to come, as traditional and classic decor styles never go out of style, making it a true investment.
The Details!
The glory is in the details. Isn't that what they say?
I love the storage drawers in this collection that pull out under each seat on the sofa, chair, and even the ottoman. Perfect for storing the cushions in the winter months.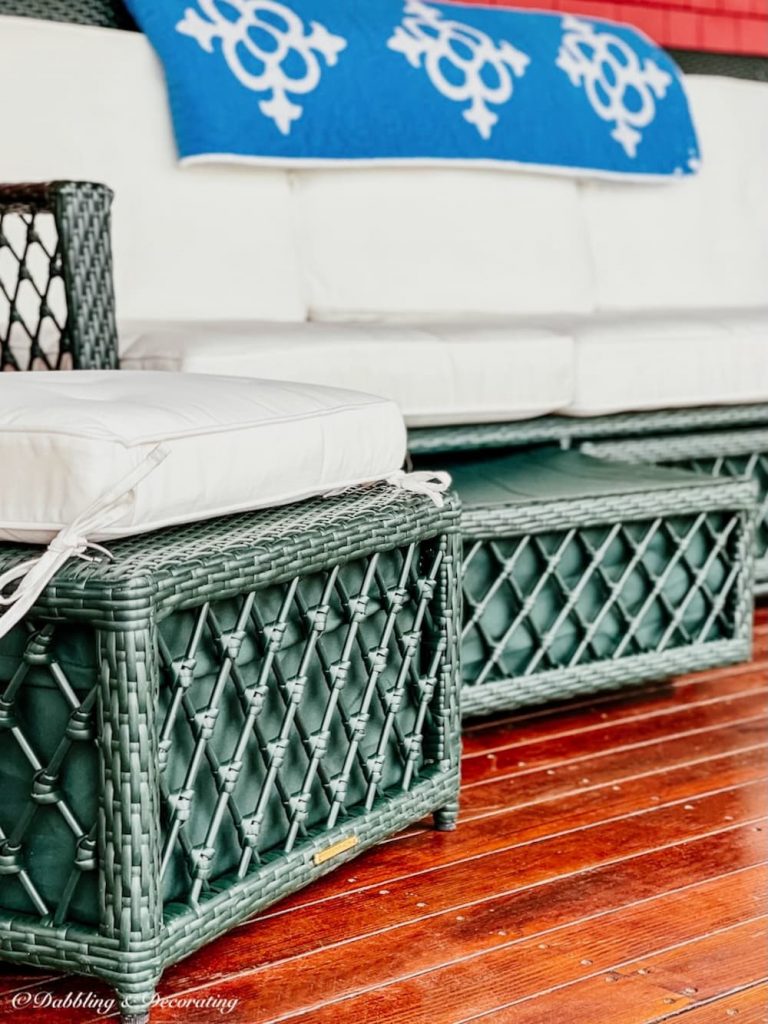 And to make you happy, each wicker furniture piece is sold individually, allowing you to pick and choose the pieces you want without being committed to an entire set.
Delivery!
We ordered and received the Lancaster sofa, chair, and chair with ottoman.
After waiting months (due only to the routine pandemic delays) for this all-weather wicker furniture to arrive, it was delivered on a snowy, sleety, and rainy morning in typical "Vermont Mud Season" style!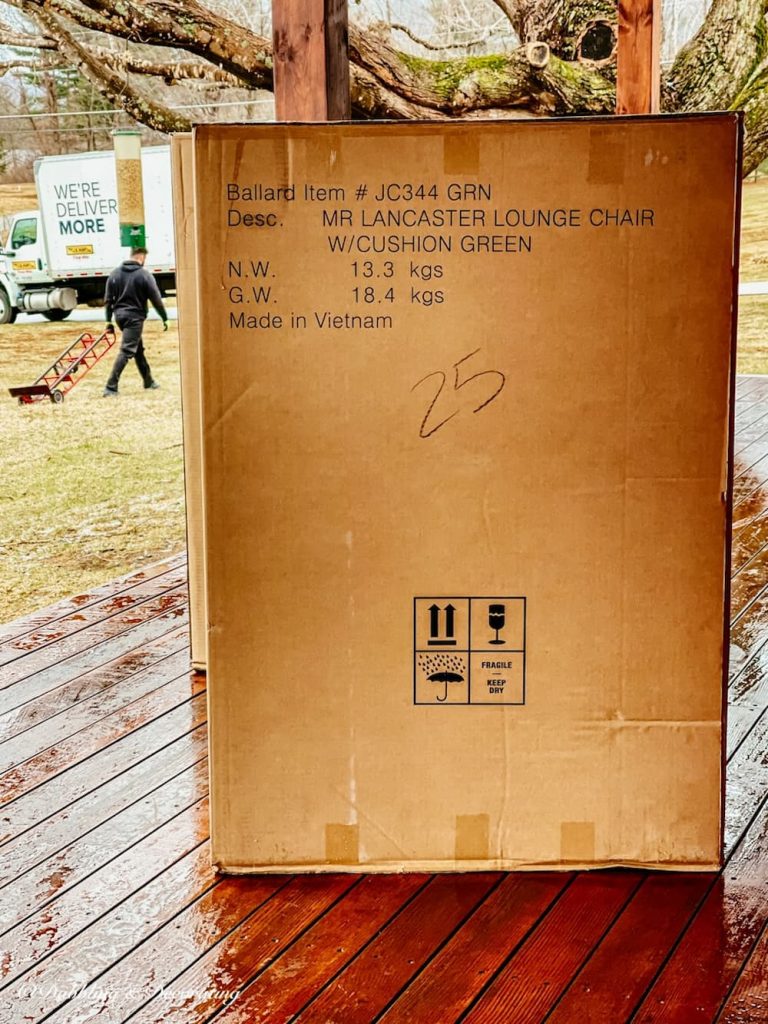 Mud Season
The timing was actually perfect though, as now we can take this time to get it all ready for when spring officially arrives after our 5th season called "Mud Season".
What is Mud Season?
Mud season is the name given to the period between winter's end (late March) and spring's start (May) when unpaved roads, dirt paths, and hiking trails become a muddy mess from melting snow and spring rains. Source: Farmer's Almanac
How to Decorate a Welcoming Front Porch
The next day we had a bit of a break in the weather so I was able to unpack and set up the wicker furniture to share with you here today.
Both loved ones and friends will always embrace your personal decor touches, after all, that's what makes for an inviting and cozy home.
And in my case, it's adding vintage treasures that I have found out and about while "Thrifting with the Gals".
My goal now is to find and add more wooden antique or vintage side tables like this one, as well as a coffee table that will fit nicely into this collection here on our front porch.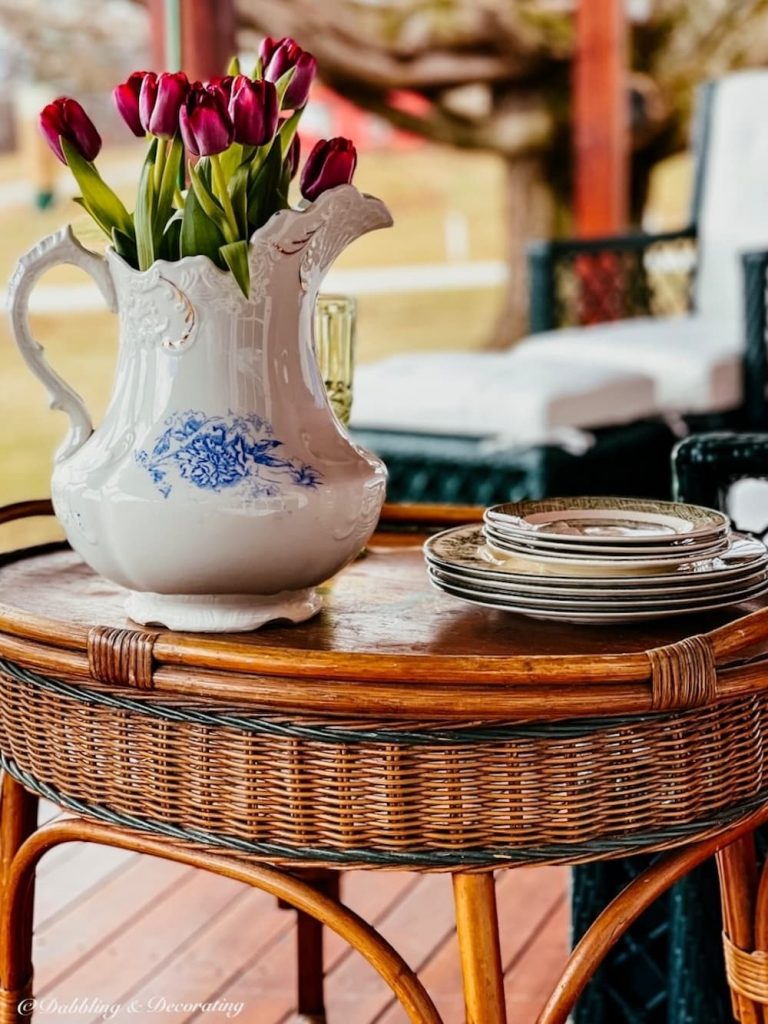 This is a unique vintage wicker table that I found in Maine this past fall.
The top is removable and can be used as a serving tray.
I thought it would be super cute with this collection and perfect for entertaining over the summer.
Notice how it has a green trim around it, matching the wicker set, and the top has a floral pattern painted onto it as well.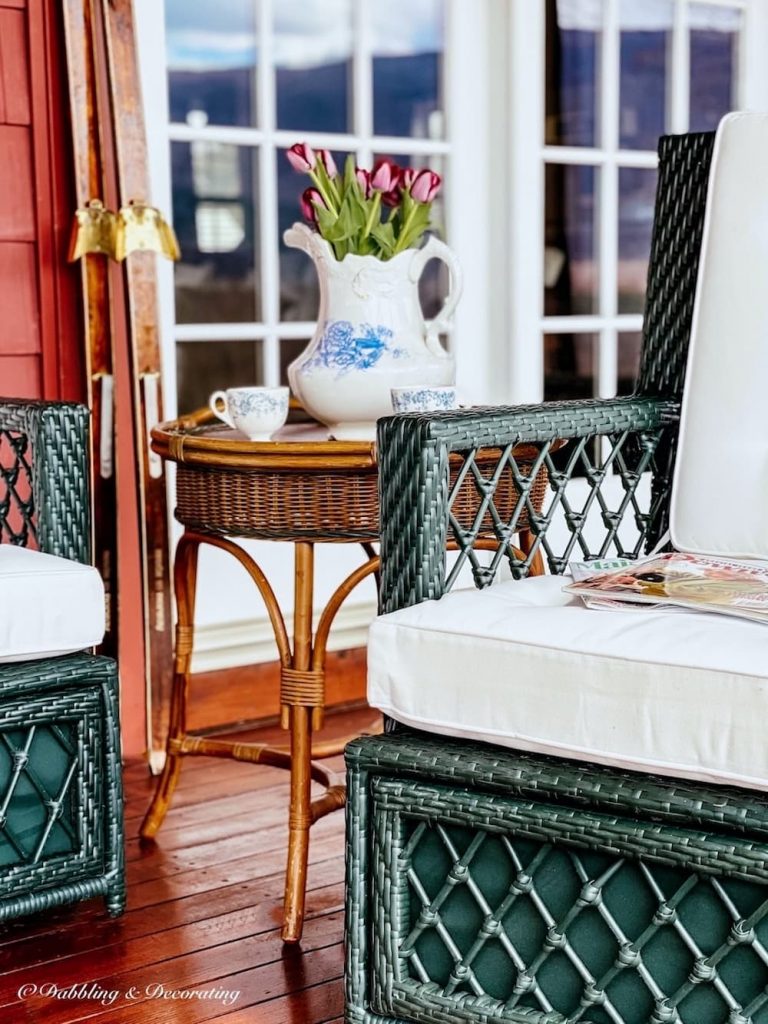 I once had a friend tell me that they "loved visiting me, as everything about my home was such a reflection of myself".
Wow, what a beautiful compliment to receive.
And that is truly what makes for an inviting home.
Family and friends love you and they want to see that you are comfortable and happy when they visit.
Whether it's a vintage side table, an antique pitcher with tulips, collected vintage dishwares, or thrifted drinking glasses, these things that you love, your guests will rejoice in too.
And what about those white cushions you ask?
My plan right now is to find traditional blue and white patterned material to have custom covers made for the cushions, keeping the white covers for special occasions.
I'll also cover the white cushions with quilts and blankets, for now, to protect them from the elements, and from Ella, our Bernese Mountain Dog.
Lancaster does sell other colors of cushion covers, but they are in addition to these standard pillows.
So I decided I would make my own, which will be more affordable and allows me the choice of my own colors and patterns.
You may also appreciate the post, How to Paint Wicker Furniture Shabby Chic Style.
Don't Be Afraid of White
I embrace white and I have a Bernese Mountain Dog, who thinks she's a lap dog!
Don't be afraid of it.
White can be washed in the washing machine and covered easily with blankets or quilts too.
I'm a firm believer in a cozy lived-in look.
Take your shoes off or keep them on, I'm fine with whatever makes you comfortable.
And there are certain to be a few dog hairs around here too.
But this is what makes for a welcoming home and front porch am I, right?
SHOP THIS POST

You may appreciate How to Refinish a Wood Table in Less Than 1 Hour on this wallpaper table I refinished for this porch too!
I hope you'll join me here next time,
When I have found that just-right vintage coffee table and side tables.
Spring is in full bloom!
And we can sit on a warm day together in wicker furniture and enjoy iced tea and the view!
But for now, I'm going to head back inside to get cozy and warm up my fading tulips…
See this porch decorated now after a spring vintage haul on the post, Cozy Antique Spring Porch Ideas.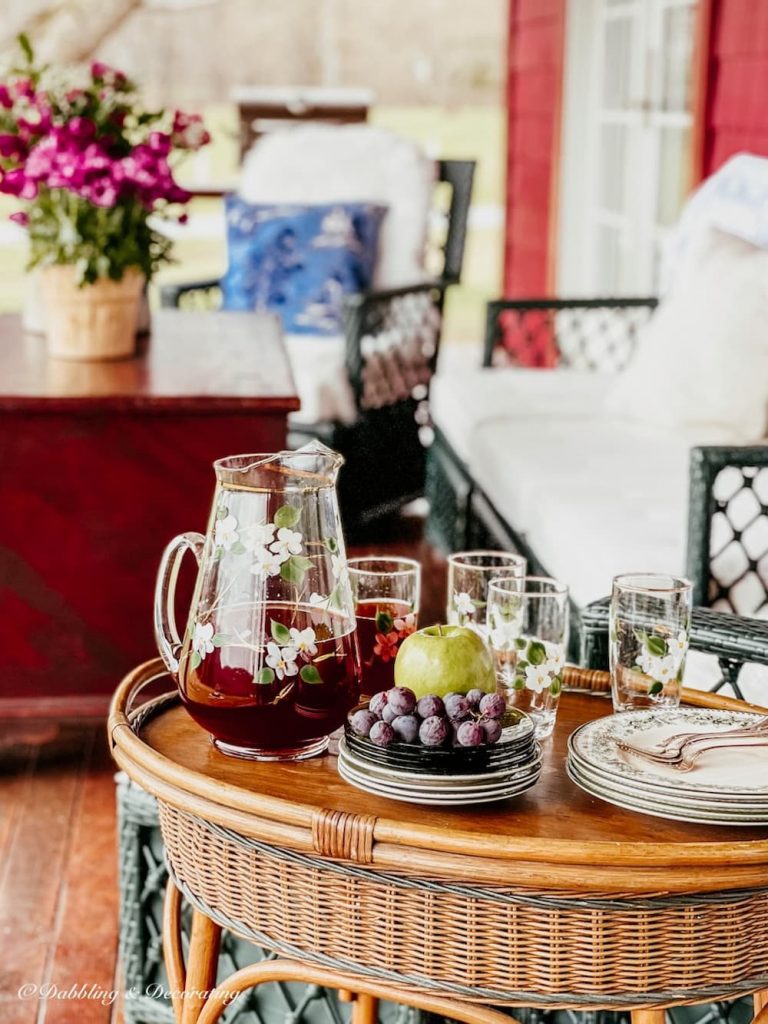 You may also enjoy these Scandinavian Spring Homes When Less is More.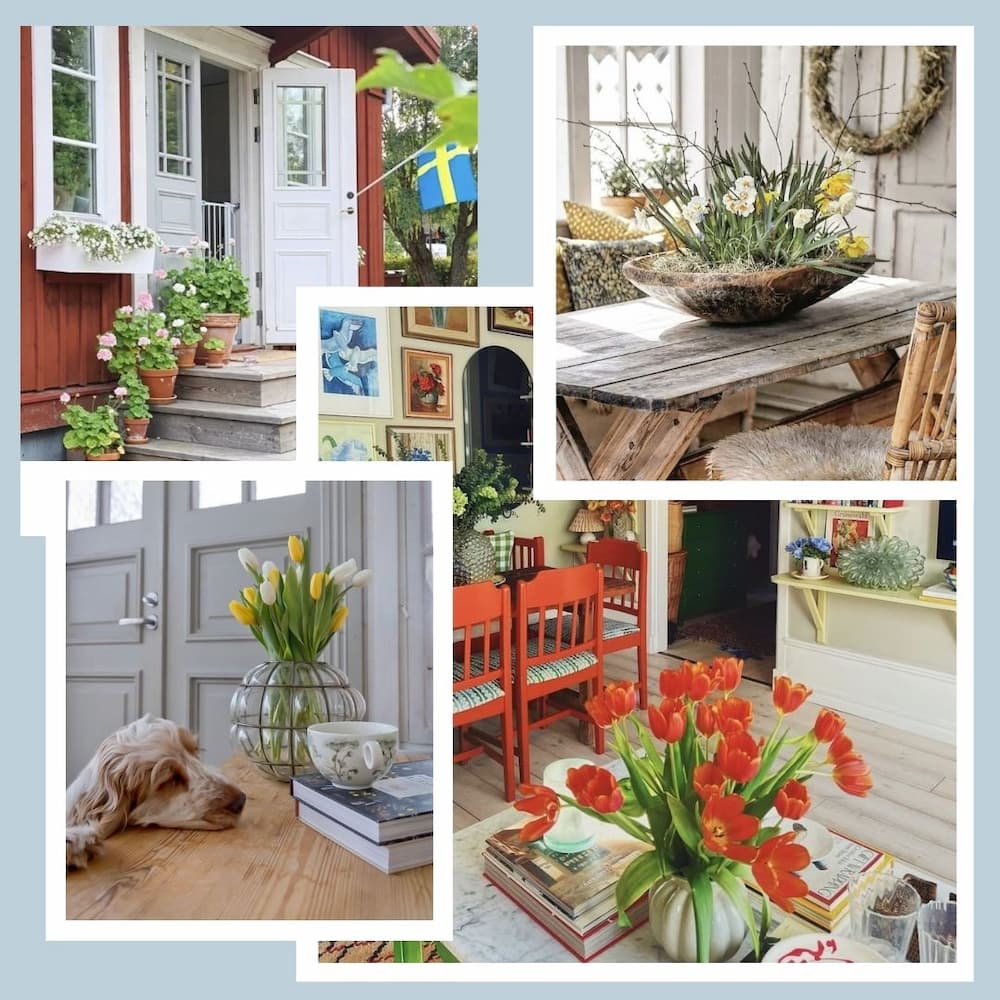 I'm so glad you dropped by, and if you are new to my blog, welcome! I hope you enjoyed your visit with us here today at our Home in Vermont.
Be sure to also check out our Home in Coastal Maine where we spend summers and weekends when we are craving a walk on the beach or a visit with old friends.
Please join me as a regular here at Dabbling & Decorating by signing up for my Saturday morning newsletter and never miss an update!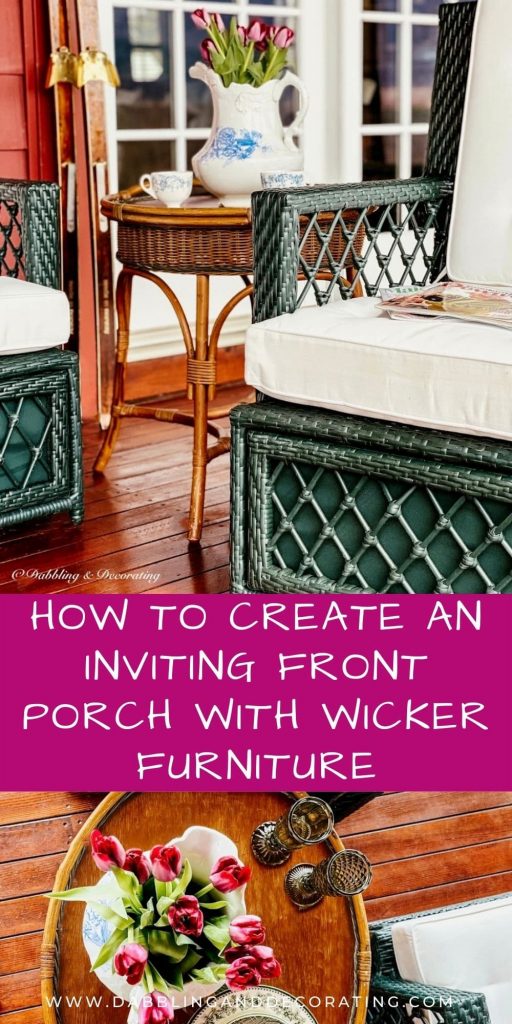 I've created the above custom pin just for this post! Hearing from you makes my day and your comments mean so much to me! Please join me over on Instagram & Pinterest to see more!


Celebrating Spring 2022 Tour
Next up on today's Celebrating Spring Tour is Lindsay over at Aratari at Home. Lindsay is on a mission to detoxify her home and is a mother of small children, creating a home in the Rochester, New York area. And you are going to love her beautiful spring-styled kitchen shelves! Oh and she's Italian sharing her favorite family recipes too.
Join the Other Talented Bloggers Joining me Here Today too:

Sand Dollar Lane // Postcards From The Ridge // Worthing Court // The Tattered Pew // Noting Grace
---

2 Bees in a Pod // DIY Beautify // Cottage in the Mitten // Southern Home and Hospitality
Sonya Burgess // Thistlekey Lane // Dabbling and Decorating // Aratari at Home

Songbird // Southern Crush Home // Simply 2 Moms // Our Crafty Mom

Zucchini Sisters // Amy Sadler Designs // Bluesky at Home // My Family Thyme
YOU MAY ALSO ENJOY