A sunroom transformed into a feminine and creative home decor blogger's home office and craft room. Full of colorful and vintage details!
Sunroom
What is a sunroom in a house?
Sunrooms vary in design and style. They are generally rooms with walls of windows and glass.
Sunrooms are multi-purpose rooms that can be made into living rooms, sitting rooms, home offices, craft rooms, dining nooks, and home libraries.
Who doesn't enjoy an extra room filled with windows and brilliant sunshine?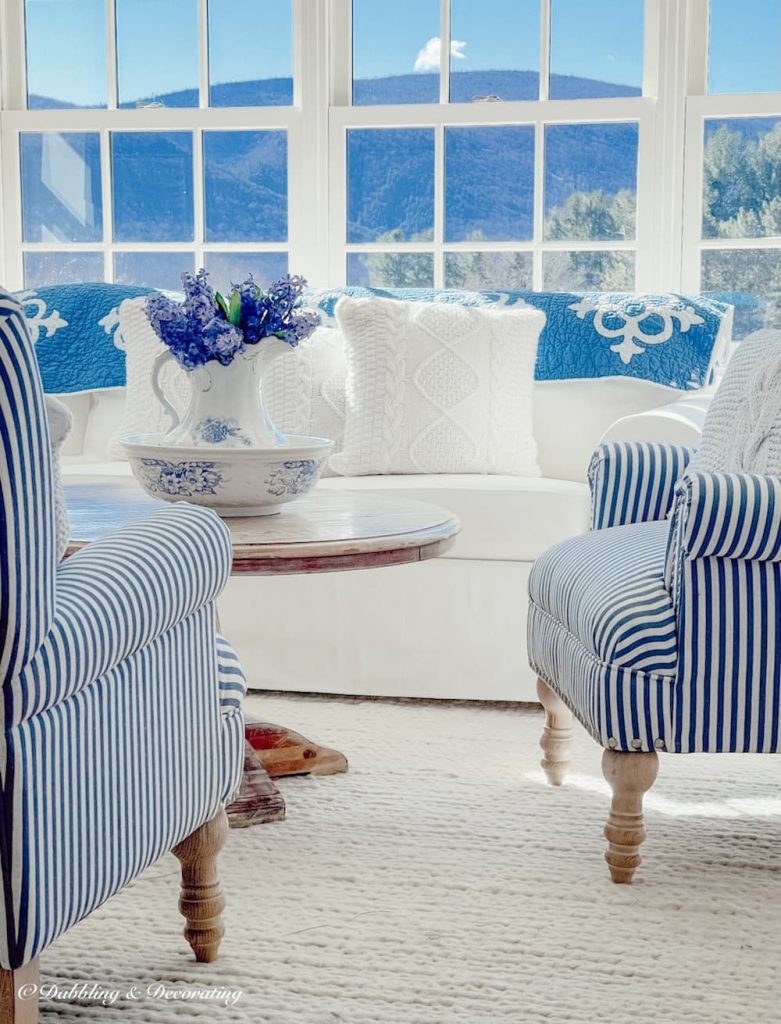 What are the pros and cons of a sunroom?
We have had a sunroom in every home we have ever owned. These multi-purpose rooms add light and charm to any home and you can change up a sunroom to serve so many different purposes, as I mentioned above.
The only con for sunrooms that I can think of is that they can get pretty warm in the summer months. Requiring shades or drapes to keep the heat out. I've had shades and drapes and both work equally well. We've also added 2 Sun Shade Sails onto the outside of our sunroom at our home in Coastal Maine.
You may see more in the post, A Shady Solution: Sun Shade Sail Awnings.
This sunroom at our home here in Vermont is adjacent to our master bedroom and is my favorite room in the house. But we were underutilizing it, totally! It had become just a walk-through room to our main open floor plan, which you may see more of in the new paint remodel post, Pretty in Stardew Blue Paint | A Home Interior Makeover Before and After.
This needed to change!
So we set out to repaint this room with Wedgewood Gray and Chantilly Lace paint colors, which you may see and read more about in the post, 4 Season Sunroom Makeover with Grand Mountain Views.
Home Office and Craft Space
Is a sunroom suitable for a Home Office?
Yes, I SURE think so. I spend so much of my time decorating and blogging that creating a home office and craft space in my favorite room in the house, well that just sounds splendid to me.
So that's what I was up to all last week. And I'm excited to share with you where it's at today.
Built-in Bookshelves
Let's start with the built-in bookshelves.
I organized all the books by size and some by hardcover and softcover.
I broke up the shelving by displaying some of my favorite vintage collections like these old cameras.
You may also enjoy this post, 11 Creative Ideas to Display Your Vintage Collections.
One of my main goals in this sunroom as we remodeled, was to be sure that the 3 windows looking out over the mountains were nicely framed without any distraction.
The mountains are definitely the main attraction in this space.
I chose a few white spine books to rest on the shelves on each side of the windows.
And topped each stack of books with a vintage McCoy vase that I found while out "Thrifting with the Gals".
They feel so much like spring with their pastel colors and the vases compliment the window's mountain views beautifully.
Wallpaper Craft Table
What are the best sunroom furniture ideas?
Vintage wallpaper tables yes, please!
I found this tall vintage wallpaper table while in Maine this past fall. I didn't know what I would use it for, I just knew that I adored them and that these tables could be so hard to come by.
And here it is now, a perfect craft table for my sunroom/home office.
See all the ways I have used vintage wallpaper tables in our homes:
I filled my new craft table up with:
Vintage drawers for storage
Old paintbrush collection
Balls of Yarn
A bowl filled with my price tags for my vintage booth.
And a paper flower bouquet made by Fresh Cut Paper.
You may see more on my vintage booth in the posts, How to Start a Vintage Booth Business and Vintage Booth Winter Window Display.
At the end of my new craft table now hangs a vintage rack with hooks that displays multiple patterned materials that I have collected along the way.
And one of my favorite DIYs this year has been these dishy hooks you can make in minutes.
I made this one to hang my Schumaker Taskwear apron on, "Made for people who do" that I found in Maine this past fall. You can see more on this apron in the post, 10 BEST FALL INSPIRED VINTAGE DECOR IDEAS.
This photo was taken before I added the McCoy vases to the bookshelves. I first started out with vintage blue bottles.
Above the wallpaper table, now hangs a photo of Richard Feynman from Apple's 1998 "Think Different" marketing campaign. Framed in an antique border that I found at a small shop in Rhode Island years back.
It's one of my favorite takeaways from my 12 years as an educational sales representative with Apple inc. And on each side of Richard Feynman are recognition awards signed by Steve Jobs.
The sunshine was surely flowing into this room when I took this photo below.
Coffee Table Styling
Another vintage find is this small, yet tall table that I am using as a coffee table. I think it was probably originally designed as a side table.
I like the taller height, as I can move it right up to the sectional with my computer to blog.
And also if I have food, our Bernese Mountain Dog, Ella won't be able to reach it, well maybe not as easily.
I've since added a couple of vintage ironstone molds with vintage scissors and spools to the coffee table. Super cute. I love using vintage molds as bowls.
Creativity Room
I think I'm going to call this room my creativity room. Since I blog as a hobby, a home office sounds a bit stuffy and I'm not the biggest crafter in the world either, so craft room is out too.
I like it!
My creativity room it is.
Filled with all my favorite colors, possessions, Ella, and of course the welcoming in of all of you today.
Let the creativity flow.
It just started snowing outside and I couldn't be happier with my new little creativity sunroom.
Do you see my paperwhites growing in a green stoneware bowl on the stove for Saint Patrick's Day? You may see more in the post, How to Grow Paperwhites Pretty in Green Stoneware For Saint Patrick's Day.
Pink Vintage Style Rug
The hardest part of decorating this room was finding a vintage-style rug that wasn't going to be too large or too small for this space. Oh yes, and I wanted it in pink!
Finding vintage rugs can be difficult sometimes with all their odd size ranges.
I found this Momeni Rugs, Isabella Traditional Medallion Flat Weave Area Rug in a 9'3″ X 11'10" in pink from Amazon. It's not vintage, but it sure does look vintage and the colors are gorgeous in the sunroom next to the white sectional sofa and the Wedgewood Gray bookshelves.

The only con I found in purchasing this rug is it arrived folded up and rolled. Thereby causing wrinkles and creases in the rug. I'm ok with this though, as the furniture covers most of it and the rug will lie flat in time. And the price was right for this size rug. I've since purchased the same rug but in blue for our master bedroom and that rug came rolled without any wrinkles as an FYI.
You may see more in the post, 3 Wallpaper Bedroom Designs Emblematic of a Cozy Vermont Inn.
I also purchased these rug pad grippers that keep the corners nice and tight to the floor.
Phew, that was a lot for one week and I am so thrilled with my new creativity room. You'll be seeing a lot of inspiration coming from this space, I can just feel it!
And fingers crossed our bedroom wallpaper will start going up this week. It got delayed last week, unfortunately…
Can I mention one more thing?
I know, I know, this post is way too long but there's just so much going on.
My husband hand-drew my Dabbling & Decorating logo for me on this vintage chalkboard to hang in my new creativity room:)
Before he did though, I repainted the faded chalkboard using Black Rust-Oleum Flat Chalkboard Spray. It worked like a charm in sprucing up this old chalkboard's finish.
And after a day of skiing, I came home to this vintage quilt delivery from River House Designs on our front doorstep. Isn't she a beauty?
And again here with the Alicia Adams Alpaca blanket, matching the Wedgewood Gray bookshelves.
I'm so glad you dropped by, and if you are new to my blog, welcome! I hope you enjoyed your visit with us here today at our Home in Vermont.
Be sure also to check out our Home in Coastal Maine where we spend summers and weekends when we are craving a walk on the beach or a visit with old friends.
Are you looking for more thrifty and vintage home decorating ideas? Start getting your weekly vintage decorating ideas today! Joining over 3,000 subscribers…
I've created the above custom pin just for this post! Hearing from you makes my day and your comments mean so much to me! Please join me over on Instagram & Pinterest to see more!
SHOP THIS POST

YOU MAY ALSO ENJOY