The season for vintage is displayed beautifully in fall with Johnson Brothers' Autumn Delight dishwares on this porch's wallpaper table.
Is autumn a season for vintage? Yes, although I shop and decorate with vintage year-round, autumn is the time for all the fabulous outdoor vintage markets, craft fairs, antique shows, auctions, and more. Especially here in New England!
Today is day five of the Bloggers' Best Fall Home Tour hosted by my friend Kelly from The Tattered Pew. I am so excited to join 29 lovely ladies here today, opening up their fall homes to you this entire week! You will find each linked at the end of this post.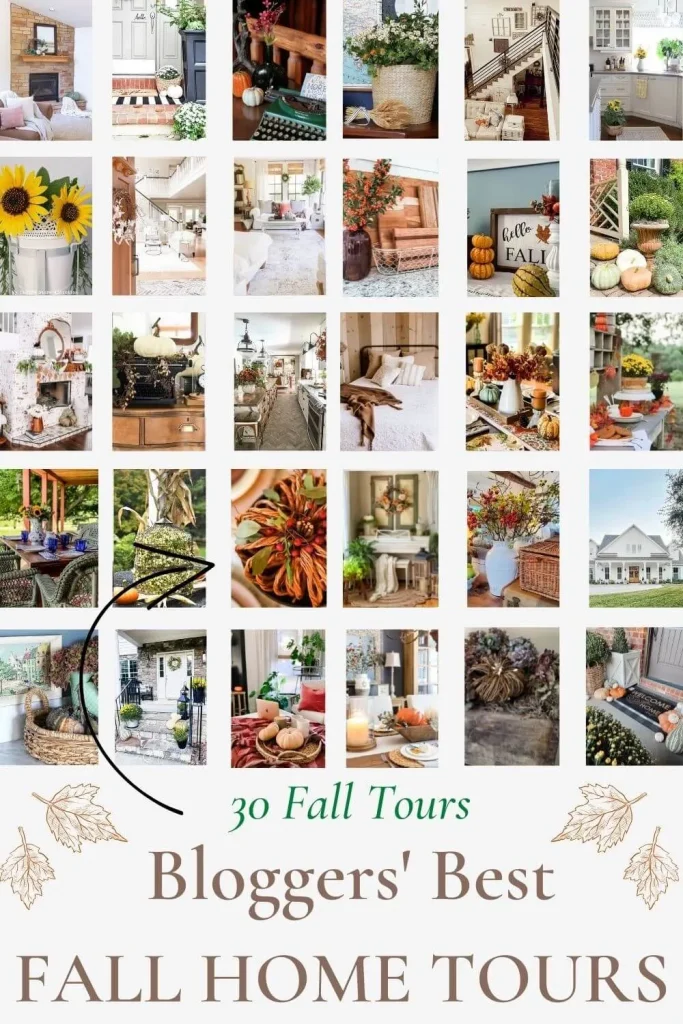 If you are joining me from Jen over at Noting Grace, welcome! Isn't Jen's Amber and Gray fall decor simply amazing? And I adore her chunky knit yarn-covered pumpkins too!
In Vermont, we are lucky enough to be able to visit a vintage market every single weekend during autumn. The crisp air, infamous foliage, sweaters, hiking, Oktoberfests, it's all here. And definitely our season for vintage!
Favorite Things to Do in Autumn?
My favorite thing to do in autumn is shopping at Vermont Vintage Market Days, hosted in early October out of Rutland, Vermont. I never miss it! Check out a few of my visits over the years:
Johnson Brothers' Autumn's Delight in the Fall Season
I found this vintage Johnson Brothers' Autumn's Delight dishware set for $65 thrifting in Maine over the summer. I purchased it for our favorite fall season, autumn, at our home here in Vermont.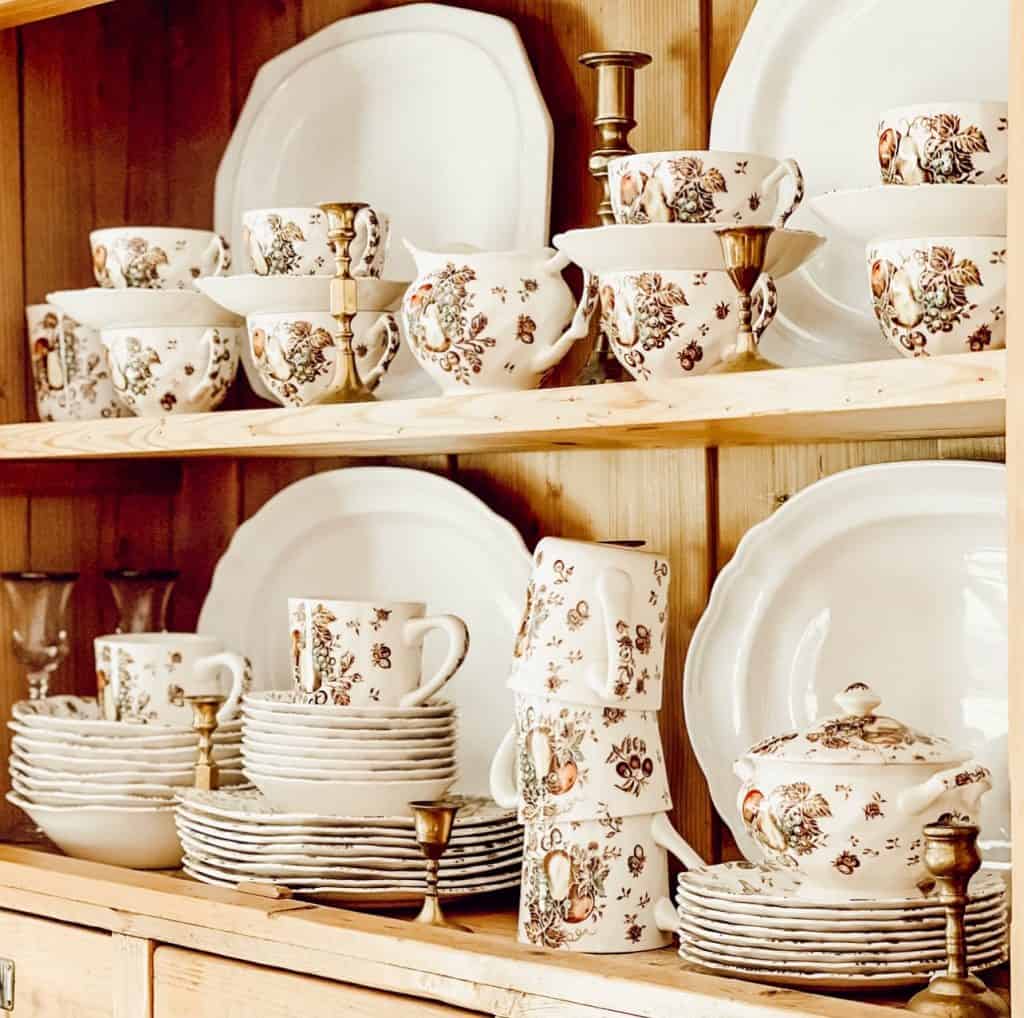 This post may contain affiliate links which won't change your price but will share some commission."
SHOP THIS POST

With friends visiting this weekend, it was time for this "Autumn's Delight" collection to make its debut on my favorite second-hand table on the porch. I hope you enjoy the combination of vintage dishware, thrifted bistro chalkboard, and this second-hand wallpaper table.
If you are interested in purchasing this vintage pattern, Replacements, LTD is my go-to website for old dishware, along with eBay and Etsy.
Welcome to the Porch
This front porch has a magnificent view of the Green Mountains of Vermont and is where we spend the majority of our time during the New England seasons here at home.
Over this past summer, we had this porch refinished with new columns, support beams, and flooring. We've also added a fire pit, patio, and natural stone steps out front. You may see more of these plans and progress here.
Can you identify my little mistake here? Oops… Somehow, I dropped the C in welcome on our little bistro chalkboard.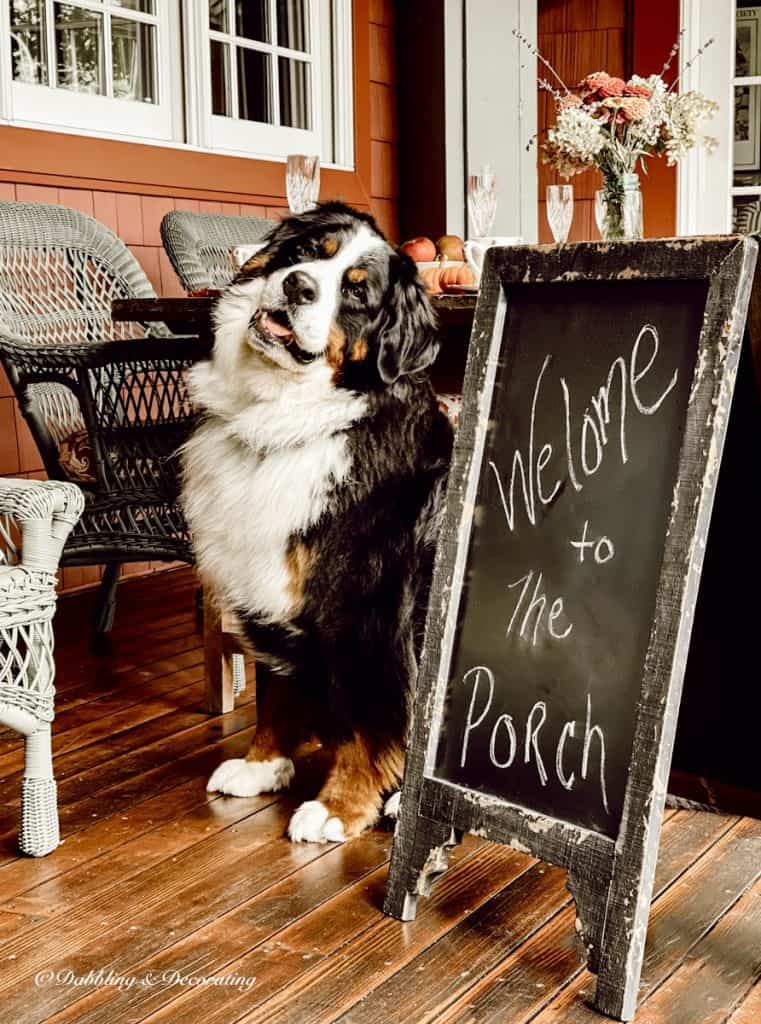 Vintage Wallpaper Table & Johnson Brother's
I found this wallpaper table while out Thrifting with the Gals over this past summer, and it just works perfectly on our long and narrow front porch.
When I found this Johnson Brothers' Autumn Delight table set thrifting, I knew they were going to complement each other perfectly in the fall, a wonderful season for vintage!
I love the moody lighting and colors of autumn.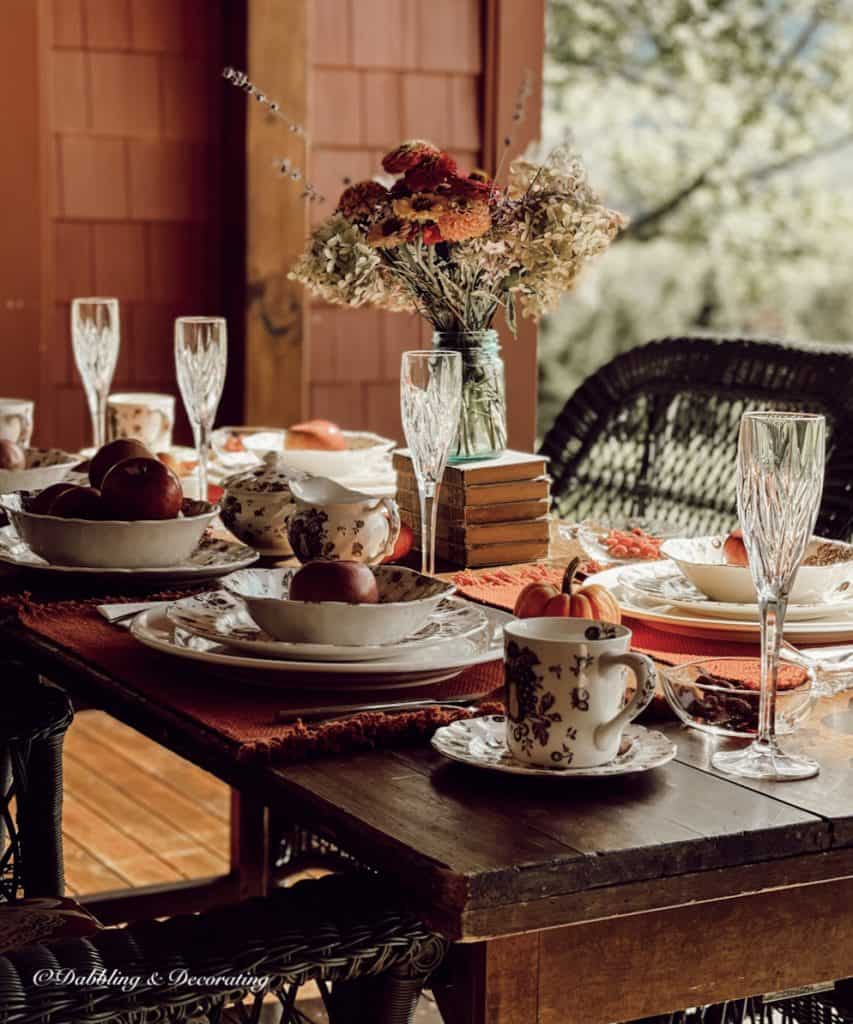 Enjoy this Fall & Halloween DIY Grazing Table with MacKenzie-Childs as well.
Johnson Brothers' Fall Table Setting
A few simple and small orange pumpkins and a bouquet of fresh-cut flowers from my neighbor's flower garden set the scene.
Oh, and a stack of blue vintage books for a little added height.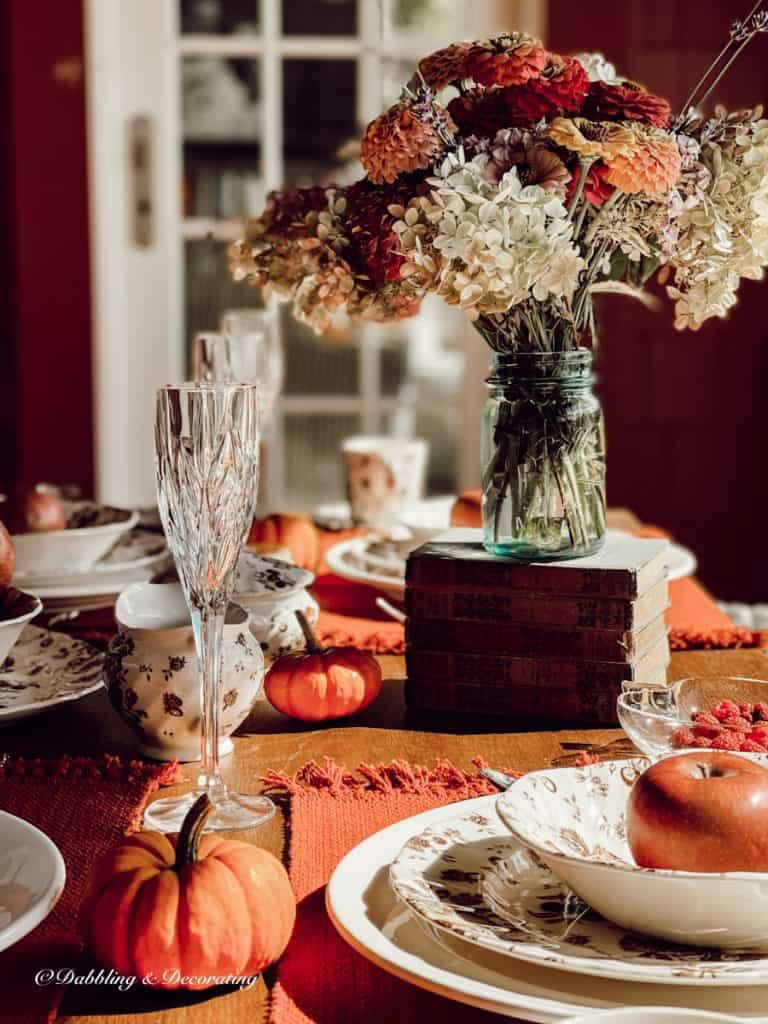 Apples for color and raspberries hand-picked from the garden to snack on.
Little apple and pear glass bowls were found at a yard sale.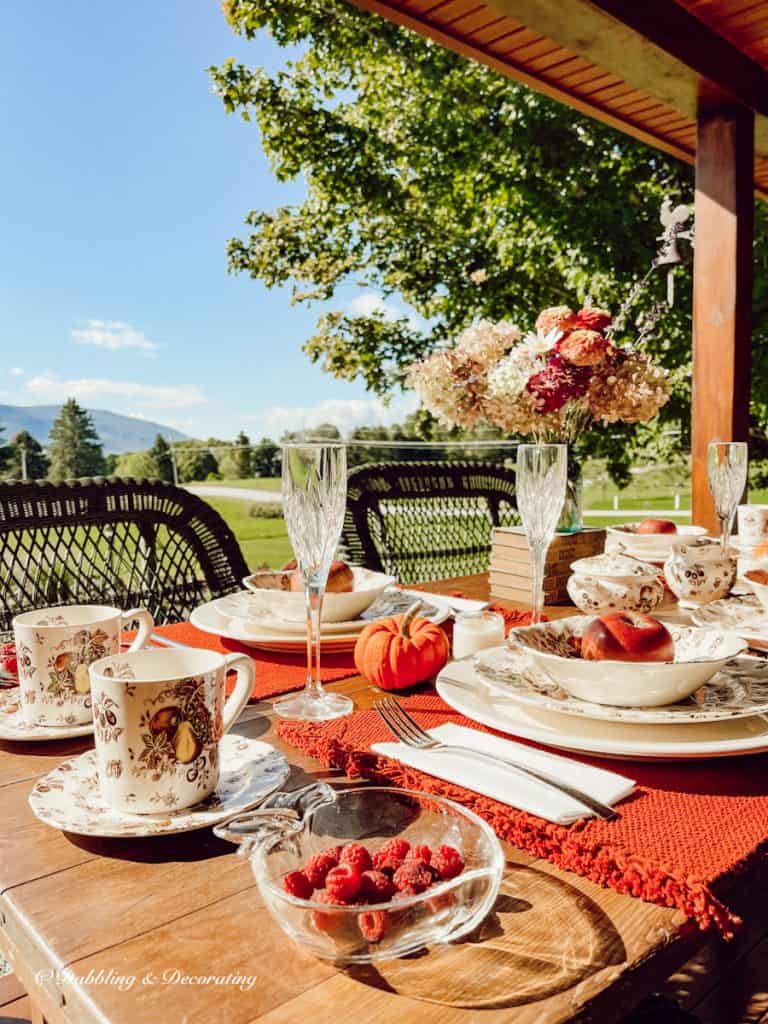 Champagne flutes aren't just for modern tables; they add beautiful charm to a rustic setting.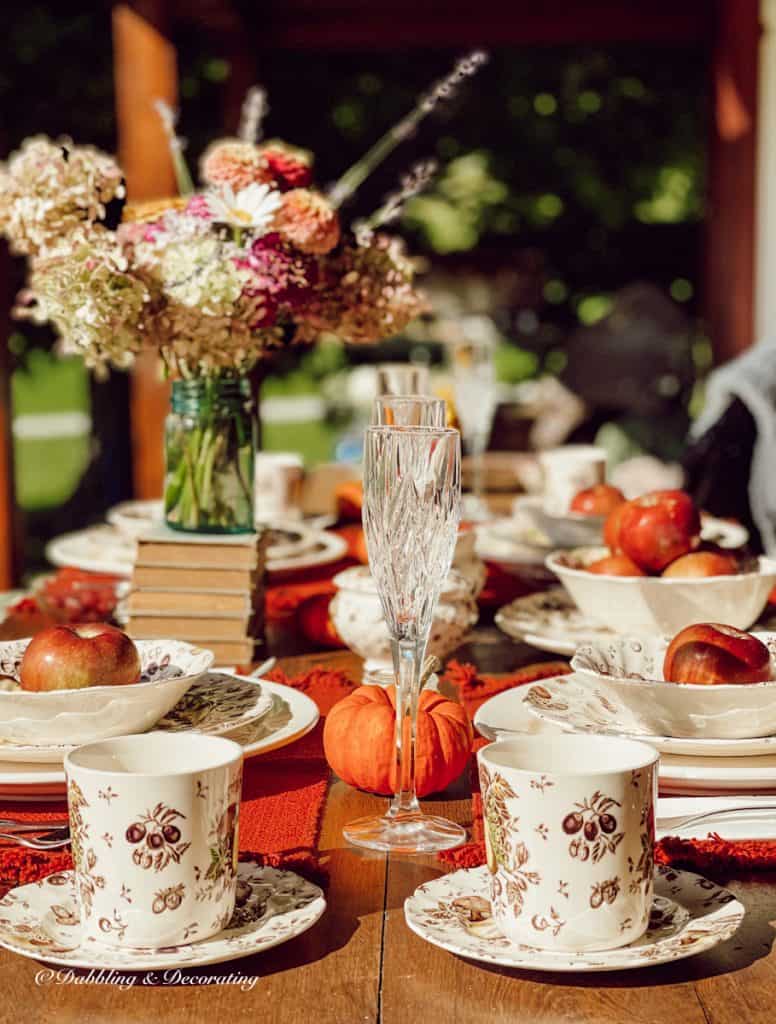 Oh, and you may appreciate How to Refinish a Wood Table in Less Than 1 Hour! See how I refinished this wallpaper table, hint: it turned out beautifully!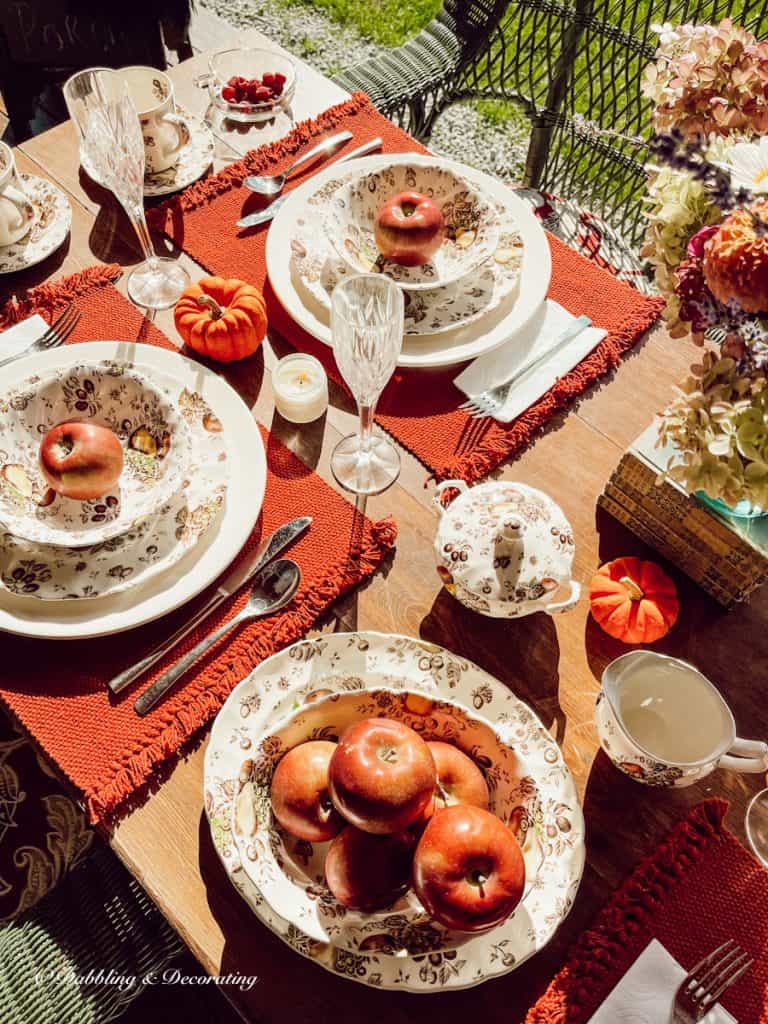 Placemats or tablecloths?
I often struggle between placemats and tablecloths on my tables, especially outdoors.
I first tried the table without either of them, then moved quickly to a colorful placemat, accentuating the Johnson brothers' Autumn Delight dishware.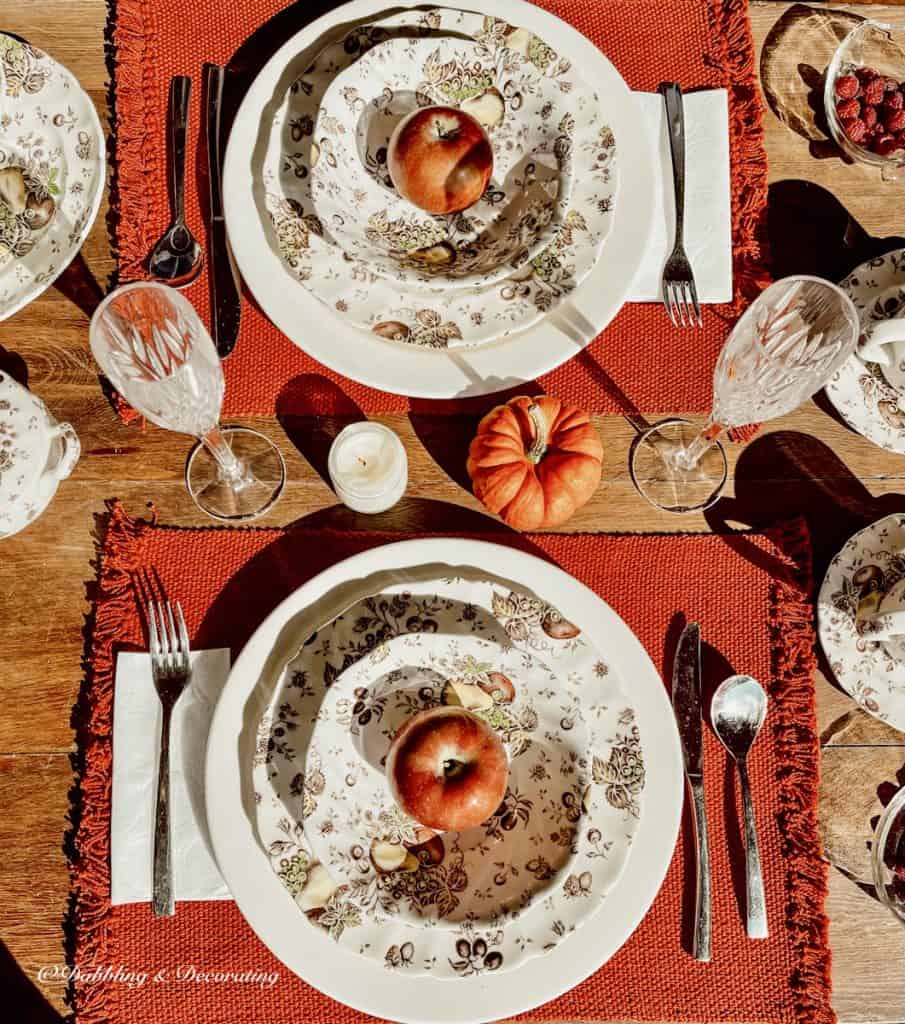 I love coming out to the porch for these mountain views every morning. It's so peaceful and warms the heart.
Have you ever been to Vermont? Here are a few other posts from and about Vermont you may enjoy!
A Fall Visit to the Vermont Country Store
Warming up in Vermont with the Traveling Tea Cup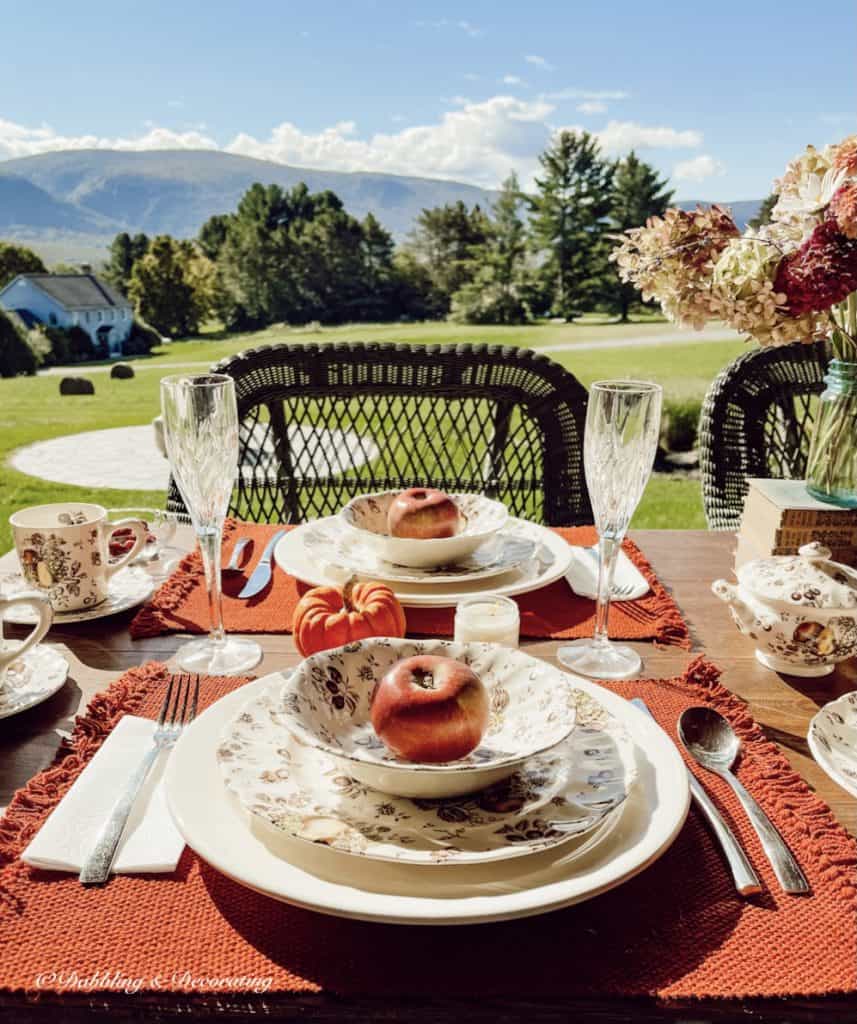 SHOP THIS POST

The golden hour in autumn is just breathtaking on the porch.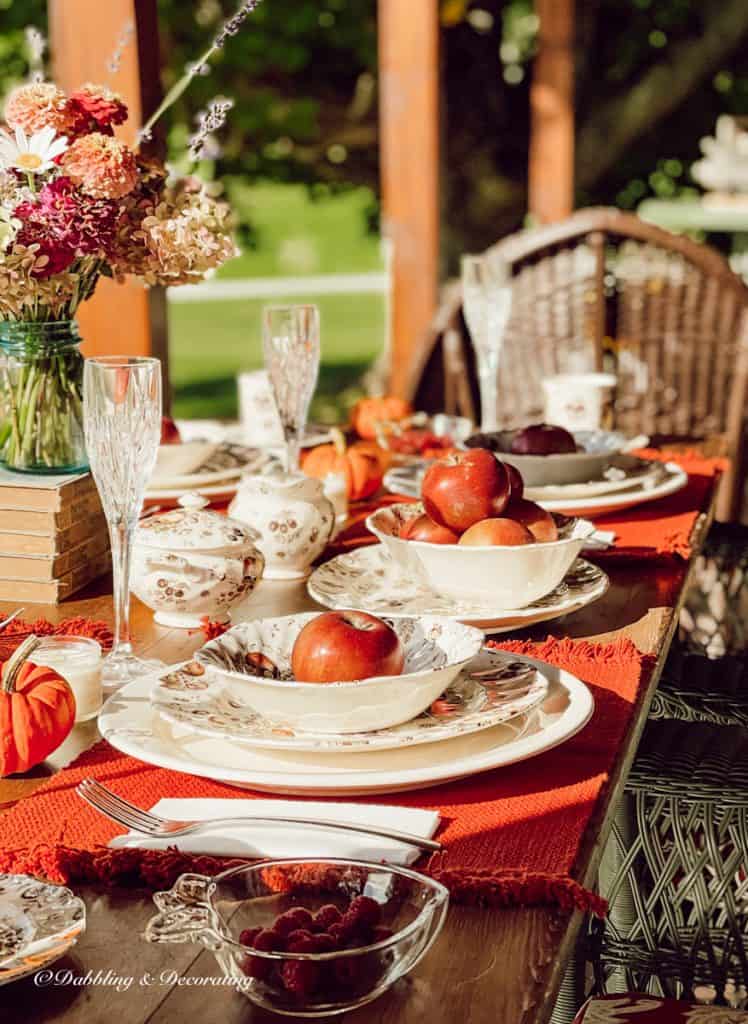 Simple, warm, cozy, and vintage. I love the traditional look of the Johnson Brothers' Autumn Delight pattern.
From our porch here in Vermont.
You may also enjoy our Vermont Foliage Home Tour here and Fall Dessert Table with A Pecan Pie Surprise.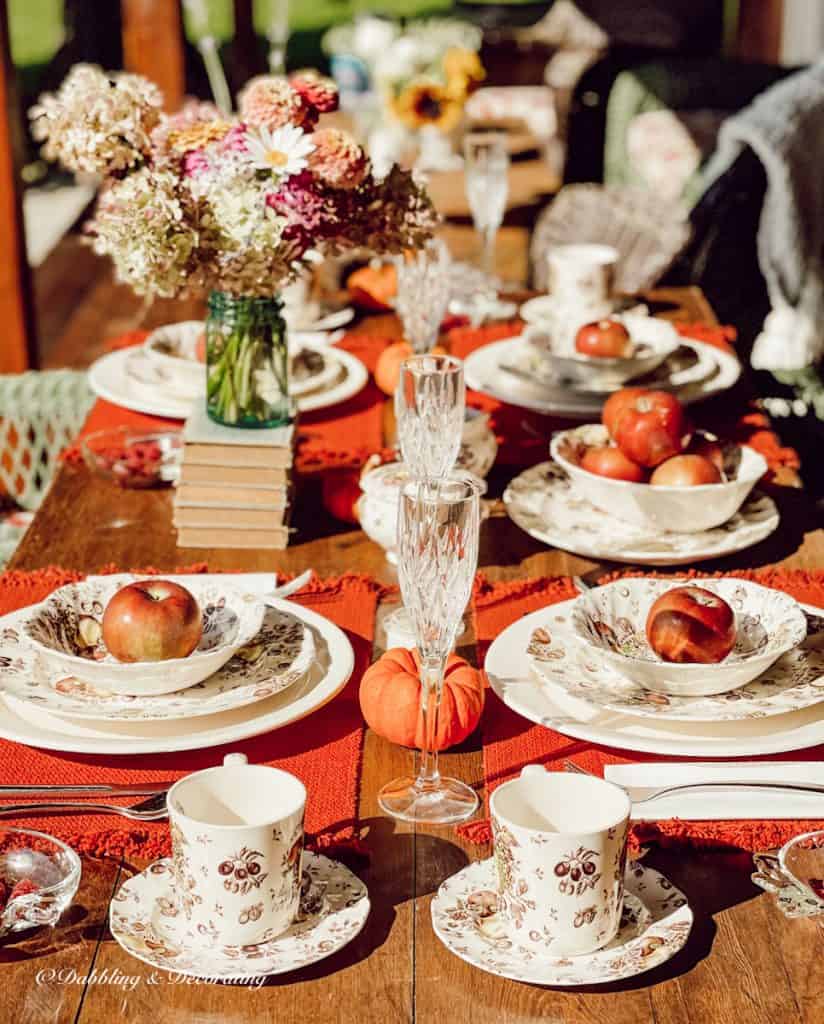 Ella
What it's like decorating with a Bernese Mountain Dog…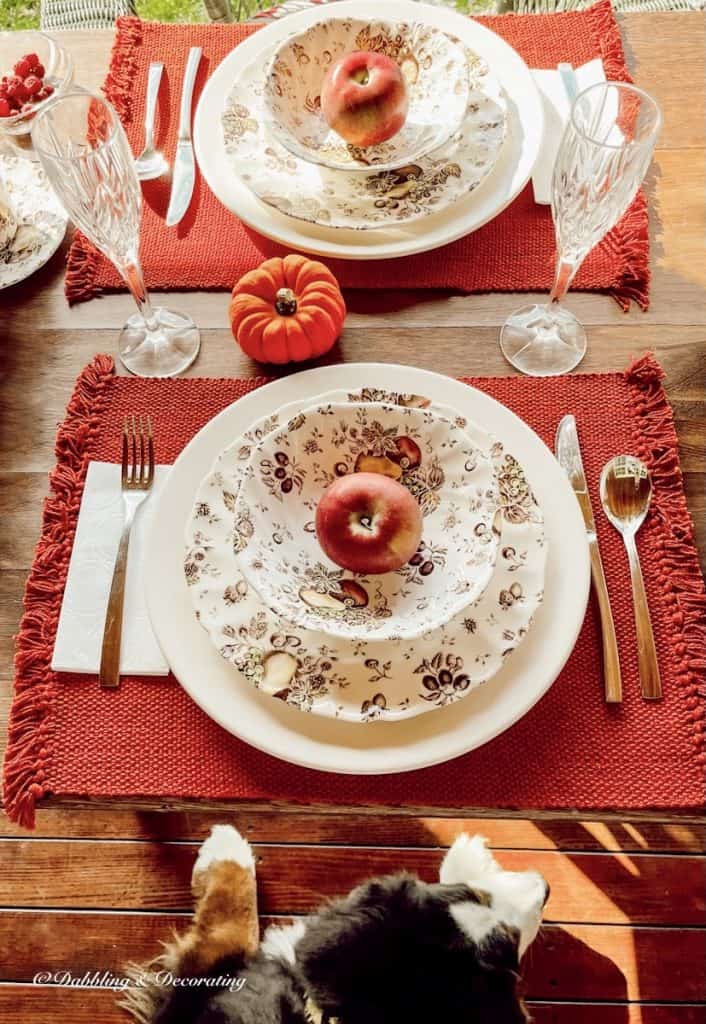 I'm so glad you dropped by, and if you are new to my blog, welcome! I hope you enjoyed your visit with us today at our Home in Vermont.
Be sure to check out our Home in Coastal Maine, too, where we spend summers and weekends when we are craving a walk on the beach or a visit with old friends.

I've created the above custom pin just for this post! Hearing from you makes my day; your comments mean so much to me! Please join me over on Instagram & Pinterest to see more!
Bloggers Best Home Tour
Next on today's tour is Brendt over at She Gave It a Go! Brendt has a beautiful farmhouse style from her home in Alabama, where she blogs about faith, family, and farmhouse!
Bloggers' Best Fall Home Tours
I'm joining my blogging friends this week for the Bloggers' Best Fall Home Tours! All week long, we are welcoming you into our homes. You can visit each fall home tour by clicking the links below.
Next up on the tour is Stone Gable, and I know you are going to love Yvonne's fall porch and patio tour.
Monday's Tours

The Tattered Pew / Midwest Life and Style / Bricks 'n Blooms
My Thrift Store Addiction / Pasha Is Home / Willow Bloom Home Blog
Tuesday's Tours

Open Doors Open Hearts / White Arrows Home / Cottage On Bunker Hill
Simply2Moms / Cottage In The Mitten / Fiddle Leaf Blog
Wednesday's Tours

Sweet Pea / County Road 407 / Lora Bloomquist Create and Ponder
Thistle Key Lane / Cloches and Lavender / A Life Unfolding
Thursday's Tours

First Day of Home / The Old Barn / Tatertots and Jello
The Ponds Farmhouse / StoneGable / Noting Grace
Friday's Tours

Dabbling and Decorating / She Gave It A Go / Sand Dollar Lane
Robyn's French Nest / My Family Thyme / Shiplap and Shells
YOU MAY ALSO ENJOY