Do you love Americana & Patriotic summer decor? Let me show you some simple vintage Americana porch and table ideas for your next gathering.
Today I am excited to be joining 8 very talented bloggers in sharing our Patriotic and Americana decor with you hosted by Pasha from Pasha is Home.
If you are joining me from Kristin over at White Arrows Home, welcome! I am just so in love with Kristin's log cabin on that amazing lake in Wisconsin. Just wow. We are also thrifting buddies with "Thrifting with the Gals"!
Newly Renovated Porch
Last summer we renovated our porch here at our home in Vermont. Replacing some large support beams and columns, along with sanding and refinishing the Red Balau floors.
The porch here in Vermont is the heart of our home, spending all our outdoor time overlooking the views of the beautiful Green Mountains. You can see more of the views in the post, Our Year-Round Vermont Mountain Views.
I've been so excited to decorate the porch this summer for the Patriotic holidays now that everything is finished. We first set the tone in this first post How To Create An Inviting Front Porch with Wicker Furniture, where you'll see this porch in early spring's snow.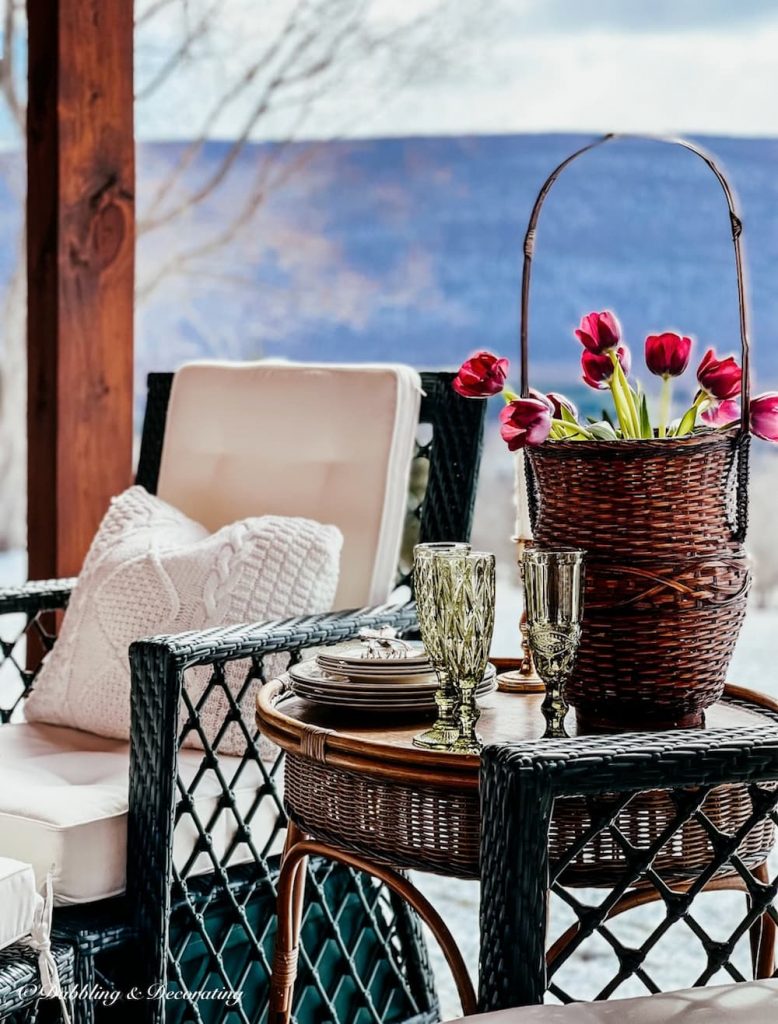 A Vintage Haul for The Porch helped us fill in a few much-needed items.
Then we felt ready for Spring and shared Cozy Antique Spring Porch Ideas.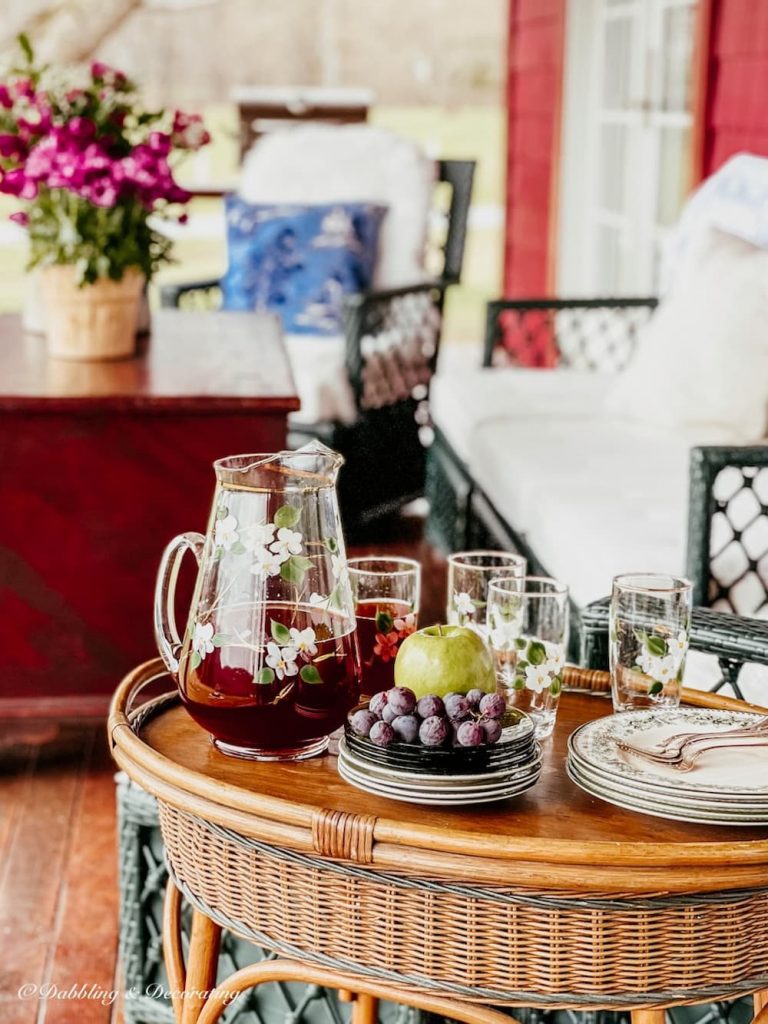 Memorial Day Weekend Vintage Table Ideas
Now that Memorial Day is upon us, it's time to think about simple Americana and Patriotic decorating ideas.
I'm all about keeping things simple. Our weather can change on a dime here in Vermont so it's important for us to stay flexible. Unexpected high winds could wipe out an outdoor table setting of ours very easily and quickly!
A Vintage Wallpaper Table
One of my favorite thrift porch finds last year was this Favorite Second Hand Wallpaper Table. And I recently refinished it and shared all about it here on How to Refinish a Wood Table in Less Than 1 Hour.
Here are a few table settings that I have made on it that you may also enjoy.
It is the foundation for today's Americana-style outdoor table. I highly recommend them for a unique and different look if you love vintage as we do.
This post may contain affiliate links which won't change your price but will share some commission."
SHOP VINTAGE WALLPAPER TABLES
Scroll and Click on Image to Shop

A McCoy Centerpiece
I found this yellow McCoy vase at a barn sale recently and filled it with blooming lilacs, which now sits as the centerpiece for our Americana-inspired table.
You may see more Bountiful Bouquets of Lilacs HERE.
Simply add a USA flag from The Dollar Tree Store.
And these lavender goblets that I found out thrifting last summer fit beautifully with this Patriotic theme.

You may enjoy the post, Vintage Glassware – Because It's All About the Glass!
And the post JUST 4 BLUE DISHES ON THE 4TH OF JULY.
Vintage Lemonade Set
First I found this cute vintage side table while out "Thrifting with the Gals" and the top comes off, which allows it to be used as a serving tray.
And on This Vintage Haul for The Porch, I picked up a vintage lemonade set for just $18 too.
SHOP VINTAGE MCCOY AND LEMONADE SETS
Scroll and Click on Image to Shop

Vintage Dishwares
Mixed vintage dishwares are one of my favorite things to collect.
I can't resist a set when I find it selling for under $50. Like this gorgeous blue and white antique set that I found at Vintage Market Days Vermont Fall Haul.
And here I paired them with .50 cents green dishes I found at our local thrift shop. I've really been crushing on the combination of blues and greens together this year.
These green glass dishes I picked up at The Vintage Soul for a couple of dollars.
A shop where I display vintage treasures in the window to resell, should you ever find yourself shopping locally.
Read more about it here, How to Start a Vintage Booth Business.
Join me for breakfast on the porch…
For morning breakfast I changed out the purple goblets for thrifted blue glass coffee mugs and enjoyed strawberries and blueberries with my mother's sterling silverware.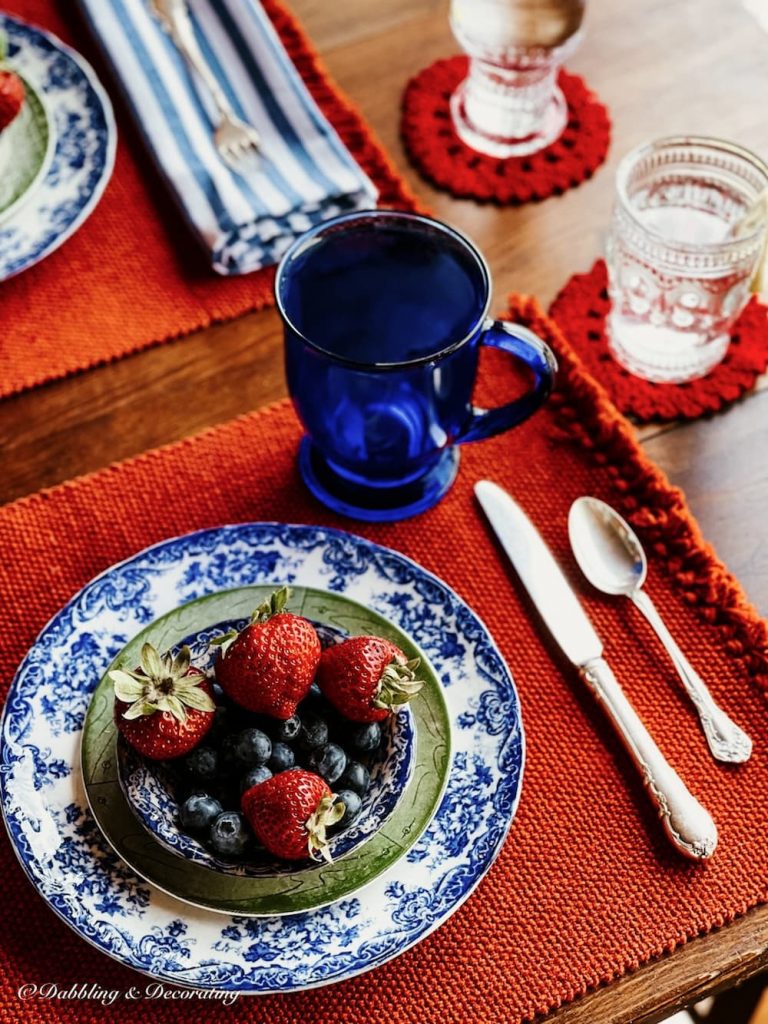 SHOP BLUE AND GREEN VINTAGE DISHES
Scroll and Click on Image to Shop

Antique Candlesticks
Brass candlesticks always seem to add such a beautiful ambiance to a table.
I bought a collection of them a few years back and I use them throughout my decor.
Check out this Salvaged Windows & Brass Candlestick Project too.
Every day on the porch can't be beautiful, unfortunately.
And the candles added warmth and charm on this rainy day on the porch captured here.
You may also enjoy How to Fashionably Bring Your Dining Room Outside This Summer.
SHOP ANTIQUE BRASS CANDLESTICKS
Scroll and Click Image to Shop

A Grapevine Wreath
Formed as a peace sign I found out thrifting works well for many holidays from Patriotic to Christmas.
Here I draped an old flag through it for the Memorial Day weekend.
SHOP GRAPEVINE PEACE WREATHS AND USA FLAGS
Scroll and Click on Image to Shop

A Simple Vintage Patriotic Porch Table with a View.
I'm so glad you dropped by, and if you are new to my blog, welcome! I hope you enjoyed your visit with us here today at our Home in Vermont.
Be sure to also check out our Home in Coastal Maine where we spend summers and weekends when we are craving a walk on the beach or a visit with old friends.
Please join me as a regular here at Dabbling & Decorating by signing up for my Saturday morning newsletter and never miss an update!

I've created the above custom pin just for this post! Hearing from you makes my day and your comments mean so much to me! Please join me over on Instagram & Pinterest to see more!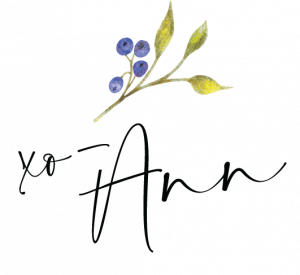 Next up on today's tour is my friend Robyn from Robyn's French Nest. You won't want to miss Robyn's beautiful Americana wall decor ideas from her beautiful farmhouse-style home in Florida. Robyn is also another thrifting buddy of mine with "Thrifting with the Gals".
YOU MAY ALSO ENJOY