This week, I got a tip from a girlfriend about a terrarium and plant shop that was going out of business in our area. They were emptying out their entire store. As my girlfriend left with a trailer full of goodies, I grabbed these two plastic urns for $15.
I had no idea what I was going to do with them, and I already liked the patina look each one had. Until I got them home…
Thrifted Plastic Urns
On the way home, I picked up some mums to go in the urns. And as you can see, each plastic urn is different in color, shape, and size. I really like each one as it stands, but they look a bit funny together with the two different looks.
This post may contain affiliate links which won't change your price but will share some commission."
SHOP THIS POST

Porch Renovation
This past summer, we replaced major support beam columns and refinished the floors and steps on our porch here in Vermont. And I've been crushing on dark greens and blues to decorate it all with this fall.
That's when I decided on the look of the Essex Green that we used on the trim at our home in Coastal Maine to paint these plastic urns with. It's the richest-looking dark green I have ever seen!
How to Upcycle Plastic Urns
Wash Thoroughly
First, I washed the plastic urns thoroughly with soap and water and let them dry completely.
Paint Plastic Urn
I then painted the plastic urns with the Essex Green paint that I had mixed at our local hardware store. You may also purchase it here.
It was really difficult, honestly, to paint over that beautiful-looking chippiness. But I was really going for a more elegant look for our newly renovated porch. And it was only plastic, after all…
I applied two coats of paint to be sure that everything was covered on the urns.
Dry Time
I let the plastic urns sit overnight to dry.
They are now a beautiful addition to our porch here in Vermont, even though they are not matching urns.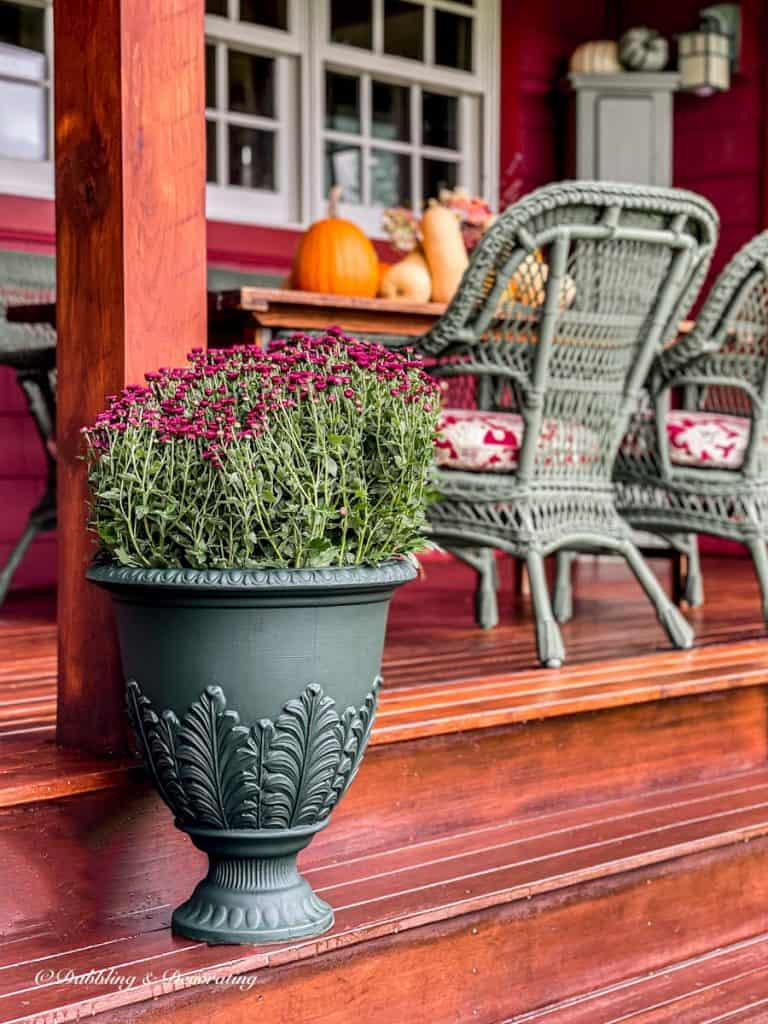 Distress Plastic Urns
I thought I would try distressing the urns a bit with an antique glaze now that they were all painted to add more character and definition. However, as I got into the distressing, I found it just didn't add much to the look of the urns at all.
I think this was simply because the urns are plastic, and the antique glaze didn't adhere as nicely to the plastic as it does to wood.
I love how they turned out, adding a touch more elegance now that they are paired, along with their uniqueness of being different.
Do you like easy DIYs like this one? Check out my friend Rachel over at The Ponds Farmhouse! She has so many fall-inspiring DIYs.
Next, on the porch, we will be adding a dark green ratton furniture set that is due to ship sometime in January or February. See it today in the post, How To Create An Inviting Front Porch with Wicker Furniture.
Catch up on all fall decor and designs here in one place.
My goal of adding dark greens and blues will finally all be coming together!
I'll be heading out to Vermont Vintage Market Days this weekend while "Thrifting with the Gals"! Where I hope to find some more wonderful goodies. I hope you'll join me!
SHOP THIS POST

Mums
Now, I will sit patiently and wait for the purple mums in our new upcycled plastic urns to bloom.
Do you like Mums? Check out my friend Kim's "How to Warm up Your Fall Table with Pumpkins and Mums"! And "9 Fall Plants That are Perfect for Container Gardens".
I hope you have an amazing Autumn, my friend!
If you liked this post, you may also like How to Decoupage Old Treasures.
I'm so glad you dropped by, and if you are new to my blog, welcome! I hope you enjoyed your visit with us today at our Home in Vermont.
Be sure to check out our Home in Coastal Maine, too, where we spend summers and weekends when we are craving a walk on the beach or a visit with old friends.
I've created the above custom pin just for this post!  Hearing from you makes my day; your comments mean so much to me! Please join me over on Instagram & Pinterest to see more!
YOU MAY ALSO LIKE