It's so easy to become inspired by all the ski lodge Christmas decor when you have a home in the mountains of Vermont.
This year the look I'm going for in our home is that ski lodge-inspired Christmas decor look. Vintage skis, boots, evergreens, ice skates, snowshoes, and a simple Charlie Brown Christmas tree with white lights.
Are you with me? I think you are or you wouldn't be here with me today:) So let's get to it!
Vintage Ski Boots and Ski Poles
I'm going to share a series of blog posts here with collected ski lodge-inspired Christmas decor starting with these sets of vintage ski boots that I found out thrifting.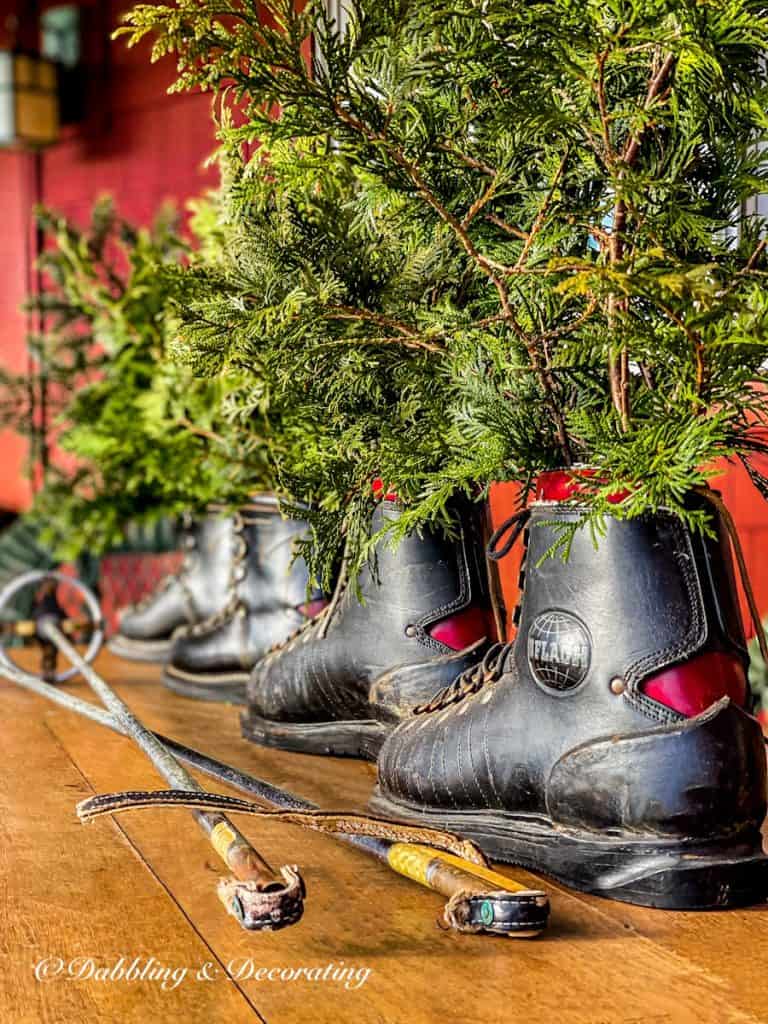 I simply filled the ski lodge boots with evergreens cut from our backyard and lined them up on my favorite second-hand wallpaper table out on our front porch.
An old pair of ski poles lies beside the vintage ski boots as an added bonus. These old ski poles were a gift from an old family friend.
And I have to mention to you here today, that I was very surprised at the prices of vintage ski poles, as I was researching them in putting together my "Shop My Post" section… Wow, have they become pricey over the years.
I'm so very grateful to have a couple of pairs of these now.
This post may contain affiliate links which won't change your price but will share some commission."
SHOP THIS POST | Ski Lodge Inspired Christmas Decor
(click on any of the images to shop the products)

Check out the second post in this ski lodge holiday series, Cozy Ski Lodge Fireplace | Get the Look!
And the third post, Ski Lodge Vintage Skis and Winter Evergreens here.
I love looking out the kitchen window now and seeing this vintage ski lodge display of ski boots and greenery amongst the mountains!
Sign up for my Saturday morning newsletter so you don't miss the next ski lodge-inspired post here!
I also filled up a couple of these DIY plastic containers that I found thrifting this fall with backyard greenery and centered them around our porch.
I'll be sharing more of these soon so stay tuned!
Oh, and you may appreciate How to Refinish a Wood Table in Less Than 1 Hour! See how I refinished this wallpaper table recently, hint it turned out beautifully!
You may also enjoy the post, Cozy Winter Dining Room with Ski Lodge Decor | Get the Look.
SHOP THIS POST | Ski Lodge Inspired Christmas Decor
(click on any of the images to shop the products)

Check out the other posts in this "Vintage Ski Lodge Series" here!
The vintage ski boots found a new home today when the blue and white pots filled with evergreens were created and now sit on this table for Christmas.
I just found this Vintage Tobbogan out thrifting to add to my collection too.
I'm so glad you dropped by, and if you are new to my blog, welcome! I hope you enjoyed your visit with us here today at our Home in Vermont.
Be sure to also check out our Home in Coastal Maine where we spend summers and weekends when we are craving a walk on the beach or a visit with old friends.
Please join me as a regular here at Dabbling & Decorating by signing up for my Saturday morning newsletter and never miss an update!

I've created the above custom pin just for this post! Hearing from you makes my day and your comments mean so much to me! Please join me on Instagram & Pinterest to see more!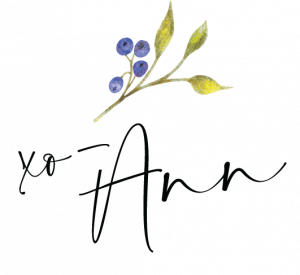 YOU MAY ALSO LIKE