Today we are in Coastal Maine working on home renovations. To read more about our coastal Maine home that we inherited from my parents this past fall and all its renovations, please join me HERE, where you may also follow the series "In My Mother's Home…"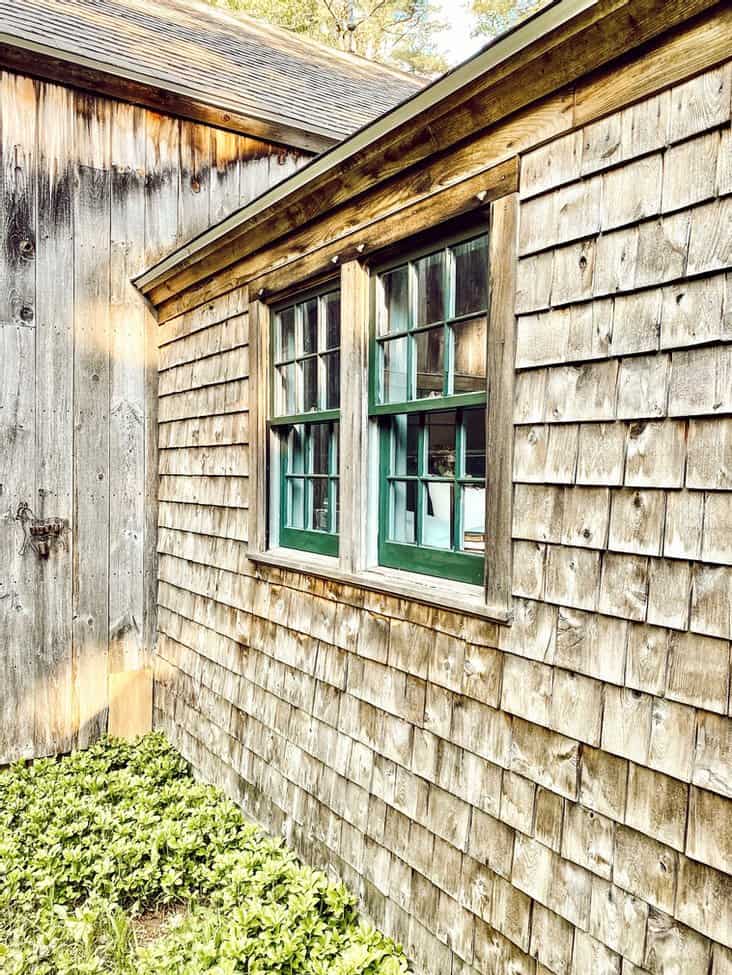 It's been almost 30 years since the trim on this old house has been painted or updated. And I have been eyeing the Essex Green from Benjamin Moore on coastal New England homes for a long time now. It's such a classic New England color combination partnered with weathered shingle siding. Together they create a beautiful and rich coastal vibe. This is where we began the process of painting the trim, as well as cleaning the weathered shingles. Today I'm sharing the Essex Green trim with you, along with some shingled sides that we started to clean and will soon be sealed to preserve them for years to come. Once it is all completed I will have a follow-up post to this with an outdoor home tour.
Here are a few BEFORE shots ~ where you can see the faded color and wear and tear of the existing trim and shingles. Click on photos to enlarge.
Welcome to the Front Door!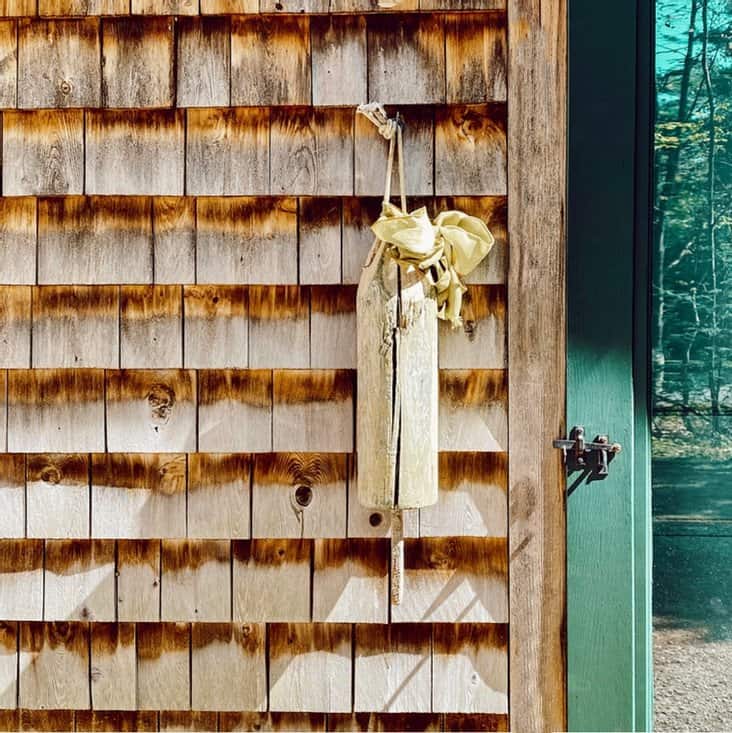 Here is the front door that enters into the home.
An old buoy and bell collected by my mother hang on each side of the door.
These shingles have been washed and the bottom shingles will need to be replaced.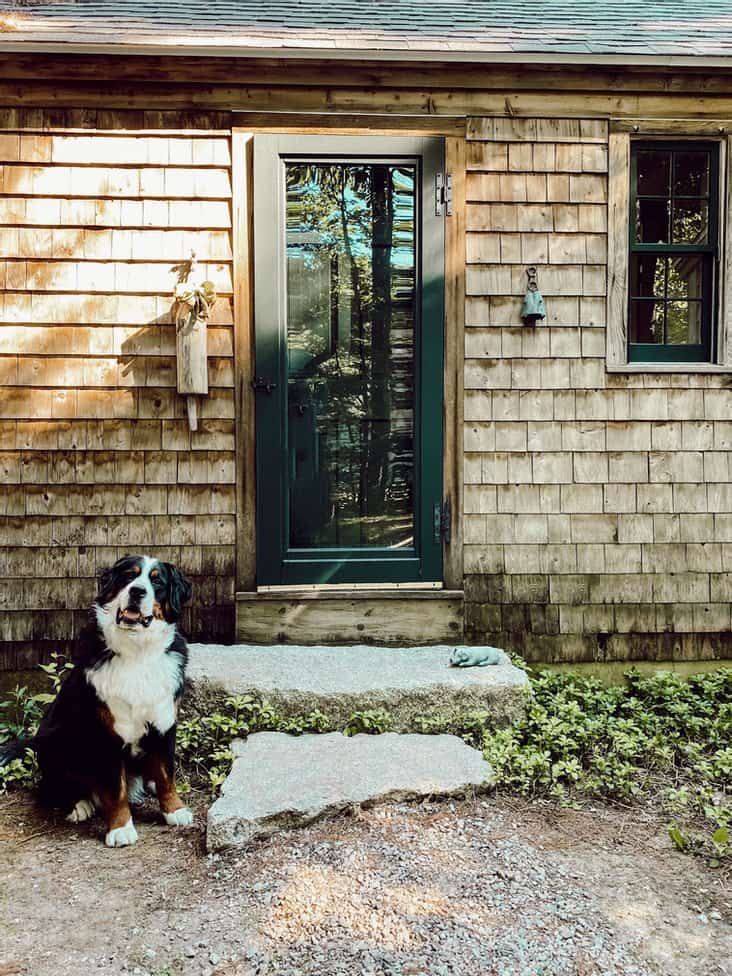 I hope this captures well, the essence of the coastal vibe we are going for in this renovation.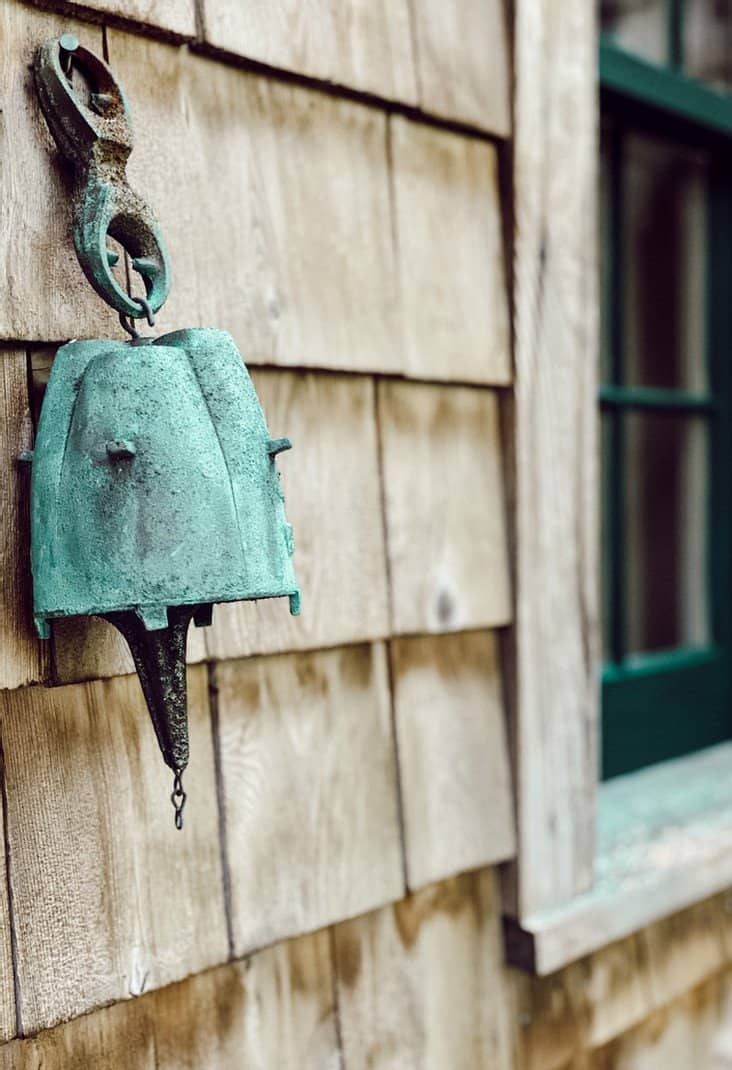 Welcome to the Backyard!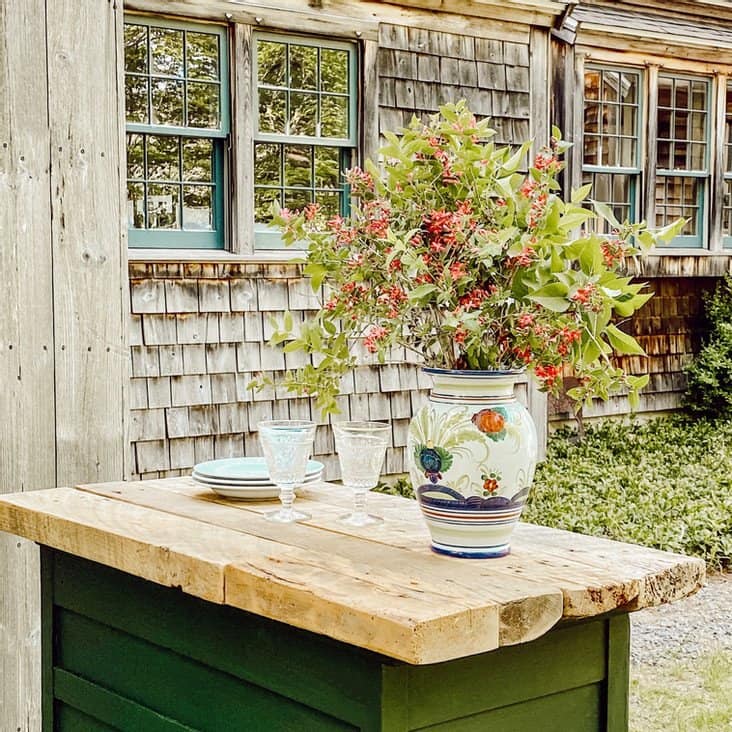 WITH~
This new DIY Grilling Station is made out of an old dresser, barn wood, and shutters that we also painted an Essex Green.
The windows and shingles in this photo are before shots.
A vintage toolbox that I picked up antiquing in Vermont on my way to Maine.
And I didn't even paint it!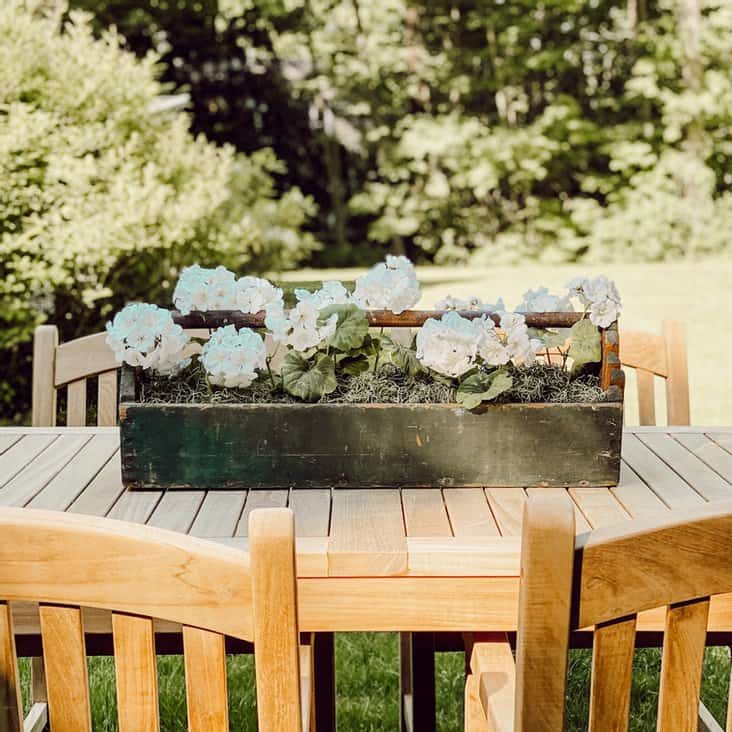 A teak dining table that will last us for years, that we will allow weathering into a beautiful coastal gray.
Two old lounge chairs that were my parents'.  That works just fine for us for now.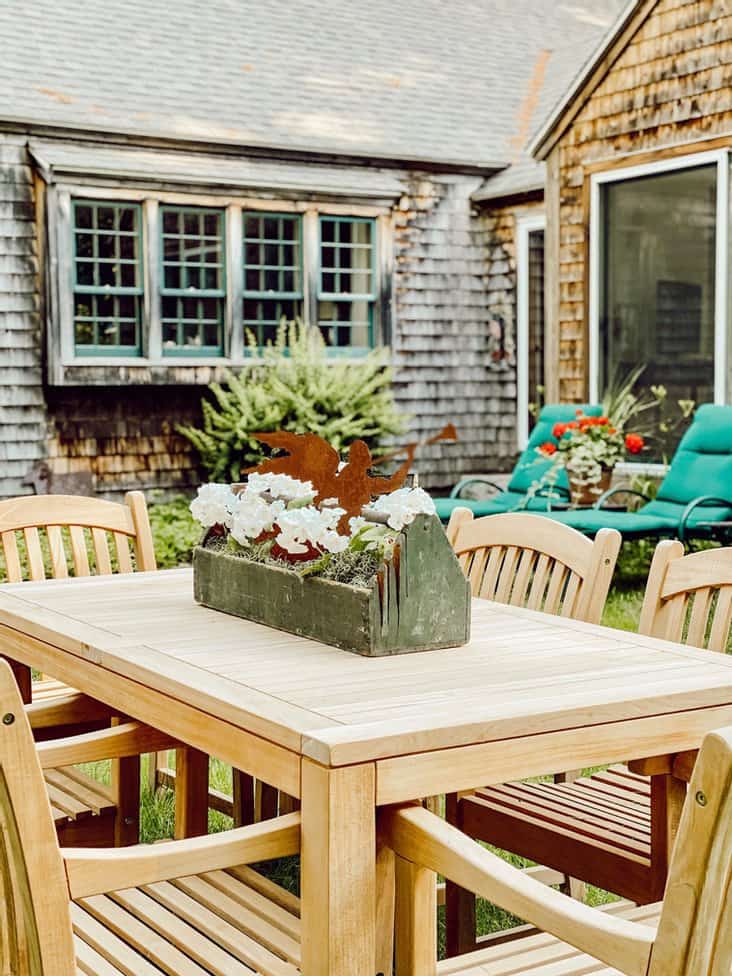 Here the Essex Green trim is complete on all windows and doors except for the fourth window on the right.
The sunroom, which is on the right, shingles have been washed, but not yet sealed.
See how that Ella keeps popping in:) And at her feet is the red toy that she requests treats in…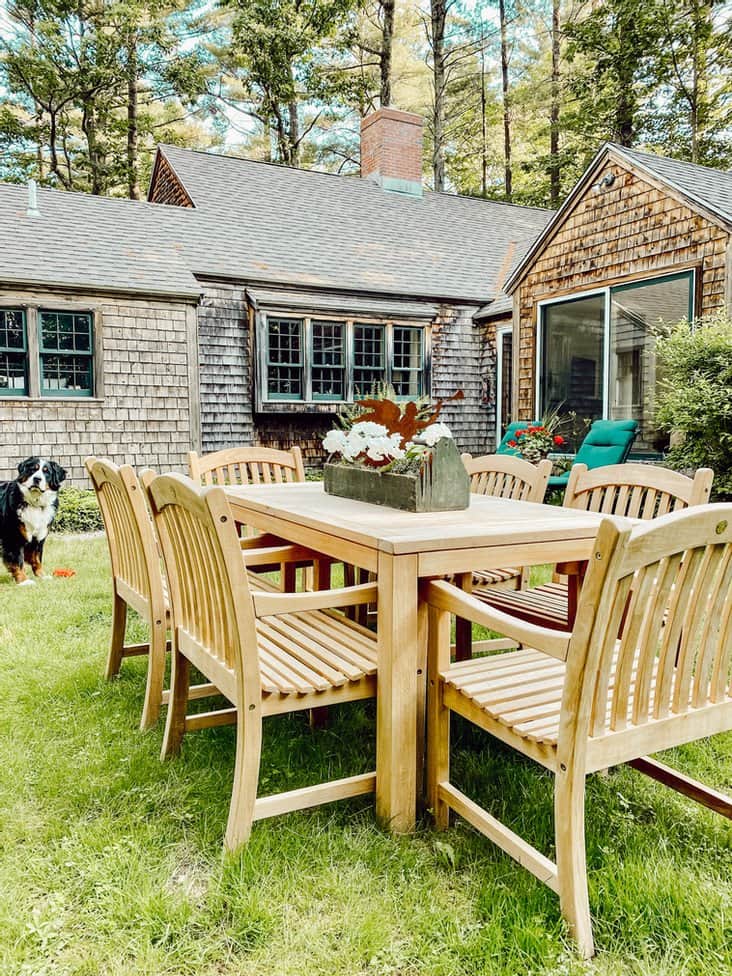 Welcome to the Second Front Door!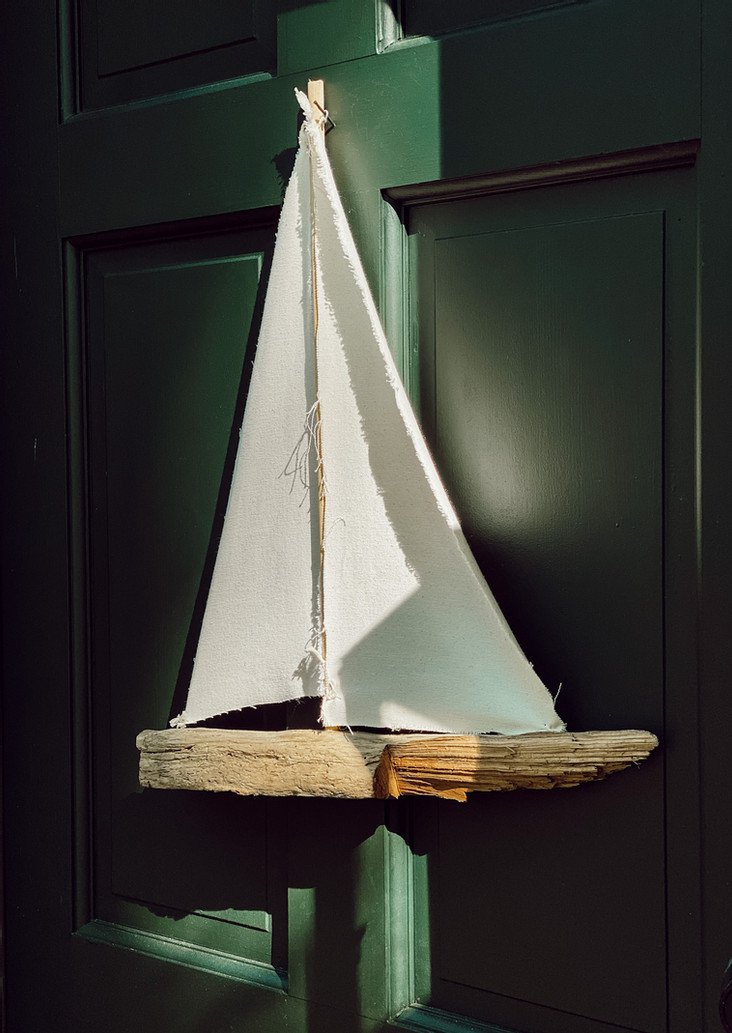 The front of the house is where most of the work really needs to be done on the shingles. There is also a second old fashion door that covers this front door in the wintertime. I decided to remove it in the summers for two different looks. This door is not used to enter or exit the home.
Some added landscaping and stone to the walkway will jazz the front of this home right up. Coming up soon!
And the bottom shingles will need to be replaced here as well.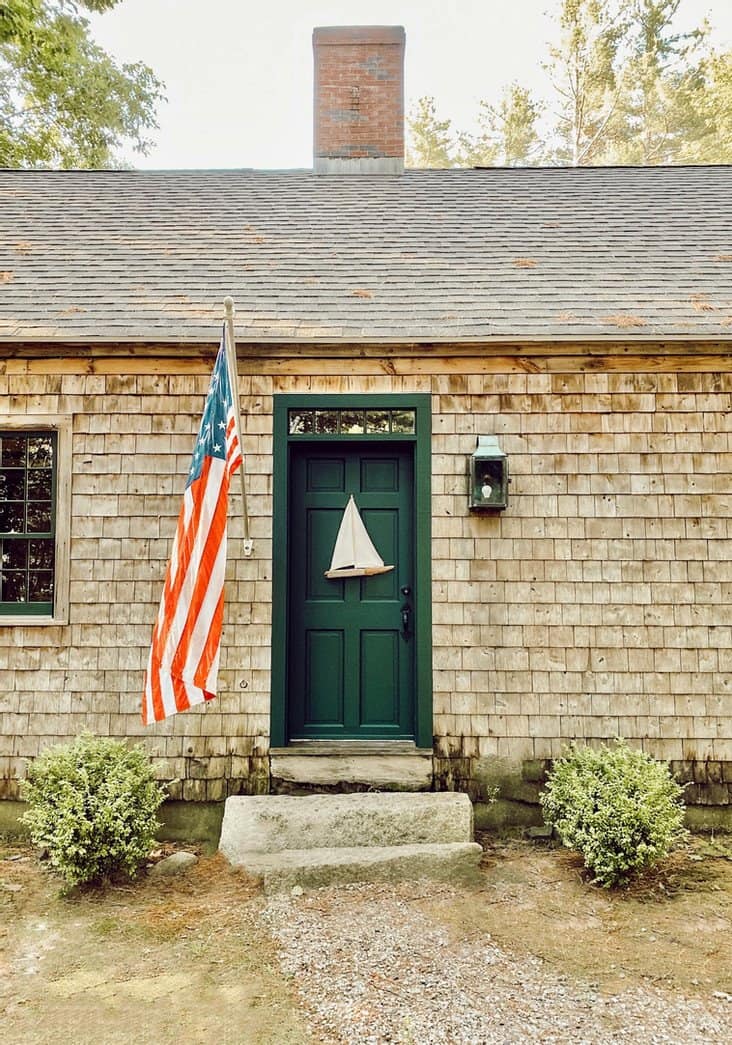 The shingles in this photo have been cleaned, but not sealed yet.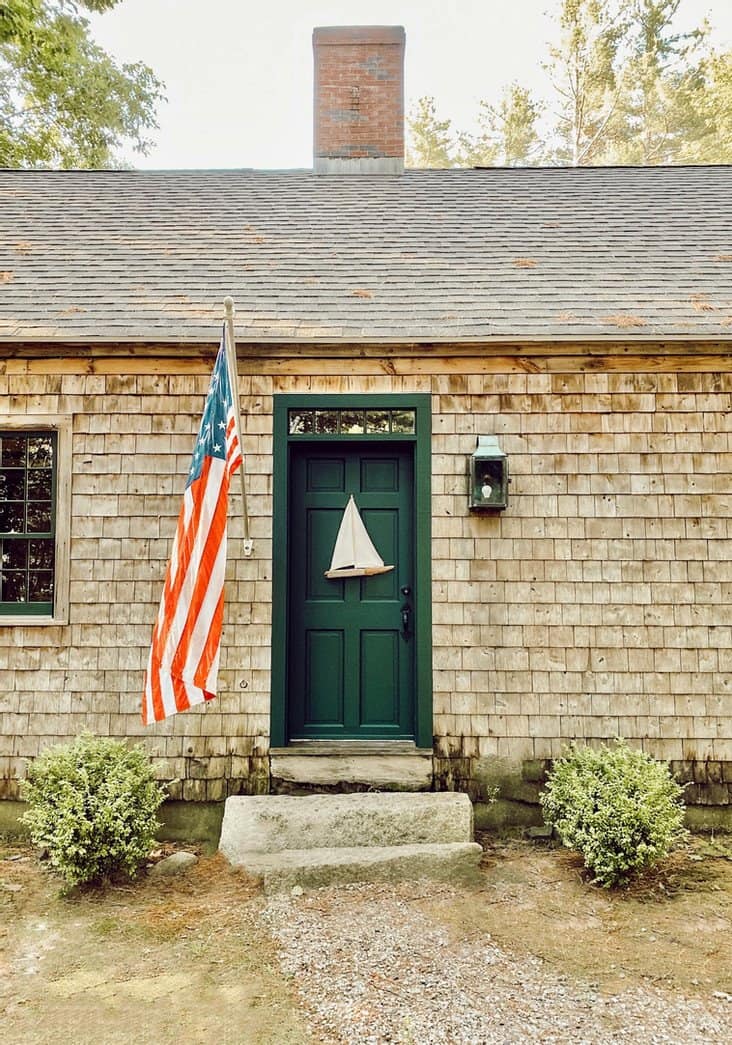 Welcome to the Garage!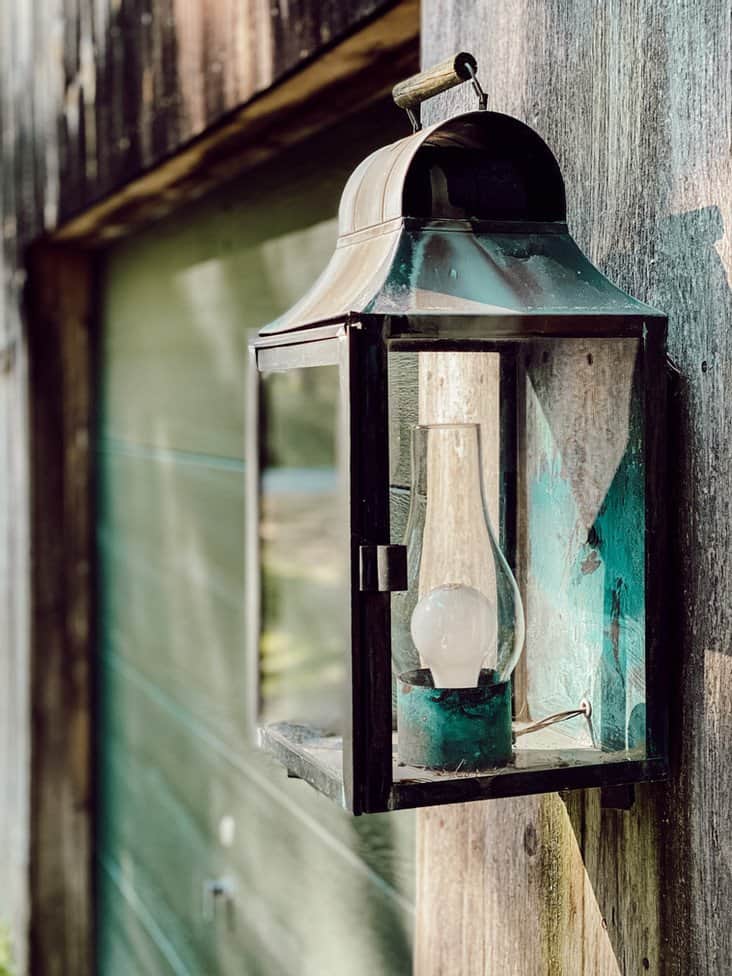 I just luv the antique lighting that adorns the home. It's held up very well for 30 years.
And the patina with the Essex Green is so complimentary.
Of course, my husband's old 1977 Ford 150 truck is a favorite for us all to drive around.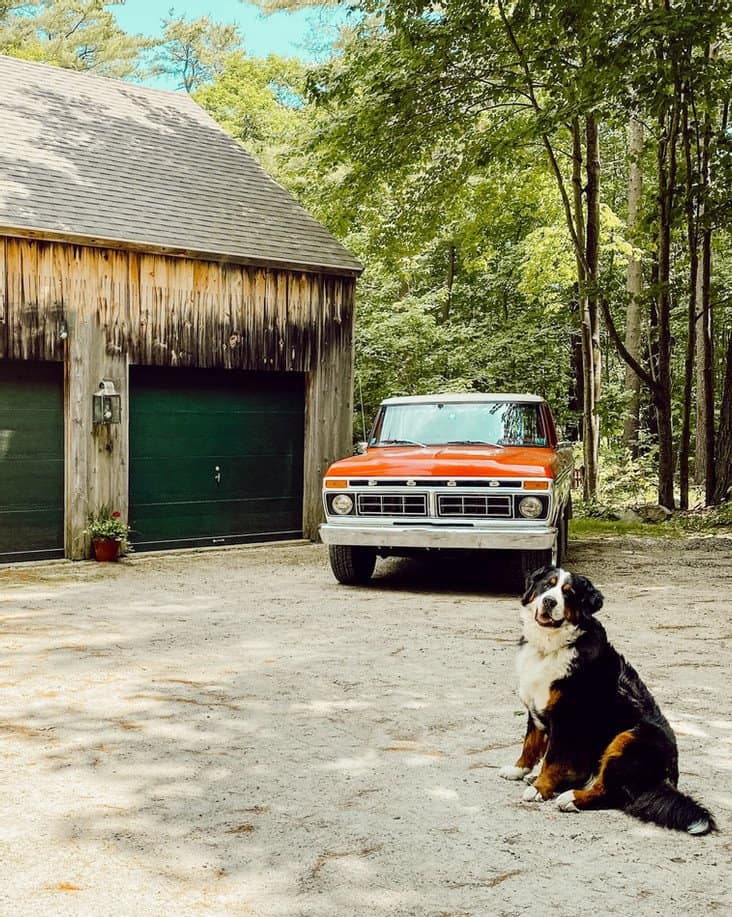 You may also enjoy this year's COASTAL GRANDMOTHER SUMMER DECOR "IN MY MOTHER'S HOME".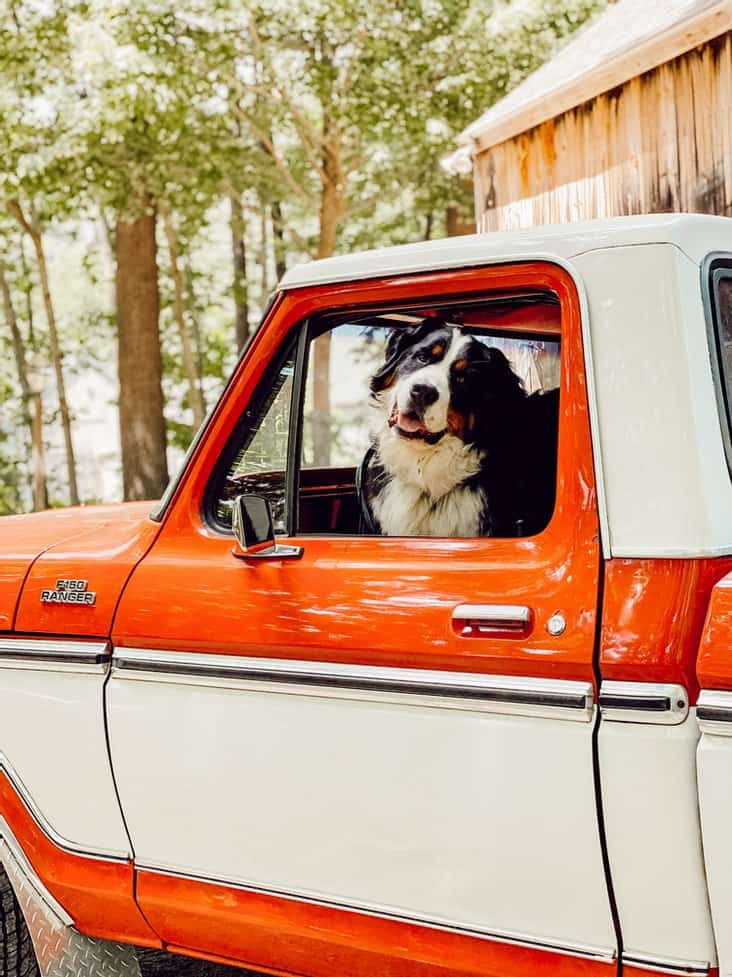 You may also enjoy How We Restored our Aged Cedar Shake Siding.
I'm so glad you dropped by, and if you are new to my blog, welcome! I hope you enjoyed your visit with us here today at our Home in Coastal Maine.
Be sure to also check out our Home in Vermont too, where we spend winters enjoying the coziness of home in the Green Mountains of Vermont.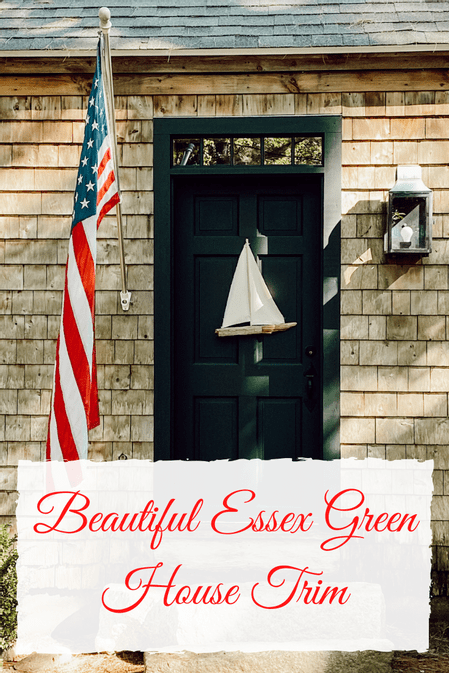 I've created the above custom pin just for this post! Sharing is Caring!  I would love to hear from you too~ Your comments mean so much to me and truly make my day… Please join me over on Instagram & Pinterest to see more!