Cedar Shake Siding
Cedar shake siding is both classic and long-lasting wood shingles that are so often seen on coastal homes.
If left untreated, they will naturally gray as seen here. If the cedar shakes are not cleaned on a regular basis (every 3-5 years), mold and mildew will set in over time, which is what happened to our home here in coastal Maine.
Below are photos of the home as we inherited it this past fall of 2019 after almost 30 years of weathering. Looking back, I can not believe the transformation.
Read more about our Coastal Maine Family Heritage | Embracing My Roots here.
Restoring Cedar Shake Siding
Our goal was to restore the cedar shake siding back to a more golden color with hints of the weathered gray and remove all the mold and mildew that had gathered over the years.
We tried several solutions and settled on Redihan's Cedar Wash Wood Cleaner. It's eco-safe and organic. Each house and shake shingle weather differently; therefore, it is important to test out what works best in your own situation.

This post may contain affiliate links which won't change your price but will share some commission."
One 3-pound Cedar Wash Wood Cleaner container covers about 1200 square feet at about $24 a container. We used about 4 containers for our two-story Cape. Mix the powder with water in a large spray container per the directions on the bottle and spray it onto the house. Wait 15 – 20 minutes and use a handled brush to scrub the cedar shingle siding gently, as you don't want to crack or break them. Then you'll want to hose down the shakes to wash everything off. The gray, dirt, and mildew just poured off the house. It was not a difficult process, and the outcome was so well worth the effort it took!
Brushing down the siding after spraying the home with the Cedar Wash Wood Cleaner.
Hosing down the cedar shakes after spraying the shingle siding to remove the dirt, mildew, and gray
Here is how the wood siding appeared after the cleaning. What a difference!
Unfortunately, the bottom shakes on the home were rotted and will need to be replaced.
Water Sealing & Staining the Cedar Shake Siding
We were not finished just yet though. Water sealing the siding was something we definitely wanted to do.
We applied Super Deck's Cedar Transparent Stain from here to the cedar shake siding. It took about 13 gallons to cover the entire home. The stain is sprayed onto the house with a plastic spray container, and then we used a paintbrush to brush over it to ensure there was no running.

Our shakes were very dry so the cedar shingles absorbed the solution very quickly. It will definitely vary depending on your own shake's weathering. We also chose to apply only one coat. You may want to consider two coats.
The golden color now shines prominently and looks so classic. Check out the Beautiful Essex Green Coastal House Trim too!
You may also enjoy the beginning of this Old Family Home Restoration here as well.
The cedar shakes look different in all kinds of light. I captured these photos for this post as best I could on a late afternoon, on a fairly overcast August day.
Here you can see how the cedar shakes look two years later in the winter months.
You may also enjoy this year's COASTAL GRANDMOTHER SUMMER DECOR "IN MY MOTHER'S HOME".
Let's now head to the back of the home! You can see here how the cedar shakes don't all look the same, but that is ok. It remains a rustic weathered look, but now with a beautiful golden hew.

We also added this dark green and white striped Sun Shade Sail after pricing out numerous awnings to suppress the sun in the sunroom. Awnings are just so expensive and would take weeks if not months until one arrived and was installed. That's when we decided on the Sun Shade Sail. Such a simple solution to this problem and less than $100. Super easy to install too. The sunroom in the back of the house would reach temperatures well into the 100s with the afternoon sun hitting it. This has cooled down not only the sunroom but the entire house because of this shade.
Read more about this shady solution here!
You may also enjoy White & Green Rustic Summer Flower Planters Sure To Charm You post. You will see more of how the cedar shakes look three years later.
And How We Designed & Built A Pea Stone Patio in 2 Days post.
The landscaping will be something we will tackle next summer. We did manage to plant a few small boxwoods and a couple of white snowball hydrangeas in the front of the house. I love boxwoods; they stay green all year round and look beautiful next to a blanket of snow in the winter.
Visit the blog series "In My Mother's Maine Home" to see more of the restoration and decor of our Coastal Maine Home.
An evening at home in the backyard 3 years after refinishing the cedar shakes siding.

Join me for a Cozy Snow Day at Home in Maine here.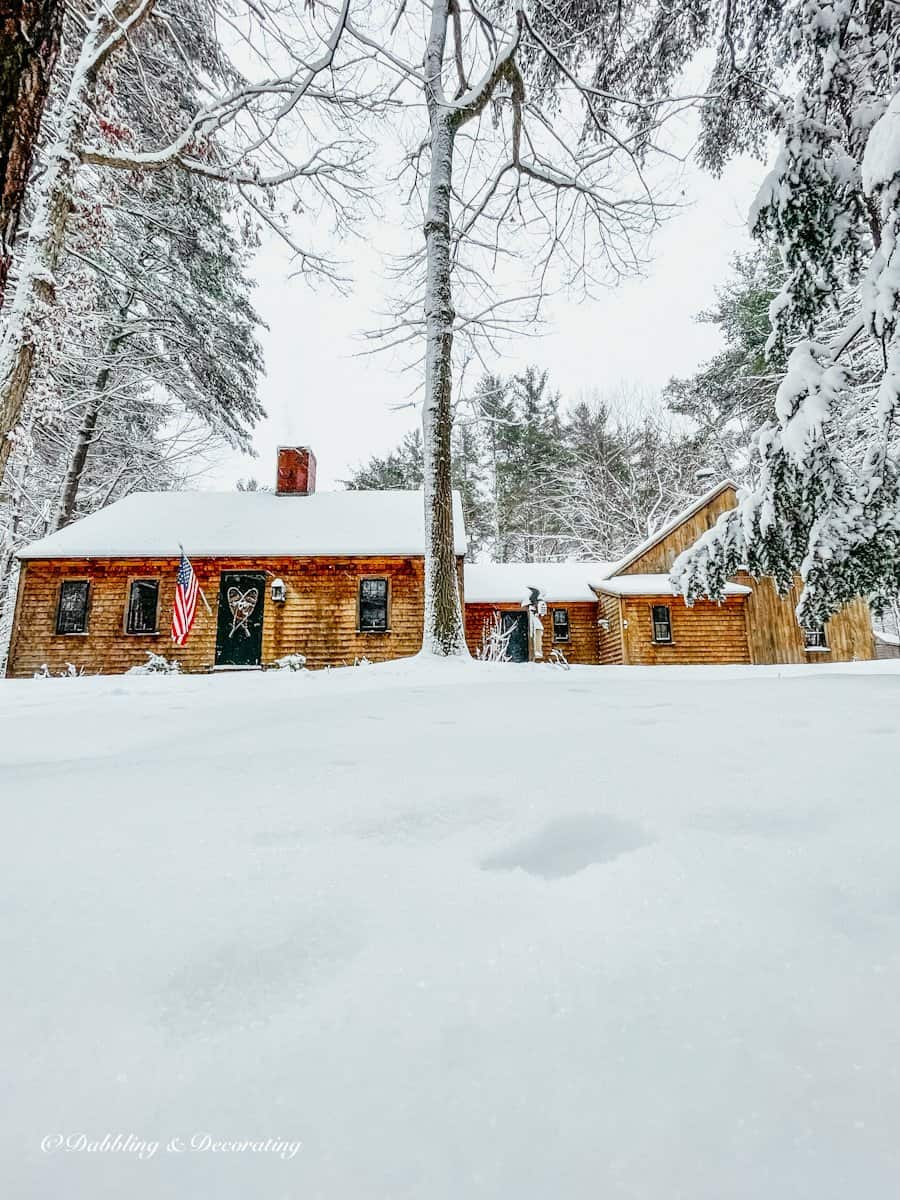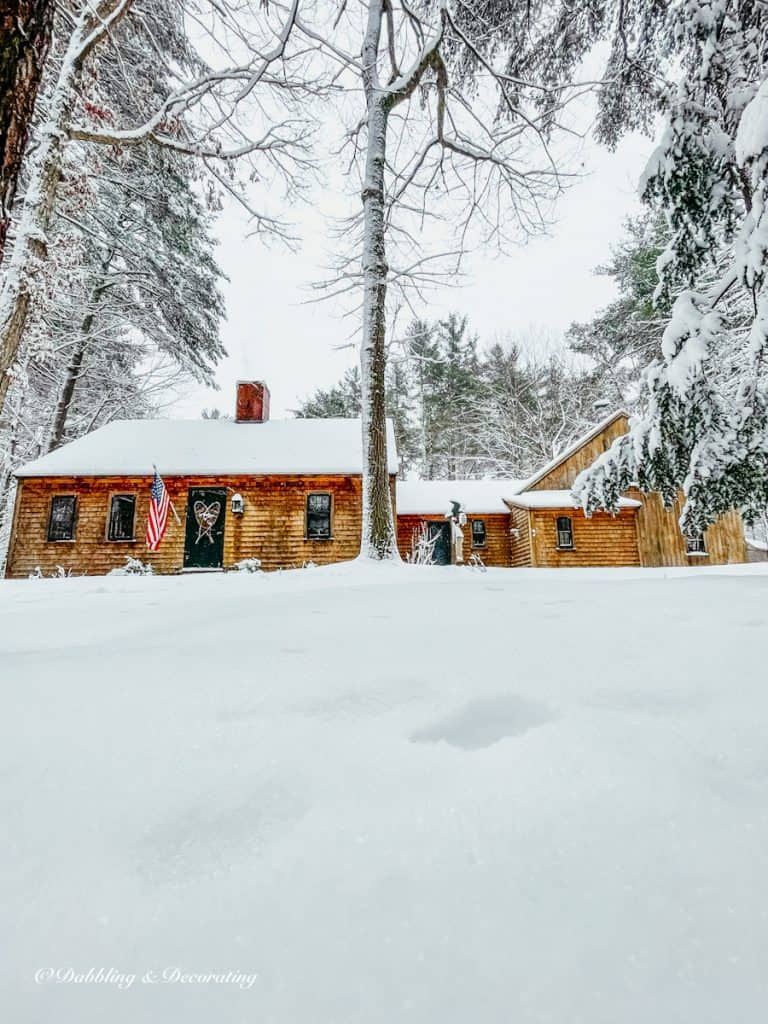 I'm so glad you dropped by, and if you are new to my blog, welcome! I hope you enjoyed your visit with us here today at our Home in Coastal Maine.
Be sure also to check out our Home in Vermont, where we spend winters enjoying the coziness of home in the Green Mountains of Vermont.
I've created the above custom pin just for this post! Your comments mean so much to me and truly make my day… Please join me over on Instagram & Pinterest to see more!
YOU MAY ALSO LIKE