I'm so excited to share this month's 9 irresistible antique bargains with you that I found while out "Thrifting with the Gals". Such an inspiring round-up!
Who is Thrifting with the Gals?
"Thrifting with the Gals" started with a group of friends who met on Instagram and formed a special relationship through a mutual love of home decorating. We share a passion for all things vintage, thrifty, and cozy.
Our styles are all very unique from Kristin's log cabin in the Northwoods of Wisconsin, Rachel's farmhouse in North Carolina, Robyn's beautiful French Nest in Florida, and of course myself thrifting for our homes from Vermont to Coastal Maine.
Meet the Thrifting Gals
Also joining us this month is guest host Kelly from The Tattered Pew. If you are joining me from Kelly, welcome! Don't you just love all of Kelly's ideas for decorating with vintage flower frogs?
10 Irresistible Antique Bargains
Autumn is my favorite time of the year to go thrifting and antiquing. There's just something about the season that is so inspiring. Maybe it's because we start nesting for the winter months or it's all the festivities of fall.
Well, whatever it is, let's go thrifting!
1. Antique Silverware Flatware
Before I left Maine to head back to Vermont for the fall, I made one last stop at one of my favorite shops, The Fabulous Find in Kittery, Maine.
There I found this sterling silver flatware set, which included the box for just $45. I think the box itself was worth more than this…
And after a later visit to Vintage Market Days, Vermont I can tell you that silver flatware sets are in this year! And boy are they a bargain antique trend this year. At least around here.
This post may contain affiliate links which won't change your price but will share some commission."
SHOP ANTIQUE BARGAIN SILVERWARE

You may also enjoy the post, Vintage Booth Winter Window Display from my Vermont vintage window booth!
2. Restaurant Dishware Antique Bargains
I've been seeing a lot of great antique bargains on old restaurant dishwares. Just look at this collection displayed at another of my favorite shops, The Cottage by the Brook.
You may also enjoy the post, A Thrift Here, a Vintage There, and a Valentine.
3. Antique McCoy Vases and Pots
I never really had much of an eye for vintage McCoy truth be told, until just recently. And now I think I have a full-blown collection in every color.
If I find one for under $30 today I snag it!
You may also enjoy the 13 + Best-Loved Vintage Antiques and Uniques post.
SHOP VINTAGE MCCOY

4. Stoneware
Antique stoneware is one of my favorites, and I could scroll through Etsy all day long admiring all the antique stoneware.
That is where I found this antique bargain stoneware bowl and I simply adore it on our porch with apples for the fall.
Now I think I need a blue one…
SHOP VINTAGE STONEWARE

5. Antique Cobbler Racks
I have admired these lovelies for a number of years now, but I always found them pricey and I wasn't quite sure where I would use one.
But now as I see their prices decreasing, I picked up this bargain antique cobbler rack at Vintage Market Days, Vermont, and refinished it with my favorite Restor-A-Finish.
It now sits pretty in my vintage window booth down at The Vintage Soul as a display piece for other antique bargain wares.
6. Jack Jumper
Do you know what a Jack Jumper is?
It's an antique type of sled, native to Vermont with competitions still being held to this day.
Check out my post, Vintage Market Days Fall 2022 Vermont to learn all about it.
I picked this one up for $50 and it's going to be so cute on our porch this winter as a part of my Vintage Ski Lodge Decor Series. Jack Jumpers are very difficult to find especially in good condition and sell for as high as $350…
Here's an example of one selling on Etsy.

You may also enjoy the post, How to Decorate with Old Musical Instruments.
7. Antique Bargain Linens
I found these blue-purplish linen napkins for $2.00 a piece.
This may seem obvious, but you can really find exquisite table and bedding linens at vintage markets and thrift shops at bargain prices.
I used these on our outdoor table in the post, Picturesque Table Setting with Autumn Mountain Views.
8. Antique Bargain Timers
Old alarm clocks and kitchen timers! I adore them all. You can find them as low as $12.00 like this antique bargain kitchen timer that I picked up at Vintage Market Days Vermont.
I think I'm going to start up a collection of these for our home in Maine.
SHOP VINTAGE KITCHEN TIMERS AND ALARM CLOCKS

9. Transferware
Who doesn't love antique bargain transferware? And I've been finding much of it has come way down in price.
Like this large handsome blue and white platter that I picked up for just $39. And the traditional brown and white transfer dishes are forever perfect for the seasons too.
SHOP BARGAIN ANTIQUE DISHWARE

10. Vintage Dress Forms
Another vintage item I've always admired from afar are old dress models.
But I've also found these too, to be on the pricey side.
See more in the post, Meet My Ol' Gal, Miss Mannequin Dress Form.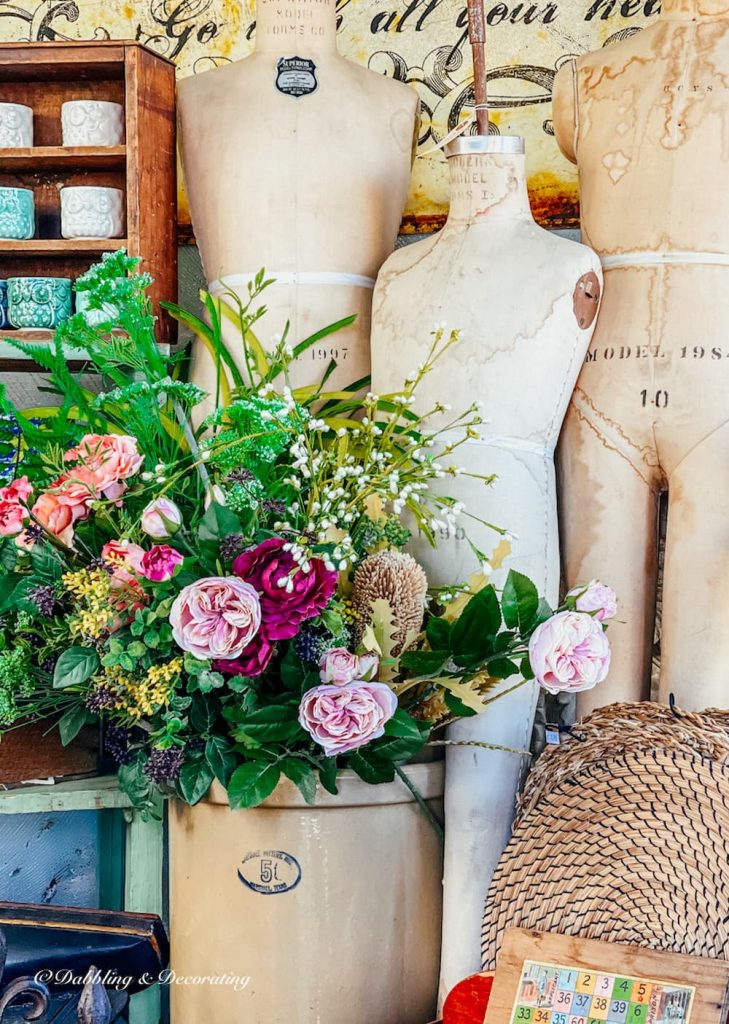 Until I found this one at Stone House Antique Center for under $100.
This vintage bargain dress model is now featured in my window booth also at The Vintage Soul.
SHOP VINTAGE DRESS FORMS
These sell out very quickly as an FYI.

Well, that's my 10 antique bargain ideas for you this month. I hope you enjoyed them and found some inspiration with me here today, "Thrifting with the Gals".
And in case you missed it, there's a whole lot of fall foliage going on in Vermont right now. Check it all out in the post, Vermont Fall Foliage Home Tour.
I'm so glad you dropped by, and if you are new to my blog, welcome! I hope you enjoyed your visit with us here today at our Home in Vermont.
Be sure also to check out our Home in Coastal Maine where we spend summers and weekends when we are craving a walk on the beach or a visit with old friends.

I've created the above custom pin just for this post! Hearing from you makes my day and your comments mean so much to me! Please join me on Instagram & Pinterest to see more!
Thrifting with the Gals
Next up on today's "Thrifting with the Gals" Tour is Robyn from Robyn's French Nest. Robyn is sharing how to make a DIY light sconce. It's so creative you won't want to miss it!
Be sure to check out the other "Thrifting with the Gals" posts today too!
You May Also Enjoy These Recent Posts