Do you ever spend an entire weekend antiquing? That's what I just did, and it was fabulous. Here are a few treasures you are going to love!
My first stop was at The Cottage by the Brook as I made my way to our home in Maine.
Blue and White Teacups
Where I found this basket full of blue and white teacups and saucers for $2 apiece and the basket was free!
There was also the most adorable bundle of thin paintbrushes for $5. I really liked the way they looked all packaged together with their assortment of colors for spring.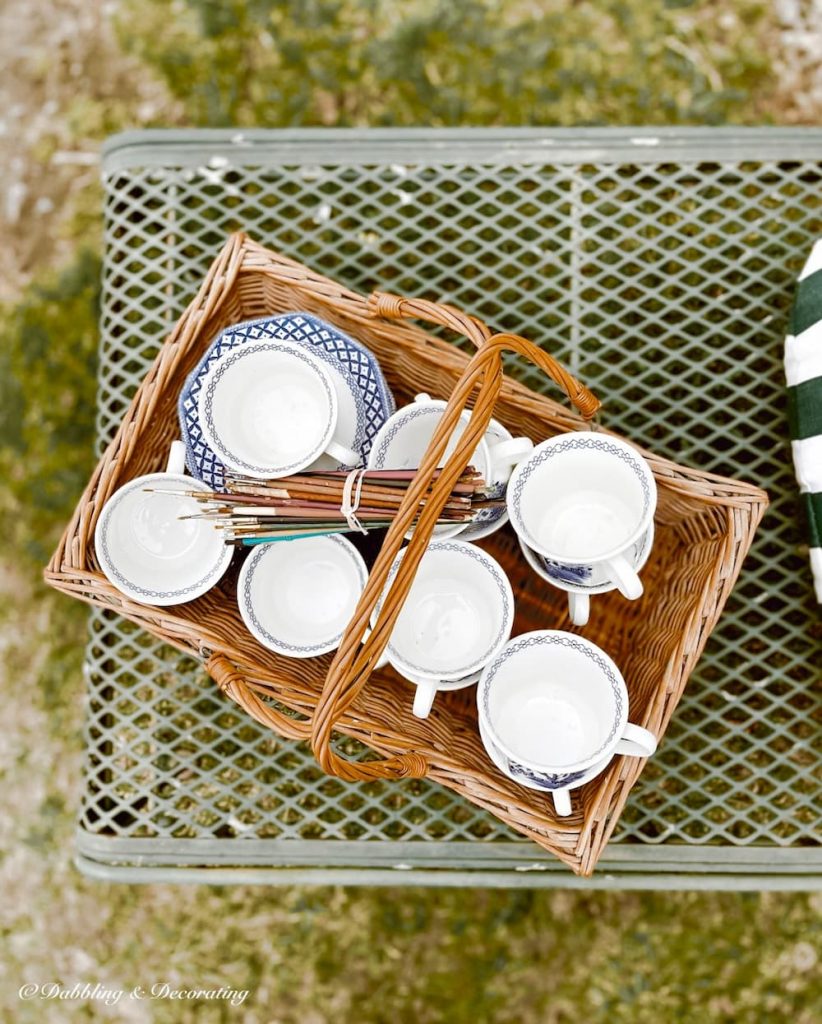 And here they are all decorated on our coffee table in the living room.
I am also mulling over creating a small wreath with these teacups so stay tuned for more on these blue and white treasures.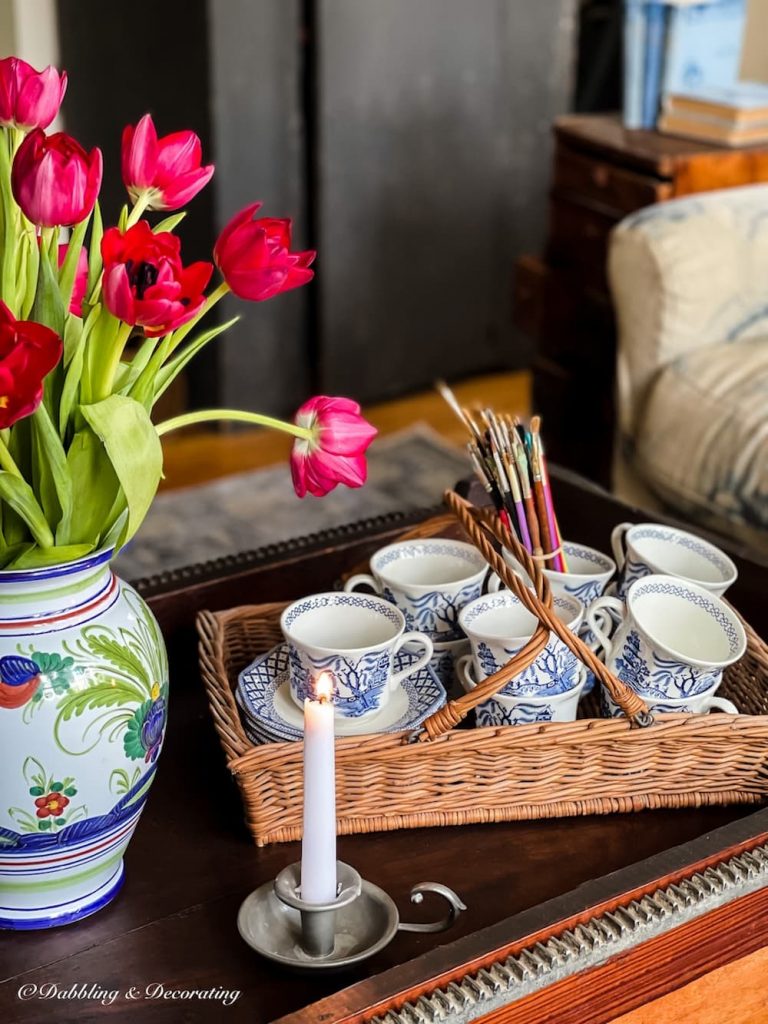 This post may contain affiliate links which won't change your price but will share some commission."
SHOP BLUE AND WHITE TEACUPS
Scroll and Click on Image to Shop

A Blue Stoneware Pitcher
Next, I grabbed this blue stone pitcher when I saw it was selling for just $19.
I've recently started collecting blue stoneware pitchers like this one here and they are usually marked around $70 or more.
So this one was a great deal!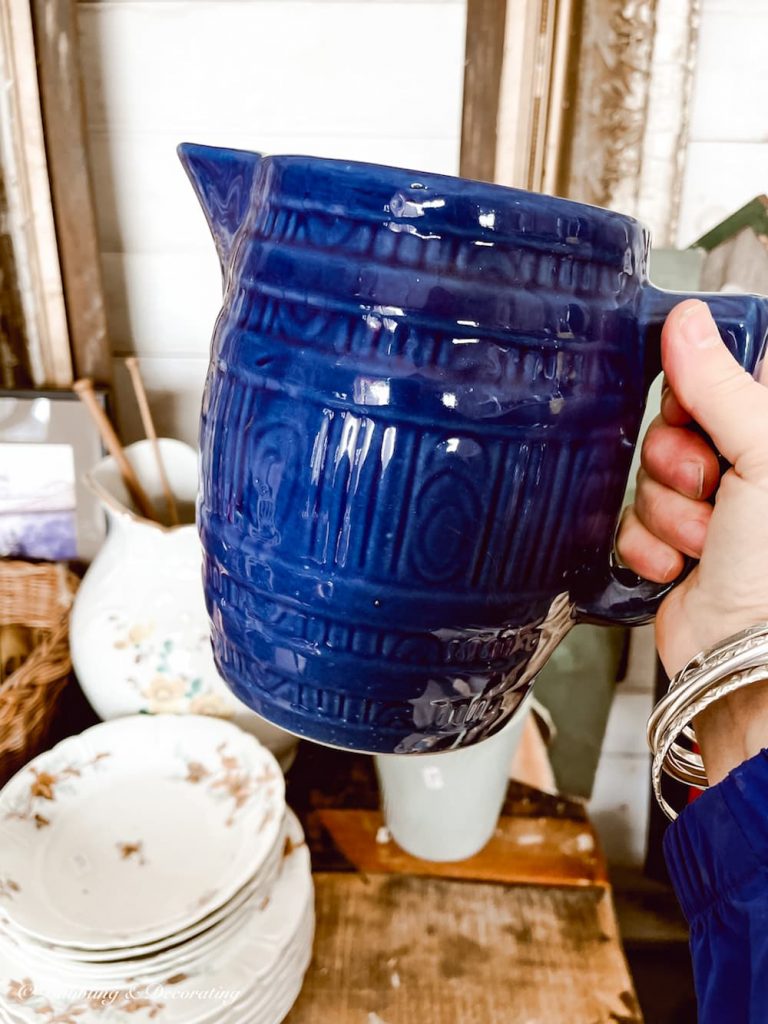 And it looks so inviting on the bedside table in our guest bedroom with a bouquet full of floppy tulips.
You may also enjoy the post How a Penny Can Keep Tulips From Drooping.
And 17 Simple Tulip Arrangements You Can Create Today.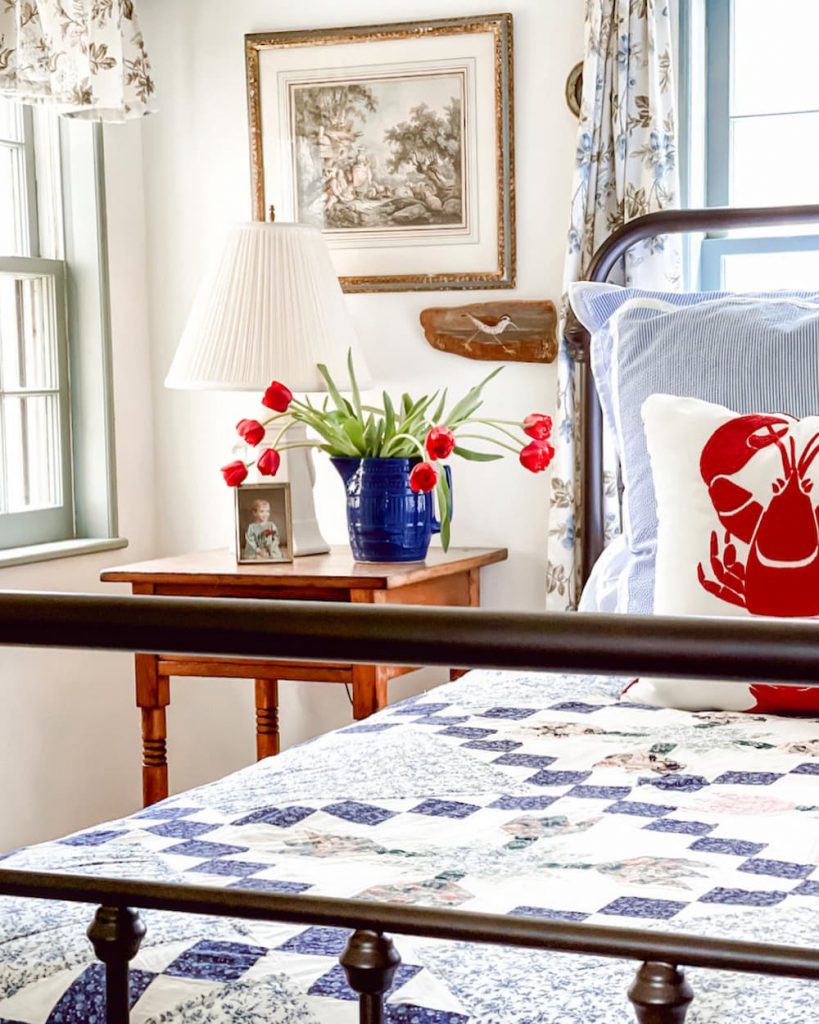 SHOP BLUE STONEWARE PITCHERS
Scroll and Click on Image to Shop

A Crewel Rug
Just look at this Crewel rug draped over this old crate. The colors are so beautiful and it was selling for just $110.
What is a Crewel Rug?
Crewel rugs are beautiful woolen handmade embroidery rugs.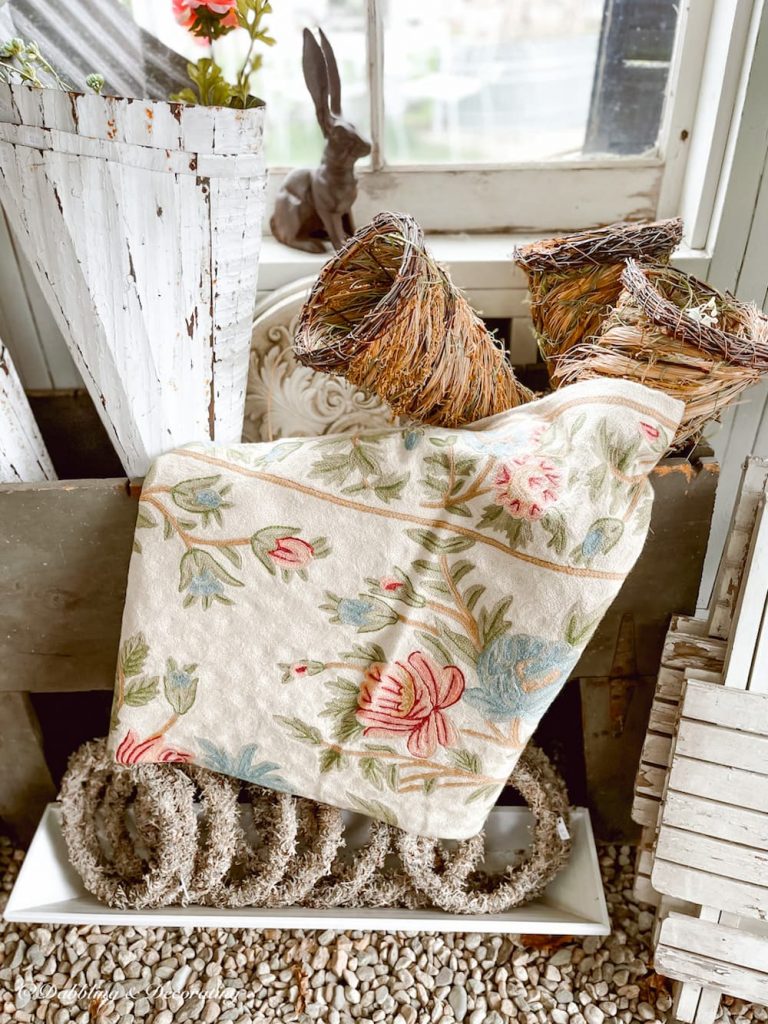 You may also enjoy the post, The Best Vintage Garden Variety Market.
Right now this crewel rug is residing in our dining room area. Once I have it dry cleaned I may move it into one of our attic bedrooms. I feel like it has the soft look of a beautiful bedroom rug.
A Rustic Basket with Peonies
My next successful stop over the weekend was a visit to Breakaway Designs and Antiques in Wells, Maine.
There I fell in love with these faux lavender peonies that Paula was using throughout her shop.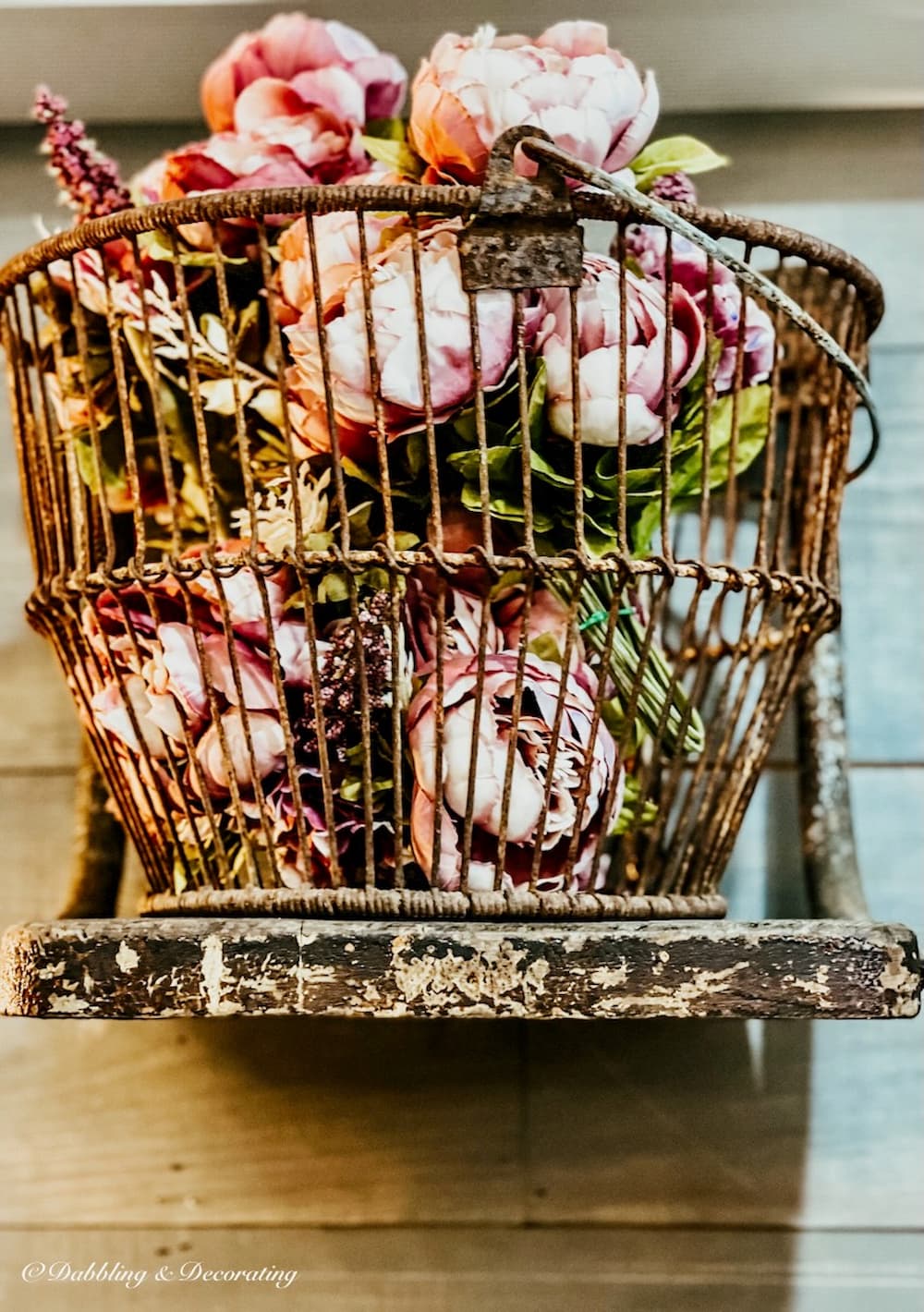 I adored the contrast between the soft lavender and the primitive elements that she was exposing.
So the large rusted basket and peonies came home with me. I was looking forward to creating a vintage spring centerpiece out of them for our antique coffee table.
I gathered pinecones from our backyard…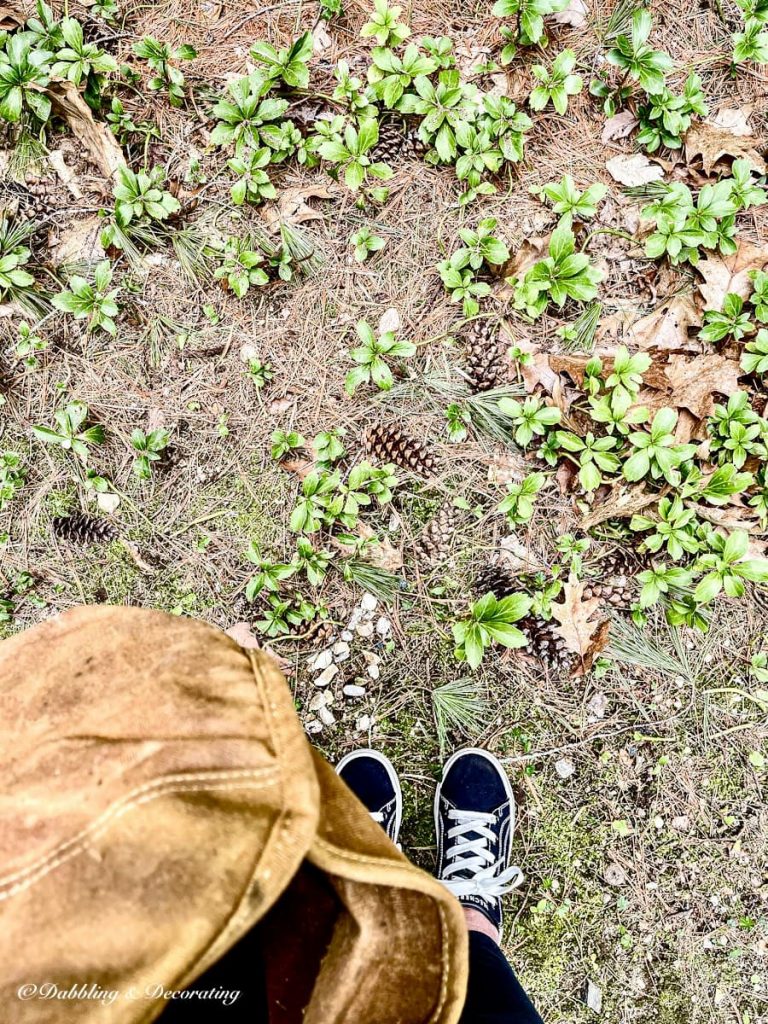 And filled the basket up with medium-sized pinecones that I had gathered.
Then I placed 4 bundles of the lavender peonies among the basket of pinecones.
Super easy and the coffee table centerpiece now really makes such a beautiful statement.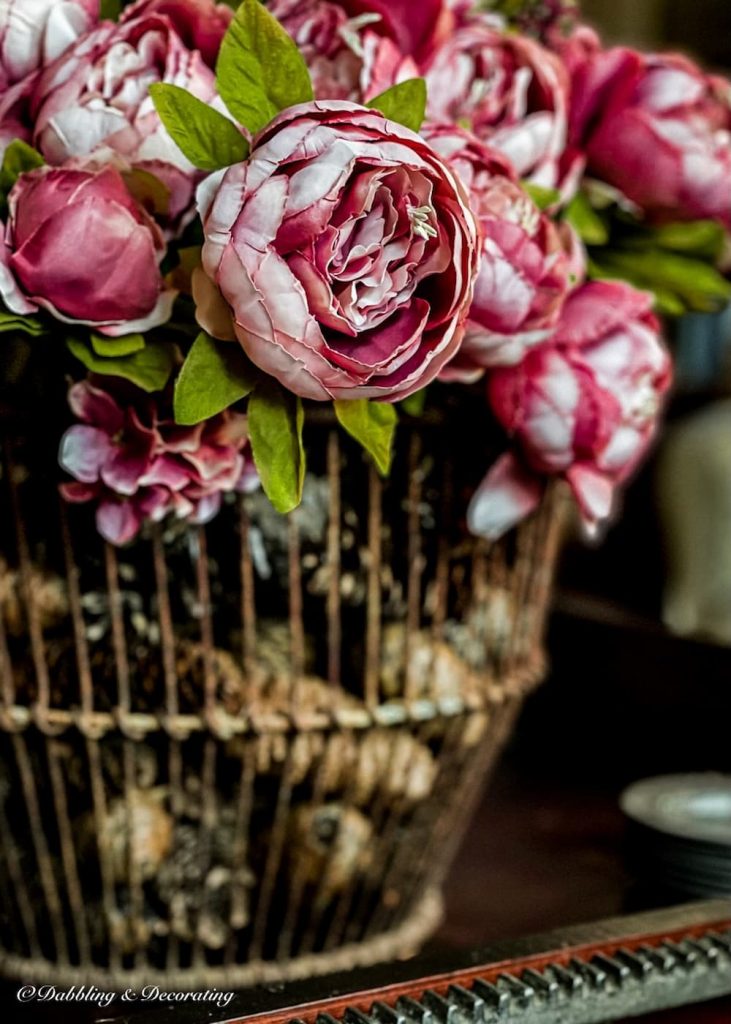 If you like dark antique furniture pieces, try adding the color purple to your pieces.
I can't wait for the lilac season to arrive to fill this basket with gorgeous purple lilacs.
Check out this post Decorating with the Color Purple to learn more.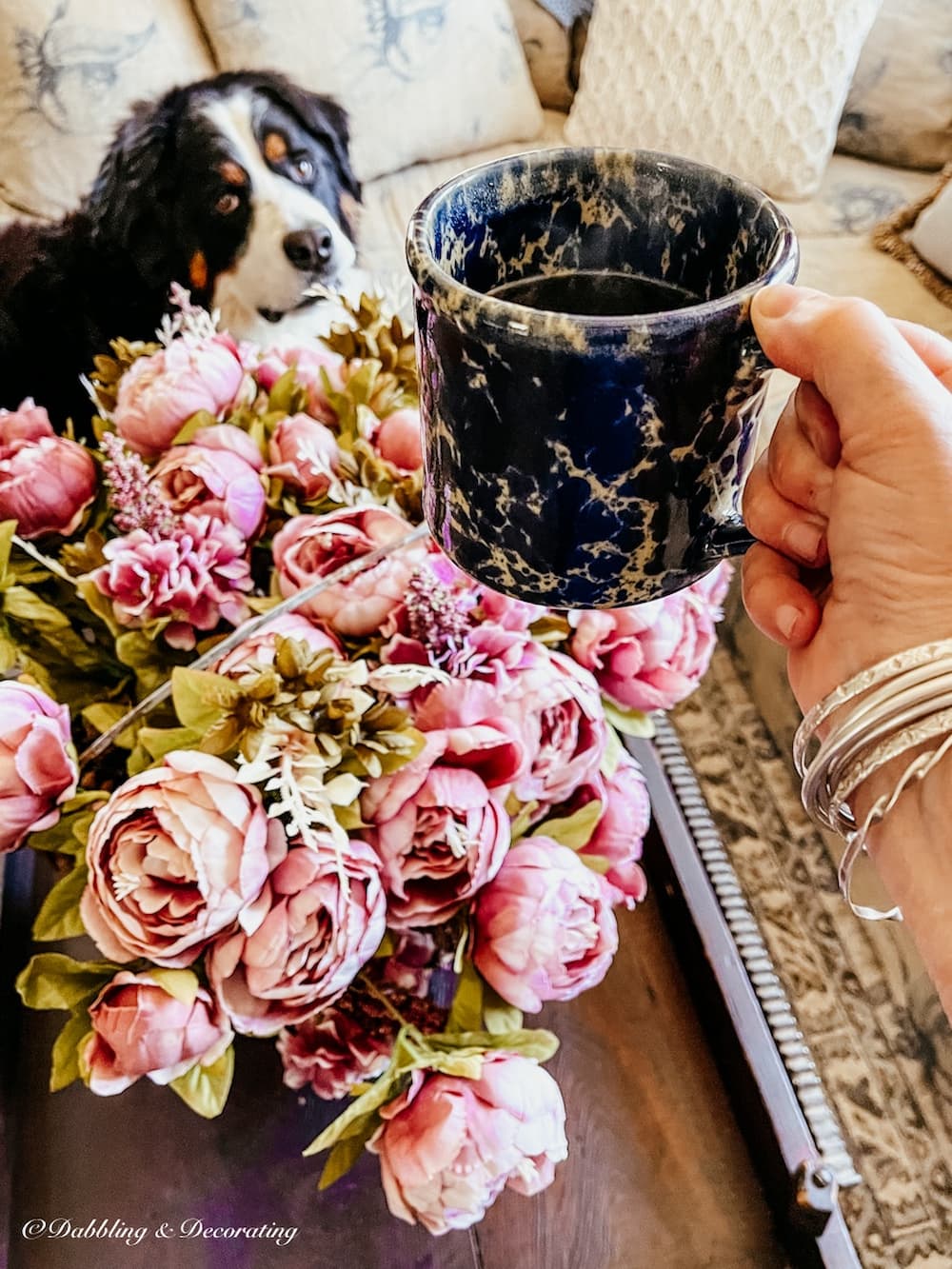 SHOP BASKETS, PEONIES, AND PINECONES
Scroll and Click Image to Shop

A Boston Rocker
I always make sure to drop by The Fabulous Find in Kittery, Maine when I'm in this area.
They are a consignment shop that closes to receive all their donations on Tuesdays, so Wednesdays are a perfect time to drop by.
And right outside sitting pretty was this antique Boston Rocker!
Just look at that fabulous old wood and vintage-style patina!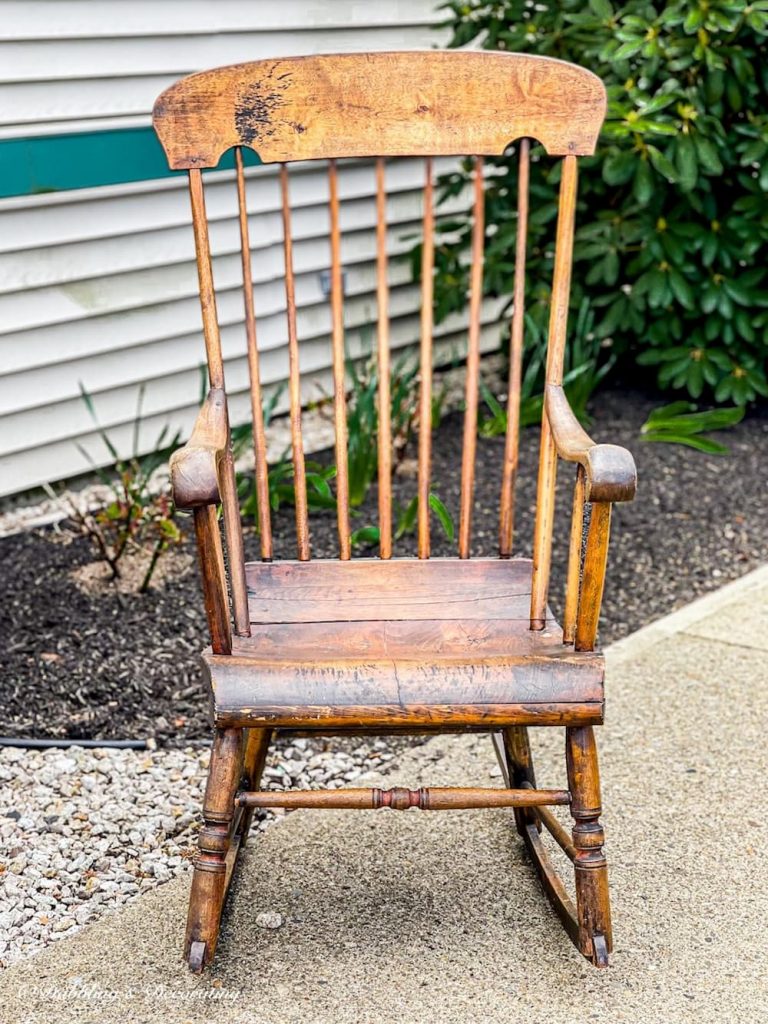 You may also enjoy Irresistible New England Antique Barn Sale | Budget Friendly.
I snagged it for $35!
And today it sits in front of our fireplace at our home here in Coastal Maine.
A Boston Rocker really is such a versatile piece and would look fabulous in any room in the home.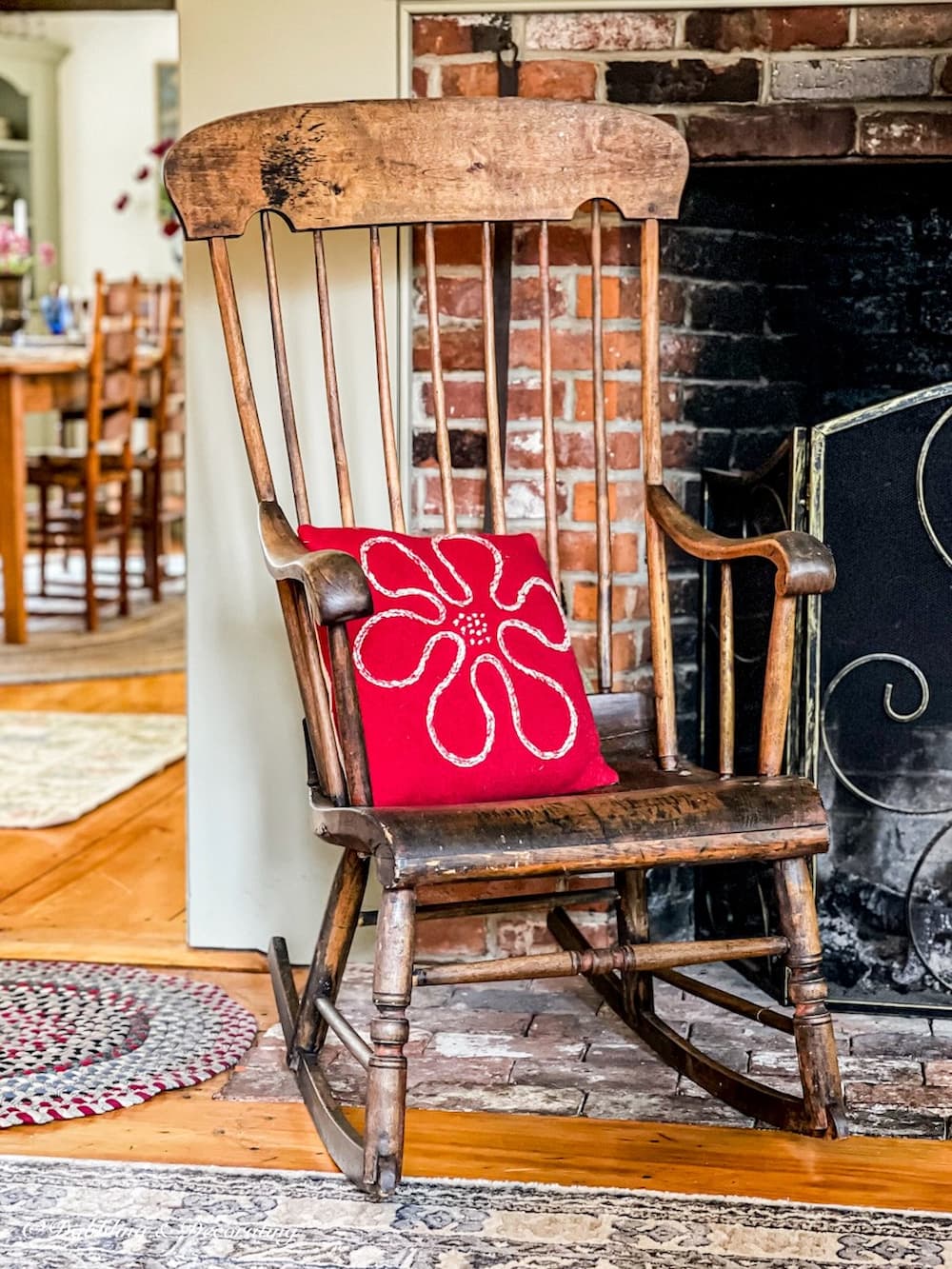 You won't want to miss this Early Buy Event and Vintage Market at Sage Farms Antiques too!
I'm so glad you dropped by, and if you are new to my blog, welcome! I hope you enjoyed your visit with us here today at our Home in Coastal Maine.
Be sure to also check out our Home in Vermont too, where we spend winters enjoying the coziness of home in the Green Mountains of Vermont.
Please join me as a regular here at Dabbling & Decorating by signing up for my Saturday morning newsletter and never miss an update!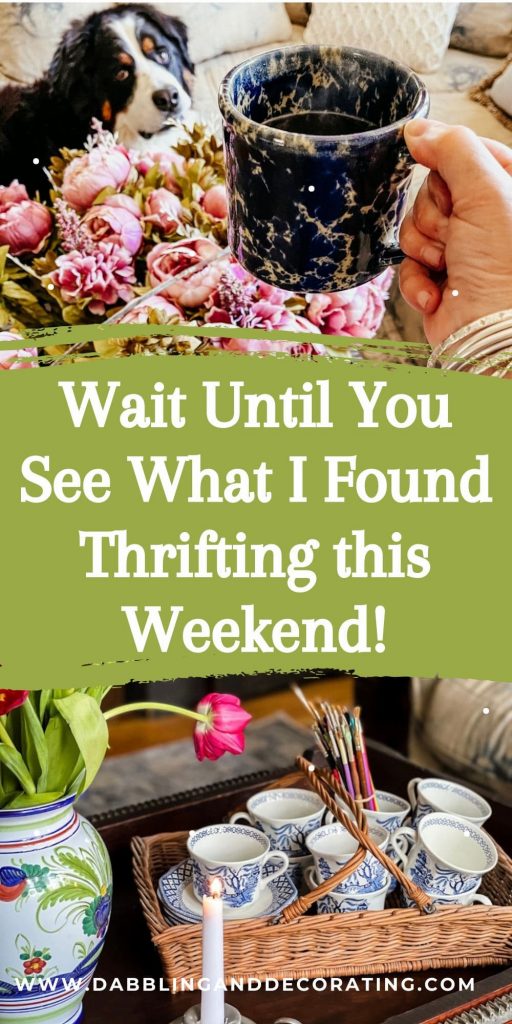 I've created the above custom pin just for this post! Hearing from you makes my day and your comments mean so much to me! Please join me over on Instagram & Pinterest to see more!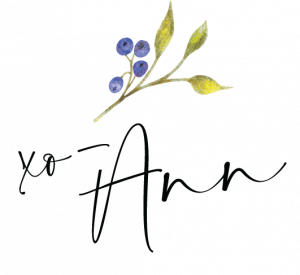 YOU MAY ALSO ENJOY