Vintage antiques and uniques are my jam! And today's post is all about where to find them, how to decorate with them, and how to know their value, along with 13+ of my best-loved.
"Thrifting with the Gals"
Today is the third Thursday of the month, meaning it's time for "Thrifting with the Gals." A series I host here monthly, along with three of my favorite thrifting and vintage-loving friends. We get together and share all of our thrifting, vintage, and antique findings from all across the country.
We also have a guest host join us every month. This month, we welcome Sarah of Sadie Seasongoods, who shares "Vintage Halloween Decorations." Sarah is so creative you are going to love her one-of-a-kind creations for sure! You'll want to visit with the other gals at the bottom of this post, too!
How It All Began
My first memory of antiquing was when I was a little girl, and my mother took me to an auction with one of my best friends at the time and her mother. We each bought a ceramic cat doorstop. My vintage cat was all white, tall, and sitting upright, and my friend's cat doorstop was black and white, curled up, and lying down. How I wish I still had that vintage cat doorstop today.
I must have been in about second grade at the time… And I still have such fond memories of this and have been antiquing and thrifting ever since.
It's the thrill of the hunt, the pleasure of a bargain, the one-of-a-kind finds, and the most wonderful people I meet along the way who also share the same fondness for vintage antiques and uniques.
I love each and every one of them, but today, I want to share my top 13+ vintage antiques and uniques with you. And I had a very hard time narrowing it down to 13, trust me! I'll share with you where I found it, how I decorated it, and how to find its value.
Vintage Antiques and Uniques | 13+ Best-Loved
In no specific order;
1. A Vintage Charm Bracelet
Okay, so this is my #1 favorite. It's my mother's charm bracelet. It had been lost for years, and after her passing, I found it tucked in a weird corner of her jewelry box. I gasped and knew I had discovered a treasure. Not everything vintage, antique, and unique must be found in a store or online, as I'll boast here today.
The bracelet is filled with my mother's favorite charms that make up her years of memories, like a lighthouse, tennis racquet, sled, volkswagon bug, baby high chair, the serenity prayer, praying hands, the state of Maine, eagle, and a pair of skis to name just a few.
The funny thing is, too, my mother always told me that her charm bracelet was not sterling silver, but it is, every single piece of it. What is it worth? Probably not much in dollars, but it is priceless to me.
2. Antique Apothecary Cabinet
I remember going to get it, as it was during the pandemic in 2021, and it was also my husband's birthday. I drove to Kennebunk to pick it up and recruited some girlfriends to help me load and unload it, as my husband was back at our place in Vermont at the time.
You may read and see more of this apothecary cabinet decorated at our home in Maine in the post, Green Chippy Apothecary Cabinet and Terracotta Pots and an Apothecary Cabinet. The research that I've done on antique apothecary cabinets, such as this one, shows that they are rare finds, making them very valuable. I'm glad I snagged it when I did!
3. Vintage Whale Balancing Toy
Are you familiar with vintage balancing toys? This one was a gift from one of my followers who shares a mutual love for vintage antiques and uniques, plus Bernese Mountain Dogs. After losing her Berner she saw this at an antique store online in Rhode Island and had it sent to me. I absolutely adore it and this vintage whale balancing toy sits so beautifully in our sunroom in Maine. Read more about this endearing story in the A Bernese Mountain Dog & The Gift of a Whale post.
The most precious vintage antiques and uniques are not the most expensive and luxurious items, it's the ones that we hold dear that tell a sweet story.
4. Musical Instruments and a High School Vermont Band Photo
Last winter I found this long narrow photo with a vintage frame antiquing in Chester, Vermont. It's a photo of the Twenty-First Annual Vermont Music Festival on May 6, 7, and 8, 1948 in Burlington, Vermont.
It was just before the holidays and it gave me the idea to collect some vintage musical instruments to accompany this photo for my holiday and winter decor. And I have loved them all so much that they are still hanging up today. You can find pictures and instruments like these in thrift stores, second-hand shops, and online. They are inexpensive and embrace the spirit of music. Add your favorite colored-themed bow for the holidays.
See more in the How to Decorate with Old Musical Instruments post and How to Decorate Bookshelves for a Vintage Christmas.
You may also enjoy the Country Estate Sale Near Me This Weekend post.
You may also enjoy the Best Barn Finds in a Big Red Barn on a Sunday Foliage Drive post.
5. Franciscan's Desert Rose China
One early morning this past spring I stopped in at our local thrift shop and found the ladies unpacking a full set of vintage Franciscan's Desert Rose china and tea set. I've seen this pattern many times in thrift shops, but only one or two pieces at a time, never a complete set. Did you know Jackie Kennedy chose this as a pattern for The White House?
The entire set was around $100 plus $25 for the tea set. They didn't even get all the pieces on the shelf before I took it all home with me.
See more about this Franciscan Desert Rose china pattern in the A Timeless Classic | Franciscan Desert Rose Table Setting post.
6. Grandmillenial Drapes
A couple of years ago I came across these red, white, and blue coastal drapes at an antique shop in Maine. The salesperson mentioned that the drapes were also being admired by many local interior designers just for the material.
I thought they were simply divine. But I did realize they weren't for everyone and I could be taking a real chance that they wouldn't work out in our living room in Maine. So I asked if I could take them home to test them out. And they were perfect!
But what was special about them? They were originally custom-made for a yacht in the 70s and there was just the right amount of drapes to fit three of our living room windows. One of my favorite vintage scores!
See more in the Leaning into Grandmillennial Style with Fabulous Drapes post.
American Pickers hits Vermont: What's it like to get 'picked' — and at what cost?
Dive into the World of American Pickers in Vermont! Curious about the treasures they uncovered? Join Mike Wolfe and his team as they explore the hidden gems of the Green Mountain State.
From antique bikes to a life-size Elvis statue, the adventure is endless! ~ Vermont Country Magazine.
7. Blue and White Vintage Platters
This may seem like an obvious one, but I would never want to part with my vintage blue and white platters. Some were my mothers but most of them I found at thrift shops, online, and at antique stores. And surprisingly they're rather affordable these days. You can easily find them for under $50.
See this collection today in the Blue and White Asymmetrical Vintage Platter Wall | Design Yours Today post.
8. Vintage Ski Lodge Decorations
I love outdoor vintage ski lodge decorations so much. They are quintessential New England and just make me smile every time I see a home decorated with these treasures. Snowshoes, skis, toboggans, Jack Jumpers, ski boots, etc… I love them so much that I created an entire blog series around each one of them.
And I can't wait to dig them all out to decorate again this winter!
9. Vintage Tennis Umpire Chair
Last summer I found this vintage tennis umpire chair in one of my favorite antique shops in Downeast Maine. I had never seen one before. I instantly thought that my parents and especially my father would have adored this find. My father was an avid tennis player, playing until he was 86 years old.
The height of the tennis umpire chair was a perfect fit for this high-top vintage desk in our dining room in Maine. See more in the Antiquing Down East, A Day's Jaunt post, and Vintage Office Furniture | Antique Desk or Drafting Table?
10. Vanity License Plates
While cleaning out a shed at our home in Maine, I came across these old vanity license plates that had been on my parent's vehicles over the years. I wanted to do something special with these so I created a hat rack for our guest bedroom and an outdoor wall piece out of these keepsakes. You may see more in the DIY License Plate Hat Rack and Wall Decor post.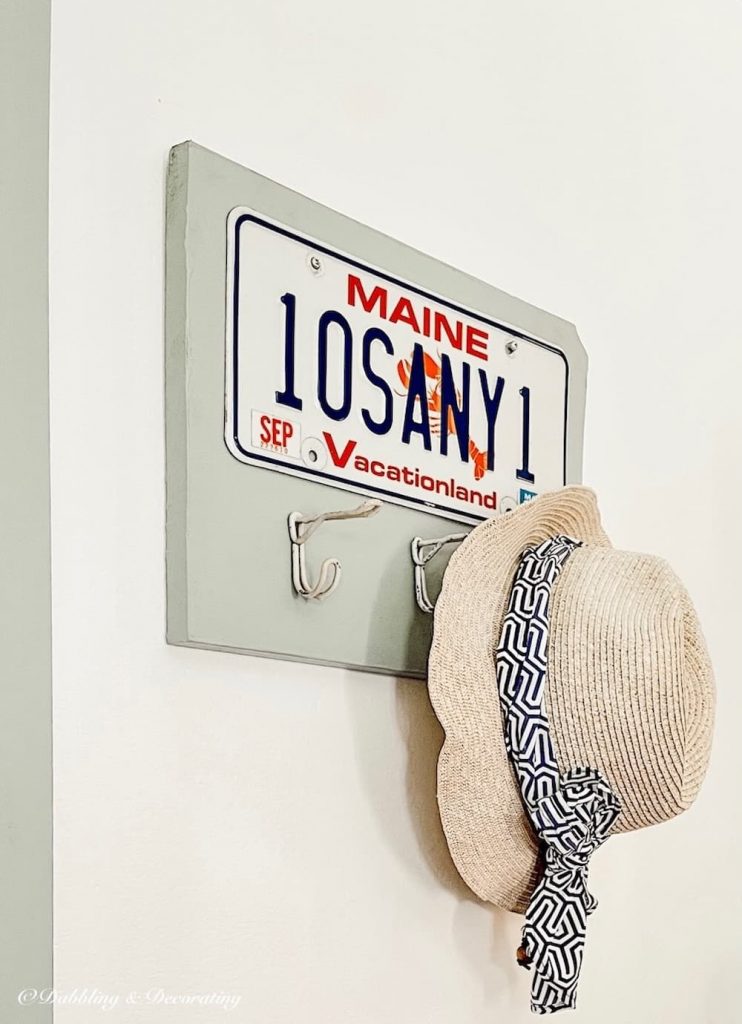 11. Antique Millinery Hat Mold
I recently found this antique Millinery hat mold at a second-hand shop. This Millinery hat mold is called a Bowler, which is a smaller hat often made from wool felt. I have yet to decorate with this Millinery hat mold, as I'm waiting to find a guest bedroom wardrobe and I envision this beauty displayed on top.
12. Vintage Cobbler Racks
I now have three vintage cobbler racks, haha. Cobbler racks have become more popular over the past couple of years. They are wonderful for storage in any room of a home. I treasure ours in the dining room and guest bedroom. And I have a third cobbler rack displaying vintage wares for sale in my window booth. Shopping around for these racks is key though. They can get pricey, but I found all three of mine for under $250. But I've seen them as high as $700 so be careful!
Click on the photos below to see more of these vintage cobbler racks decorated in their spaces.
13. In My Mother's Maine Home
Lastly, my favorite vintage antiques and uniques are the treasure trove of specialties that my parents collected and left to me at our family home in Coastal Maine. From my mother's favorite antique hutch to her extensive pewter and transferware collections. They mean the world to me and you may see it all in my first-ever blog series, "In My Mother's Maine Home."
And I almost forgot my mother's handmade braided rugs and of course, all of her quilts too…
"Thrifting with the Gals" Tour
Next up on today's blog series is Robyn from Robyn's French Nest. Robyn is sharing how to style an antique scale in the kitchen. And wait until you see Robyn's antique scale; it's amazing! And you'll want to visit with the other gals joining me today, too.
Click on each image to journey with them on their thrifting adventures:
I'm so glad you dropped by, and if you are new to my blog, welcome! I hope you enjoyed your visit with us today at our Home in Vermont.
Be sure to check out our Home in Coastal Maine, too, where we spend summers and weekends when we are craving a walk on the beach or a visit with old friends.
I've created the above custom pin just for this post! Hearing from you makes my day; your comments mean so much! Please join me over on Instagram & Pinterest to see more!
You May Enjoy These Recent Posts