Decorating with Red, White, and Blue
When summer starts and Memorial Day is fast approaching, it's time to get the guest bedroom ready for summer guests. This year I added a blue and white duvet and pillowcase that I found out Thrifting with the Gals for only $18!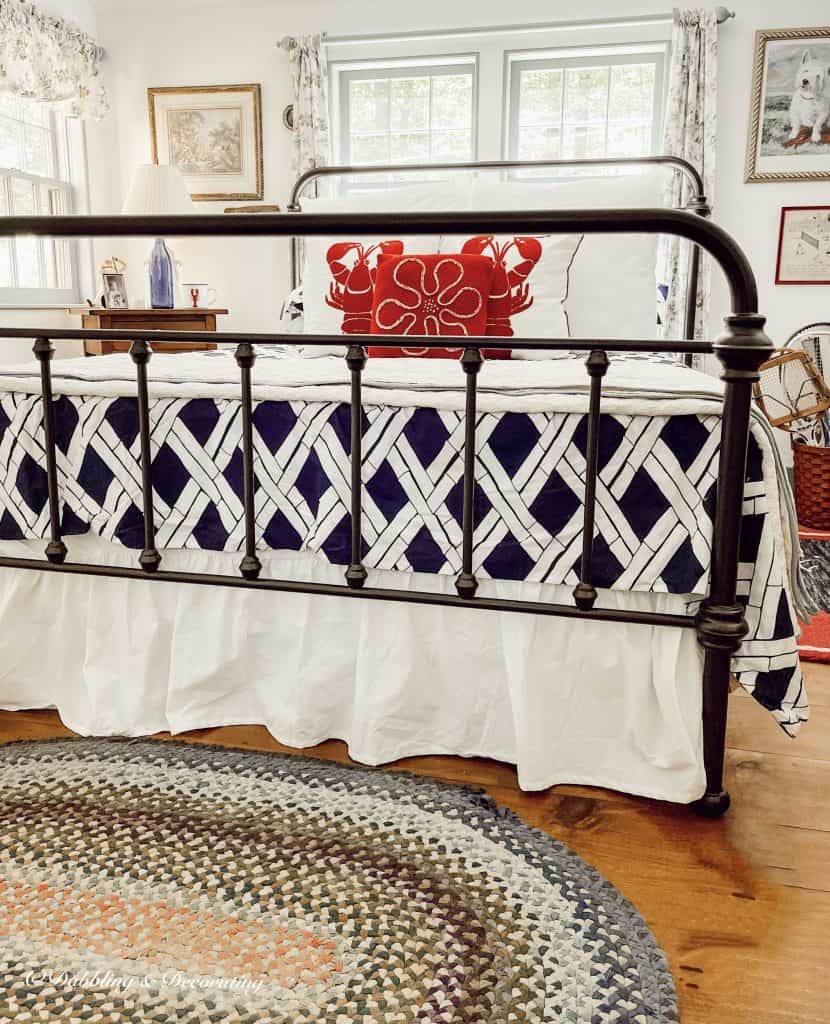 Decorating with red, white, and blue has all the vibes of summer! I'm just so drawn to it, how about you?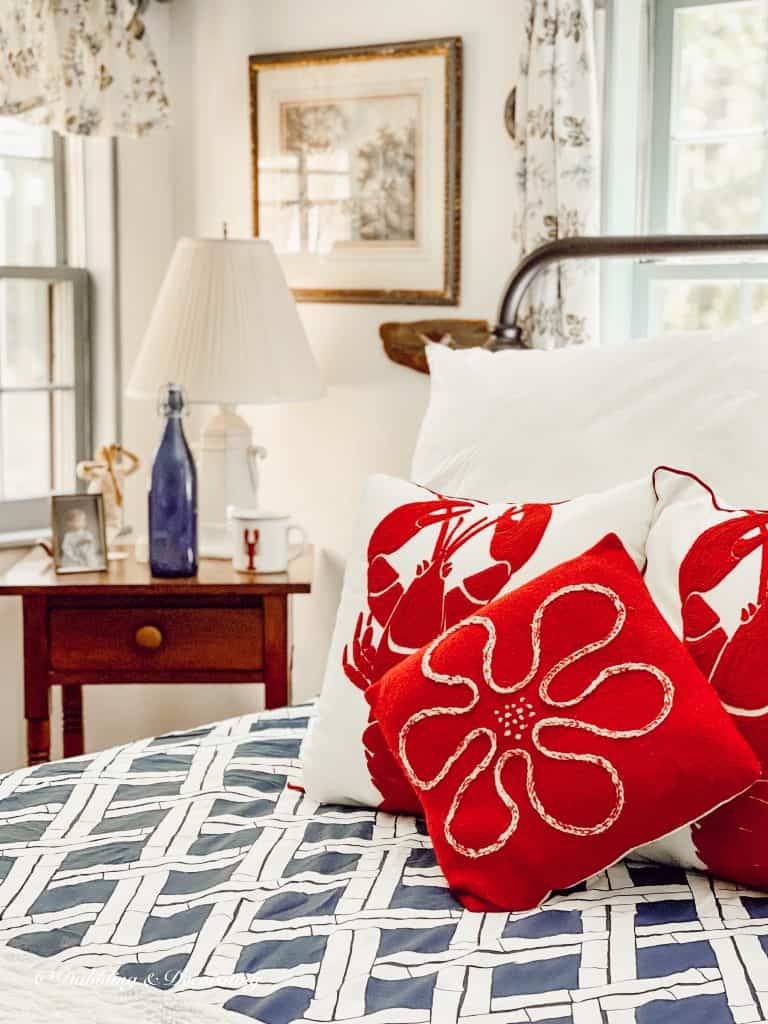 Do you love the beach? I'm really looking forward to soaking it all up this summer. The sun, saltwater, and I just got a new set of navy beach chairs, picnic cooler, and a folding table that I can't wait to share with you!
I think I'm going to invite a girlfriend to join me on the beach sometime next week for a picnic. Stay tuned…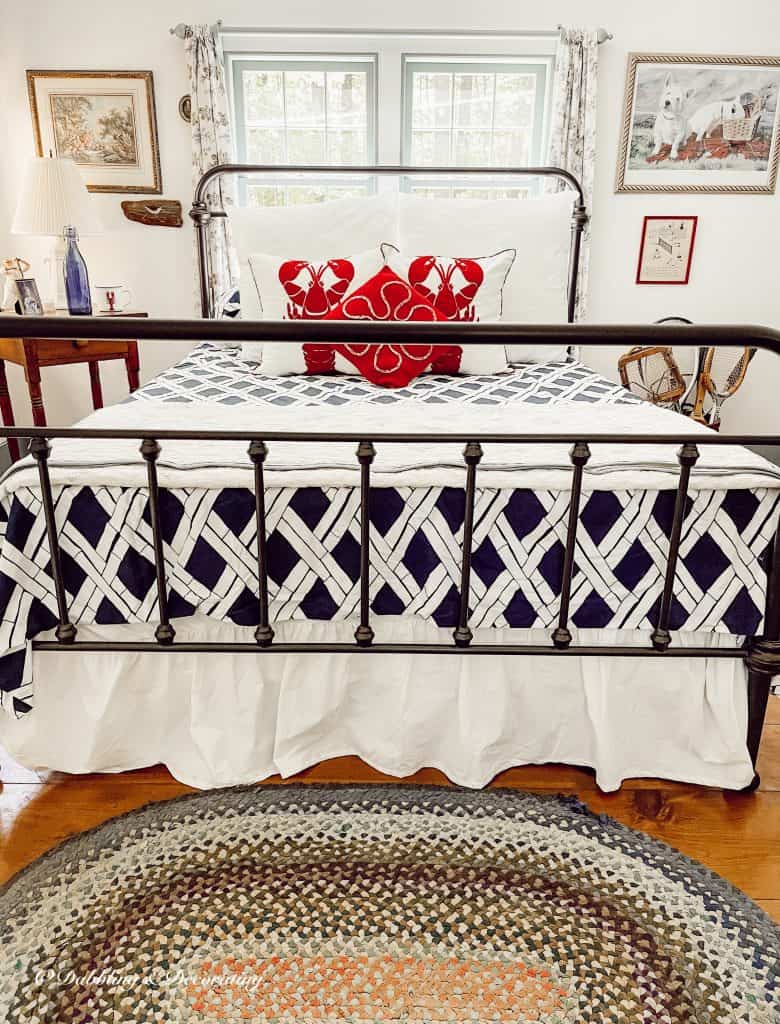 Our first guests outside the family are coming to stay with us here in this room later this week. They are friends from Vermont who also have family here in Coastal Maine.

Last year when they visited this guest bedroom looked like this. Which do you like better?
You may also enjoy this year's COASTAL GRANDMOTHER SUMMER DECOR "IN MY MOTHER'S HOME".
When summer starts it reminds me of the days when my dad would run off to play tennis every morning. Here I displayed all the old tennis racquets that he collected and played with over the years.
The vintage quilt at the foot of this bed reminds me of an old trunk hidden away in the attic filled with old quilts that I really need to get down and rummage through.
Oh, and the bathrobe hanging on the closet door was a gift from Schweitzer Linens. They make and sell the most beautiful luxury linens and more. Check them out and use the coupon code dabbling20 to save 20% off.

You may also enjoy The Humble Joys of an Old Fashioned Picnic Basket.
And these SIMPLE VINTAGE AMERICANA PORCH TABLE IDEAS.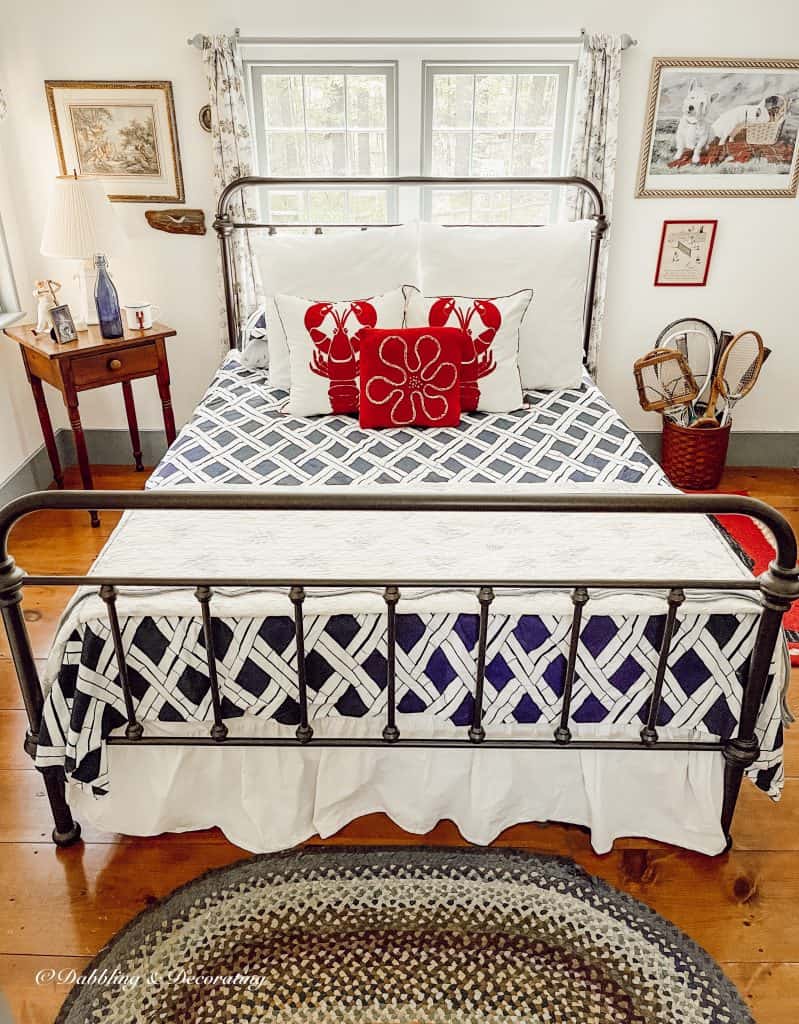 More Inspiration for When Summer Starts
My friend Rachel, over at The Pond's Farmhouse also has the cutest guest bedroom for when summer starts all decorated in vintage and keepsakes as well, in her beautiful home in North Carolina.
And Kim from Shiplap and Shells, with her cottage bedroom showcasing a vintage mantel, chandelier, and hand-built cabinet is a dream overlooking the Pacific Northwest's Puget Sound.
Kristin from White Arrows Home in the Northwoods of Wisconsin shares Bunk Room Ideas to Sleep a Crowd for when summer starts.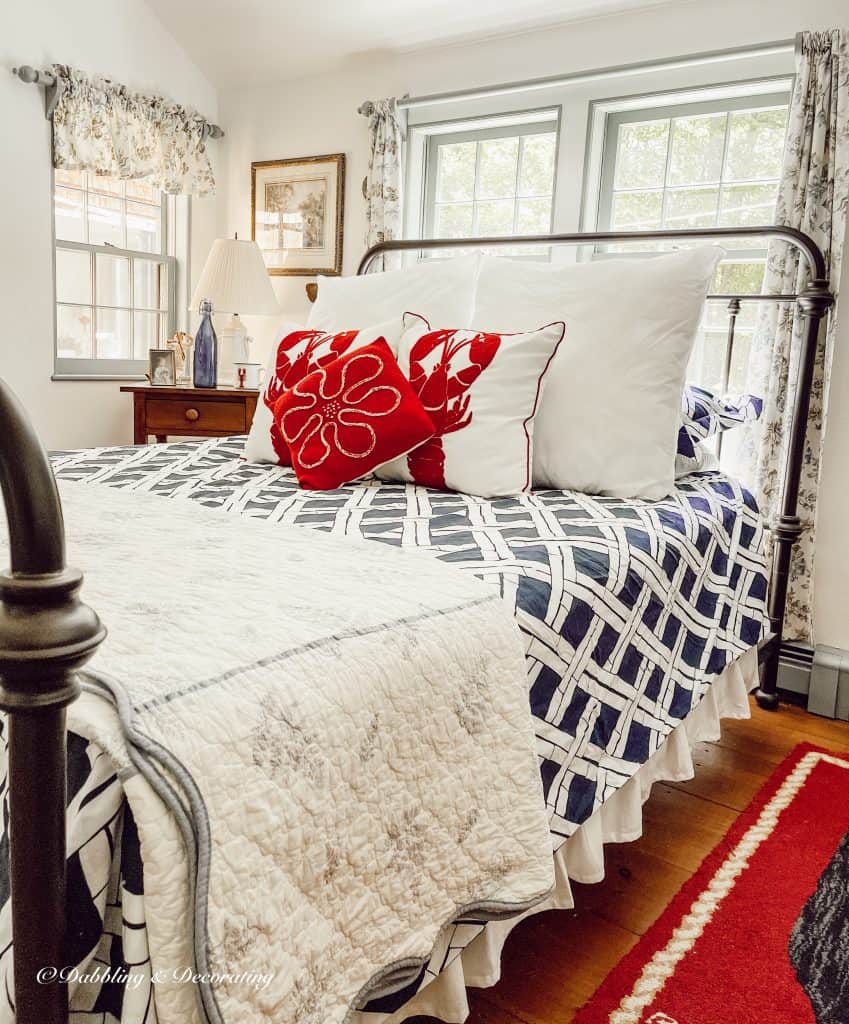 Join me here for 5 other Patriotic decorating ideas. From a thrifted badminton door wreath to an alfresco table!
You may also enjoy the post, Summer-Ready in Coastal Maine and You may also enjoy the post, and Entertain with Red, White, and Blue! Easy Summer Table Trimmings.
I'm so glad you dropped by, and if you are new to my blog, welcome! I hope you enjoyed your visit with us here today at our Home in Coastal Maine.
Be sure to also check out our Home in Vermont too, where we spend winters enjoying the coziness of home in the Green Mountains of Vermont.

I've created the above custom pin just for this post! Hearing from you makes my day; your comments mean so much to me! Please join me over on Instagram & Pinterest to see more!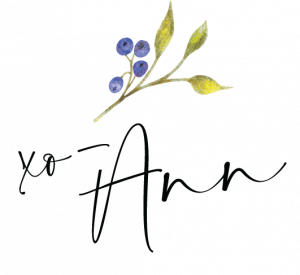 YOU MAY ALSO ENJOY