It's not often we experience unseasonably 70-degree temperatures in Vermont in November. But when we do the neighborhood gathers around the fire pit with hospitality.
Over the last two years, we invested and created this outdoor fire pit and patio conversation set in our front yard that overlooks the Green Mountains of Vermont.
You can read more about it and how we designed this space in the post, How to Design a Backyard Fire Pit Conversation Set.
This post may contain affiliate links which won't change your price but will share some commission."

It's quickly becoming the go-to place for gatherings in our neighborhood.
And I just love our neighborhood here in Vermont. It's simply the best!
You may also enjoy this split rail fencing we recently installed too.
When preparing for a gathering, I really like to keep things very simple so I can fully enjoy the conversation and cheer, being present with our friends.
Ahead of time,
We prepared this favorite Carne Asada Nacho Recipe as an appetizer.
A cheese platter similar to this one.
My husband made his favorite vegetable lasagna.
And our neighbor brought over a homemade beef stew.
All of which we enjoyed into the next day too.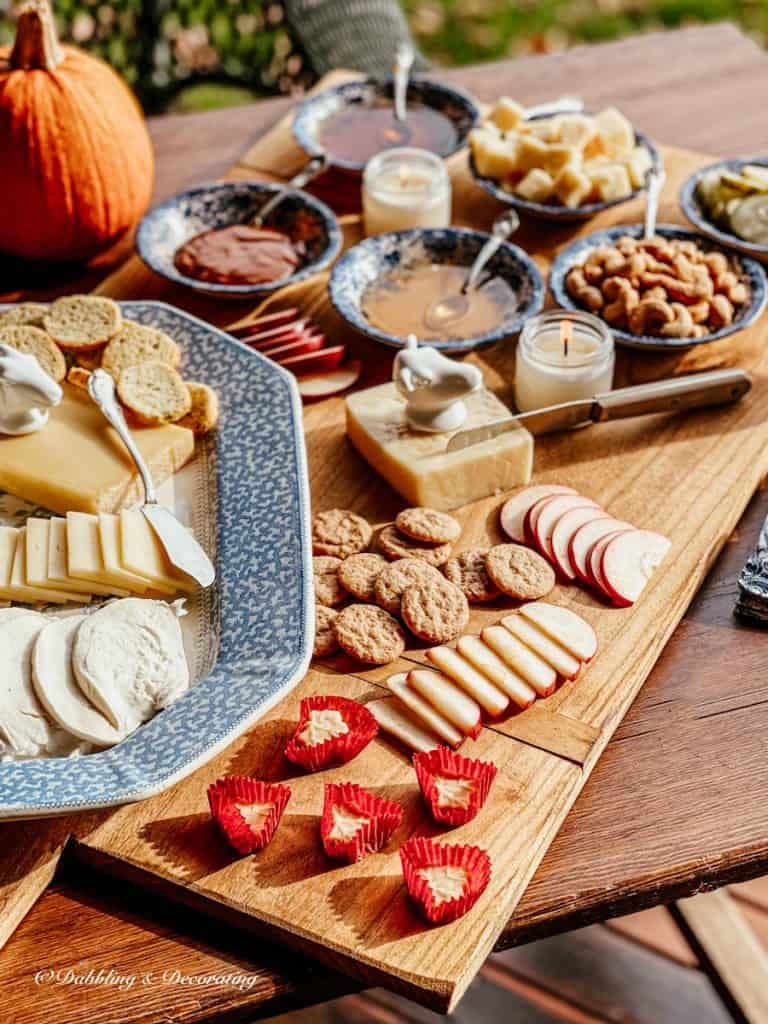 Paper plates, bowls, and cups were suitable for this evening's neighborhood gathering, as the wind was pretty steady and we didn't want anything blowing over and breaking.
And with the starting of our home's interior painting in just 2 days' time so many of our dishes and glasses were already put away.
A mason jar full of flowers from our neighbor's flower garden is stunning next to the brilliant pink and orange sunset.
You may also enjoy Summer Dessert with MacKenzie-Childs Sterling Check post too.
I absolutely love having a gas fire pit now. You may also enjoy the Refreshing Weekend Junket Home to Vermont post.

It's so easy to turn on and off, and the hidden propane tank inside is accessible to get in and out, making it a cinch to fill up without any underground lines being run.
The glass wind guard was a necessity for us, too, as we get really high winds up here in the mountains. And the wind guard protects the fire from blowing out.
The circular sectional is also an all-time favorite.
It's super cozy and versatile.
The sectional pieces are all separate and can be moved around into a number of different positions.
SHOP THIS FIRE PIT

The dogs had a wonderful time too, running around, enjoying treats, and playing with my little pumpkins from the stone steps…
Thanks for joining our little unseasonably warm neighborhood gathering at our home here in Vermont.
See you next time!
I'm so glad you dropped by, and if you are new to my blog, welcome! I hope you enjoyed your visit with us here today at our Home in Vermont.
Be sure also to check out our Home in Coastal Maine where we spend summers and weekends when we are craving a walk on the beach or a visit with old friends.
Please join me as a regular here at Dabbling & Decorating by signing up for my Saturday morning newsletter and never miss an update!
I've created the above custom pin just for this post!  Hearing from you makes my day; your comments mean so much to me! Please join me on Instagram & Pinterest to see more!

I've created the above custom pin just for this post!  Hearing from you makes my day; your comments mean so much to me! Please join me on Instagram & Pinterest to see more!
YOU MAY ALSO ENJOY