Some of the best outdoor dining experiences are right in our own backyards. Let me show you how to bring your indoor dining room outside this summer, fashionably.
I'm excited to be joining 11 other very talented bloggers today too who are also sharing their outdoor dining spaces with you, hosted by Pasha is Home.
If you are joining me from Melanie over at My Sweet Savannah Blog, welcome! Don't you just love her post all about Alfresco dining? Melanie is so very talented…
1. Start with a Dining Room Table
Today I start with my parent's small antique drop leaf dining room table as my foundation.
Drop leaf tables are very easy to maneuver and relocate to the outside.
Antique wood tables look both cozy and fashionable as you create and bring your dining room outside.
This post may contain affiliate links which won't change your price but will share some commission."
SHOP DROP LEAF VINTAGE TABLES

Antique drop leaf tables can be found in a variety of price ranges. Sometimes you can find them affordably at your local thrift shop or Habitat for Humanity too.
Speaking of, I found an adorable old oak dresser with an attached mirror at our Habit for Humanity out of Kennebunk, Maine over the weekend. Stay tuned for that makeover! Hint, it's going into our small attic guest bedroom.
2. Tablecloth
"To tablecloth or not to tablecloth", this is always the question! Personally, I love a table without a tablecloth. Especially an antique wooden table such as this one.
However, I feel like an outdoor table looks more clean and decorative with a tablecloth. So I made a quick visit to Hutchinsons Antiques in downtown Ogunquit, my go-to place for affordable vintage tablecloths, and found a small blue vintage tablecloth for just $18.
You may also enjoy This Summer's Thrift Store Decor Finds.
Do you enjoy thrifting? Join me here every month in the blog series "Thrifting with the Gals".
This small tablecloth allows the wooden table to still show, yet provides a nice colorful protection from the elements.
See how I safely clean these vintage textiles in the post, How to Safely Bring Age Stained Textiles Back to Life
You may also enjoy the post, Entertain with Red, White, and Blue! Easy Summer Table Trimmings.
SHOP VINTAGE TABLE LINENS

I decided to drop one of the table leaves down and caddy-corner the table cloth for a little more character.
3. Create a Centerpiece
Enjoy a bouquet of your favorite flowers from the supermarket, garden, farm stand, or even the casual roadside wildflowers or weeds, etc…
There are so many options when it comes to creating A flower centerpiece. Choose your favorite basket, vase, pitcher, terracotta pot, milk glass vase, McCoy, crocks, trophies, etc…
Check out these 15+ flower arrangement posts for more centerpiece ideas.
Here I transferred the flowers from the basket to a small vintage McCoy vase. Super cute and colorful.
SHOP VINTAGE MCCOY VASES

And you may enjoy the post How to Create Beautiful Summer Weed Arrangements.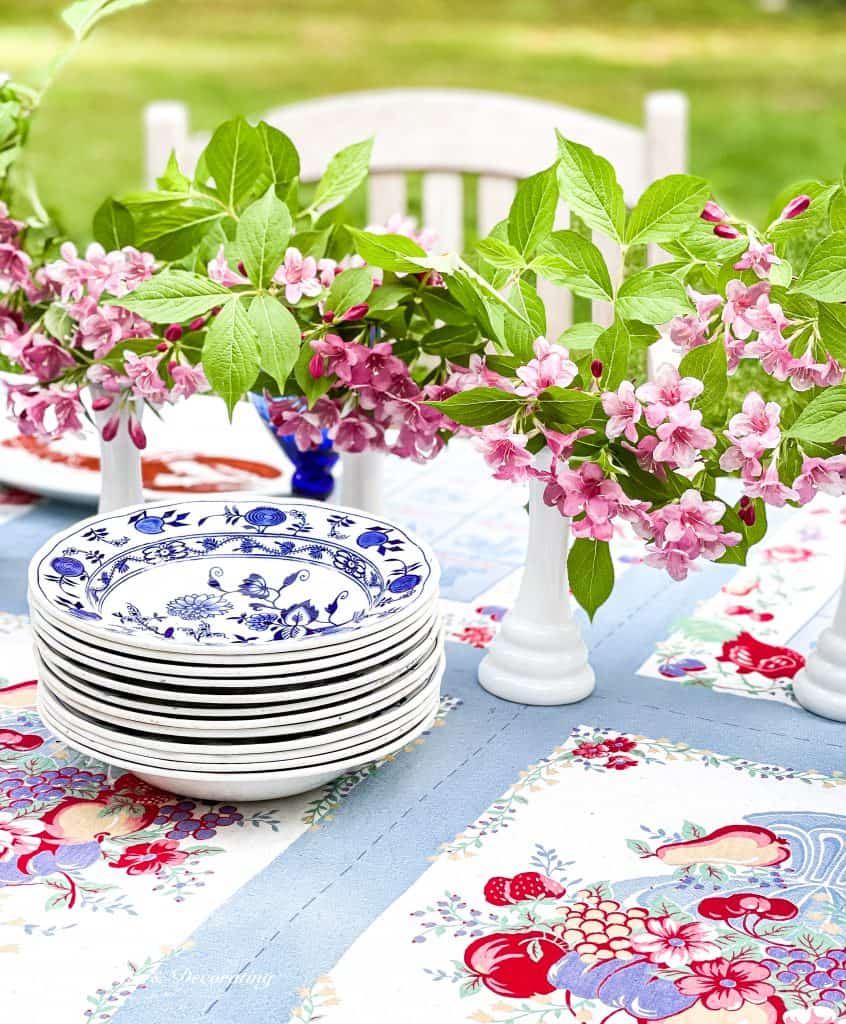 Set the Table
Decorating an outdoor table with thrifted and vintage finds is one of my favorite things to do. Mixing various patterns, choosing the colors, glassware, candles, etc…
Keeping it simple without much fuss is important too. After all, you want to enjoy your outdoor dining room table while keeping the clean-up to a minimum.
First I add two large pewter candlesticks from my mother's extensive pewter collection. Pewter really adds a beautiful appeal to an outdoor dining room table. Its natural elements and rugged style pair wonderfully.
SHOP PEWTER CANDLESTICKS

Vintage Blue and White Place Settings
I decided to use pewter plates as chargers on this outdoor dining room table to match the candlesticks and dress them with collected vintage blue and white dishes.
The first set is Enoch Wood's English Scenery / Wood & Sons 1784. See more of this beautiful porcelain set in the post Set the Table in Blue.
SHOP WOODS & SONS DISHWARE

The second set, found at a yard sale, is J & G Meakin England Classic White NORDIC.
You may also enjoy the post, A Very Simple Vintage Plates and Windows DIY created with these same dishes.
SHOP J & G MEAKIN ENGLAND CLASSIC DISHWARE

I added four of my mother's vintage wine glasses and flatware.
Along with 3 thrifted chairs and two of them were actually free. See How I Thrifted These for Free here.
SHOP VINTAGE CHAIRS

You may also enjoy:
4 Things You Need to Know About This Old Chair
Charming Antique Table and Chairs for Two
The Cutest Little Outdoor Beverage Table
How to Create an Outdoor Dining Oasis
How to Refinish a Wood Table in Less Than 1 Hour
After enjoying dinner, we'll fire up this fire pit we made from rocks around our property.
I'm so glad you dropped by, and if you are new to my blog, welcome! I hope you enjoyed your visit with us here today at our Home in Coastal Maine.
Be sure to also check out our Home in Vermont too, where we spend winters enjoying the coziness of home in the Green Mountains of Vermont.

Next up on today's tour is my friend Kim of Cottage in the Mitten. Kim has an amazing spirit and I enjoy following along with her so much over on Instagram too. You won't want to miss Kim's Easy Outdoor Table Setting!
AND THE OTHER GALS JOINING ME ON TODAY'S TOUR TOO!