You are going to love these 5 ways to decorate with yard sales finds near you this summer. Join me if you love all things chippy and vintage.
It's the season for watermelon, picnics, the beach, bike rides, and my favorite, yard sales!
Do you enjoy a good yard sale?
I found my love for yard sales by watching my father go around town on summer mornings, in his later years coming home with all kinds of goodies. He would get such a hoot out of it. And sometimes he would even come home and put the finds back out to resell:)
I recently found an old sign in his shed that said "FREE, WORKS FINE!"…
YARD SALES
Where can you find A yard sale?
Craigslist. If your city is big enough to have its own Craigslist page (or if you live in the suburb of one that does), that's usually where you'll find them.
Newspaper Classified Listings.
Yard Sale Signs.
Facebook Online Yard Sale Groups.
Yard Sale Websites and Apps.
Driving Around Town
This past weekend on a visit to North Hampton, NH to do some antiquing, the yard sales were everywhere! And I was in heaven.
I found a stash of 12 blue and white dish bowls by Blue Meissen for $10.
Along with a large vintage crock for $20!
If you like thrifting, join me every week for the series "Thrifting with the Gals". Learn all about it here!
Stop by the post What Does Frugality Mean to You? to see how later on the same day I used these dishes and other items I found antiquing to decorate for an outdoor summer table serving up Maine lobsters.
What is the best yard sale app?
I am currently using the Yard Sale Treasure Map and Garage Sale Map. The Yard Sale Treasure Map app is $4.99 a year to access their premier features. Which I think is well worth it if you like to yard sale. The Garage Sale Map is free. Both work well in my opinion.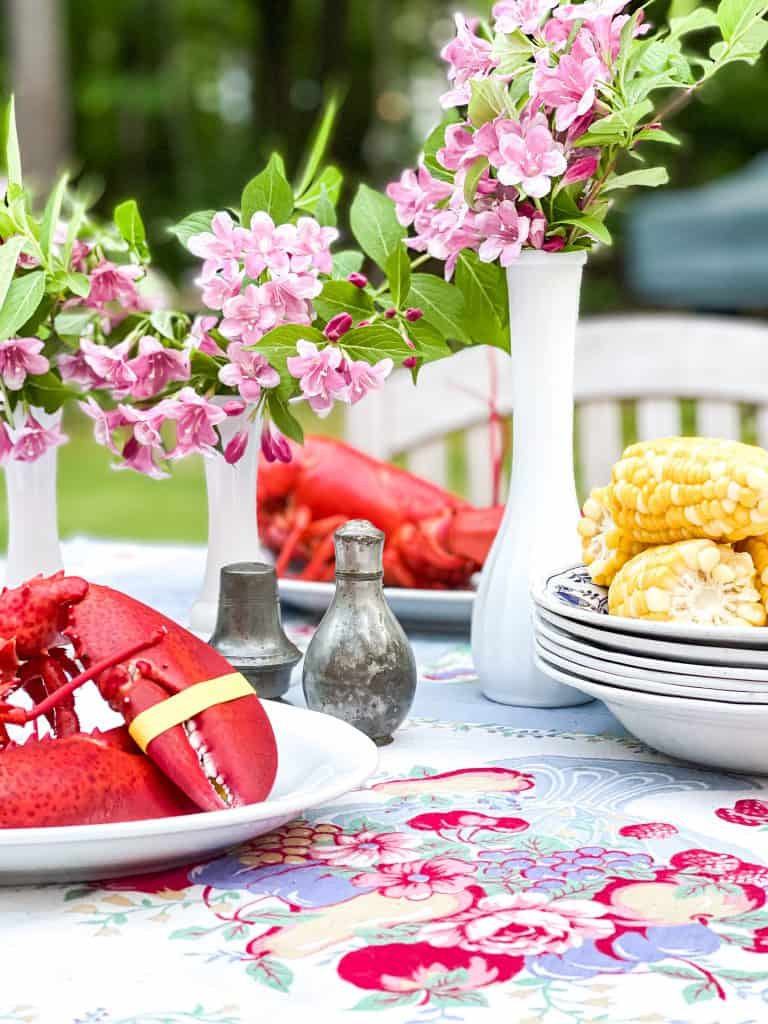 Be sure to check out the chippy green apothecary cabinet I found thrifting this past spring too that I use as the foundation for 5 clever ways to decorate with yard sale finds.
5 Clever Ways to Decorate with Yard Sale Finds
1. Start with a Foundation
Like this vintage apothecary piece! You can use a cabinet like mine, a dresser, table, coffee table, trunk, shelf, bookcase, etc… A piece that you love and are looking to make shine.
2. Stacks of Yard Sale Dishes
Collecting dishware with several different patterns at a yard sale is a really simple and frugal way to add all kinds of charm to a dining room, kitchen, living room, porch, or sunroom.
This post may contain affiliate links which won't change your price but will share some commission."
SHOP THIS POST
(click on any of the images to shop the products)

And how about a She or Garden Shed too?
Oh my gosh you guys, you have to check out my friend KariAnne over at Thistlewood Farms post on How to Mix and Match Plates Without Overthinking It!
I didn't even realize how practical this setup was going to be for us when I was putting it all together. You see our sunroom is just a hallway away, and it's now it's so easy for me to simply grab a decorative plate to enjoy with a small snack on my way to relax with a coffee or the like.
3. Yard Sale Bud Vases
I found 7 white milk glass bud vases for $1 apiece. I can't believe how much milk glass is making a comeback this year. I've been seeing them at all the antique and vintage shops, flea markets, and yard sales too!
SHOP THIS POST
(click on any of the images to shop the products)

What is Milk Glass? Opaque Glass originated in 16th century Venice and came in a variety of colors, including white, pink, yellow, blue, and brown. The white variety beloved today rose to prominence during the Victorian era when it was coveted as an economic dead-ringer for porcelain. Source: Country Living Magazine
4. Flowers
Simple flowers picked from a wild bush around our mailbox decorate the thrifted milk glass bud vases beautifully. And they didn't cost a thing.
Growing up, my mother always kept a pair of clippers in her car so she could stop and cut weeds at any given time. Now I do the same thing. You can create some really beautiful arrangements from roadside pickings.
Would you like to see a blog post on roadside arrangements maybe? Check it out here!
5. A Vintage Dough Bowl
An old dough bowl for $60! WHAT?? I had been looking for one for years honestly, but never wanted to pay the price people were asking for them. I knew this was a deal when I saw it and so I snagged it.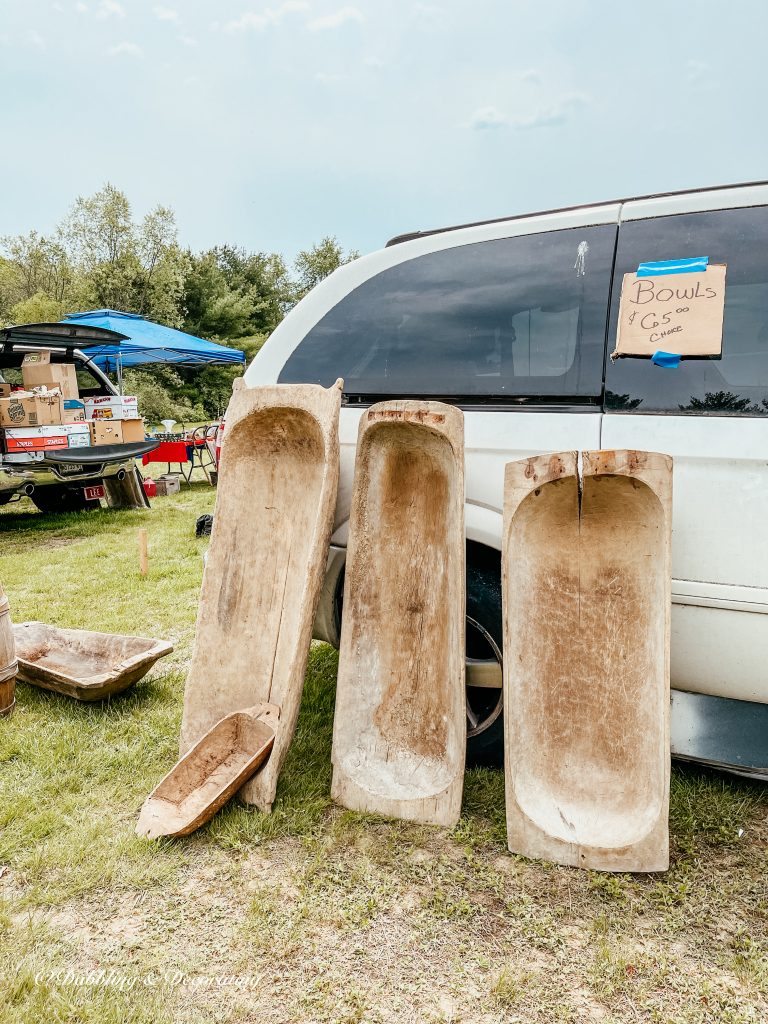 SHOP THIS POST
(click on any of the images to shop the products)

I only have one regret. That is that I didn't buy them all at the yard sale…
Drop by 3 Finds at a Flea Market Near Me This Weekend to see how we hung this large old dough bowl.
I found a cute little pink picture that I attached to the center of the dough bowl with a thumbtack for a little added color and balance.
Which do you like better? The brown chair or with the rocking chair?
SHOP THIS POST
(click on any of the images to shop the products)

I'm so glad you dropped by today friend, and if you are new to my blog, welcome! I hope you enjoyed your visit with us here today at our home here in Coastal Maine.
Please join me as a regular here at Dabbling & Decorating by signing up for my Saturday morning newsletter and never miss an update!

I've created the above custom pin just for this post! Hearing from you makes my day and your comments mean so much to me! Please join me over on Instagram & Pinterest to see more!
YOU MAY ALSO ENJOY