Do you ever stop and pick weeds or wildflowers from the side of the road? Have you ever even thought about picking weeds from the side of the road? Today I want to share a week full of simply picked weed arrangements with you. I had so much fun, it was like being on a scavenger hunt.
My mother used to do this all the time when I was little and I was always so embarrassed that I would hide in the car when she would pull over.
And today I always have a pair of clippers handy in my car in case I spy a "weed roadie" in the making that I can not resist!
The key is not to get poison ivy, sumac, or any other hazardous plants that may be lurking around those roadside weeds.
Sunroom Picked Weed Arrangement
For my first-picked weed arrangement, I used Common Reed, Hardy Fuschia, and Queen Ann's Lace that I found one morning while I was out looking for yard sales.

These gathered picked wildflowers fit beautifully into this old silver container I picked up for $8 "Thrifting with the Gals" over the winter.
I love the soft natural colors of these picked weeds and how they fit beautifully into our sunroom.
Now, one could certainly get much more creative with these picked wildflowers. But we are all about simplicity here and this was as simple as placing and arranging these branches into a thrifted planter and adding water. You could even avoid the water and simply let them turn into a dry weed bouquet…
My friend Molly from Molly in Maine over on Instagram was planning a visit with us this same week and with that in mind I set out to find a white weed roadie that I could easily put together in an outdoor space.
These Multiflora Rose wildflowers are everywhere this time of the year. They are simple, white, and have lush greenery. But beware, they also have thorns!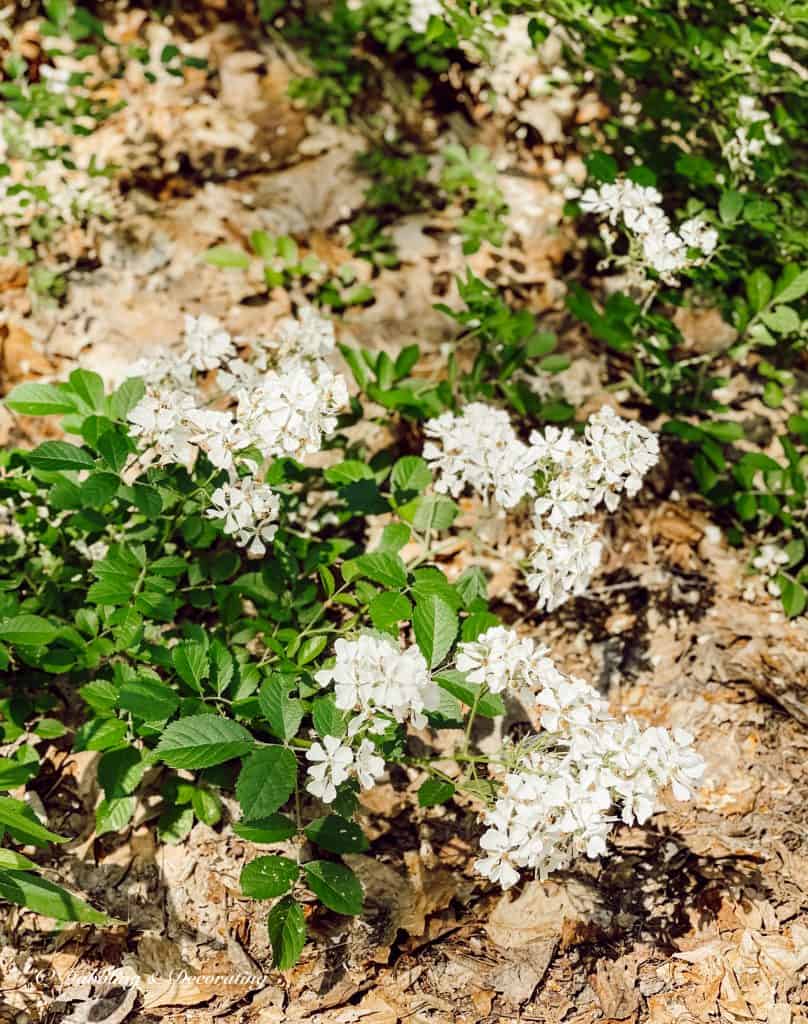 But with some good gloves and sharp clippers that was all I needed to cut these roadside beauties for a simple bouquet that I created for around our DIY stone fire pit.
A vase filled with water set inside a thrifted basket works beautifully with these white roadside beauties. The weight of the water also keeps the vase grounded in the basket.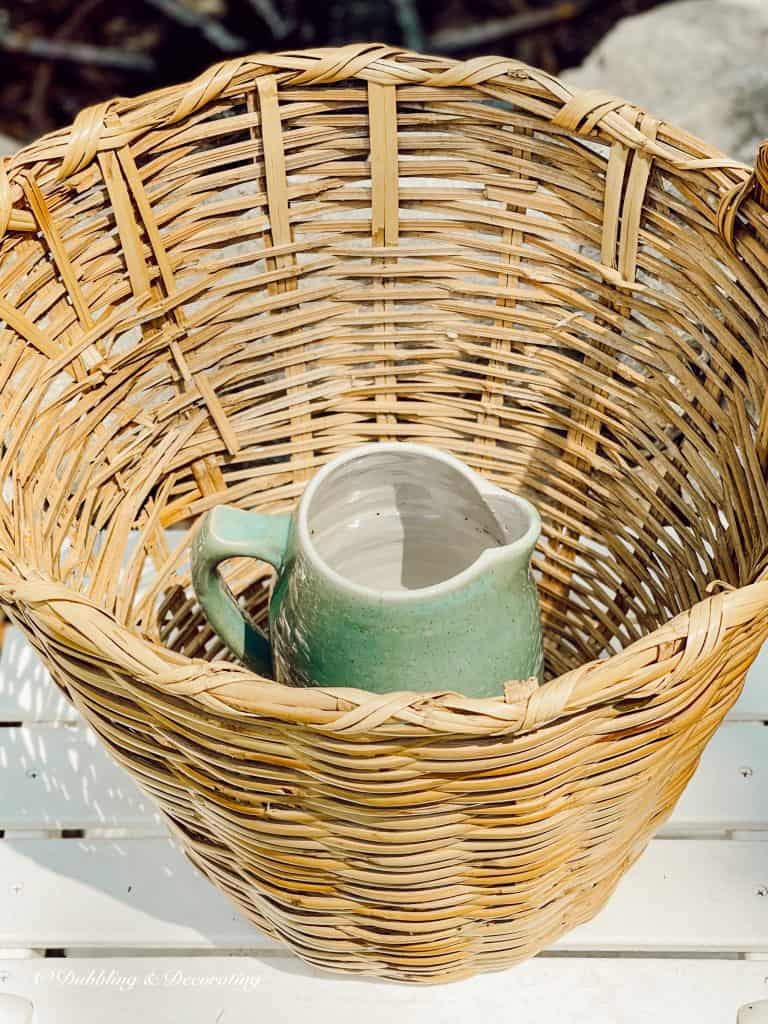 I don't really expect these weeds to last very long, however, I find wildflower arrangements like this to be so easy and affordable to create for special pop-up occasions at home.

This beautiful early spring bush was growing roadside out by our mailbox. And it looked so cute cut and displayed in these thrifted $1 milk glass vases that I also found "Thrifting with the Gals" earlier this summer.
These weeds were so perfect, as I had such a busy day thrifting and was planning on a backyard lobster dinner that I was running late for. So this saved me a trip to the store to buy flowers for the table!
You may also enjoy these 7 OLD GALVANIZED BUCKET PLANTER IDEAS.
These simple Weigela wildflower arrangements then made their way onto the chippy, green apothecary in the dining room.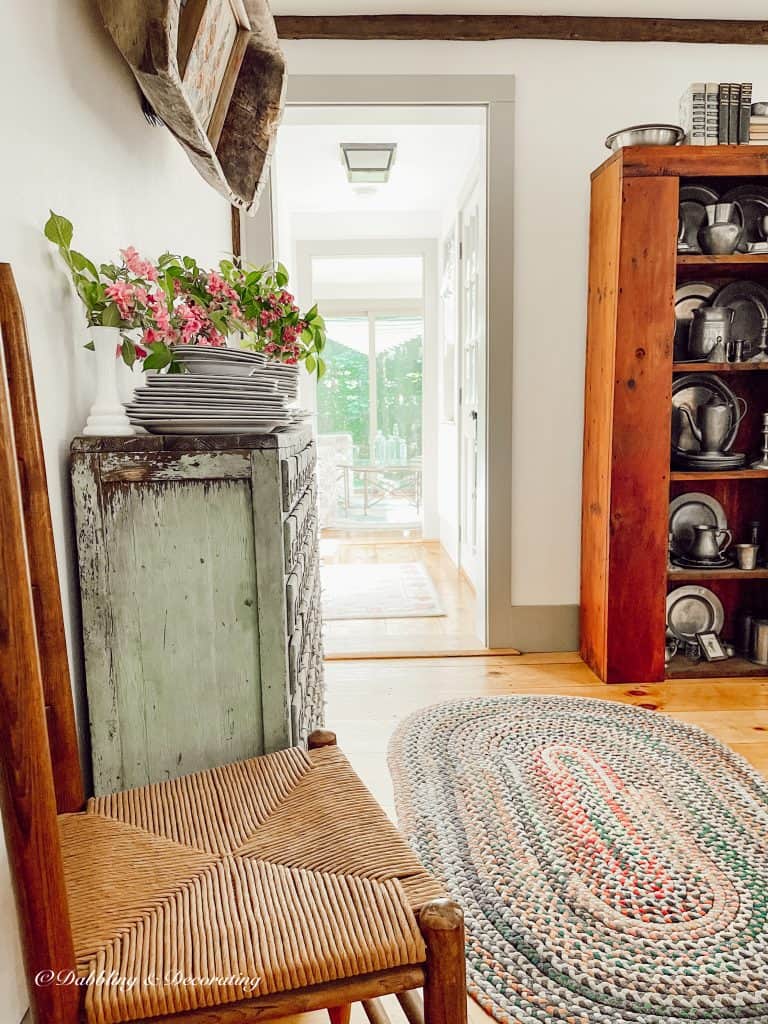 You may also enjoy How to Repurpose an Oil Lamp into a Unique Flowers Vase post.

I created a few other wildflower arrangements for a table, centerpiece, and more.
Sometimes, I set out looking for roadside weeds for a specific idea and room that I want to accentuate. But honestly, I am mostly winging it! When I pass by something I see, I grab my garden clippers and figure it out once I get home.
Here I set out looking for some Lupine that I thought I would be able to find on Route 91 in York, Maine
I found a few scattered in a field, but unfortunately, it just wasn't enough. I also recently learned that they are an endangered plant, and picking them is highly frowned upon…
I'm so glad I let them be. And I will now admire these beauties from afar.
Later into the summer, I picked this beautiful Goldenrod, Queen Anne's Lace, and Purple Loosestrife. I love the color combination as we begin to start thinking about fall.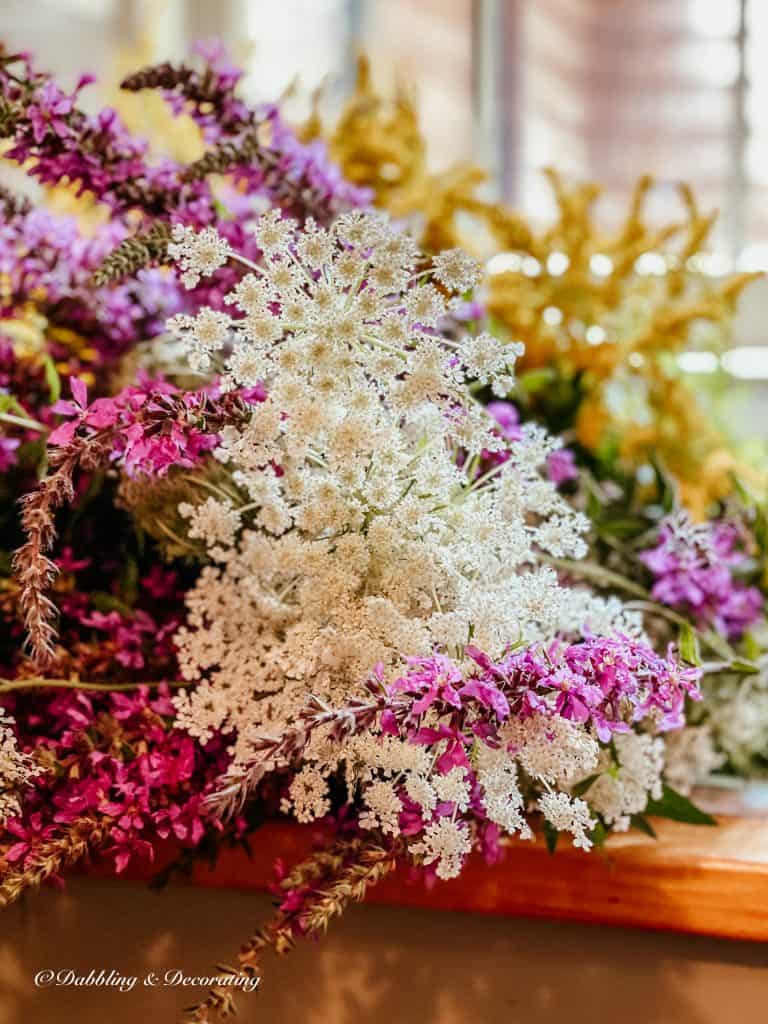 You may also enjoy GORGEOUS GREENHOUSES TO SWOON OVER.
And they look so so colorful on our new thrifted antique desk or is it a drafting table? in the dining room.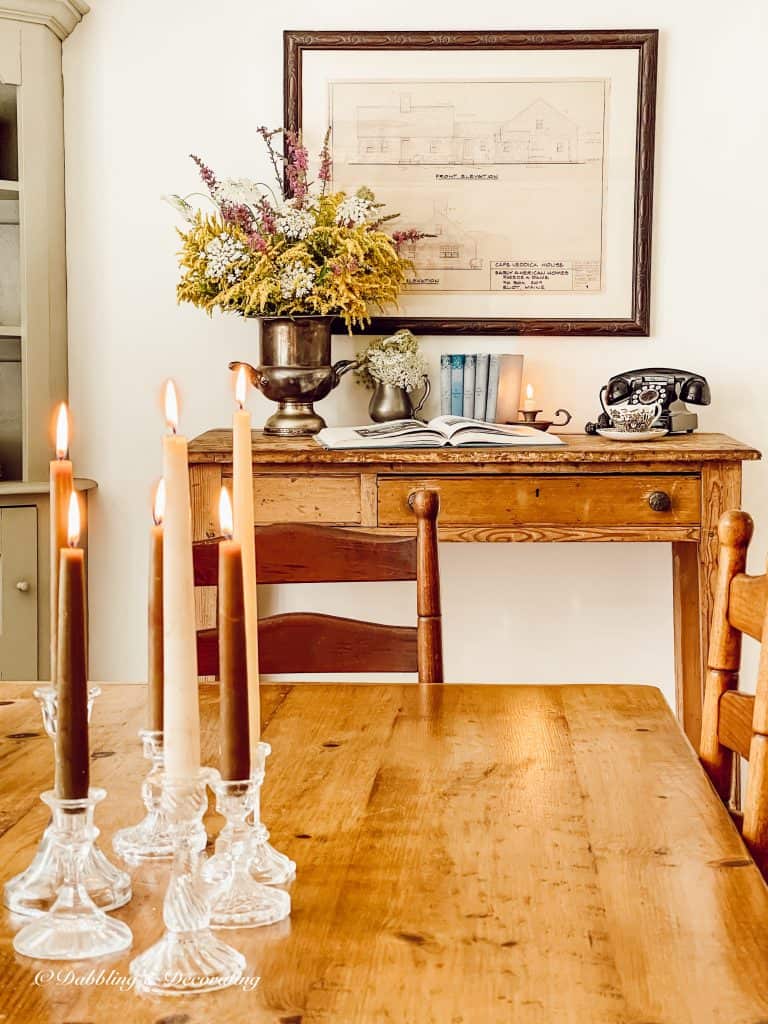 Now if I can convince my husband to go in here and get me some Cat N' Nine-Tails!
The Cat N' Nine Tails are so pretty and unique in large weed arrangements. But they grow in marsh waters and can be difficult to retrieve.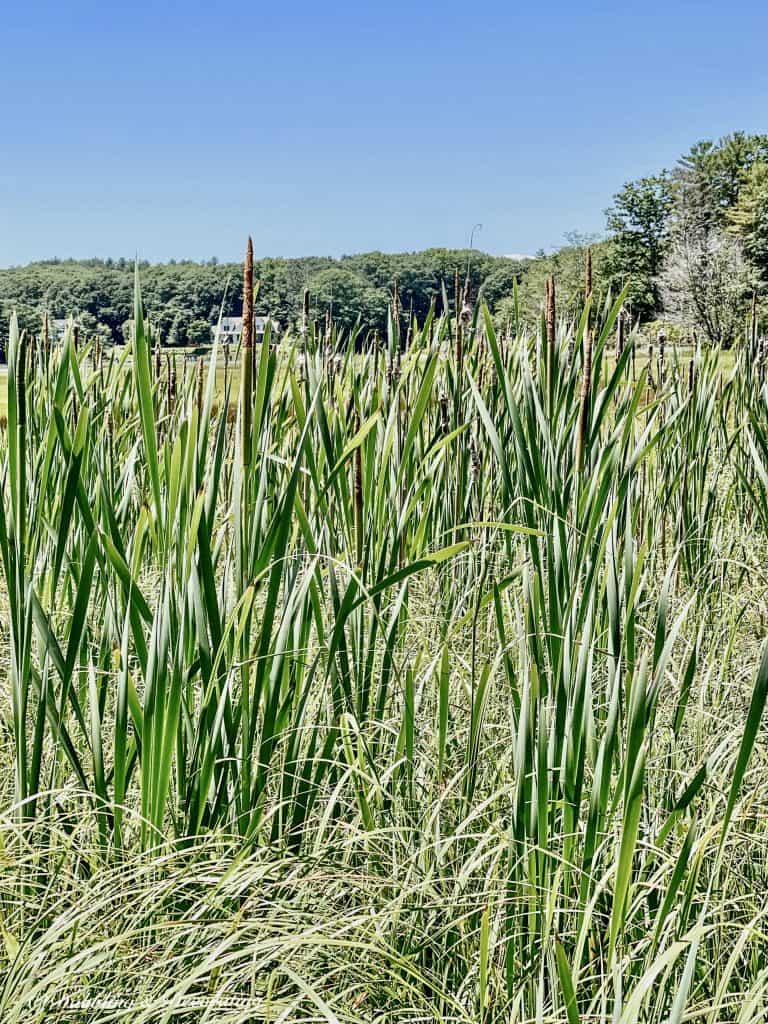 I'm so glad you dropped by, and if you are new to my blog, welcome! I hope you enjoyed your visit with us here today at our Home in Coastal Maine.
Be sure to also check out our Home in Vermont too, where we spend winters enjoying the coziness of home in the Green Mountains of Vermont.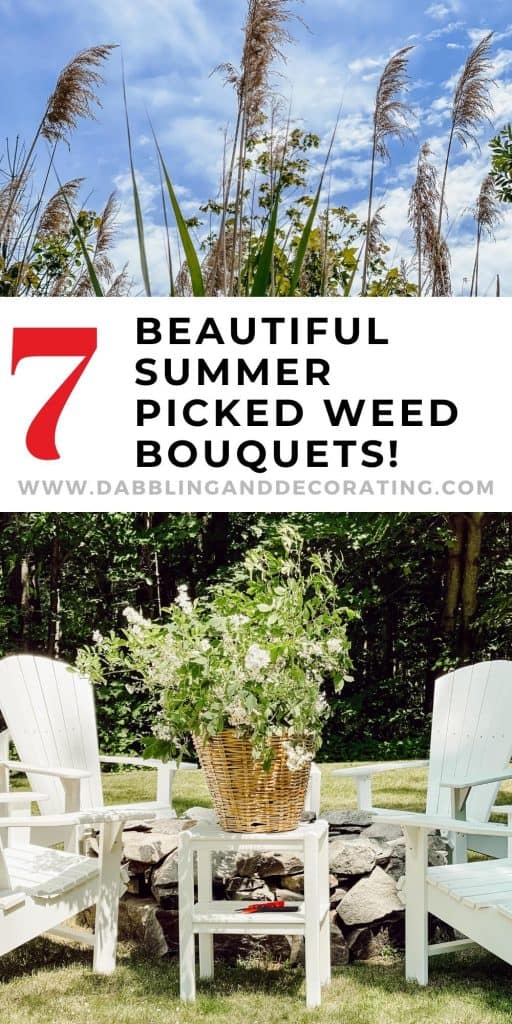 I've created the above custom pin just for this post!  Hearing from you makes my day; your comments mean so much to me! Please join me over on Instagram & Pinterest to see more!
YOU MAY ALSO ENJOY