Frugality
Frugality is the quality of being frugal, sparing, thrifty, prudent, or economical in the consumption of consumable resources such as food, time, or money, and avoiding waste, lavishness, or extravagance. In behavioral science, frugality has been defined as the tendency to acquire goods and services in a restrained manner, and resourceful use of already owned economic goods and services, to achieve a longer-term goal. The quality of being frugal, or prudent in saving; the lack of wastefulness. Source Wikipedia
Are you frugal? I never thought of myself as a frugal person honestly. I just love thrifting for unique finds to decorate my home with. Flea Markets, vintage shops, thrift shops, antique shops, and a good old yard sale never seem to disappoint.
See my list of favorites here and bookmark it for your later reference!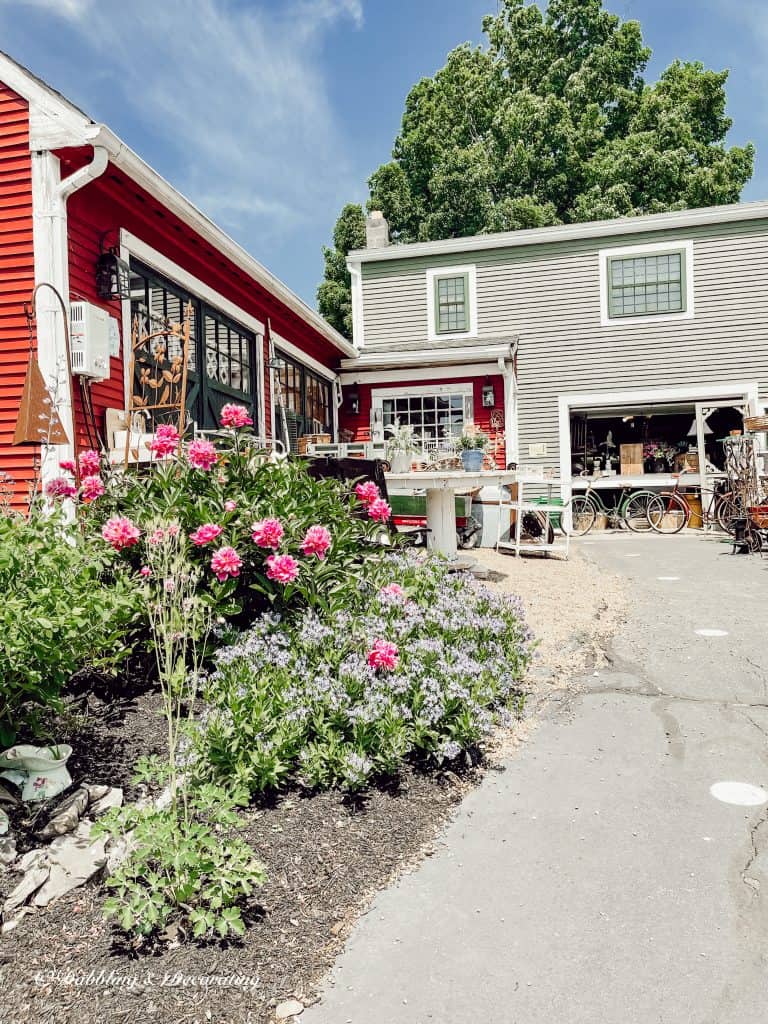 A day rummaging for treasures and then heading home to create a space for them is such a joy for me. And YESTERDAY, was just that day!
Do you prefer to thrift alone or with a friend? It really depends for me. I enjoy my alone time some days and others I love to have company.
I heard about this amazing "white and woods" theme pop-up flea market over at Sage Farms Antique Center in North Hampton, New Hampshire, and I planned to spend my Saturday morning there. I was a little reluctant though as I usually like to avoid the weekend crowds.
However, being one of the first hot summer days of the season, everyone was at the beach. I almost had the place to myself. I need to remember this little trick, as I had no idea.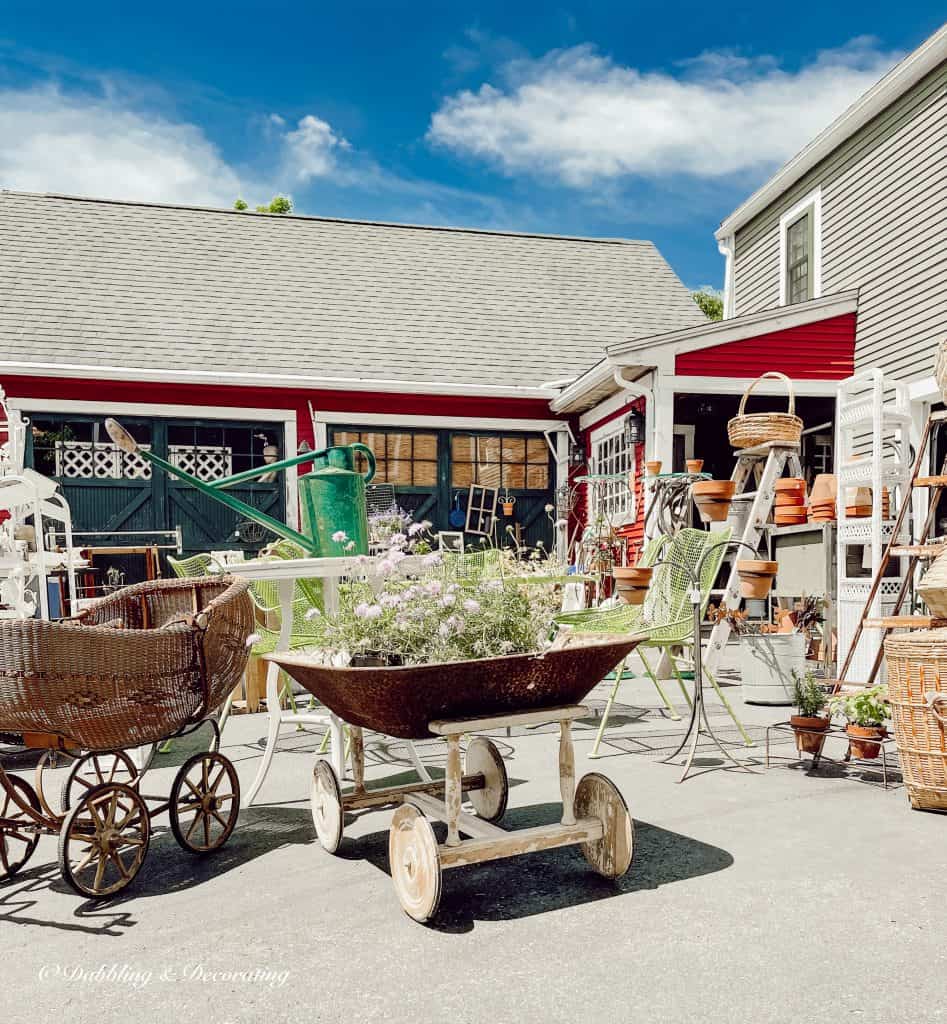 What Does Frugality Mean to You?
Today's photos and post, represent what frugality means to me. Hundreds of old treasures waiting to be painted, styled, repurposed, and brought into spaces where they will be admired and adored for all their age and style.
Do you like lobster? It's basically a summertime tradition around here you know.
Later on this day, we had plans for an outdoor backyard lobster dinner. I was going thrifting in the morning and my husband was going to pick up the lobsters.
So while out and about, I had setting the table for the evening's lobster dinner on my mind.
And it all started when I found this beautiful old linen tablecloth.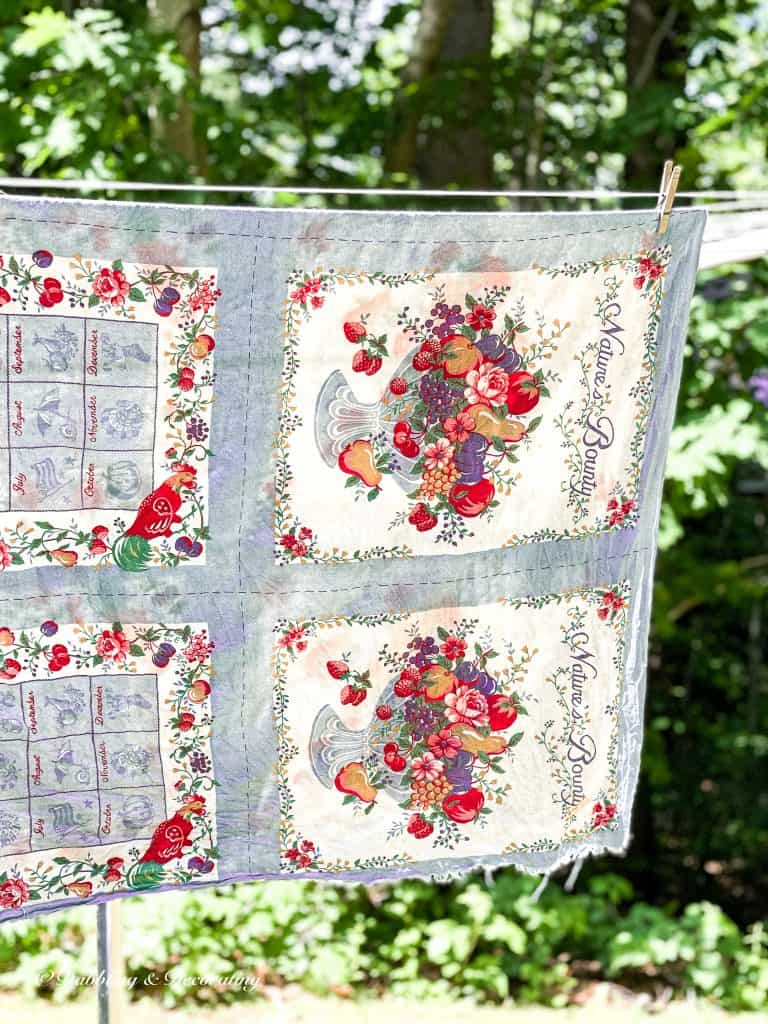 Followed up with 7 $1 milk glass bud vases. I pictured them on our table filled with pink flowers from the backyard.
You may also enjoy the post, White & Green Rustic Summer Flower Planters Sure To Charm You.
A Yard Sale or Two
While visiting North Hampton I couldn't help but notice all the amazing yard sales going on today. I stopped in at a couple of them and found an antique crock for $20 and 12 old blue and white dishes for $10.
The crock was perfect with red geraniums in it for my parents at the cemetery and the blue and white dishes, well they "made" the table!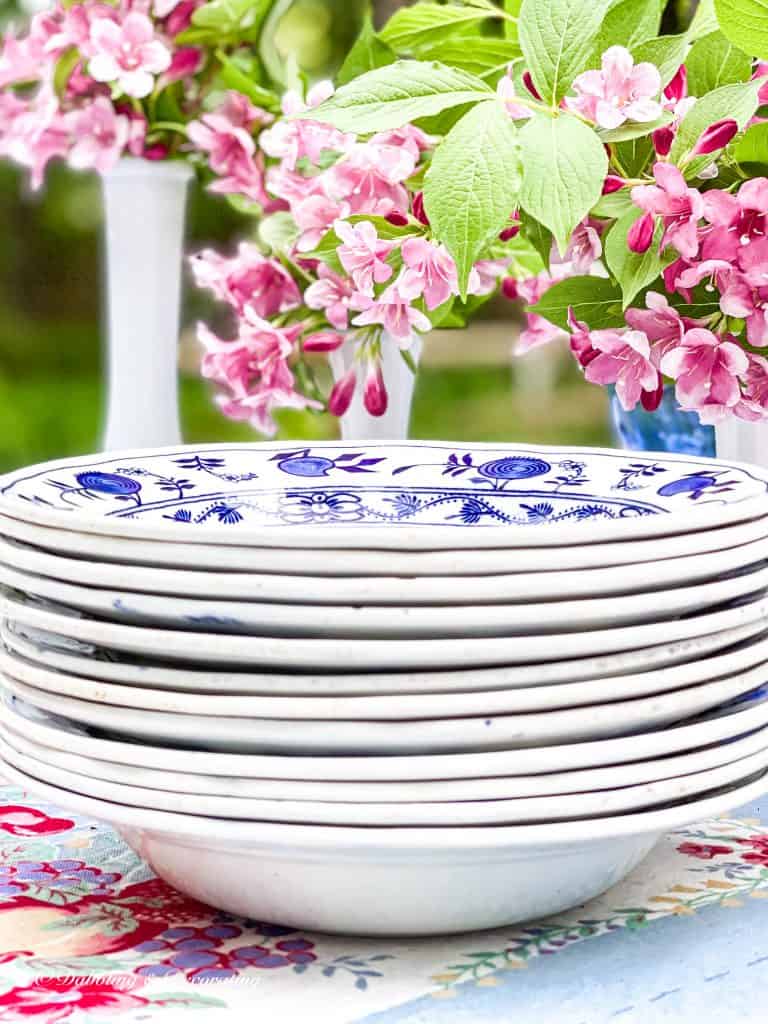 I hope you like our thrifted and frugal summer table where we enjoyed our Maine lobsters after a long day of thrifting.
You may also enjoy this Authentic Maine Lobster Themed Table Setting in our main dining room.
And speaking of frugality today; did you know that before the mid-1800s lobsters were considered to be so undesirable and too plentiful that only those without financial means ate them such as the poor and prisoners?
My Thrifted Table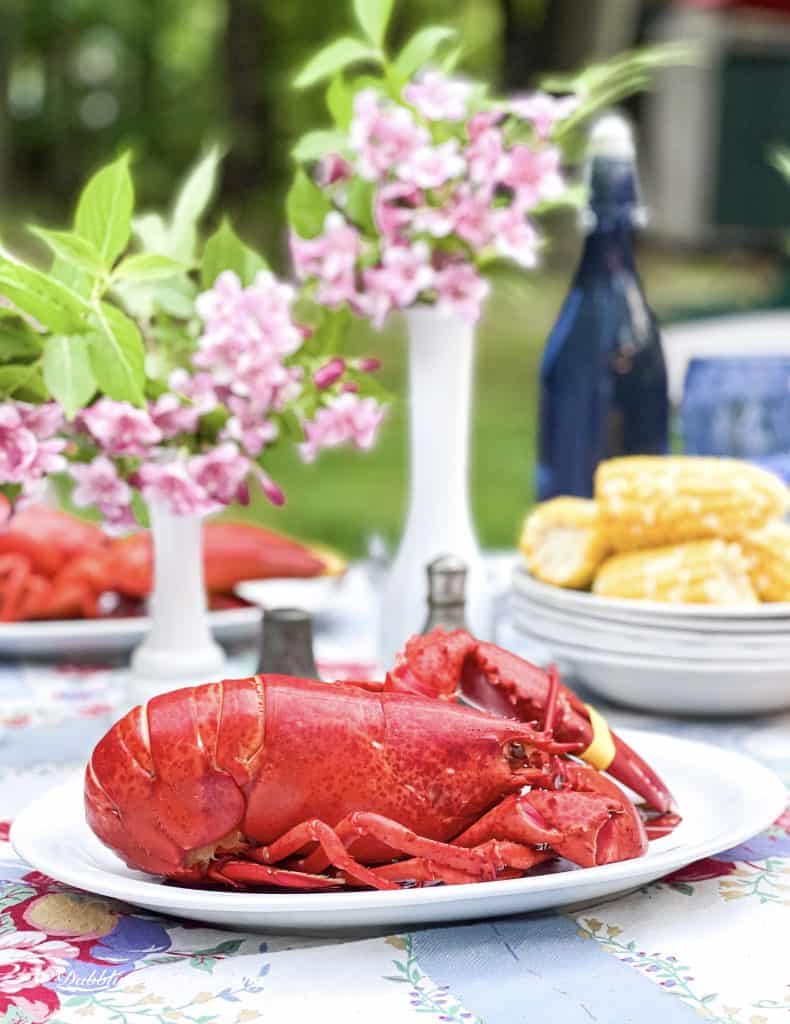 If you like thrifting and frugality be sure to join me every Wednesday over on Instagram where I join some other thrifting gals sharing our adventures along with tips and tricks with you in the series "Thrifting with the Gals".

You may also enjoy HOW TO CREATE AN OUTDOOR DINING OASIS.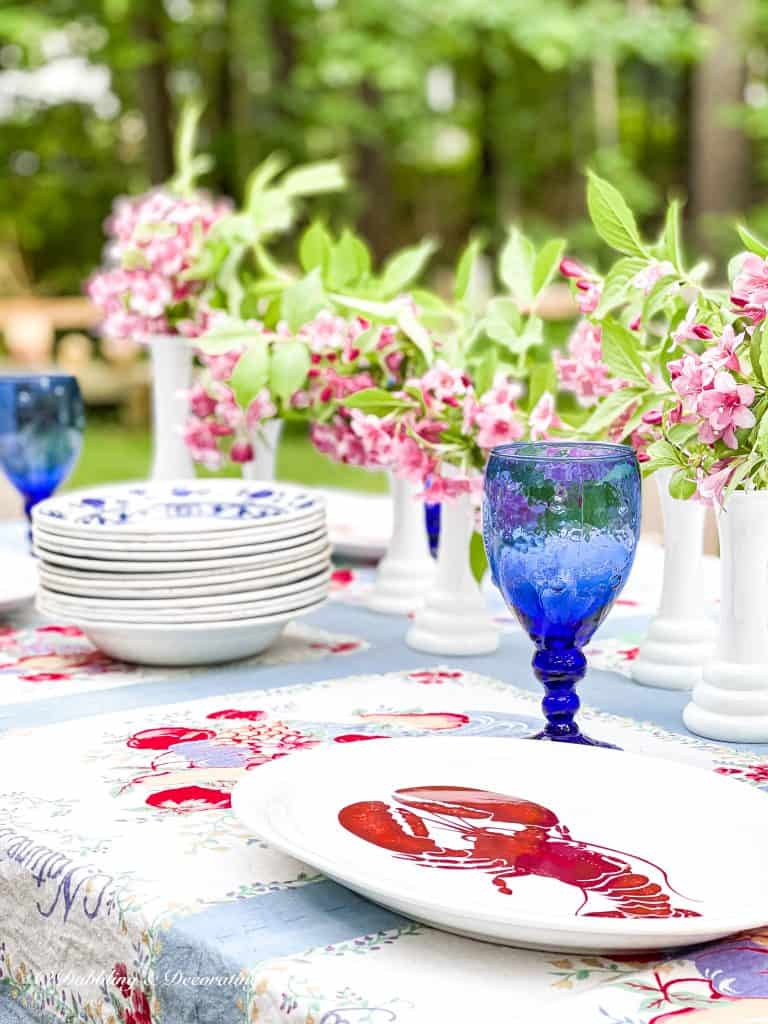 Everything on this table was frugally thrifted except for the lobster plates that I found at the Christmas Tree Shops many years ago.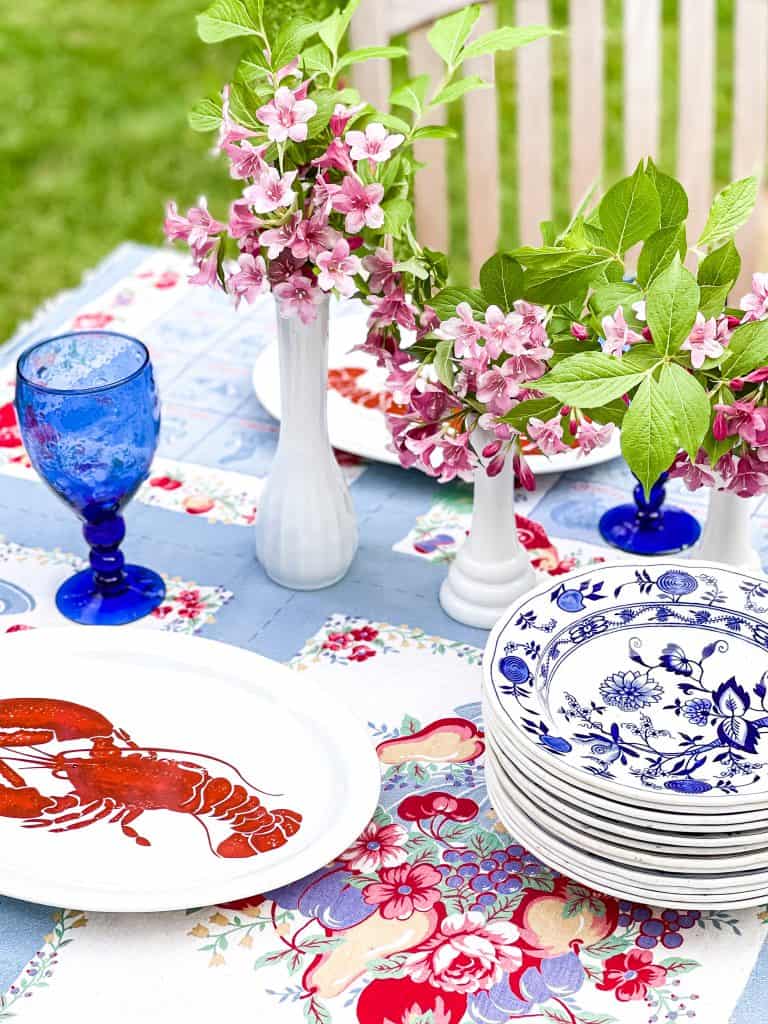 The flowers in the milk glass bud vases are cut from a wild bush growing out on the street by our mailbox.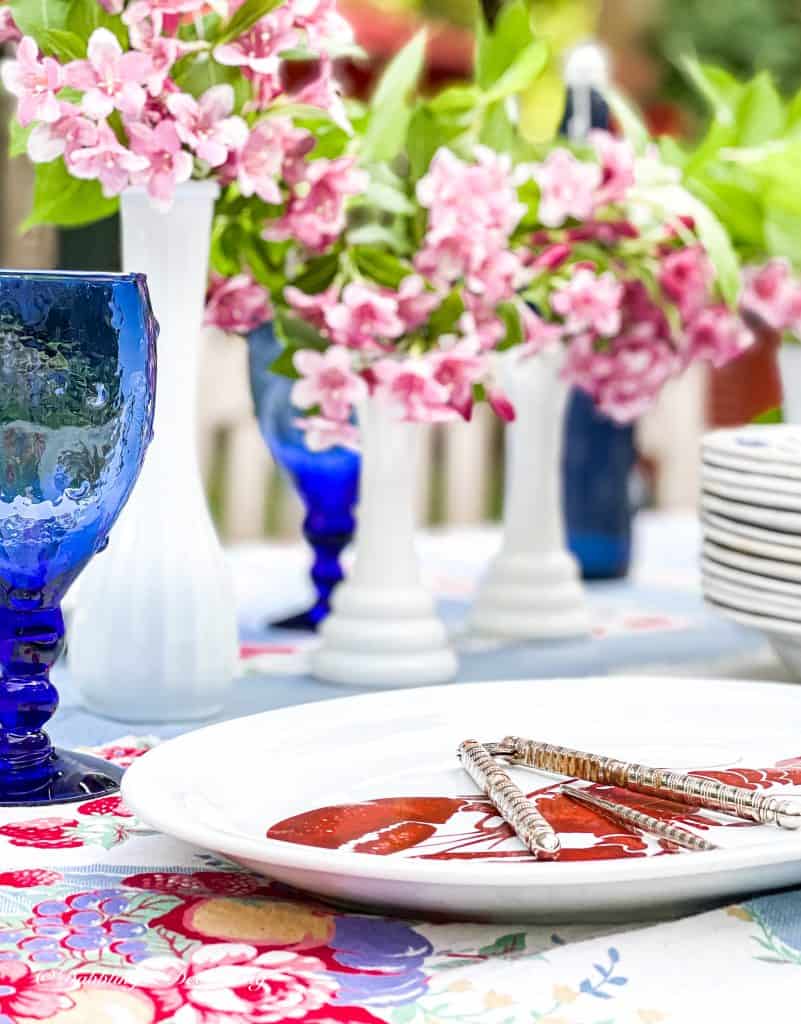 The lobster utensils were handed down to me by my mother. They must be over 50 years old today.
The various colors and patterns easily came together.
You may also enjoy this Early Buy Event at Sage Farm Antiques Vintage Market.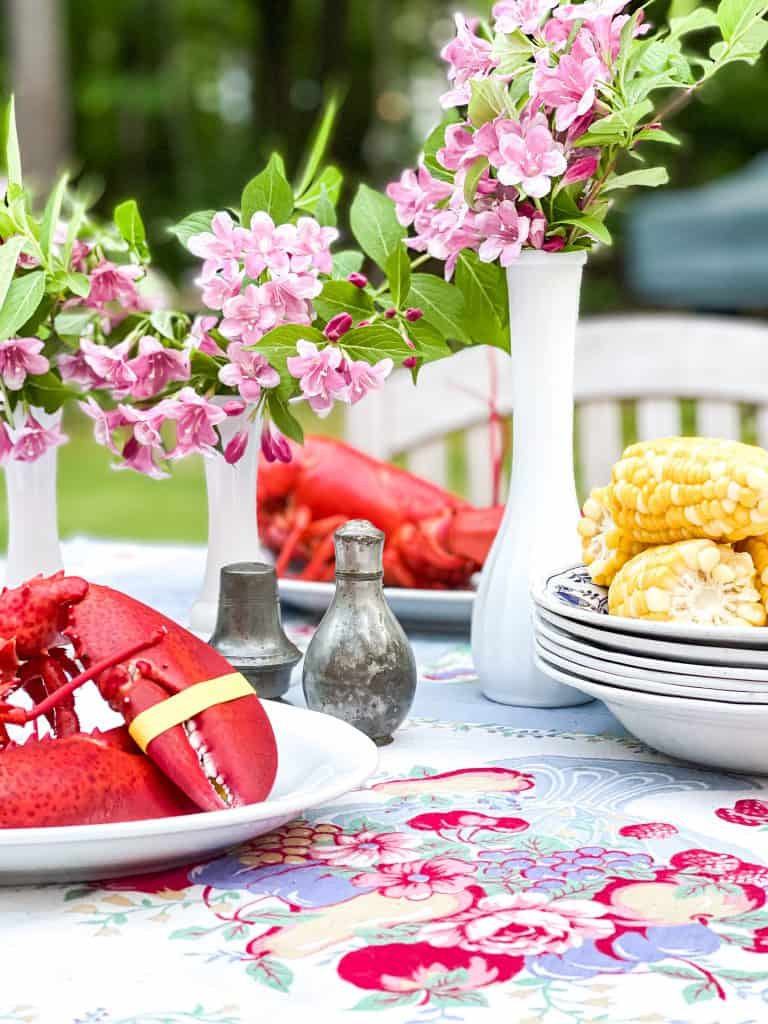 A lobster dinner is known to be a messy meal and is enjoyed best outdoors. Eaten simply with corn on the cob along with a simple and frugal table setting.
I'm so glad you dropped by, and if you are new to my blog, welcome! I hope you enjoyed your visit with us here today at our Home in Coastal Maine.
Be sure to also check out our Home in Vermont too, where we spend winters enjoying the coziness of home in the Green Mountains of Vermont.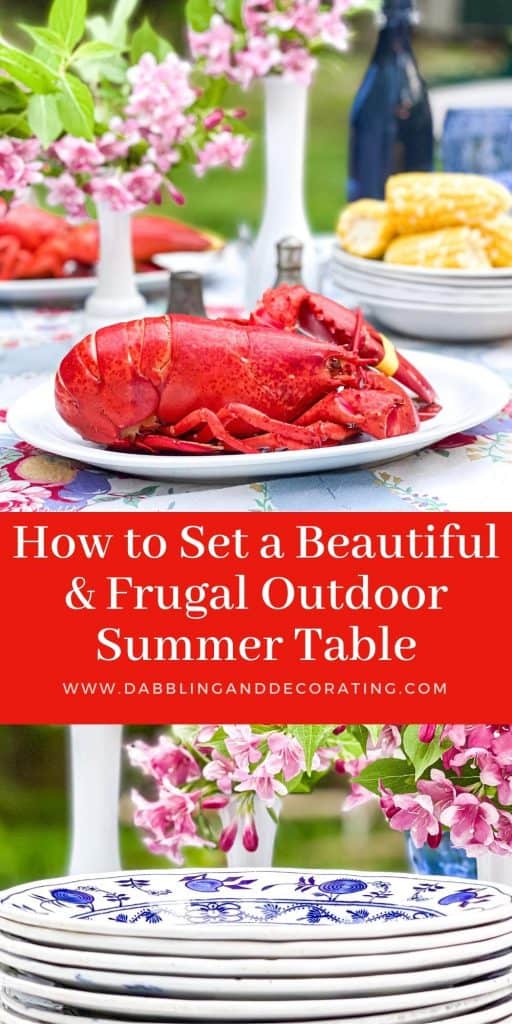 I've created the above custom pin just for this post! Hearing from you makes my day and your comments mean so much to me! Please join me over on Instagram & Pinterest to see more!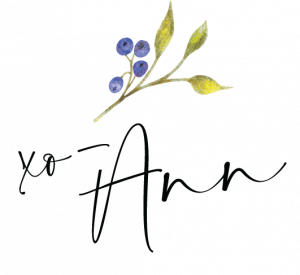 YOU MAY ALSO ENJOY