Are you looking for creative ideas and ways to display your vintage collections? From old books to pewter, get inspired today with these 11 fabulous collections.
I'm also thrilled to be joining 11 other very talented home decor bloggers in today's Lifestyle of Love blog hop hosted by my friend Cindy over at County Road 407. Today's theme is all about vintage collections. There's so much inspiration to be found.
If you are joining me from Lora over at Create and Ponder, welcome! Aren't Lora's ideas for decorating vintage Christmas tree stands amazing? Lora's vintage collections always inspire me.
Do you have a vintage collection that you want to update, change, display differently, etc.? If so, I hope to inspire you here today into starting a vintage collection of your own, changing up a current collection, or simply adding to an already existing vintage collection.
I have numerous vintage collections from my mother's extensive pewter collection and transferware collection to my own collections of brass candlesticks, blue and white dishes, platters, and blue bottles.
So let's dive right in!
1. Built-in Bookshelves
One of my favorite things to decorate are these built-in bookshelves at our home in Vermont with various vintage collections that I found while out "Thrifting with the Gals". I am forever changing and mixing them up with my new finds.
Check out my most recent post, How to Decorate Bookshelves for a Vintage Christmas to see more. And you won't want to miss the post, How to Decorate with Old Musical Instruments.
You may also enjoy these vintage collections styled in last year's post, Cozy Winter Neutral Built-Ins.
And this DIY with old salvaged windows and vintage brass candlesticks too.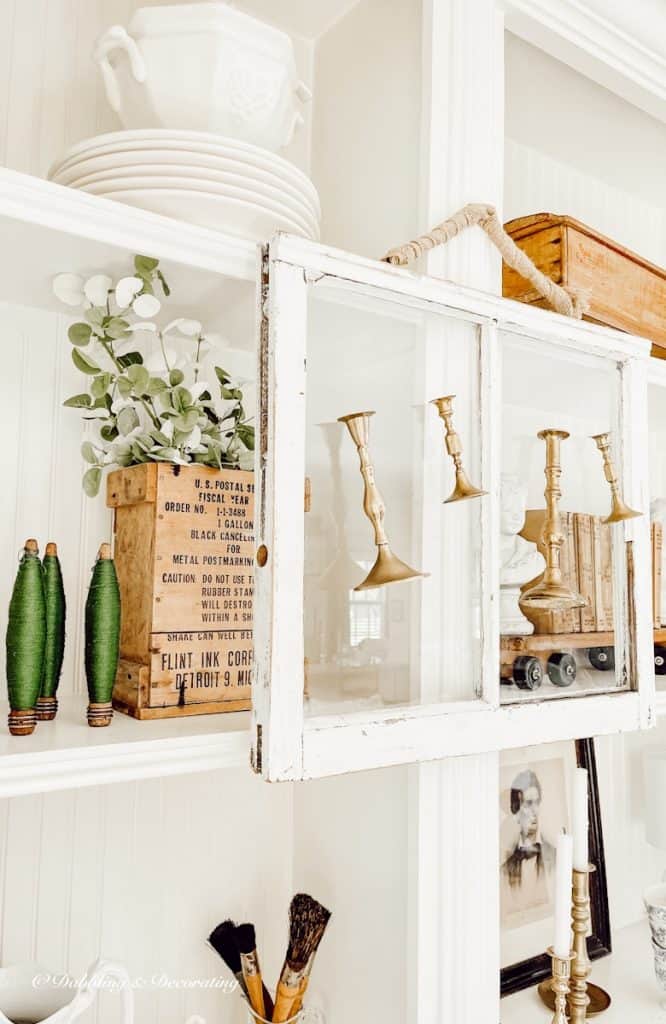 You may also really enjoy making these Dishy Kitchen Hooks You Can DIY in Minutes.
2. Vintage Pewter Collection
One of my favorite family collections is my mother's extensive pewter collection in her antique hutch and shared in the series "In My Mother's Home".
Display pewter in an antique hutch, on an antique table, or on a fireplace mantel.
3. Vintage Bottles
I love collecting old blue bottles. Here are a few ways I decorated with them in our home.
On a mantel with Christmas evergreens and pearls. See more in the post, Setting a Winter Table with Vintage Blue Bottles.
In a wooden train on built-in shelving, or hanging on the wall in vintage frames. Click on Images to see more.
You may also enjoy these cameras and McCoy vase collections in the post, Sunroom Home Office Inspiration: Triple Purposed with Craft Space.
4. Vintage Quilt Collection
You will love this post, How to Fold and Display Heirloom Quilts. Click on Images to see more.
5. Vintage Books
If you don't have a vintage book collection, I highly recommend it. There are so many ways you can decorate and use vintage books in your decor. You may enjoy the post, 10 Fun Ideas for Decorating with Vintage Books! One of my very first blog posts, eeek.
Click on each image to see more.
This post may contain affiliate links which won't change your price but will share some commission."
SHOP VINTAGE BOOKS

6. Scrabble Letter Collection
A vintage scrabble collection looks fabulous and adds color to glass pitchers or vases.
On coffee tables, in vintage crates, or on a shelf. And you'll love this Christmas tree made with scrabble letters.
SHOP SCRABBLE LETTERS

You may also enjoy the post, Vintage Booth Winter Window Display from my Vermont vintage window booth!
7. Vintage Jug Collections
Vintage jugs or crocks make wonderful collections for both indoors and outdoors. You may also enjoy the post, Antique Crocks with White Tulips.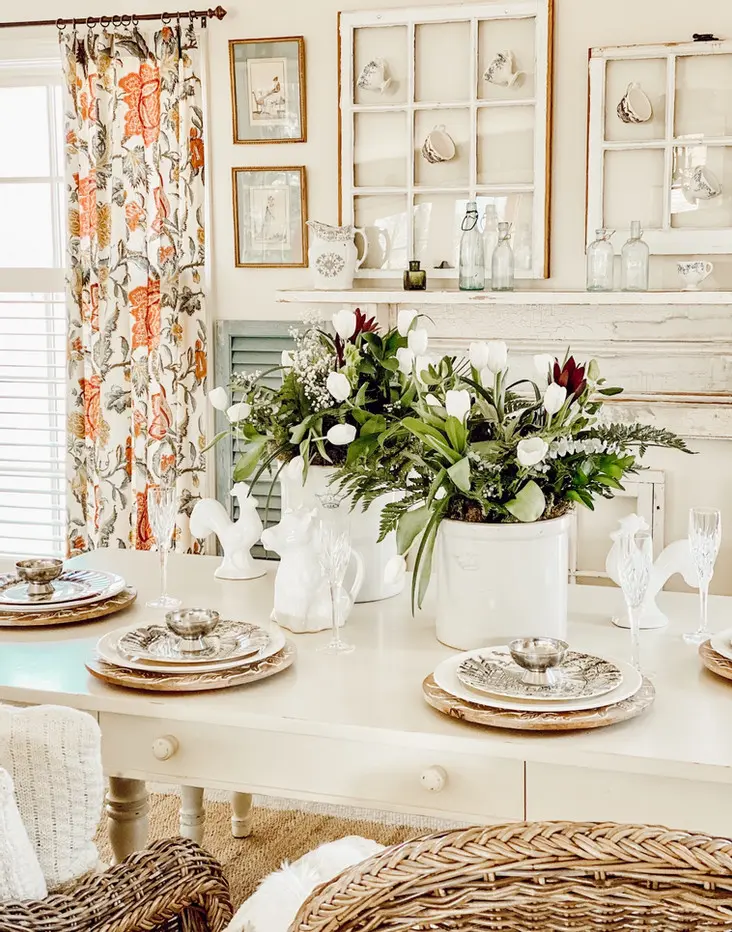 8. Vintage Dishware Collections
I swear this is going to be my downfall. I love vintage dish collections. Every single one of them, haha.
Display them on bookshelves, on kitchen shelving, in old kitchen and wall racks. Everywhere! You can display vintage dishware collections just about anywhere you want.
I have created multiple table settings with all my collected dishware too that you may see more of HERE.
Click on these images to see more.
9. Vintage Band-Aid Tin Collection
How cute are these old Band-Aid tins collected and displayed in a bathroom?
SHOP VINTAGE BAND-AID TINS

10. Vintage Glassware Collections
I love finding and collecting vintage glassware. Colored glassware is definitely a favorite on my table settings. Here are a few ways I have displayed my vintage glass collections.
Click on these images to see more.
11. Vintage Ski Lodge Decor
Last but not least, is my favorite vintage ski lodge decor. So much so that I created an entire series around it.
I'm so glad you dropped by, and if you are new to my blog, welcome! I hope you enjoyed your visit with us here today at our Home in Vermont.
Be sure also to check out our Home in Coastal Maine where we spend summers and weekends when we are craving a walk on the beach or a visit with old friends.
Please join me as a regular here at Dabbling & Decorating by signing up for my Saturday morning newsletter and never miss an update!
Pin It!
I've created the above custom pins just for this post! Hearing from you makes my day and your comments mean so much to me! Please join me on Instagram & Pinterest to see more!
Next up on today's Vintage Collection home tour is my friend Kim over at Shiplap and Shells. Kim is sharing beautiful vintage collection tablescape ideas. You won't want to miss it!
And don't forget to drop by the others joining me here today too!
YOU MAY ALSO ENJOY