Sometimes you just find the most fabulous piece of furniture, like this green chippy apothecary cabinet I found in coastal Maine while antiquing. It was missing a drawer, and I thought it was a bit pricey. However, I could not stop thinking about it!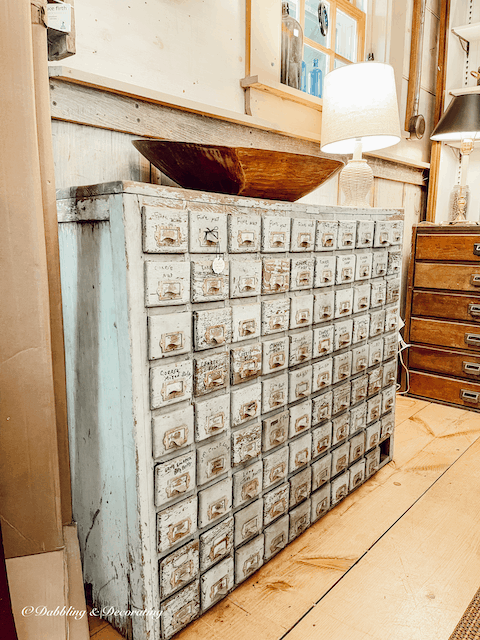 This chippy apothecary cabinet was a bit on the small size for what I was looking for. So I passed on it and headed home to think it over.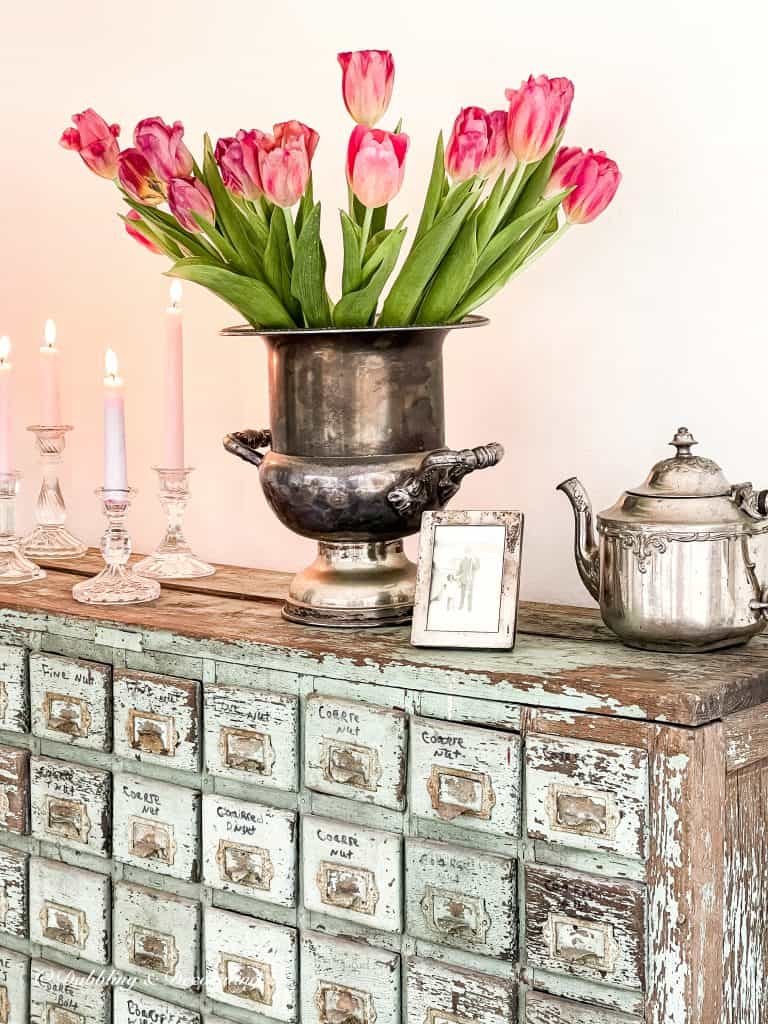 As I sat in the sunroom of our Maine home, which I am currently redecorating, I was certain I could make this chippy apothecary cabinet fit into this room… I needed something that would easily fit between two swivel chairs and could also serve as a small table space.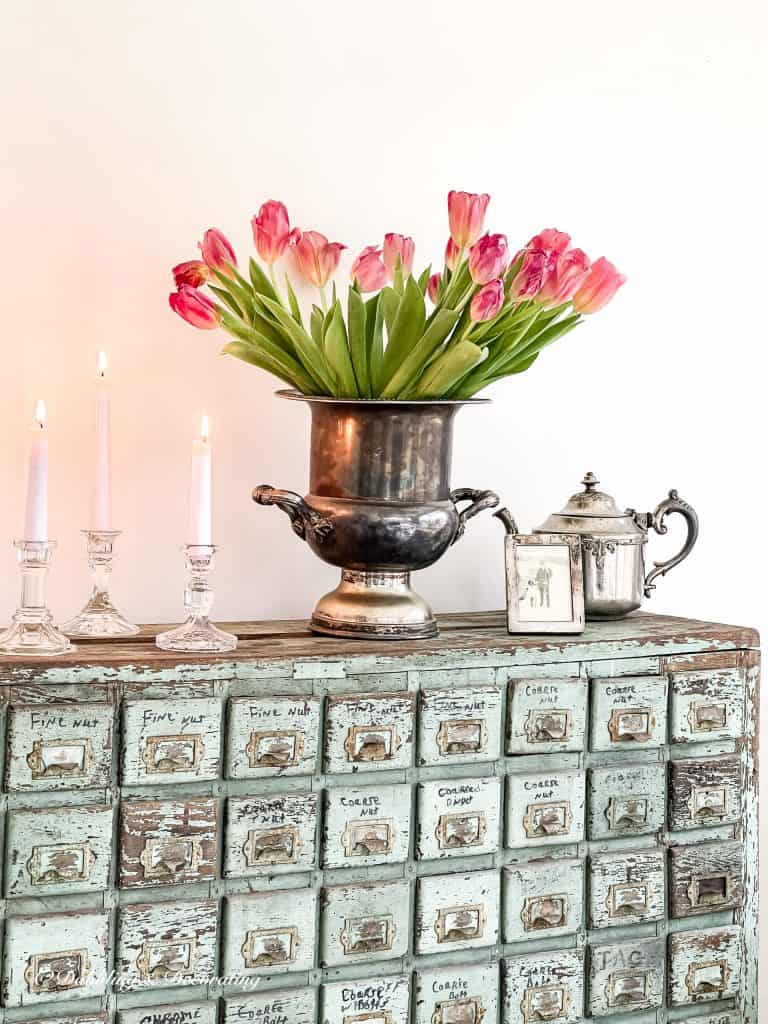 I called The Americana Workshop back in Kennebunk Maine to see if the apothecary cabinet was still available and asked for their best price since it was missing a drawer…
They offered to make me a drawer and gave me a 15% off discount. I got in the car and headed right up. The shop took one drawer to duplicate, and it will be ready for me to pick up in a couple of weeks!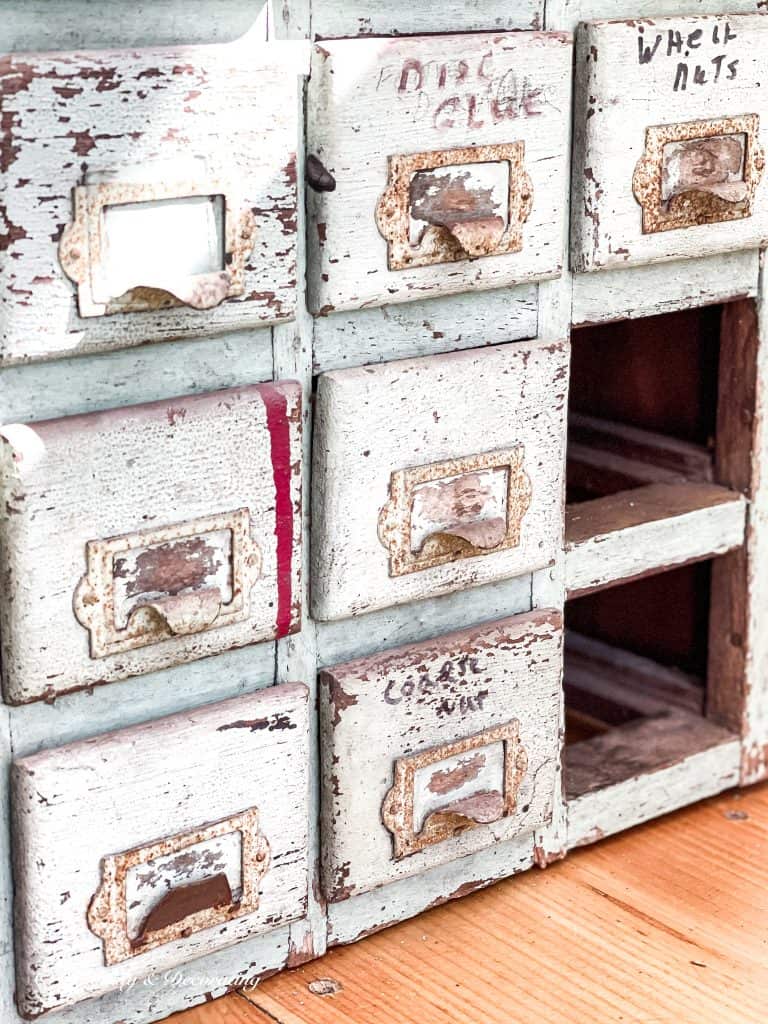 A Moving Furniture Tip!
This apothecary was of a smaller size so it was very easily transportable. A girlfriend and I were able to get it out of the car and into our sunroom very easily!
Slide a rug under the heavier furniture pieces to slide across the floor easily.
Chippy Apothecary Cabinet
I quickly added a few of my mother's glass candlesticks and some pink carnations. It all looked so romantic together. The chippy green apothecary added so much charm to this space, and I can't wait to decorate it in all sorts of ways!
Unfortunately, after bringing the chippy apothecary cabinet home, I had to head back to our place in Vermont.
Upon returning to Maine, I thrifted a few silver pieces, picked up some pink tulips, and brought out an old photo of my father and me skiing over 50 years ago.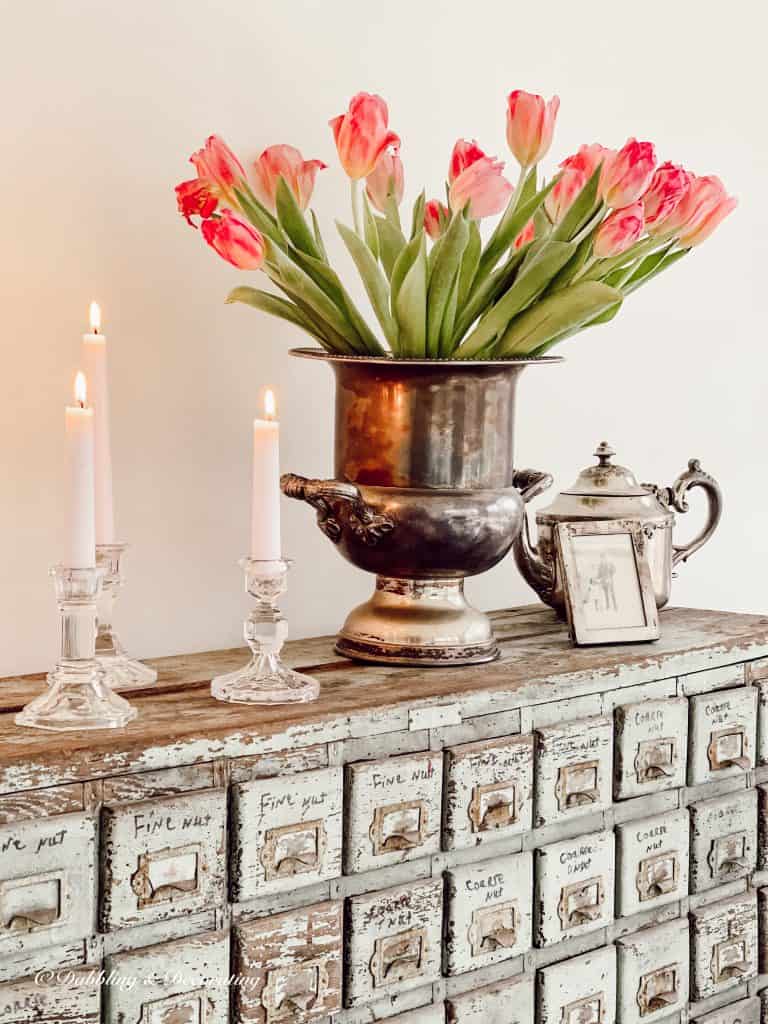 If you enjoy thrifting and antiquing, I would love to invite you to join me over on Instagram. I join some of my best friends every Wednesday, where we share all of our thrifting adventures along with tips and tricks. Then a round-up of the month's finds are decorated in our homes here on the blog.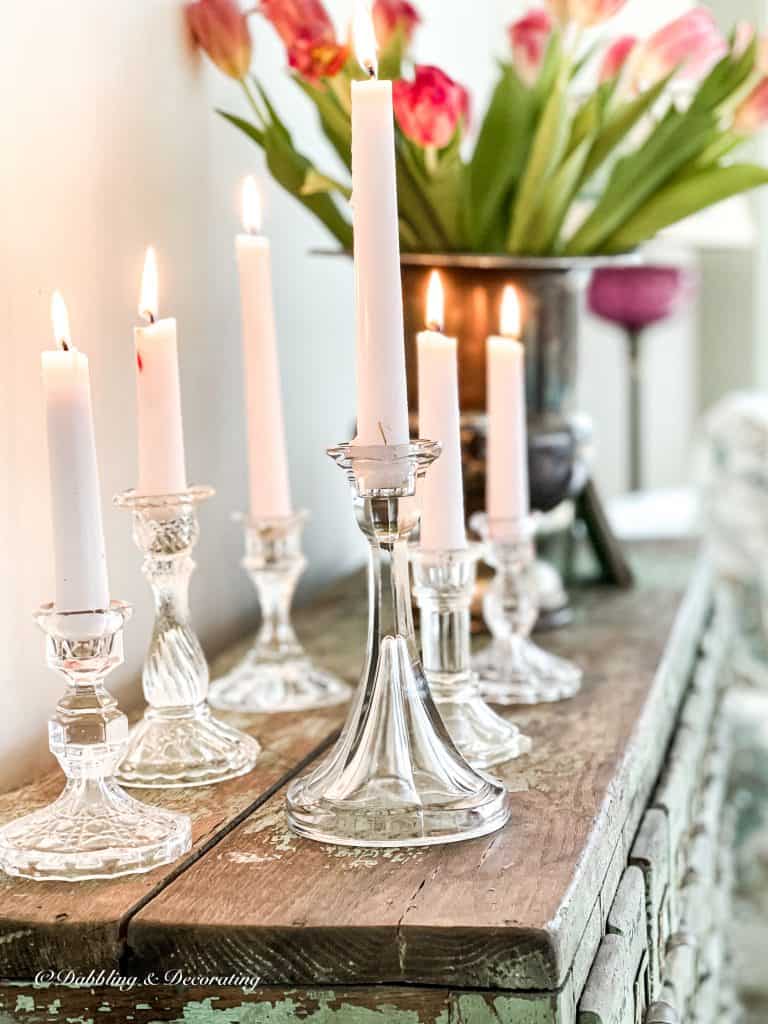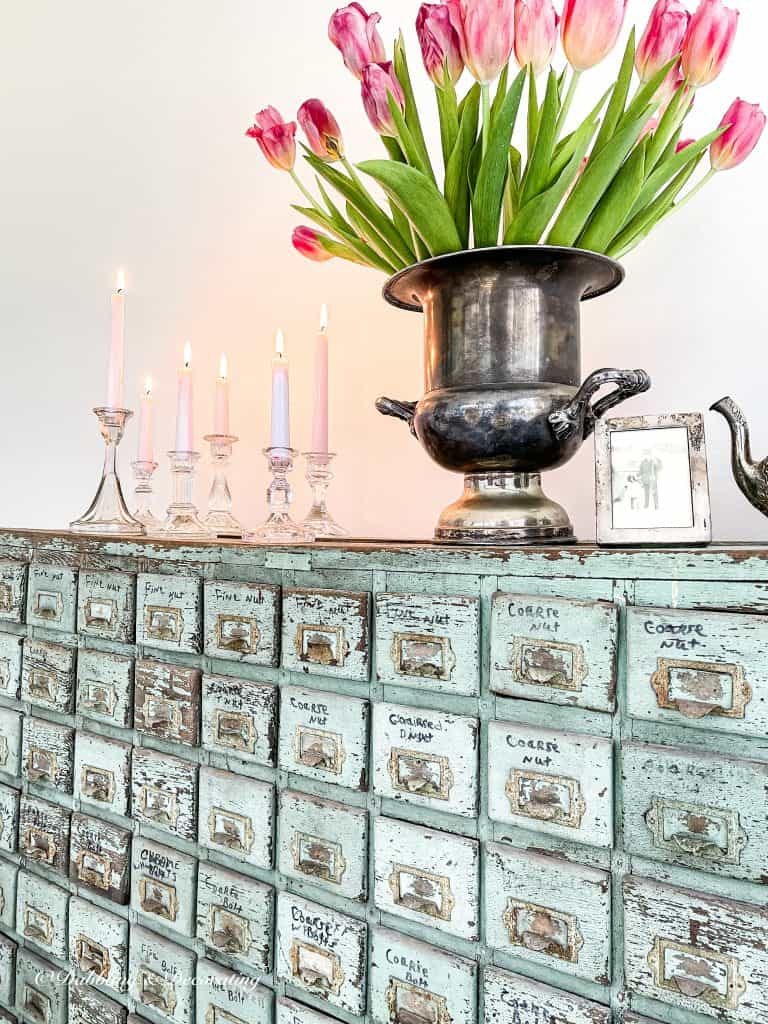 You may also like this small DIY card catalog that I redesigned. A piece my father made. He used it on his workbench for storage of nails, bolts, and more.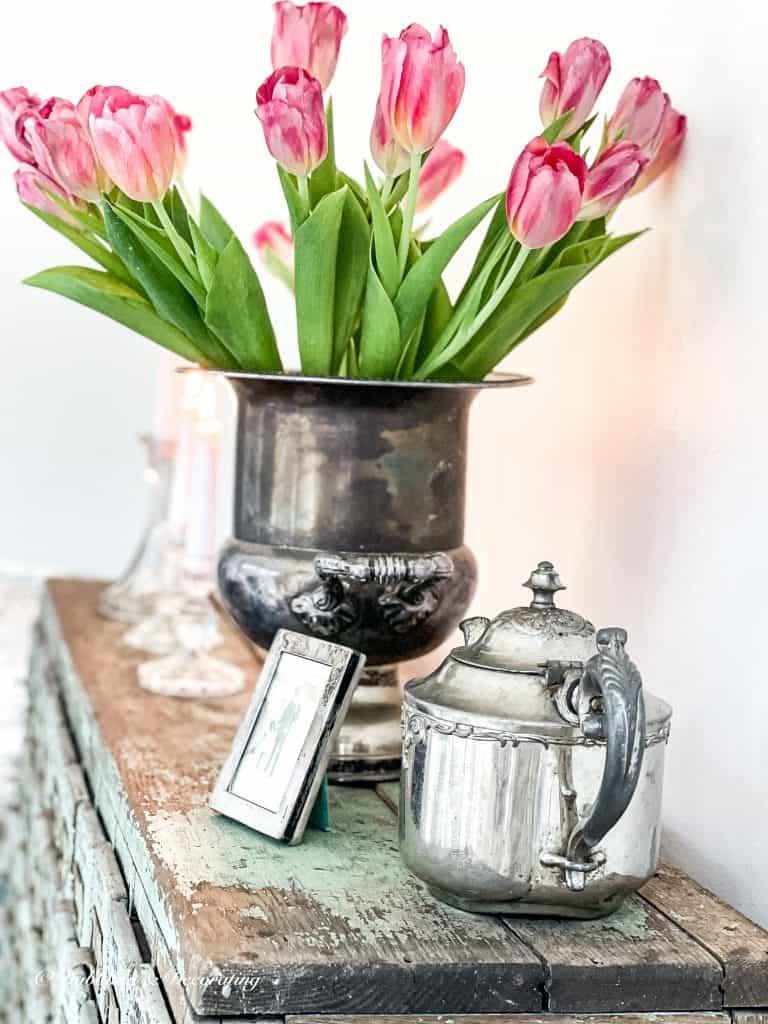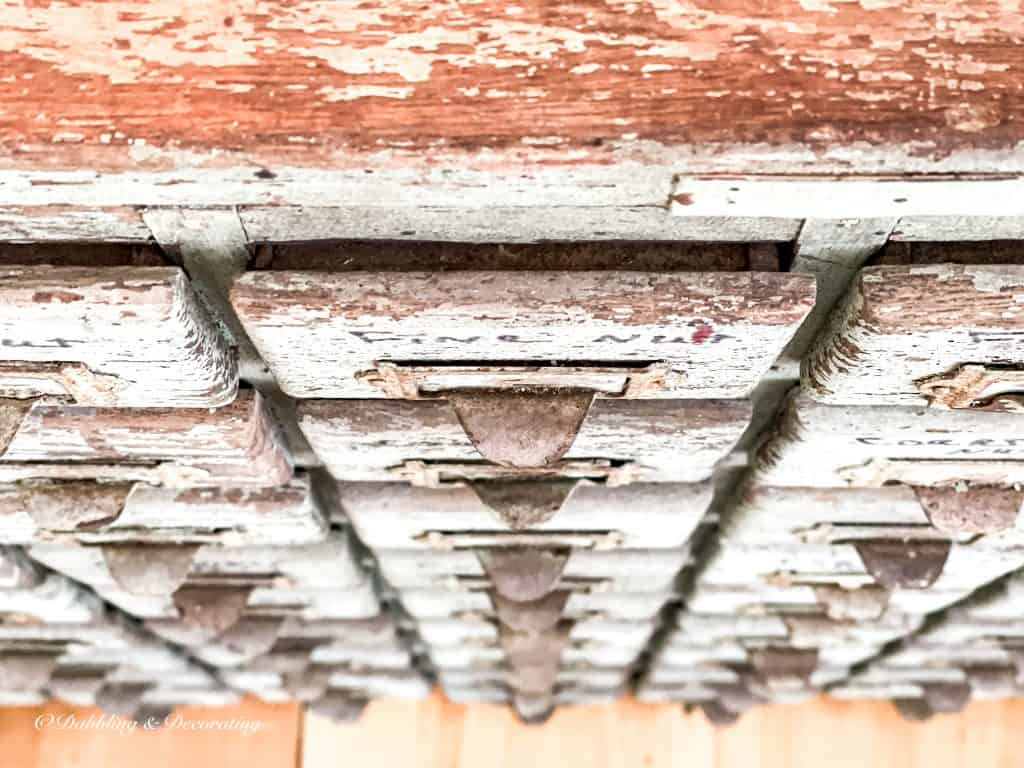 Chippy Apothecary Cabinet Drawer
One early morning in March, I took a drive up the coast to pick up the custom drawer. It was a dummy drawer, which was fine.
I nailed the old bracket to the front of the drawer. Then I simply glued the dummy drawer into the empty drawer space on the chippy apothecary cabinet.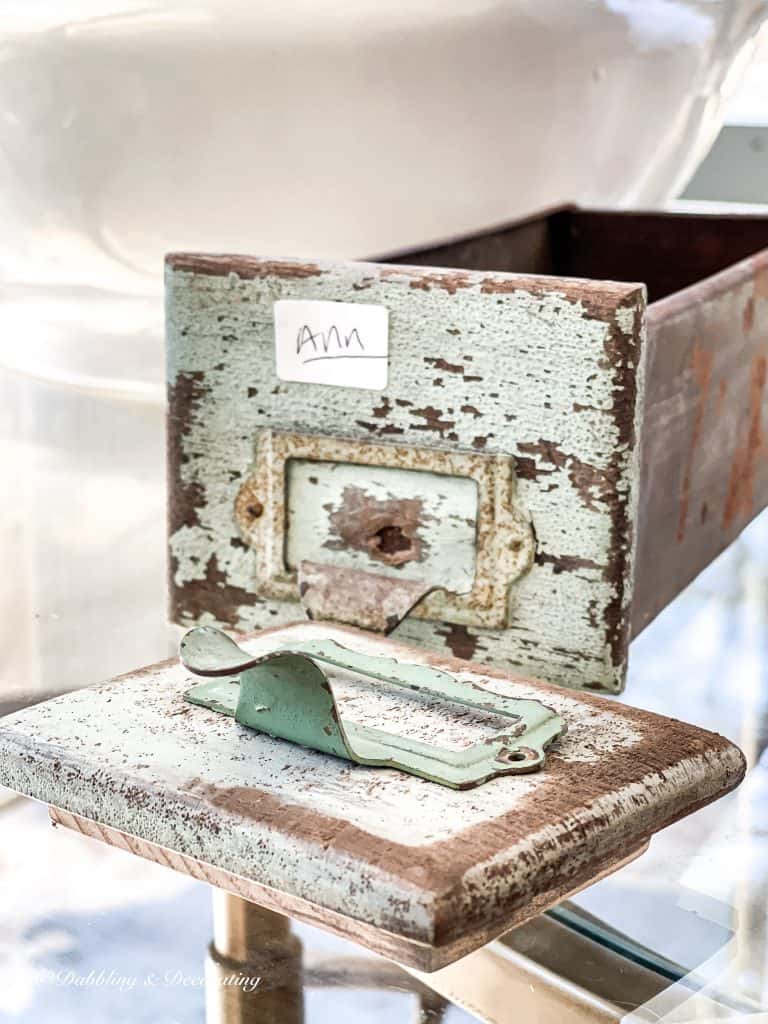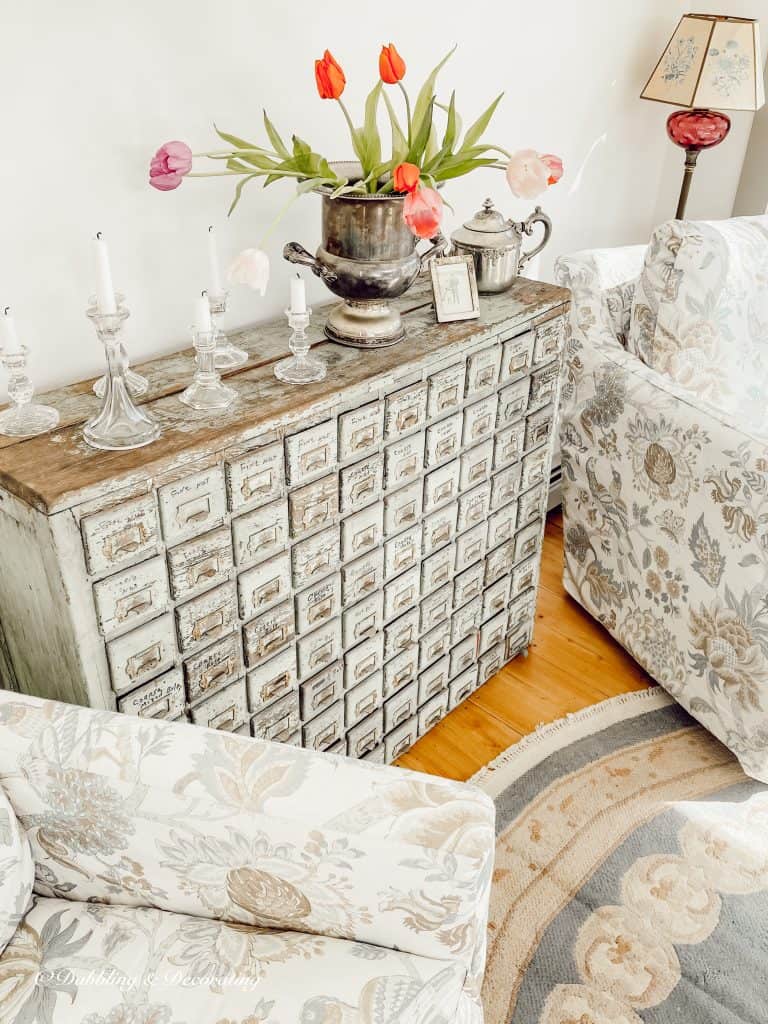 You may also enjoy the post, Terracotta Pots and an Apothecary Cabinet.
Since this original post, I've made many changes. See what's in this space now on the post, Fabulous Vintage Hutch Makeover.
I'm so glad you dropped by, and if you are new to my blog, welcome! I hope you enjoyed visiting our Home in Coastal Maine with us today.
Be sure also to check out our Home in Vermont, where we spend winters enjoying the coziness of home in the Green Mountains of Vermont.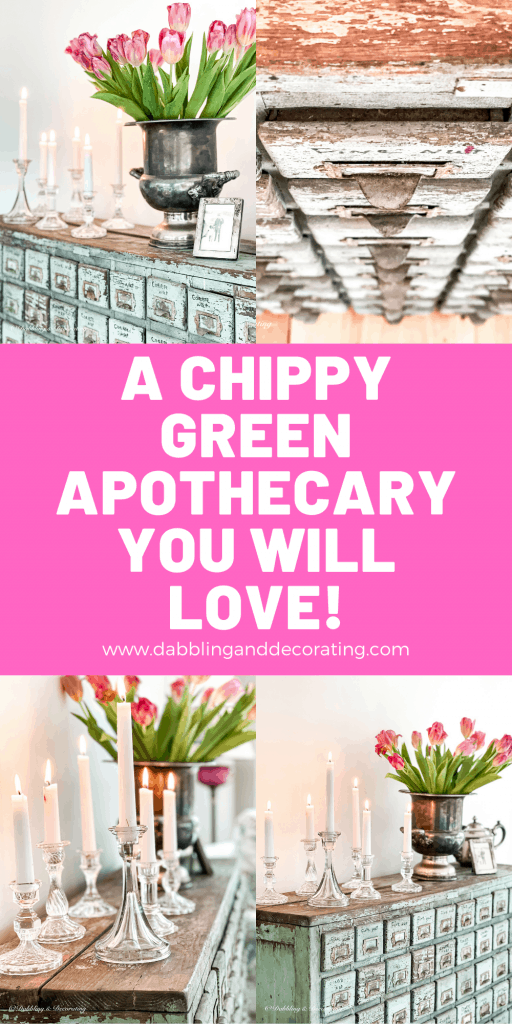 I've created the above custom pin just for this post!  Hearing from you makes my day; your comments mean so much to me! Please join me over on Instagram & Pinterest to see more!
YOU MAY ALSO LIKE