A girlfriend and I hit up an outdoor flea market near me this weekend in Dover, New Hampshire. Followed up with a lobster roll at Stonewall Kitchen's flagship store in York, Maine. Aren't those just the best kind of days?
I'd love to invite you to join me, along with some of the best thrifting gals I know over on Instagram every Wednesday, where we share all our thrifting adventures, and tips and tricks. We also share how we decorated with all of our finds every Thursday of the month here on the blog. So be sure to sign up for my newsletter to follow along. #thriftingwiththegals
We had no idea what to expect at all! But a quick walk around and we found everything from the super expensive and overpriced to the best thrift finds!
Dough Bowl
I have admired vintage dough bowls from afar for quite some time now! I've always found them, especially the larger bowls, to be a bit on the expensive side, pricing upwards of $1,000 or more. Until I found these dough bowls, at this flea market near me this weekend!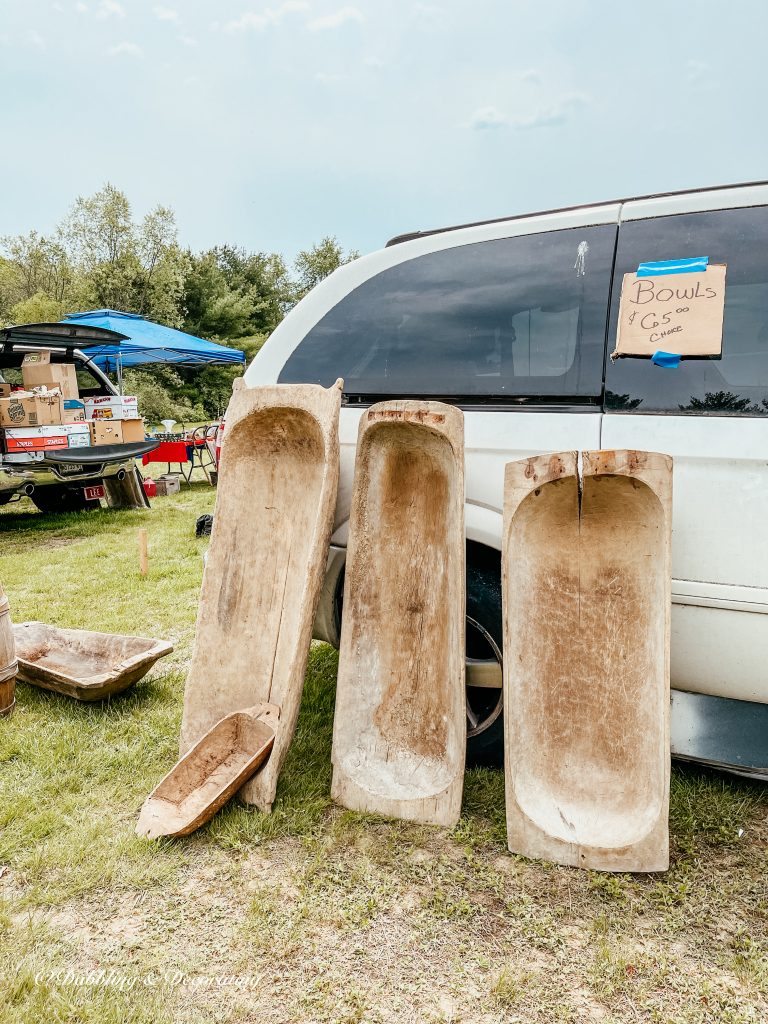 What is an antique dough bowl? A traditional dough bowl, also known as a bread trough, is typically a shallow, wooden bowl hand carved into a rectangular or oval shape. Over the centuries it has traditionally been used to make bread by many different cultures across the continents. Source: Bowl & Board
Why are wooden bowls used for making bread? Wooden bowls have always been the preferred choice for bread-making because the heat generated by the yeast is retained in the wood, giving the dough an even rise—and because the bowl's high sides protect the dough from drafts. Source: Bowl & Board
What can you put in a dough bowl? Dough bowls today have become popular collected pieces and are used in farmhouse tables, kitchens, dining rooms, and more. Decorated with flowers, fruits, plates, plants, and more. Many reproductions are also available today.
You may also like the post, Decorating with Flea Market Frames and Decorating with Vintage Finds too!
I decided I wanted to hang this antique dough bowl on the wall in our dining room. The size of the dough bowl honestly, overwhelmed our table as a centerpiece and I love the statement it makes against the white plastered wall in the dining room.
This post may contain affiliate links which won't change your price but will share some commission."
SHOP FLEA MARKET FINDS
(click on any of the images to shop the products)

How to Hang a Flea Market Dough Bowl?
The dough bowl is very heavy and awkward. It's also not in perfect shape. But these are the reasons I treasure pieces like this. It wasn't that difficult, however, to hang with a few hooks, screws, and wire.
What do you think?
One thing always leads to another, doesn't it?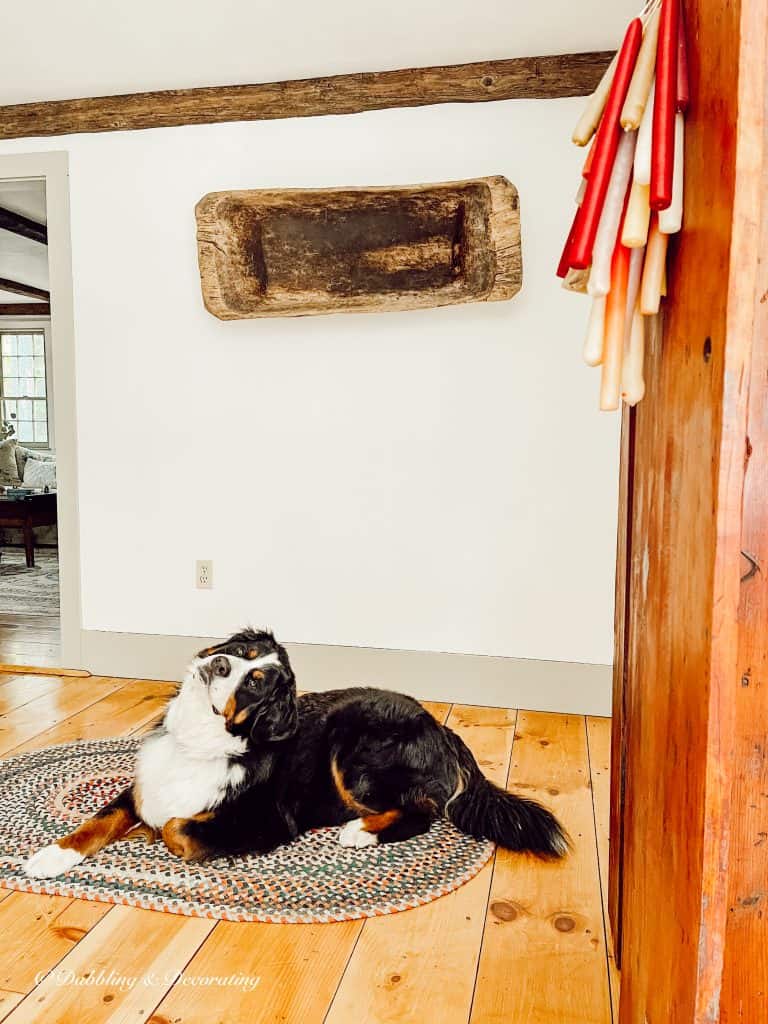 I moved the old chippy apothecary out of the sunroom into this spot under the dough bowl in our dining room. A few collected dishes and some dried greens add to the new pieces in this space. This was a quick "put together". So be sure to follow along to see how this space finishes out.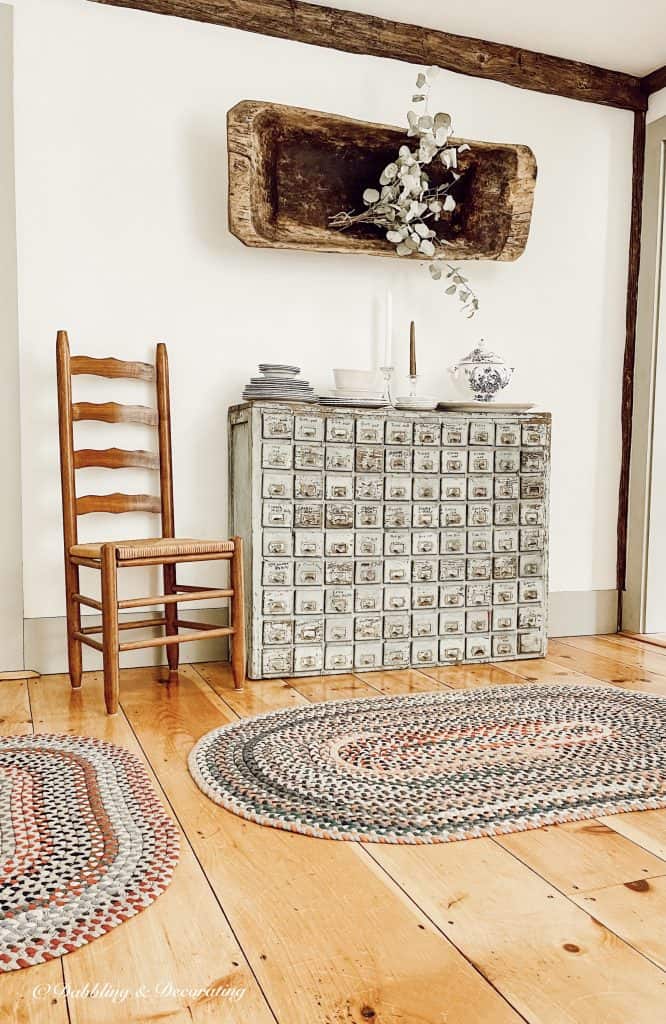 Be sure to check out these ladies' blog posts for some more dough bowl inspiration!
Wooden Flea Market Train Set
The second treasure I found at this outdoor flea market near me this weekend was this wooden train set for $45. It's super heavy and I can totally envision it at Christmas time at our home back in Vermont.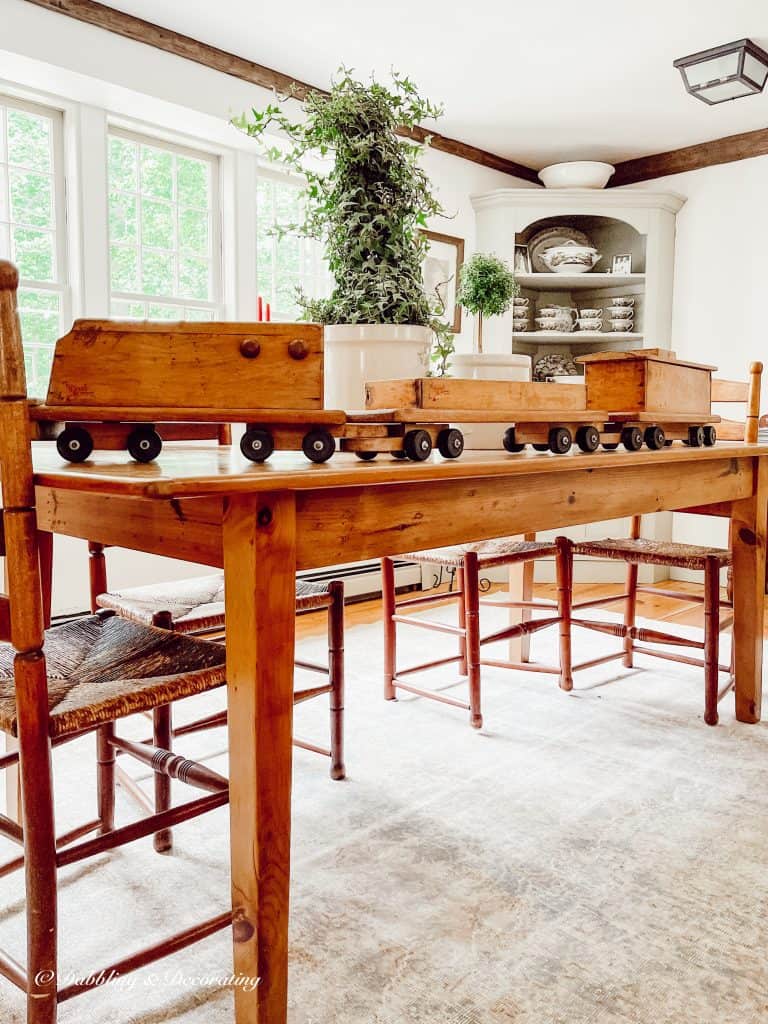 SHOP FLEA MARKET FINDS
(click on any of the images to shop the products)

The train set is now packed away in my car for its next trip back to Vermont with me.
Crate Barrel
The third piece I found at the flea market near me this weekend was this old barrel, which also resembles an old crate. I love the blonde color. It was marked $65, but I was able to get it for $50.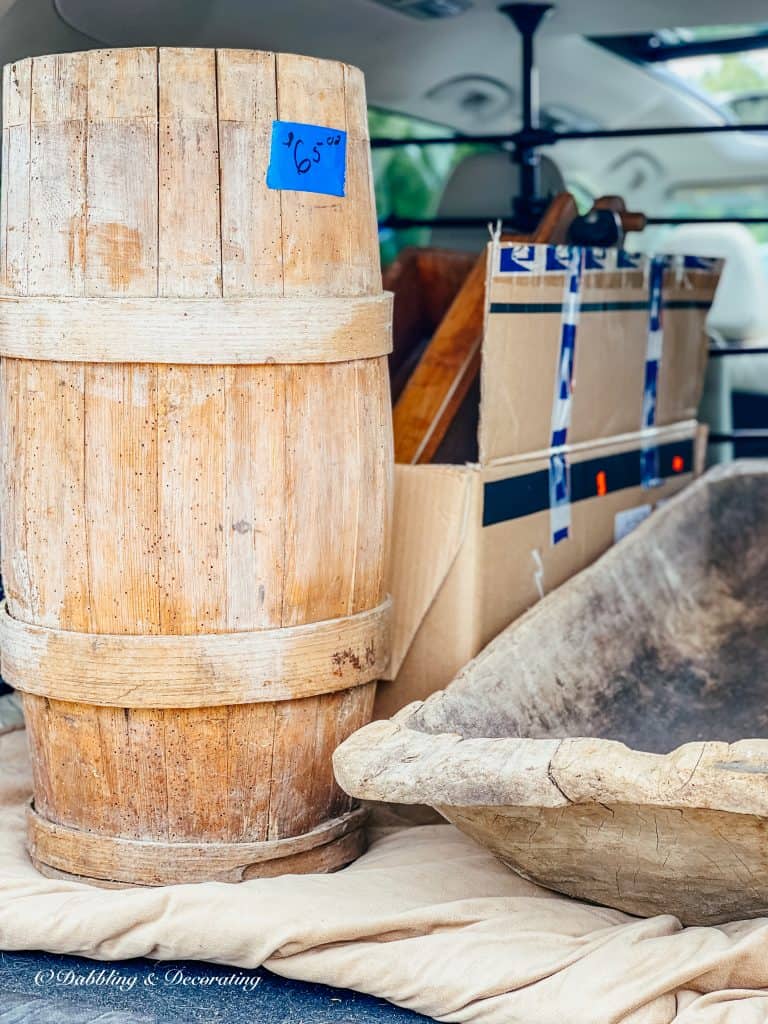 What would you use this flea market barrel for in your house? I've been moving it all around trying to find just the perfect home for it.
Fill it with?
Flowers
Umbrellas
Weeds
Croquet Mallets
As I finish up writing this blog post for you, I just finished a day "Thrifting with the Gals" where I purchased three "Cries of London" by Francis Wheatley (England 1931) gold framed prints for $49 apiece.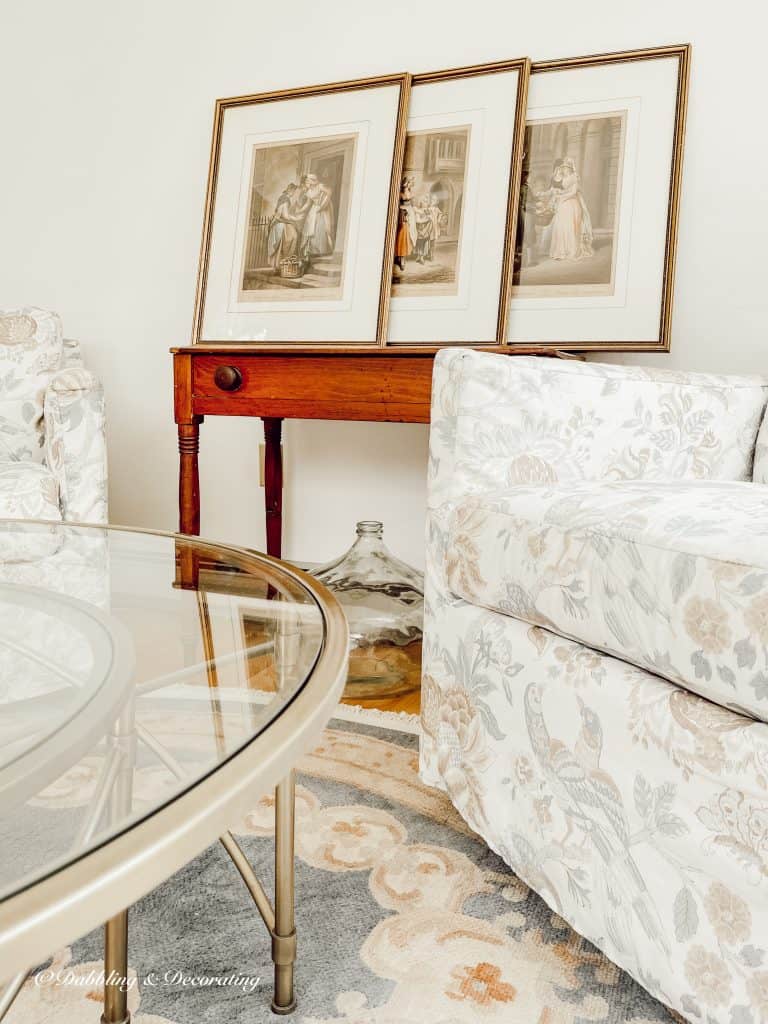 I can't wait to get these beautiful prints hung in our sunroom! The gold frames match the nesting coffee tables beautifully. Be sure to sign up for my newsletter below to follow along on all the home decorating and renovations at our home here in Coastal Maine.
You may also enjoy the post, VINTAGE BAZAAR NEW ENGLAND, A SUMMER VISIT.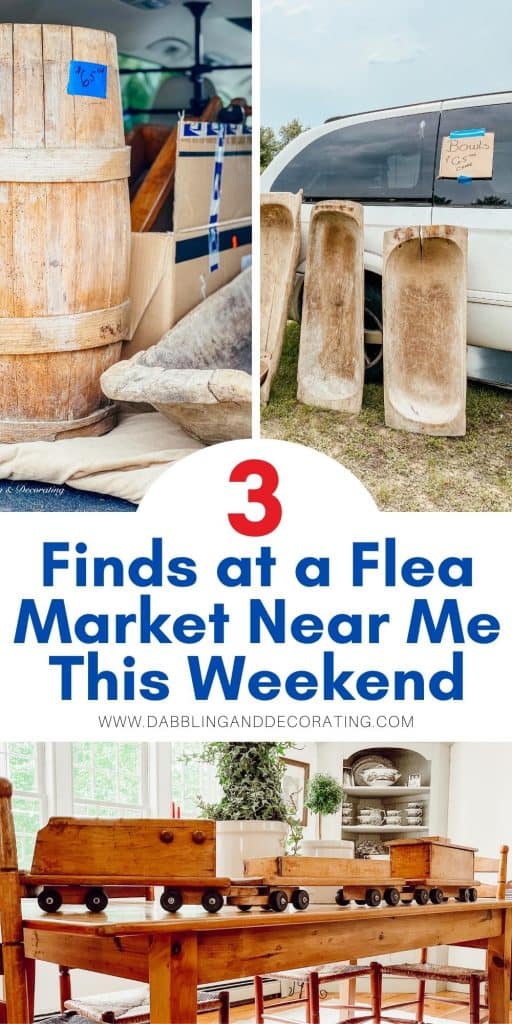 I've created the above custom pin just for this post! Hearing from you makes my day too~ Your comments mean so much to me! Please join me over on Instagram & Pinterest to see more!